What better time to explore Bangkok's chinatown than Chinese New Year? Here are a few snaps and a bit of info covering our wanderings in January 2006.
Chinatown is a densely packed area of 'downtown' Bangkok which hugs one of the main thoroughfares and therefore also often takes its name - Yaowarat. All year long red is the defining colour of the area most notably in the gold shops lining this main road. But during Chinese New Year, it goes one further and everyone seems to be wearing this auspicious colour. Below is one of the main Chinese temples in the area. Packed with people making offerings.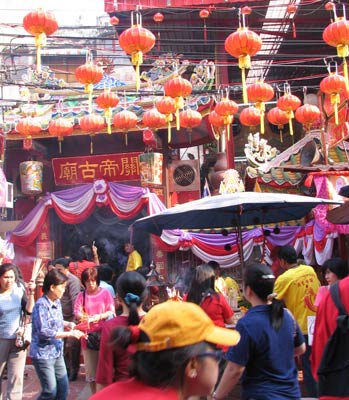 The temple below is Wat Traimit, the largest temple in the area. Despite being distinctly Thai it is also packed during Chinese New Year. Here people are praying in front of two figures covered in gold leaf which worshippers have placed on them. I believe these gentlemen may have been abbots at the temple. Insense sticks are lit and lotus buds are offered.