I lived in Hanoi for two years and loved heading off into the mountains to explore the rugged countryside and photograph the many different hill tribes that inhabited the completely undeveloped and wild regions of the north. In fact I even designed a website of my travels with the unimaginative name of "Ethnic Minorities of Northern Vietnam". However, I had never explored the areas of far northern Thailand which was even more famous for its colourful local people. I knew it would be more touristy and developed but I felt worth a look.
We took the overnight train from Bangkok to Chiang Mai in early May 2007. As the wet season had come a little early to Thailand this year, instead of hiring a couple of trusty Honda Waves, we decided on the dryer option of a Suzi jeep. So, in less than an hour after getting off the train we were heading north to our first destination: Fang. We had decided to head directly north, then follow the Myanmar border to the golden triangle and then head back to Chiang Mai.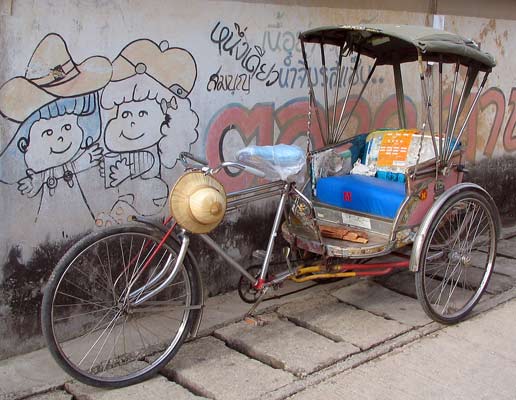 The countryside north of Chiang Mai is pretty rather than stunning as the suburbs and satellite villages of Chiang Mai give way to rolling countryside and rural scenes. Here we bumped into a few working elephants.
In a few hours we had arrived in Fang, a fairly non-descript small town with a few teak buildings holding back the inevitable progress of ugly concrete.