To many visitors to Thailand, their fondest memories come from Isaan, the North Eastern 'bulge' of Thailand. However, it doesn't rate much of a mention in many guidebooks because of the relative paucity of grand Thai monuments – either man made or natural. Its charm lies in the friendly people and the more relaxed, traditional pace and style of life. That was exactly what me Jackie were after when we went for a week's exploring around the area of Nong Khai and a bend in the Mekong River over new year 2007.
Getting to most places in Thailand far from Bangkok generally involves an overnight train trip. This was no different. On other pages in globalwanderings I have described a couple of them one journey by first class sleeper and another by second class sleeper. Unfortunately this one was second class seat. I will say no more than given the choice in future, I'm taking the bus.
We did arrive in Nong Khai in one piece though and only an hour or so late. We went to the Mut Mee guesthouse for breakfast (it's a great little hotel but more of that at the end) and hired Honda Dreams from the man who hangs out across the road (150Bht per day). Soon enough we had blown away the cobwebs from the overnight train journey and were heading west along the bank of Mekong. We soon reached the first small town, that of Sri Chiang Mai. SCM is a quiet little place like many of the towns in these parts. It's famous for making rice paper and you can supposedly see them drying on the roadside. It couldn't have been the season as we saw none. We did however head for the promenade, not much more than a broad pavement along a quiet road. It does have a great view across the river to Laos though, and its capital resting on the far bank, Vientiane. I had been to SCM many years before and then all you could see was the spires of Buddhist Wats on the other side. Vientiane is still a sleepy backwater as far as capital cities go, but it has certainly developed apace and now there were hotels, restaurants and houses clearly visible. We tucked into a very tasty noodle soup and continued our journey.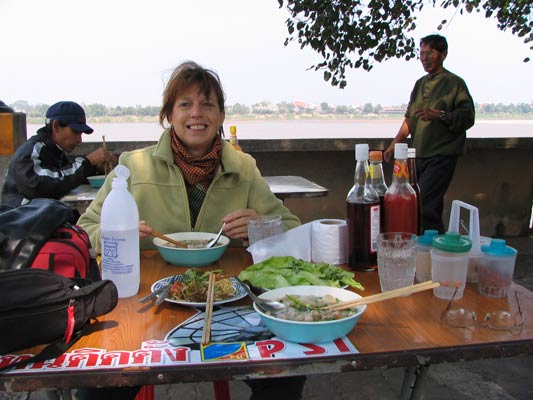 This stretch of road is supposed to be one of the most picturesque in Thailand. Maybe it was just because it was a grey day, but on this occasion it was just pleasant enough. We were also thankful that it was very quiet, the only excitement having to avoid a dog lying in the middle of the road.