Week 4, 1 Mar 2017, Agra
From Khajuraho to Agra was the first daytime trip by train. Thankfully, I suppose, it was very uneventful and arrived in Agra pretty much to time. My first impressions of Agra were not good. I arrived at dusk and all I could see were clouds of dust and pollution and smoke. My throat was already burning by the time the tuk-tuk driver dropped me off at my hotel, the Coral Court Homestay. One positive thing was the fact that he was happy to take the fixed rate fee of 150Rs for the journey. I chose the Coral Court because it had an unprecedented score of 9.7 on Booking.com. I have to say, my first impressions weren't this high as I was given the last available room which was in the centre of the building and therefore windowless and the shower broke as soon as I got in and the water was tepid at best. However, the owners lived on site and were very friendly and helpful and soon all was sorted and I sat down to a very welcome pumpkin curry. My proper explorations into Agra would begin after a good night's sleep.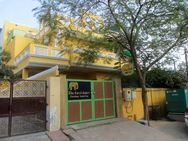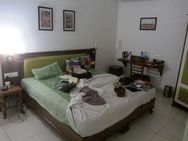 I had planned on three days in Agra, the first to see Akbar's tomb and the Agra fort and downtown, Day two to see the Taj and the so-called baby Taj and Day three Fatehpur Sikri. I made a slight late change in plan by staying the third night in Bharatpur so I could see Fatehpur Sikri in the morning and pop in to the Kaladeo National Park, which is very close to Bharatpur, in the afternoon.
Day One
I was up bright and early to go to Akbar's Tomb, in the suburb of Sikandra. I was told I could get a bus from Billi Ghar bus stand but no one there seemed to know so I ended up having to get an extended trip in a tuk-tuk. Anyway, I must have been there early as I was the first tourist at the ticket office. Although you are now supposed to be able to pay by credit or debit card at all of the major sites in India, as part of Narendra Modi's drive to make India a cashless society, this hasn't got through to the people at the ticket offices. And this was the case today. He also didn't have any change. This was also very common because Mr. Modi had recently taken all of the old bank notes out of circulation - so called demonetization and many people were reluctant to hand over their small notes. Demonetization wasn't actually as much a problem as I had thought before coming to India (I managed to pay for hotels with a credit card) but there were still problems. Recently, the entrance fees for all the monuments had doubled so it was quite a drain on cash in the tourist centres. However, in this case luck was at hand as a friendly security guard showed up with a huge pile of notes and provided some much needed change.
Once through the gates I had time to appreciate this stunning building and it was stunning. In fact there were a few stunning buildings. The first was the huge gateway built of red sandstone strikingly inlaid with white-marble and with four three storey minarets at each corner. Once through the gateway you face the mausoleum itself which is more delicate. Surrounding the mausoleum are large manicured gardens, home to chital deer, antelopes, monkeys and many species of birds including the quintessential Indian bird the peacock. Really impressive. In common with many grand Mogul buildings, the surrounding garden is described as a charbagh and divided into four with the mausoleum at the centre surrounded by raised walkways leading to the four gateways. Also in common with other Mogul tombs, the inside is very plain. In fact there is a narrow inclined passageway which leads to the false tomb at its very heart which is also very plain. I say false, as the actual tomb is buried below, the same as at the Taj Mahal.
The whole experience was a real highlight for me, made even better by the fact that there were very few people about.