Week 1, Feb 2019, Udaipur
The beautiful lakeside town of Udaipur is supposed to be one of the most romantic places in the world and a travellers' favourite. I was about to find out. The seven hour bus journey from Jodhpur wasn't too bad. The station is in the modern, eastern end of the town but soon I was headed by rickshaw into the old town cum tourist centre attractively situated next to shimmering lake pichola. My chosen hotel, the Little Prince Heritage Home, was on the other side of the small lake to the main attraction, the City Palace in a residential area but of course with the de rigeur rooftop terrace with great views over the lake and to the palace. The room was spacious and attractively decorated with local motifs, this seemed to be a recurring theme in Rajasthan hotels. After settling in, I had a refreshing beer on the rooftop where I could see langurs scuttling over the other houses observed by a number of kites perched on the battlements and TV aerials.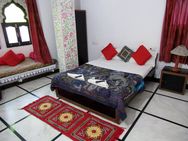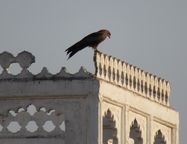 I soon headed out looking for food. There were lots of motorbikes crowding the small alleys, the dust/smog clearly visible. I found a restaurant called Jasmine that looked expensive but was cheap and attractively situated by the side of the canal/lake. The okra curry with chapatis and lassi were fine and only 250Rs
The following morning I headed off for a wander. Everywhere was suprisingly quiet including at the City Palace, just a party of Japanese tourists. It was the usual palace experience, quite interesting but at the end I couldn't remember much of note just loads of small, highly decorated rooms connected by a labyrinth of tight corridors. Interesting fact - the Palace looks very high but it is built on a huge rock. I recuperated with a lime soda in the Palace cafe, avoiding the 24 carat gold coffee (2000Rs). There were plenty of people around now - mainly older/middle aged types.
I headed off for a bit of colour past the tat stalls outside the palace gates and up Jagdesh temple road. There were quite a few tourist shops but no hassle and few tourists. I was soon at Hathi Pol where there was a small market, but not much of interest. I returned to the centre of the action at Jagdesh Chowk and had a decent Kashmiri Biryani at the rooftop restaurant overlooking the temple. I was only person there. I wandered around a bit more wondering why Udaipur is supposed to be so popular. Did a side trip to the Bagore ki haveli puppet museum which was an interesting little museum in an equally interesting haveli near the lake shore. That evening I went back to Restaurant Jasmine for a delicious Kashmiri Aloo - thick red curry sauce with two huge potatoes