Week 4, 4 Mar 2017, Delhi
I got a train for the short trip from Bharatpur to Delhi no problem at all. In contrast to Agra, the Delhi air was fresh and the city looked quite green - New Delhi anyway, as I had arrived in the south and was tuk-tukking north to my hotel in Pahanganj, near the main railway station and between New and old Delhi. This is the main backbacker centre and packed with hotels with a price to suit everyone. I usually choose a fairly decent hotel if I'm in a big city and the Hotel Godwin Deluxe was pretty good. Good enough for me to be really decadent and have a blueberry muffin and coffee on arrival. It's never straight forward however, as the wifi only worked in the stairwell which was a bit of a pain but there you go. What do you expect for £25 a night? Actually more than you get in India but that's another story.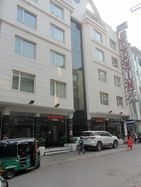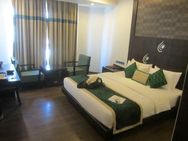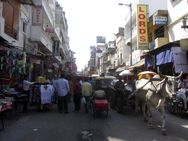 As I had been full on culture vulturing for the last month (Although I really enjoy them, I had seen enough Mogul monuments to last me a lifetime) I decided to just go for a walk to Connaught Circus, the heart of modern Delhi where all the swish shops and restaurants are. As it happened I had chosen a Sunday and most things were shut! The markets are always open, however, and I even remember the underground one from my trip here in 1994. They mainly sell clothes, so I had a mooch around and picked up a few T-shirts. I then popped into the craft museum which was quite interesting and good because it was free entry (I was also bit cheesed off with shelling out increasing amounts to see India's many monuments). Plenty of interesting textiles from around India. It was just a shame that most of them seemed to have deteriorated in their glass cases over the years. Of course, I couldn't resist a bit more shopping now I was on the last leg of my journey so I bought some embroidered cushion covers. You can't have too many cushion covers can you?
Of course I also went exploring the mass of narrow lanes in old Delhi. I took plenty of autorickshaws in Delhi and I thought they were fine and the traffic not too bad. But for a lot of trips I took the Metro which was very efficient. For this short trip I went from New Delhi Central Metro to Chandni Chowk. On the way to the station I saw a Red Kite close at hand. There is obviously plenty of wildlife right in the heart of the city. Anyway, the area around Chandni Chowk was interesting. I saw one old building in large grounds all locked up but people were paying for corn and feeding the huge numbers of pigeons there. Remember Trafalgar Square in the old days? I also found the spice market which was interesting. Huge piles of spices and most people having to wear handkerchiefs over their faces because the aroma was so pungent. Also lots of hand carts about with interesting little snacks to taste. I also saw another rubber band seller (the first one I saw was in Kolkata, last year).