Week 3, Feb 2017, Khajuraho
From looking at the map, the short hop from Orchha to Khajuraho should be very straightforward but it isn't. There are few trains and no direct buses. The guy at the hotel said the best bet was the 7.30am train. Not totally surprising but I got to the train station in plenty of time to find it deserted. Even at 7.30 there were only a few hopeful travellers looking wistfully up the railway line. At 8.30, I managed to buy a ticket but the station manager wasn't sure when the train would arrive. As it happens it came by at 9.15. I got chatting to a fellow passenger and it was just as well, as he told me we had to get off at a later station and then go to one of the end carriages as the train split in half! Just as well I'd met this bloke as who knows where I would have ended up.
Anyway, we arrived safe and sound and got a rickshaw into town to my hotel, the Hotel Casa di William in time for lunch. They even had a menu and it had fish curry - just what I was after. "Sorry", the waiter told me, "no meat or fish available this week, it's the Shiva festival". So I had to settle for yet another veggie thali. I knew the International Dance Festival was on but I didn't know about the Shiva festival. Town was certainly busy but I thought that was the norm and so I couldn't be sure whether the people were just tourists like me for the world heritage site temples, devotees for the Shiva festival, or they were here for the dance festival.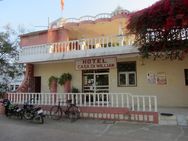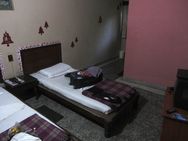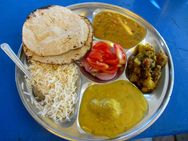 Anyway, I was here for the temples so they're what I went to see first. More detailed information can be found on the web but briefly the Khajuraho temples were built between 950 and 1050AD by the kings of the Chandela dynasty. Even when they were building the temples Khajuraho was only a small village and when the dynasty fell, the temples lay forgotten for many centuries only to be rediscovered in the early 19th century.
Khajuraho town is quite small and my hotel was pretty much near the centre so it was just a 5 minute walk to the main ticket office for the main group of temples - the so called Western Group. As they were one of the most famous world Heritage sites in India, I had decided to get up pretty early before most of the tourists and at 9 am it was actually very quiet. I paid my 500Rs entrance fee and in I went. Although right in town the temples are fenced off in a large well tended garden. Of the original 85 temples there are only 22 left and of these about 6 or 7 form the Western Group. These are supposed to be the best preserved and most striking. I have to say right from the get-go I wasn't overly impressed. Maybe I was expecting too much or maybe because they were a bit too perfect. They had obviously been extensively renovated and they felt a bit 'dead' to me. Maybe because they were temples in the past but were now just there for tourists. There is no denying that the sculptures which adorned the temples were superb, whether they were highly gymnastic orgies, for which Khajuraho is famous, or a battle scene or simply a maiden looking at herself in a mirror.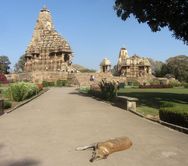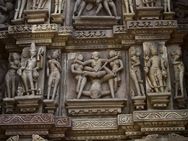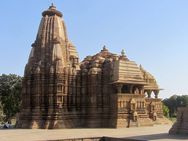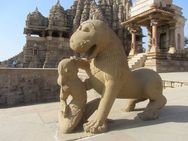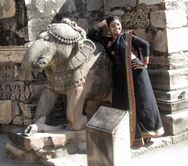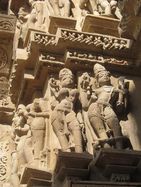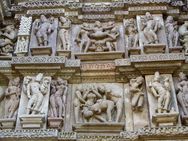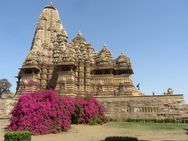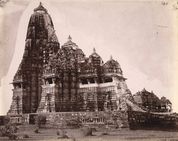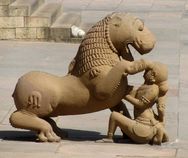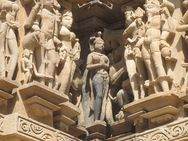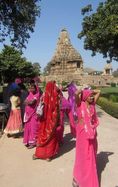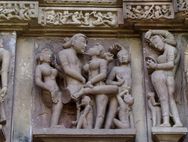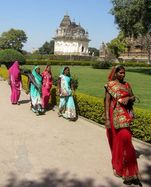 More old photos of the Khajuraho temples can be found at the British library site
And more recent photos here