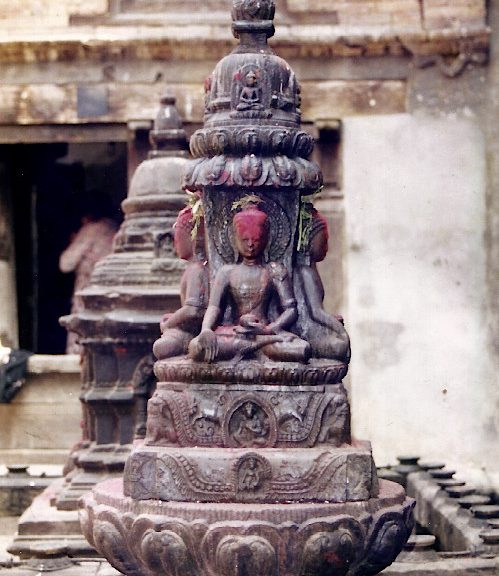 Back to Kathmandu
Back to Kathmandu
Diary entry, Wed 7th April. Souvenir Guest House, Kathmandu.
"Stomach feeling a bit upset. After 10 hrs getting shaken hither and thither on the bus I checked into the hotel, showered and had a big juicy steak at G's terrace. After a week of no meat I think I overdid it. Not a bad little guest house (I'm glad to say it is still in business in 2022 as the picture below attests). My room was similar to Potala guest House but a lot cheaper – 250Rs. That's it for today.
There was an interesting moment on the bus trip. We went through a checkpoint so everyone had to get down off the roof. But the Dutchies refused so there was a bit of an altercation. They eventually got down, we went through the checkpoint and then 100m later everyone got back up again! Crazy."
April 8th and 9th
Followed some walking tours in the guidebook past temples, temples and more temples. The place really is fascinating. So many tiny alleys. Went across the stinking polluted river and decided to go to Kirtipur – a very sleepy backwater on a hill SW of Kathmandu. However it was more like a building site, I think they were laying pipes. Some quite interesting temples, few people and didn't take many photos – just of some girls weaving carpets. That night there was some welcome rain which cleared the air a little. The following day went for some more wanderings.
April 10th
Got the early bus to Dhulikhel. Very easy and quick. An interesting town. Walked into the fields. Not exactly rural idyll but quite pleasant. Temples, narrow alleys etc but not the buzz of Kathmandu and no real photo opportunities. The men quite interesting, wearing little hats and jodhpurs. Women mainly in red. Had chicken tikka again – seems every night.
April 11th
Bhaktipur. Contrary to what the book says the bus was fine. Bhaktipur was great – old winding streets and squares. Had lunch of soup at the restaurant overlooking the main square – for 1.5 hrs! A pleasant day, took lots of photos. In the evening had an extremely tough buffalo curry at Timbuktu restaurant. What do you expect for 50Rs?
April 12th
Feeling lethargic. Was woken a few times in the night by my neighbour's explosive diarrhoea (probably giardia).
Rented a mountain bike to go to Bungamati. I lasted an hour of bone shaking. Bike was also too small so I went back and swapped it for a taxi! Contrary to the guide book which said it was rarely visited, I spotted a busload of camera toting French. They were unbelievably intrusive, poking their cameras in the locals' faces. I chatted to some local urchins who spoke a smattering of English. They directed me down the road to Khokna – I found it very interesting. After the French experience I made sure I always asked permission before photographing anyone, risking the obvious requests for money. Ripped off 40Rs for lunch of lentils, spuds and some dry flaky stuff. From here I got the bus to Jawlikhel and actually saw the Tibetan carpet shops which I was looking for when I went to Patan.
April 13th
Walked to Jawlakhel and had an early lunch in a place by the zoo – actually quite nice dhal bhat. Amazing! Then on to the carpet shops. I got a very nice Kashmiri needlepoint carpet for $52 (I still have it in 2022 and it's in great shape).
And so that was it. Got off to a bad start with illness but I thought the place was fascinating, certainly one of the best places I've visited. I thought the Kathmandu valley was not as pristine as I expected and there is a lot of building work and renovation going on (certainly more now after earthquakes!). I noted that a lot of aid money was flooding in as Nepal was a extremely poor country. No doubt more money was needed now. Definitely a place I would love to revisit.