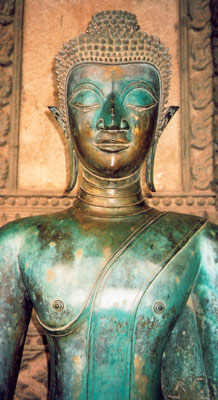 Thought of as the most enigmatic of the three French Indochina states, Laos is definitely the sleepiest. At least for the moment. After years of isolation, Laos is now slowly opening its doors to the world – mainly a result of the Friendship Bridge over the Mekong River linking Vientiane with Thailand. These days you have to actually look both ways before crossing the road in Vientiane and the main road in Lung Prabang is lined with western restaurants. Having said that, tourism (and life!) is remarkably low key even on the tourist axis of Vientiane, Vang Vien and Luang Prabang. Off the axis life is much the same as it has been for years.
Vientiane, the capital, is emerging from hundreds of years of slumber and the centre now even baosts a number of restaurants and bars. The hotels aren't much with the exception of the Villa Manoli – a beautiful old villa in a sumptuous garden. It even has a small swimming pool – all for about $20 a night.
After a days wandering around the magnificant temples there is nothing better than strolling up the river bank to the stilted restaurants and enjoying a great Mekong sunset over a cold Bia Lao and a spicy pork Laap (minced meat salad) or sizzling Mekong catfish.
lunch anyone?
Buddhist hell
Pha That Luang
rice crackers drying in the sun
Vang Vieng has become something of a backpacker centre in recent years. Positioning has probably been the key to its popularity as it is half way between Luang Prabang and Vientiane and is therefore used to breakup an otherwise long day on the road. It is also prettily situated on the Nam Song river, the focus of the town. There are a few riverside places (bars woudl be too flash a name) to buy a beer and watch people float by – either in inner tubes or canoes. There is also a small market and a few stalls off the river selling handicrafts and some travel agents who can organise day trips up the river or to local caves.
Luang Prabang is the jewel in Laos' crown and has been a UNESCO heritage site since 1995. It has recently seen a sudden influx of tourists resulting in an explosion of restaurants and handicraft shops along the main drag. Five star hotels have also started appearing along the fringes of town. Despite this, there are so many temples to see they are never crowded. In addition, the back streets are usually deserted and if you are lucky enough to happen upon a temple festival you are more than likely to be one of only a few foreigners present. There is also the timeless view of the Mekong River, behind which the untamed jungle goes on into the distant hills.
Main street Luang Prabang
More photos of my trip here