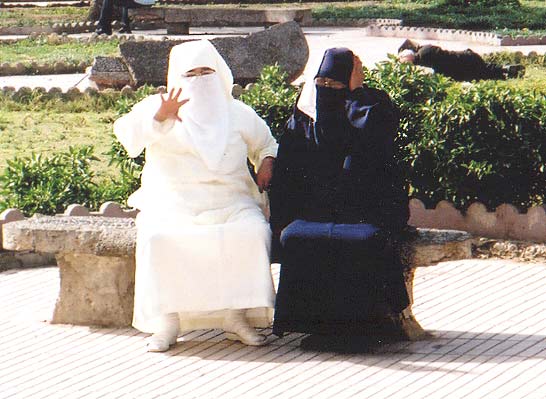 I spent just over a week in Morocco. As time was of the essence I had to choose my destinations carefully. One was chosen for me – Rabat, as it was the reason for coming – a business trip. Having said that it's a nice enough place and built in a similar fashion to most of the cities of French North Africa having a modern French town (la nouvelle ville) and an old Arab town (the medina).

The French town is planned in a grid and has the usual amenities. The Arab town is far more interesting having many narrow alleys, all the hussle and bustle and plenty of handicrafts for sale – admittedly the same as you would get over all North Africa – pretty filligree metal lamps, carpets, brightly glazed pottery and sheeshas (hubbly bubblies). As it is not primarily a tourist town however you won't get hassled.
There are also plenty of little cheap restaurants selling the Moroccan staple – tajine – basically a rather dry stew – often with raisins or prunes – and always very tasty. The name itself comes from the dish it is cooked and served in – a shallow porcelain bowl with a conical top.
For my remaining days I chose to head for the tourist centre of Marakesh and the increasingly popular little resort of Essouria. I was fortunate to get a lift and so the four hour drive passed quickly. The landscape was pretty flat and featureless although it changed appreciably from the green north to the dry south. We stopped off along the way for a meal at a large truck stop lined with many butchers and barbeque stalls. The grilled lamb was excellent and certainly fresh as most stalls displayed live sheep, freshly skinned animals and hanging carcasses. This was washed down with some tea flavoured with absinthe, a local speciality.
After getting dropped on on the outskirts of town, I took a taxi into the centre telling the driver to head for Hotel Ali. Initially I thought the taxi driver was playing silly buggers as he told me to get out with no hotel Ali in sight. He pointed me up the road and was off in a cloud of petrol fumes as soon as I had paid him off. Arriving in a strange town at night and having no idea where your hotel is is a bit unnerving but in this case the taxi driver couldn't have driven me to the hotel door as the centre of Marakesh has been pedestrianised.
I found the hotel easily enough as it is something of a local landmark. Situated pretty much in the centre of things I didn't stray too far away for the next few days. Marakesh has been attracting travellers for many years and even in these first few minutes I could feel its buzz. For a start unlike most North African towns there were plenty of people strolling about at night and the cafes were teeming. While I was checking in I was attracted by the aroma of barbeques wafting by on the evening breeze.
I dropped my bags off and within minutes I was at the very heart of Marakesh – the Place Djemaa el-Fna a huge square but teeming with people, smells, and an atmosphere of bygone times. There were groups of people gathered around acrobats performing tricks, monkeys performing more tricks, snake charmers, medicine men, henna artists and dancers. There was another area identifiable by the huge clouds of smoke issuing from barbeques. On the edges of the square were the cafes filled with observers. I now knew something of why Marakesh had been attracting people for years – but interestingly there were few tourists.
Place Djemaa el-Fna before the action really begins
dates, dried apricots and nuts for sale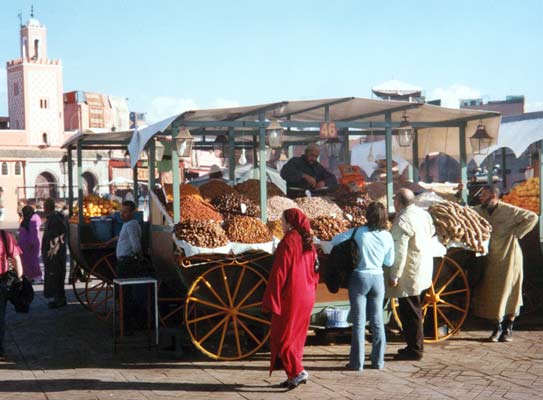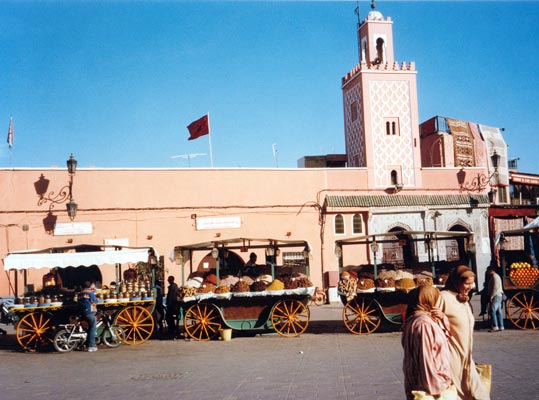 The next few days I wandered around the labyrinthine passageways which form Marakesh's markets browsing the goods for sale and escaping the hubbub in some excellent museums housed in former palaces.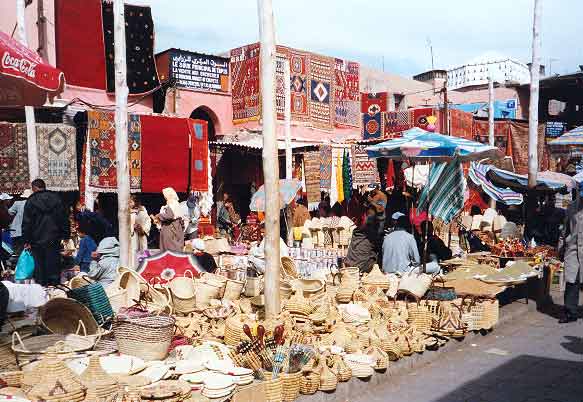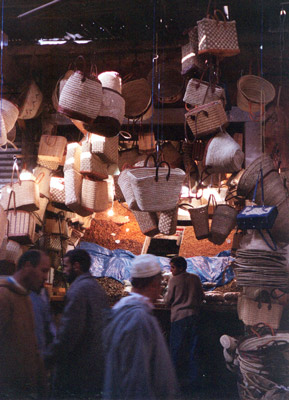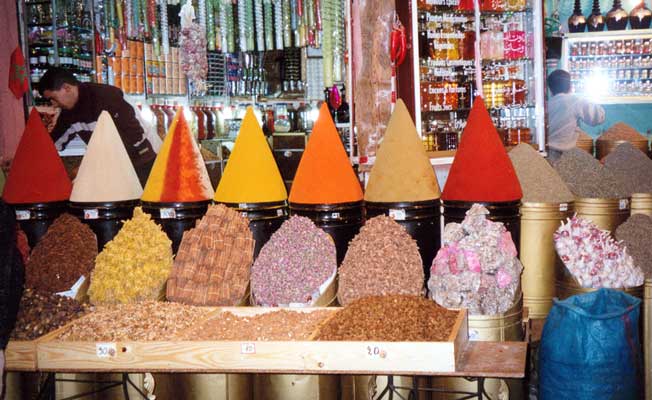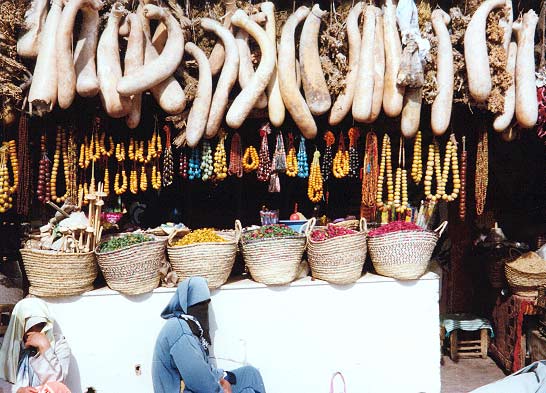 Marakesh's museums are well worth a visit if only for the calm cool serenity as compared with outside and the wonderful tiles.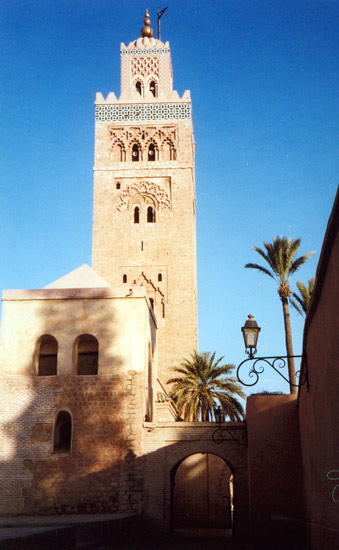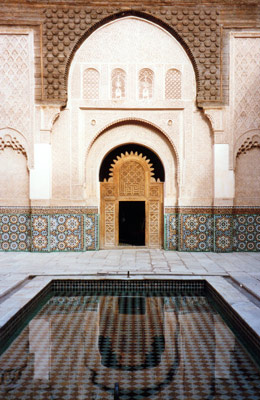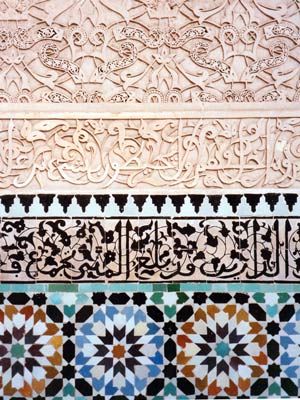 After Marakesh, I headed by bus to the coast – a four hour drive to the pretty resort town of Essaouira.
Essaouira seemed to me to be one of those towns that had definitely been discoved, as evidenced by plenty of handicraft shops and western style restaurants, but was at that perfect stage where it still retained an age-old charm and the majority of people got on with their lives as they had for hundreds of years. Only time will tell how fast this will change.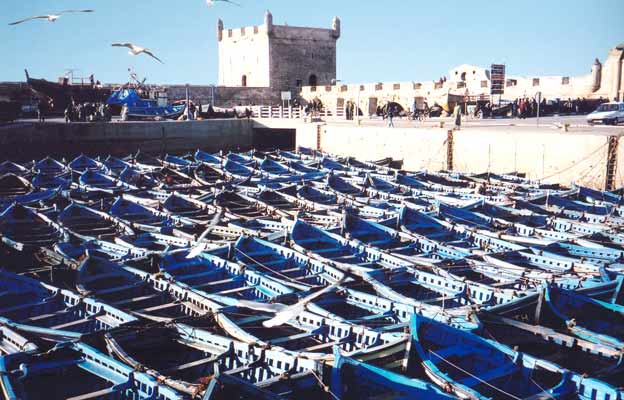 Essaouira is actually a fort, the whole town surrounded by huge thick walls which we can see here in these views from the port.