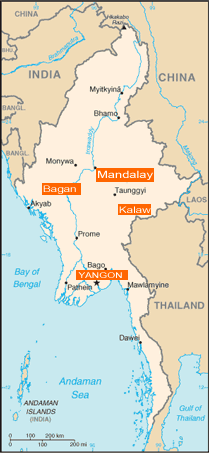 21 Dec 2002 – 5 Jan 2003
This is another new/old post. I did the trip almost 20 years ago but I'm writing it up using my old moth eaten diary and scanned original photos. My diary doesn't give much mention of politics or travel tips, just my day to day experiences, so most of the posts will deal with them. I have used the internet to track down the hotels I stayed in and provide some background information to some of the places I visited. The text below is from my original website. 
Most people's impression of Myanmar is of a Police State controlled by a secretive military junta cut off from the rest of the world and where any form of dissent is not tolerated. Its government is condemned by all Western governments, Amnesty International, Lonely Planet and almost everyone I know. I wanted to see for myself. Or rather, I thought it would be a great place for a holiday as it had lots to see and and there wouldn't be many tourists.
I've seen draft labour teams made up of ethnic minorities, breaking up stones to fill potholes, seen a colleague sent to jail for two years without having broken any law, been followed by secret police and seen grinding poverty. But none of the above in Myanmar (they were in Vietnam, Egypt, China, and in many countries). In fact Police presence/Government interference was minimal and although not looking out for it I never saw any form of repression anywhere.
But what of the place itself? It shouldn't have been a surprise given its geographical position but Myanmar is a bit of a mixture between India (without the millions of people) and Thailand (30 years ago). I was expecting it to be very old fashioned – 'lost in time' given the junta's apparent aim of keeping the place isolated. Recently, however, they have been opening up to the world so it is much like any other South East Asian nation exhibiting the usual internationally recognisable billboards for companies such as Sony, Lipton Tea and the like but not yet in flashing light format. However all (and I mean all) the men wear lunghis (sarongs) and there are no internet cafes as yet (what a bonus!). Food is pretty good – especially if you like curries, and lots of Indian style tea houses. The hotels are the usual Asian standard. My experience of road transport, however, was a bit of a nightmare. Buses regularly break down and are usually late – fortunately internal flights are very cheap and convenient even for budget travellers.
I spent two weeks travelling round and it was just enough to leisurely see all the main sights: Yangon; trekking around the highlands of Kalaw (instead of doing the more touristy Lake Inle); Mandalay; and of course Bagan. It is these destinations which form the basis of this photographic journey.

24 Dec 2002
I was living in Vietnam at the time, so the flight was fairly short and uneventful. Arriving in Yangon, I was through immigration fairly quickly and exchanged some money for the official Foreign Exchange Certificates (FEC). this was compulsory I remember $200 for 20FEC. I then got a taxi ticket and was soon headed into the big smoke. I had decided to stay in the YMCA as my copy of the lonely planet said it was very clean and the…

26 Dec 2002
I got on the bus from Yangon to Mandalay as planned and found myself sat next to a mad Italian vet called Carla who happened to know a mutual friend in Hanoi. She was good company but talked a lot. The other foreigners on board were an Israeli girl called Udit, who I described in my diary as being very thoughtful and introspective and an American, Jennifer, who was quite independent and interesting. They had been to a Buddhist monastery…

31 Dec 2002
Kalaw 28th Dec 2002 Another interesting bus experience! I was up at 6am in the cold, had breakfast and was ready and waiting for the bus to Mandalay. Eventually it arrived at 8.30, although the aisle was blocked with sacks I did manage to find a seat. It shuddered 500m down the road and then stopped again to cram more goods on board eventually leaving town at 9am. The journey itself wasn't too bad. Obviously we broke down, had a…

3 Jan 2003
As I said in my previous post on Mandalay, the flight to Bagan was (for once) without incident and on time. I stayed in the centre of backpacker ville – lots of traveller restaurants and hotels. The place seems to be really taking off. I booked in to the New Park hotel. $7 for a nice room – big and table and chair outside and I'm glad to it's still in business today. Like Christmas, I had forgotten it was…