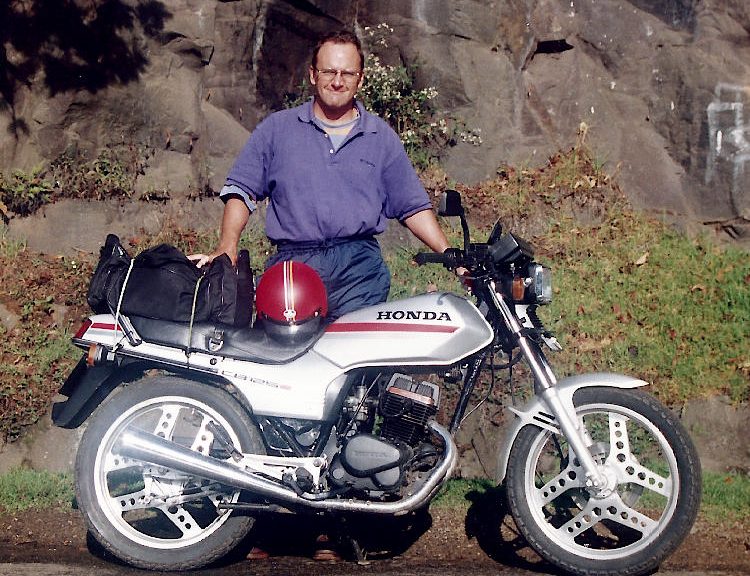 Hill Country and beach escapes
Hill Country and beach escapes
I'd been in Sri Lanka for three months and settled in quite nicely. I'd already been on explorations in the hinterland, got a job at the British Council and moved into a house in Rosmead Place in Colombo. My first term at the BC had finished so time for another trip away, this time to the Hill Country.
28 Sep 1998
Up at 7am and soon on the bus to Haputale. I checked into Mr Amarasinghe's Guest House, where I'd stayed on my previous trip. I noted that it was pleasantly cool and damp and I was surrounded by reassuringly peaceful sounds – the tweeting of birds, a bubbling stream, insects and even the rumble of a truck struggling up the hill – which was in in contrast to the noise and pollution of central Colombo. The following day, for some reason, I had decided to go to Diyatalama in search of a golf course. The club house was a shack and eventually someone turned up with the key. This turned out to be the caddy master and he told me he would accompany me on my round. The course turned out to be an old polo ground which the fairways crisscrossed. The fairways themselves were maintained by a team of water buffalo and the "greens" were clay circles, all exactly round, flat and very fast. The assistant caddy master was also there, he had to go ahead to the next green to show where the hole was as there were no flags. Joining our happy throng was the buffalo herder who at one stage unsuccessfully tried to retrieve the caddy master's ball from the one water hazard on the course. I didn't note any scores but it was a pleasant morning. In researching this blog I found that they have actually resurrected this course and it is now a full 18 holes! I then walked into the village to get the bus back to Haputale through attractive forests of pine and ghost gums. The following day I actually came back for more! I didn't get in a full round as there was a Sri Lankan Army cultural troop and Kandyan dancers being filmed on the second fairway. One memorable moment was while performing an excellent tee shot I noted the head of the club flew off and went almost as far as the ball.
Heading back to Haputale this time I made a stop at a tea factory. (It must have been Dambatenne but my diary doesn't give the name) I was shown round by the boss. Unfortunately I couldn't understand much of what he said except that broken orange pekoe was the best of the six types of tea produced here. And we finished off the tour with a tasting.
After three nights in Haputale I was off again. I only just finished my breakfast of dahl and roti when I was hastily escorted to a waiting minibus.  The countryside was stunning. As we descended the steep hillside I could see the coastal plains receding into the distance. We stopped for a short break at Balangoda and then turned off south at Pelmadulla where I stopped for lunch and changed bus. I got the front seat but little did I know that this fairly short journey would take four and a half hours including a half hour stop in a very sweaty little unnamed town. The journey was pleasant enough though through pine forests and tea plantations.
At 5pm I was let off at my destination Deniyaya Rest House. It was a small villa with a veranda around it with a view north over a small ridge to the Sinharaja Forest Reserve. Apparently this is the last remaining stand of original rain forest in Sri Lanka and a World Heritage Site. Seems strange then that I didn't come here to visit it as there was nothing much else in town. My diary notes than Deniyaya consisted of a bus stand and a main street with the usual motley collection of shops: selling plasticware and clothes, hotels (actually restaurants) and a few veggie stalls. Back at the hotel I noted that my room was enormous. The two small beds looked lost in it. The bathroom was equally big containing an old tub. I wondered if it got used often given there was only cold water. I braved the shower instead. Strange that I stopped here with seemingly no intention of visiting the reserve but the following day I was off again. This time I got a bus to Galle and then another to Hikkaduwa. I was met at the Lion Paradise guest house by Mr Wicky where I had stayed before. Although still off season I noted a few places seemed to be coming out of hibernation. I only stayed one night and then off further up the coast to the Lahinia Surf Hotel in Bentota where I had arranged to meet some friends from Colombo. And then home.
5 December 1998
My life had settled into a bit of a routine. Terms at the BC were 11 weeks followed by a week or so break, so approximately 3 months after my trip into the hill country I was ready for more explorations. However by this time I had secured a full time contract at the BC and bought the Silver Dream Machine (or as a rather unkind friend had called it – the chicken chaser). A Honda CB125 for 80,000Rs (£800). This was its first outing.
My first challenge was navigating High Level Road out of Colombo trying to avoid the black smoke emanating from various buses and trucks choking this artery. But soon I was out into the open country. I stopped at Avisawella for tea, crossing the Kelani Ganga at Karawanella and then past the site where they filmed Bridge over the River Kwai and on to Hatton Rest House for lunch. It was here in the bathroom I noticed that I looked like a coal miner! My face was black from the aforementioned truck emissions. After Kitugalle the climb was noticeable and at the St. Clair Falls the heavens opened. I had waterproofs but by the time I reached Nuwata Eliuya I was soaked, cold and tired but in high spirits. I avoided the Grand Hotel as it was full of German package tourists and instead opted for the Collingwood. It was a nice room with teak floor and ceiling and a four poster bed but lacking in a bath – I really wanted a hot soak. I settled for a hot shower and then ventured into town. As is often the case town was shrouded in a damp mist so I didn't dawdle and before long was in bed listening to the World Service (remember these were the days before the internet!).
The following day I was off early and onto the back roads to Kandy. Lots of picturesque roads lined with tea plantations and forests, interspersed with fog patches. When I neared the Victoria Reservoir the temperature suddenly rose and even palm trees appeared so I got the wet weather gear off and enjoyed fine roads and an impressive view of the Victoria Dam.  My reverie was broken by the noise of Kandy so I headed up to the Bahirawakanda Statue which sits on a hill overlooking Kandy. I believe it's one of the tallest statues in Sri Lanka (there are plenty of tall ones that's for sure!) and there were fantastic views from the top but the steep climb was almost too much for the Silver Dream Machine. I was later to find out that the altitude, such as it was, required the carburettor to be tweaked.
From here I went on to the Pinnawala Elephant Orphanage. It was quite touristy but well worth it to see the elephants frolicking in the water. A number of them had suffered some awful injuries from stepping on land mines in the war zones. That night I stayed in the Kegalle Rest House. I'd already stayed in a few and they were mostly excellent. Basic places (they've obviously renovated this one since I was there!) but in the best spot in town with great views, a wide veranda and big but basic rooms. You could always be sure of a slap up meal with an assortment of curries. The staff were always middle aged men in white sarongs and bare feet. My diary notes, "…and now the most amazing sunset, the building is bathed in an orange light glinting off my bottle of King's lager." At that time I was the only guest and the last foreign guest was three months previous. I hadn't noted it before but the war was certainly putting off a lot of tourists.
So the first of many outings for the Silver Dream Machine was a success I'd say.
30th January 1999
For Christmas and New Year I had gone back to Indonesia for a holiday, so my next outing on the motorbike was a weekend away at the end of January. I'd been for day trips to Negombo before as it wasn't far up the coast but I had never stayed overnight. It had a poor reputation as being a bit sleazy and the beach not very good as it is fairly near to Colombo and Negombo itself is a fairly big town and lots of rubbish and effluent ended up in the sea. It was actually much better than I thought. I spent a few hours at the fish market taking a few photos and then met up in the evening with the crowd from the British Council who were also there for the night.
Apart from weekends away and longer trips I also often just had jaunts on the bike for a few hours. The following photos are from a trip I did to Bolgoda Lake. One of the photos is a rather unnerving one of a mannequin hanging from a building. Apparently it is a good luck charm when inaugurating a new building!
28th May 1999
By this time I had moved out of my flat in Rosmead Place and moved to the village of Pepiliyana south of Colombo. Although it took a while to drive into work it was great to have a bungalow to myself and a large garden. The following photos are from a trip I did to Arugam Bay on the South East coast. Already a popular spot with surfers and one of our most popular places to spend a relaxing weekend. We always stayed at the Hilton. It was one of only a few basic hotels right on the beach. I couldn't find it when looking recently (2022) on google maps but there are plenty more there now than in my day. My copy of lp (7th Edition 1999) lists eight. Good to see the Stardust still in business though, run by a Danish couple I seem to remember.