North East Loop to Lang Son
North East Loop to Lang Son
28th April 2002. I'd been to the North West of Vietnam and the Central Highlands. This time I was venturing North East to the Chinese border. Little visited by foreigners, I wanted to spot some new Ethnic Minorities and also experience the wonderful karst scenery. I first headed north on the main road to Thai Nguyen. It was the worst case scenario – the road was pretty bad but it was also busy with lots of smoke belching buses. Just as the scenery was improving, after Thai Nguyen, it started to rain. However, I went through a small town and spotted two Shaven Headed Dao women who were happy to pose for a photo.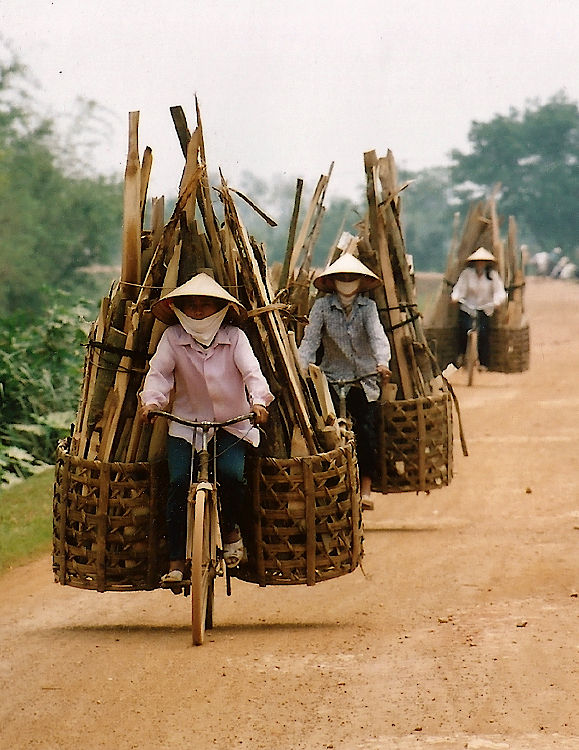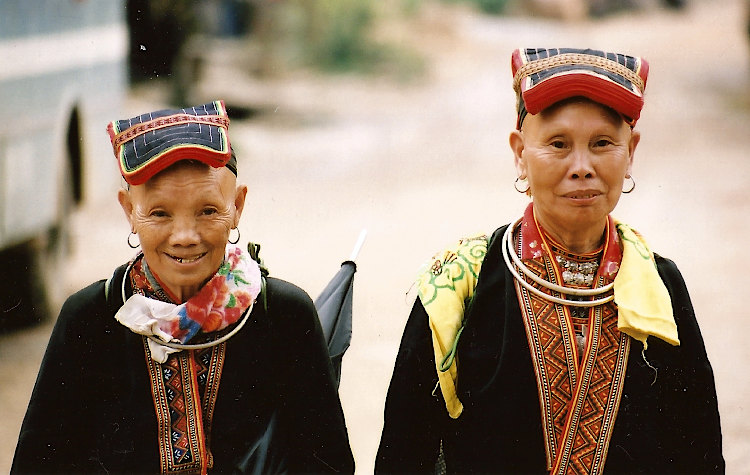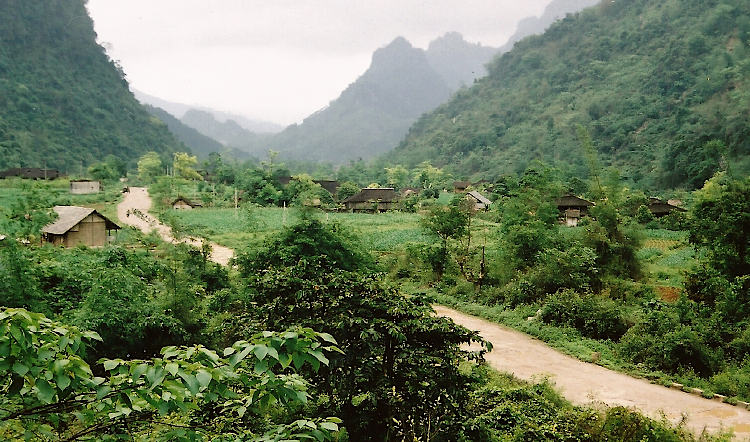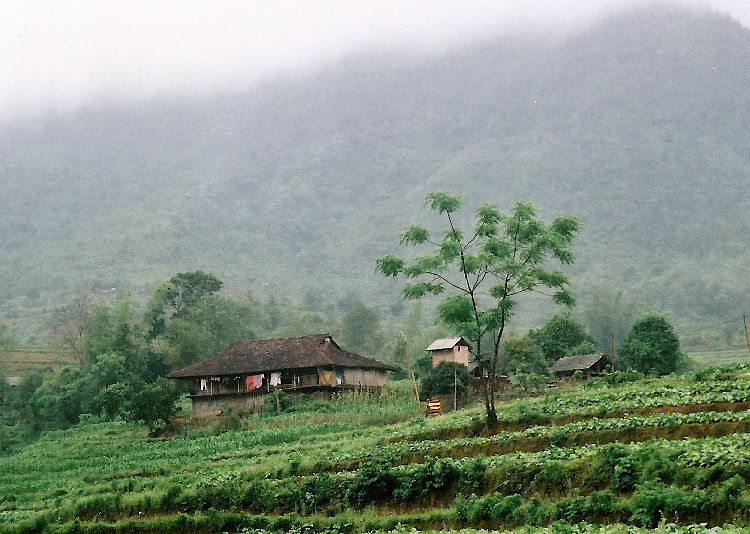 Then coming into Bac Son the sky cleared. I was always worried about the weather because once off the main roads (of which there were few), I had no idea about the state of the road. Although muddy in places, I got to Bac Son in good time. Here I came across loads of people with huge pigs on the back of their bikes – one of them was as big as a cow, unfortunately I didn't get my camera out quick enough for a snap. Also once in Bac Son, despite what people in Hanoi had told me, there didn't appear to be a hotel. Eventually someone said I could stay in the government rest house which wasn't too bad. I had a wander around town where there were plenty of Tay, Nung and Dao women and as the weather improved I went for a ride around the surrounding paddy fields, watching women planting seedlings and men ploughing the fields, knee deep in water.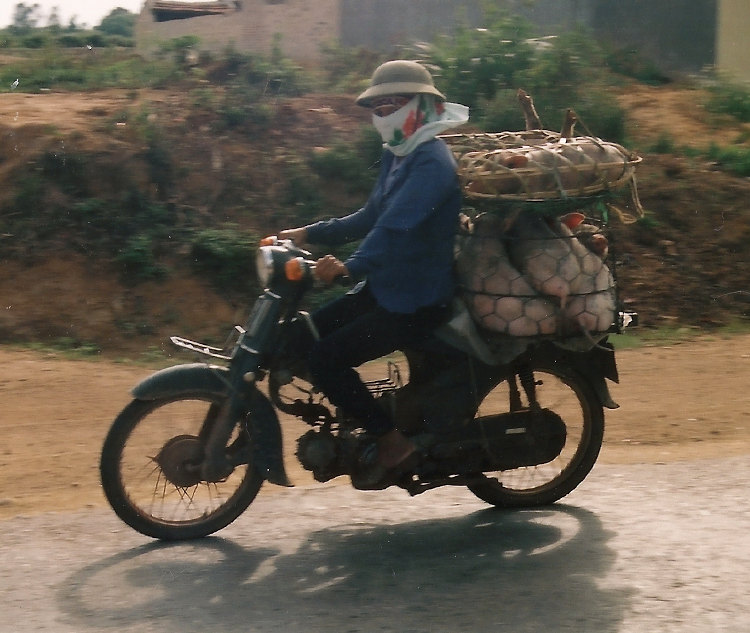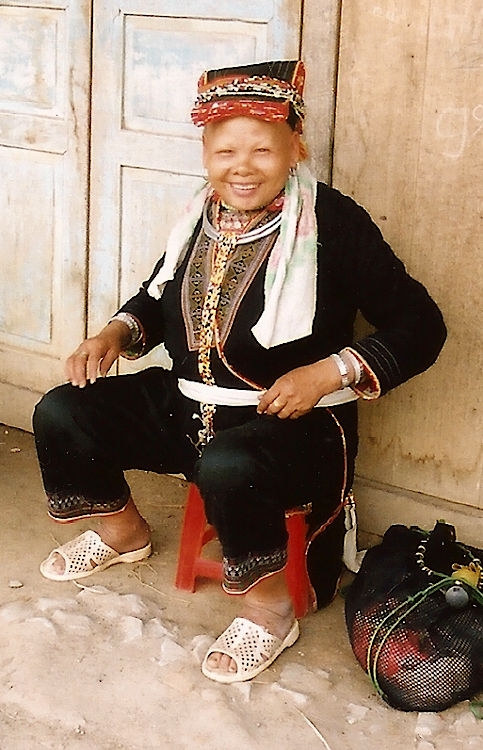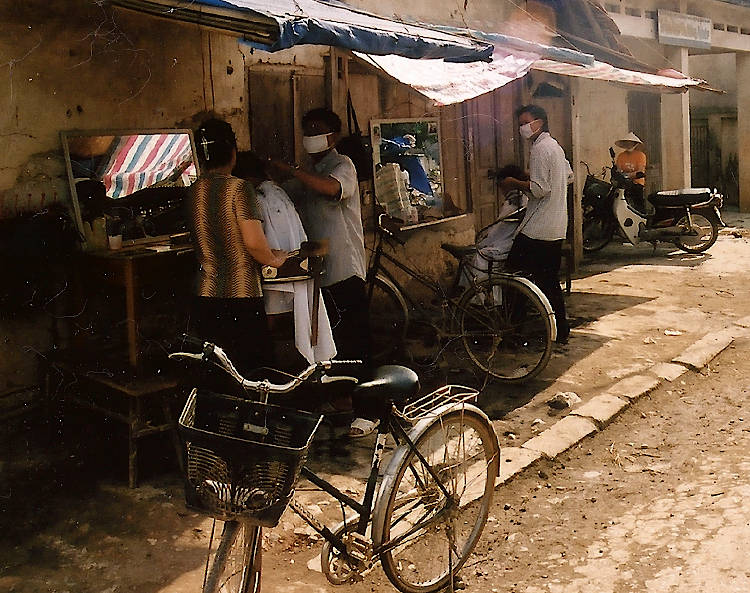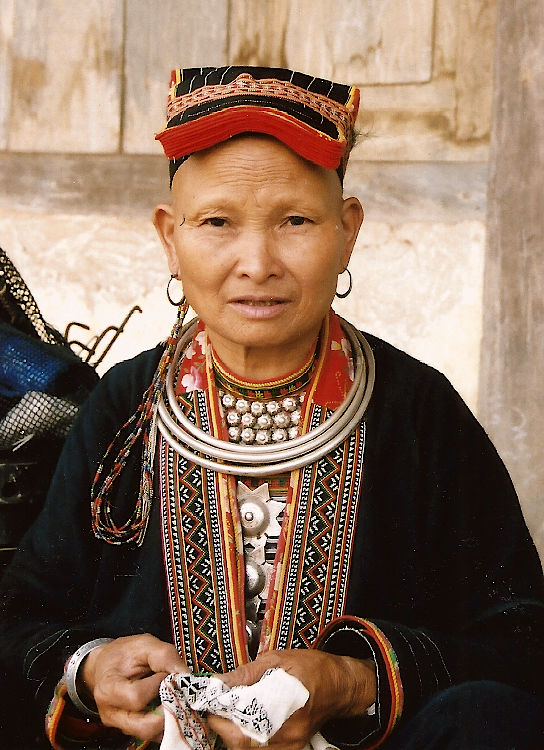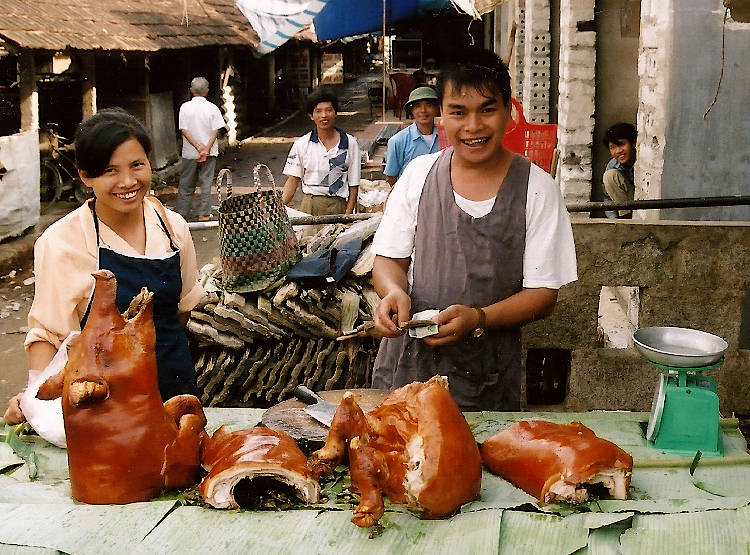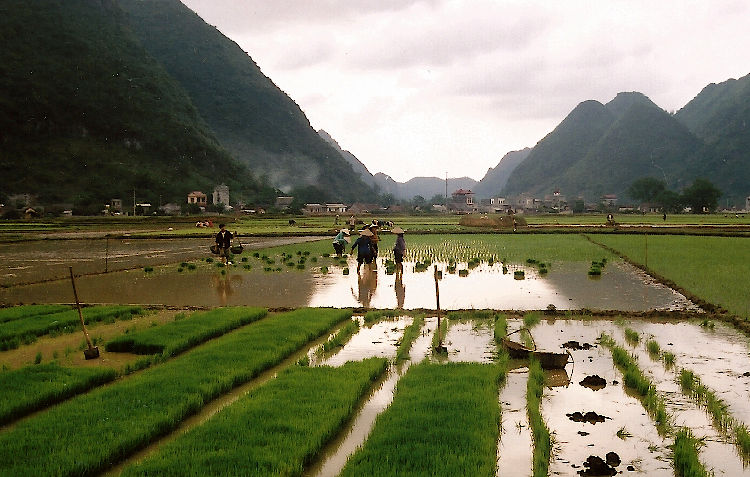 I established a little bit of a routine the following day. I was up and out by about 7am and then after an hour or so, I tried to find somewhere for breakfast. I noted that even here (in the wilds) they were busy road building. This was unfortunate as the first stage was excavating the land which made the surface slippery when dry and a quagmire when wet. I stopped for breakfast in Van Quan, which was quite a nice little place in a picturesque valley by a small river. From here it is up over the Keo Sinh pass and onto Dong Dang, which is right on the border with China. Unfortunately it wasn't actually where I was headed but after getting directions I managed to arrive in my destination for the night, Lang Son, before the rain.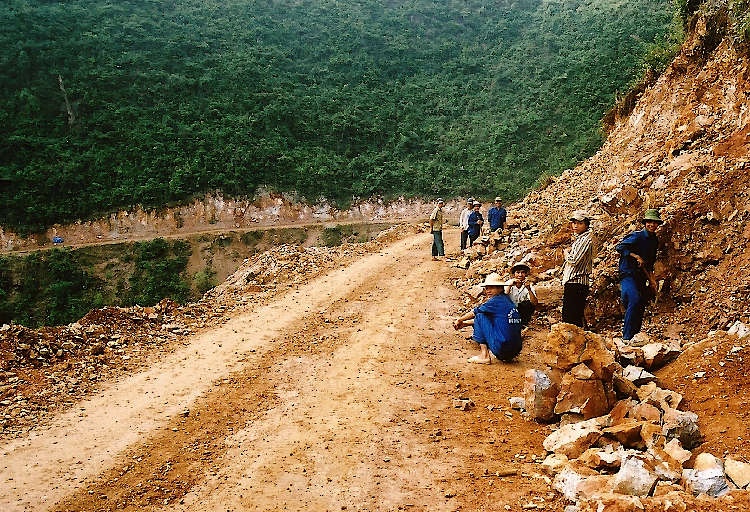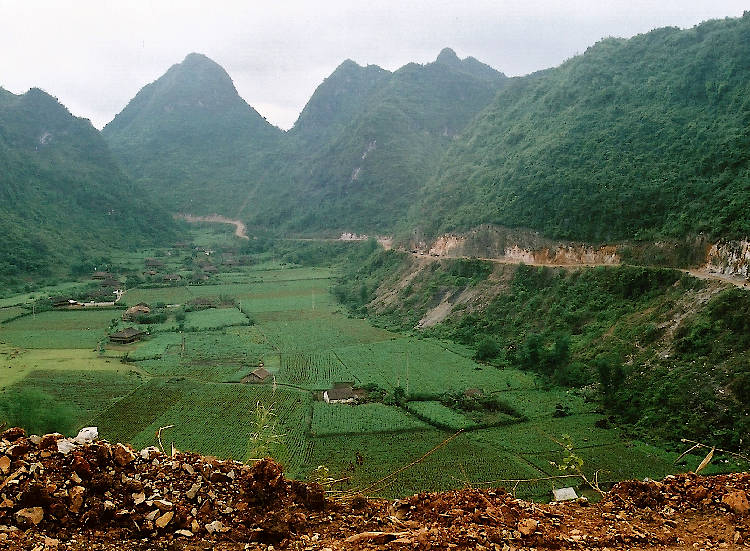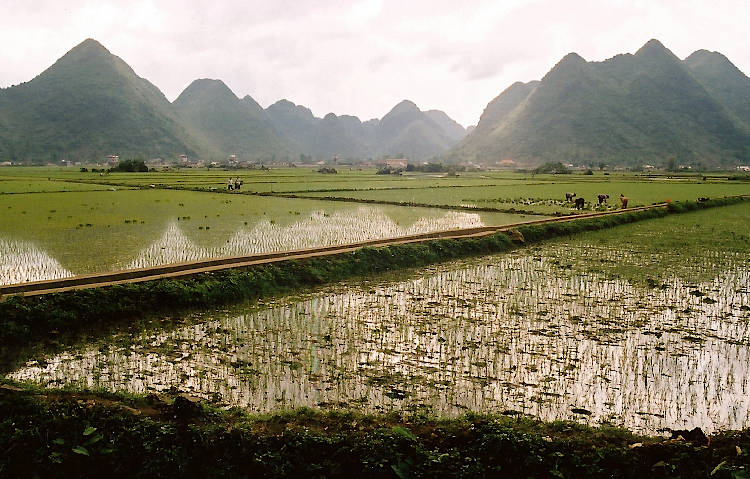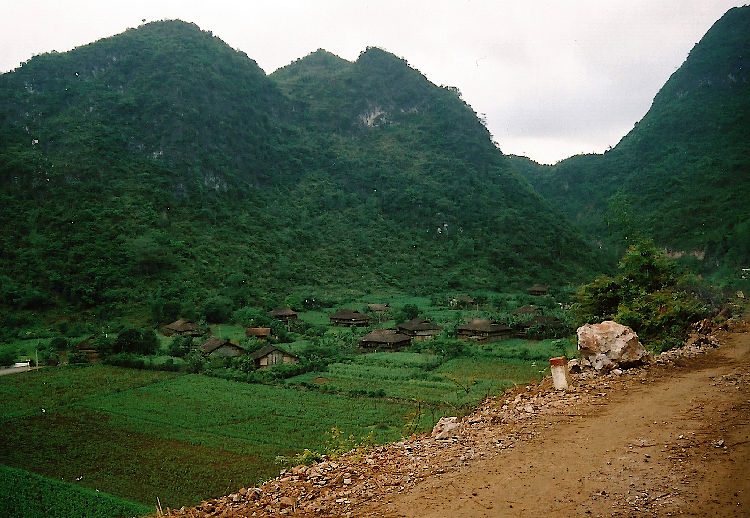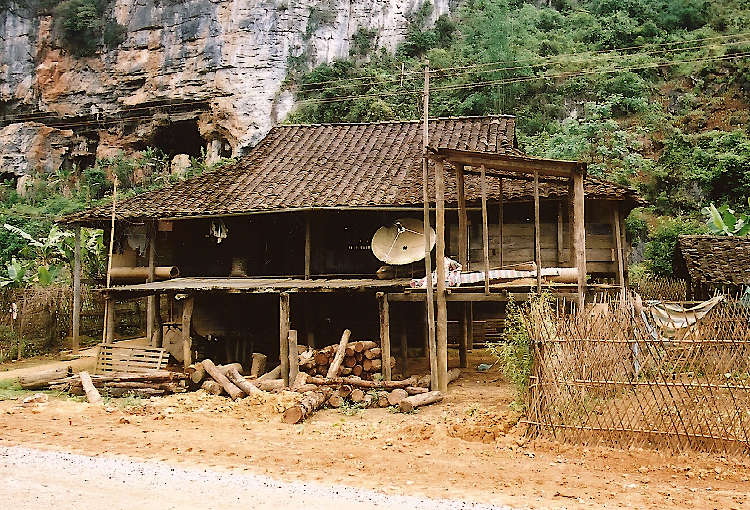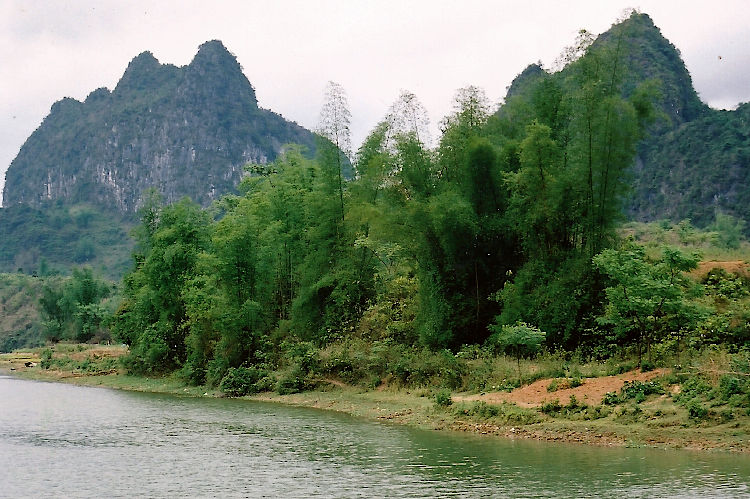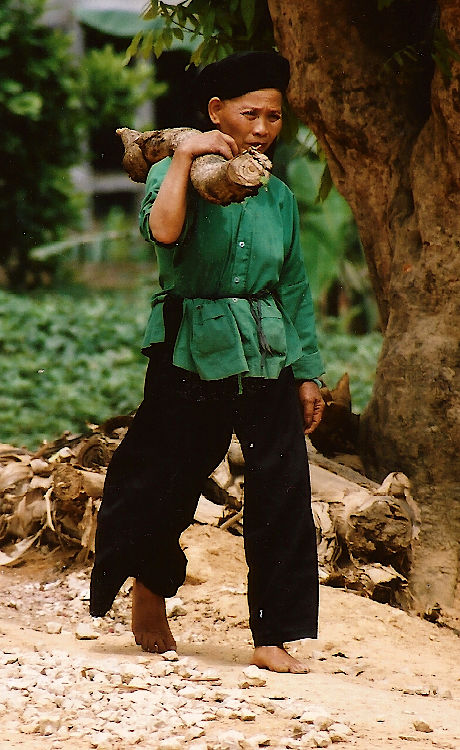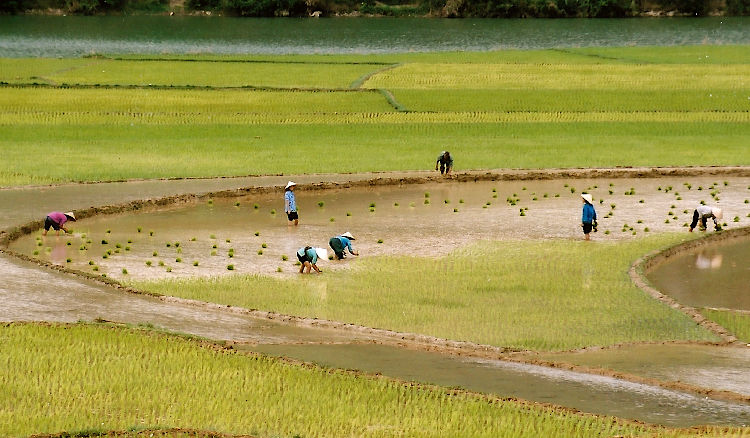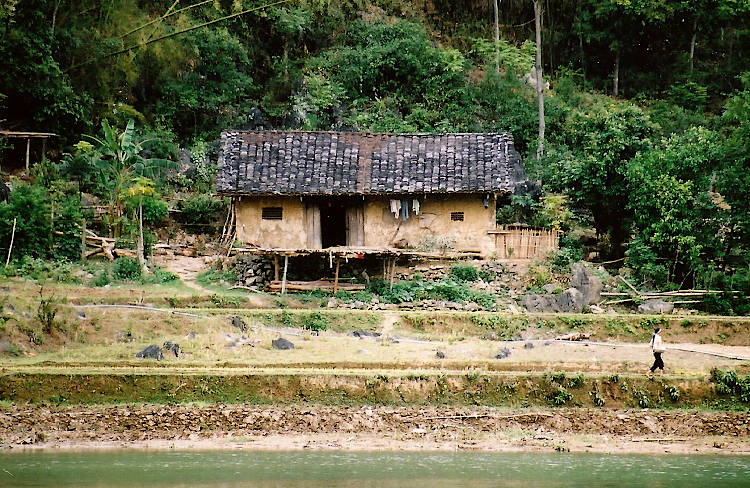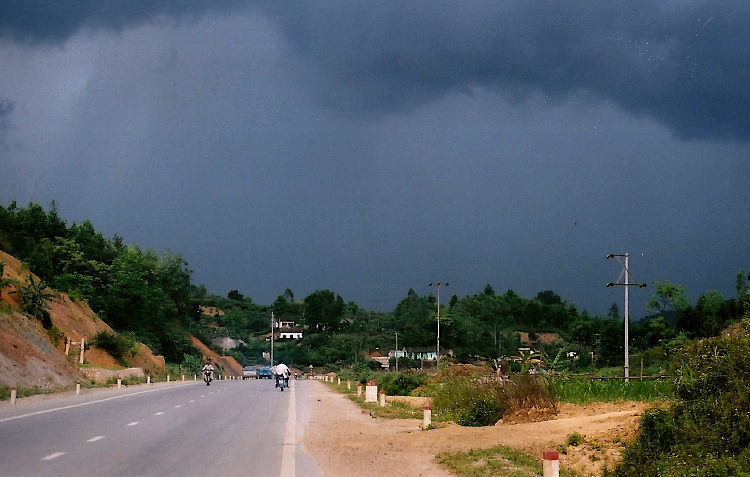 Here I checked in at the Hoang Nguyen Hotel. My diary doesn't note how much it cost or anything about the place at all. I'd arrived fairly early so had a snooze and then headed out again in the late afternoon to the caves on the edge of town. There were more Dao ethnic minority people wandering around the town. They had tea towels on their heads which was a bit odd, but happy to take these off to have their photographs taken. There were also some teenage girls from the Nùng Phàn Slình minority, a branch of the Nung who only live around Lang Son, wearing their distinct outfits which to me didn't seem that traditional given that the material was quite modern. There were also flags going up all around town – apparently there was to be a parade tomorrow for Reunification/Liberation Day.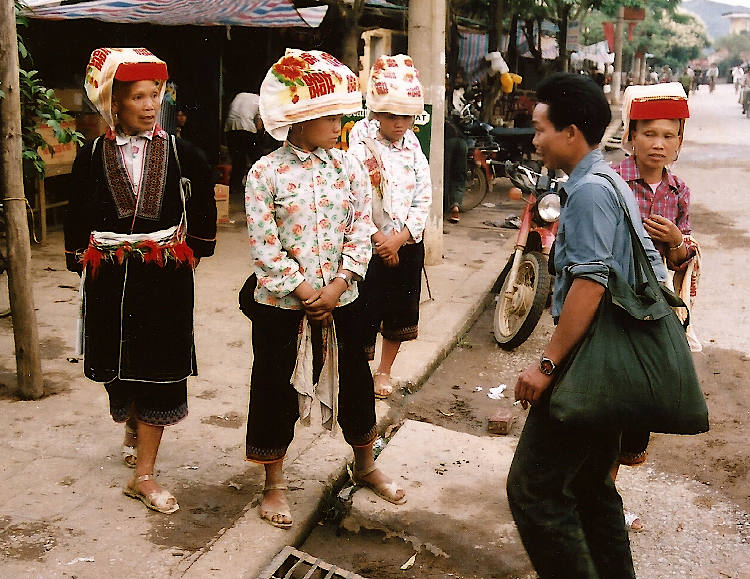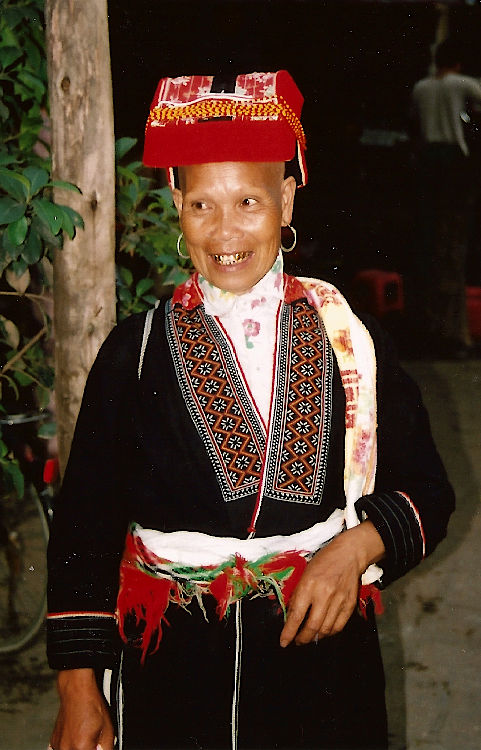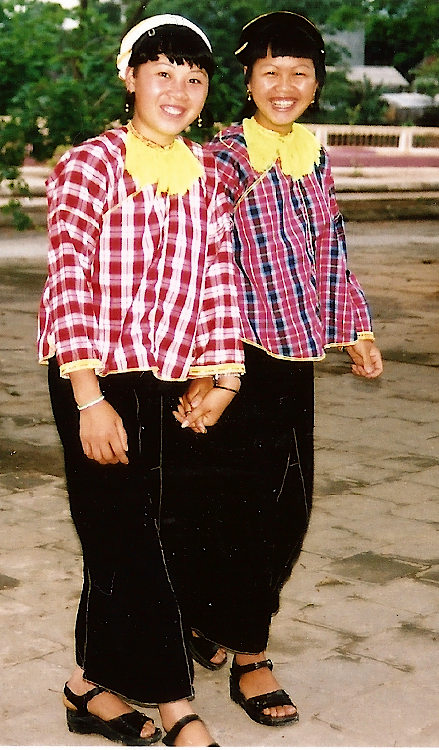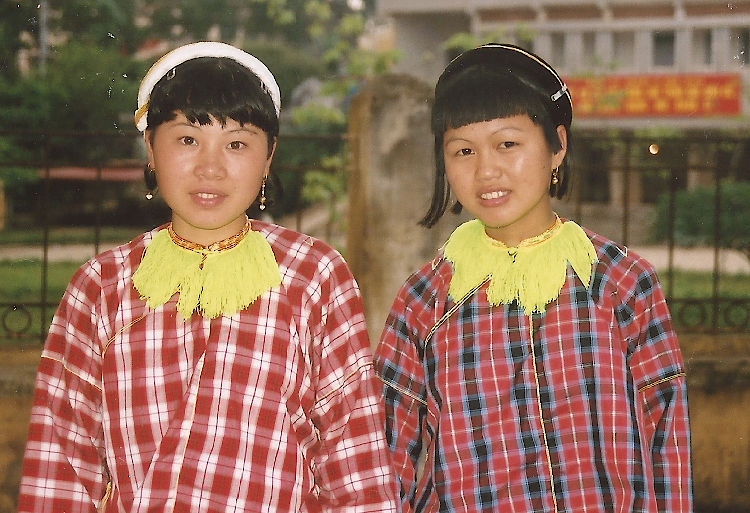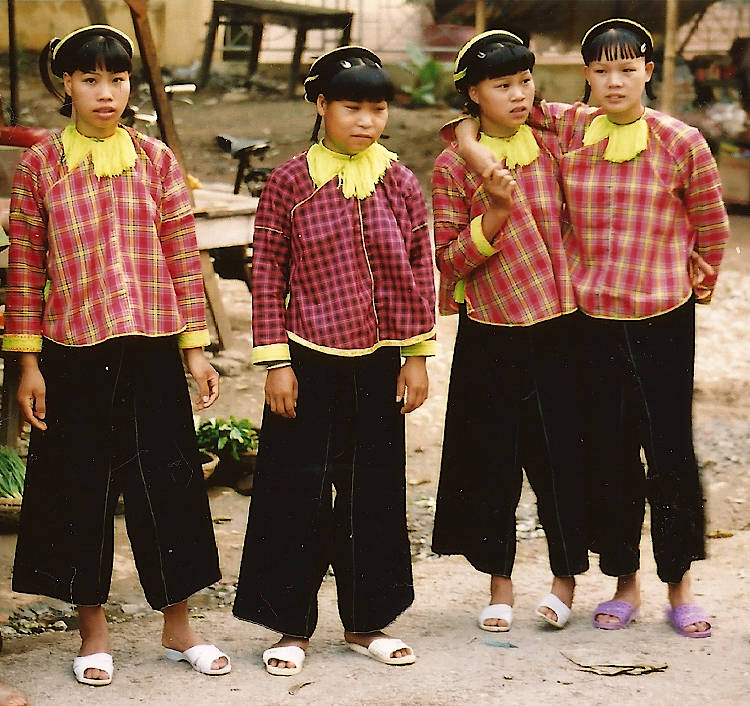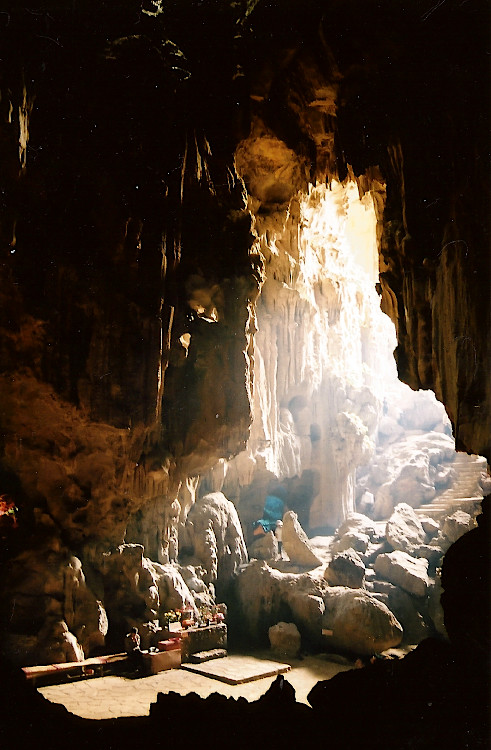 Up at 7 and headed off to the parade ground. There were lots of floats in the parade and groups marching – from the electricity board and Post Office to the women's army, a bunch of cooks and various ethnic minorities and a whole host of others. It was quite interesting to see a lot of the groups couldn't actually march in time. Also, there seemed to be more people in the procession than watching!.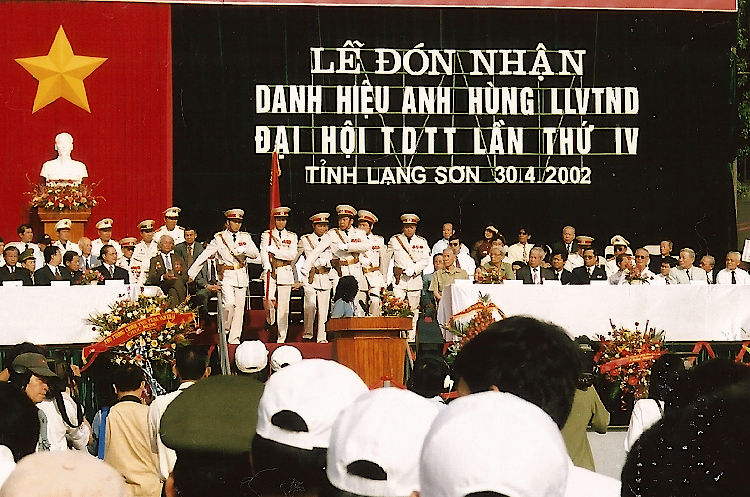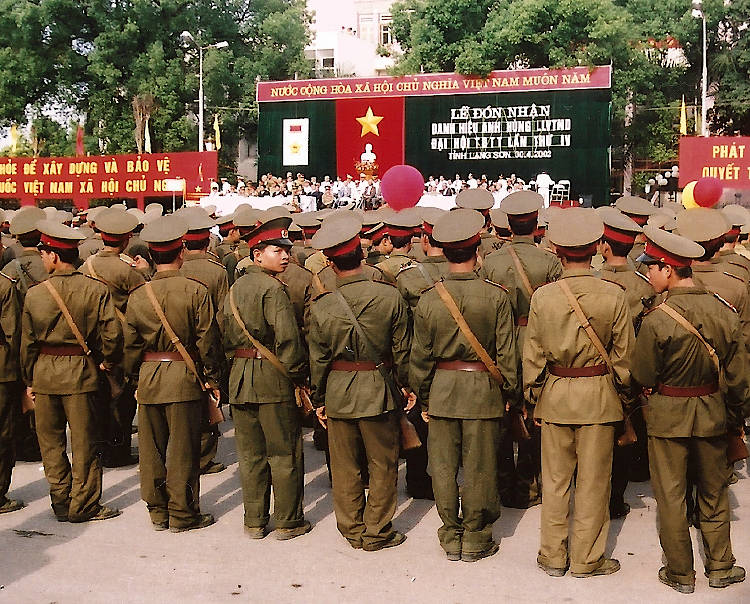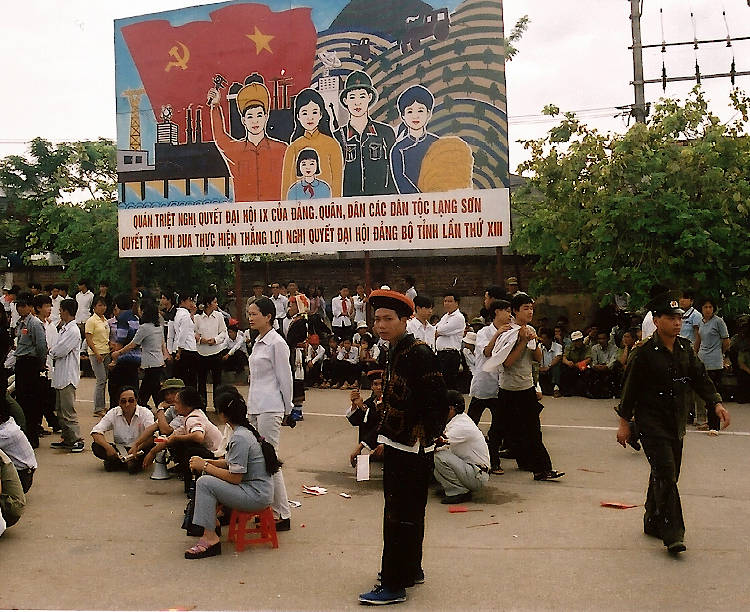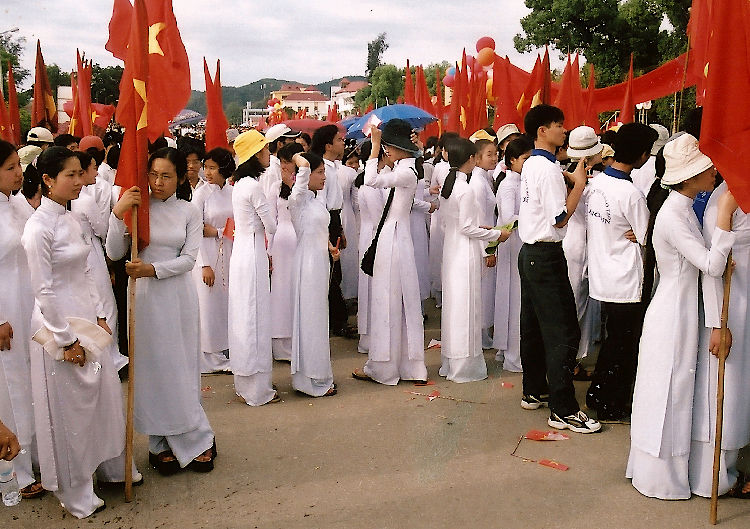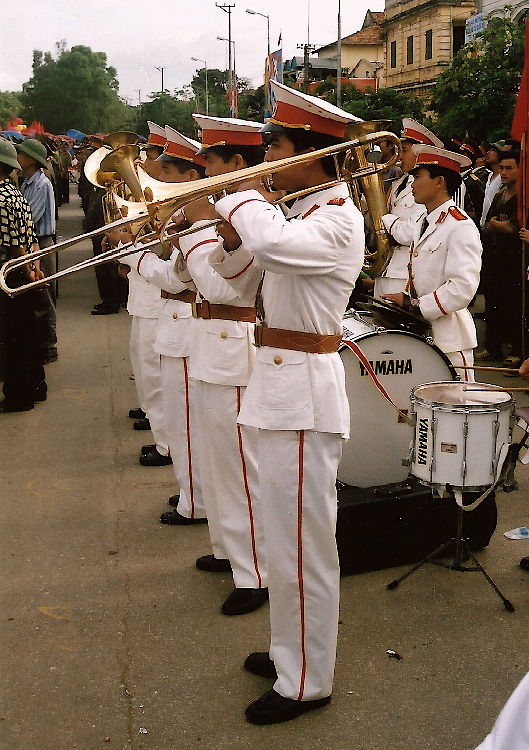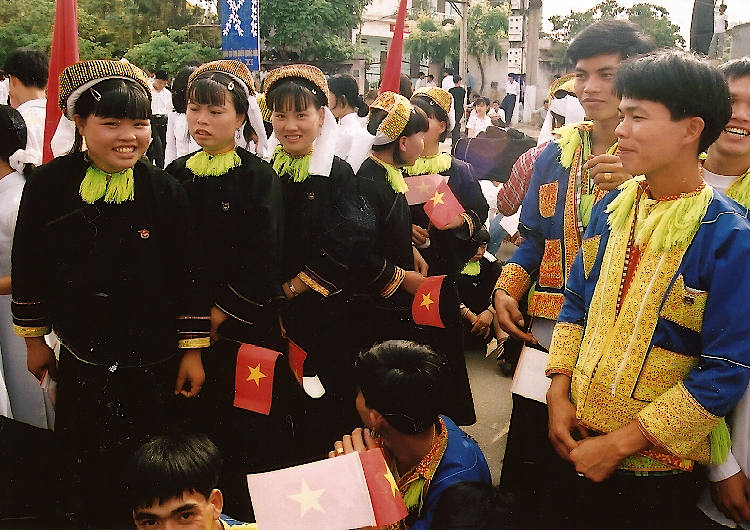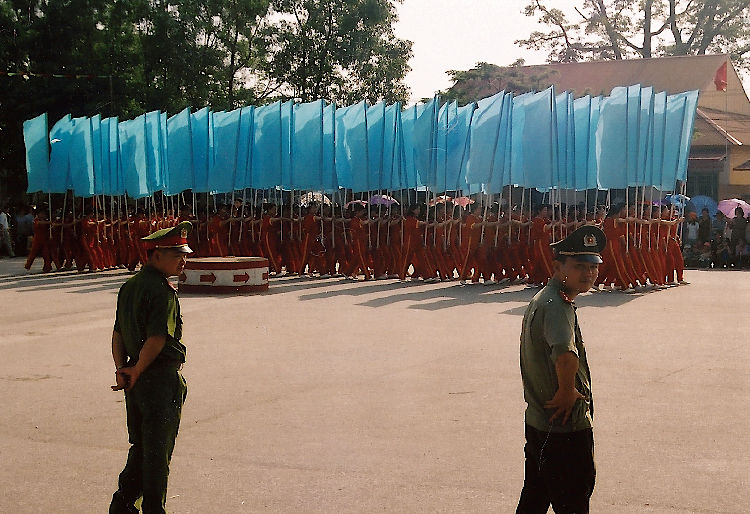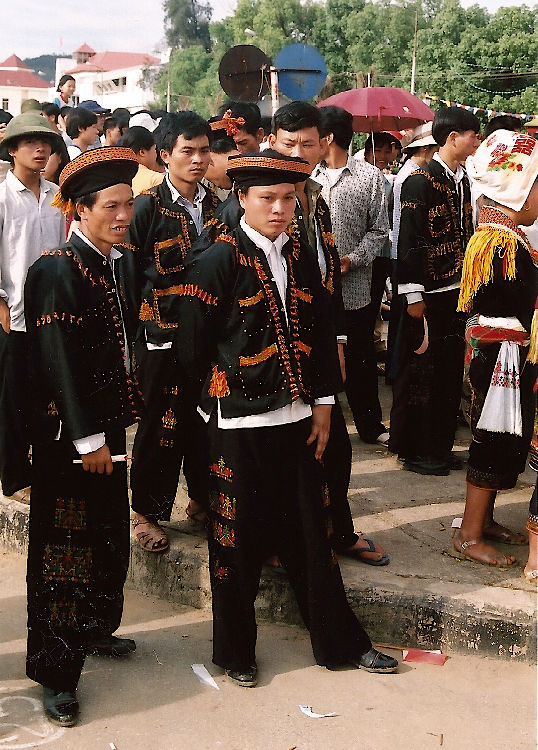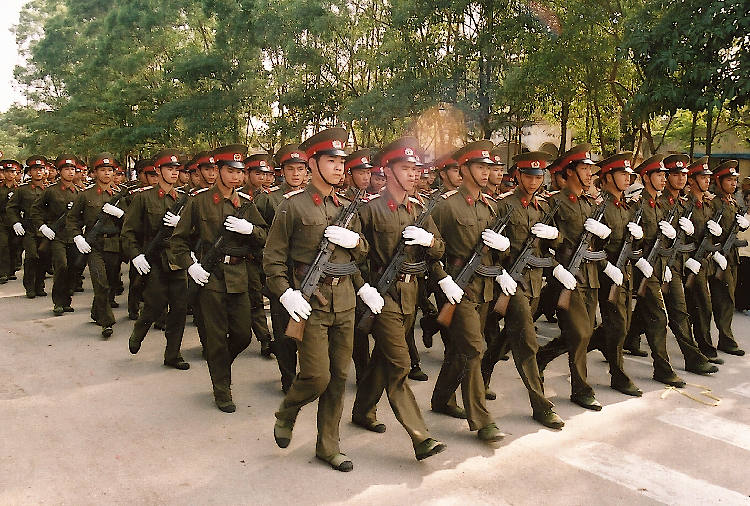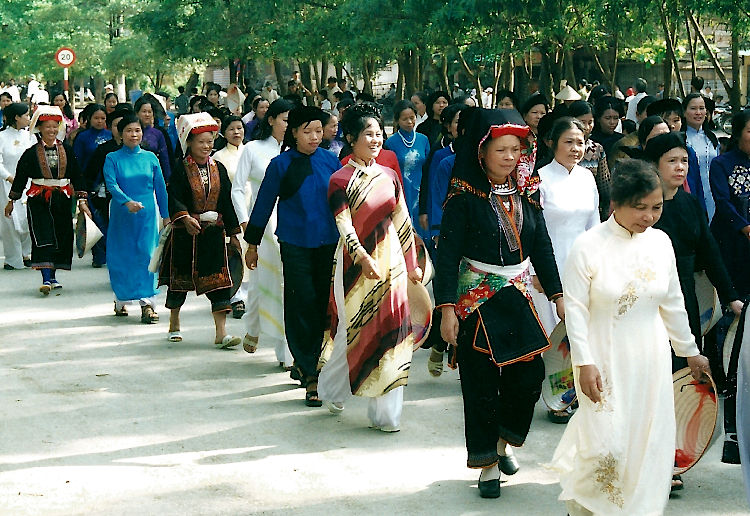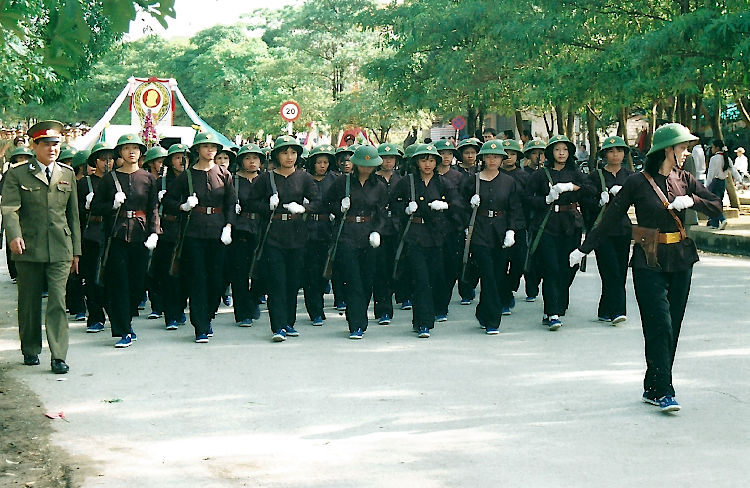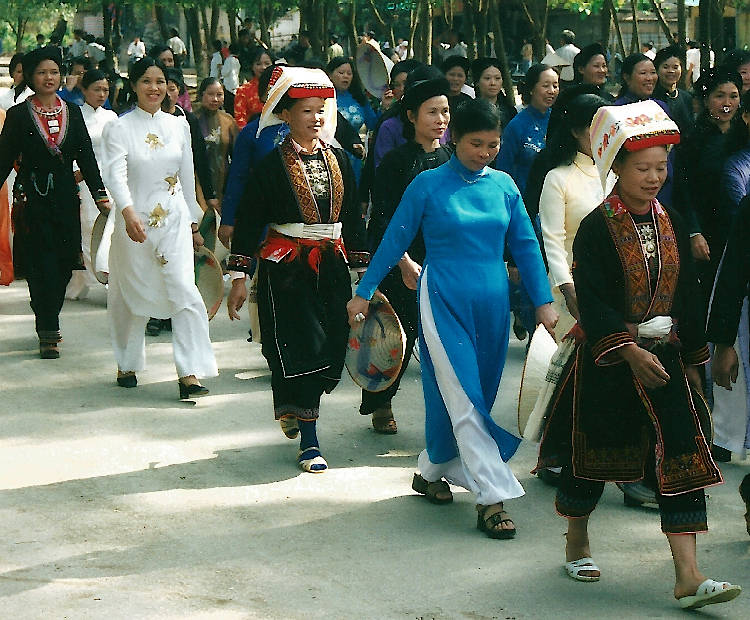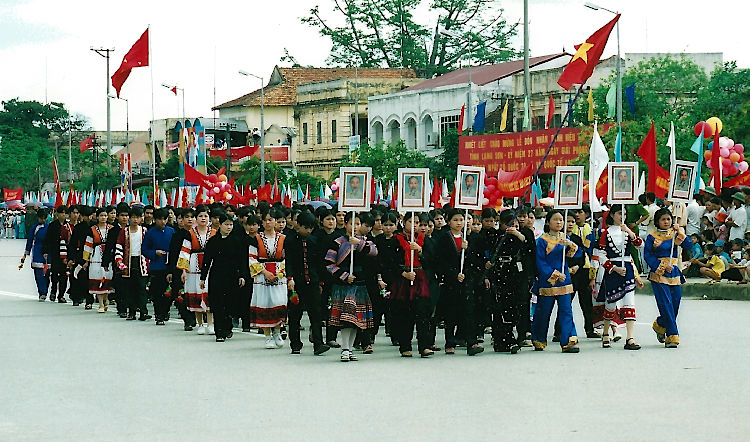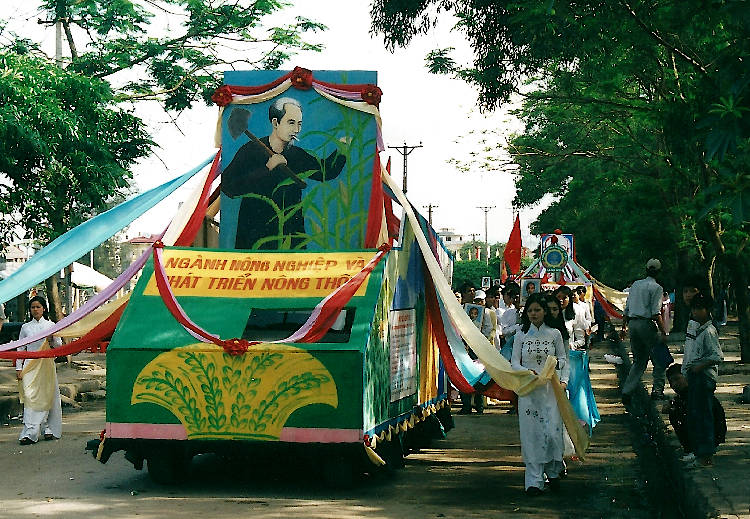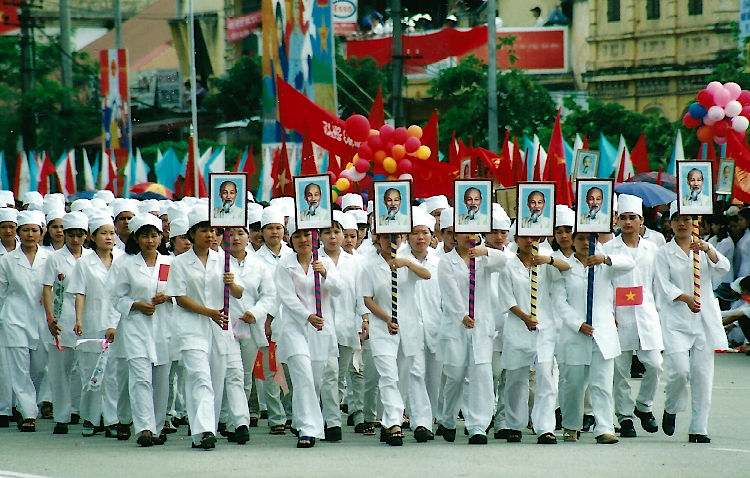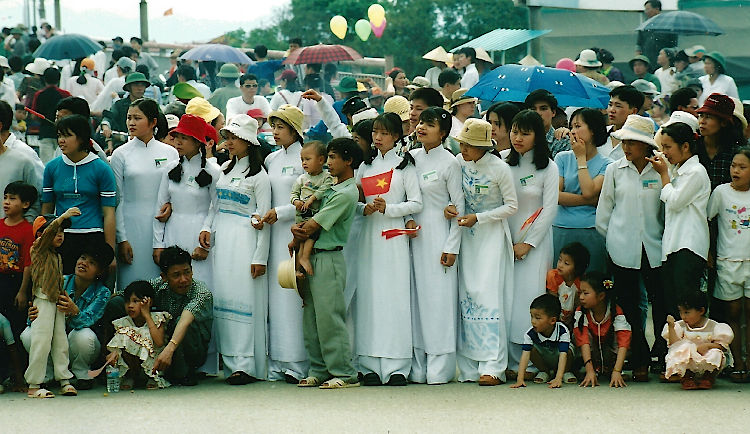 At the end I went to the market for a lunch of bun cha and then headed off to Mau Son – according to my guidebook it was a mountain accessible by dirt road and a popular tourist attraction with the locals. My motorbike mechanic in Hanoi said there was a good road and hotel – mind you he said there was a hotel in Bac Son as well! It was a really nice trip out, good roads, a pleasant valley and very rural. It was amazing that after the rain yesterday the air was so clear and fresh. A big sign marked the turn off and then it was up, up, up but the bike made it OK. I think the Frenchies had built something here originally but now there were only ruins. However there were also a few more recent Vietnamese-built hotels and quite a few day trippers enjoying the mountain air, after all it was 1540m high compared to Lang Son at 270m. I was back in town later in the afternoon and had my hair cut by a streetside barber.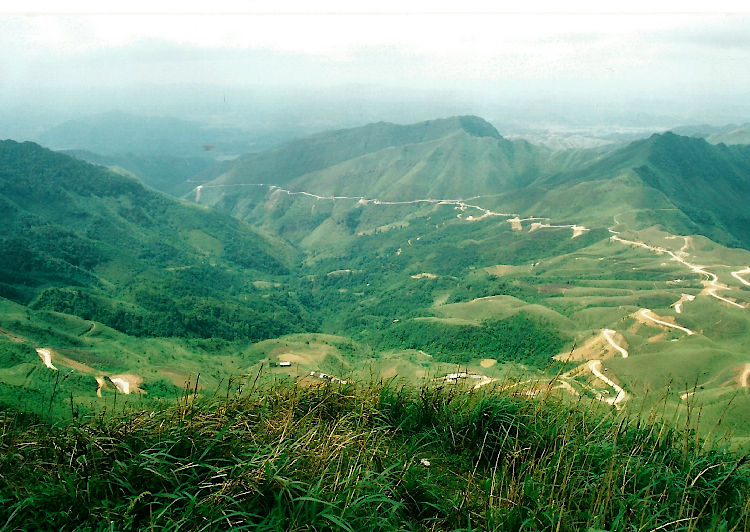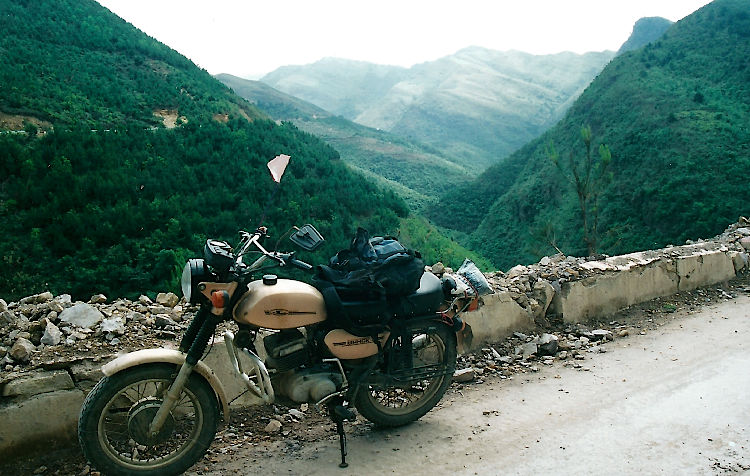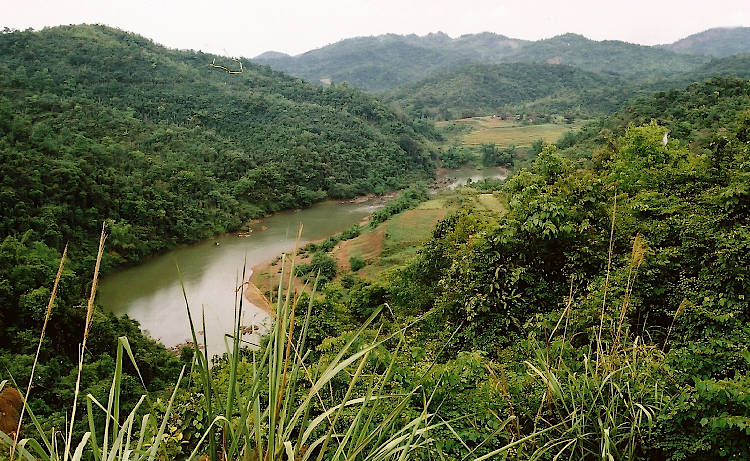 1 May. The next day I was to skirt the border heading to Cao Bang. I headed to Dong Dang in the rain but it eased off shortly after. The road to Cao Bang was excellent (views wise – certainly not the state of the road itself!). We lost the sugarloaf mountains for a while and followed a pretty river along a rather uninhabited valley. About 10kms before the small town I'd planned to have breakfast things took a turn for worse. The sun had come out but the road became very slippery and then just mud. It was very slow going but fortunately it didn't last long and I arrived in That Khe for the usual pho breakfast and some home made ruou to warm the heart.
The town was a bit strange – there was a French church and a French armoured car just outside the police headquarters together with a few colonial houses. Beyond this there was a low pass and more karst scenery marked Bong Lau, the site of a famous attack by the Viet Minh on the French which marked the turning point of the war for independence in 1950. Dong Khe was rather non-descript and then on up Bam Co pass – not high but very pretty. In fact from here the road was tarmac. Despite the tarmac after five hours in the saddle my arse was quite sore so I stopped at a place just 10kms out of Cao Bang. I was soon surrounded by kids and an old granny without a tooth in her mouth. I wasn't sure of the ethnicity of these people as the Nung and Tay dress quite similarly – blue tops, baggy trousers and black headbands.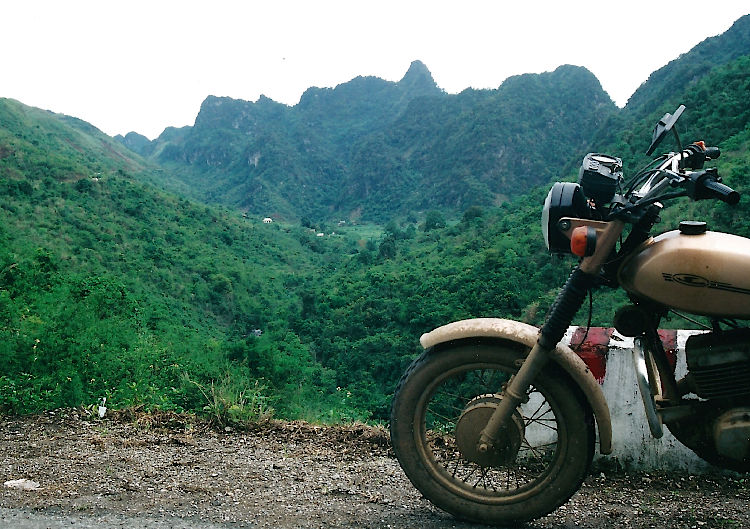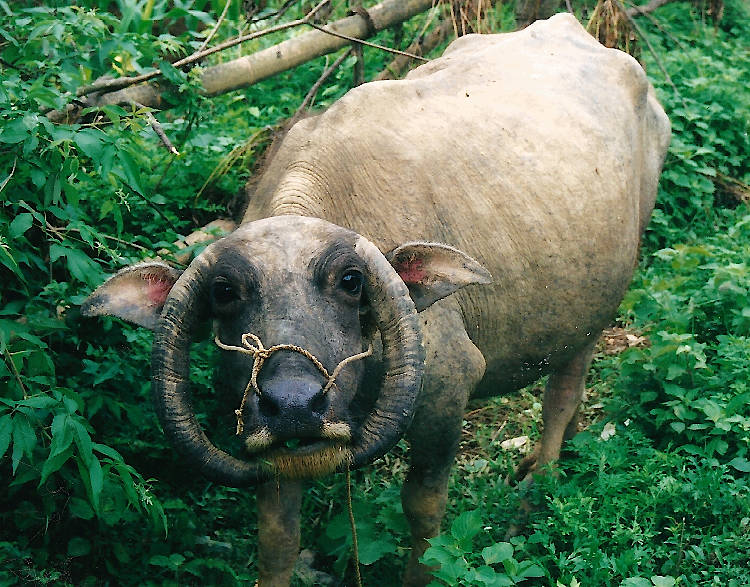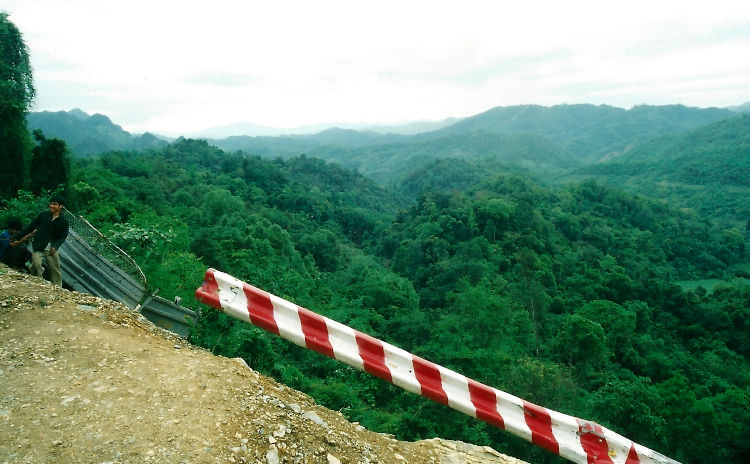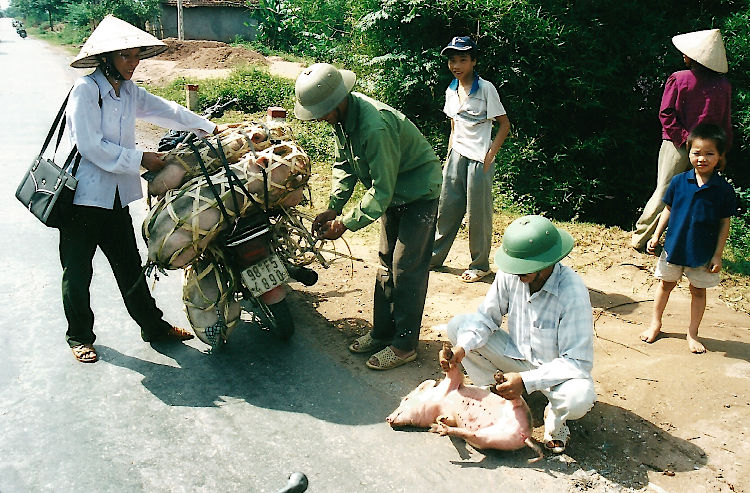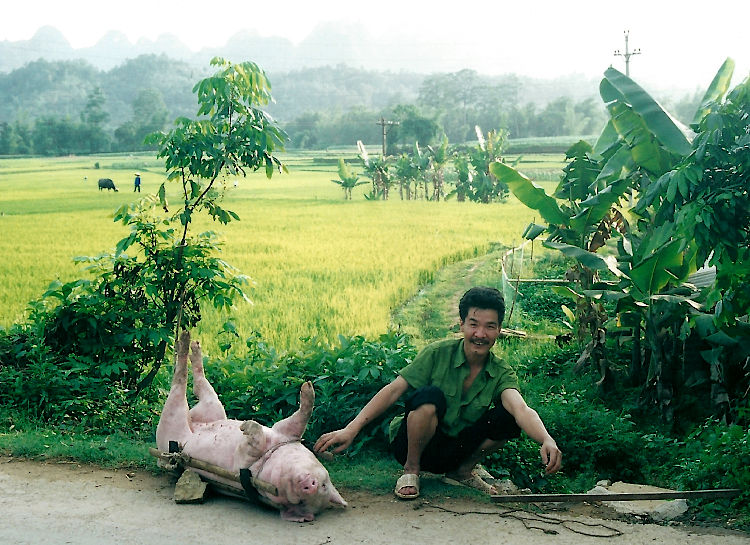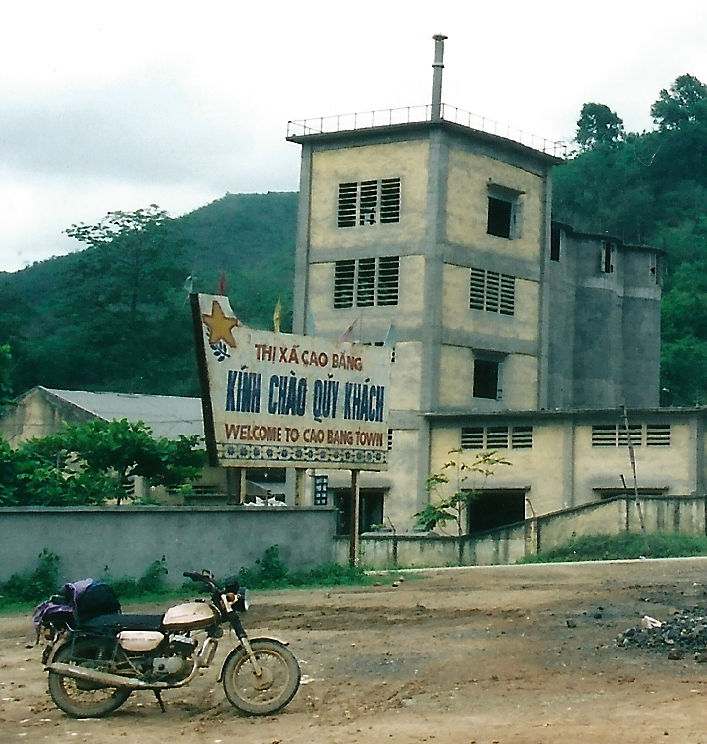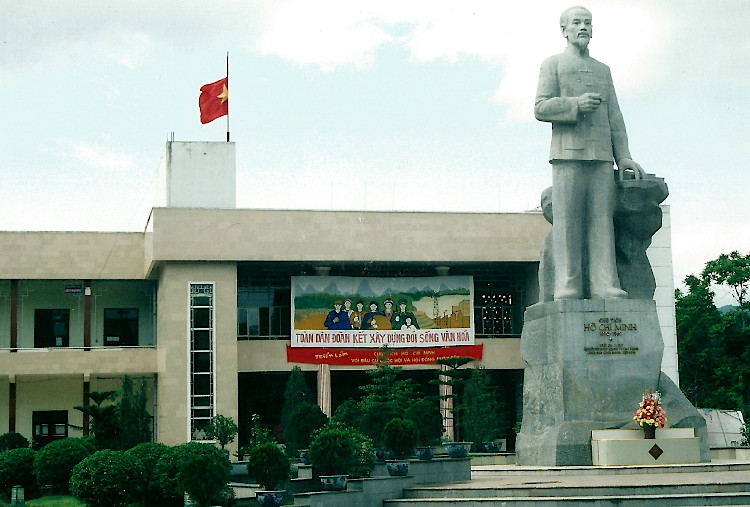 As I arrived in Cao Bang the clouds were closing in again. It wasn't a bad place and had been mainly rebuilt since the French and the Chinese war in 1979. I found the Government Guest House which was surprisingly OK. There was a very friendly receptionist who spoke pretty good English and clearly explained that if I wanted to go further (to the waterfall at Ban Gioc) I would need a Police permit. However I should be able to get one in the morning.
Had a wander. Found a Com Binh Dan place and park by Ho Chi Minh statue and then off again in the late afternoon. What a delight! paddy fields greener and brighter than ever and sugarloaf mountains. More pigs on the back of bikes. I saw another restored church in Cao Binh. There were lots of aggressive looking barking dogs in the area so didn't stop. Then had a chip buttie and bia hoi near the hotel – a good day.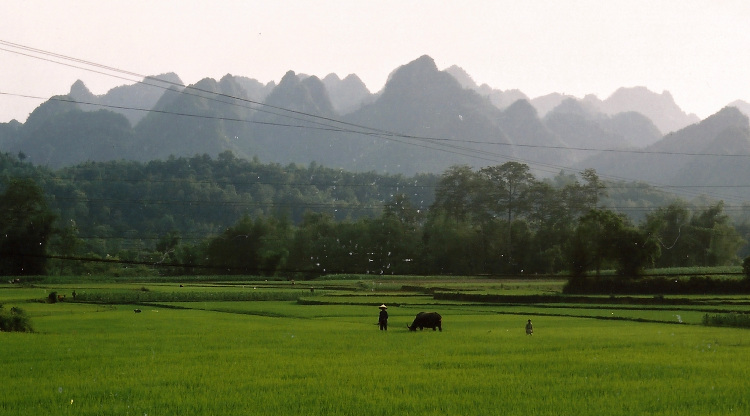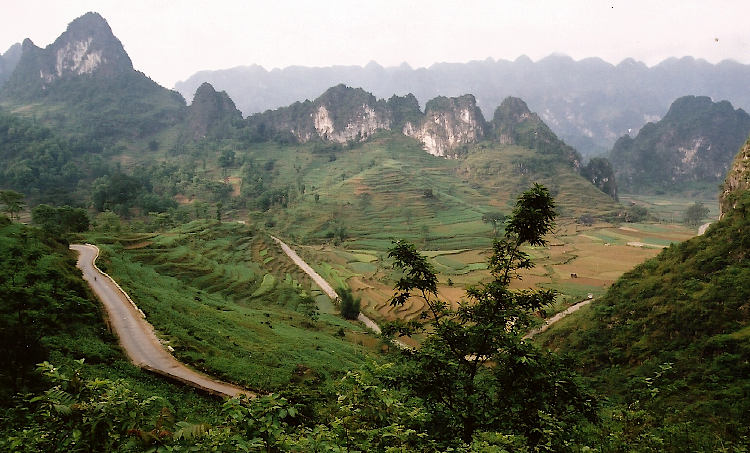 2nd May: Up and out by 6.30 (I had obviously decided to not bother waiting for the Police station to open to get my pass for the border). I was on the lookout for a local market. The problem in finding out when they were on, was that they were organised by the lunar calendar. The pass up to Ma Phuc was pretty good and shortly after I arrived in the Phuc Sen valley and saw loads of Nung An women in mainly blue outfits. Again, they were very friendly and posed for photos. The valley floor was covered in sugar cane fields backed by the amazing karst sugarloaf hills. Here there were quite a few stone houses which was novel.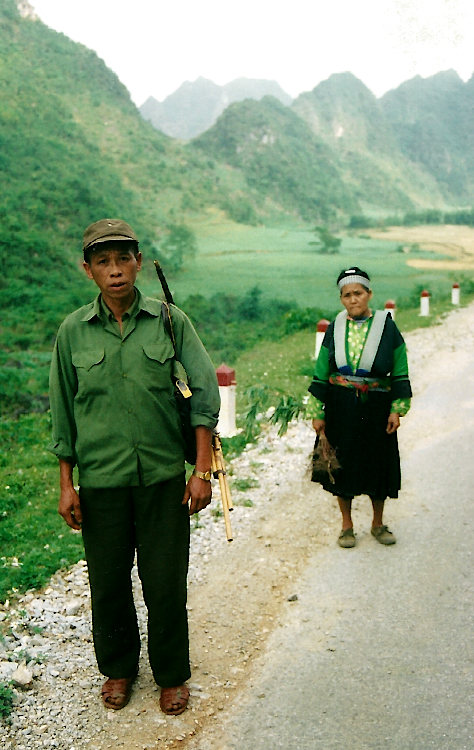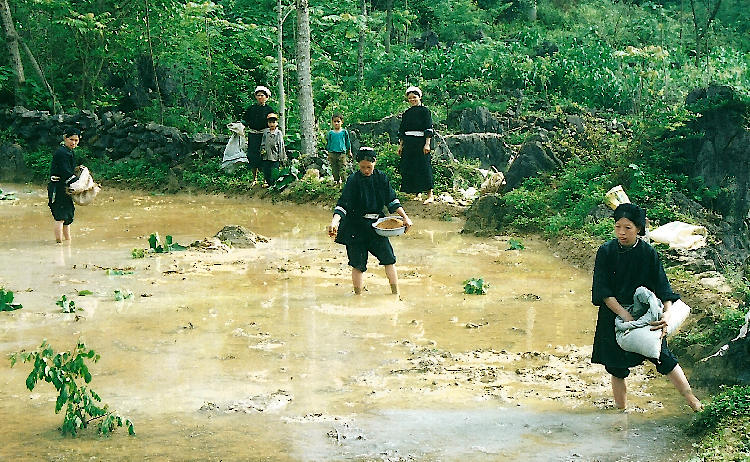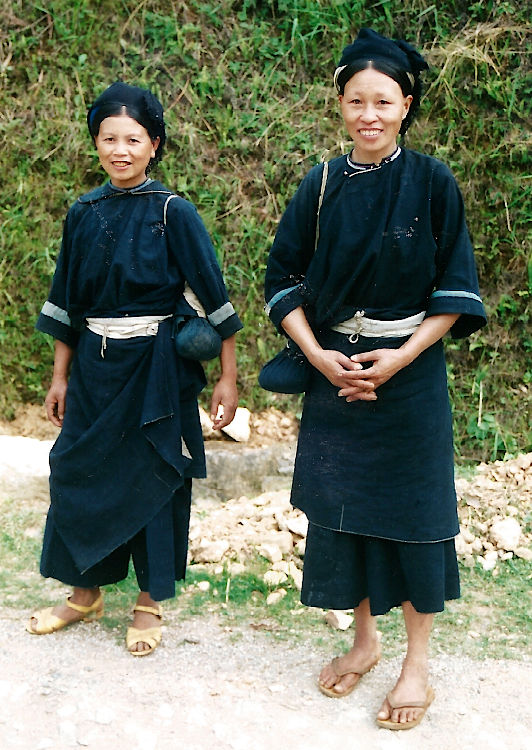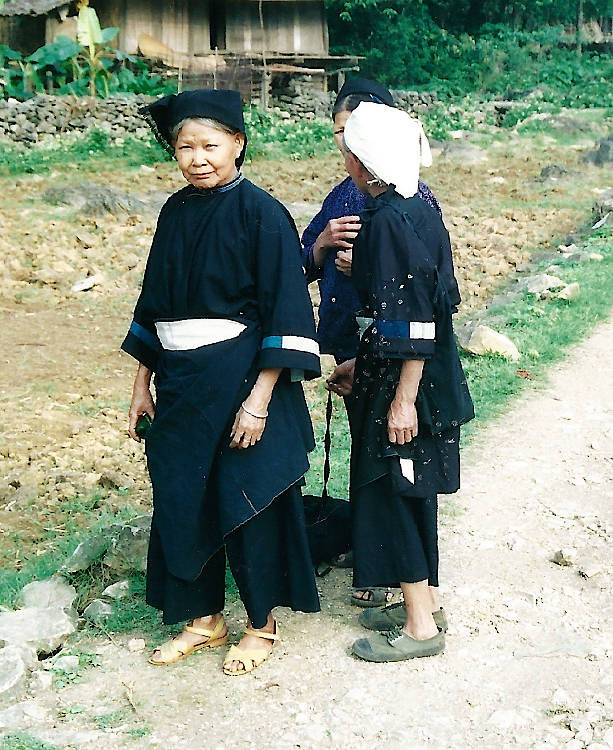 These ladies show the unique clothes of the Nung An sub ethnicity, notably the white belt and the cuffs which have a band which is blue at the front and white at the back.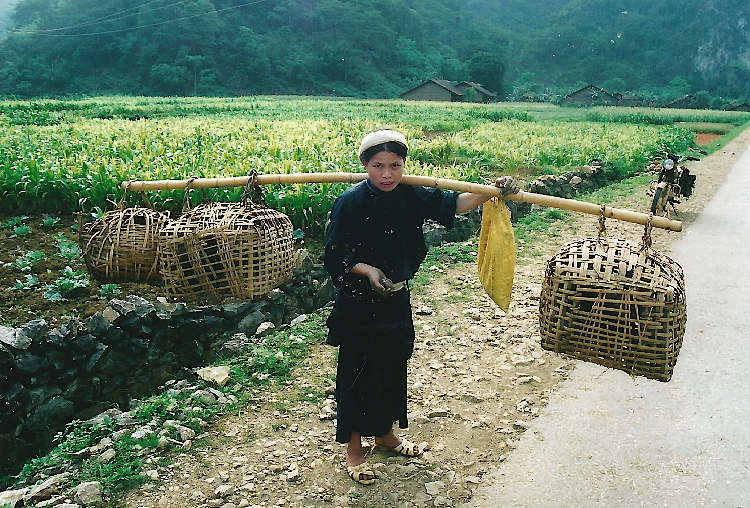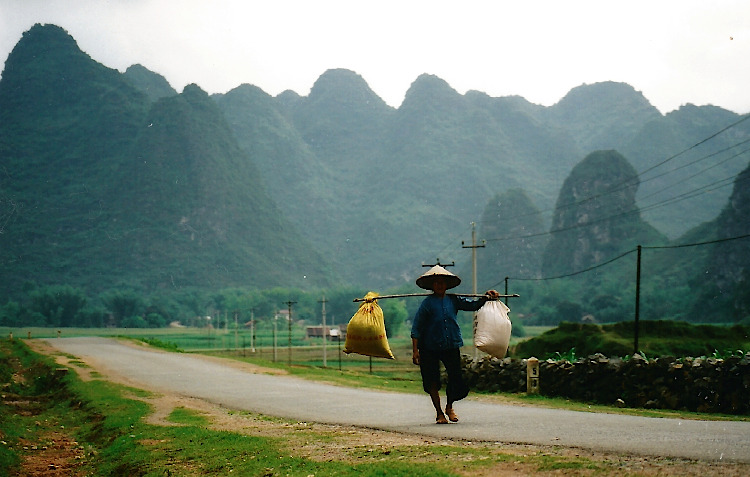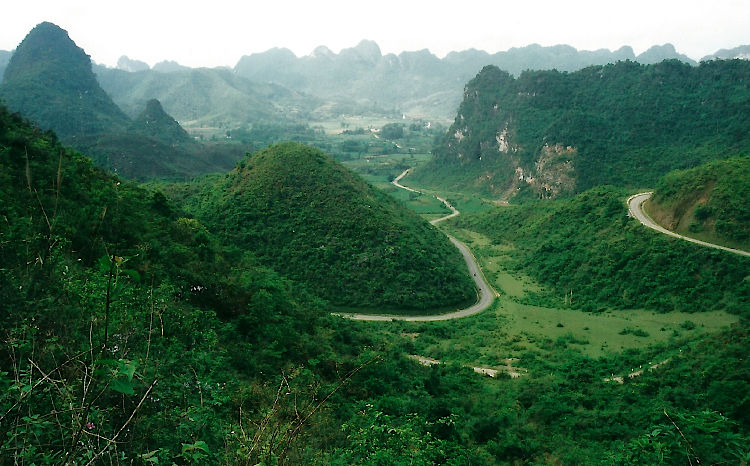 I carried on through Quang Hoa and onto Trung Khanh where there was a market. The sellers were mainly Kinh with conical hats and just two minority people (Nung An) selling knives. I had pho for breakfast here. There was a large livestock area – mainly cows and also pigs in baskets. There were also some dogs in cages but next to the vegetable section.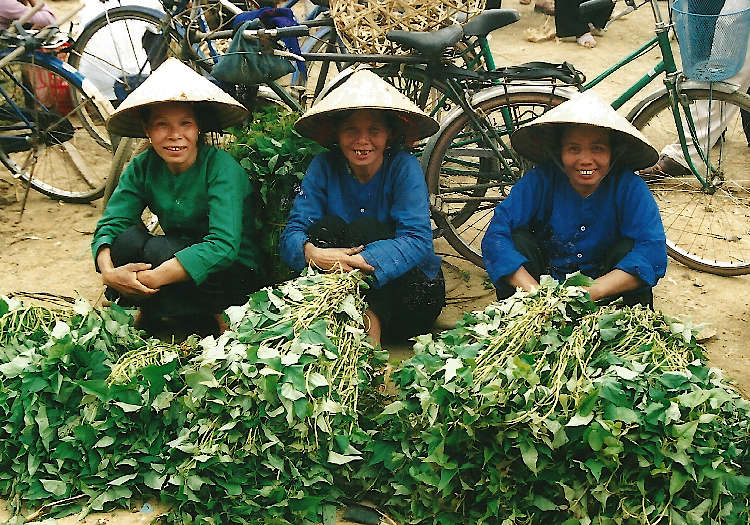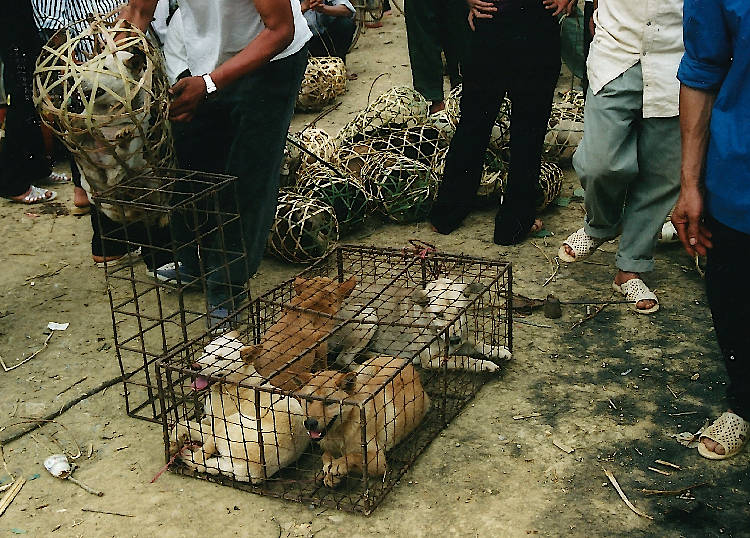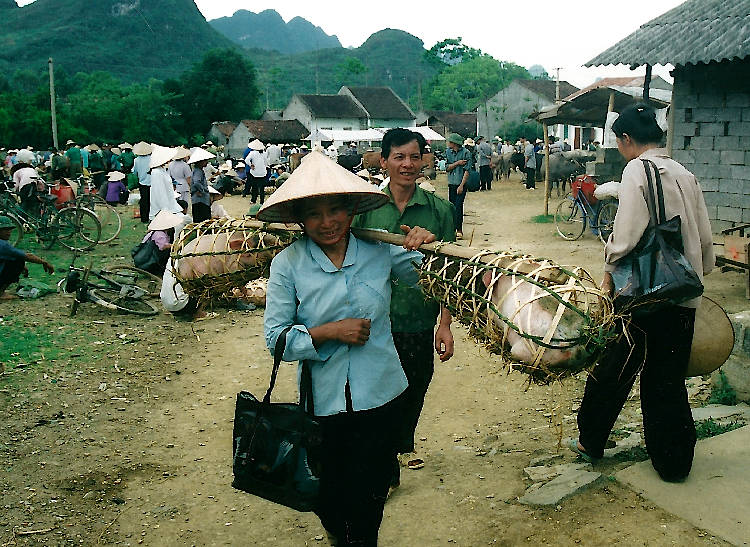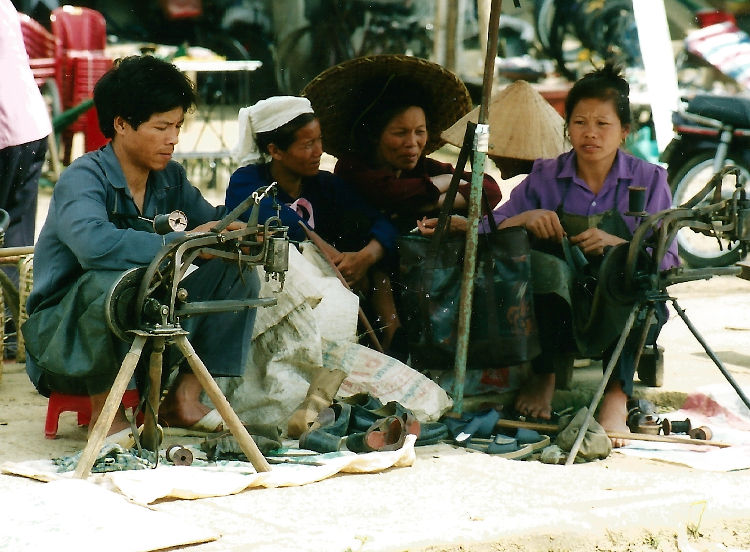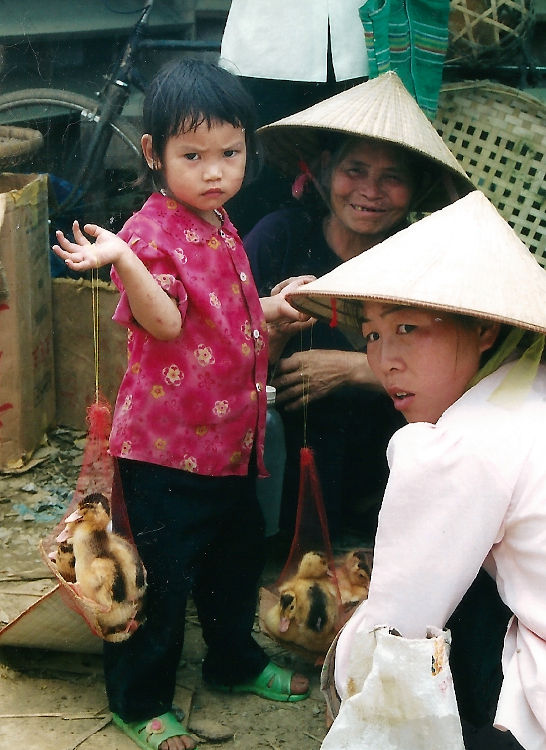 Then off again along the valley to Ban Gioc waterall. The valley was broad and flat and I followed a river which featured lots of large waterwheels which looked unused. I was expecting to get stopped at a checkpoint but before I knew it I could see the falls in the near distance. At the end of the road was an empty car park and police post where the lonely Policeman took my passport from me and then directed me across the paddy fields to the falls. Although I was the only tourist on my side of the river I could see a road on the Chinese side lined with the brollys of tea and sweet stalls and an ugly hotel.
At the falls themselves there were plenty of people in floating bamboo rafts and others walking along the top of the falls. On the Vietnamese side there was just me and a lonely girl selling cans of pop and cigarettes. When I got back to retrieve my passport the policeman was a bit concerned I didn't have an official permit. I quickly gave him 50000 Dong and left. On the way back I did come across a checkpoint but the  barrier was up and although the policeman there tried to wave me down I decided to ignore him and just went right through. My experience told me in these situations it was best not to stop for officials!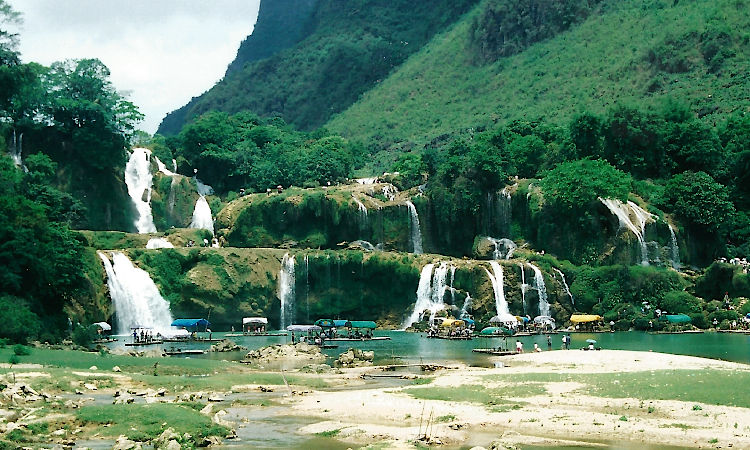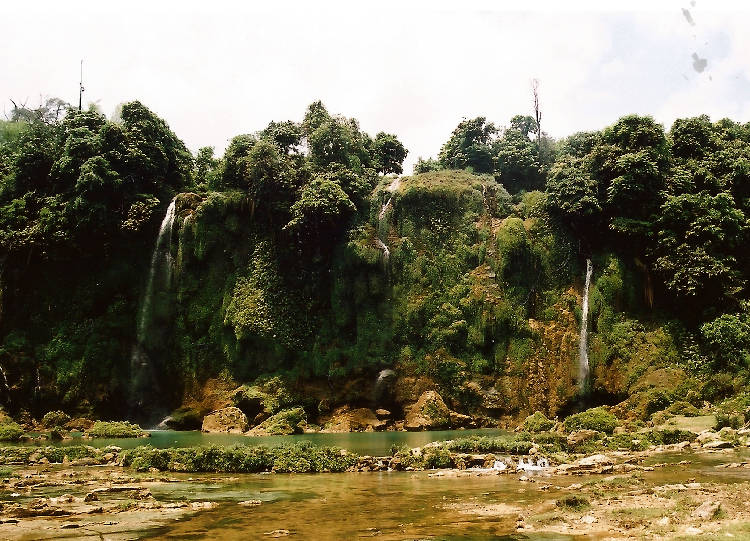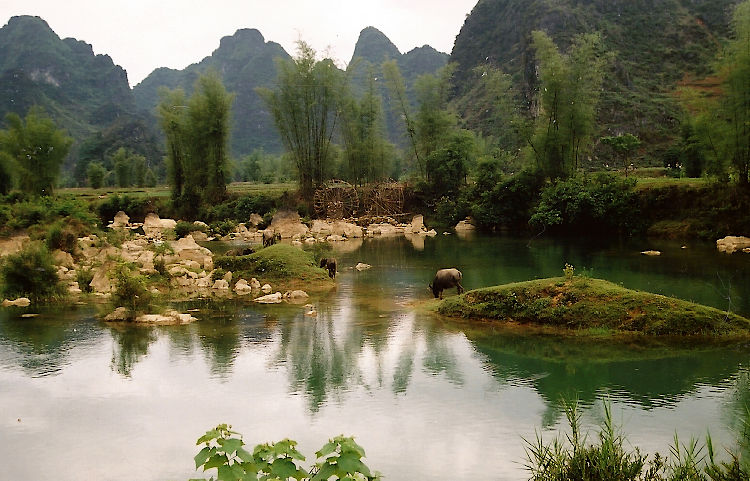 After Trung Khanh I decided to take a different route back to Tra Linh. By now there was a steady stream of people leaving the market in all forms of transport. Before Cao Bang I had time to stop at Thang Hen, an odd little lake in the middle of nowhere which seemed to have mostly dried up. I met a road gang of locals and shared some ruou with them before they directed me to a big cave. What was very strange was the noise – it wasn't cicadas, which had been prominent for the whole trip, but birds – maybe swallows? I never saw them as it was too dark.
Back at the hotel I pored over a map in the hotel planning my next stage. That night I thought I had chosen a mushroom dish at a local restaurant and it turned out to be intestines – it was still pretty good though.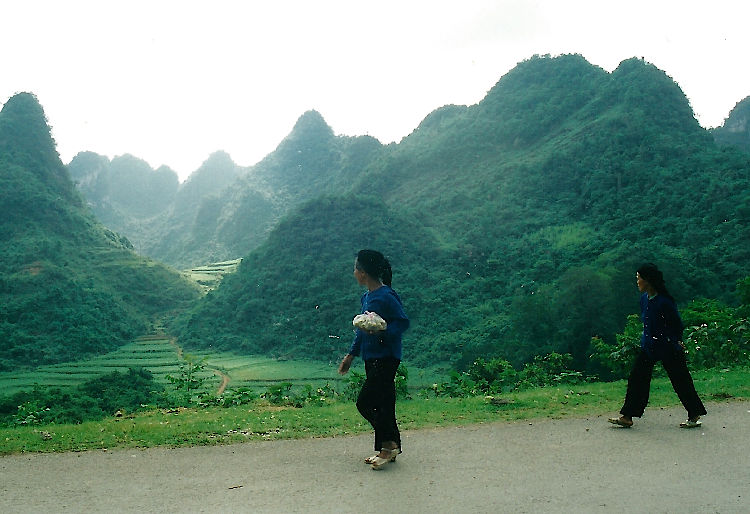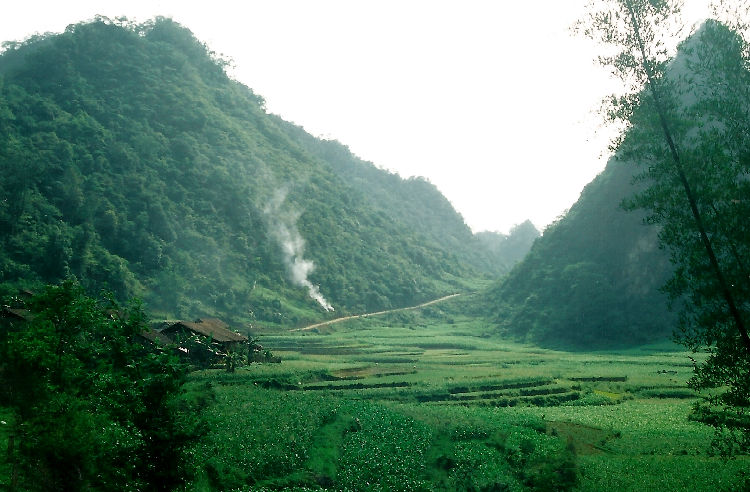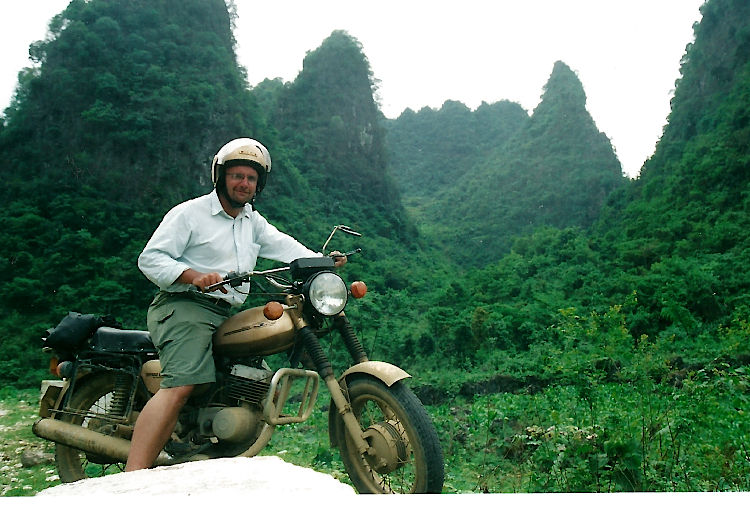 Another early 7am start and soon enough the karst scenery was replaced by mountainous forested terrain as I headed back south towards Hanoi. It was all quite wild but not much traffic just big trucks. It took me two hours to get to Ngan Son by which time I only saw a few poor looking Coin Dao people while I was having the usual pho breakfast. As I climbed out of Ngan Son it was apparent the number of government buildings here – easily recognisable by their large size, red roofs and yellow walls and usually devoid of people. I did notice a number of tall, boxy, wedding cake like houses painted icing sugar pink – obviously the abodes of the wealthy. Shortly after was Na Phac and the road (or rather track) to Ba Be. Just as well there hadn't been much rain as there were quite a few diggers preparing the surface for a new road but at the moment it was still pretty rough and hard going. Just over an hour later I arrived at Cho Ra.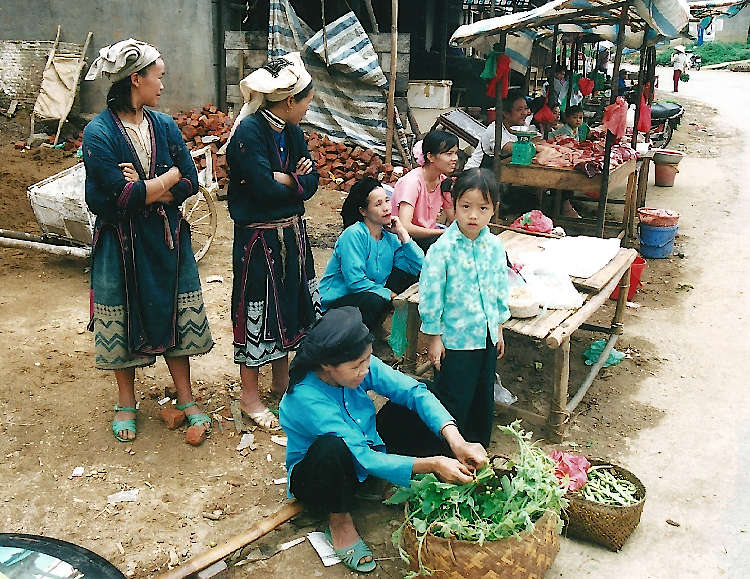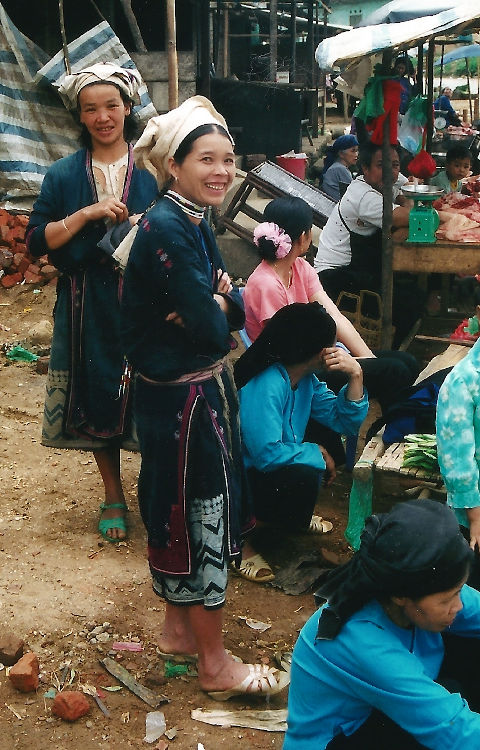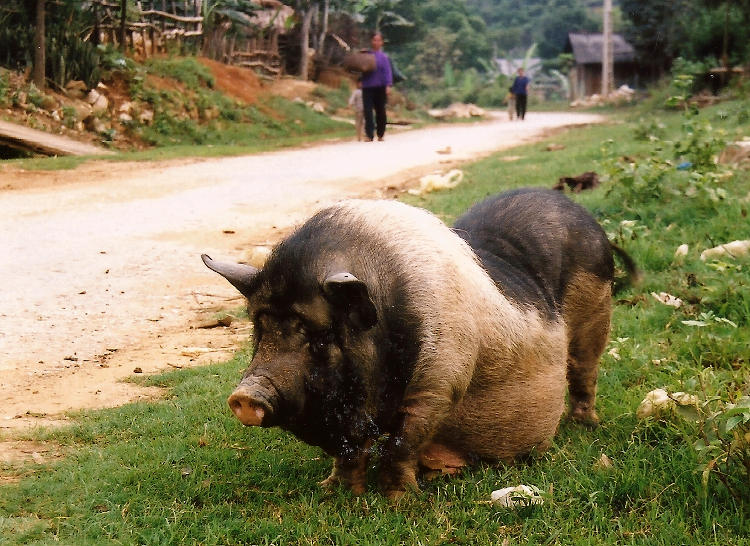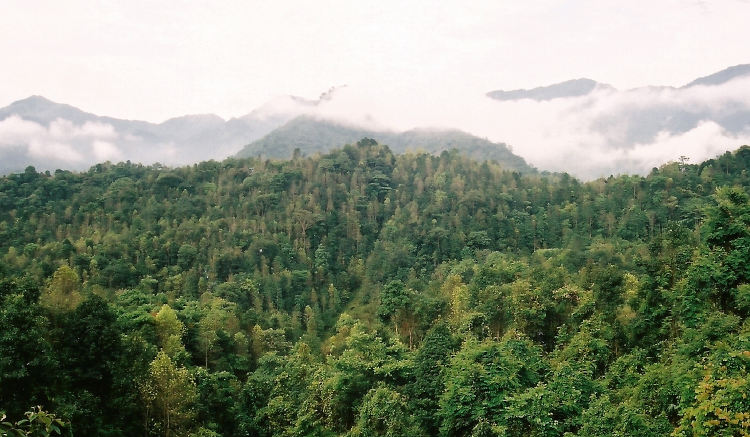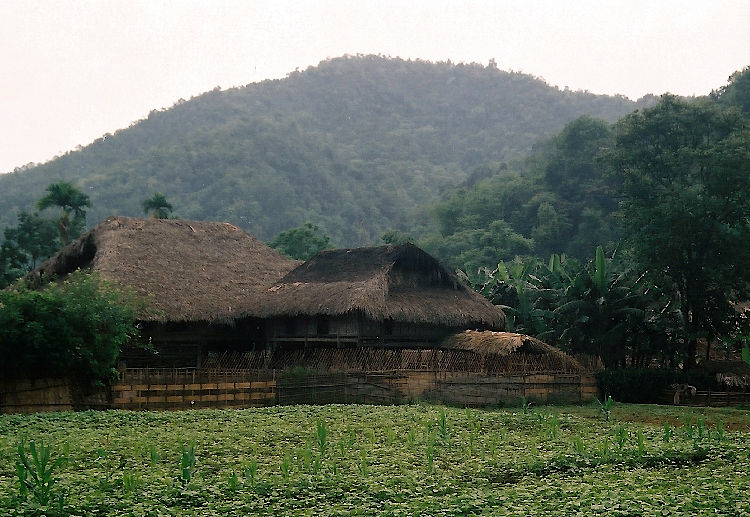 I could have stayed in a stilt house but decided on the one hotel and it turned out to be the best of the trip – Trung Kien Hotel. My room had a small balcony and was very light and airy and the landlord and landlady were very friendly as well. They told me there was a market on the other side of the lake at Nam Cường the following day. Later in the afternoon I headed down to the lake and by the boat pier there were loads of butterflies and I saw an older French couple. I noted that they were the first foreigners I had seen all trip. Back at the hotel I had a very tasty Thit Lon (pig) and a few bia hois and bed to the sound of cicadas.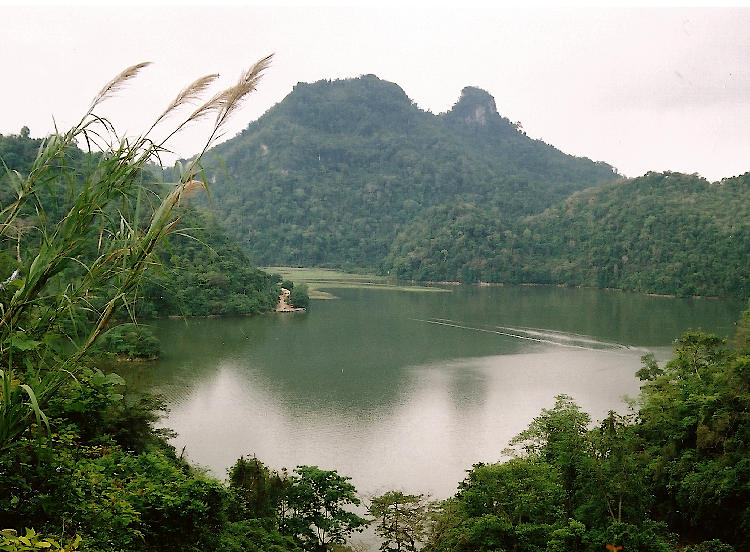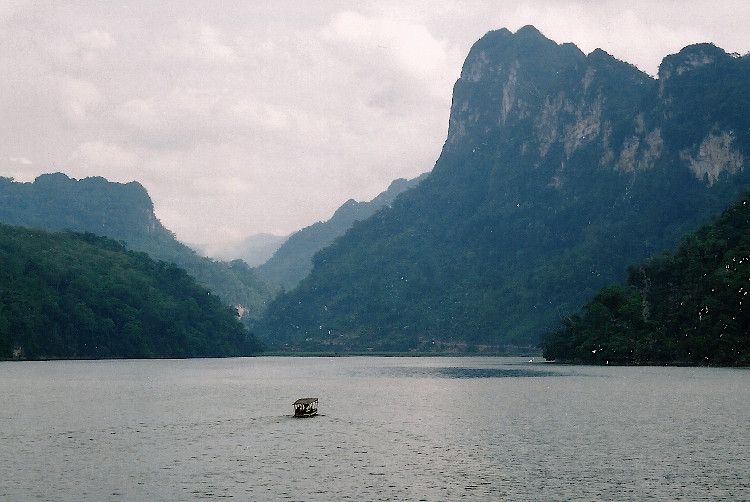 Another early start (I was in bed very early mind) – up by six and out. Got to Nam Cuong on the other side of the lake. The market was OK. Lots of White Hmong (south Cao Bang province), Tay and also Red Dao. I bargained with a boat man for a trip on the lake. We stopped before some rapids at a shack by the lake shore and my boatman insisted I join him in a few glasses of ruou. On the way back, however, we broke down and despite the best efforts of the boatman we had to call for help and got towed back to port. It was a lovely little trip – it was clouding over but amazing to see the mountains looming over the lake covered in thick foliage. There were lots of butterflies again.
I headed back to the hotel for the usual siesta, however on the way, I stopped at a shack where there was a crowd watching the TV. I saw that they were watching a soap opera about a Nung ethnic minority couple. This series was very popular at the time and seem to be captivating all of Northern Vietnam. My diary notes, "In the prior episode the flat faced bloke with the tash tried to rape one of the girls in the village. She later gets married to another lad but she won't touch him on her wedding night. Later we see her having a baby. Meanwhile grandma and granddad are fishing off a raft on a river, he takes a swig of ruou, is obviously inebriated and grandma falls off the raft and drowns. We have a huge funeral ceremony. Meanwhile we find that the girl's baby is deaf. This is a very bad omen…".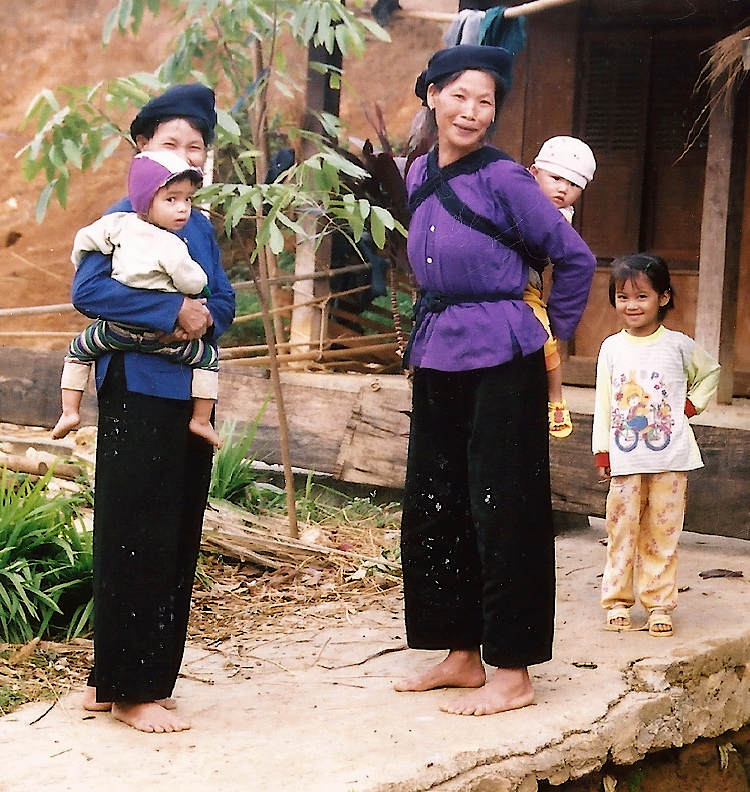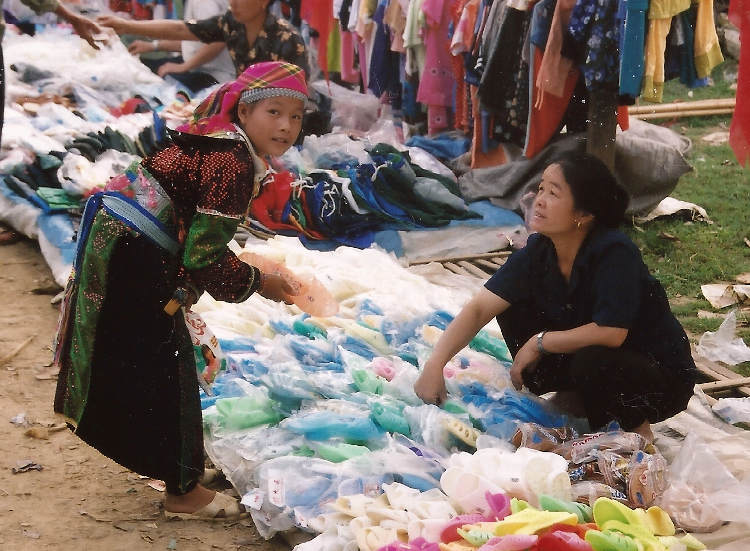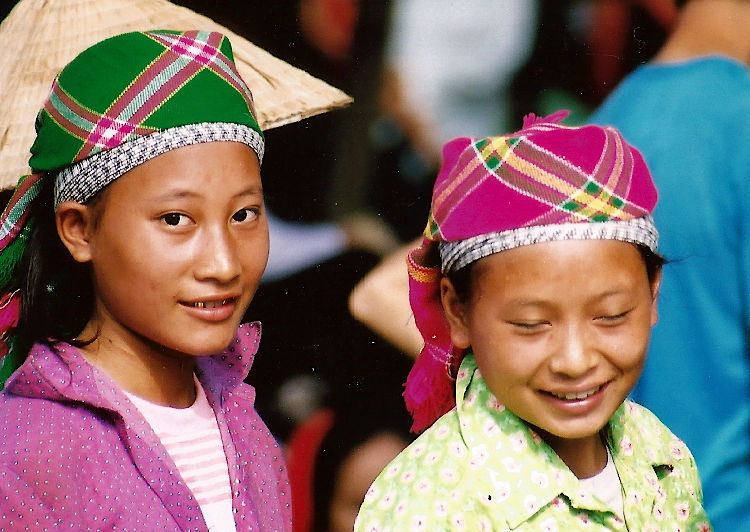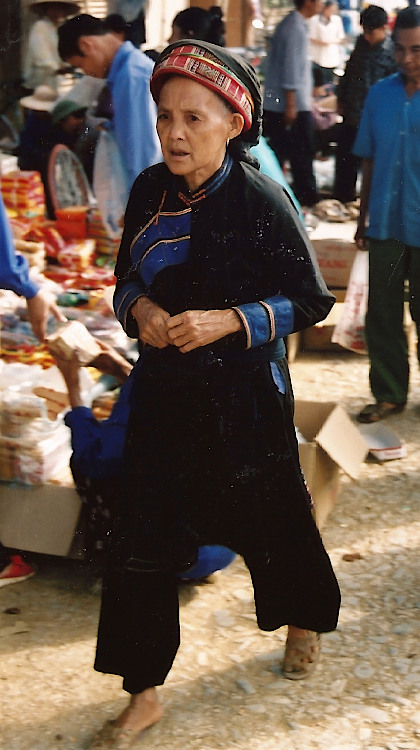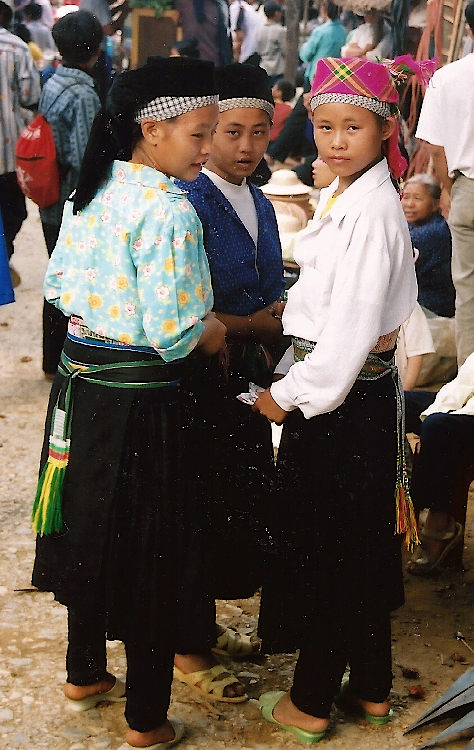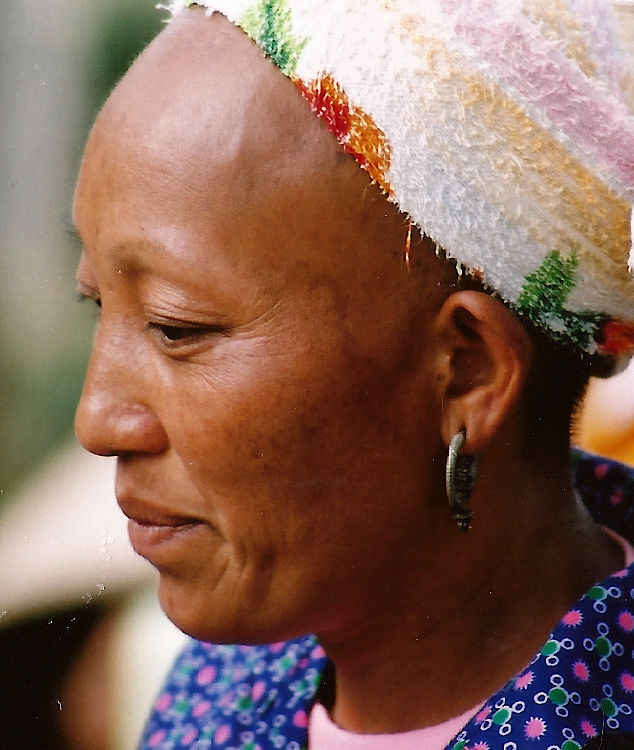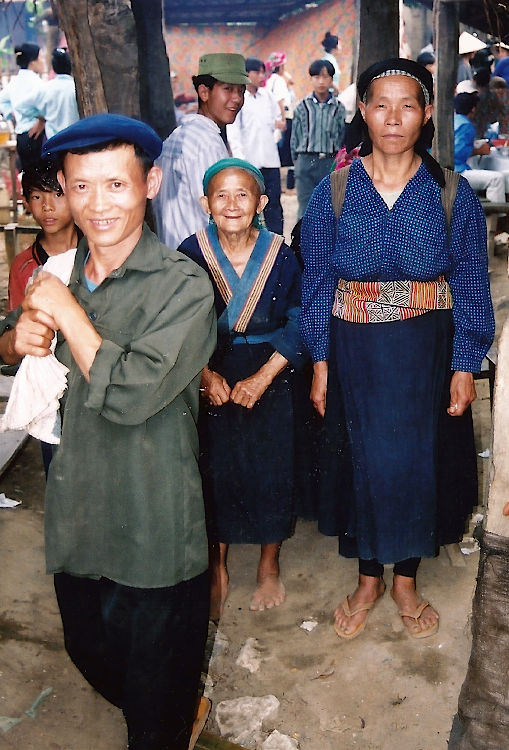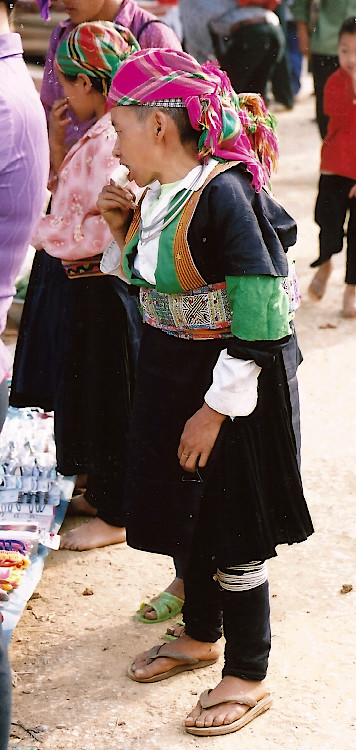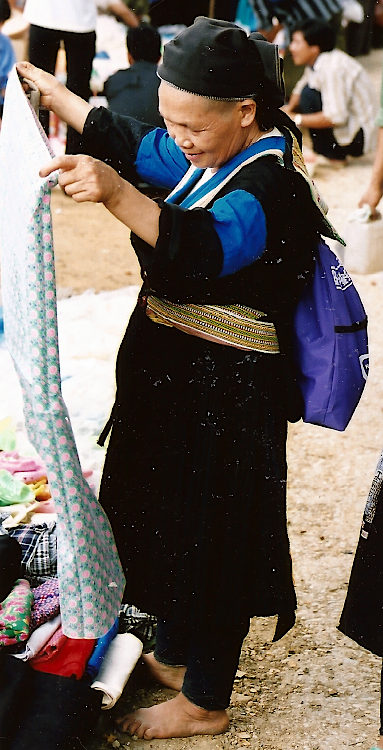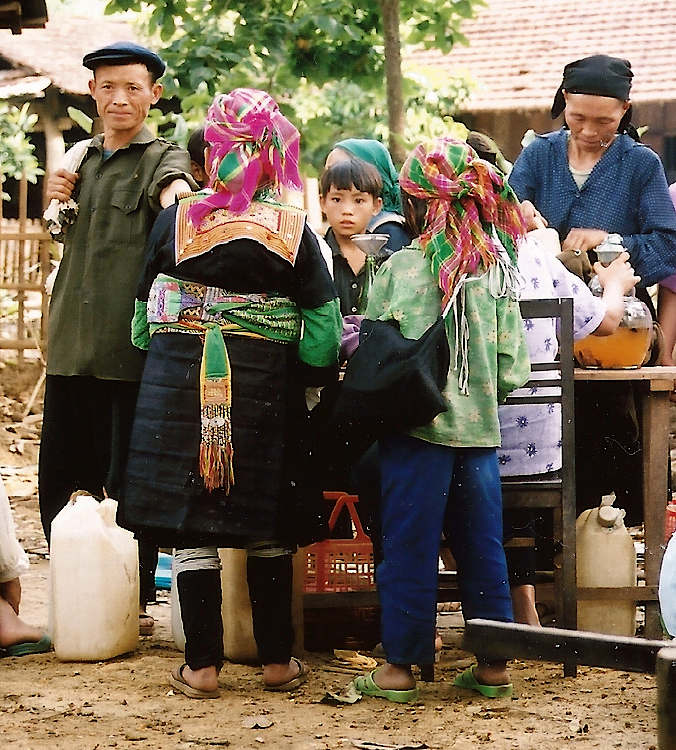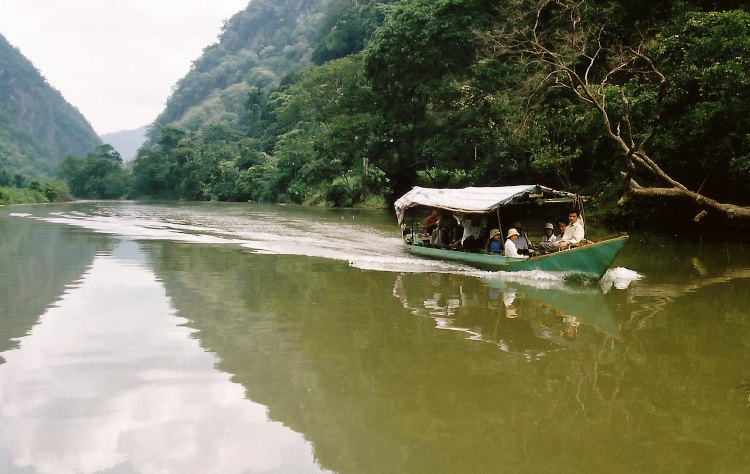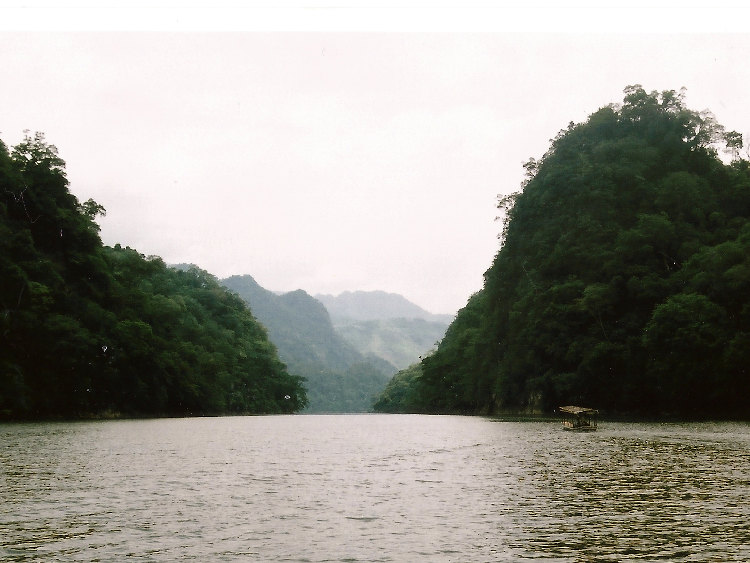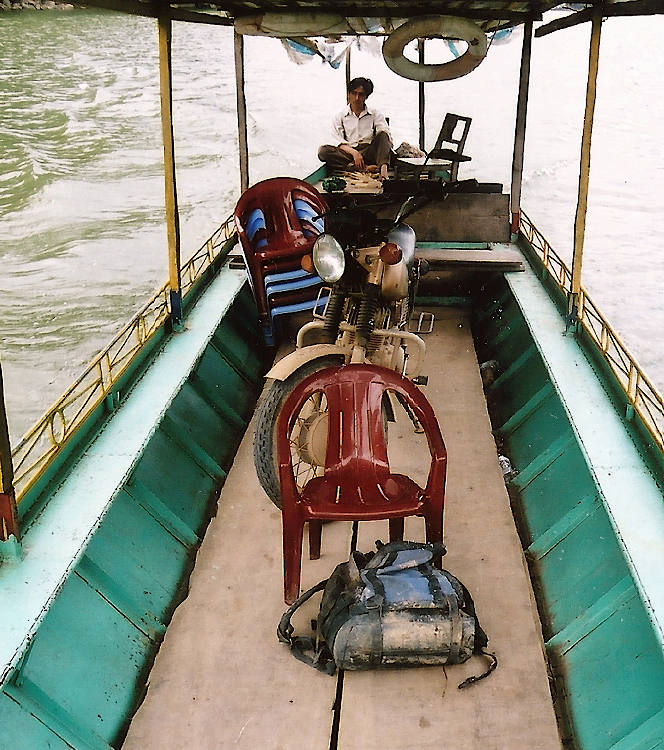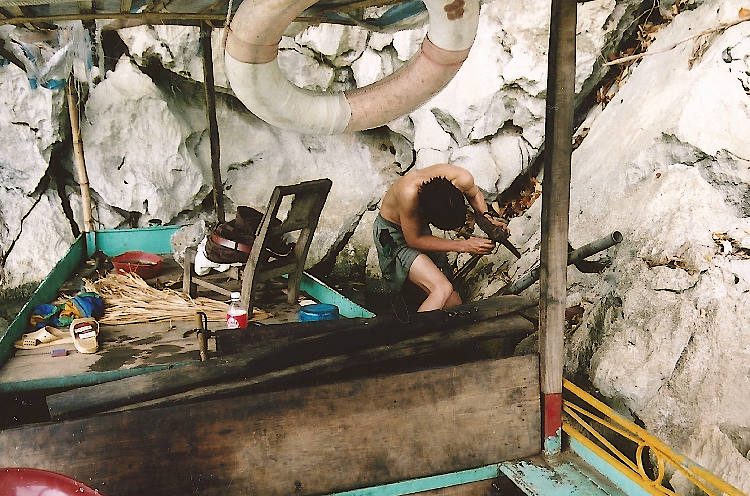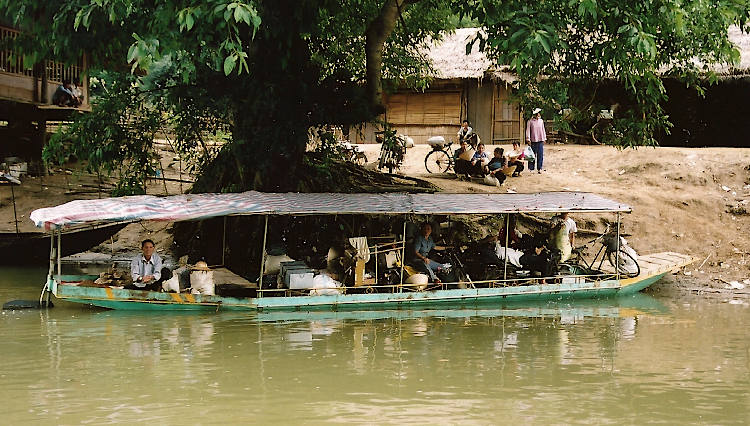 Sun 5th May 2002: Despite the threat of rain for my last day on the road, it remained dry. It turned out to be one of my favourite days of riding – a good road with not much traffic, lots of twists and turns and over forested hills and no sore arse. I stopped at a small market and saw some Shaven Headed Dao ladies. I then joined the main road and it was fast riding from here. I stopped at the turnoff to Cho Dan for a gut busting Com brunch and was at the ethnic museum in Thai Nguyen by 12.15. However they were at lunch and the place was closed until 13:30. I wandered around town until it opened. I think it was worth the wait as there were quite a few informative, interesting exhibits.
As I had a bit of time, I decided to take the back road to Bac Ninh. I asked a few people how long it would take and everyone had a different answer – between an hour and a half to five hours! I asked more than one person as previous experience had told me that the locals will always give you an answer even if they have no idea! In the end it was quite a nice run past lots of paddy fields and glorious weather. Ten kms from Bac Ninh the traffic got much worse, as expected I encountered increasing numbers of dirt belching buses and trucks, until I was soon engulfed by the noise and hubbub of Hanoi but safely home!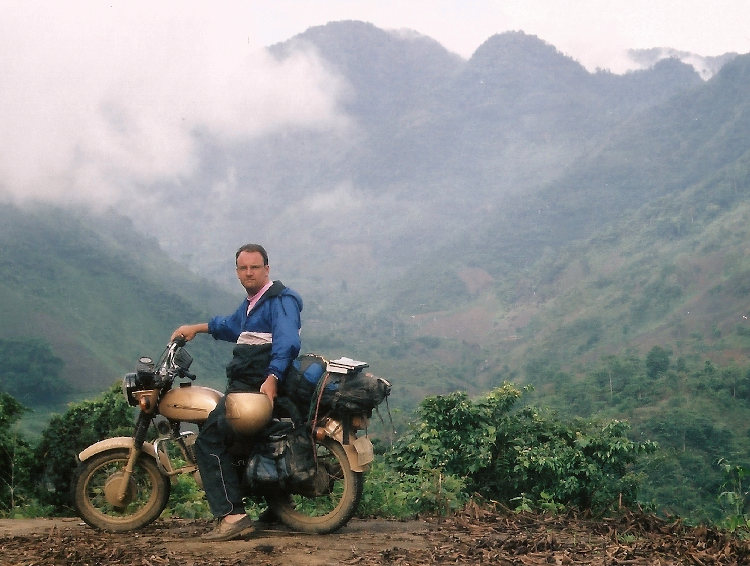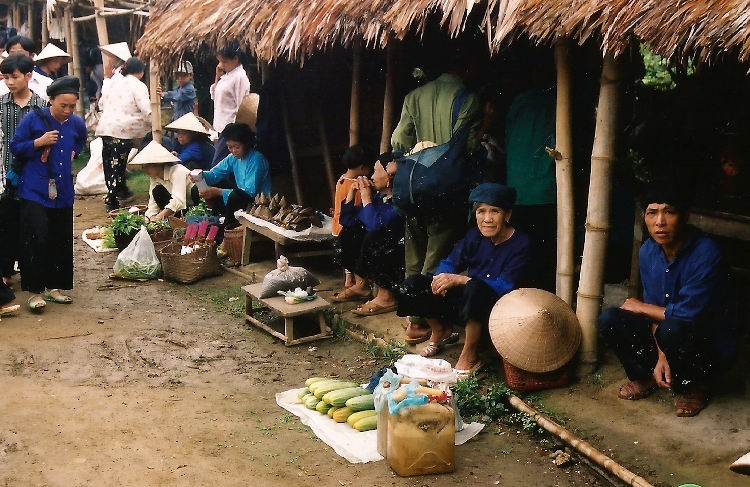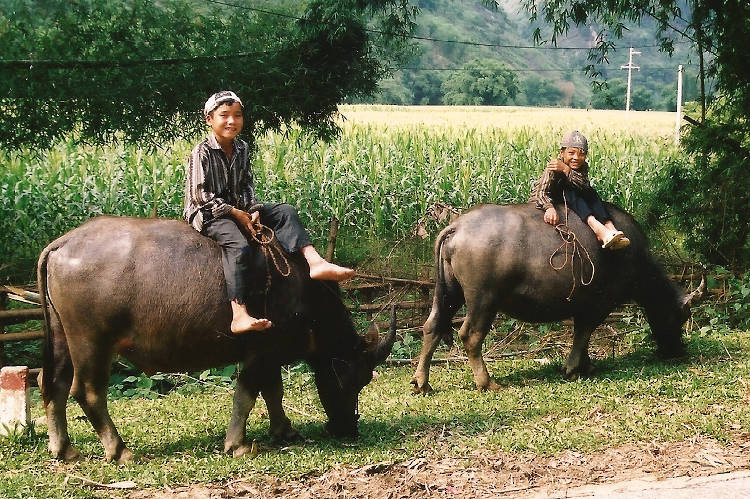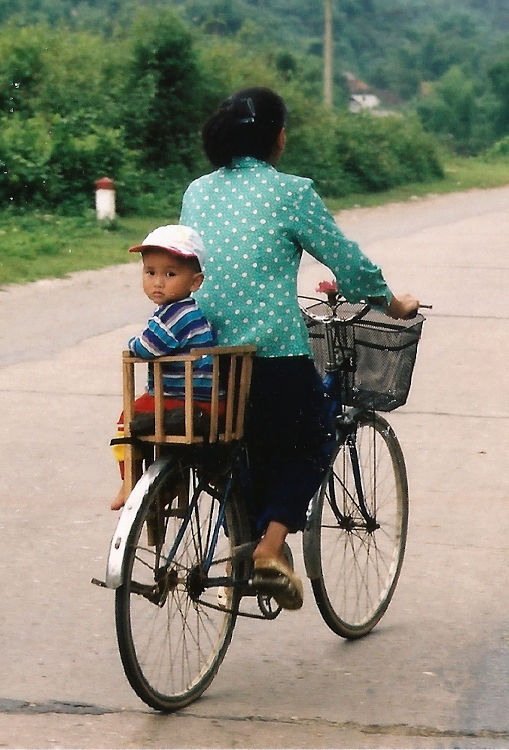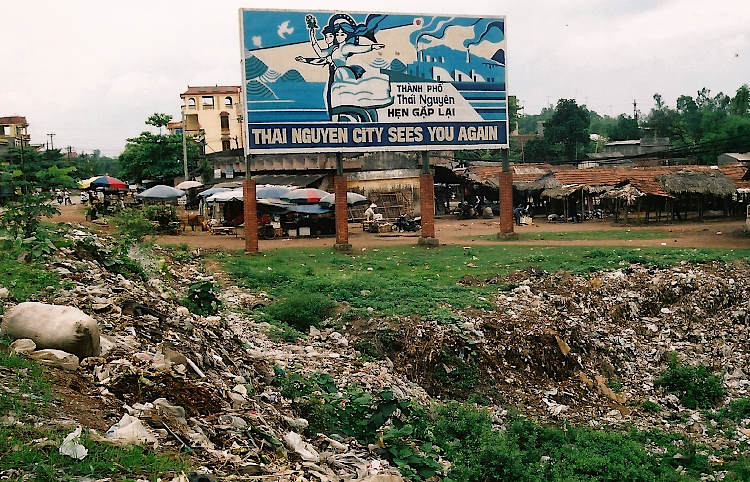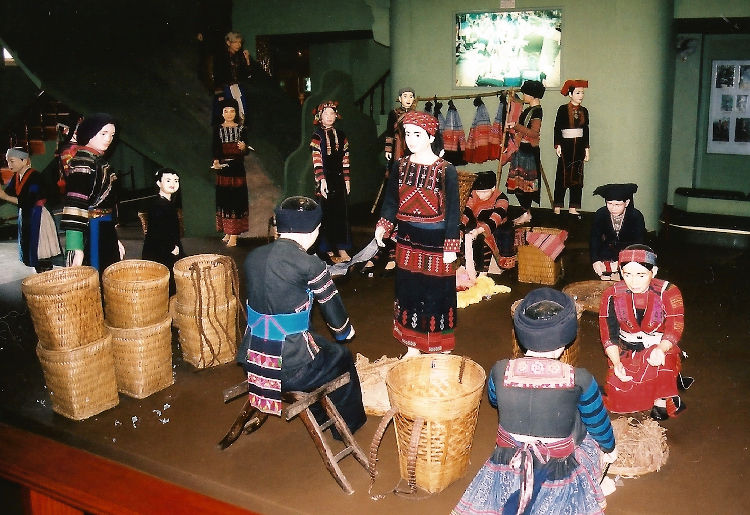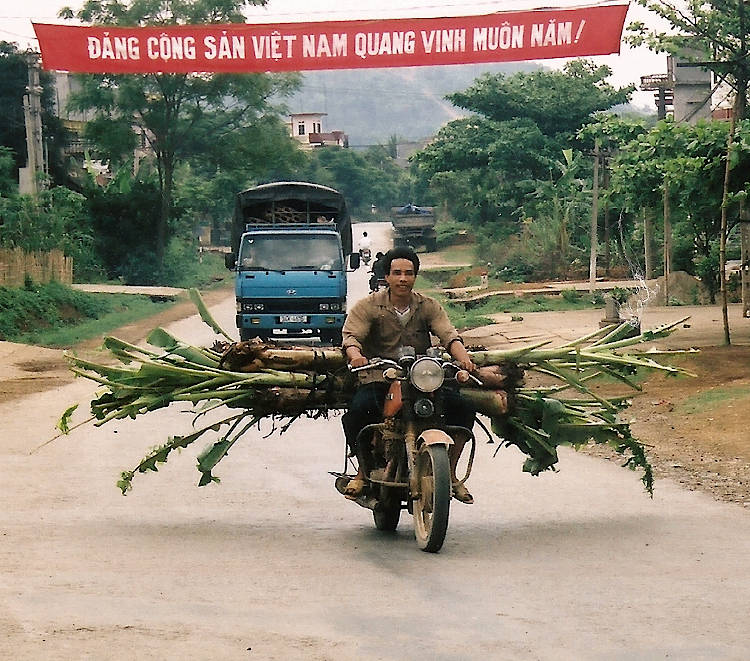 Interesting page on all the minorities.