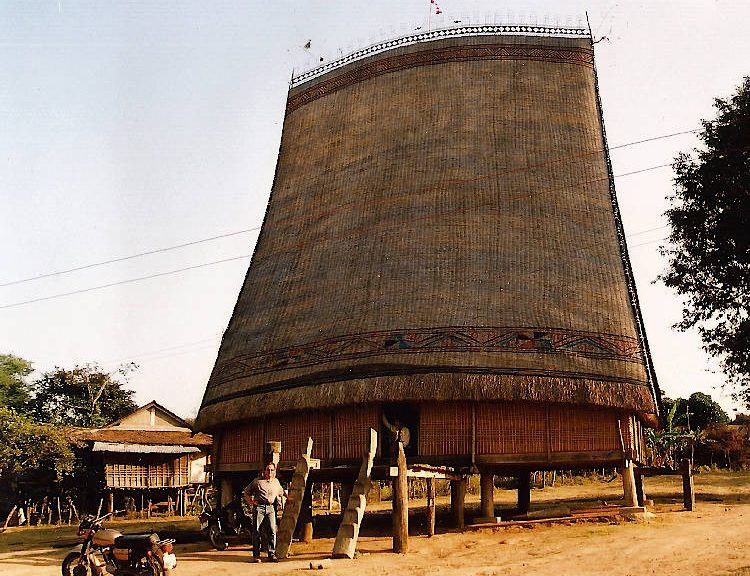 Central Highlands
Central Highlands
22 Dec 2001
For our second bike trip in Vietnam, me and Alan decided on the Central Highlands. Like up north we were expecting to meet many ethnic minorities, or Montagnards as they were known here, and although we knew they didn't wear the flamboyant clothing of those up north they did live in some interesting houses. Also the landscape promised to be impressive and hopefully not as cold. Rather than waste a couple of days driving down the very busy and downright dangerous Highway One we put our bikes on the train from Hanoi to Nha Trang and we followed 2 days later. This happened on other trips as well, maybe the bikes had to go on a specific freight train. Anyway, we arrived in Nha Trang after the overnight train from Hanoi and our bikes were waiting for us with a bloke from the hotel where we were staying. My diary doesn't note anything about that day. The following morning we went for a wander around old Nha Trang. There were quite a few tourists about but we were pleasantly surprised by the rustic nature of the old town – plenty of old wooden buildings and through open doors we could see a few family shrines but also Christmas trees and Nativity scenes.
The following day we were off. We headed down Highway One past Cam Ranh Bay and then inland. It is actually quite some time before I get my camera out and my first picture of the trip is of a Catholic Church built in the style of a Chinese pagoda – La Vang church.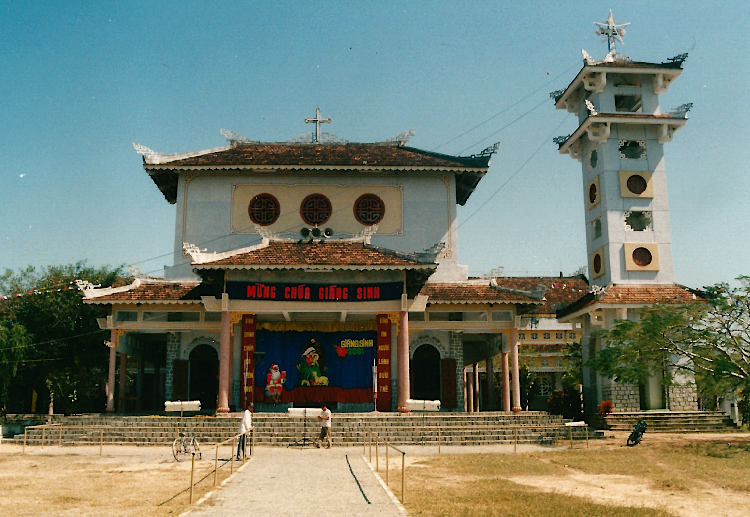 From here the road climbs up into the mountains. I noted that it was very beautiful with views through the pine trees but still no photos until we got to a temple – Linh Phuc Pagoda .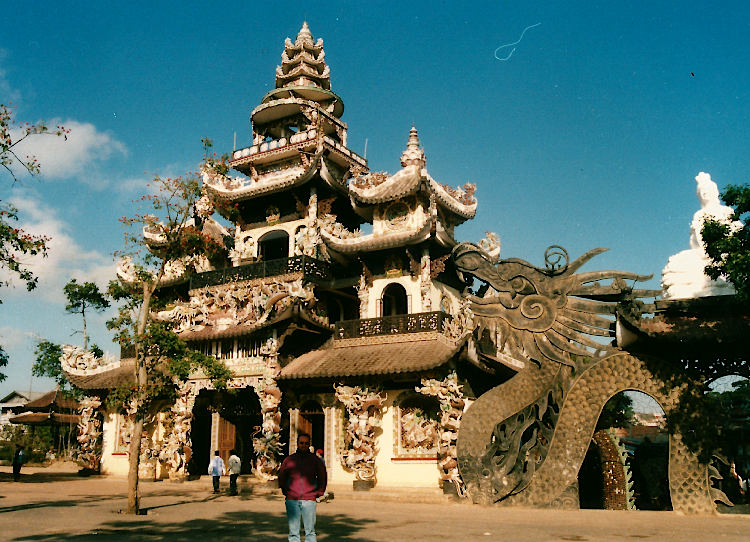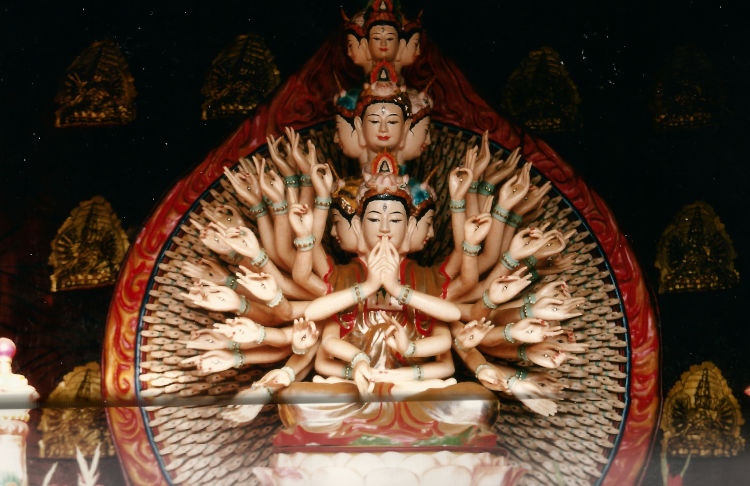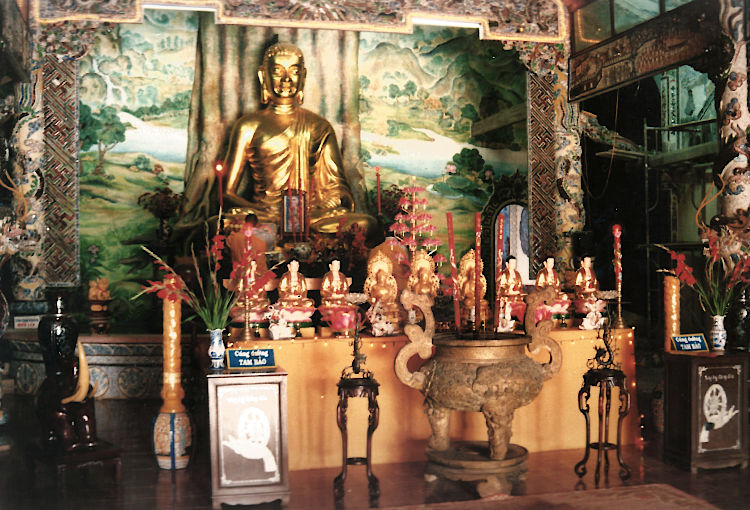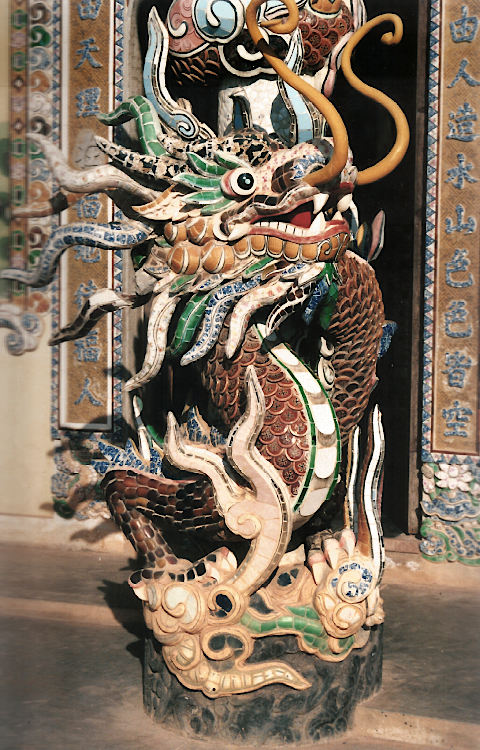 And then onto Dalat. On the way I noticed quite a few dilapidated French Villas I thought from around the 1930s and then the town announced itself with a hotch potch of hotels and billboards and not very appealing at all. With so many hotels it was difficult to find one to suit but we eventually settled on the Lam Son Hotel, an old French Villa.
Among the few tourist attractions was Bao Dai's summer palace. Apparently, he was the last king of Vietnam and built this villa in Art Deco style in 1933. It hasn't changed much since. I thought it was a great place, very interesting but it still didn't warrant a photo. So I pinched one from the internet.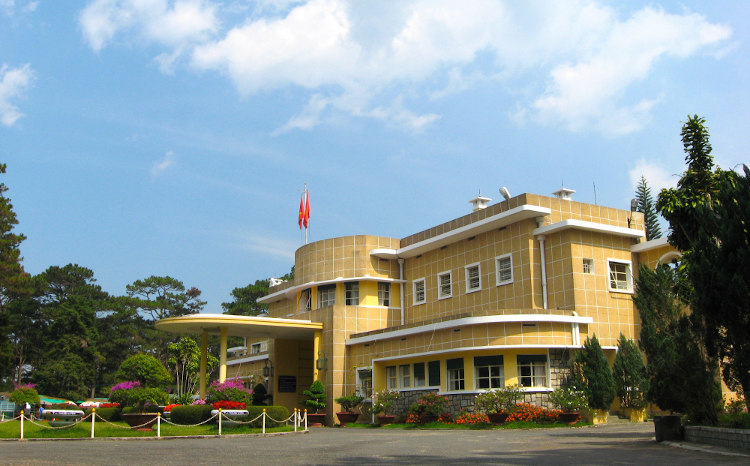 And so we left Dalat. According to the lonely planet of the time (2001) the road to Buôn Ma Thuột was really bad but it had been improved – black top all the way. Lots of coffee plantations and beans drying in the sun. We passed a bus load of tourists from HCM city and enquired what they were doing – picking medicinal plants. Around here the scenery was magnificent. Pine covered hills and not a hint of civilisation.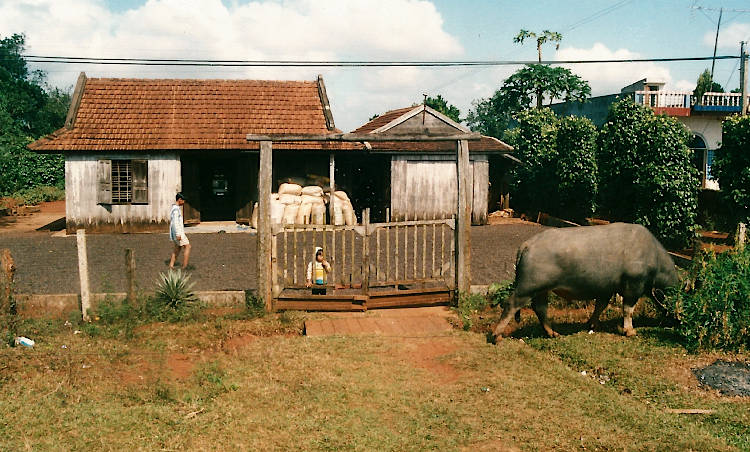 By the time we reached Lak village (Buôn Jun village) I was a little achy from the journey and ready for lunch. There were quite a few impressive long houses but as opposed to the minority people up north, these people, from the Ede minority, weren't quite so colourful wearing plain black skirts with embroidered trim. They were quite shy as they didn't want photos taken but were obviously used to tourists visiting as lunch was rather expensive.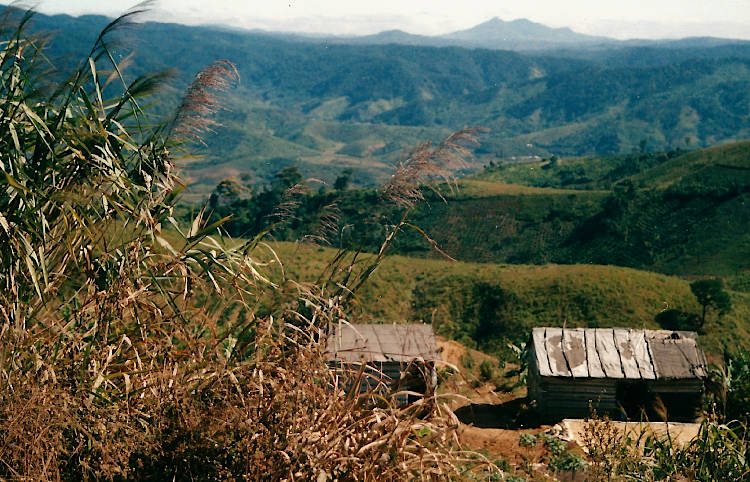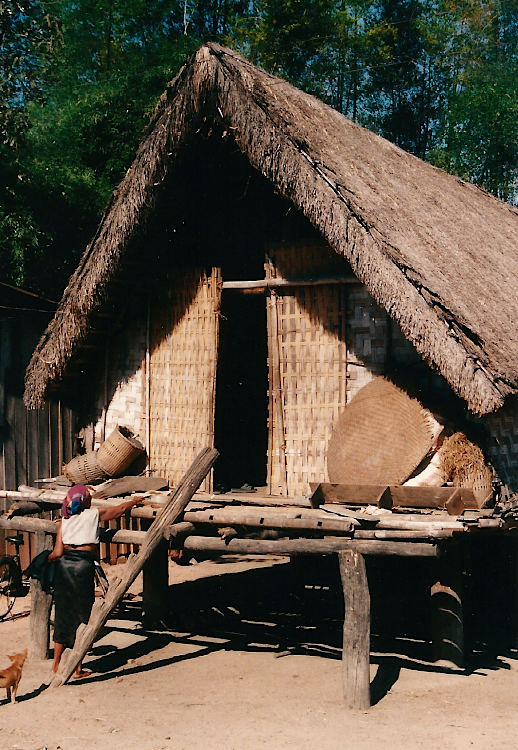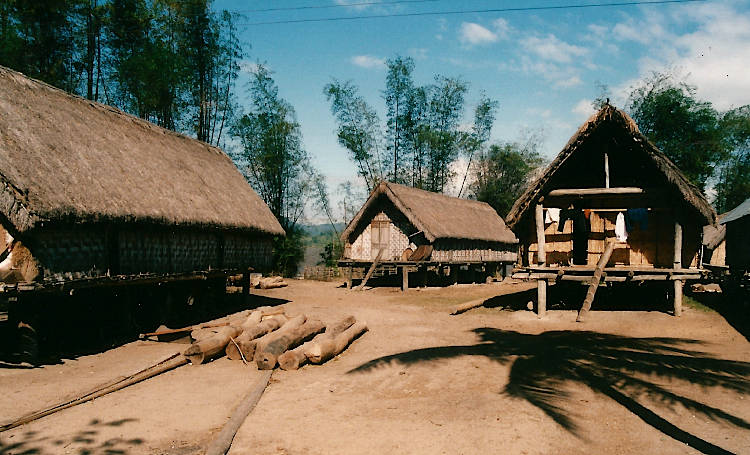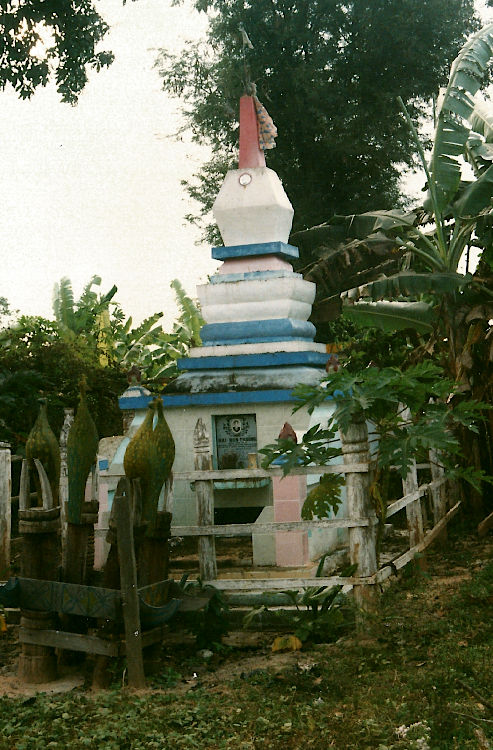 We could have spent the night there as well but we took the last 35kms to Buôn Ma Thuột. BMT was a bustling place with wide roads and new buildings, rather surprising as it's in the middle of no where. In the old days it was a centre for big game hunting but its new found prosperity was based on coffee plantations which were apparently German run.  We checked in at the People's Committee Guest House which had recently changed its name to No 8 Hai Ba Trung Hotel. I found it on the internet recently and it has certainly been through a facelift or two since our time. We paid $16 for a night. I see today that rooms go for $44 and they are much more pristine. We had supper in the street market then I noted that we went to a local cinema to watch the English football. I also noticed there were loads of partying students around into the wee small hours.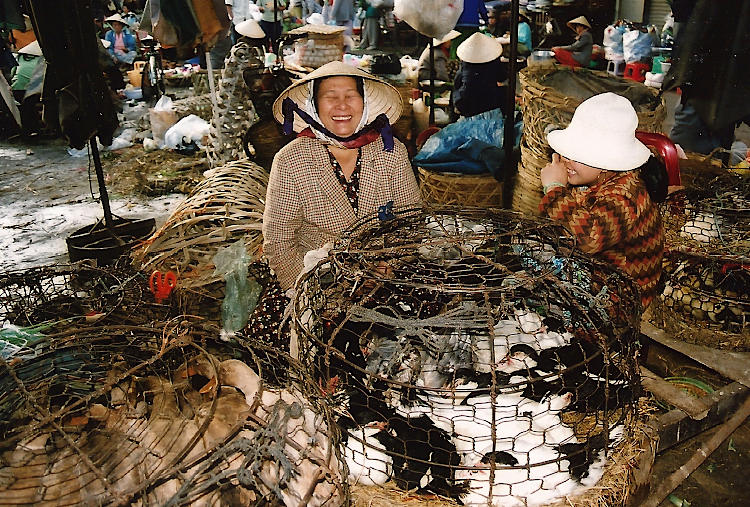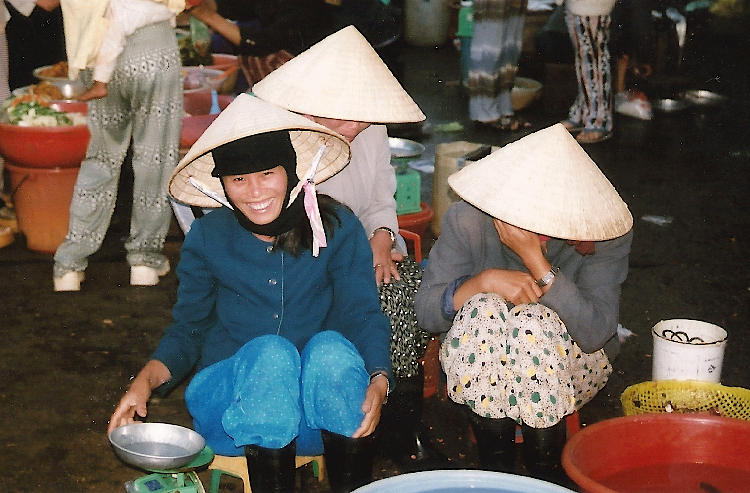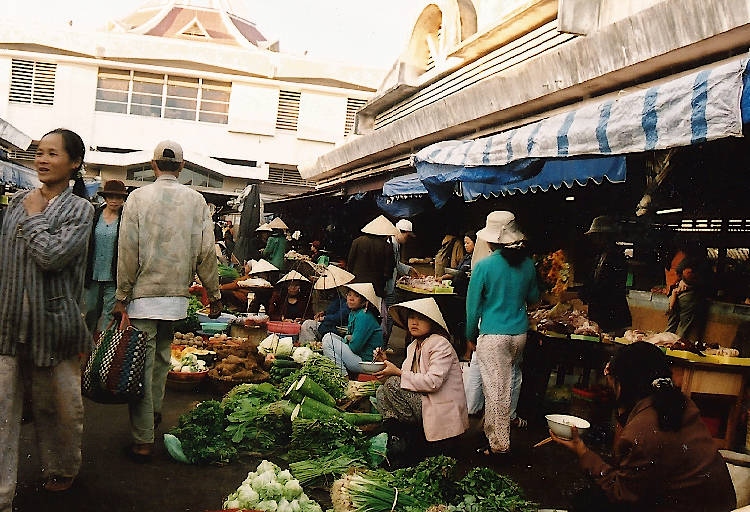 The following day we were off again, this time into the Yok Don National Park famous for its elephants and other wild animals. The forest turned rather scrubby and after an hour reached Ban Don village and tourist centre although the bloke there didn't really know what tourist sites there were. He showed us a hut by a small lake and three floating ones, one of which we eventually stayed in – not quite the long house experience we were looking for. There were a few long houses in the village however where the locals lived. Here we met an American tourist. He had been here during the war and was wearing a US Army vet T-shirt. It was very strange but the Vietnamese were just as friendly with him as everyone else. They held no grudges.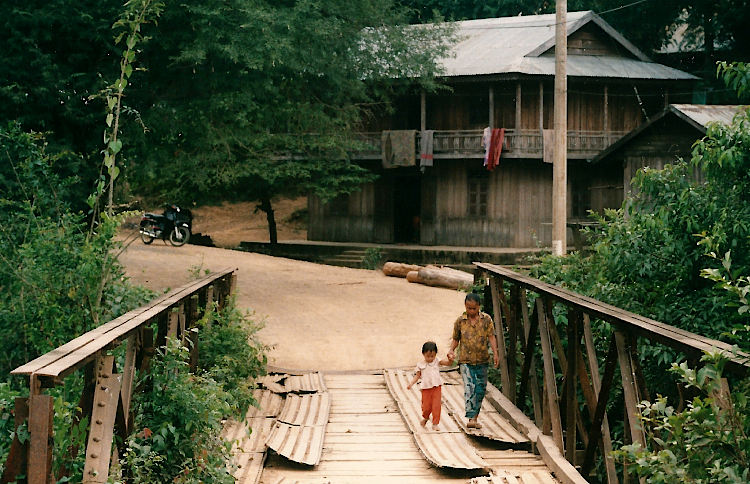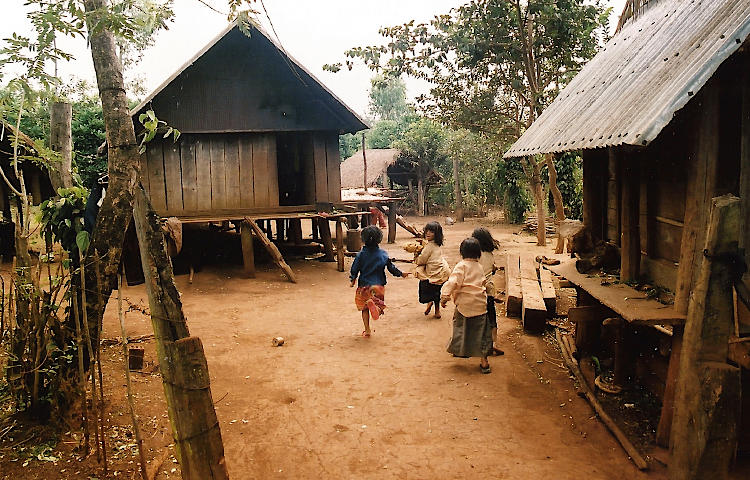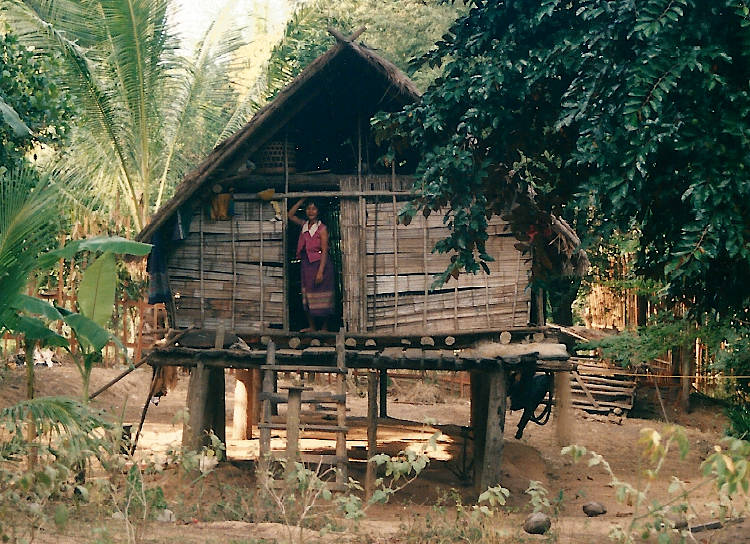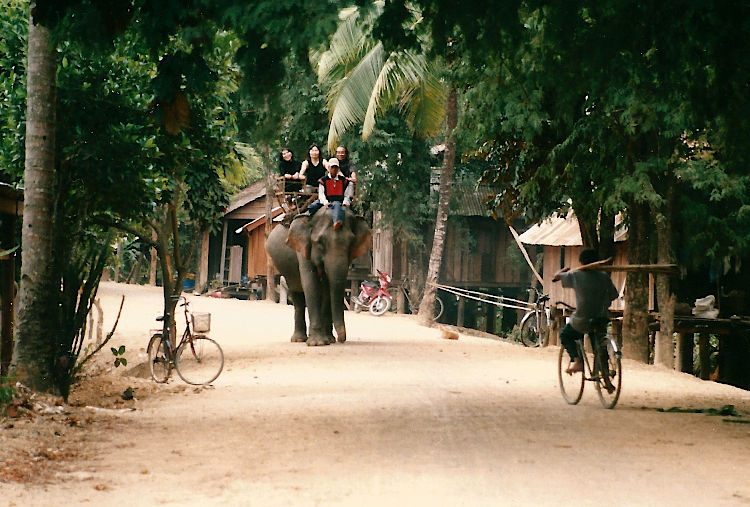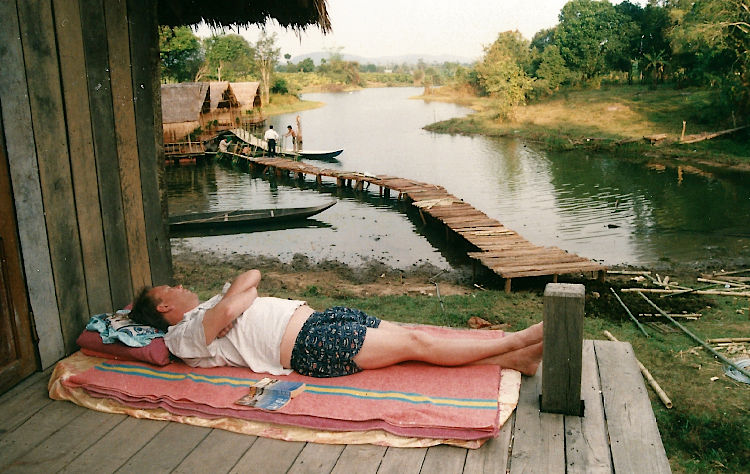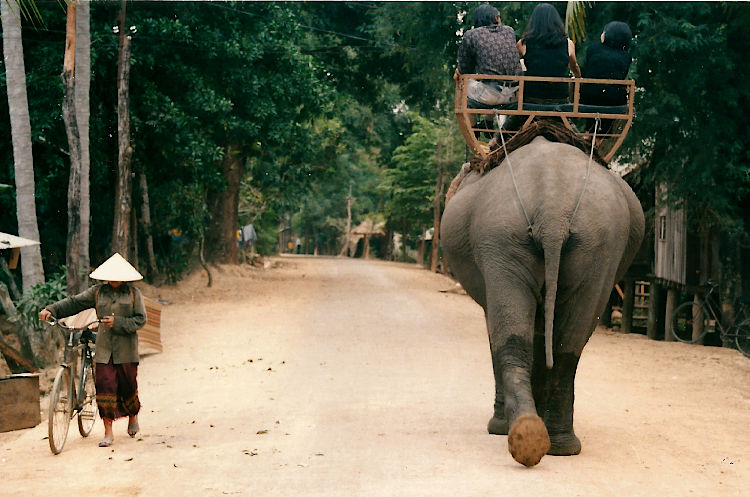 That night we had catfish for supper, freshly caught from the lake, along with a few Bia Hoi's. It was very pleasant to fall asleep to nothing but the sound of cicadas chirping in the forest.
However, the following morning I woke up with a very sore back – sleeping on a very thin mattress on the floor was rather rough. We were off by 7.15. It was rather ethereal – a low sun, and the whole scene swathed in woodsmoke so the people heading for the fields seemed ghost-like. We headed back to BMT to pick up some washing and had the usual pho for breakfast. then we were off north. By the time we got going it became rather cold as the dark clouds turned to rain. Fortunately this didn't last and as the traffic cleared with the rain, it was fine riding over rolling hills and through rubber plantations. Before too long however I had a few problems with my bike – loose nuts and dodgy brakes. But of course we weren't far from a bike repair man and we were soon cruising into Pleiku in the early afternoon.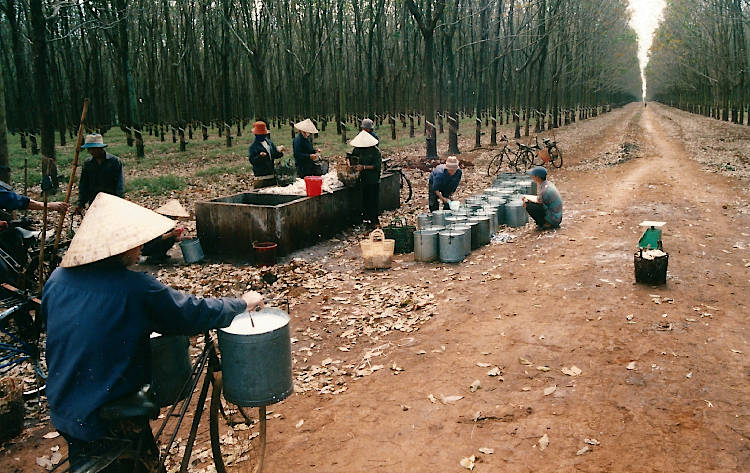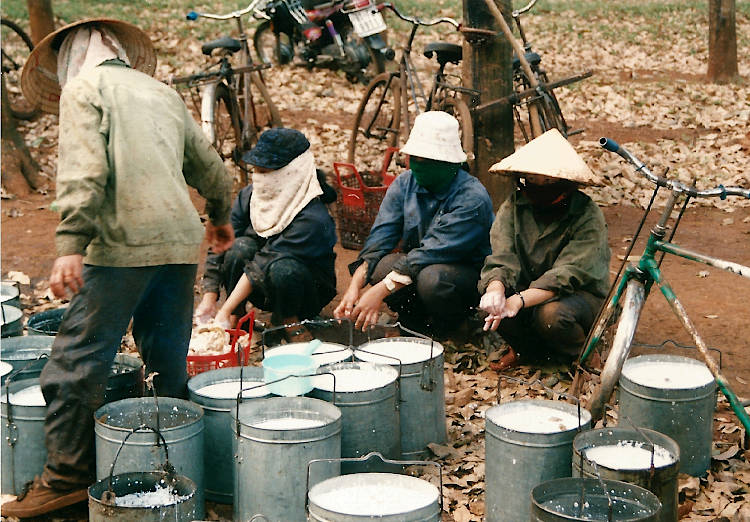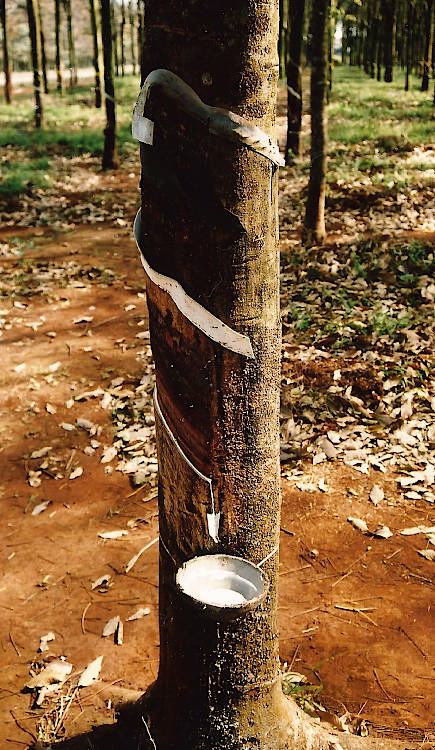 My lonely planet of the time describes Pleiku as a "hole". This is no doubt because the place was totally destroyed in the Vietnam war – mainly by the departing South Vietnamese forces and then rebuilt with help from the Soviet Union but by building a large collection of ugly Soviet-style buildings. However, our hotel, the Movie Star Hotel at $9 per room, gets a better press, "Pleiku's most charming accommodation and a big hit with travellers". I couldn't find it with google so it obviously hasn't fared well since then. My diary makes little mention of the hotel or the town excpt to say there was a big market and the traders were very friendly.
The following day we decided just to do a loop around the surrounding area. Apparently it was necessary to get a permit to travel to the local villages but we didn't have any problems. We stopped in the villages of Dek Tu and De Cop which both had impressive rongs. These were Bahnar settlements. Most people lived in split bamboo and straw houses on stilts. The rongs were mostly ceremonial. We found that on the whole the people were very shy except in one village where they all shook our hands and posed for photos. We had one funny moment when we were confronted by a river crossing. We were unsure whether we should try to ford it as it looked quite deep until an old lady plunged in and crossed it on her bicycle!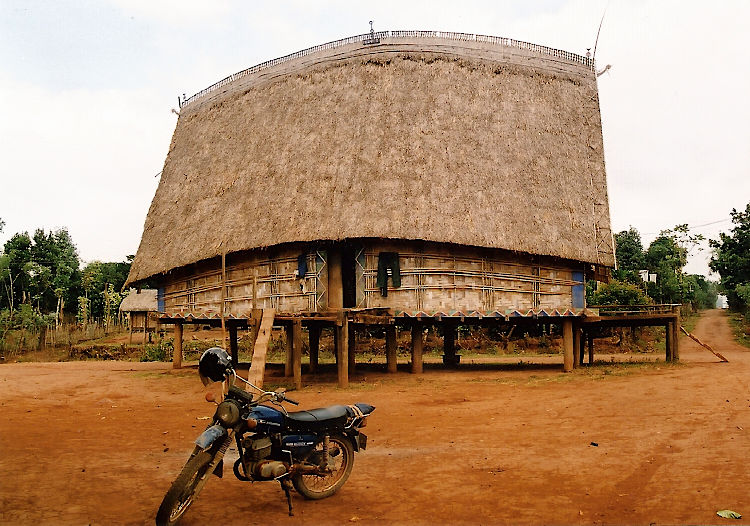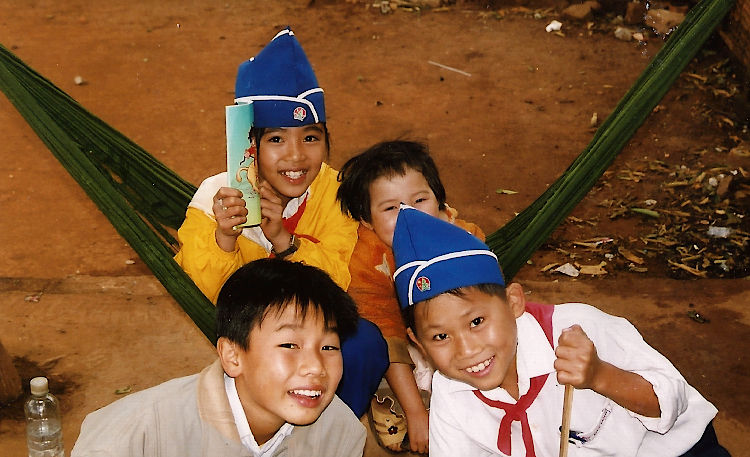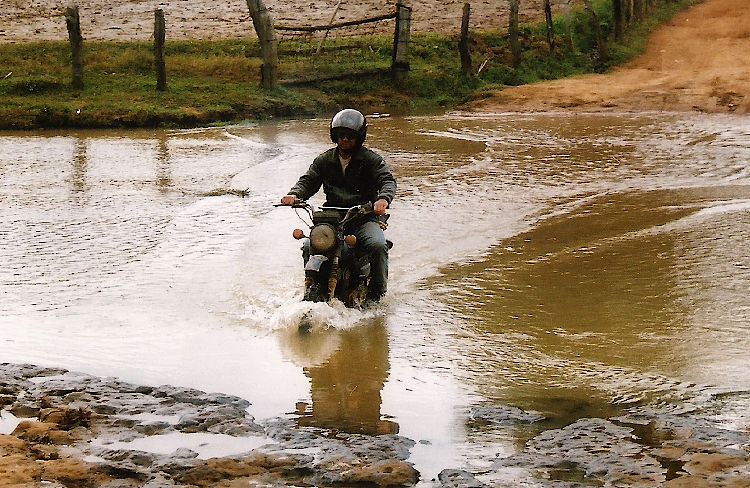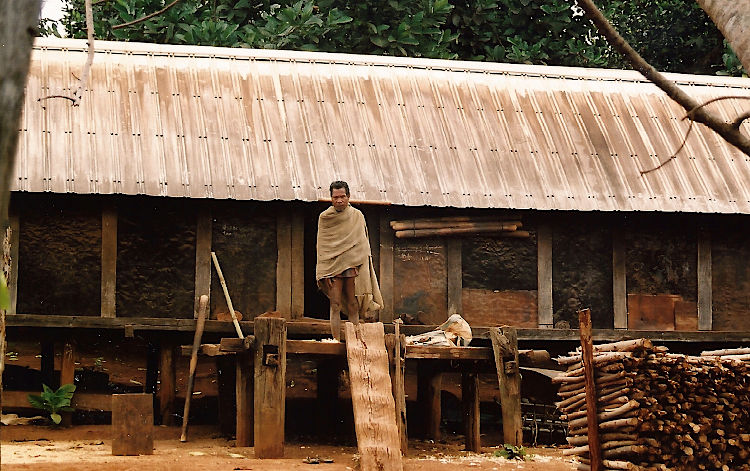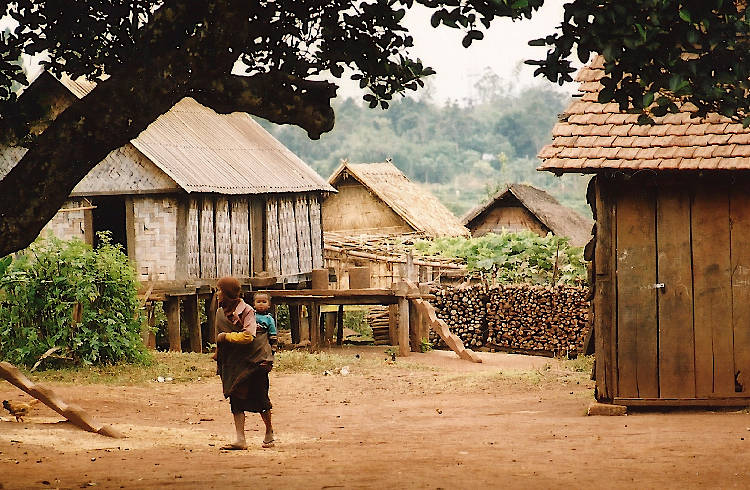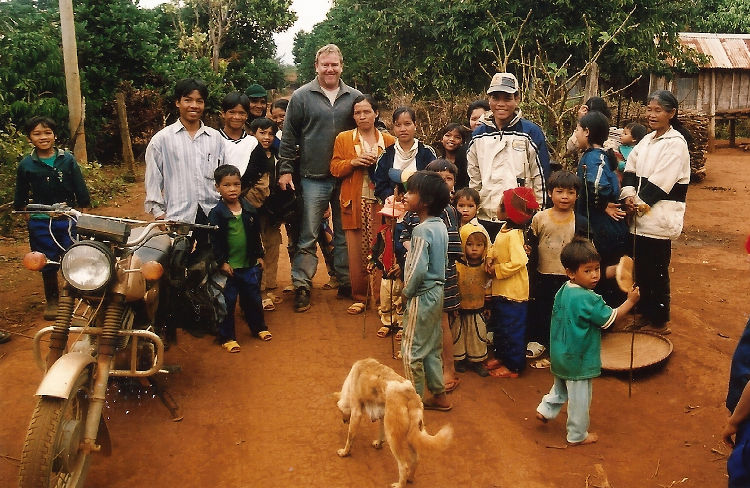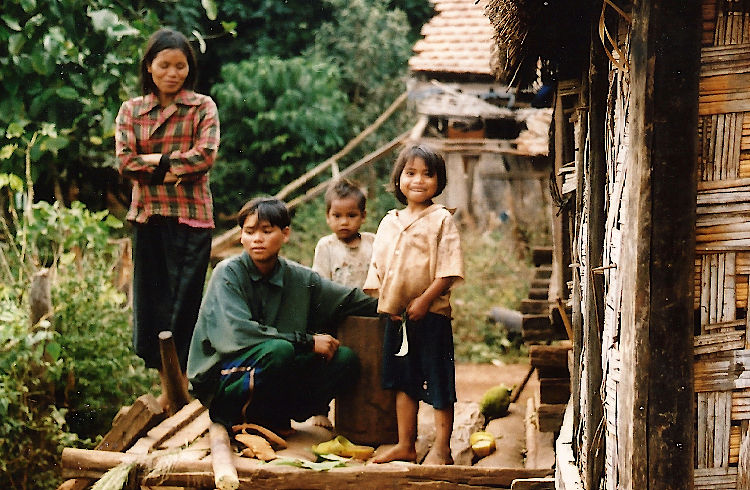 The following day we left Pleiku for Kon Tum but as it was only about 50kms up the road we took a diversion to Bien Ho which is apparently an ancient crater lake. Very pretty it is too.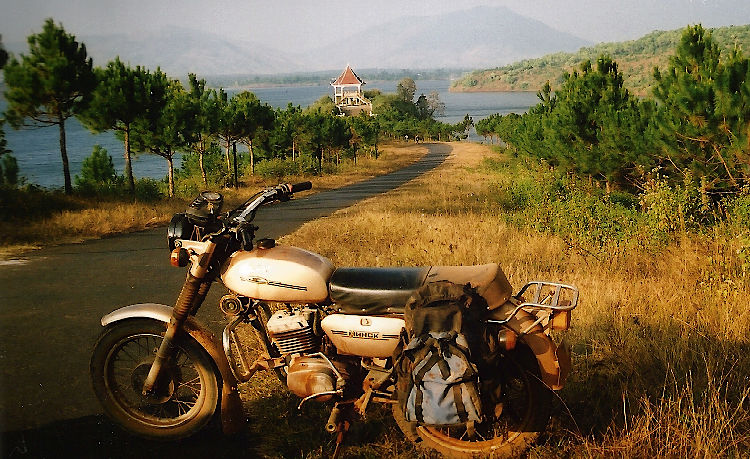 Kon Tum is right in the heart of montagnard country and is surrounded by ethnic minority villages. We found a comfortable hotel – the Dakbla, right on the Dakbla river at the entrance to the town. It is no longer there and seems to have been replaced by the flashy Hotel Indochine. Anyway, it was a pretty good hotel with friendly staff who actually spoke a fair bit of English. Not surprising given the history, we noted that as opposed to up north quite a bit of English was spoken in the main towns.
Not far from the hotel was a wedding cake church, the Tan Huong, and as we were walking by, a newly married couple came out. I took a photo but I don't know where the guests were! We also visited the more famous wooden cathedral in town but somehow we found ourselves wandering around the attached orphanage. It was very odd as there were loads of kids very excited to see us but not an adult in sight.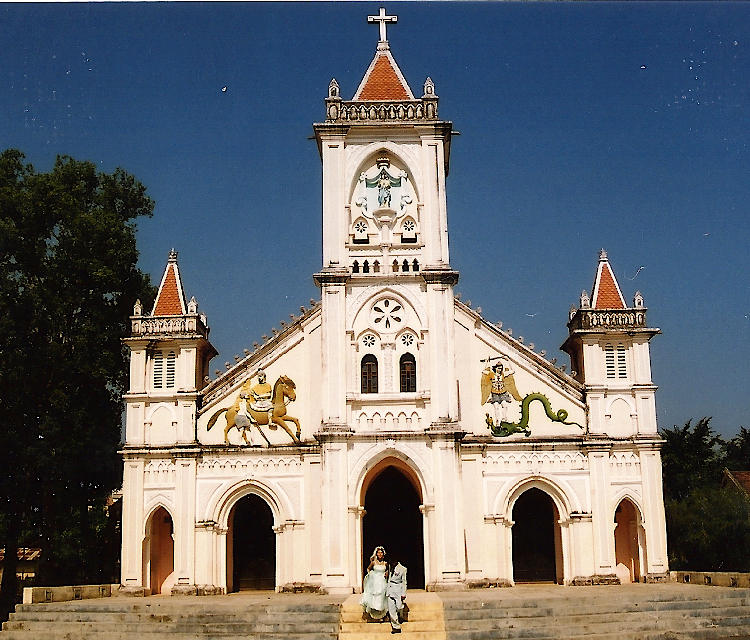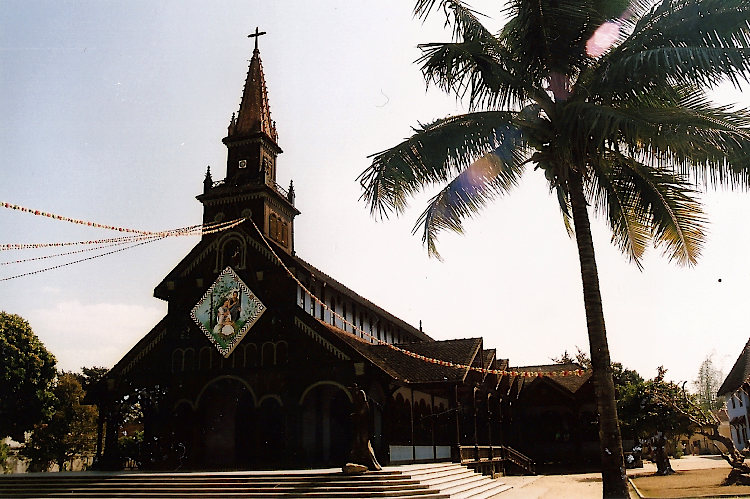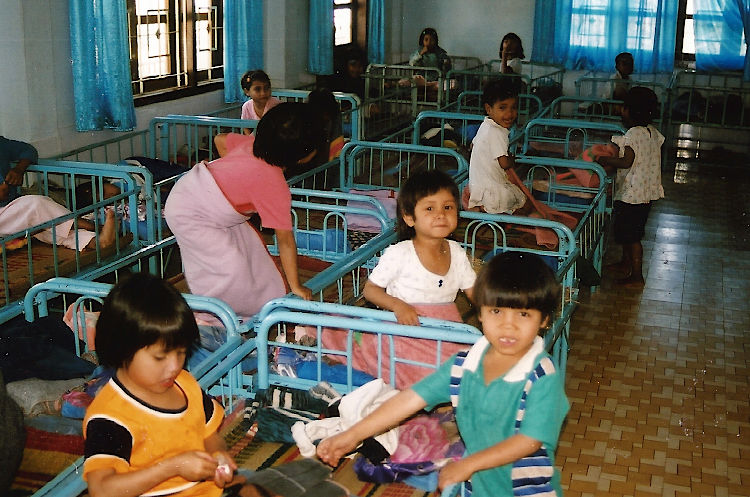 We also walked into Kon Tum village which was attached to the main town. This was where the original montagnards lived and was very photogenic and atmospheric – a jumble of mud hut stilt houses with thatched rooves. Also the people were very friendly welcoming us into their homes. In fact all over Kon Tum people said hello to us. A bloke there also guided us to another nearby village where there was a bit of a party – or rather a motley collection of people gathered round a number of rice wine jars. It didn't taste too bad and not that strong.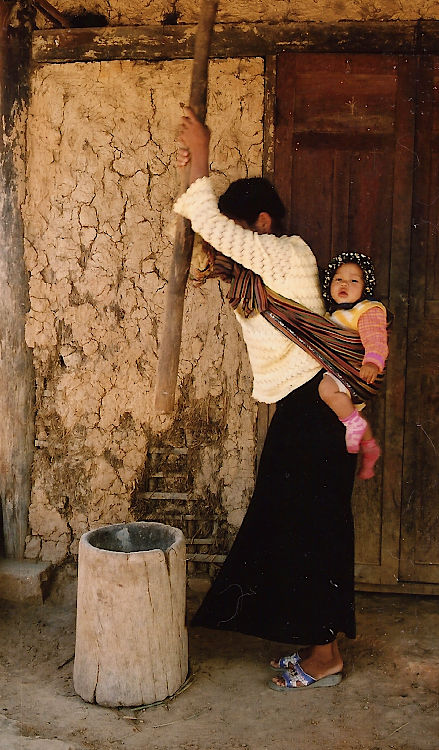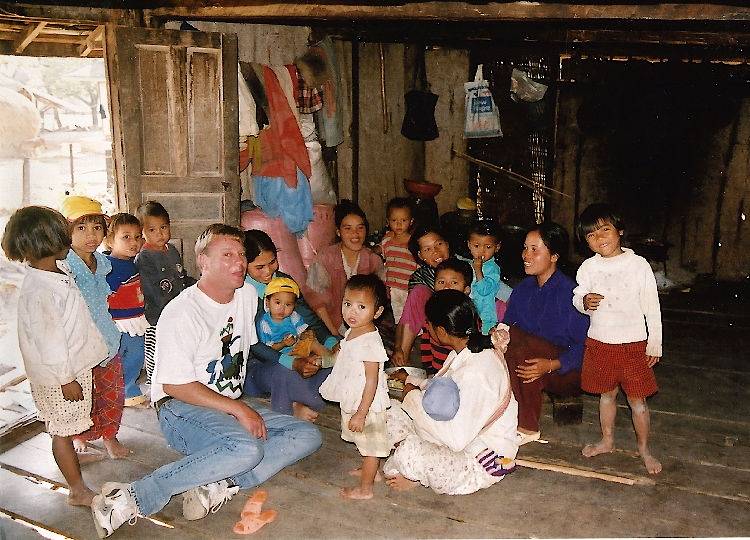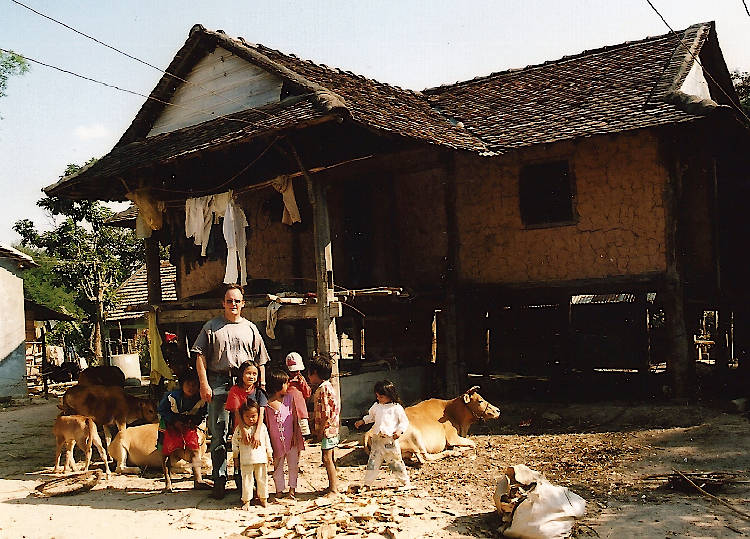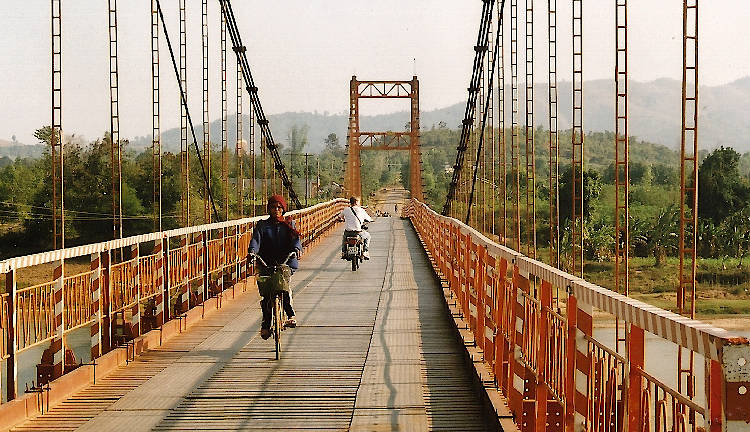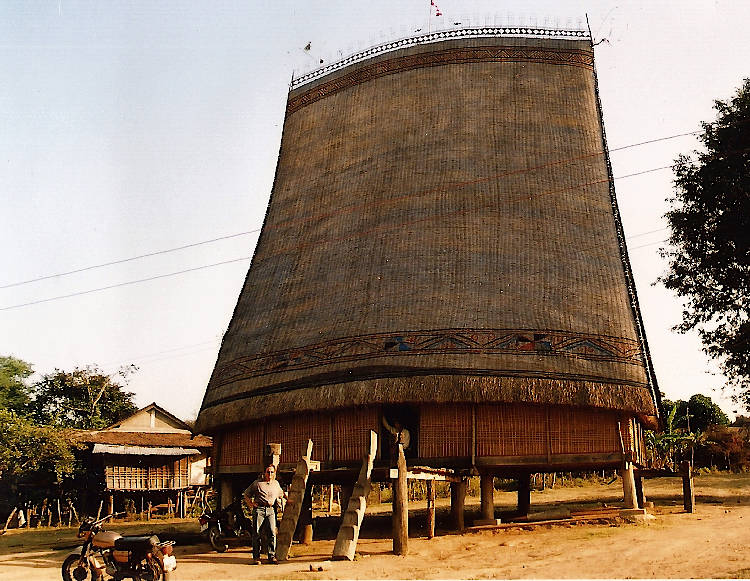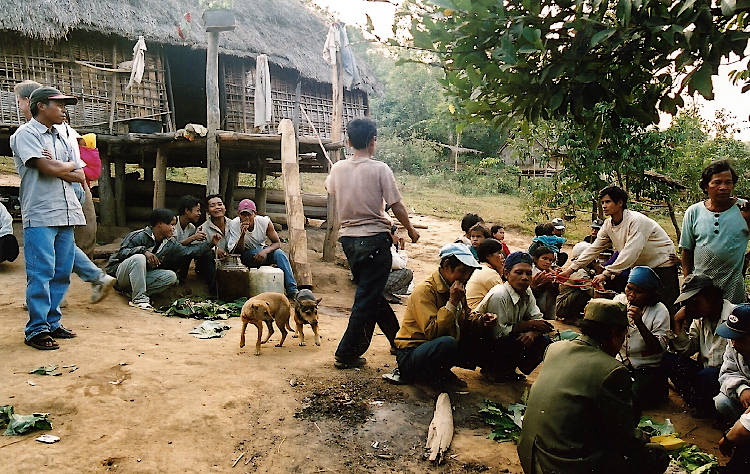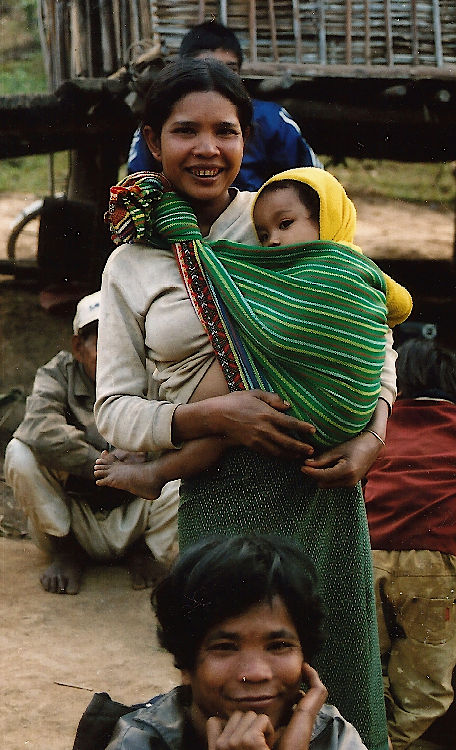 The following day we didn't start with the traditional pho for breakfast but actually had Banh Mi, a remnant of French colonial days – basically a pork sandwich with fried eggs, absolutely delicious. We were also told that the road to the coast from here had been completely washed away. Although fairly dry here, the mountains just to the north had stopped the torrential rain – mountains we had planned to go through. So we had to modify our plans. Just as well we found out now.
Meanwhile we had another trip planned for today, east to Sa Thay and Chu Mom Ray mountain. Near Mount Chu Mom Ray the countryside was spectacular and the road wasn't too bad if only a dry and dusty track. We got to a point at the base of the mountain which said no trespassers and there was a man in a small office which said the road was off limit to foreigners. Apparently they were in the early stages of making it a nature reserve right up to the Cambodian border. We headed back and came across a wedding party. No one including the bride and groom was wearing special clothes but everyone was downing plenty of rice wine and we joined in. It was pretty strong stuff as before I knew it, on the way back to the hotel, Alan decided to wave down a passing donkey cart and was soon disappearing round the bend sat on the top of a huge pile of straw. Well it was New Year's Eve.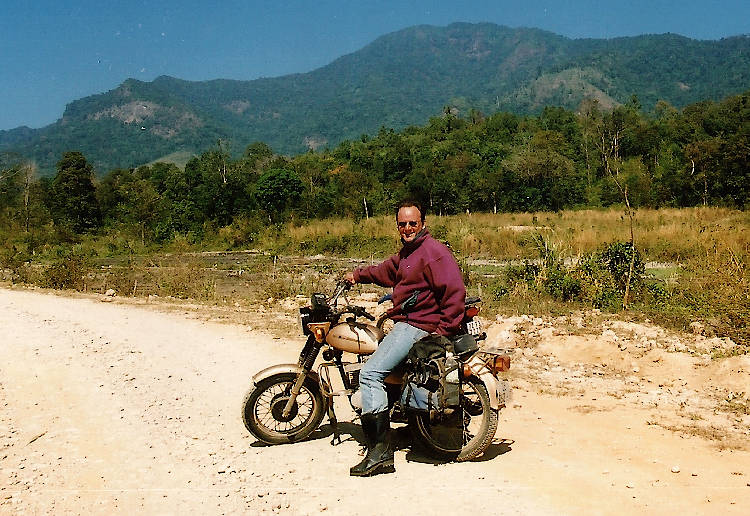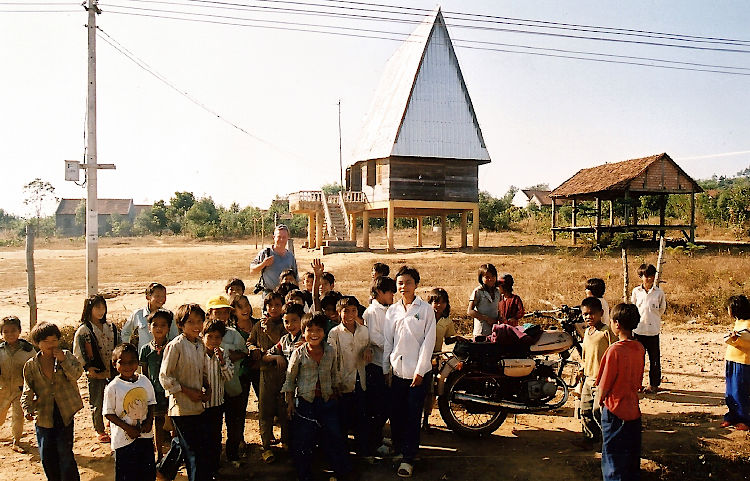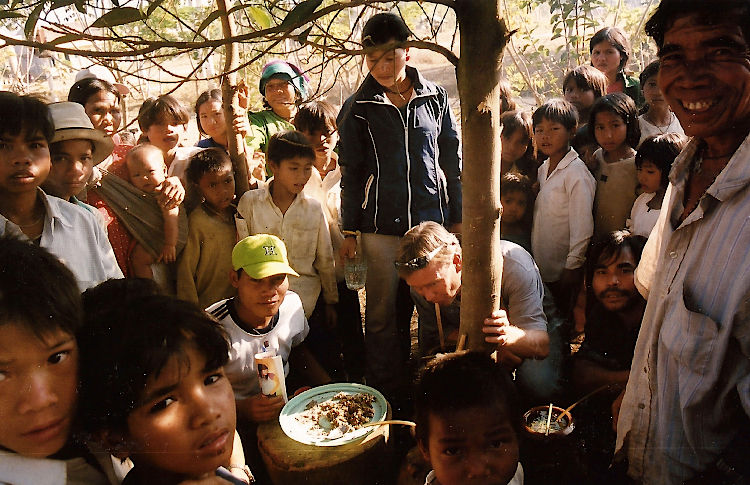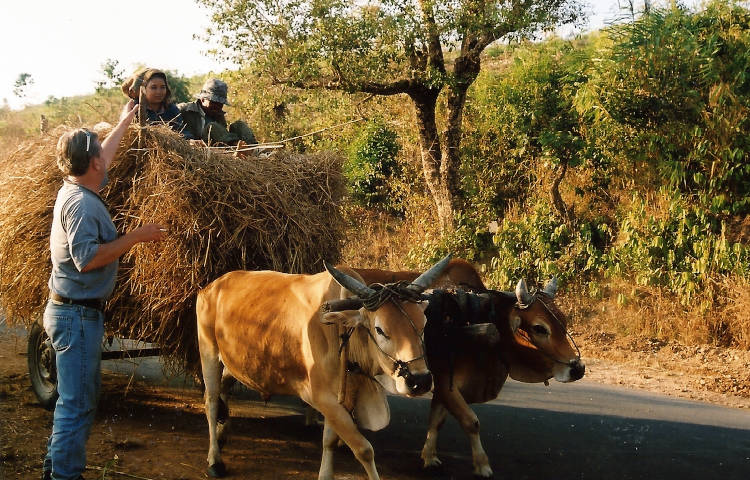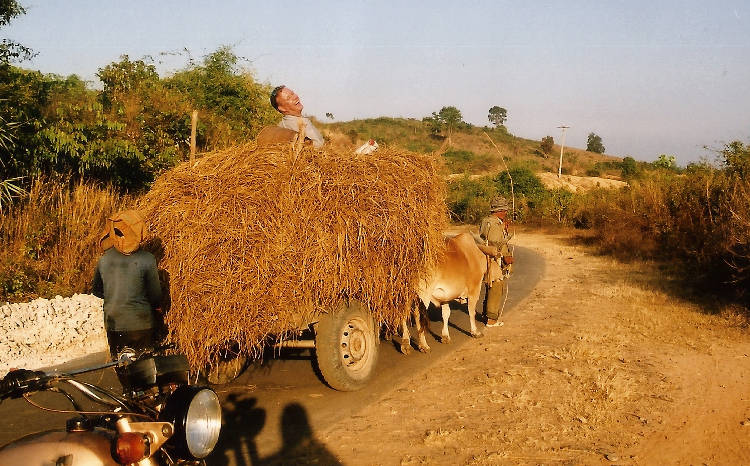 The following day we just wandered around town and headed into the only restaurant mentioned in the lp. Here we found two foreign couples who were with their Vietnamese guide. They were on their way to Hoi An and told us the road to Quang Ngai was a good one. So that was the new plan. Oh and we had a very tasty catfish and chips.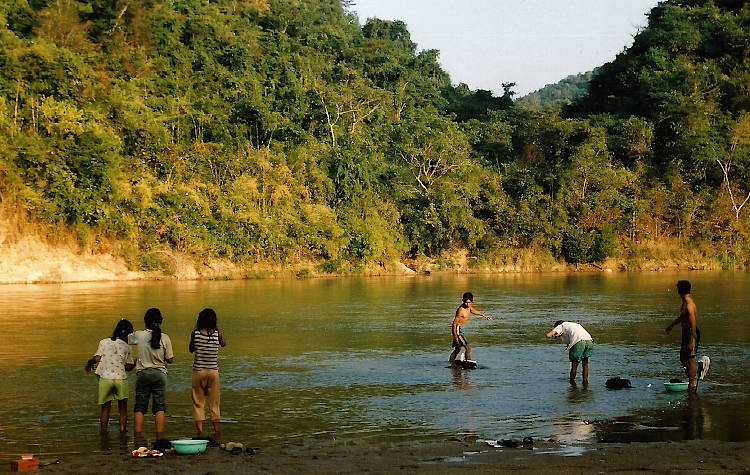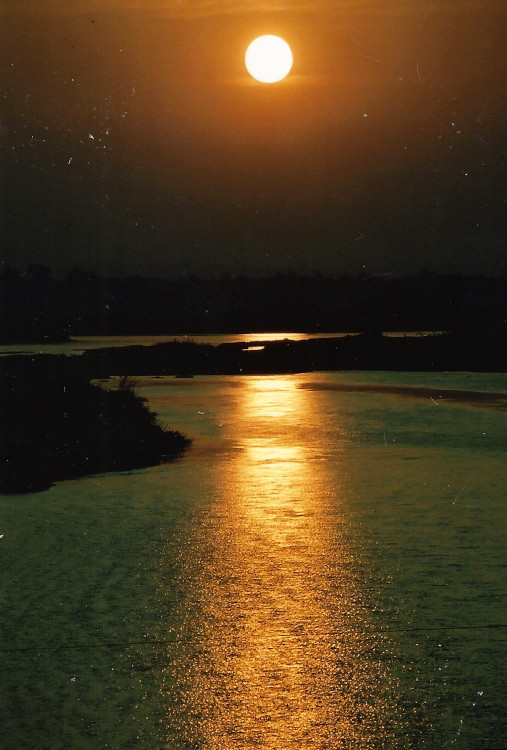 The following day we headed north to Dak To and beyond but again we were met with No Trespassing signs. Back in Dak To we had a wander around. Although an isolated little town, it was famous throughout Vietnam as the site of one of the largest battles in the American war and there were a few memorials. We did visit a small Sedang Village reachable by a very wobbly "Tarzan" style bridge. In fact there were quite a few wobbly bridges to cross round here.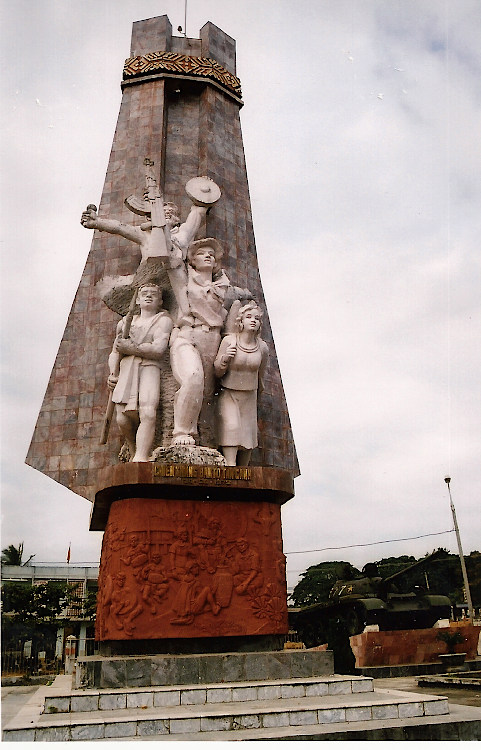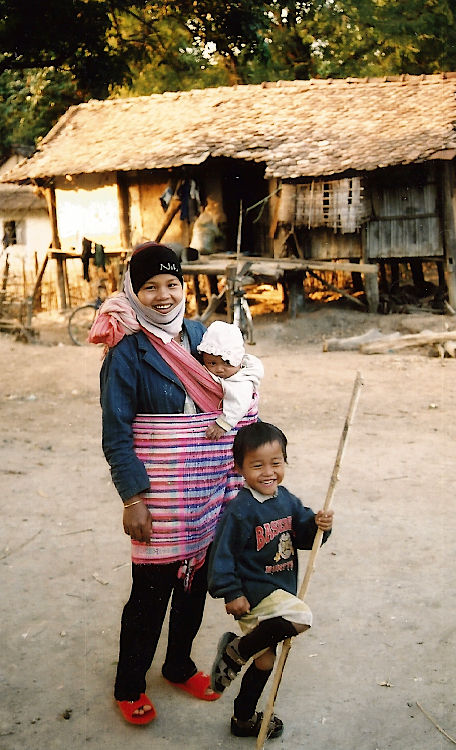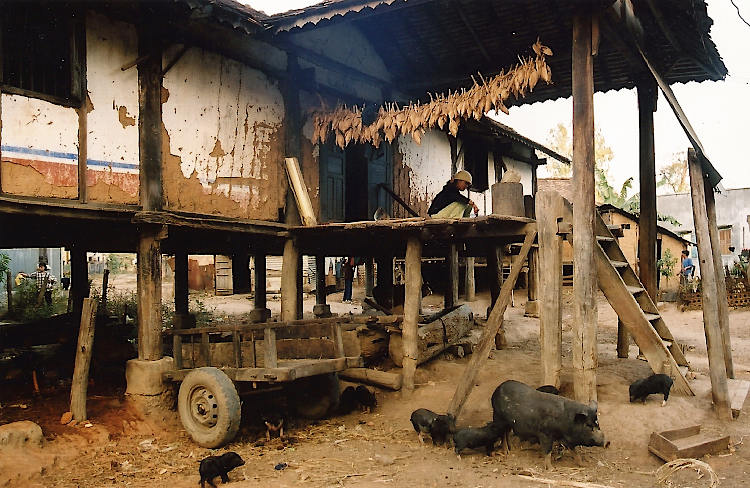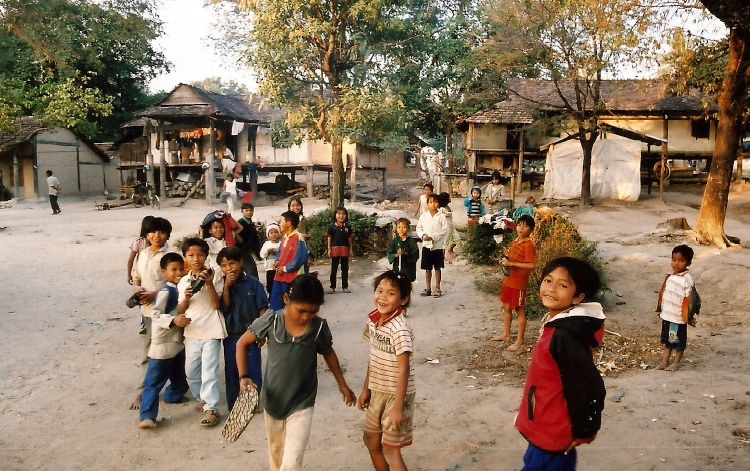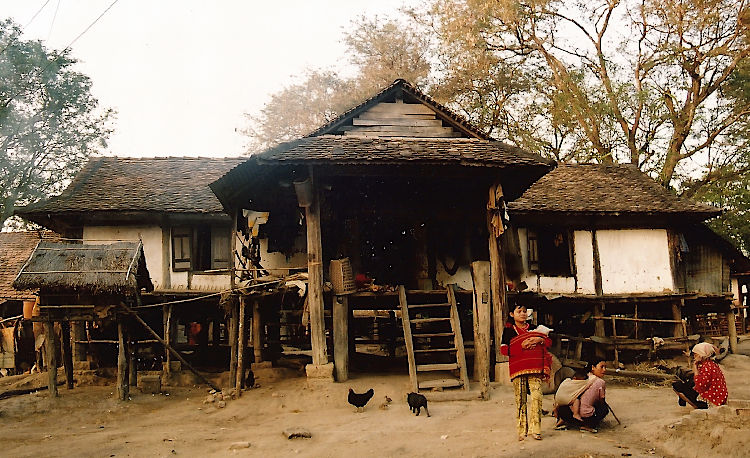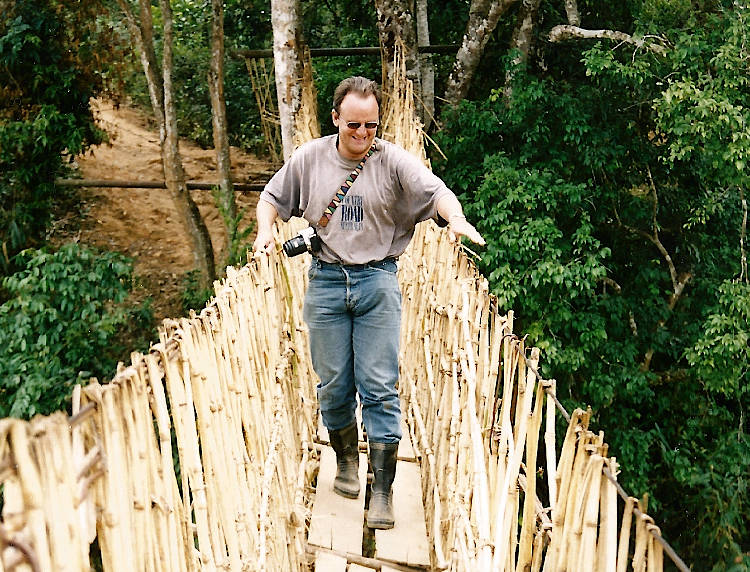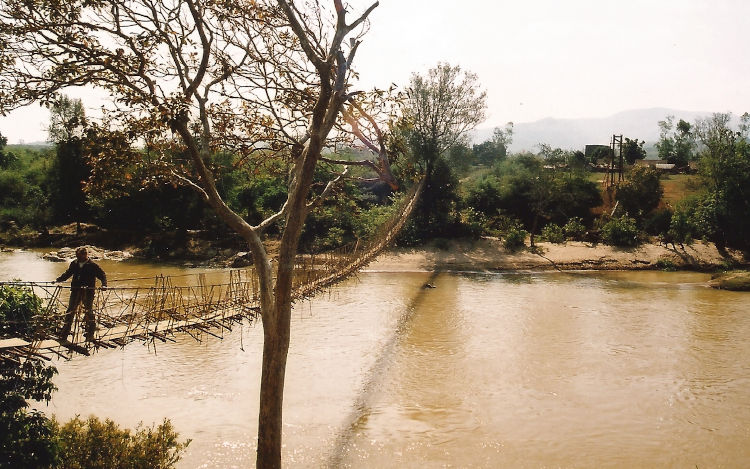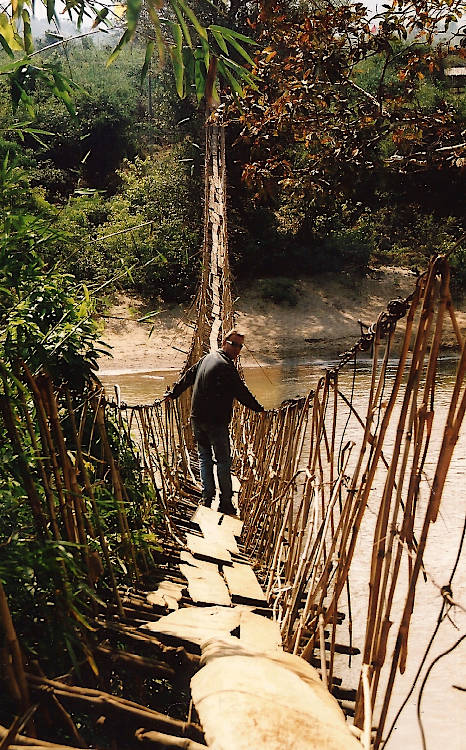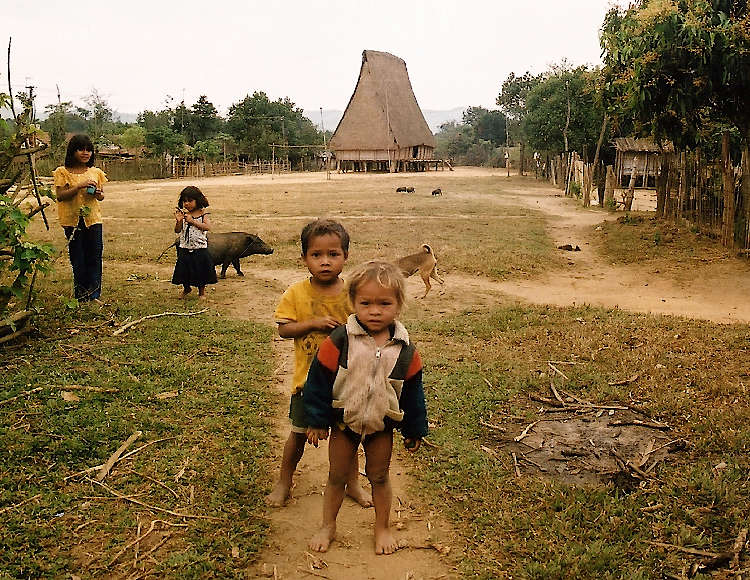 The next day was our final day of riding. We were heading north east on the QL-24 to Quảng Ngãi where we hoped to get a train back to Hanoi. We reached Kon Plong in an hour for breakfast. It was pretty rough riding as they were still working on the road but not too bad. And then we got to the tarmac. Just as well as about now the rain came and we had to put on our waterproofs.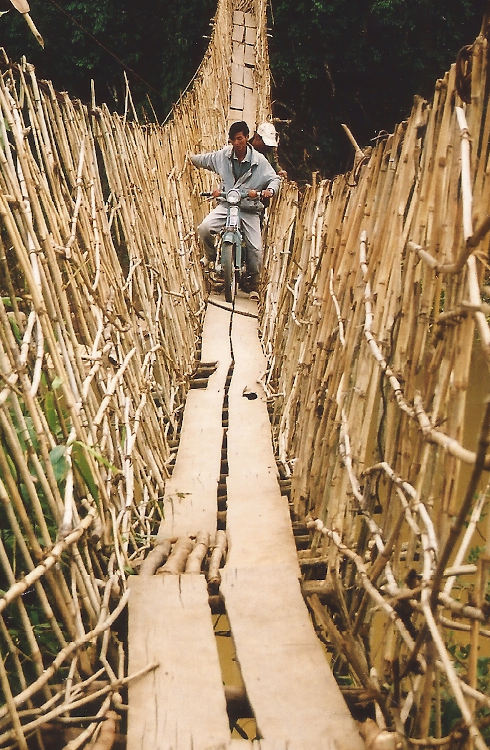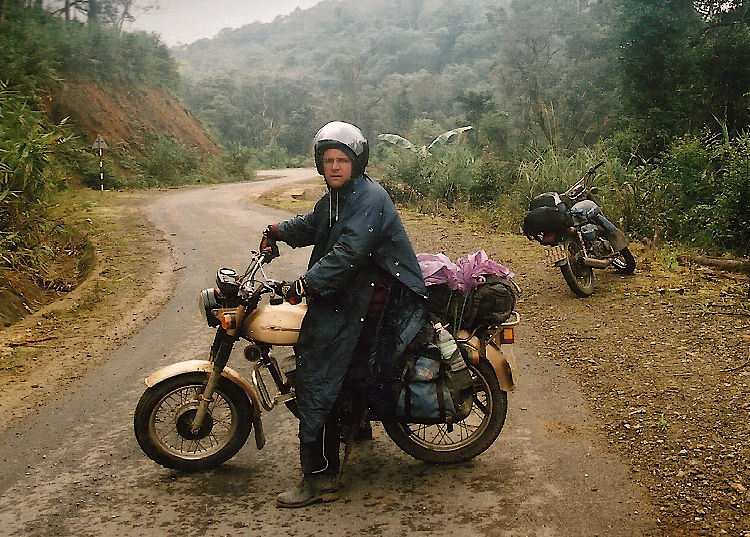 It was then quite thick forest, with few people and little traffic until we reached the pass. Once over the pass the road dropped down to the plains and the weather cleared. Here the landscape was completely different to the highlands, we were back in the paddy fields and amongst coconut palms and plenty of small villages. We had lunch in Ba To which was pretty good (but I didn't note what it actually was). In fact, in spite of being out in the wilds for most of our trip the food had been pretty good.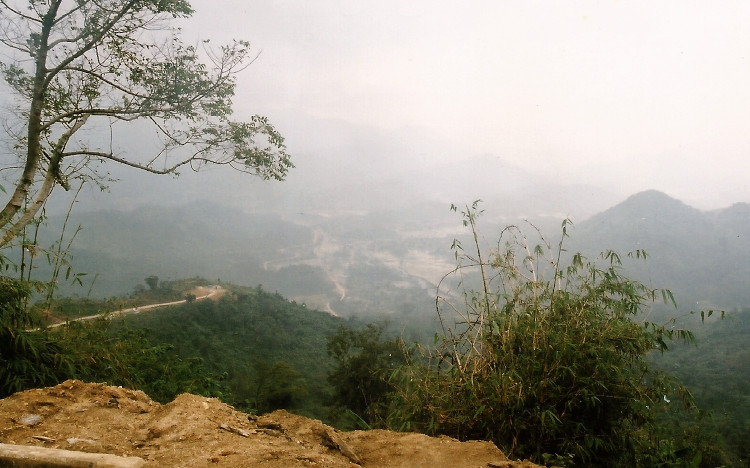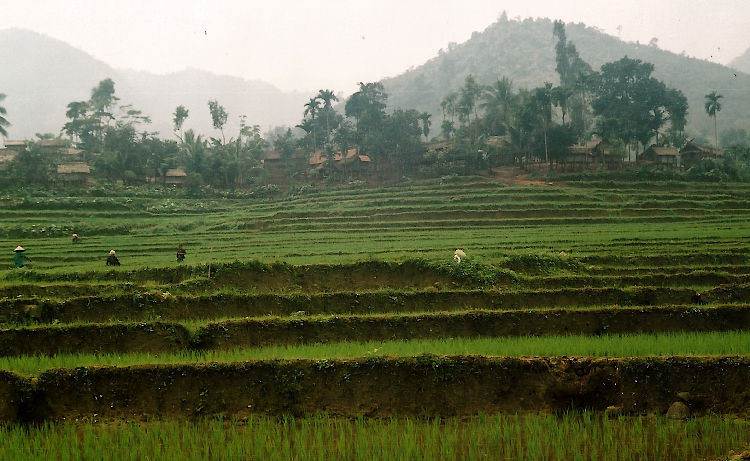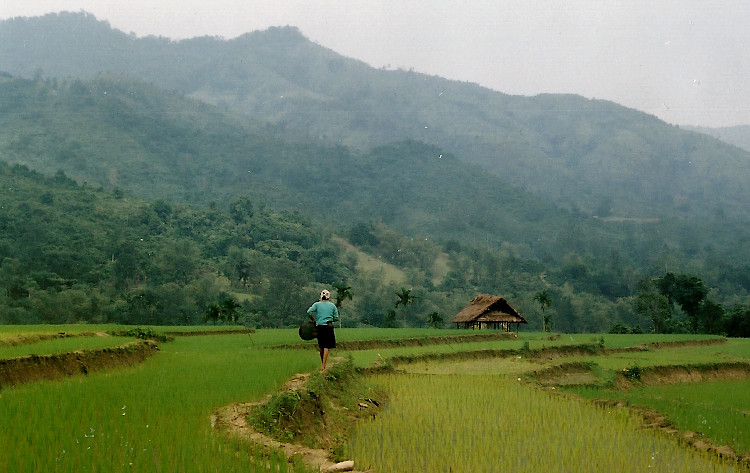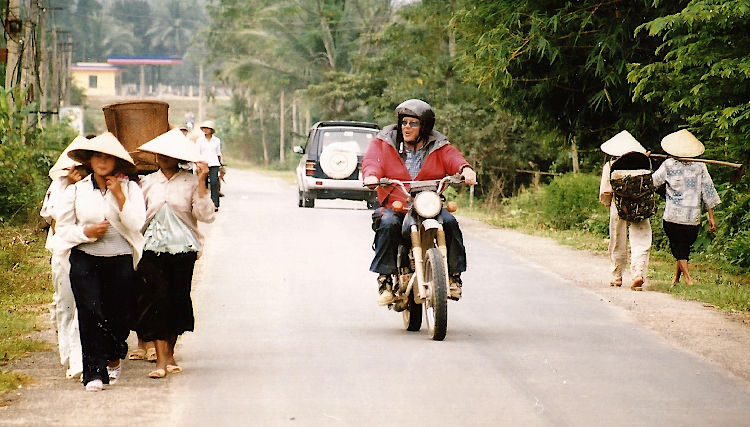 As we got closer to Quang Ngai the road deteriorated and the traffic got pretty bad. In Quang Ngai itself we also had trouble finding the train station and then buying tickets. Fortunately a lady in a cafe spoke a bit of English and managed to decipher the confusing train timetable. As was the norm, our bikes were to get on one train and us a different one. Our bikes were to leave at 5am the following morning and we were getting on the following train at 11am but they were due to arrive in Hanoi at the same time. We headed into town and booked in at the attractively named 502 hotel ($10). That night we had the local delicacy Com Ga, which was boiled shredded chicken on a bed of yellow rice.
The following day everything went smoothly. The train arrived pretty much on time and we arrived in Hanoi the following morning at about the same time as the bikes. Everyone was happy!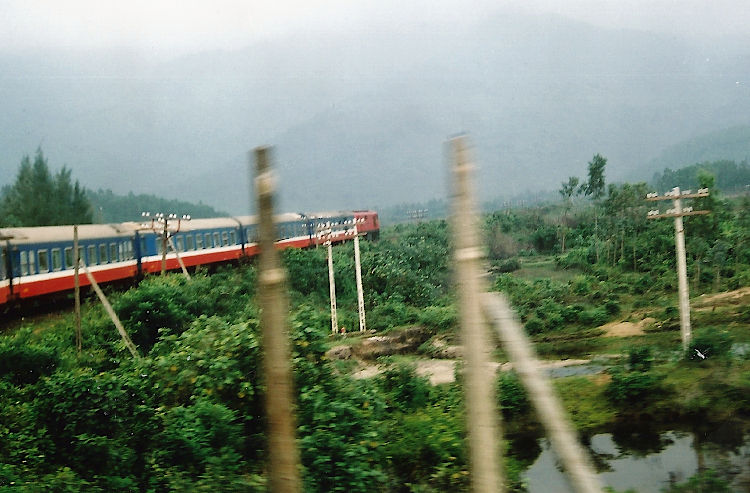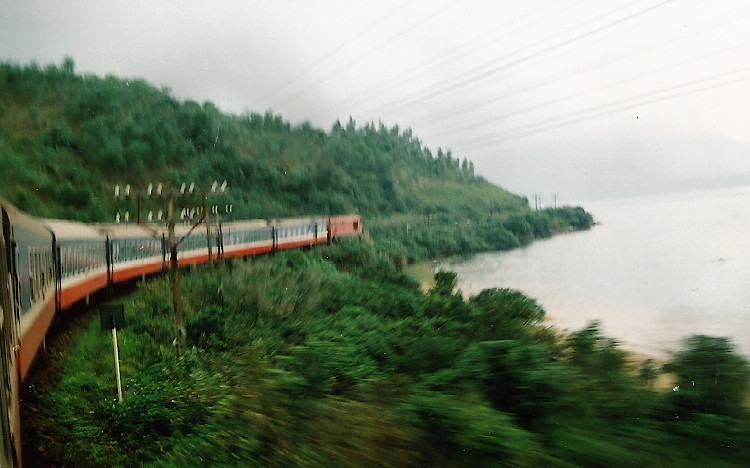 Summary: 22 Dec 2001 – 4 Jan 2002. Spent 3,340,000 Dong in 2 weeks ~150GBP
Travelling costs $13/day (9GBP)