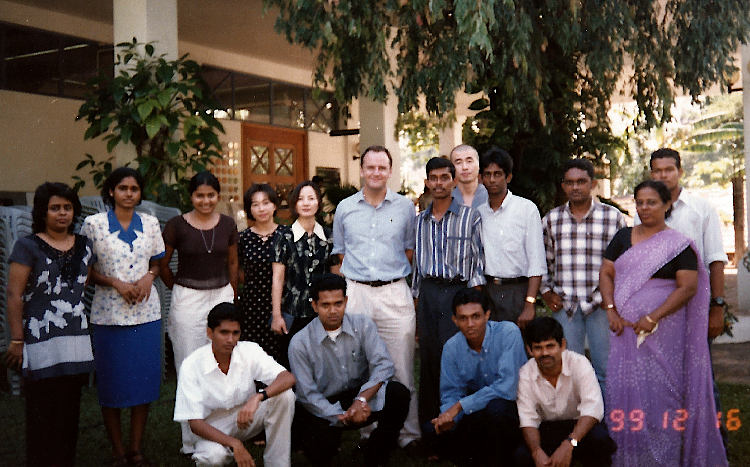 Around Colombo and final days
Around Colombo and final days
I've covered most of the trips I made around Sri Lanka on other pages so this is a bit of a mish mash of other short trips and photos of Colombo and the two places I lived in my time there.
I think central Colombo was not the most attractive of cities but it's a shame I didn't take more photos. Mainly to keep fit and to socialize I played for the Puffins Rugby team. We mainly just played touch rugby on a Thursday night but we did have two proper 15 a side games against local teams. The photos are from a game in Nuwara Eliya. I also played a fair amount of golf. Not very successfully it must be said. I'm not sure how many pints of sweat I lost during a round. And a number of weekends were spent at the beach. The first 6 months of my time I stayed in a house in central Colombo – 99/4a Rosmead Place.
In May 1999 I moved to the country – or rather the suburbs – to 150/19K 2nd lane Bellantara Road, Pepiliyana, about 30 mins drive from central Colombo. My own bungalow with lawn and coconut and mango trees – bliss! I also had a few housemates – I suspected mongooses in the roof but I also saw some large rats, squirrels, I was joined in my hammock once by a snake and another time a monkey came through the garden and onto the roof. I also had three scops owls roosting in a tree, fruit bats outside my bedroom and plenty of reptiles, insects etc. I did find it on google street view quite some time ago but as of Feb 2022 it looks like it's been demolished 🙁
A common feature of of Sri Lankan life were the festivities. Every full moon was a holiday but there were also Peraheras. These are processions and take place in every village throughout the country. The photos below are from my local Pepiliyana Perihera. Probably the biggest is the one in Kandy.
As my time in Sri Lanka wound down, time for one last trip to Hikkaduwa. Also some photos of my classes at the British Council. At the end of every term I got presents from my students, and a cake on my birthday. My very last trip was a weekend away at the Kandalama Hotel.