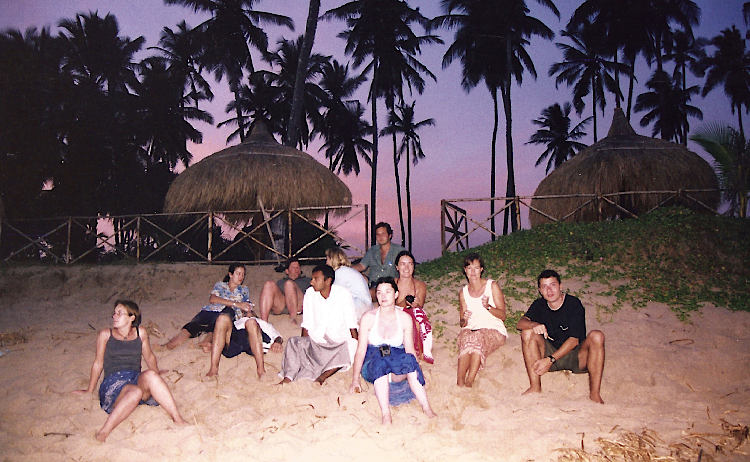 New Year 2000
New Year 2000
The run up to Christmas 1999 wasn't the best. I had got knocked off my bike, fortunately not sustaining any major injuries but there were also a series of suicide bombings in the city.  In one, 38 were killed and the President lost an eye. In the aftermath there was a curfew but surprisingly life pretty much returned to normal. It was a war zone after all. I had some friends over and on Christmas Day we had a fantastic champagne brunch at the Mount Lavinia Hotel. Then on Boxing Day I had a party at my house which went well.
Of course I had to get away from Colombo for the holidays so I was soon on my bike and going down the coast. First stop was Bentota Beach where I checked into the Ocean View Guest House. Far better, I thought than the big generic hotels. My rich friends were staying at Club Villa and the Taj Exotica. We had dinner at both, which I thought were far inferior to the local dishes available at my place but each to their own I thought. I said goodbye to my friends and headed further down the coast where I was to meet up with the BC crew. I had a night on my own first so I checked into the Kingfisher Guest House which is a nice family run friendly place and is in fact still going now. The following day I was off again to meet the crew at the new hotel we were staying in for New Year festivities: the Sinahawa Holiday Resort. Unfortunately it doesn't seem to be still going. I couldn't find it anyway. It was a nice place, away from town and the other hotels, with a big pool and lots of beachfront. The rooms where great – cottages with thatched roofs. Suffice it to say we had a great time and a party on the beach to see in the new year.
On 2nd January I was off again. This time back to the hill country and Haputale. I'm not sure why but I didn't stay at Mr. Amarasinghe's but at the Cu-esta Inn. My diary says, "The rooms are OKish, the "end wall" is all glass and looks out over the railway track to pine trees. You can hear the wind through it so it may be a cold night!" It wasn't as it happened but I did get up to thick fog and a bike that wouldn't start. As always there is someone close at hand better able to fix it than me. He turned the fuel on and off then revved the crap out of it – and that is what happened – lots of black smoke shot out the exhaust but it seemed to do the trick. I was soon driving through thick fog and then rain but I arrived in Nuwara Eliya in one piece. I checked into the Hill Club and immediately thawed out in a hot bath. Went into town and had a very welcome hot curry in the Muslim hotel.
I also popped by a famous little place, called (by me) Jacket alley. There was a collection of stalls selling high quality outdoor clothing at rock bottom prices – Sri Lanka was a manufacturing centre for lots of clothes and this is where you could by good quality seconds or overruns. I bought a new rain jacket. Back at the hotel I met up with the friends I had left at Bentota. That night we had a roast pork dinner followed by drinks in the lounge – all very civilised. When dining at the Hill Club you had to wear a jacket and tie. Fortunately if you didn't bring them yourself they had a collection for guests. It was always much more fun to see what you could find than bring your own! The following day was golf. A little difficult due to the fact it was cold, warm, sunny and rainy. A quieter night that night and when I went to bed I found a hot water bottle placed in my bed!
The following day off again. Of course Nuwara Eliya was swathed in fog but I descended out of it and the sun came out. It was a pleasant journey to my next destination the Kelburn Estate – a famous tea estate which rented out cottages. We had hired Aerie and Rose cottages, the veranda and views south to the coast were just perfect. And later warming ourselves in front of a roaring fire while lounging in chinzy sofas. The next day I decided on a day trip on the bike to Horton Plains. It was a very good trek of about two hours through eucalypt forests and then a very steep section which I only just managed . Once on the top of the plains it was easier going – grassy plains above the fog.
7th January.
Off again. Headed off Badulla way. I came into Mahiyangana on a new road, not on my map, because a new reservoir system had been built – part of the Mahaweli scheme. It was a very wild place – no settlements or agriculture but great views to the Knuckles ranges. I got soaked coming into Mahiyangama and stopped for a curry lunch. The bloke there shoved a card into my hand for a hotel so that's where I went:. Checked into the Tharuka Inn. I noted a new featureless characterless box of a place – for 750rs. It doesn't seem to be open any more. By this stage I was getting a bit down – I was getting tired of the soakings I was receiving. However the following morning I was off again.
"woke up 7ish had a quick look around the site of Sri Lanka's oldest dagoba. there were  a few beggars and a dormitory full of pilgrims". I guess it must have been the Mahiyangana_Raja_Maha_Vihara. But I didn't take any photos – instead I took a photo of cows crossing the road?? Out of town I headed for the cloud shrouded hills of the Knuckles Range.  18 hairpins over 5 miles rising to 2000ft. This place even has its own facebook page now! My guidebook says, "Don't attempt the trip if you're of a nervous disposition or familiar with the maintenance standards of Sri Lankan buses. On the way up you worry about overheating, on the way down you worry about the brakes. You usually pass at least one truck or jeep that didn't make it and lies in the jungle beneath". It wasn't actually too bad on the bike and the weather was fair but no views until I got right into the mountains and even then there was a light drizzle.
I stopped for brekko of coconut cakes with sambal and rotty at an unnamed place along the way. Once I was down the other side the weather changed considerably – blue skies and sun and the hills looked altogether more beautiful. Past Kandy the terrain was more mundane especially as my arse got sorer and sorer. I arrived rather tired in Negombo at the Lanka Beach rest and restaurant (it's still there but has been demolished and rebuilt!) at 3.30 in time for a shower, cold beer and a sit in the sun before the rain clouds came over.
That night it was bbq fish and chips followed by news of more curfews in Colombo. I was heading into the last 6 months of my time in Sri Lanka.