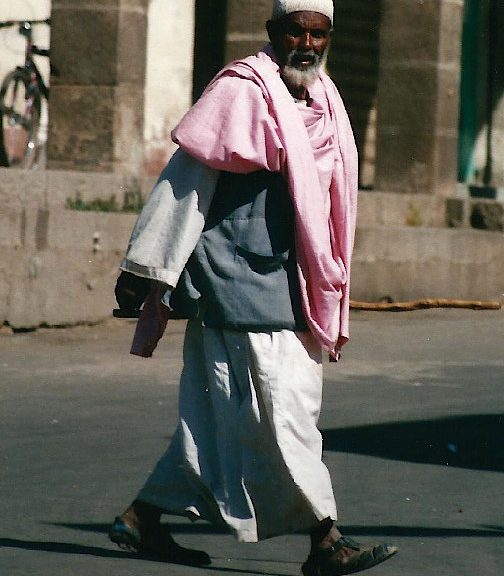 Asmaran Christmas
Asmaran Christmas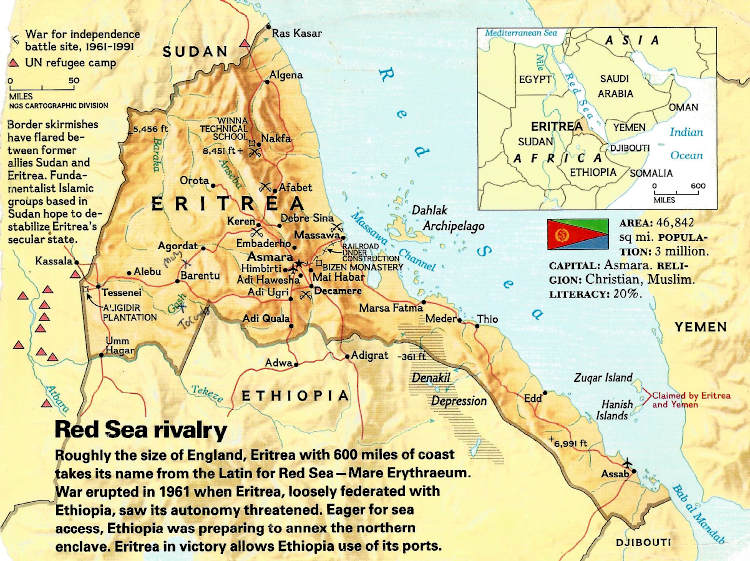 Those unfamiliar with Cairo will not realise that it is pretty cold in winter. The builders of my apartment block obviously didn't realise it either as there was no heating and the wind was whistling through my (closed) windows. It was coming up to the Christmas break and I was wondering where I could go on holiday that would be warm but not too far away. I presumed seeking warmth meant going south so perusing a map, I quickly ignored Sudan and came upon Eritrea. Fresh out of another war with Ethiopia (it was the world's newest country having gained independence in 1993) there would be few tourists and it should prove interesting.
The Eritrean embassy certainly was – a ramshackle house not far from where I lived. Upon entry I was relieved of my passport and invited to sit on the sofa and chat to some Eritreans. I wasn't sure whether an interview was part of the process for procuring a visa but they seemed friendly enough. The embassy turned out to be a microcosm of the country – in pretty bad shape, but well organised (my visa was ready in 15 mins) and with incredibly friendly and helpful people.
Arriving in the capital Asmara on the weekly flight from Cairo, everything looked like Africa – dry and dusty with a few acacia trees dotted around. I wasn't expecting the red carpet though. Unfortunately this wasn't for me but for UN Secretary General Kofi Annan whose plane arrived a few minutes after me. Despite this important visitor, the airport was surprisingly quiet and I hopped in one of the two taxis waiting outside the terminal building.
Arriving in town was when I realised my flimsy guidebook was way out of date. My chosen hotel had been closed for years and they had changed the names of many roads so the map wasn't much good. The driver dropped me off at the Buon Respiro Hotel. At this point I might explain that although I went to Eritrea in 2000, I am writing this blog post in 2022 using scanned photos and piecing together my travels from an old dog eared diary. My diary noted the name of the hotel but unfortunately but not surprisingly, it no longer seems in business. In any case the manager was happy to exchange my dollars for Eritrean Nakfa – 15N to $1 (My guidebook said the currency was Ethipean Birr – so it was no surprise the currency had changed since the War for Independence a few years previously.) Despite the war being so recent, Eritrea had a very prosperous feel to it. The streets were all clean and my hotel was just off the central tree lined boulevard which in turn was flanked with bars, cafes and pastry shops. After checking in at the hotel I went for a wander and noticed a few Roman Catholic and christian Orthodox churches. I was later find some mosques so it was no surprise to learn that the population was fairly evenly split between the two. In addition to having a cappuccino at one of the many espresso bars and later to have spaghetti vongolle at the Legesse Hotel it was also no surprise to learn that at the beginning of 20th century Eritrea was an Italian colony.
The following morning I was treated to a breakfast of good coffee and frittatta which was basically scrambled eggs, tomatoes and peppers and the most common breakfast to be had. I then went for a wander to the market. IT was packed with women all dressed pretty much the same wrapped in white shawls and the most amazing braided hair. I also noticed that they greeted each other with 5 or 6 kisses on the cheek which the men shake hands and then bump shoulders two or three times – unheard of then but now quite common for footballers. Rather than Italian food I went local and had lamb stew – zigmi which is served on a big piece of bread.
The following day (Sun 10th Dec 2000) I gota bus to the British Commonwealth war cemetery, which was kept spotlessly and then walked to Bar Durfo, essentially the last building of any kind before the big drop off the plateau to the red sea far below. As such there were great views. I walked on down off the plateau. I had a leaflet which suggested just following a dried up river valley which I did for 3 hours. I only saw the odd person collecting meagre supplies of water where it emerged from the rock face. I also disturbed some vultures gathered around a donkey carcass. Eventually I spotted a telegraph pole – civilisation! I think crossed a bridge and reached an unnamed village where as luck would have it a bus was waiting to take me back to Asmara. that night after an invigorating icy shower I was back on the Italian nosh at the Legesse hotel and a delicious liver tagliatelle.