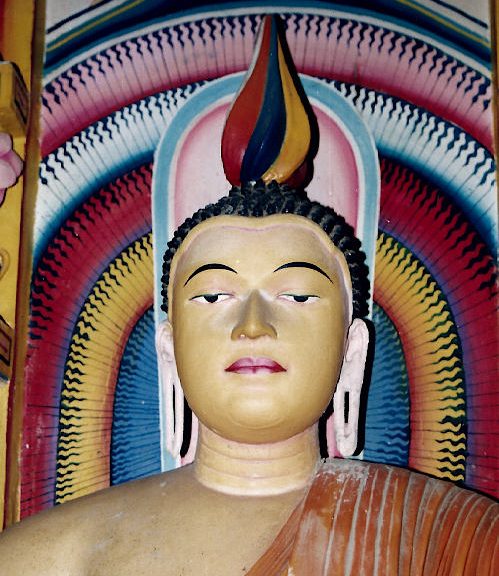 Early explorations
Early explorations
I arrived in Colombo on 29th May 1998 having just escaped the overthrow of Suharto after two years living in Indonesia. Fortunately I had friends in Sri Lanka and my first escapade in the country was to play golf in Nuwara Eliya and stay in the colonial era hotel, the famous Hill Club.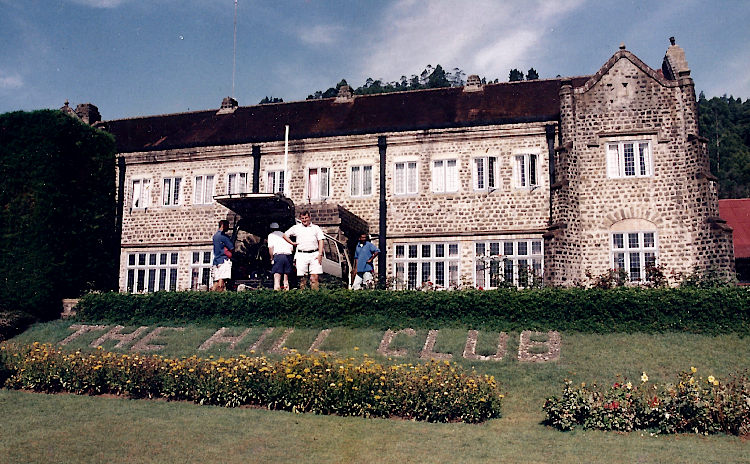 Not a bad introduction to Sri Lanka, certainly different from my recent experiences in Indonesia. But I had to find a job. I had been teaching English as a Foreign Language in a small school in Bandung, Java and wanted to do the same here. Although I only had limited experience, I was fortunate to secure a part time post at the British Council. It didn't start for a few weeks so I thought I would make my first explorations of the country.
My first stop was Kandy and a short stay at the Pink House Homestay, which I'm glad to say is still in business although they are probably charging a bit more than the 200 rupees it cost me (less than £2). My diary notes that at 500m, Kandy was pleasantly cooler than Colombo. A bustling little place with a hodgepodge of shops. I noted that there were plenty of Police in town. No surprise really as there was a civil war going on at the time and only a few months previously there had been a bomb at the famous Temple of the Tooth. The following day I just wandered round the town and I was regularly assailed by various people, some just friendly and others obviously touts. I must have succumbed to one of them as that night I went to an evening of Sri Lankan dancing and fire walking.
I rented a motorbike for a few days as I had already had enough of public transport which was very unreliable (I think there was a bus strike on as well). I was on the way to the famous ruins of Polonnuruwa but first stop was the Dambulla rock temple. They seemed to be building a new visitors centre at the time. I was quite impressed with the caves although not so much with a man who attached himself to me as a guide. I didn't understand much of what he had to say. Great views from there though. Before heading off I managed to stuff myself with a curry lunch at the rest house!
Polonnaruwa I noted was just a small collection of shops and a huddle of guest houses around a street corner. The Devi Homestay, (300 Rps) was very clean and I had a table and chairs just outside my room to write my diary. I had a chat with the boss, a very pleasant Muslim woman and her sister and decided to stay. It was then 4:30 so I decided to take advantage of the late afternoon light to explore the ruins. I baulked at the entry price of 1000Rp (£10), so managed to avoid the guards and sneak round the back of the site to gain entry. I didn't pass comment on the buildings in my diary except to say I thought the ones in Thailand were superior. The scenery was pleasant though and I saw monkeys and kingfishers around the large tank next to town (as the reservoirs are called here).
The next morning I was off again. This time to Medirigiriya. I got rather lost due to bad directions from passers by but then I found a policeman on a bicycle and he led the way. Among the ruins were two groups of worshippers in white robes which I noted as being a little unsettling. I'm not sure why. I was soon off again this time to Sigiriya. Again I baulked at the 1000Rs entrance fee but no chance of sneaking in at this place. I stopped for a soft drink at a stall where the young girl had a pet porcupine. Heading off south again I noticed a sign for the Kandalama Hotel. It was quite a famous hotel designed by the even more famous designer Geoffrey Bawa. I was to stay in it towards the end of my time in Sri Lanka but this time I only stopped for a drink.
My last stop was a rather gruesome temple. The Aluvihara Temple near Matale. There was only one other person there, "the Keeper". They were interesting caves, similar to Dambulla. Lots of images of Buddha but also rather disturbing images and models of people having horrendous things done to them. I guess a sort of Buddhist hell. Near here I was also shown round a paper museum by a monk and was given a piece of papyrus with "Welcome to Sri Lanka, Richard" written on it. Very sweet. From here it was a short hop back to Kandy to hand the bike back and have a very welcome shower (I was filthy!) and a just as welcome vegetable biryani.
Wed 24th June 1998
Up at 7:00 and in a minibus shortly after to Nuwara Eliya (2.5hrs, 60Rps). Quite chilly. Had short eats for lunch, then caught a public bus to Haputale (2.5hrs, 20Rps). Wandered around town and found the Amarasinghe Guest House. Mr. A was very friendly and showed me to a very pleasant room with a table and chair outside and stream running nearby all for 250Rps. Interestingly, when writing up this blog, I try to find some of the guest houses I stayed in. Amarasinghe Guest House is still in operation, but Mr. A has demolished his old bungalow and now has a purpose built hotel in its place. Town was small but perched right on the edge of a ridge so great views down to the coast. Walked along the "road to the sky". Lots of little short eats places. They seemed very popular, lots of savoury rolls, samosas etc. No curry houses though. I walked through the town to the tea plantations which were everywhere around. Lots of pleasant cottages sprinkled around with neat gardens with flowers and lawns. It seemed like a really nice place with clean fresh air and sunshine (Nuwara Elitya seemed to be perennially bathed in clouds). I stayed in Haputale a couple of days and then got the bus to Wellawaya. I checked into the Rest Inn – not a bad little place – actually a bungalow/hotel on its own plot of land. I visited the market and then got another bus to the turn off for Buduruvagala. The walk from here was pleasant enough, flat grassland and I passed a few odd mud huts. After an hour I approached a building – the "museum" and a little further on a kiosk with a monk inside – the sign said take a ticket but I just walked on to the rock face – a gigantic carved Buddha, 15m tall flanked by six other figures. It was thought to date from 10th Century but was still in very good shape. I sat on a warm rock and contemplated the scene and tried to enjoy the slight breeze as it was really hot and dry. Had a cold drink and didn't wait too long for a bus back to town.
Back in Wellawaya I went to a restaurant (of sorts) and found myself in the kitchen chatting to the cooks over two giant bubbling vats of curry over an open fire. There was also another room with a bread oven and a couple of guys making bread. I had to then take a photo of the whole crew.
The following day I got a bus to Embilipitiya and found an OK hotel for 400Rs. I also bumped into a Dutch couple who had just been to the Udawelawe National Park (the whole reason for coming here) but that you had to hire a jeep for $50. As there was no other info about the place, or anybody to share a jeep with, I decided to head off and got another bus to Hambantota where I found Mrs Nihar at the Sunshine Guest House. I'm not sure why, but I decided to try another place round the corner where I found a sleeping Mr. Nassim. When he woke up he had very red eyes – maybe he'd had a night on the arak I thought. Anyway he was a friendly bloke and I decided to take his room at 200Rs. He also said his son would take me in his tractor tomorrow to see loads of animals. I'm not sure whether this was in the NP or not because we were interrupted by his wife calling out. Mr Nassim jumped up, grabbed a catapult and headed out the back. I followed him to see him firing at the monkeys who were trying to steal his mangoes. As it happened Mr Nassim said he was Malay (as were many in town) so we managed to talk a bit in Bahasa which was quite interesting. I then headed off again through the town in search of something to eat. I wasn't overly successful but managed to find a place selling string hoppers and dahl. I also walked past a Christian churchyard which featured a crumbling Victorian monument to an Engineering Officer and an Archaeological Manager who had drowned in the Tissa tank in 1867. I walked onto the beach and photographed a few fishermen who were hanging around.
The following day I was off with Mr N's son and we walked into the Bundala National Park. Avoiding the entrance gate and the attendant fee and the compulsory use of a jeep. My diary says we were wading through knee deep water observing man-eating salt water crocodiles, which now doesn't seem the wisest thing to have done. We also saw some birds but not too much more. The son told me we weren't likely to see much more unless I got a jeep (he could arrange one far cheaper than the tourist ones) and drove deep into the park which is what I stumped up for the following day. All in it was 1220Rps (I also got a much cheaper resident rate for entry – 20Rps rather than 350Rs). This time I got to see elephants, flamingos, loads of birds and monkeys. Very nice.
Wed 1st July
My diary notes it was sunny for a change (we were getting to the end of the South West monsoon so it was very showery) but I still didn't fancy going for a swim. No doubt because the sea did look a bit dangerous and there was no one in the water. I got another bus, this time to Tangalle. My diary notes I spent an hour looking for a place to stay before finally settling on the old Rest House (Room 24!!? 550Rps). It was billed as being built in 1776 but I reckoned that was only the doorstep as the rest of the building seemed to be square blocks of concrete, however, my room was spacious with a balcony and a view over the sea. On later trips of course I always took a photo of the hotel room – such a shame my Sri Lankan travels came before digital photography because the place looks completely different now – it has had a bit of a facelift and presumably under new management. I stayed at a few Rest Houses in Sri Lanka during my two years and they were always rather run down but with a great deal of charm. They were mainly built during the colonial period apparently for colonial officers on their tours of the provinces. One thing that could always be relied upon was a great meal. Meanwhile, back in Tangalle, with the first dose of sun I also noted it was my first dose of sunburn- surprising really. Tangalle doesn't feature much as soon I am off again – to Dikwella and the Wewurukannada Vihara – the largest sitting Buddha in Sri Lanka. Built in the 1960s with an eight storey building behind it containing pictures of Buddha's life and actions and also a torture chamber similar to the one I saw in Aluvihara – I thought Buddhism was a peaceful religion! Then on to Matara. I walked into the fort area and after seeing a few guesthouses lumped for the Blue Ripples, a private home run by a very polite man who told me he was a lawyer. 175Rps for a very nice room in his house which had a tropical garden with table and chair. The fort area was very interesting, lots of narrow streets and some beautiful old houses with small gardens, rather like the town that time forgot. That night I even found a restaurant serving meat – I had a chicken curry although it wasn't very good.
Soon I was off again, this time for a bit of tourist action at Hikkaduwa  – at least I should be able to get a decent meal, I was even feeling a bit strange having not had any other foreigners to talk to – unusual for me. Anyway, the bus dropped me right outside my hotel of vhoice – The Curry Pot. A nice spot with a small garden leading onto the beach. I walked up the beach to see a few of the large hotels and there were a few old fossils sunning themselves. The rest of the hotels/restaurants/shacks seemed devoid of life and/or closed up as it was off season. Despite the off season I was approached a few times by touts offering hash/girls/boys. That night I had a pizza at the Pizza Place – it looked like all the tourists in Hikkaduwwa were there – I noted a Danish couple with kids, three older Italians, a table of Germans and a couple of English girls. Back at the Curry Pot we had a new guest, an English girl called Natasha. I'm not sure why she ended up at the Curry Pot because later she said her friends had recommended another place down the road – Mr Wicky's Lion Paradise. the following day we went to see him. He said he was closed but as Natasha's friends had stayed for a long time he opened up for us.  I got a room with a view of the beach through some palm trees but it was the noise of the sea which was more apparent. So I stayed there a few days just chilling out and I even got my swim in the sea but soon enough my time was up and I had to get back to Colombo to start work!
Addendum:
Before this longer trip I had spent a few days in Unawatuna and Galle. Unfortunately I didn't take any photos of Unawatuna as I think the weather wasn't great and a lot of the hotels/restaurants were shut up. I stayed in the Sandy Beach Hotel, right on the beach and enjoyed fresh seafood in the restaurant downstairs. Unfortunately it is not there now and I can only assume, it, like a lot of places were swept away in the Tsunami of 2004.
I also stayed in Galle at Mr RK Kodaira's Guest House. (275Rs)  It was actually his house where he rented a few rooms. Again I took no photos. Today on Google maps street view it looks a lot posher than when I was there.