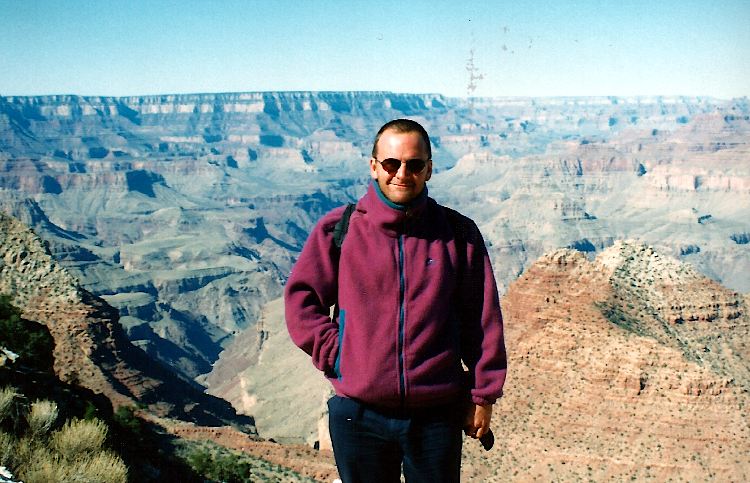 This is the first leg of another of those trips down memory lane. Between February and April of 1996 I hopped from Hawaii to Las Vegas and then southwards through Mexico and Central America to Colombia. I've scanned the photos from my dusty albums and tried to match the photos with entries from my old diaries. Being from pre-digital days one thing I've noted is how few photos there are. Developing reels of film was expensive in those days. I spent a week between Hawaii and Las Vegas and have a total of six photos!
Thursday 15th Feb 1996. Arrival in Honolulu. Back in the day I was much more gregarious and poorer so I shared a taxi into town with a Kiwi girl and two Canadian blokes to the Inter-Club hostel where I got the last bed in one of the dorms. I see from Google Street view in 2020 the hostel is no longer there but the address, 2413 Kuhio Avenue is still in a pretty good place – just a small block away from the famous Waikiki beach. I thought the area was a bit more low key than I expected but there were still plenty of vacationing middle aged Americans and younger Japanese tourists. Likewise, the beach was a bit smaller than expected but certainly well crowded. One of the first things I did was head down there and take a dip in the crystal clear, calm, turquoise waters with a great view across to the almost equally famous Diamond Head extinct volcano.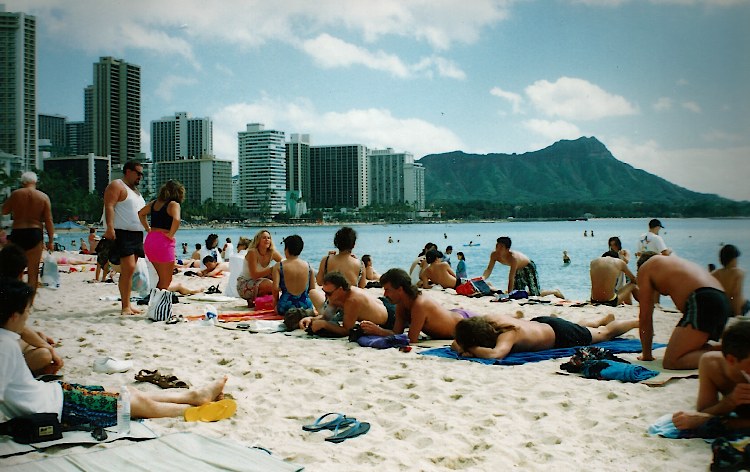 Over the next few days I explored the island. I went up the aforementioned Diamond Head, wandered around Chinatown and took a public bus around the island, noticing fields and fields of pineapples, things I had only previously seen in tins and at the veg stall. I also sneaked into the Sheraton Hotel one night to see their "Hula Show" obviously compulsory viewing for any Hawaii tourist.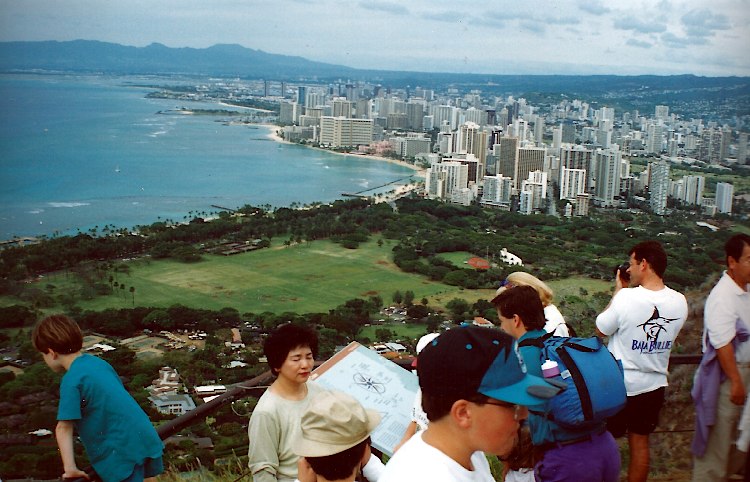 I also visited the USS Arizona Memorial. This is one of the many ships of the US fleet in Pearl Harbor that was destroyed in 1941 and brought America into the war. The memorial itself is just a pontoon over the sunken vessel which you can still see under the water and it is in fact still leaking oil into the harbor. I was rather surprised at how many Japanese tourists were also there.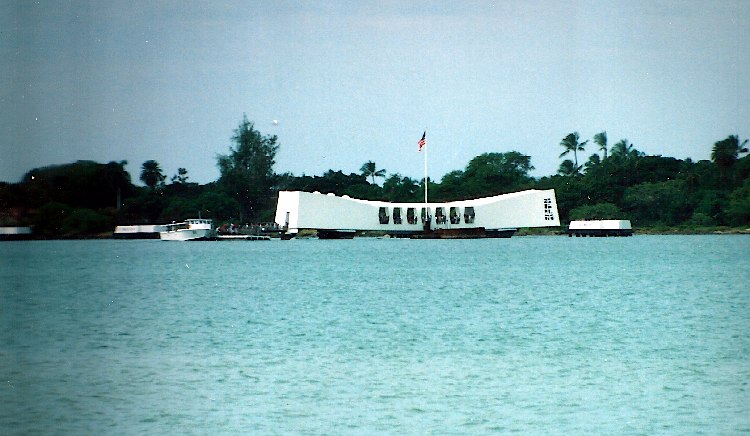 Given the lack of detail in my diary about Hawaii perhaps meant that I wasn't very impressed. Maybe I was jet-lagged. However my first note about Las Vegas is very different. I say that I just couldn't keep the smile off my face. I'd travelled and lived in Hong Kong, Australia, South East Asia, India and China but this was like another planet. Upon entering the airport building I was assailed by slot machines and this didn't change even when I got to my hotel which even had a car mounted above the slot machines in the lobby. There were people everywhere, flashing lights and noise. At the airport there were free phones to call hotels to book a room. I chose the California Hotel and I was soon in a free limo to take me to the hotel which was in downtown Las Vegas.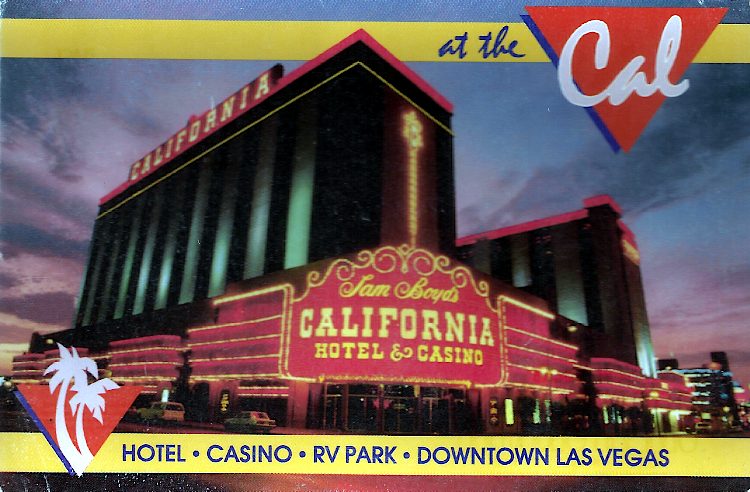 The view into town was of a giant construction site in the middle of a desert which is basically what it is. "Downtown" itself was no less amazing – the central part of it, Fremont Street was totally covered and the sky was filled with flashing lights. The only buildings seemed to be casinos.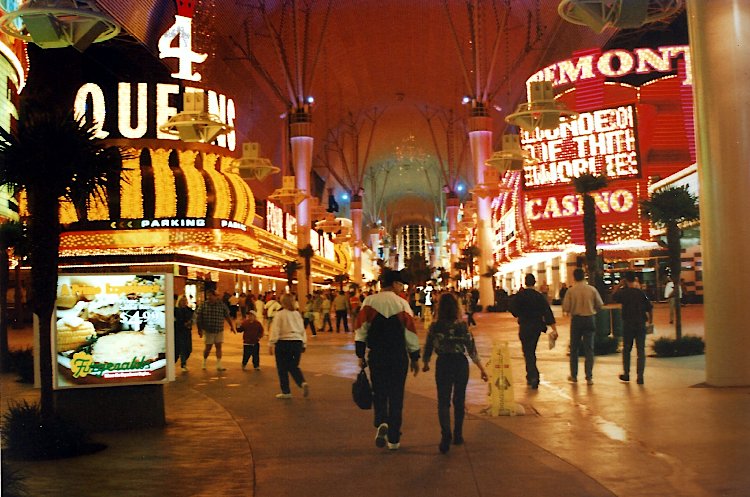 The really big casinos were along "The strip". These were all enormous, had a theme and usually also involved something ridiculously huge to attract punters and tourists alike. They included the Roman themed Caesar's Palace, circus themed Circus Circus, where I had a roller coaster ride inside the casino, pirate themed Treasure Island, where there was a pirate ship battle every night and the Mirage which had its own exploding volcano. It was all mad! Inside the casinos was what you would expect, loads of people losing loads of money. They all had at least three themed restaurants each, with ridiculously low priced all-you-can-eat buffets which were great for me on a budget but not too good for my waistline or health.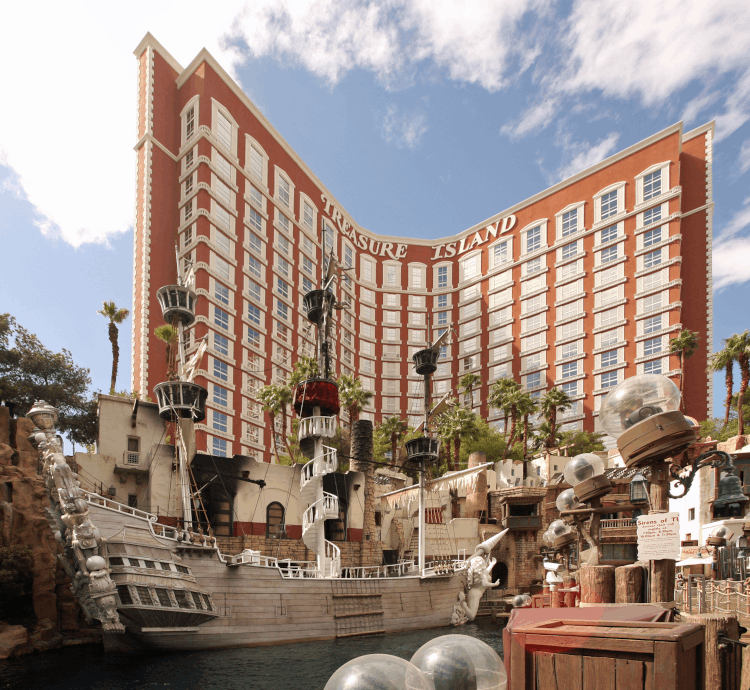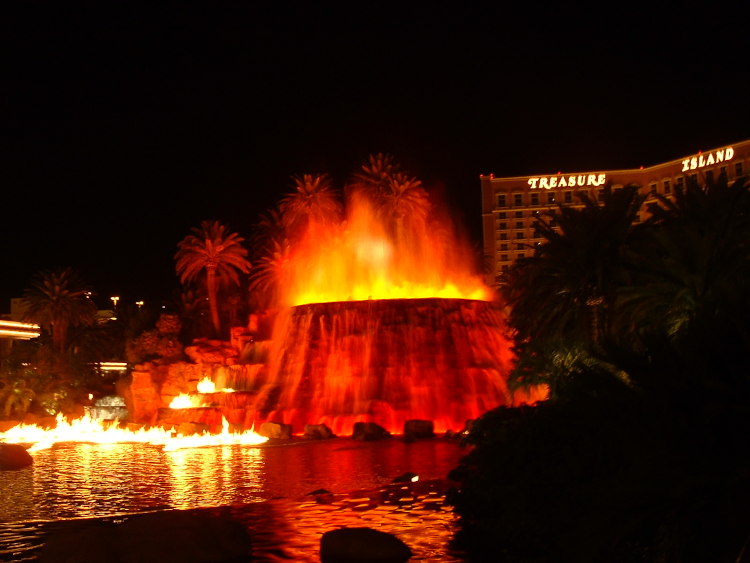 I was next headed south into Mexico and I didn't have a guidebook. For this I had to get a bus out of Las Vegas to a "normal" shopping mall. I didn't actually pick up a guidebook but I managed to plan the next week or two of my trip.
So I was soon at the Las Vegas bus station waiting for the Greyhound Bus to Flagstaff Arizona. After the bright lights of Las Vegas, I was taken down to earth at the bus station. It was full of sad cases, I wouldn't normally speak to anyone in a dodgy bus station but my diary notes conversations with a woman who was running away from an abusive husband, another who had been on a bus for three days from Cleveland who staggered into the men's toilet and an old red Indian looking bloke who was wearing really old shredded jeans. I was glad to get some respite by getting on the bus.
I arrived at Flagstaff at 11pm but luckily I had booked ahead and I was picked up by the lady from the hostel. I noted that it was pretty cold (5 degrees C) and a very quiet little town with not much to do.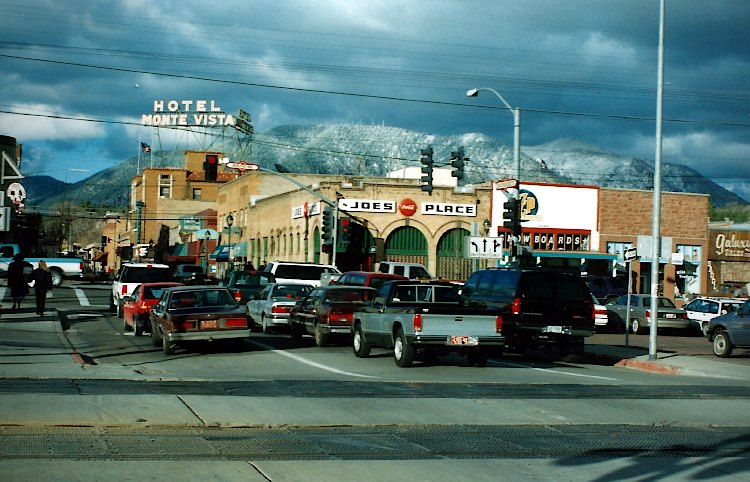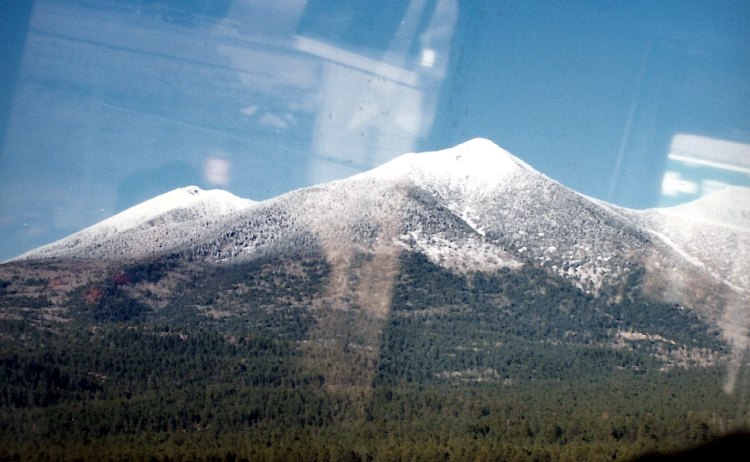 The one big thing to do was to go on a tour to the Grand Canyon. My diary entry on the Canyon is quite brief (it is for most places) but I noted that it was HUGE! You lose all sense of scale and depth of field. It was also freezing. My ears were burning with the cold. There were only a few people there so it was very quiet. Certainly one of the most amazing places I have ever visited – yes it even topped Las Vegas!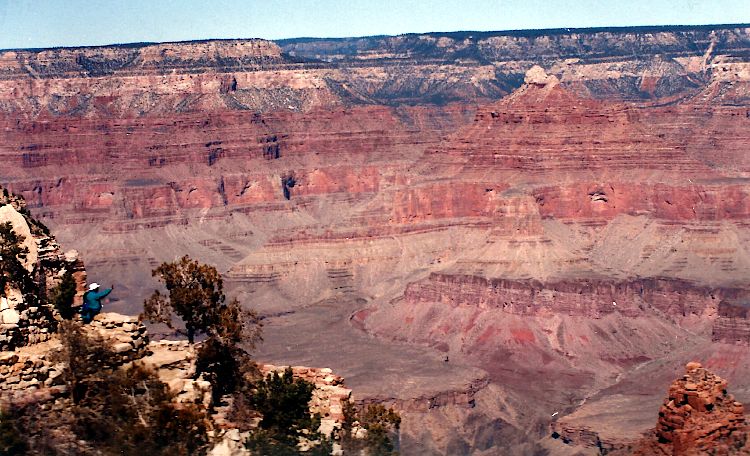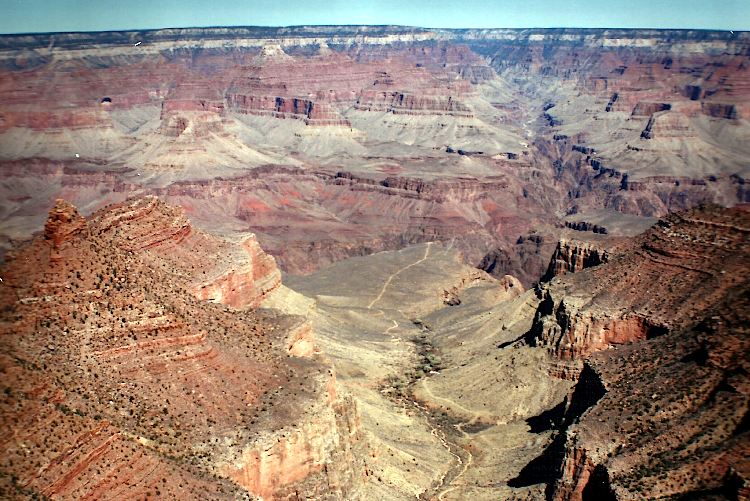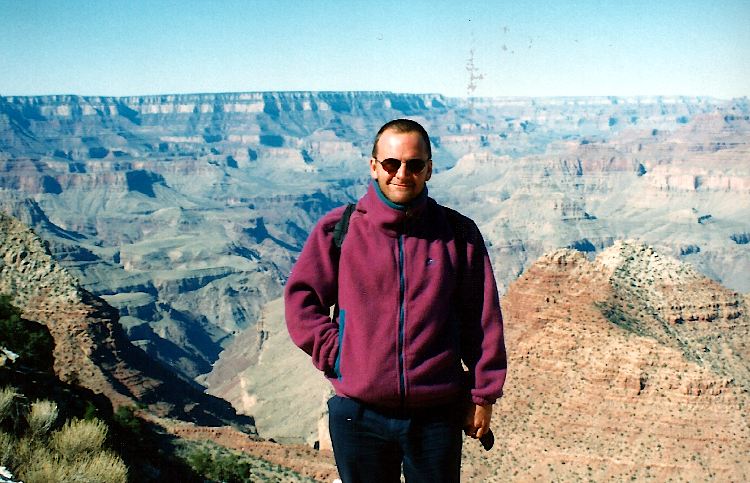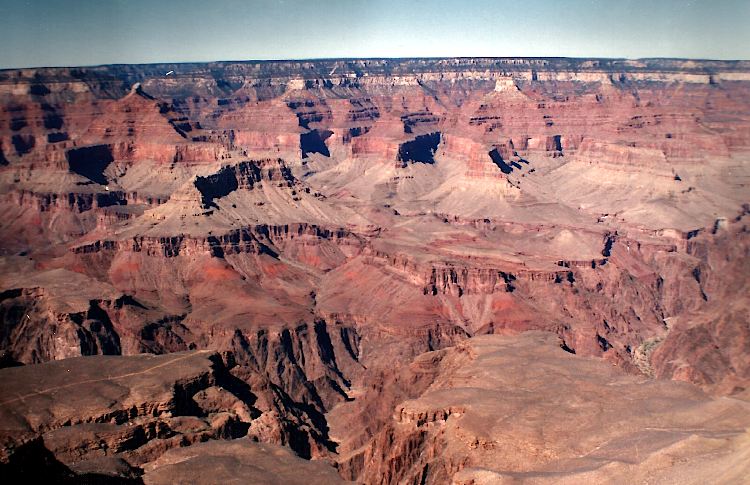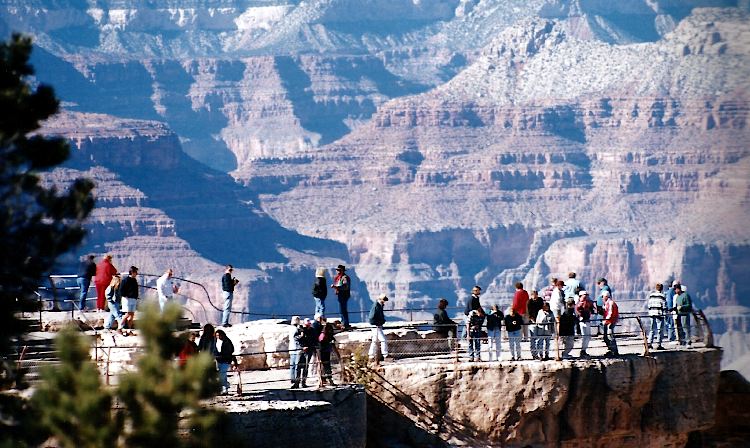 That night my diary notes I had a pint of Guinness (oh, the high life!). The next day I was on the bus to Tucson. I note that the bus was remarkably free of weirdos. The desert was mainly unattractive wasteland, dumps and billboards. Tucson didn't fair any better in my diary. I noticed empty building lots and plastic bags blowing in the wind. Suffice it to say, I didn't stay but headed on to the Mexican border at Nogales.
Nogales is a strange place – one city with the US/Mexican border (and a fence) cutting right across the town. The photo below is not mine but it is basically what I remember. I got off the bus and then walked to the border post and then simply went through a turnstile into Mexico.