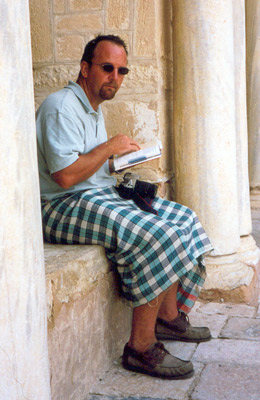 'What a hell of a place to put a holy city', wrote the Times' military correspondent in 1939. It's certainly true that for a lot of the year the place bakes on its barren plain. We therefore decided to take the trip to Tunisia's oldest Arab city and Islam's fourth most holy city in October. We were well rewarded with certainly the most architecturally interesting city of the region and justifiably a UNESCO World Heritage site.
We didn't stay in Kairouan though. we decided to mix culture with a bit of R'n'R by staying at the beachy resort town of Sousse. We checked in at the Royal Salem Hotel which my diary noted as surprisingly nice. We had experienced a few "4 star" hotels in Tunisia and they were inevitably, shall we say, a bit worn.
The beach was a bit smaller than we imagined and rather crowded with fat Europeans. Most of the hotel guests seemed to be Russians, Brits and Germans. That evening we took a cab into town which was rather quiet – my diary notes this was no surprise as it was Ramadan but surely after Iftar, I would have thought the place would be buzzing. Anyway, we headed for the Rose and Crown pub. Living in Tunis/La Marsa the bars are pretty poor but in the tourist Mecca of Sousse we thought we may have better luck. As it happened we must have arrived too early as we were the only customers. Not to worry, we had a beer and then off to our chosen restaurant: L'Escargot an old fashioned French place. My diary doesn't mention what we had but it cost 60 Dinars.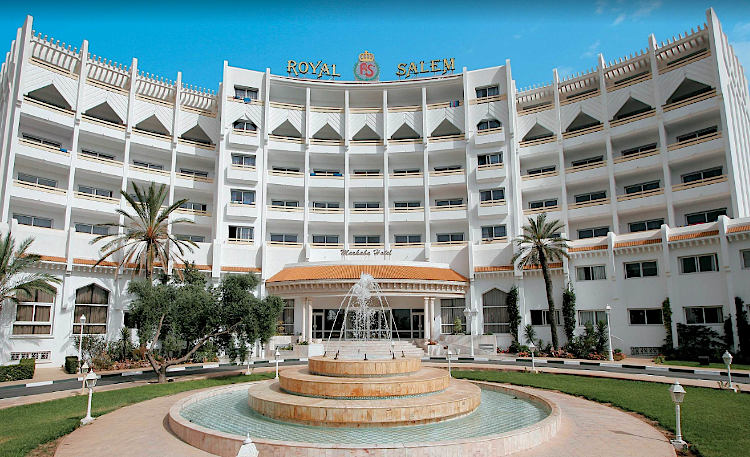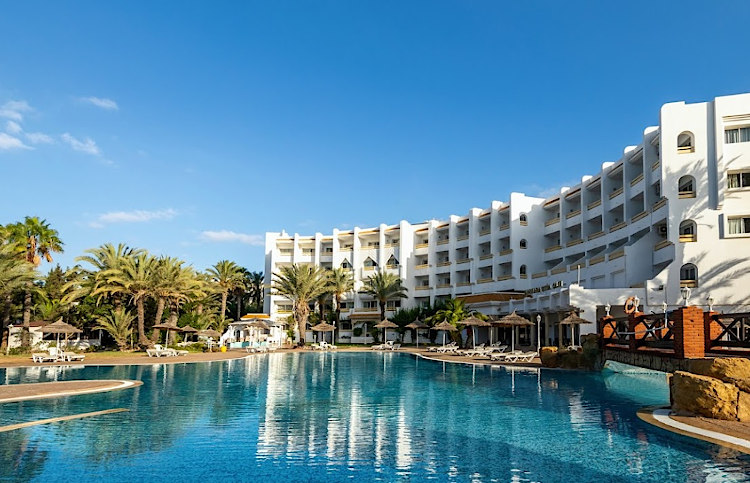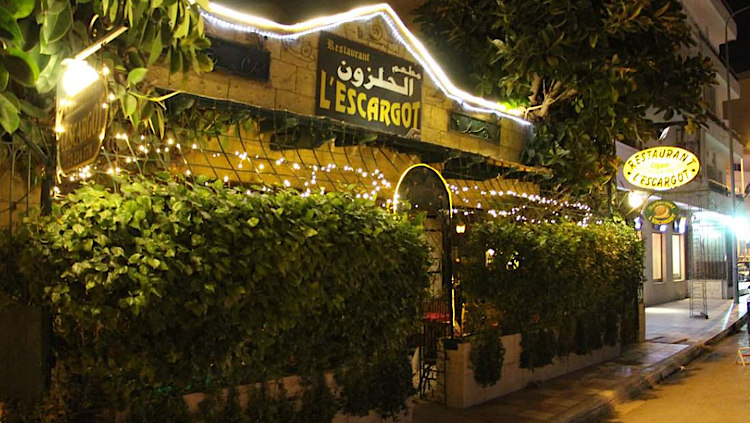 Tuesday 19th October 2004. After breakfast we headed off to the Medina. I noted that the sellers were a bit pushier than those in Tunis but not too bad. The museum was pretty good – lots of mosaics, a pleasant garden and good views over the medina. In the afternoon more lazing on the beach and then dinner at La Caleche restaurant.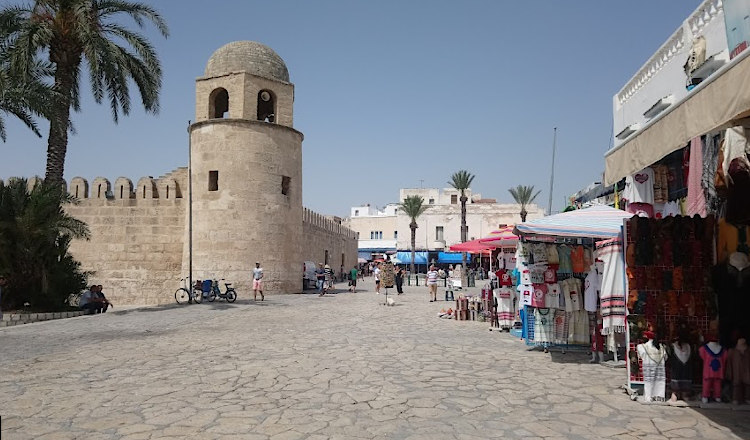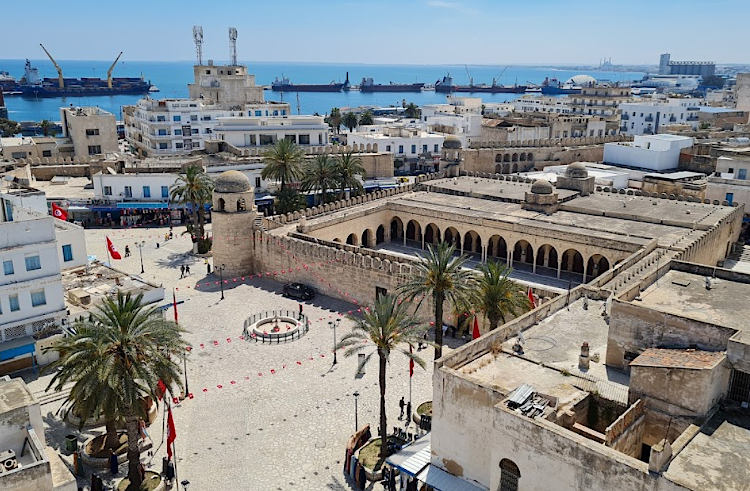 On the Thursday we headed off to Kairouan, probably the best of all Tunisian towns we had visited. The main mosque was justly famous. It was founded in 703, but was extensively rebuilt in 836. The oldest part of the minaret is supposed to date from 730 making it the oldest in the world. Most of the supporting arches are recycled from more ancient sites making it one of the largest museums of Roman columns and capitals in the world. In fact the prayer hall (closed to non Muslims) is said to have so many columns that anyone who attempts to count them all will go blind.
In the afternoon we visited the pretty village of Hergla. It was the usual little blue and white village with a mosque on top of the hill. Traditionally, the people were famous for weaving esparto grass and we bought a piece from a man who had a small shop.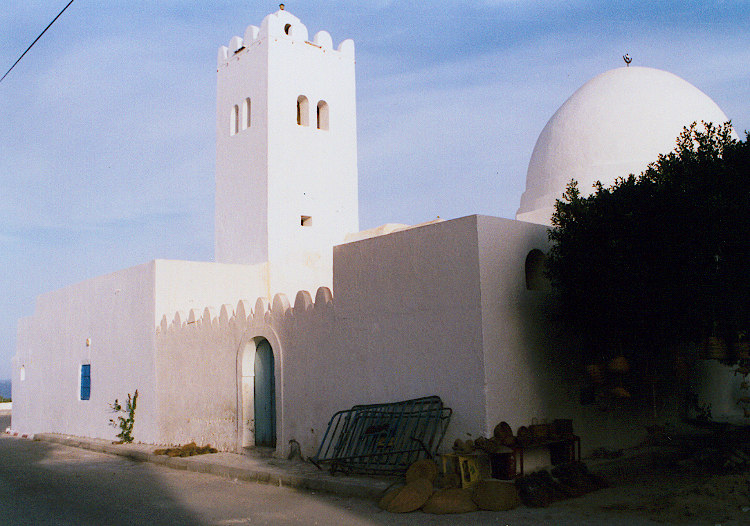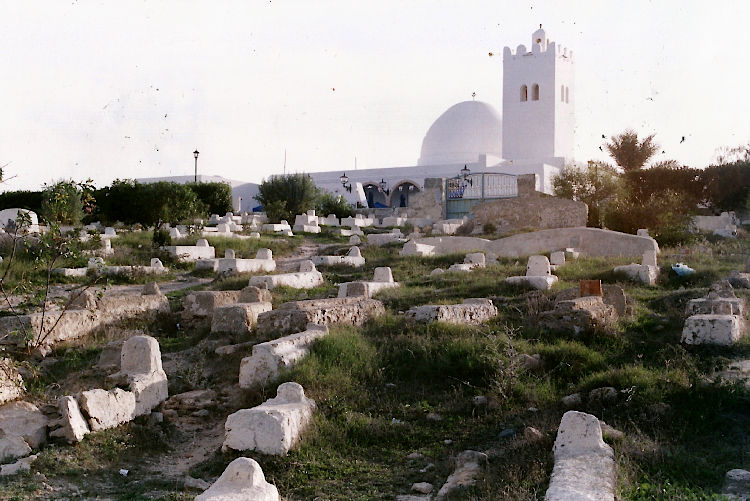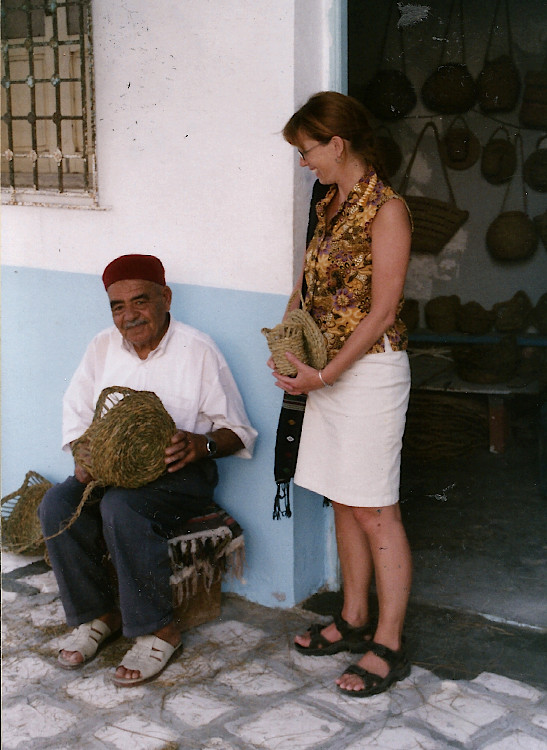 On another day we visited the Berber village of Takrouna which is perched on the tip of a very steep hill overlooking the broad plains of the Sahel. Like many Berber villages, its inaccessibility, originally for defence, has meant that most of its inhabitants have left their houses to live in new concrete boxes below the hill, making it handier to tend their olive groves. They have left just one family to cater for tourists who come for the stupendous view. At the top there was a small cafe and the other few houses had livestock.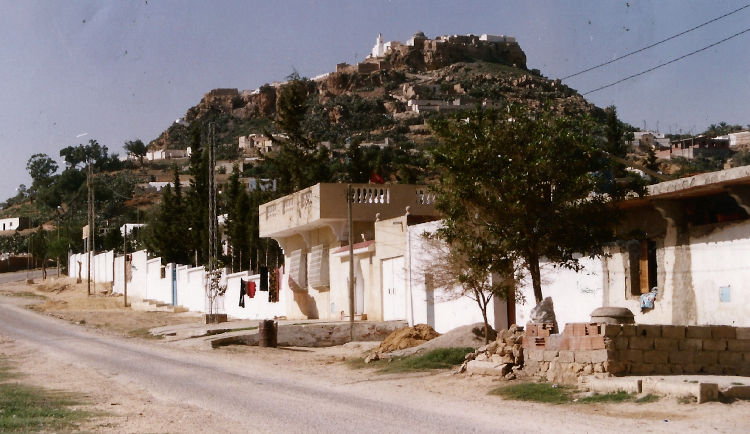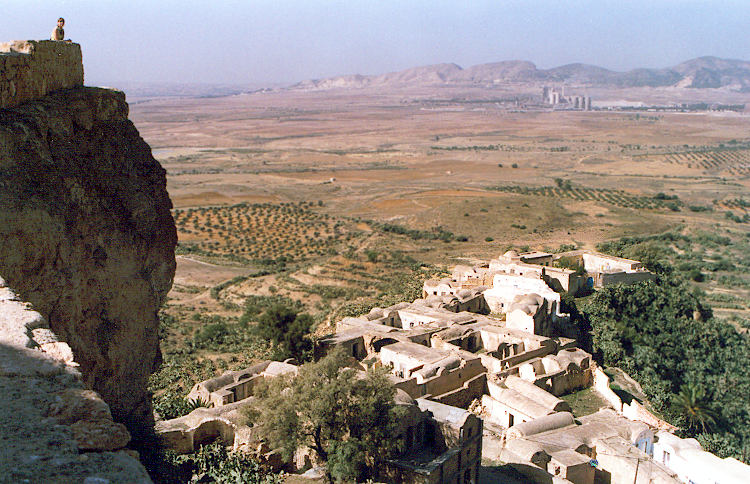 Typical local house.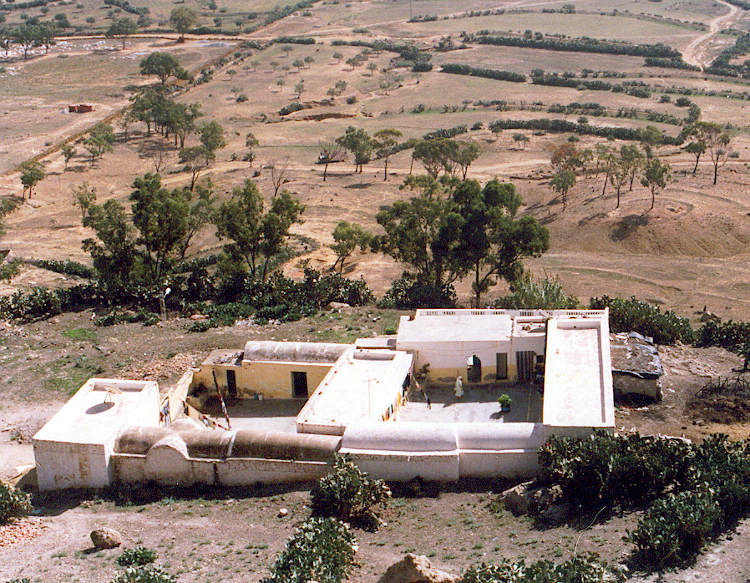 October is harvest time for the delicious prickly pears – but watch out for those spines!