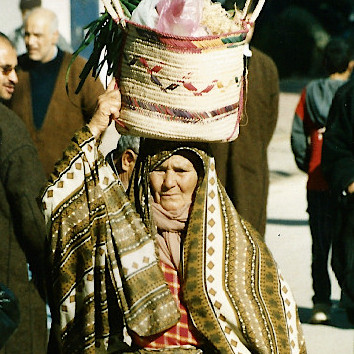 Our second Tunisian holiday was between Christmas and New Year. The weather was awful in Tunis so we headed south in the expectation of a bit of warmth and sun. We were in for a rude surprise – we got a bit of sun but it was bitingly cold.
The region that dips its toe down into the depths of the Sahara between Algeria and Libya is known as the Ksour and throughout history has been known for its lawlessness and banditry. Until the 19th century few Europeans had ventured down here and in fact until 1956 large parts were still under military administration. As opposed to the flat areas to the west, the south's arid mountains are impressive, made even more so by the presence of some ancient Berber villages such as Douret, Chenini and Guermessa. Lets not also forget the fortified communal granaries built for the region's nomadic tribes and which give the region its name.
After a six hour drive south, our first stop was in Tamezret. Like many of the small towns in the area it was built around a small hill with a small mosque sat on the top from which there were fine views over the scrubby plains.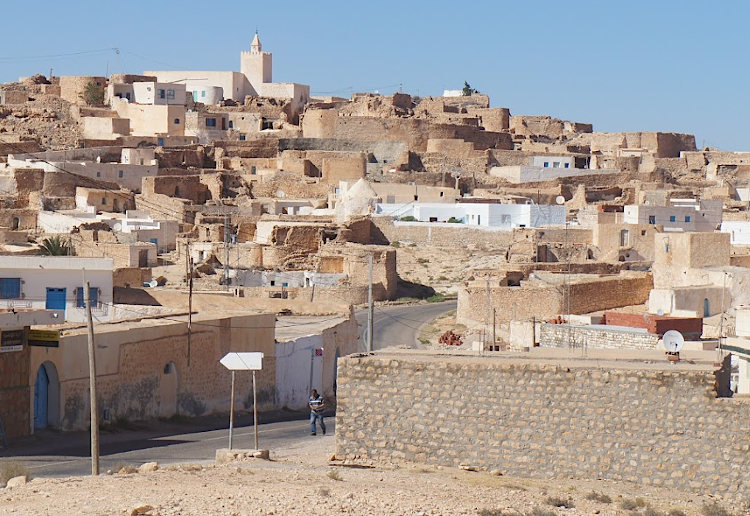 There were very few people about but we were approached by a friendly man who ran the Berber Museum. He said he had set it up a few years ago and hoped to make it a tourist attraction. He had a few mannequins dressed in Berber costume and the place was similarly decorated. I'm not sure how successful he was going to be given the scarcity of tourists but then again it was the middle of winter.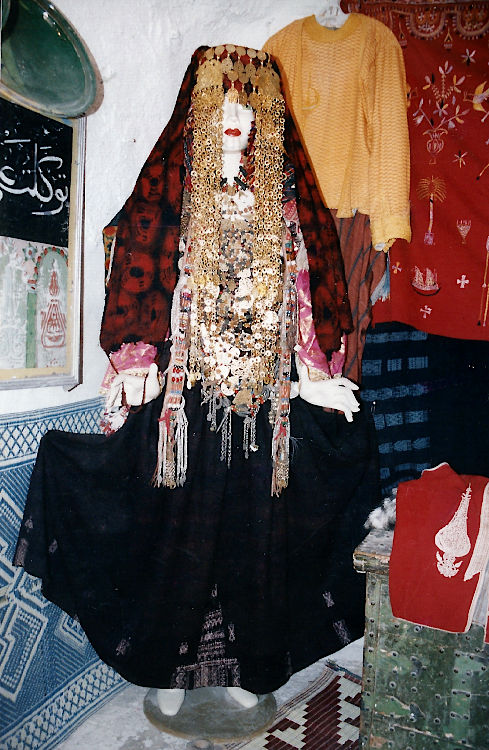 From Tamezret we headed to Star Wars country. Matmata was originally famous as an area where people built their houses underground as protection from the scorching heat in summer. On the way we saw some signs indicating "Maisons Troglodytes". More recently it has become famous as providing the backdrop for quite a few of the Star Wars films. One such place was the Sidi Driss Hotel AKA Star Wars Hotel. There were a few 4WDs and later 2 coaches drew up. It was good to see the old star wars set – wooden pieces from the set were still in place. Also the dug out rooms from the hotel. They also put on a decent lunch of couscous.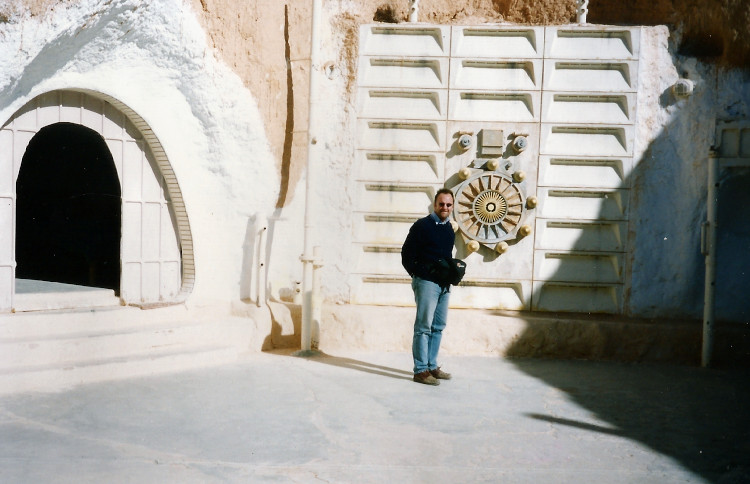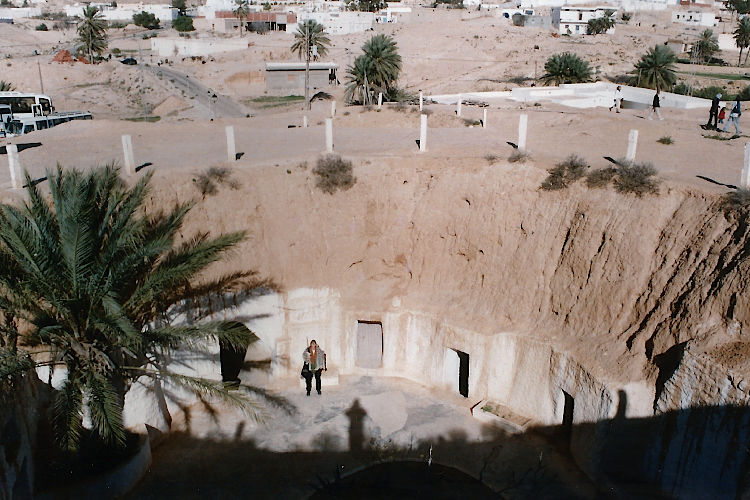 Then off again. We passed Toujaine. It looked like a nice place but as it was getting late and we weren't sure about the condition of the road up ahead, or even whether there would be any signposts, we pressed on. We got off the main road and followed rather a rough track along a flat scrubby area and then the road climbed around some low hills until we saw our destination – Ksar Hallouf. It was quite a pretty, if isolated little spot. There was a small village overlooked by the abandoned fortified granary – the Ksar. Well actually it was fully abandoned as it had been turned into quite a basic hotel and it was where we were staying overnight.
A caretaker type bloke greeted us. He had an Arabic rag on his head and a torn dog-tooth black and white jacket, dirty trousers and cuban heels – i.e. the usual dodgy looking Tunisian young man. He showed us to our "room" which was one of the granaries (ghorfa). A long narrow room with a cement base at the end onto which they had put a mattress and some blankets. Rooms don't get much more basic that that but it was going to be a unique experience. Our room was guarded by two friendly dogs  – a white one and and black/brown one. Once we were settled in we went for a wander up the rise behind the ksar with our two new companions. The ksar itself was sheltered but as we walked up the hill to a small marabout, we felt the wind more. Back at the hotel as we were enjoying a beer under the glowing embers of the setting sun two cars showed up with four German tourists. That night we all reconvened in the cavernous and freezing dining hall for a couscous before scurrying back to our room.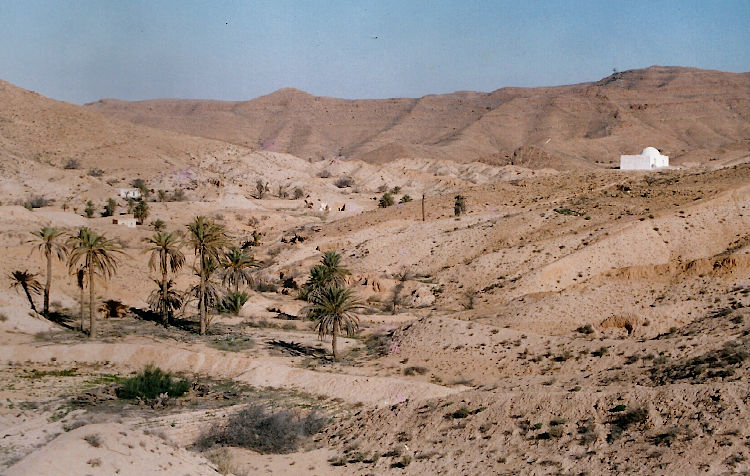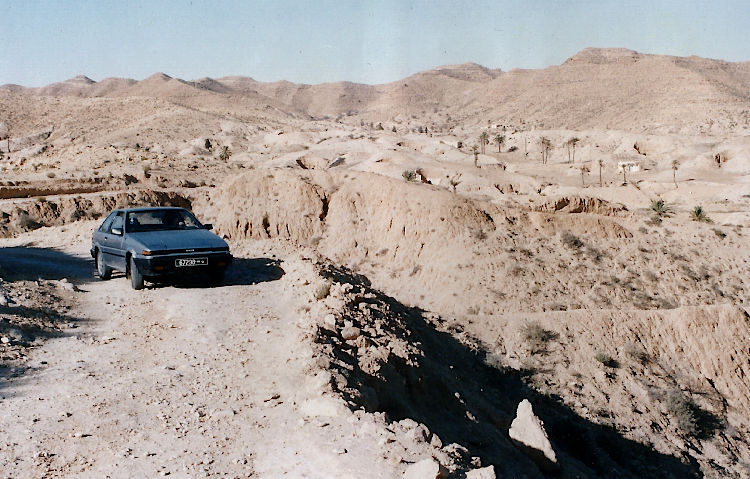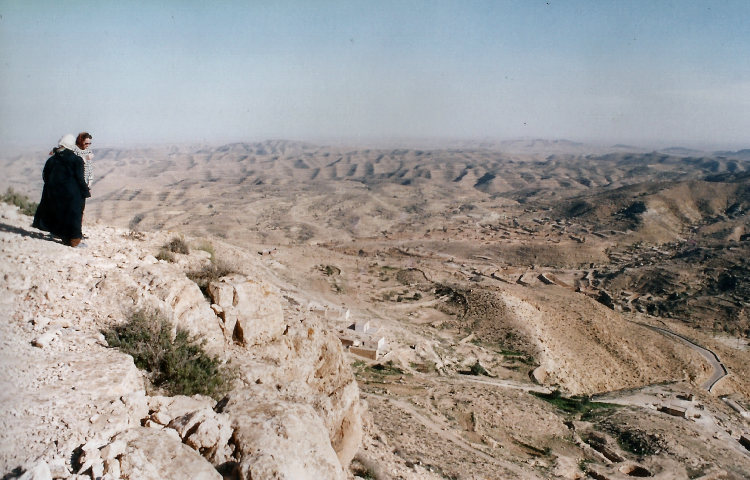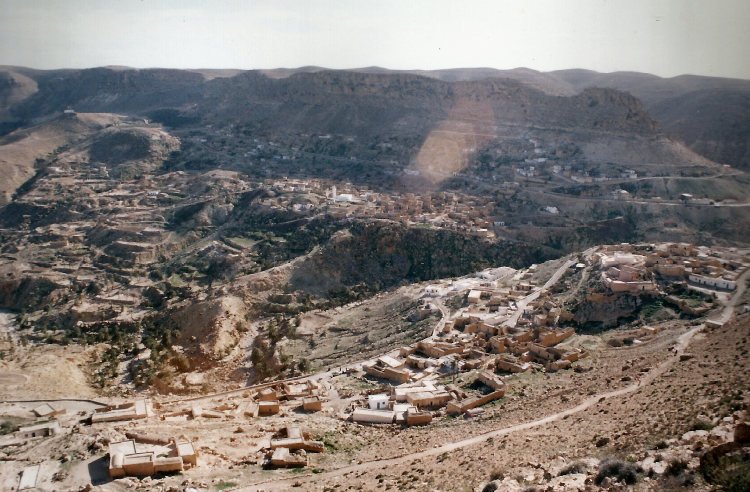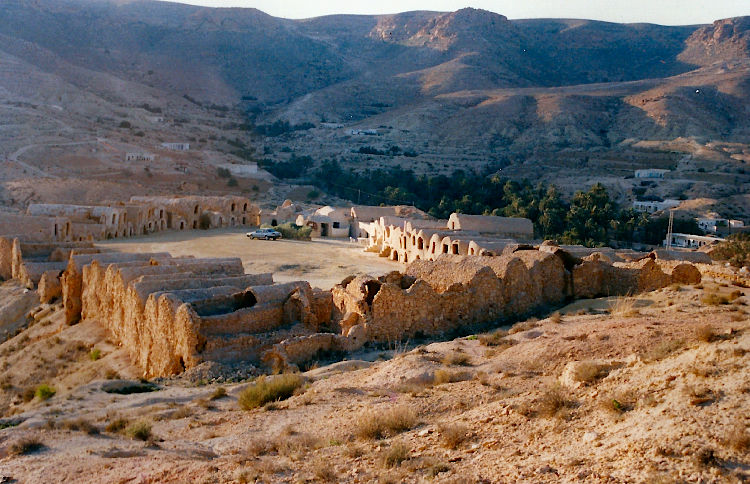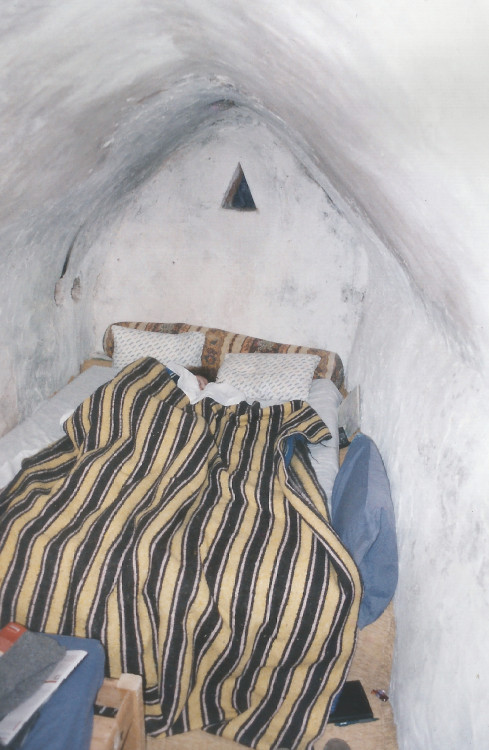 The morning was cloudy and grey. The road was fine and the scenery excellent. We arrived at Ksar Hadada in the late morning. It was another Star Wars location, this time from The Phantom Menace. We arrived at the same time as a group of Italians, similarly huddled up against the biting wind. We filled up with fuel at Ghourmrasie and headed on to Tatouine, the main town of the area. We arrived just as the sun was coming out. We booked into the Jawhara Hotel. We were given a rather small room but with the added promise of a hot shower. 16TD without breakfast. We had a wander around town and caught the last of the market. Stalls were still selling spices and pottery to the few tourists milling around. We had lunch at a no name restaurant in the Medina and actually sat outside. It was cold but good to have the sun on our faces. I believe we had quite decent fried fish.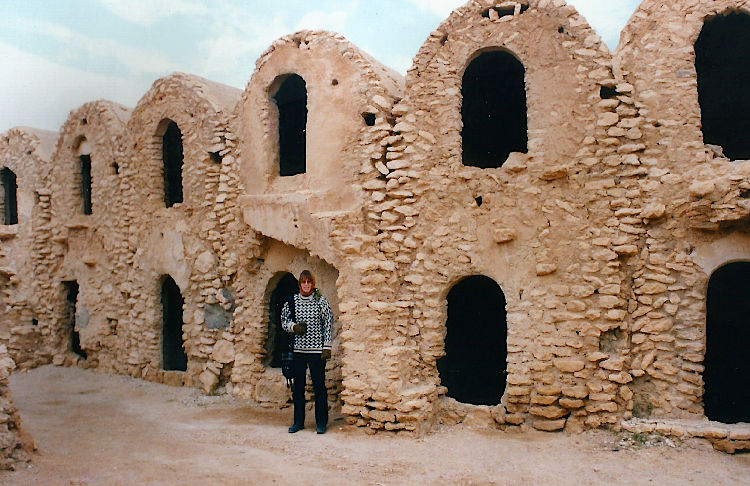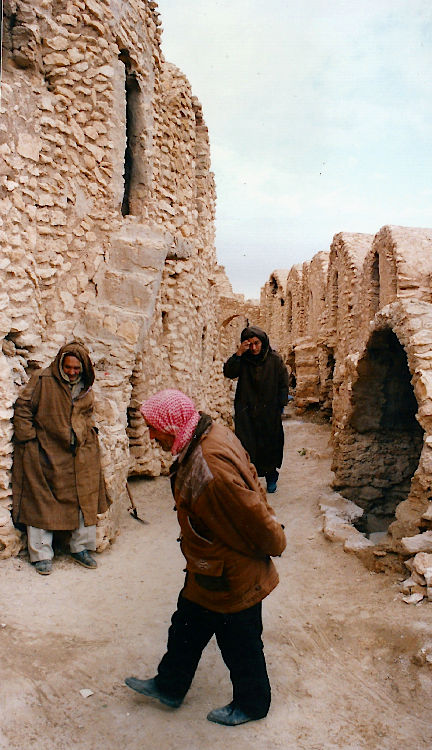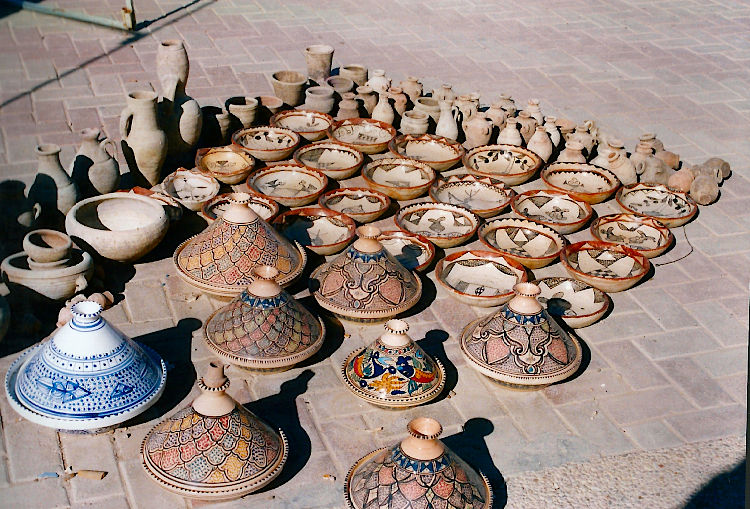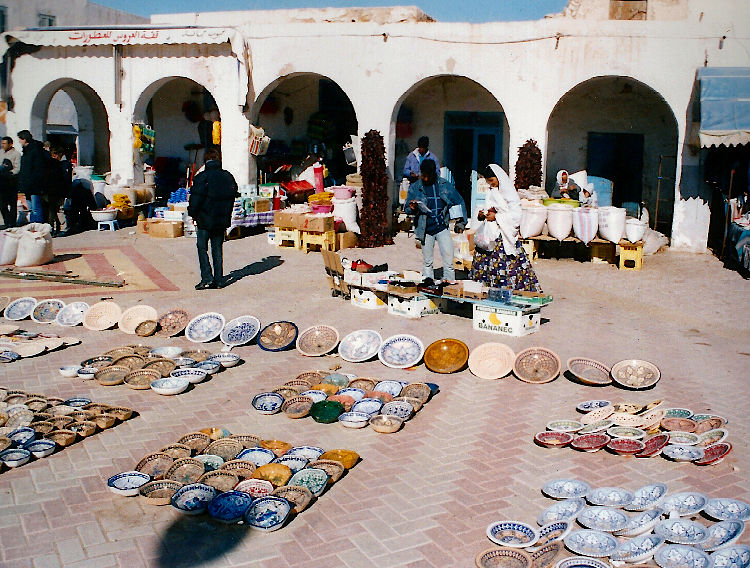 The following day we decided to head off to see some of the Berber villages. We were going to stop at a Ksar close to Tataouine but were put off by half a dozen pesky local boys banging on the car imploring us to stop. At least they didn't throw stones.
After taking a very rocky detour to Guermassa, we decided it was too rocky so went back to the main road which cut across a pancake flat plain. For here we could see a tableland rise up in front with a village on top. Although the ruined houses were difficult to see against the same coloured rock, the proud white mosque stood out. New Chenini was at the base of the hill and the road climbed steeply behind to the original, but mainly abandoned settlement. Here we were greeted by a group of white land cruisers but there weren't actually many tourists and no pushy would-be tour guides. The view up by the mosque was magnificent. We climbed further up an even steeper slope for the great views of the plains on either side. As Chenini was built on an arret.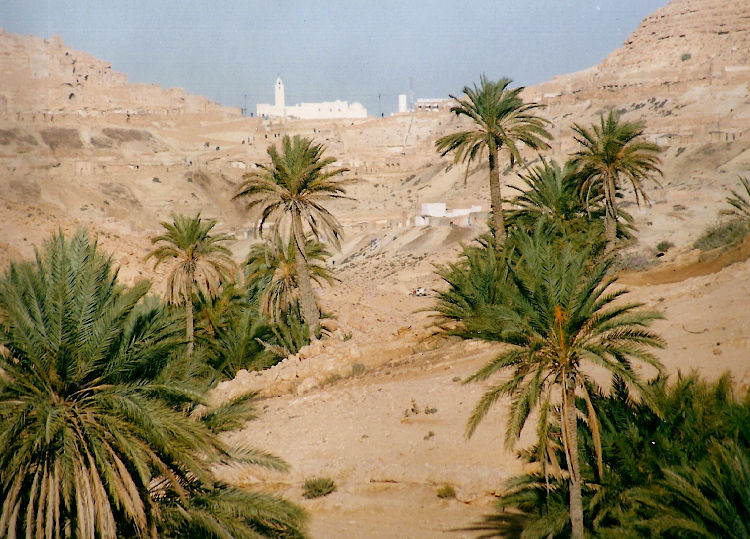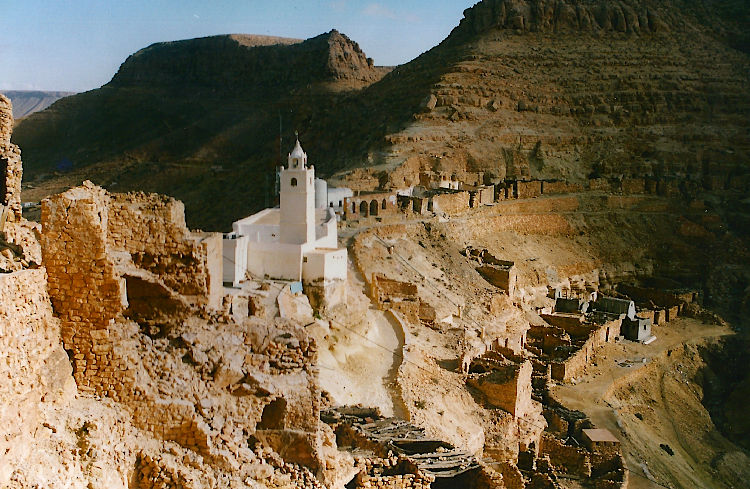 The next 10-20kms was perhaps the best as far as the scenery was concerned. The clouds were gone, there were no vehicles on the road and the views magnificent. The sky a deep blue and landscape a burnt ochre, a few olive trees and occasional palms in small groves adding a bit of green. If anything, Douiret, the next village, was even better than Chenini. Not perched on a cliff edge, but much quieter and more serene. We had a wander and it was great to warm our hands on a charcoal brazier and sip rosemary tea while gazing at the valley below.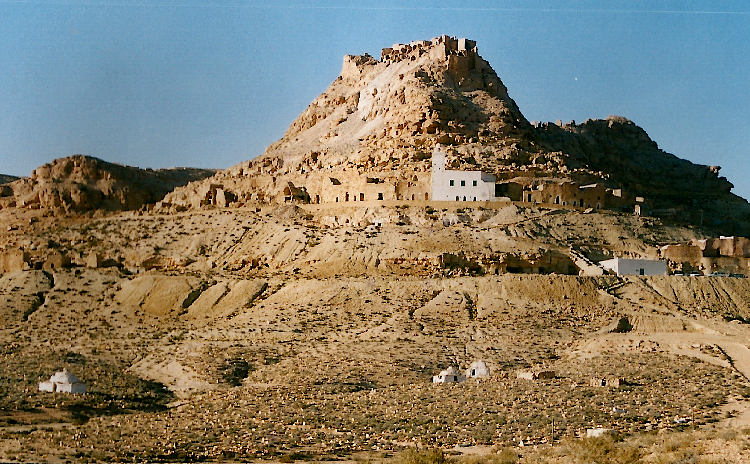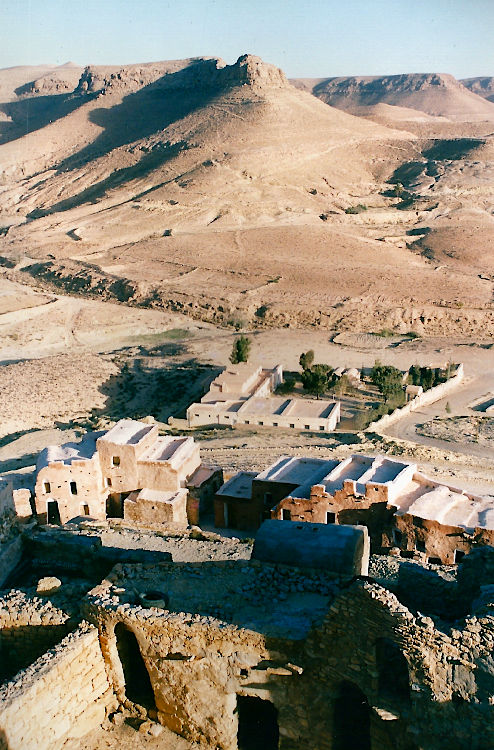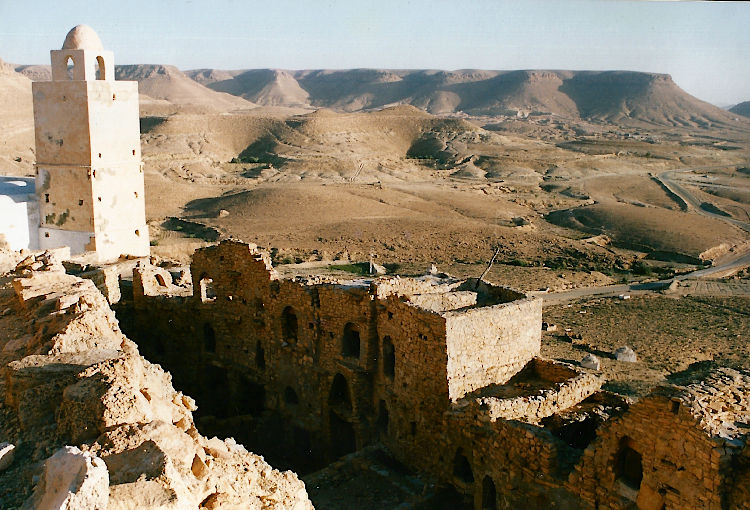 We got back to Tataouine at dusk and I had a great shower. It was good to get rid of the dust and dirt which had been sandblasted into us and put on fresh clothes. We went to one of the only three restaurants in town – Essendabad, I think it was called, it was packed – mostly locals but a few foreigners. We were by the doors and despite it being freezing cold, they insisted on leaving them wide open. Food was good though – a tasty fish soup and then tajine. After supper we stopped off in a cafe for a sheesha and coffee. Here there were a group of blokes sitting outside but it was freezing!!
Breakfast was coffee and croissants at the cafe next door to the hotel and we were off by 8.45. It was overcast and freezing yet again. We got to Beni Barka within a few minutes. This was another deserted village perched on top of a steep hill. Like the others you couldn't see the ruined houses until we got up close as they were the same colour as the rock. Apparently it used to be another thriving Berber community but now deserted. This time Jackie stayed in the car as it was windy and freezing. I wandered around. The views were amazing and the only living thing I saw was a marmot.
By now we were on our way to Jerba but not before visiting a few more Ksour. The next one was Ksar Ouled Soltane, another Star Wars set. Not very impressive from the outside but amazing inside. It was on four levels and we were only ones there except for three old guys playing some board game. Further on from this was the equally impressive Ksar Ezzahra. We drove on and reached Medenine for lunch. There was an interesting little market but not interesting enough to take any photos, and there were a few old ksour which had been converted into artisan shops but few tourists about.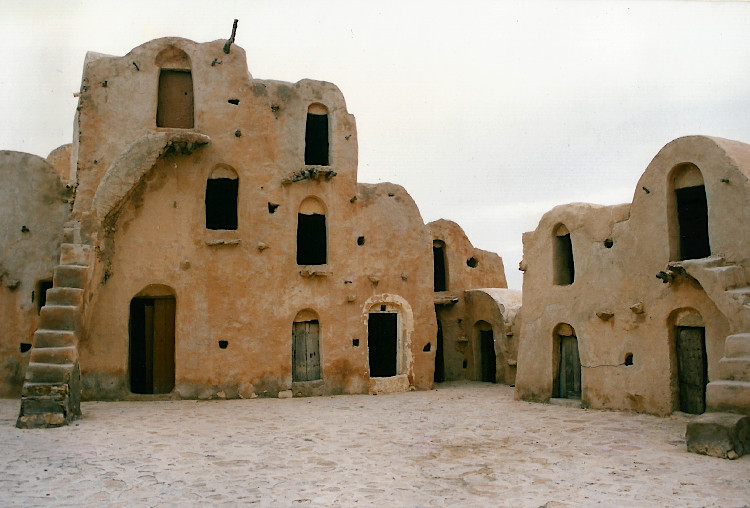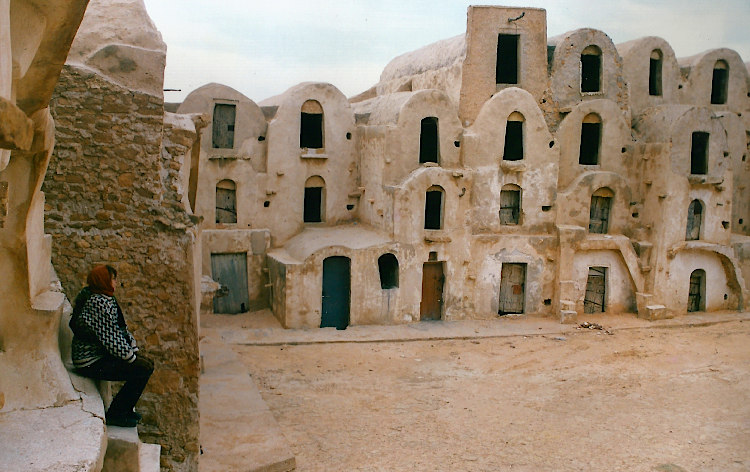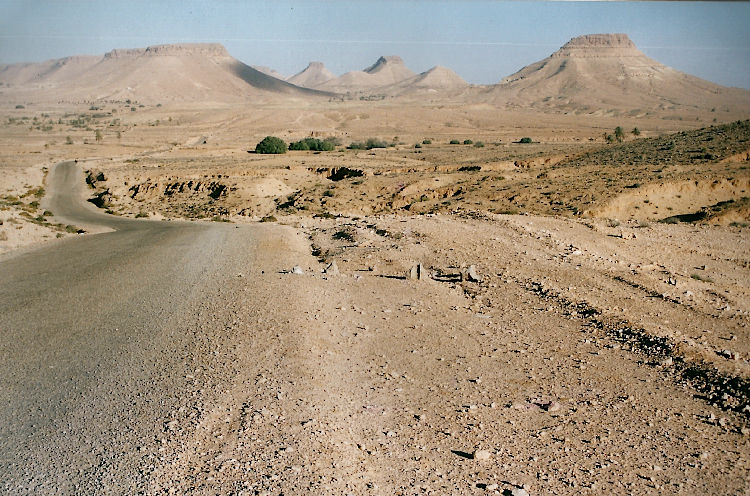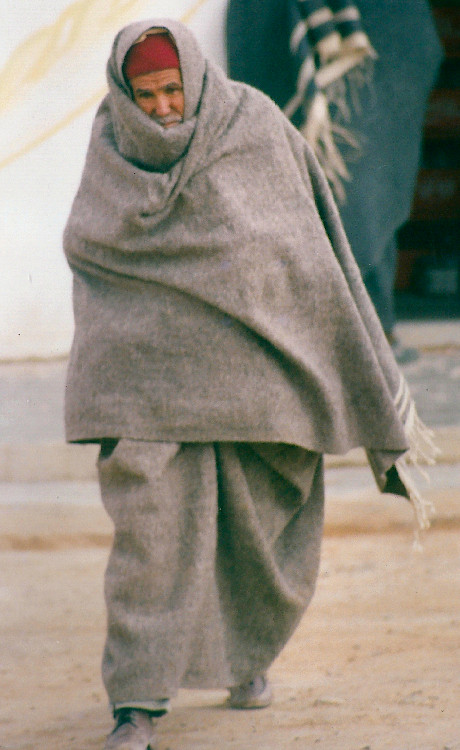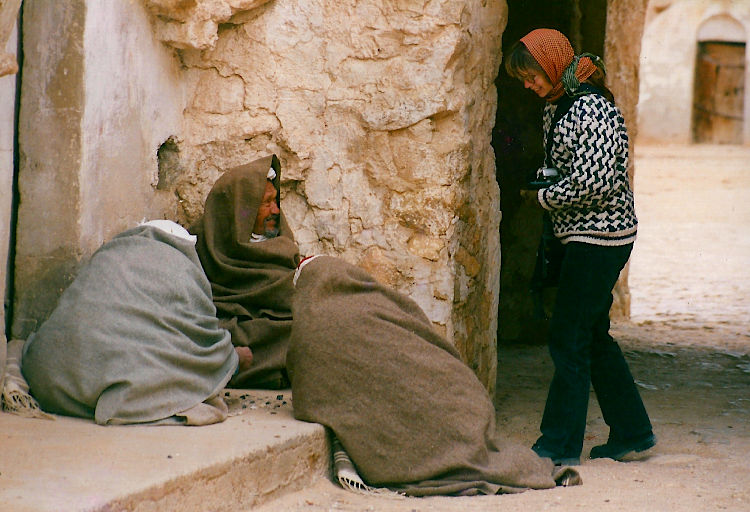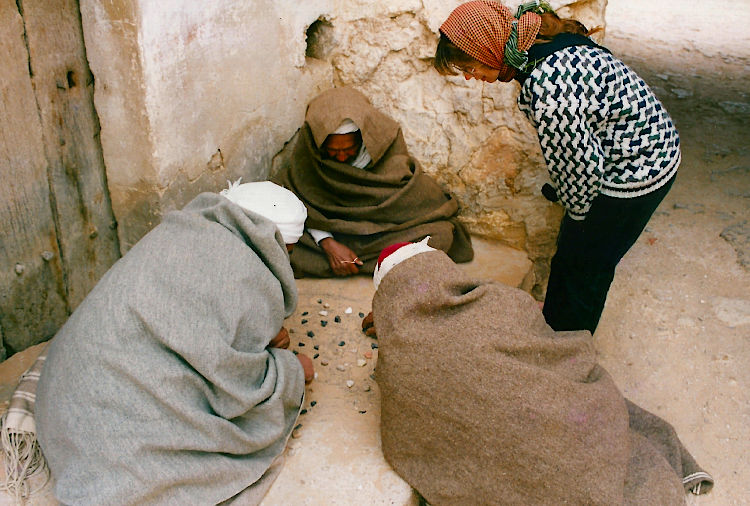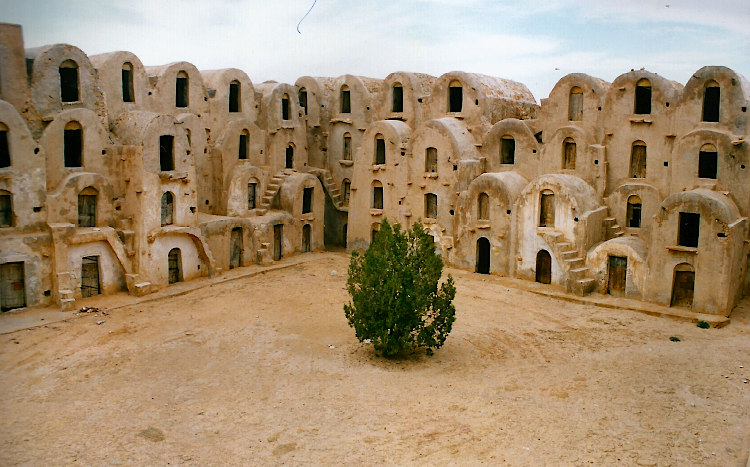 From here it was straight to Jerba. Lots of flat road, loads of olive trees and then over the causeway to the isle of the fabled lotus eaters. The Hotel Arischa , which was in Houmt Souk, the main town on the island, took a bit of finding but once there we thought it was definitely the best hotel of the trip. They had actually taken plenty of trouble to decorate the rooms and hand paint the walls with local designs. The hotel itself was an old fondook. The entrance was a huge blue studded door which led into a central courtyard. There was a deep but empty pool. The ground floor was the restaurant and upstairs were the rooms. I didn't see any other guests.
Houmt Souk itself was not a bad little town with lots of narrow alleys and tourist shops selling the usual carpets and stuffed camels and the salesmen calling out trying to get our attention and guess our nationality. Most of them took quite some time to guess we were British, I guess the place sees more Italians and Germans certainly. There were also some interesting buildings in town including the Borj El Kebir, an old Ottoman era fort. The site was originally occupied by the Romans so it has some history. And there was an interesting collection of mosques and the church of St. Joseph. That evening I put on a t-shirt, shirt, sweatshirt, jumper, fleece, hat and I was still cold! We went to Les Palmiers restaurant. There were quite a few in and we had a nice meal.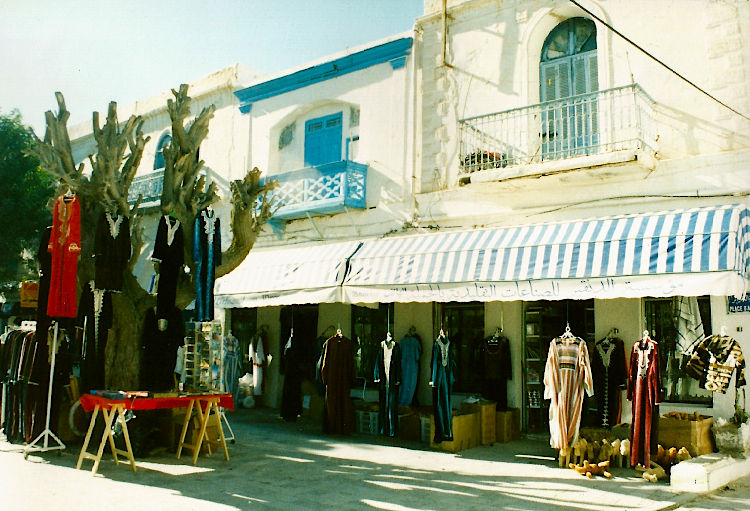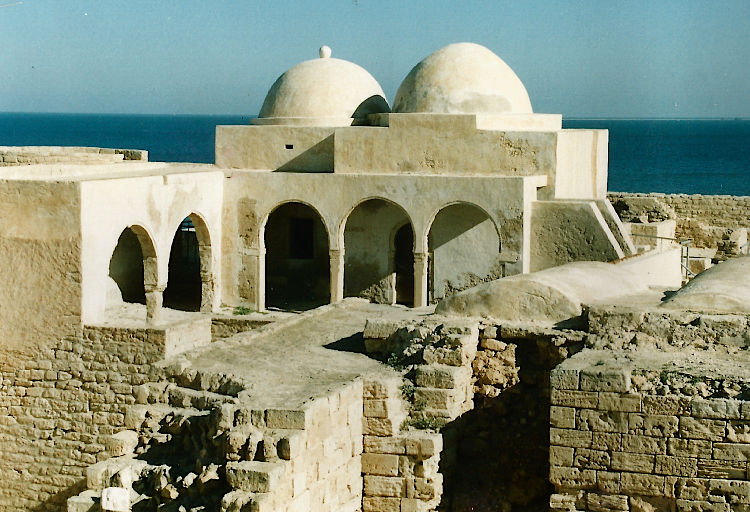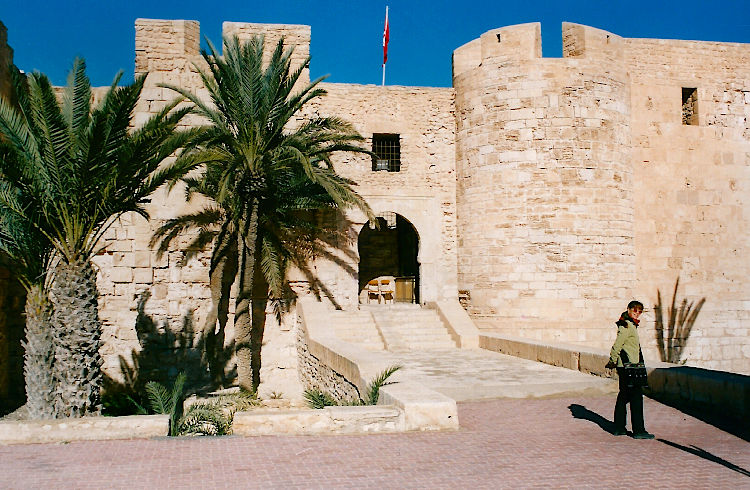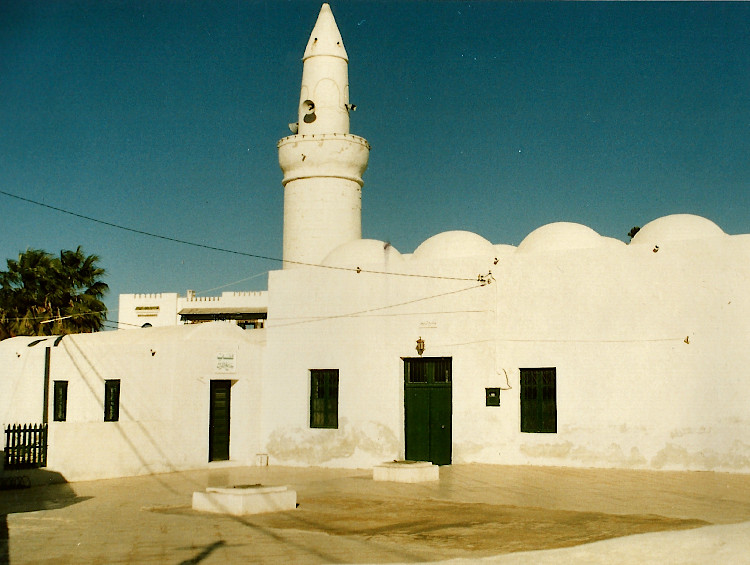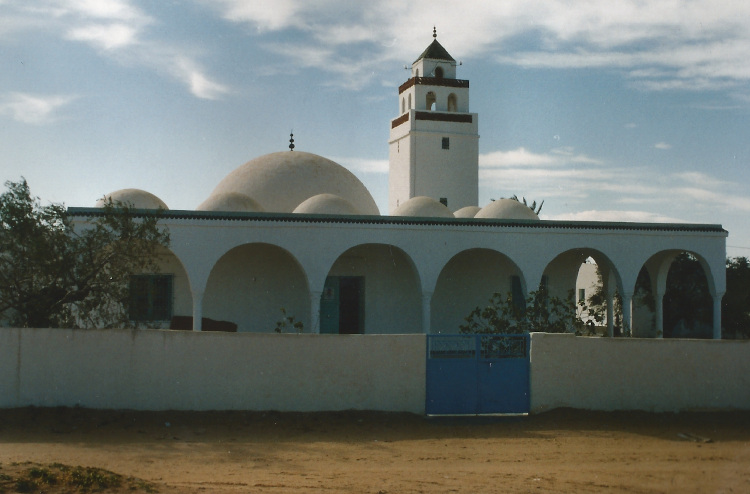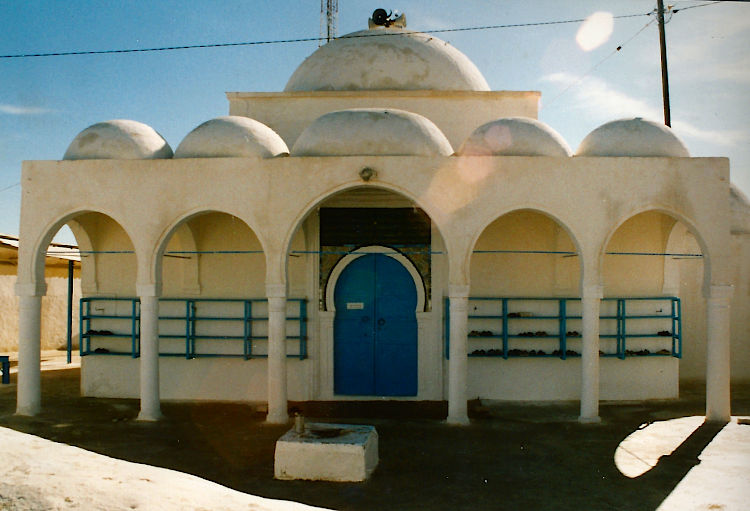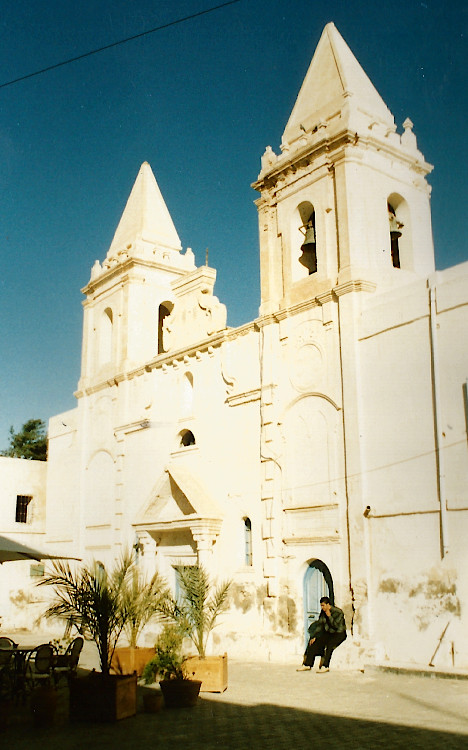 After the rushing around of the previous few days we decided to take it easy. The following morning we had a lie in and then wandered the shops. I enjoyed the fish auction. Three blokes were stood on stools holding up strings of fish to be auctioned off. We had a felafel sandwich for lunch (1st in Tunisia!) and went for a drive round the island. A highlight was a lovely mosque in Guellela by the sea away from everything and observing lots of flamingos in the shallows. We also visited an old olive press in the same town and the El Griba synagogue.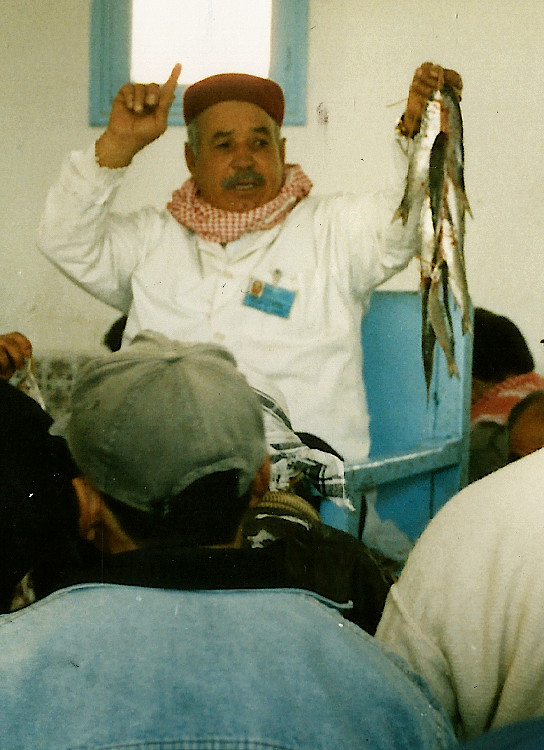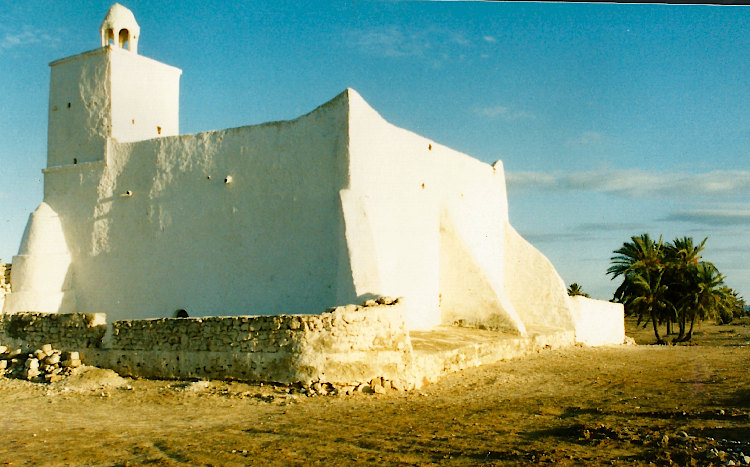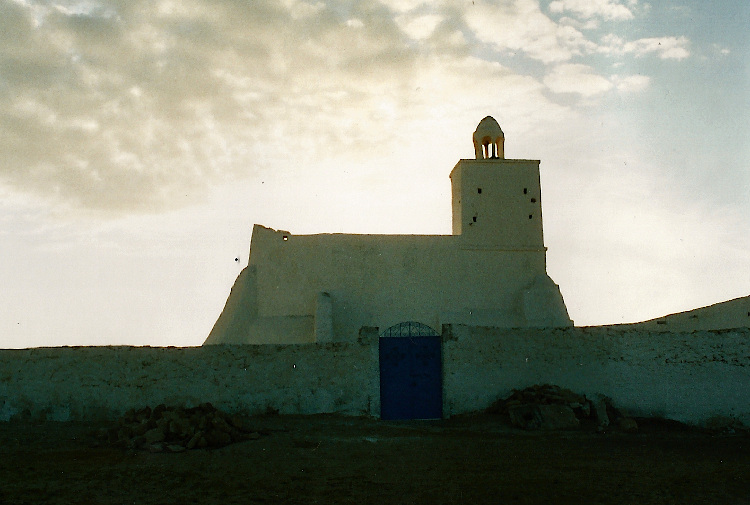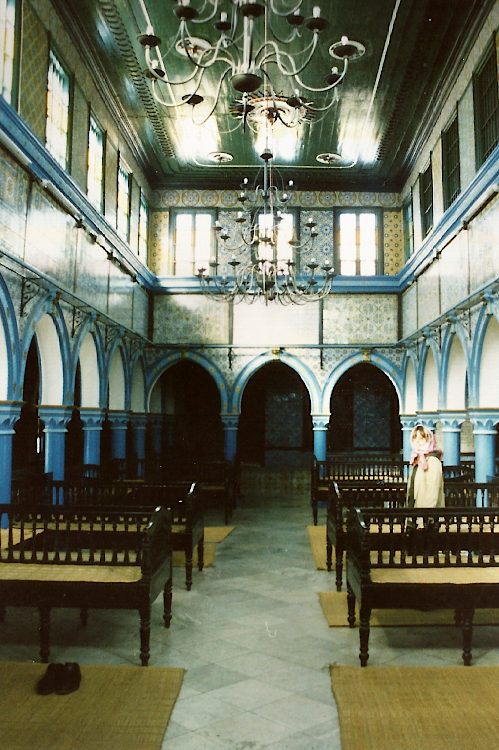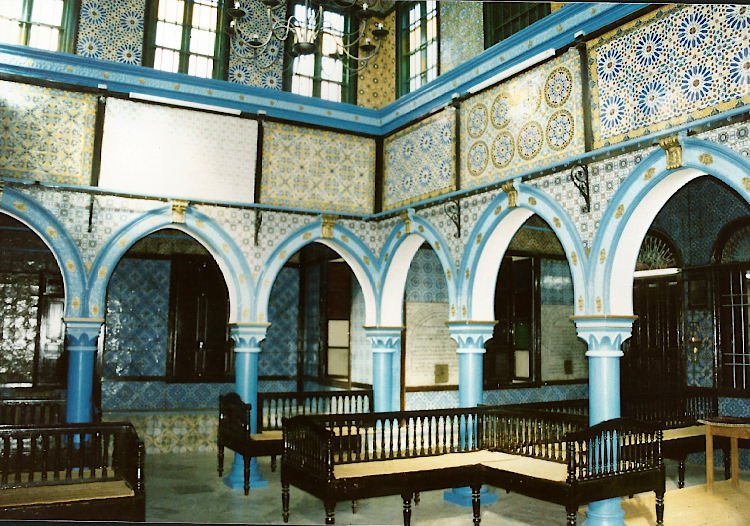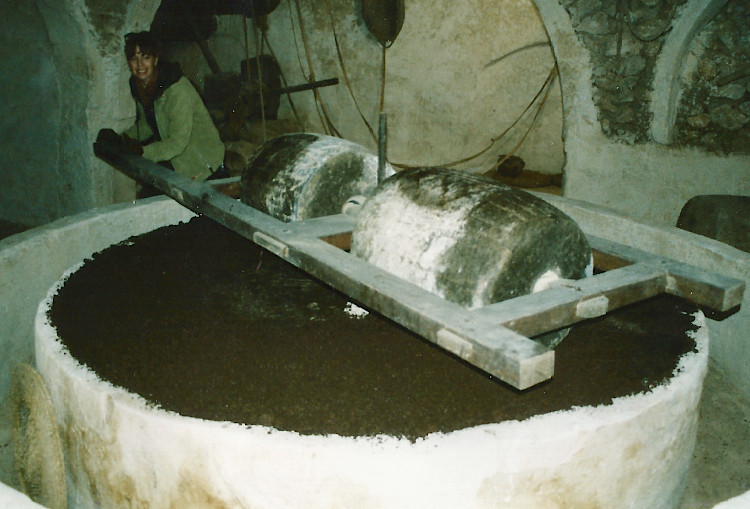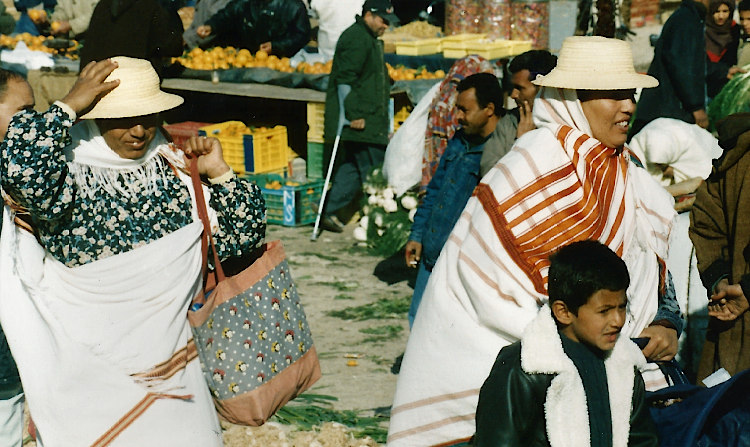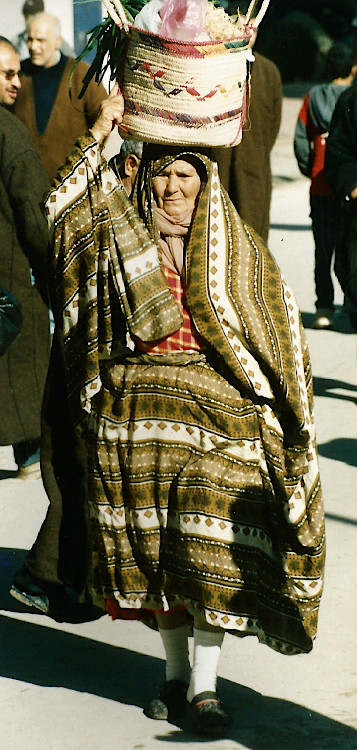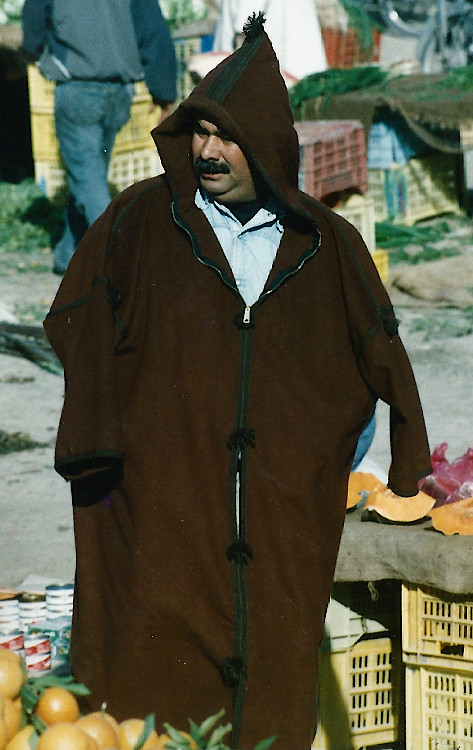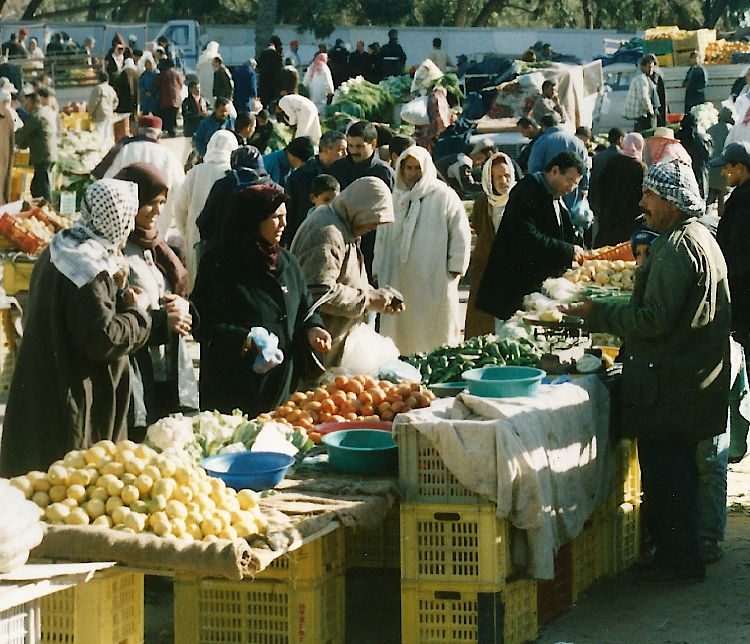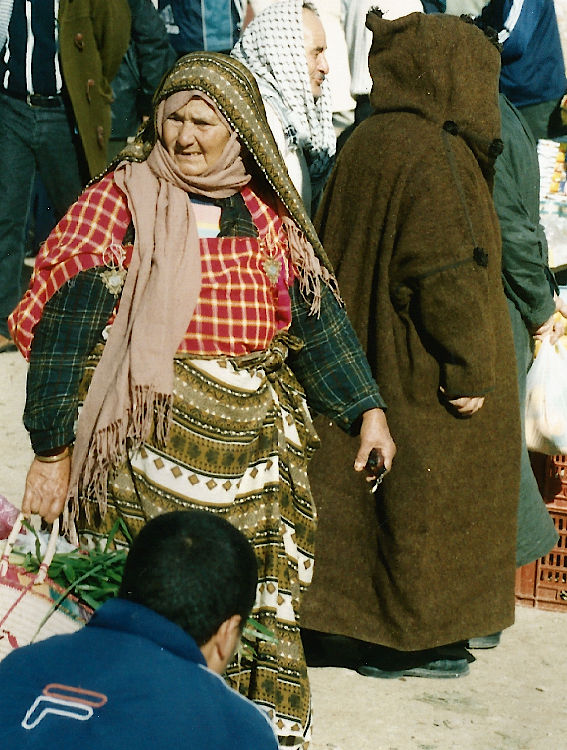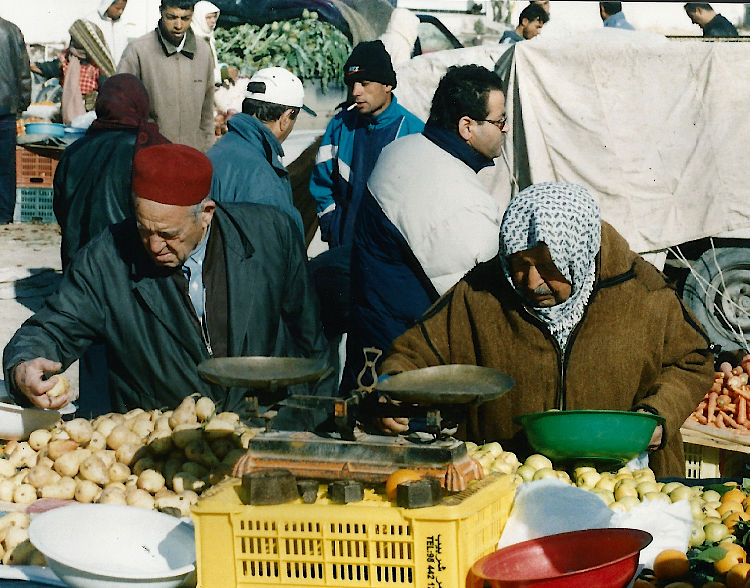 That night was New Year's Eve and we splashed out on a posh restaurant – the tablecloths were new, it sold wine and they had candles. Only let down was chipped crockery and all the pieces were different! My diary doesn't mention the name of the restaurant or the quality of the cuisine so probably not that great. On the way back to the hotel Jackie was groped by a young man but this time I was ready, I chased after and whacked him. I think he was pretty stunned by this but we didn't hang around to find out if he had any mates. Nearer to the hotel there were a few less than salubrious bars peopled by young Tunisian men – very unwelcoming and downright nasty. At the hotel it wasn't much better, they had a disco but there was no one there! We decided to call it a night. We saw in the New Year in our room with the disco thumping in the background. Fortunately, they had had enough before too long and it was all quiet by 12.30.
On New Year's day we headed home. Although the weather was cold and windy the rain had held off until this last day. Just as well, as it was only then that we discovered the windscreen wipers didn't work. However, we were soon home to the welcome of our thankfully warm house in La Marsa.