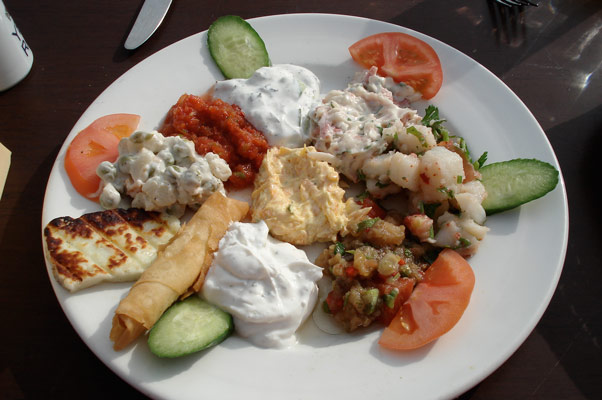 Kyrenia, jewel of the North coast, is probably the most picturesque coastal town in Cyprus. The picture postcard harbour certainly is but the huge residential developments which are spreading like wildfire along the coast certainly aren't.
The harbour itself is no longer used as such, except for tourist boats and the quay is lined with restaurants. Despite its 'falseness' it certainly is attractive and there is no better place to have a cold beer and enjoy some seafood while staring into the turquoise clear water. You can even contemplate an exploration of the huge Kyrenia castle which dominates the scene. Try to soak up the Mediterranean atmosphere and ignore the English retirees ensconced in the Daily Mail.
The food at most of the quayside restaurants isn't great, but this plate shows most of the mezzes you are likely to encounter.
The Castle is certainly worth a visit, not only for the views from the battlements. The castle was first started in Roman times but has been successively built over by whoever was running Cyprus at the time including Venetians, Genoans, Lusignons, Ottomans, British and Turks. It was even the HQ for Richard the Lionheart when he was rampaging around these parts in the 12th century.
There are also some impressive exhibitions including this one on the oldest shipwreck ever found. The boat was carrying wine and almonds from the Greek islands 2300 years ago when it sank off the coast nearby. It was found submerged in sand by divers in 1967 with many amphorae of wine dispersed over the sea floor.
Some of the exhibits are a bit gruesome as it has been used to torture prisoners over the years.
There's also a pleasant coffee shop in the grounds.
More photos here