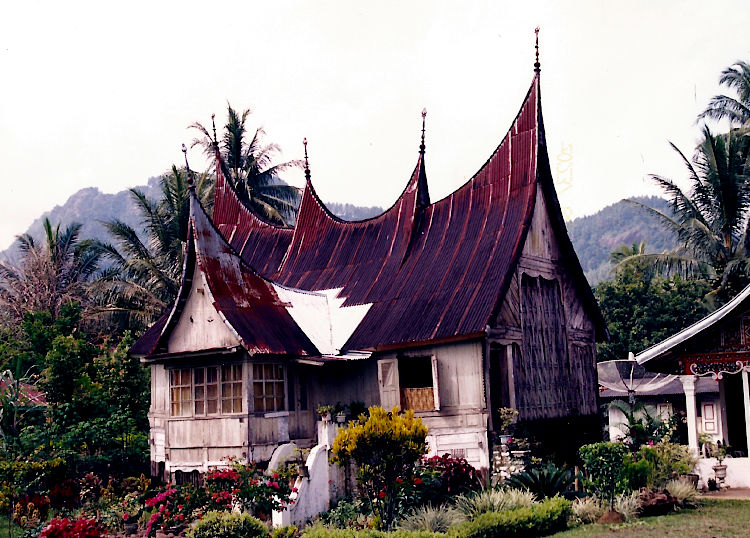 My time in Indonesia was coming to an end. The dictatorship of Suharto was also coming to an end. My last few weeks were punctuated by riots and general unrest. I'm not sure why, but I had decided to leave Indonesia by boat but I also had to get to Bukittingghi in Sumatra to get my passport. So on Saturday 16th May 1998, I said my goodbyes to my housemate Jim and me and Lis got on the bus from Bandung headed to Sumatra. It was fairly uneventful but as we drove along the motorway passed Jakarta I did notice a couple of burnt out shopping malls and Banks with windows smashed and riot police on the streets. We arrived safely at the port of Merak and got on the ferry. The crossing of to Sumatra was very picturesque. We were rewarded with a great sunset and could make out the peak of Krakatoa in the distance. We arrived in Bandar Lampung and checked into the RIA hotel. It's still there but now called the Wisma Gatam.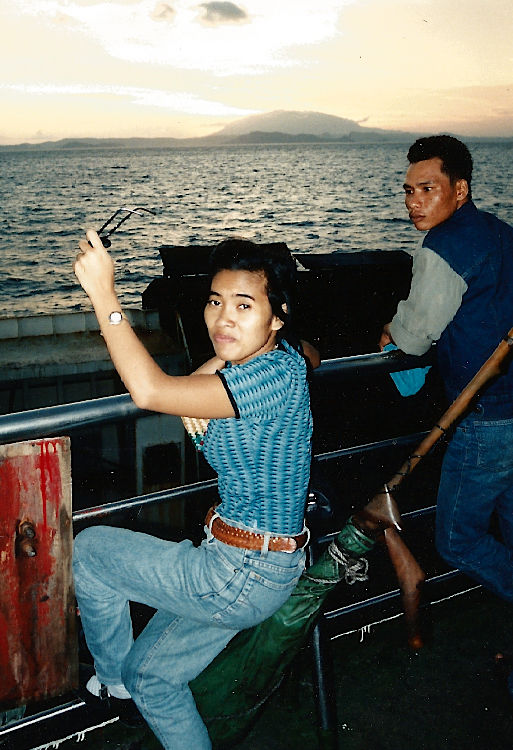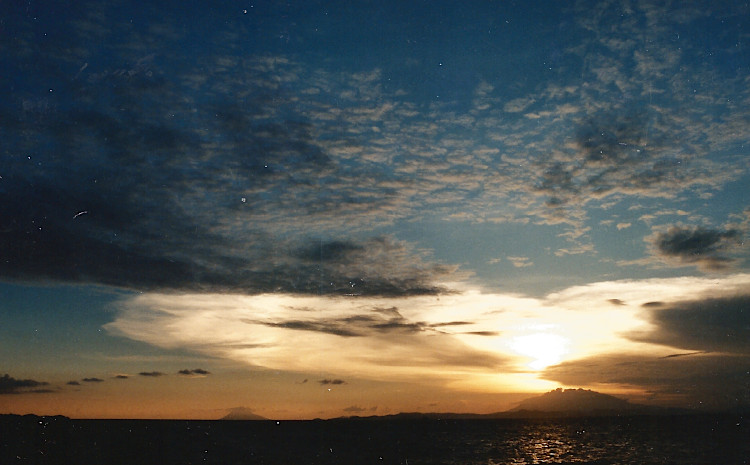 The following morning we headed for Pasir Putih (White beach). From here we hired a bloke and a boat to a nearby island where we met a bunch of students. Shame I forgot my snorkel and mask as there was some pretty good coral.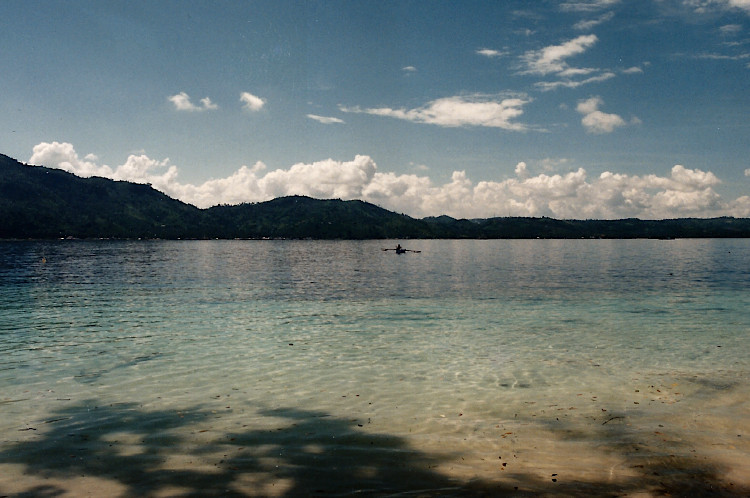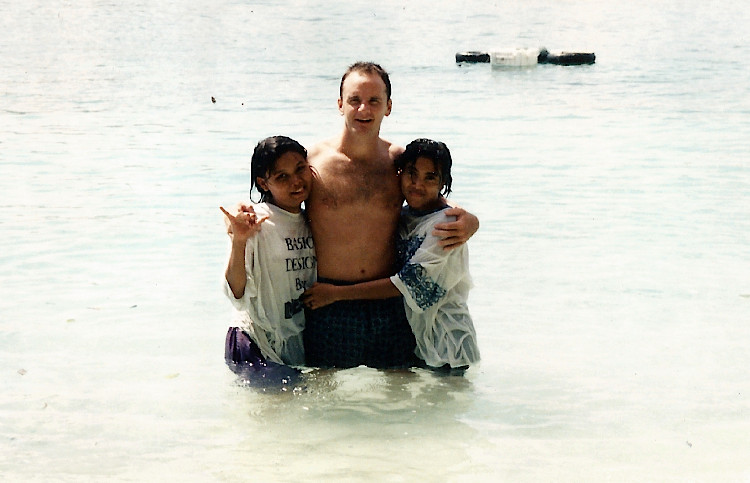 Not too much time to chill on the beach however as we were soon off again. We hired an angkhot to Way Kambas Way Kambas National Park. We didn't really see much of the National Park as we spent most of the time at the Elephant Conservation Centre. It was a bit better than I anticipated and fun to see the elephants enjoying themselves in the water.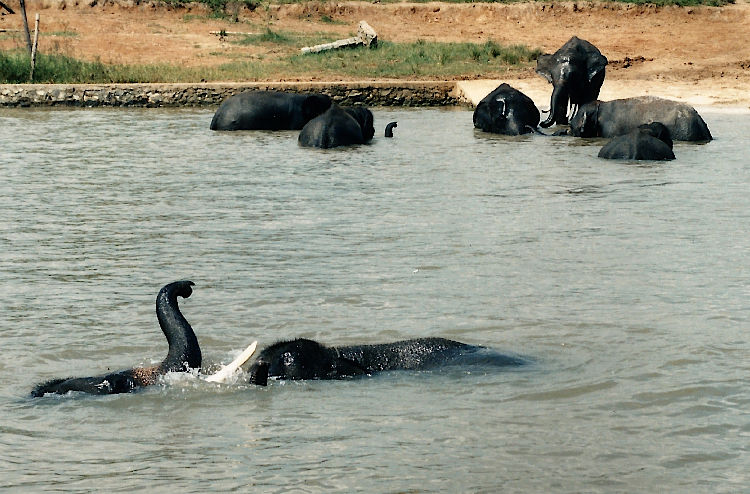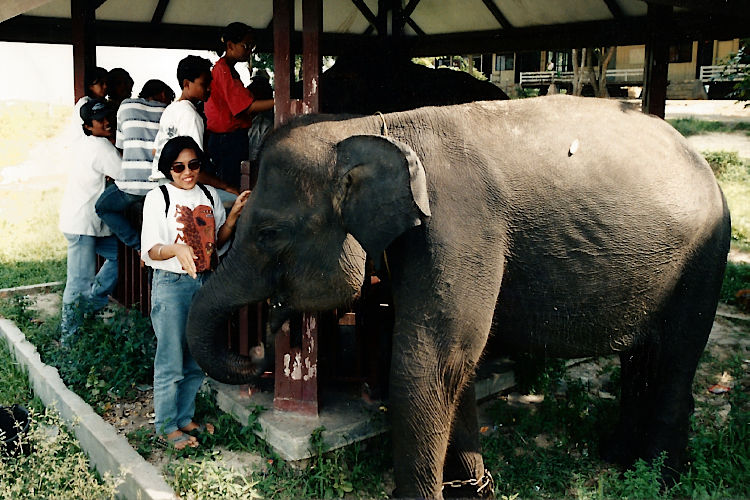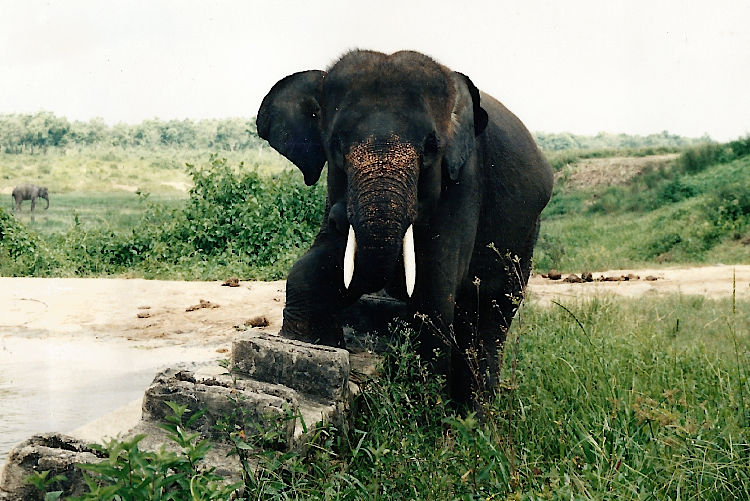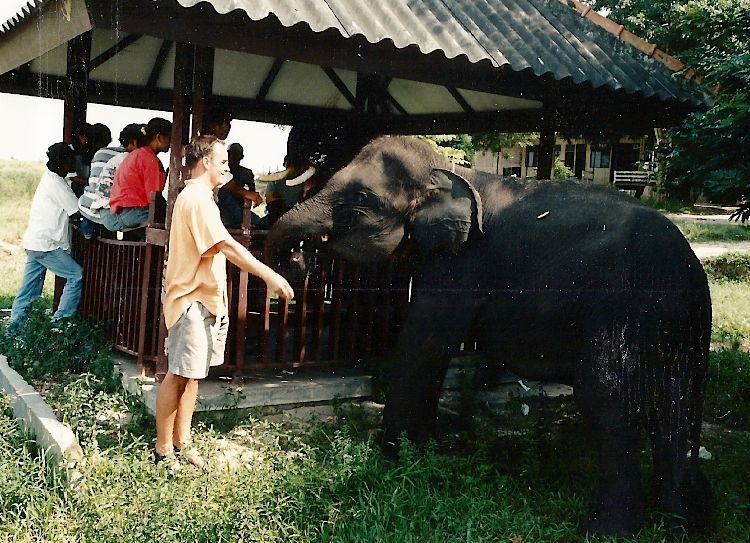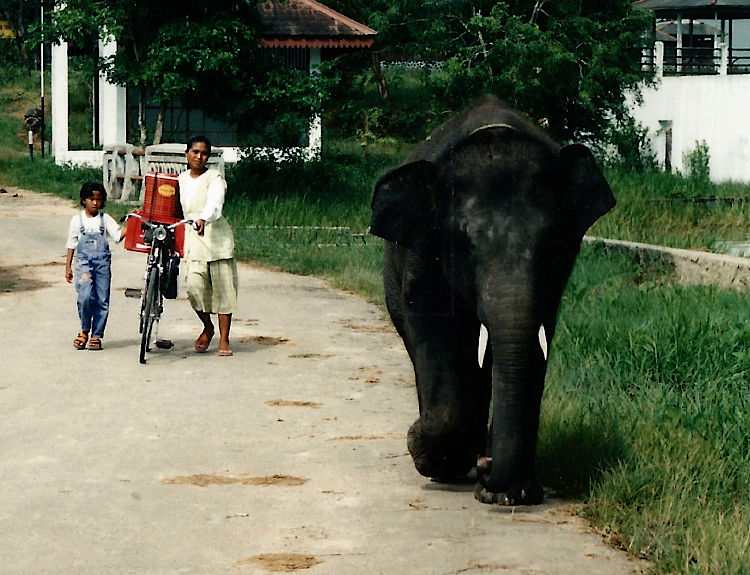 The following day we caught a minibus north to Pagaralam. Although we hadn't seen much damage in Lampung itself, we did drive through one town which had lots of shops with windows smashed and others all shuttered up. A number of shops had "Pribumi" painted on the walls. This was supposed to indicate the owners were native Indonesians and not Chinese who had been subjected to much of the violence. It was thought that all the big businessmen supported by Suharto were Chinese – also why a lot of the big shopping malls had been torched.
After a rather boring 11 hours in the bus we eventually reached Pagalaram sheltering under the huge Mt. Dempo volcano. We checked in at the Mirasa Hotel. It seems it's still in business (2023) but they've renovated the front. My diary says we found a pleasant room at the back overlooking a fish pond.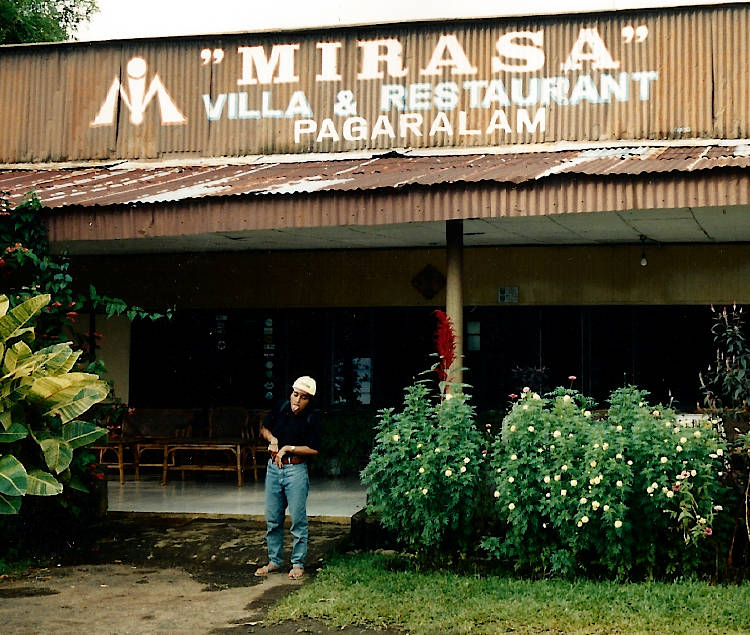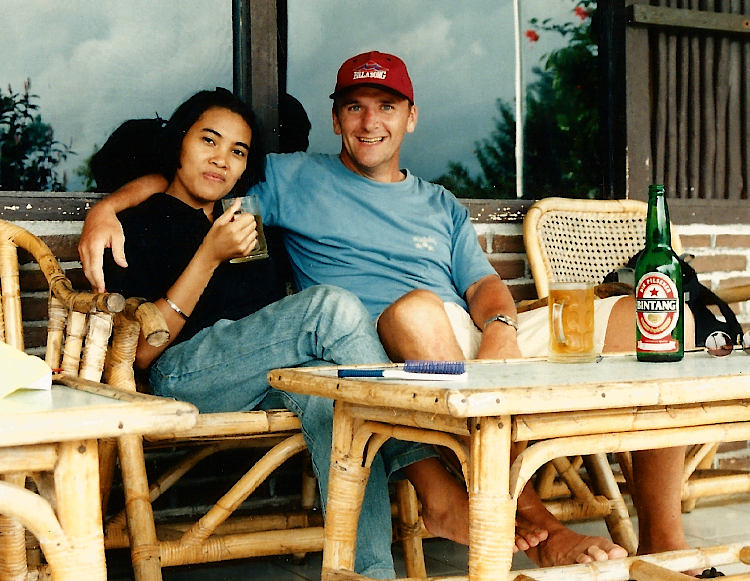 Mirasa Hotel (July 2023)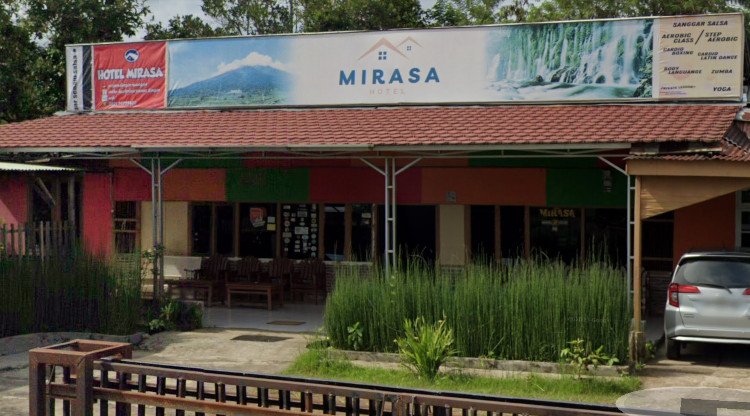 Tuesday 19th. Headed off for a walk in the countryside. We passed a funeral in one village but a couple of villagers took the time to show us some megalithic burial sites near the village and some inscriptions. the area is famous for megaliths but obviously they aren't that impressive as I didn't take any photos! However I did take some photos of an impressive waterfall.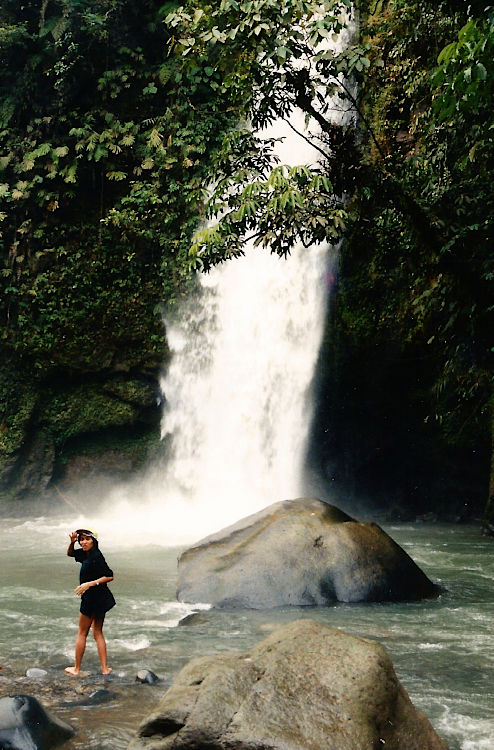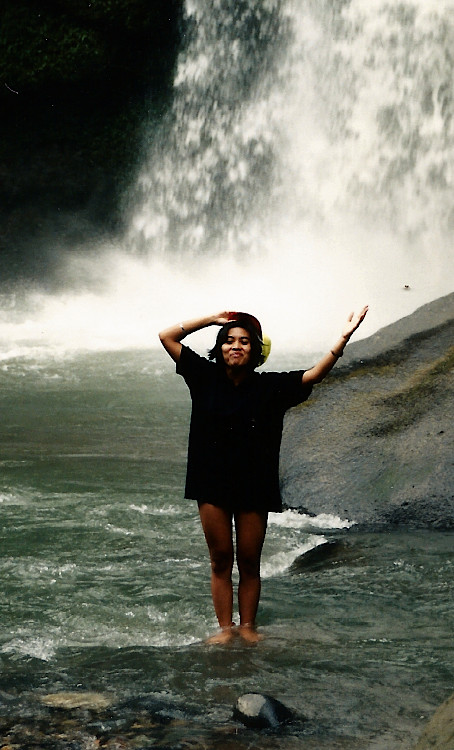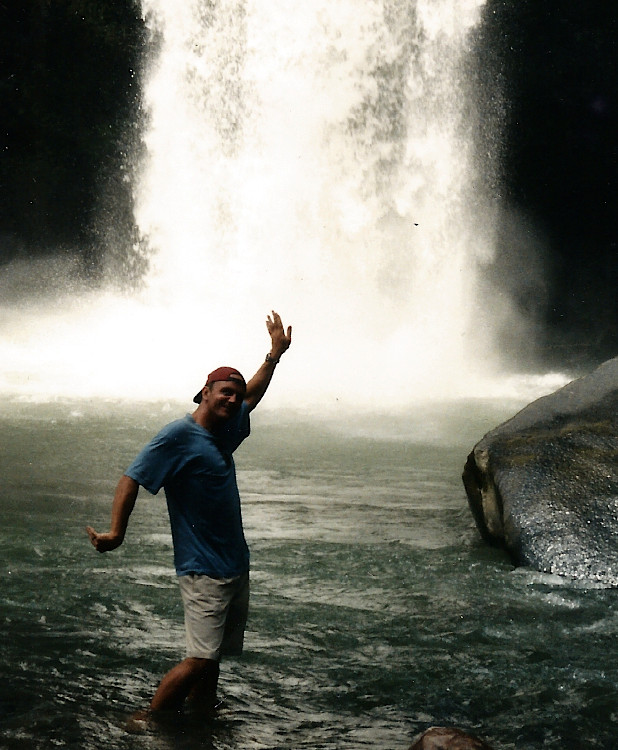 After the waterfall we were back in town for lunch: Pempek – fried fish balls and egg in vinegar sauce. Sounds terrible but it was actually pretty good. Then we were off again up the Mount Dempo volcano. Unfortunately we only got as far as a car park above the tea plantations as we were swathed in clouds and fog. However the walk back down was great. We walked through the tea plantations and some attractive villages containing old teak houses and friendly locals.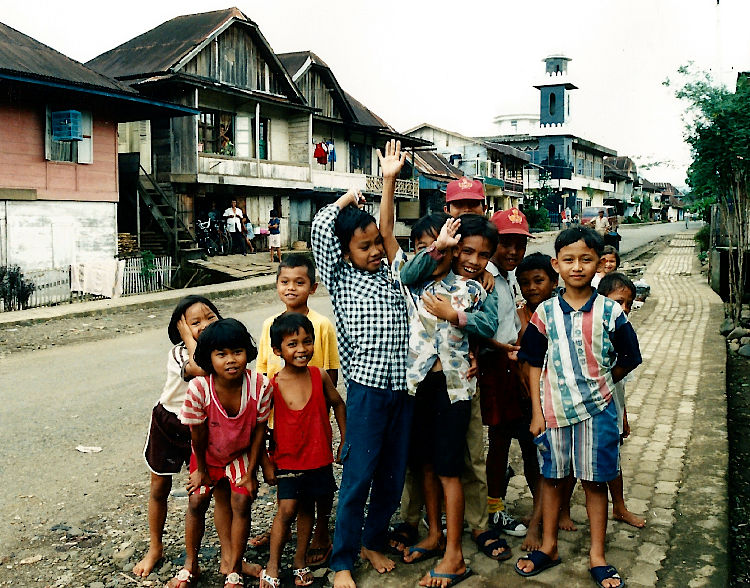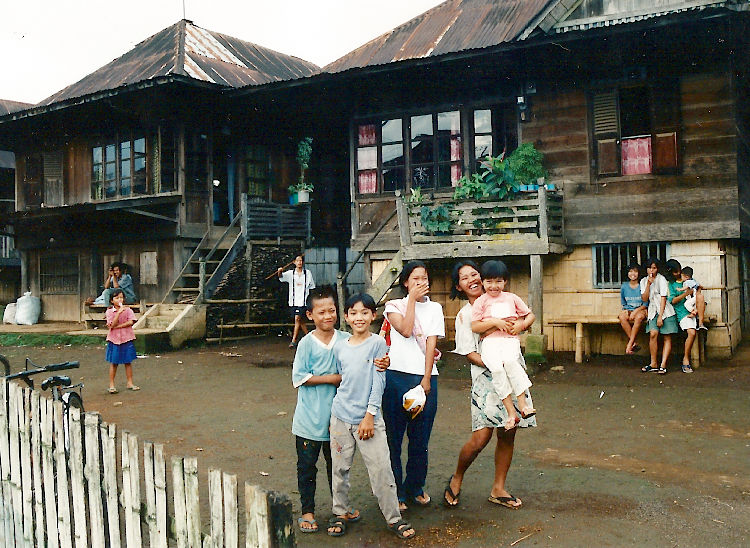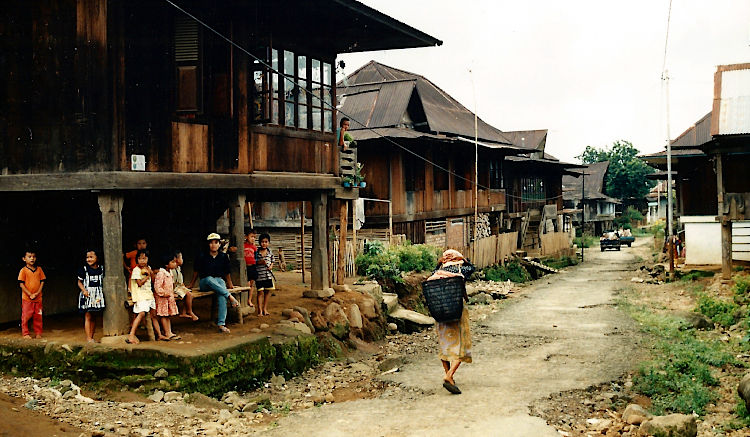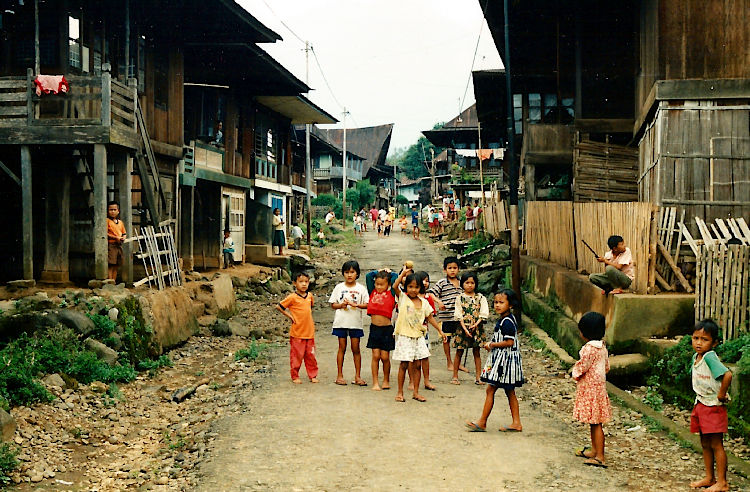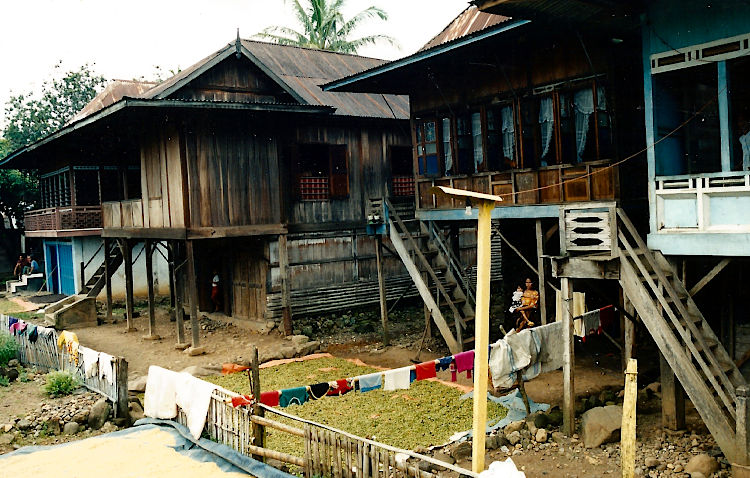 Wed 20th May 1998. there were protests planned countrywide so town was full of armed police and soldiers. However, we managed to get a bus to Benkulu. Town was fairly spread out with no real centre. We checked into the Wisma Balai Bantar and headed off to the only tourist sight in town – Fort Marlborough constructed by the British in 1715. It was an interesting place with graves of British soldiers dotted about.
The following day we walked to "long beach" a rather desolate place with lots of concrete and jetsam on the beach but I managed to go for a swim in the cool sea.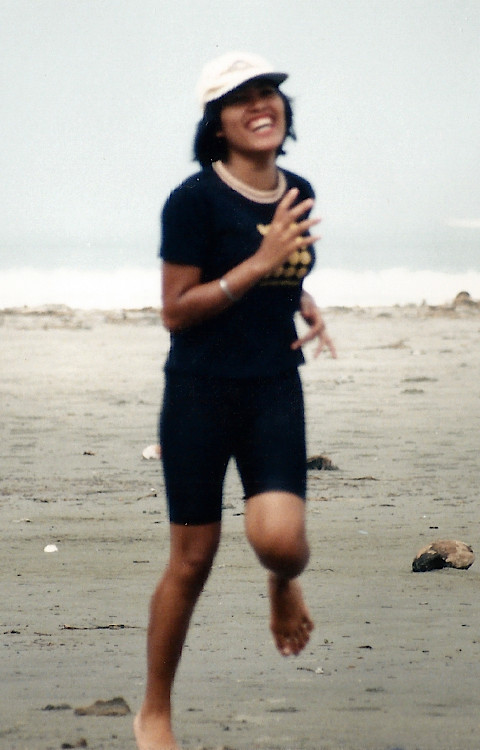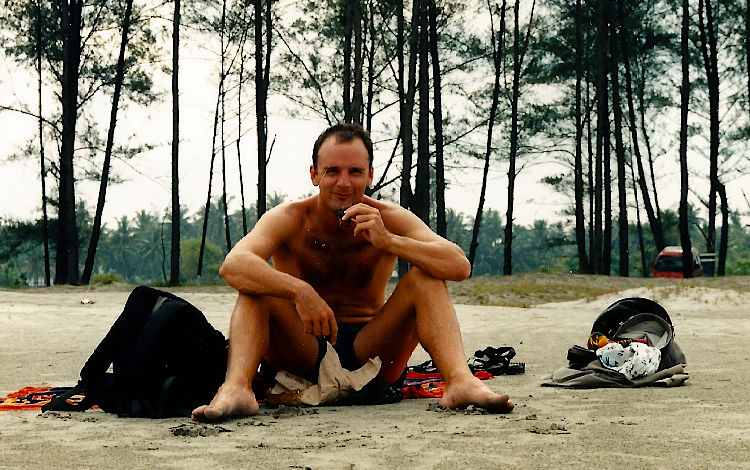 On the way back we visited Sukarno`s house. Quite a small place but full of memorabilia such as his bicycle, photographed below.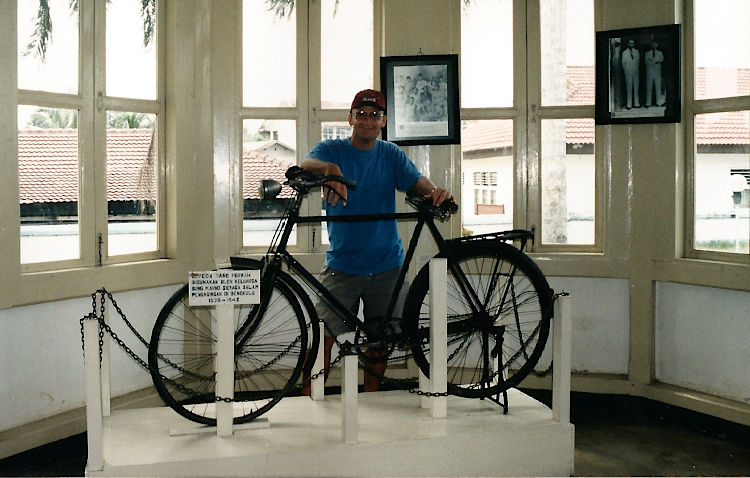 I then said my goodbyes to Lis. She returned to Bandung and I headed north on the overnight bus to Bukittinghi. I arrived at 5am rather shaken up but checked into the Hotel Menteng and had a welcome hot shower. I also saw the news that Suharto had stepped down in favour of his deputy Habibi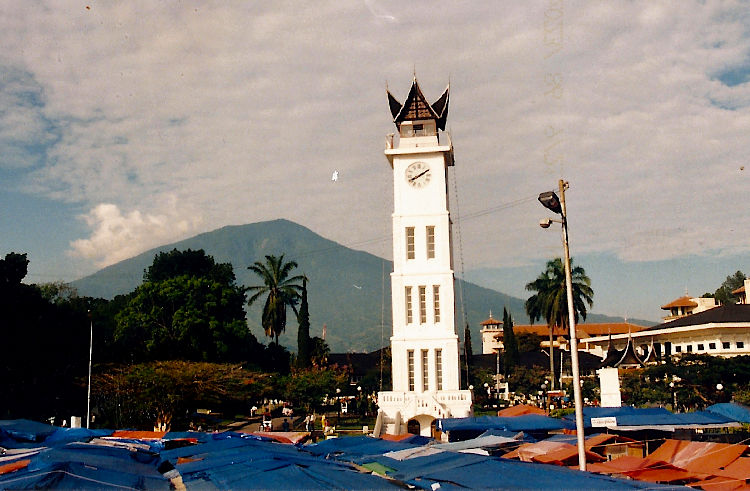 Bukittingghi view from my hotel: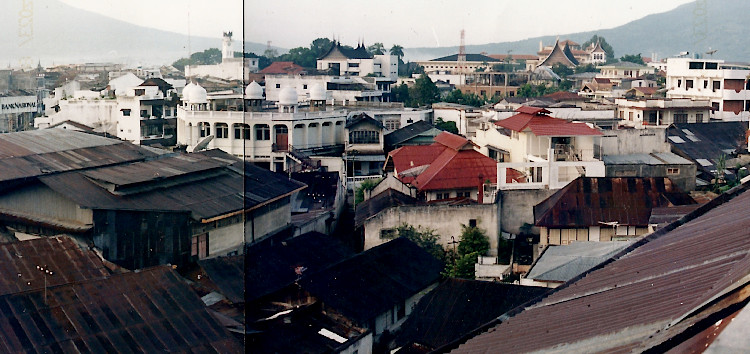 The following day I got a bemo to the nearby town of Batu Sangkar and from there a dokar to Pagaruyung. This is the site of the Minangkabu Sultan's palace. It's a traditional Minangkabu House which has now been turned into a museum. Some more basic traditional houses to be seen as well. An amazing place.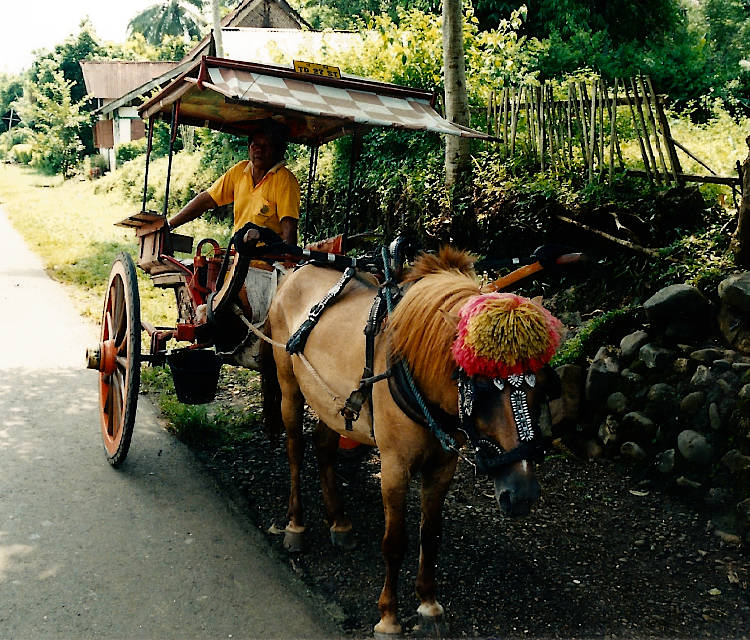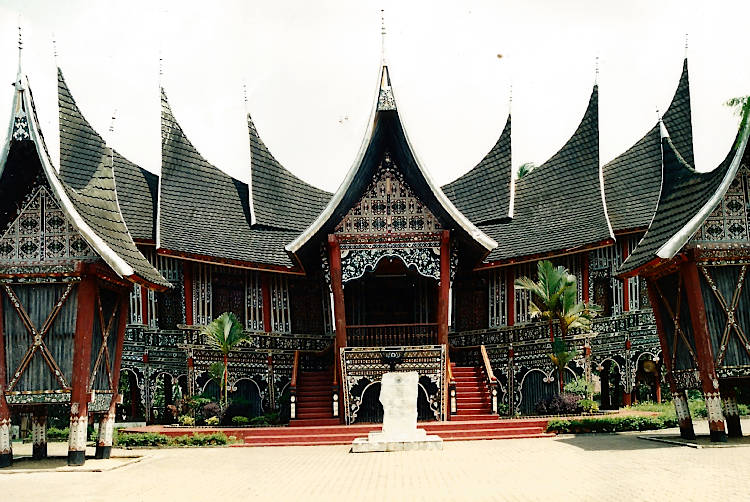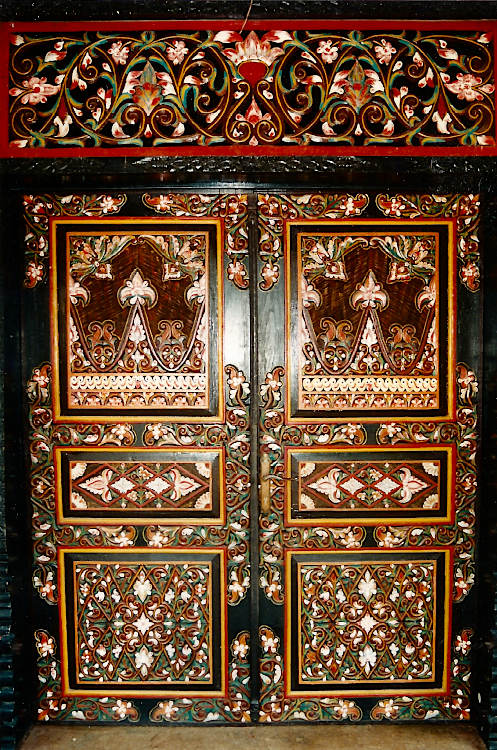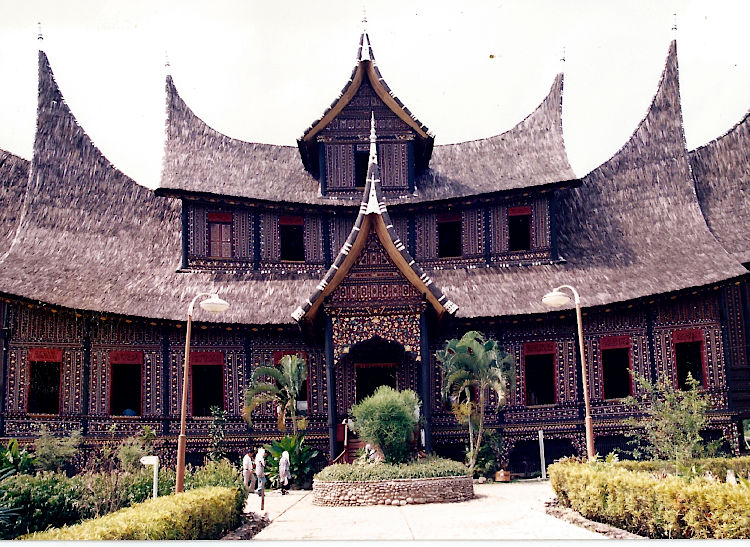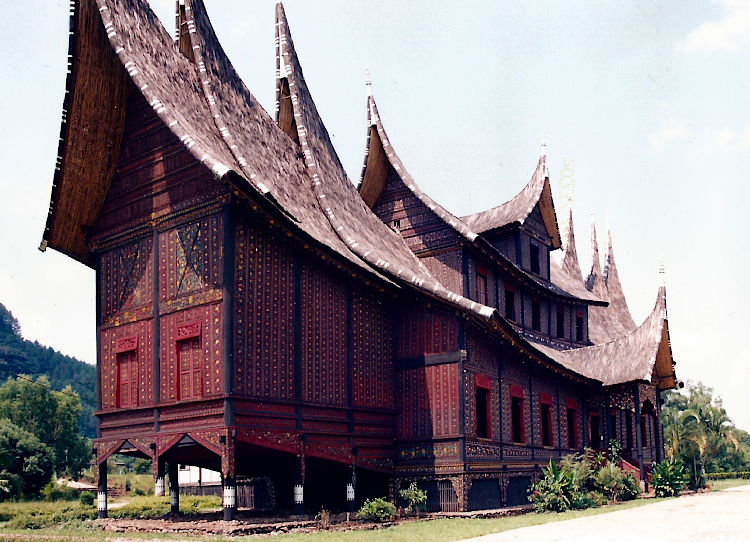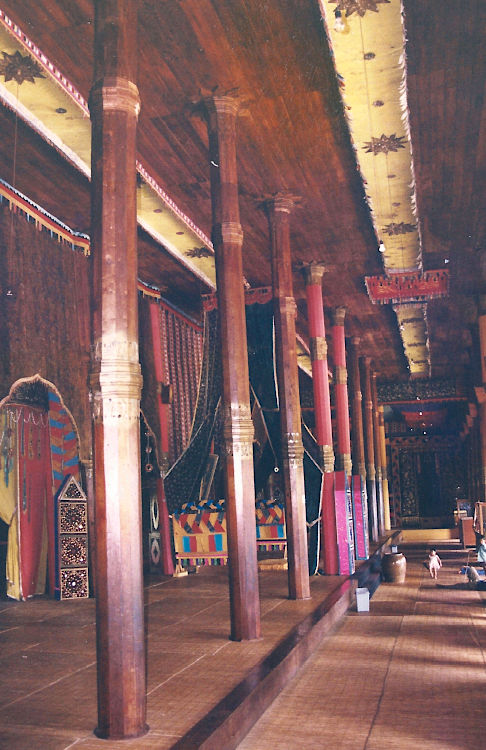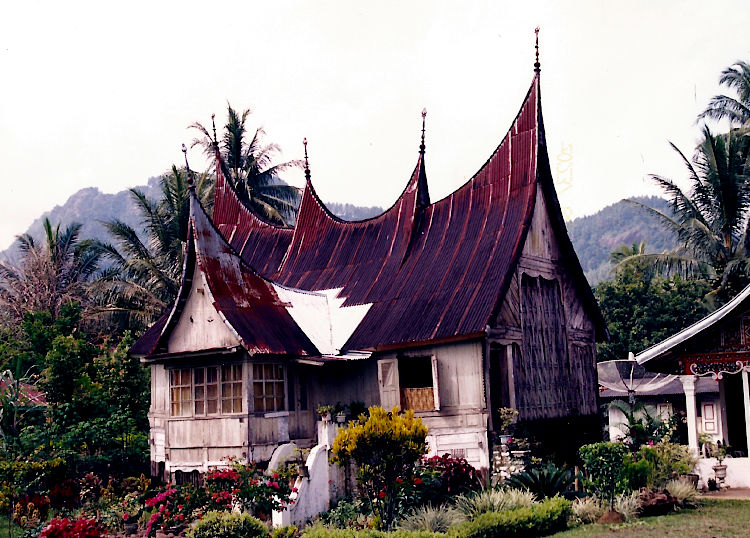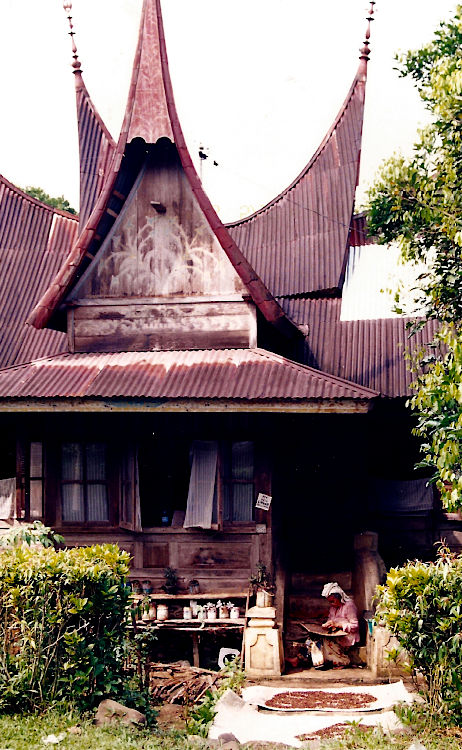 I then decided I need a day or so chilling out so went to lake maninjau. I managed to find a spotlessly clean but extremely basic place called  Cafe 44. Named after the 44 hairpin bends it takes to get down to the lake shore from the rim of the crater (Maninjau is an enormous crater lake). As you can see below I didn't even get a bed for my 45000Rp per night. But the people were really friendly and it was right by the lake and I had my own dugout canoe to explore the lake with. It was very quiet at night sitting outside my shack just listening to the cicadas and the gentle lap of the waves. Not quiet but just the noises of the jungle and watching the string of lights from another village on the other side of the lake. I was in heaven.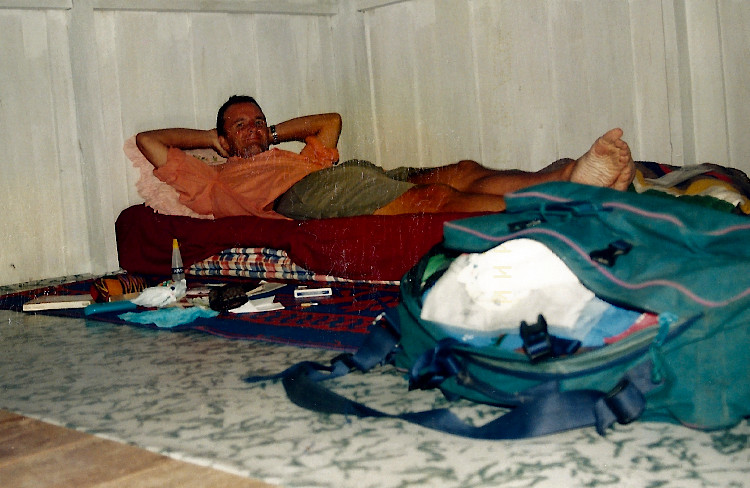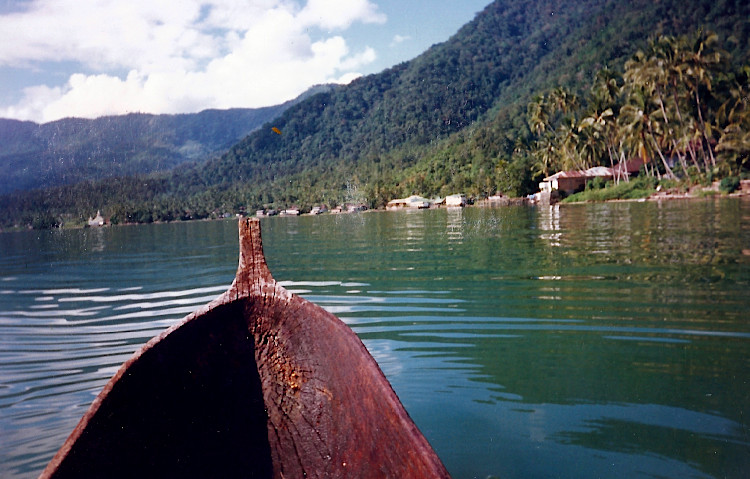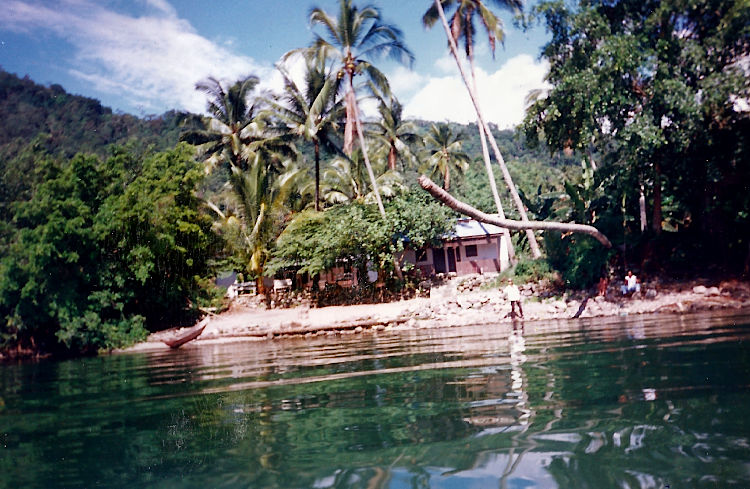 I didn't just chill out by the lake though, I hired a bebek – literally a duck, but in reality the nickname for a Suzuki scooter. I circled the lake and went through a gap in the crater wall to the coast. PS It wasn't me who ran over this unfortunate lizard.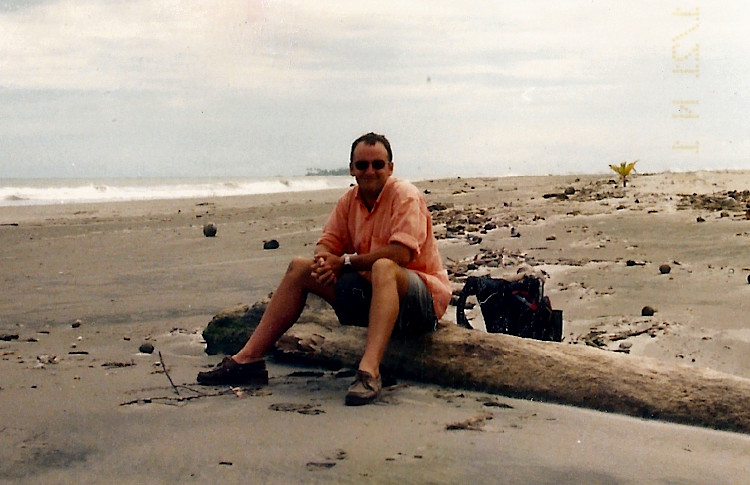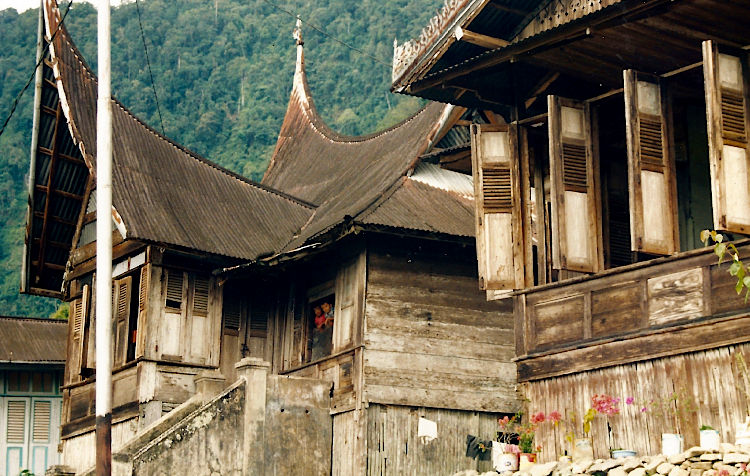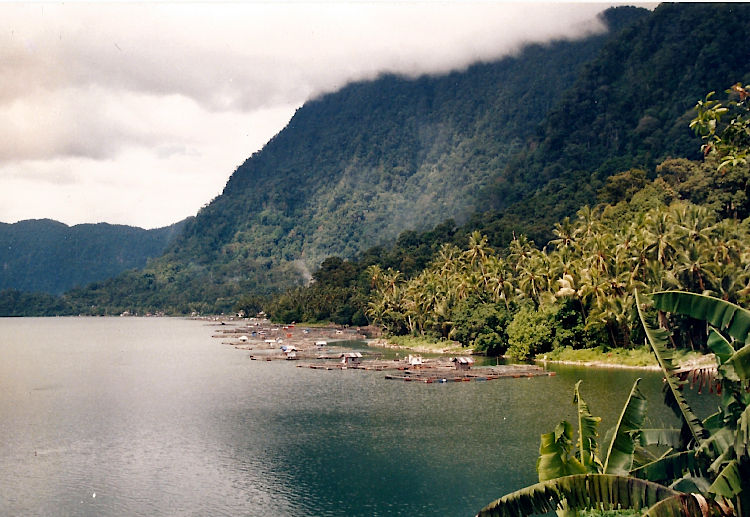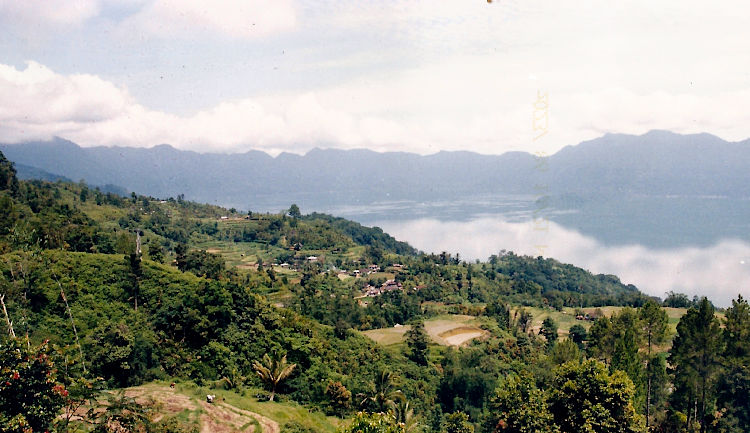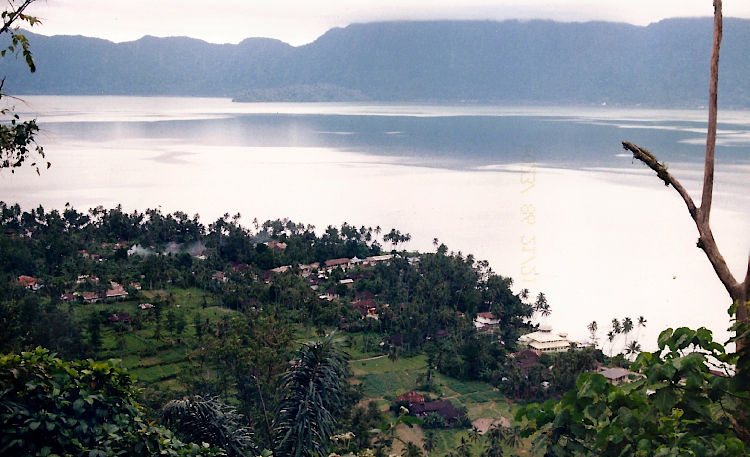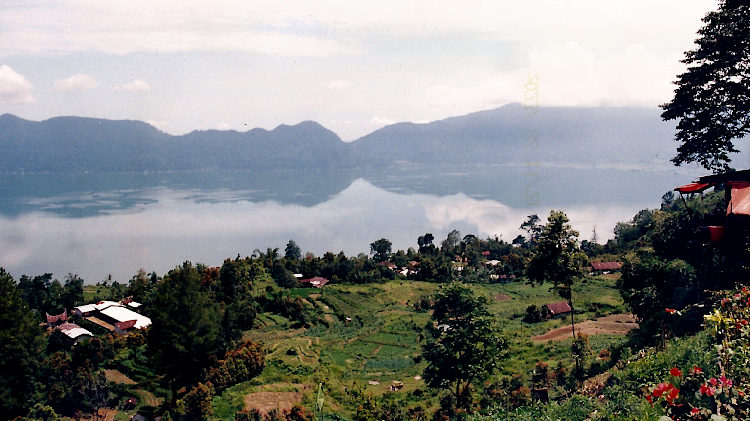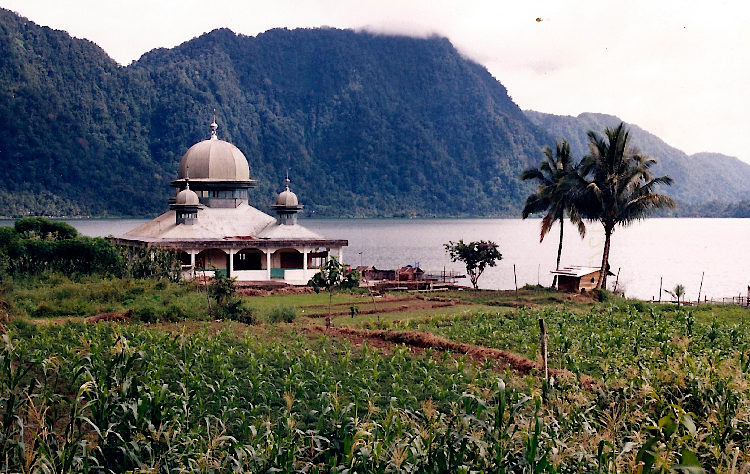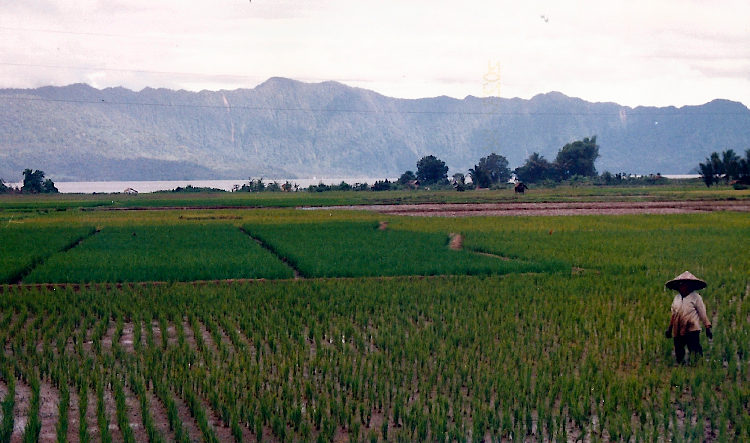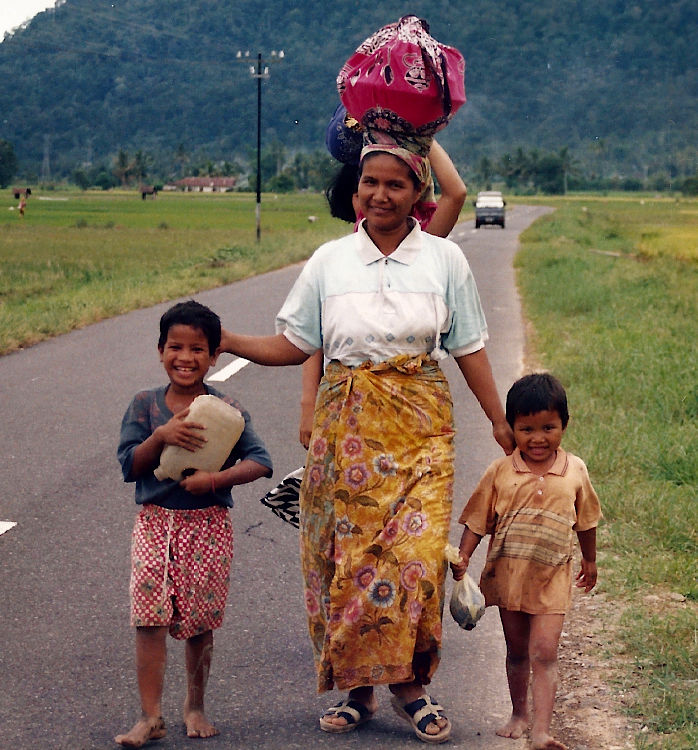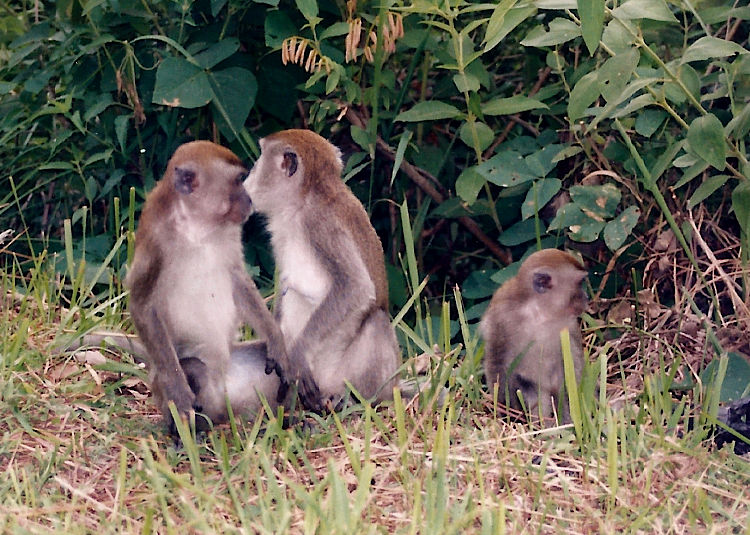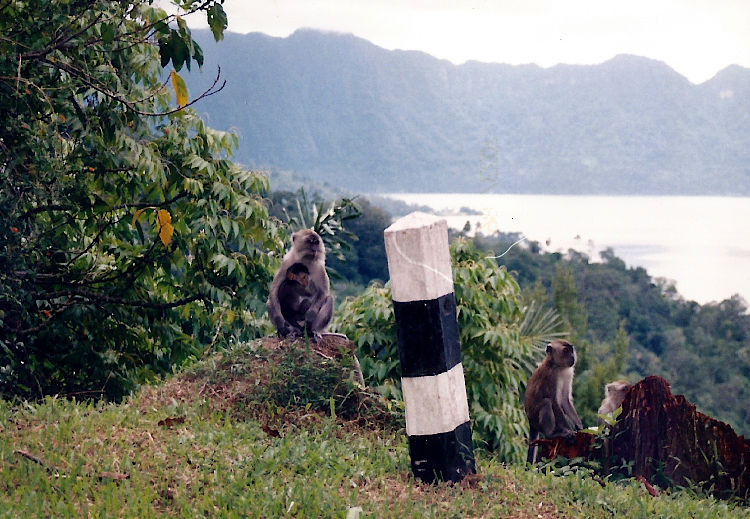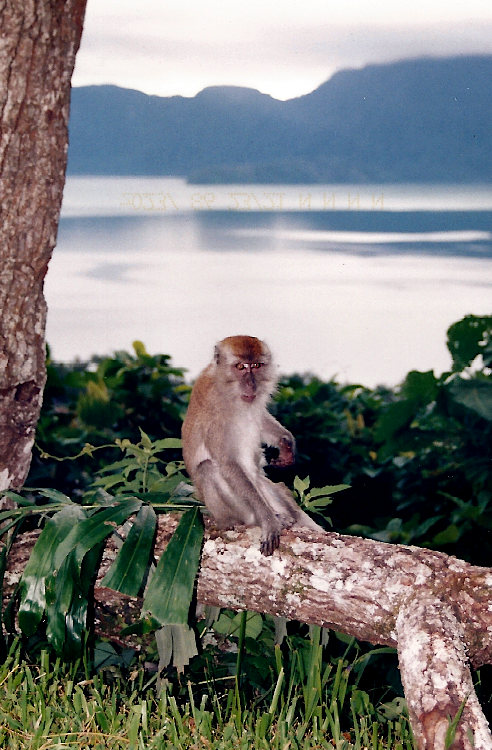 I headed back to Bukittinggi. I'll give the short version but for some reason I had to pick up my passport from a hotel as I had left Bandung without my passport or rather the all important exit visa. I picked the passport up but realised I had literally a day to leave the country. I got a bus to Pekanbaru arriving at 10pm, stayed at Poppies Guest House and arranged to leave the country in the morning. A bus was to pick me up from the guest house and then a boat to Batam Island from where I could get a speed boat to Singapore. Easy.
I was actually picked up on time, a good start. We headed down a long rough track flanked by an oil pipeline to arrive at the "port" Tanjung Butan – basically a a few ramshackle warungs. Behind the warungs were three wooden piers heading out into the mangroves and a muddy river. A boat came and went – not mine – far too flashy. Ours left at 2pm. Back in the day it may have been flashy but now it was hardly seaworthy. We left at 2pm and by 6pm we were still going and it was getting dark. I was rather worried as I had bheard th elast ferry from Teupang (Batam) was 7pm and I had to be on it. What was worse was that I could soon see the far off lights of Singaport twinkling in the sdistance. 7pm came and wetn, my heart sank. We diembarked at 7.30 only to hear someone calling out "Singapore, Singapore". I jopined a handful of foreigners and we were ushered to the boat terminal. As the boat was about to leave the customs men stamped our passports with a cursory look and we had left Indonesia and were on our way to the first world!
So, my tumultuous two years in Indonesia were over ( or so I thought). I was off to a new life in Sri Lanka.