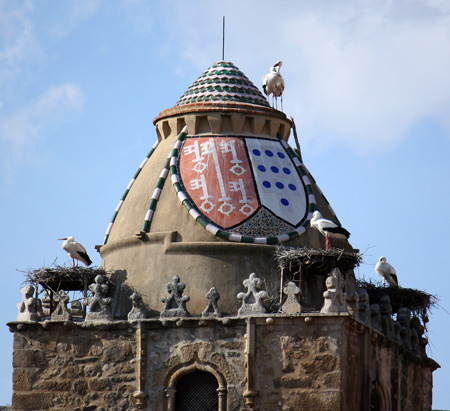 A short hop across the border
A short hop across the border
Portugal is rather a thin country so it's a similar distance from our house to the sea, or to Spain. Mostly we go to the sea but occasionally we have hopped over to the other side for a few days change of scenery in Spain. This was such a visit.
Although the border is long, there are only three or four crossings and the population on the Spanish side at least very sparse with only a few towns of interest. Two of those are Caceres and Trujillo, so we decided to head for them. On the way we stopped briefly at Castelo de Vide for a coffee and a pastel de nata. It's very similar to other postcard pretty Portuguese fortified towns near the border with cobbled streets and old churches but well worthy of a future exploration.
Soon after Castelo de Vide we crossed the border into Spain – no border controls of course but there are still the ghostly remnants of a border post and army barracks. From here the plains stretch on endlessly but it wasn't too long before we skirted Caceres and then onto our destination for the night – Trujillo.
Old Trujillo is a beautiful small town centred on the rather large Plaza Mayor. After quite a tiring drive we were very happy to have a beer in one of the bars adjoining the square (Hostel Nuria) and to discover they had rooms overlooking it.
The place is famous as the birthplace of Franscisco Pizarro, who went on to wreak havoc as a conquistador in South America. It's also quite famous for the storks which seem to have built nests on all the tall buildings in town. Wandering around in the late afternoon sun was wonderful as the quiet streets haven't changed much since Pizarro's time and despite the fame of the town there were only a few Spanish tourists.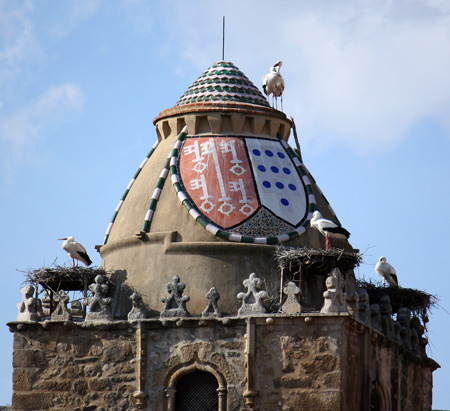 The following day, we headed back on the road to Portugal, stopping off at the world heritage site of Caceres. It's one of the biggest towns in Extremadura, with a large university and plenty of new apartment blocks going up to house the burgeoning population. However, at the core is the beautiful old town, according to the lonely planet "one of the most impressive concentrations of medieval stonemasonry in Europe". Unfortunately for us however, while we were there they were digging up the heart of the city, the 150m long Plaza Mayor. In addition, the weather had changed very much for the worse and the quaint old medieval alleys had turned into bitingly cold wind tunnels. Perhaps another place to mark as worthy of a return.
So we didn't hang around in Caceres but carried on and eventually stayed in the border town of Valencia de Alcantara. It was actually a very good move for despite not being in any guidebook, there was plenty to explore – more narrow, windy (that's pronounced with an 'eye') streets and interesting vernacular architecture. Jackie was also well pleased that the main road was lined with Seville Orange trees and we managed to purloin a few to make into marmelade once we got home. It was also a good move to stay here because although we love Portugal very much, the Portuguese don't do quaint bars quite like the Spanish and so it was good to find a little bodega to savour our last few hours over a bottle of vin(h)o tinto before escaping back over the border.
We were also lucky enough to happen upon a sardine festival and here are the little blighters barbequeing away. As you can imagine there was quite a smell!
More photos of our trip here