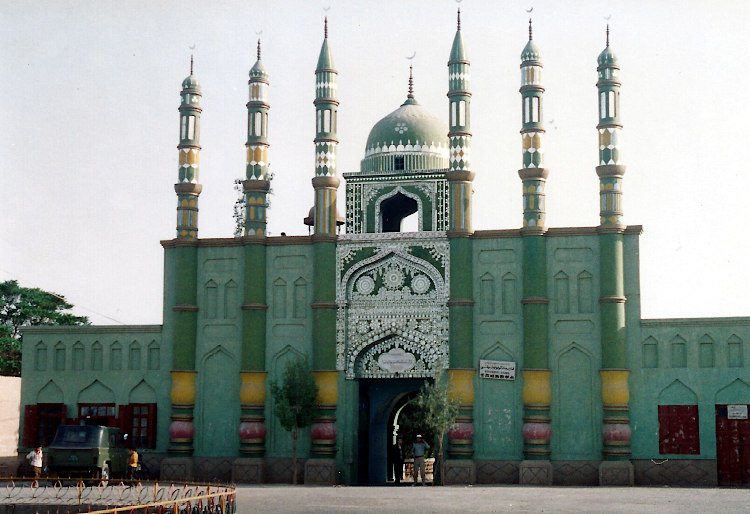 Land of the Uighurs
Land of the Uighurs
After my mini lie-in I got the 10am bus for the relatively short 4 hour hop to Urumqi (20Y). The bus dropped us off in the middle of nowhere but I was able to get a 3-wheeler to the Hongsham Hotel where I got a room for 45Y with the world's smallest bath. I needed to get some laundry done and the hotel staff weren't interested but fortunately there was a laundry across the road. I went for a wander around the market and then back to the hotel.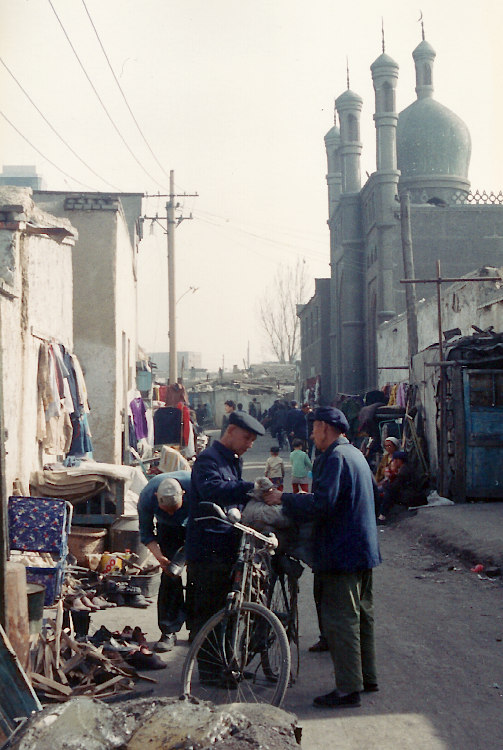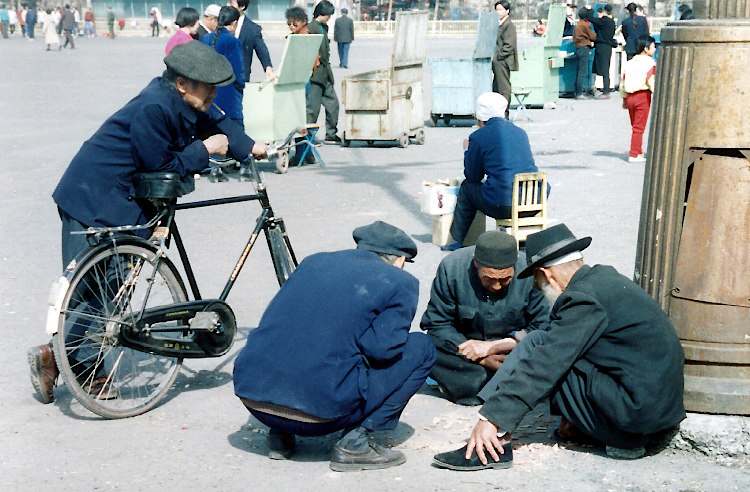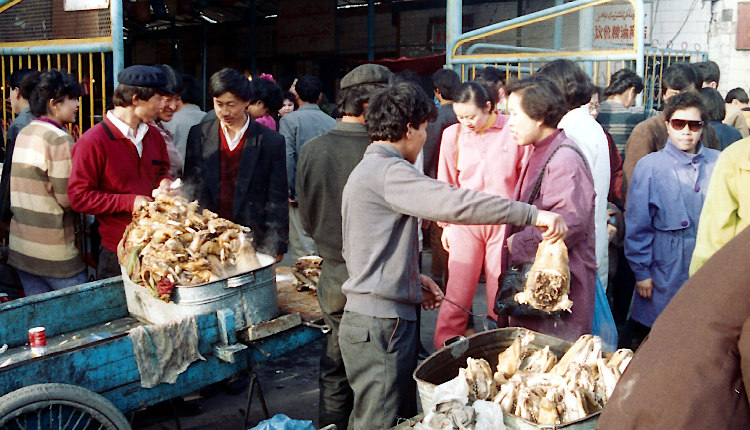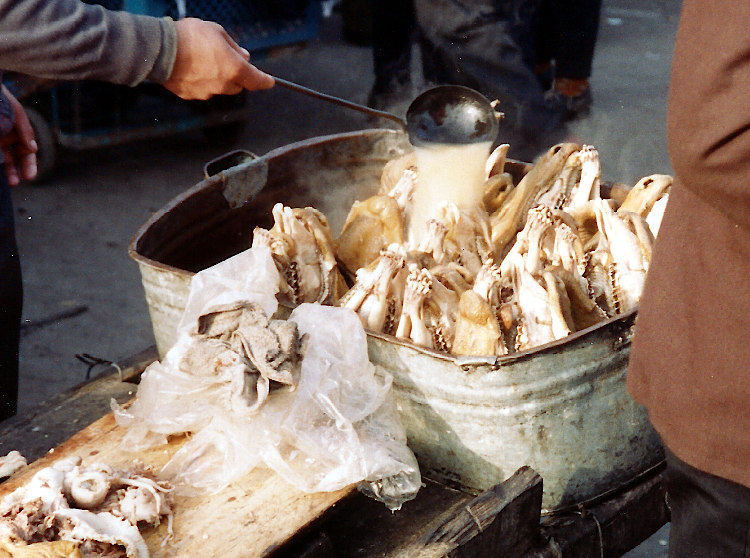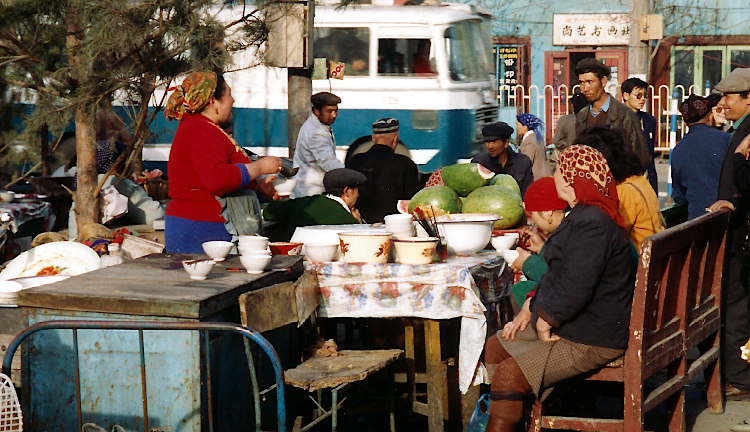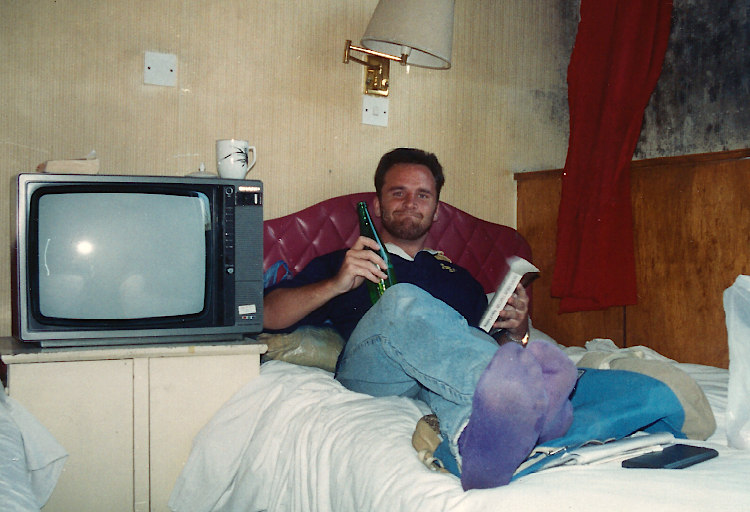 I've now got some sores around my nose (linked to the constant runny nose in Tibet I think). I must also be a bit run down and I've had no fresh fruit or veggies for quite some time.
The following day I tootled around the frankly crappy museum. Let me just say in those days – 1993, Urunchi was still a fairly sleepy city but since then it has undergone wholesale changes and is now a modern sprawling metropolis and the museum has been totally renovated. Anyway, back to my story, after the museum I headed to the park where I bought a kilo of oranges. Liver kebabs (plenty of vitamin B12!) and cold spag for lunch. It was a beautiful day (about 25 degrees) so I relaxed in the park by the boating lake and checked how my cash was going. I was spending about 135Y per day (about 10GBP) and that was food, hotels and transport. I hadn't bought any presents as there wasn't much to buy and I wasn't going to splash out 2000Y on a silk carpet.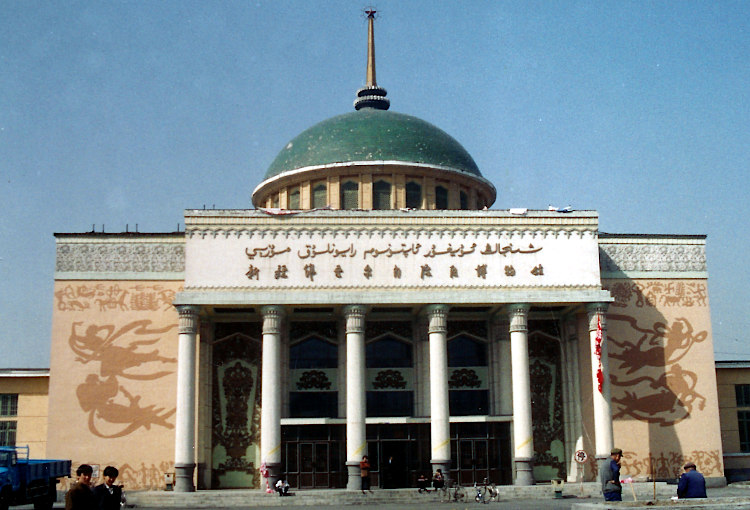 I also went to Hong shan park – or Red Hill in Chinese and the symbol of Urumqi. There was a small pagoda at the top and quite a nice view. also a good place to people watch.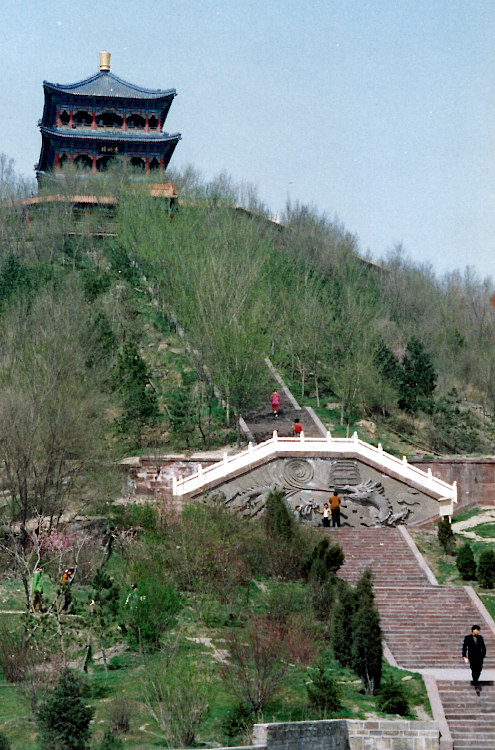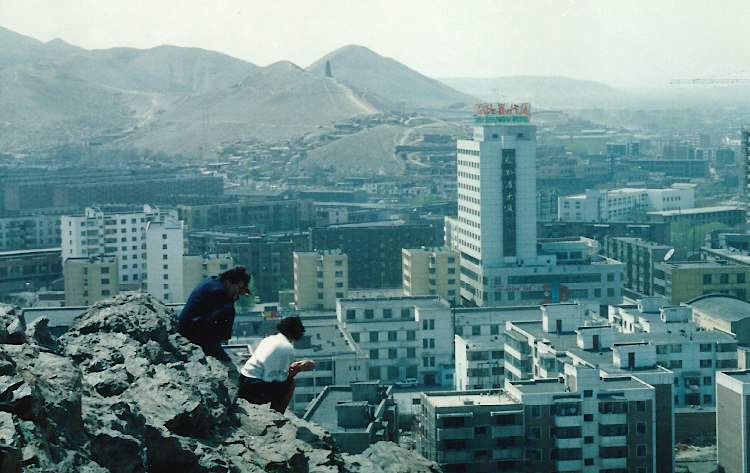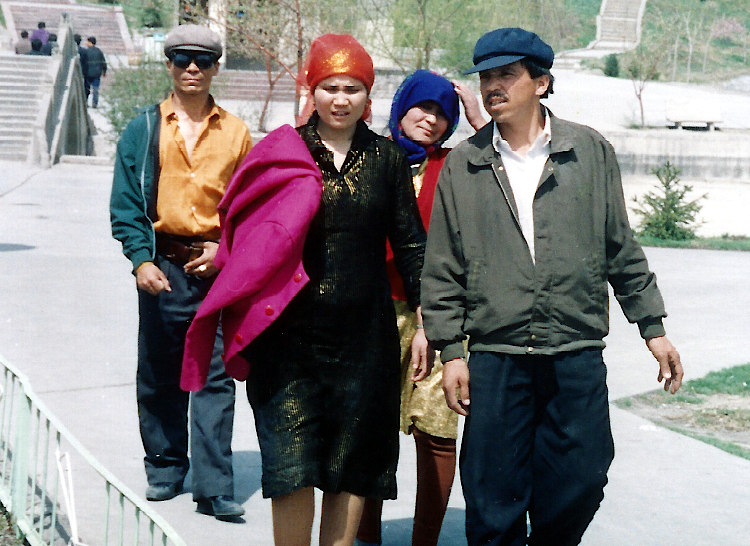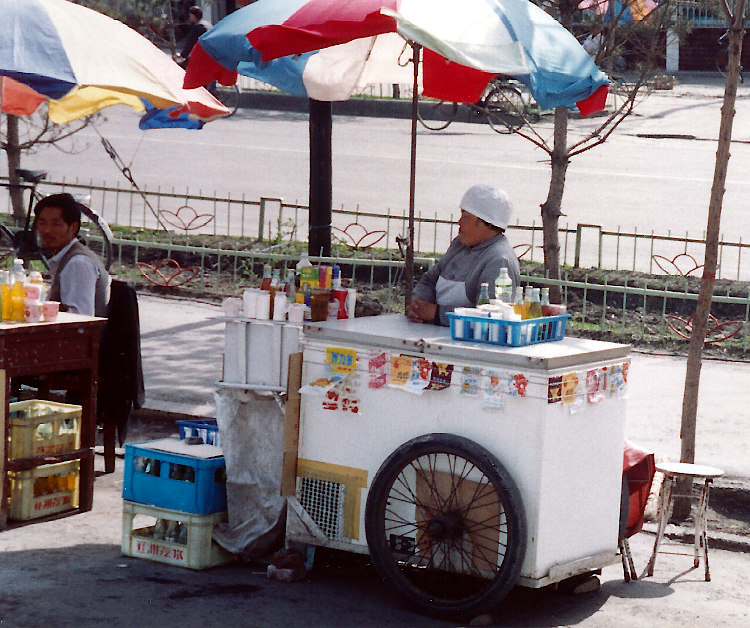 I had planned on going to Heaven Lake, a local beauty spot about 80kms outside Urumqi. The man at the laundry assured me there were many buses, going from the gates of the park. However, there didn't seem to be much happening, just a crowd of old people doing Tai-Chi.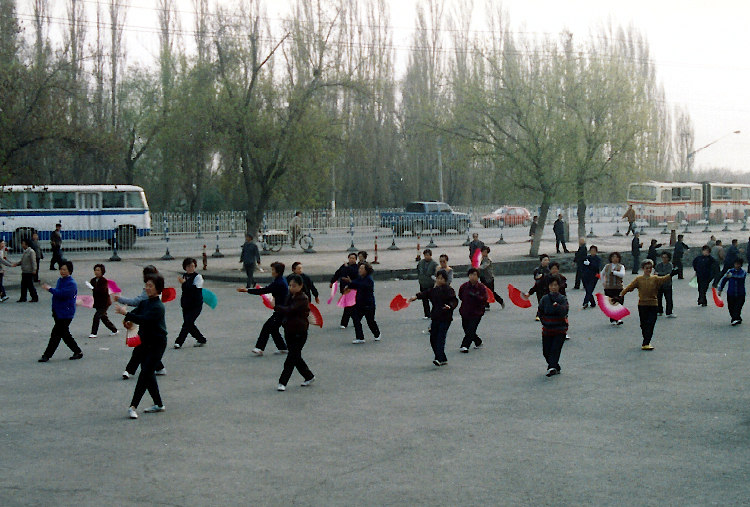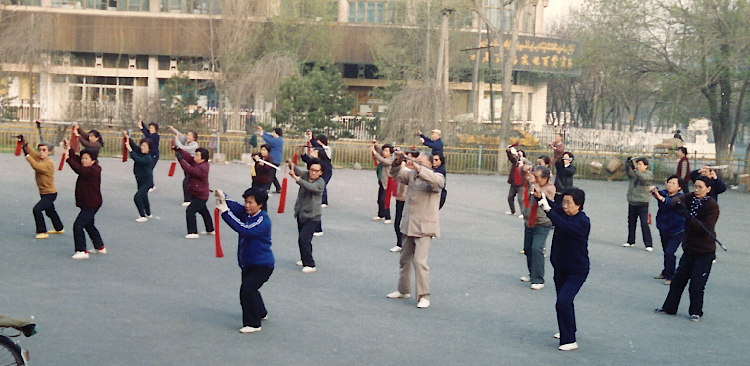 I then found out there weren't any buses till 25th April! I had some consolation Baoze dumplings at the bus station and found out they had overnight buses to Yining (Ghulja in Uighur) on the border with Kazakhstan (100Y), so I thought bugger it I might as well go. Before leaving I had a big plate of noodles, spring onions and mutton before getting on the bus at 5pm. I'd never seen anything like it. The sleeper bus had 3 rows of "beds" or rather semi reclining seats and an upper and lower berth.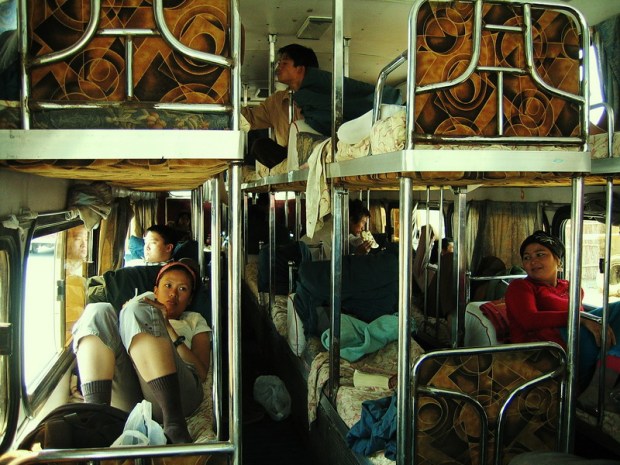 The photo above is actually a much posher version of my bus which had about half the room.
I actually managed to get some sleep during the night then in the morning we had some great views. We passed Sayram lake which was completely frozen. Descending from the lake was just like the alps, snowy peaks and forests of pine. As we got down into the valley it was pleasantly pastoral.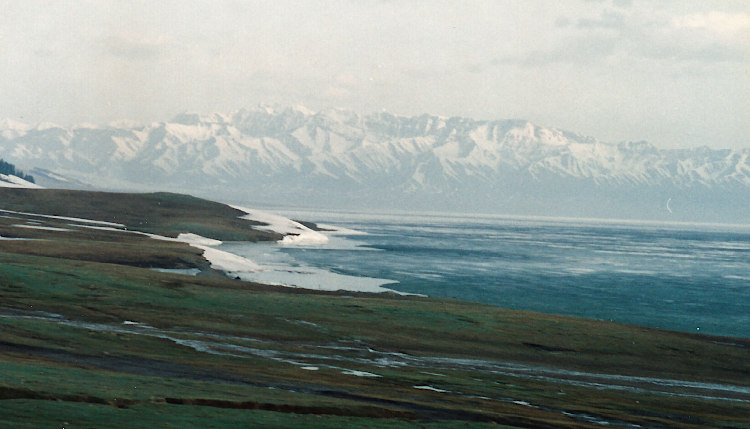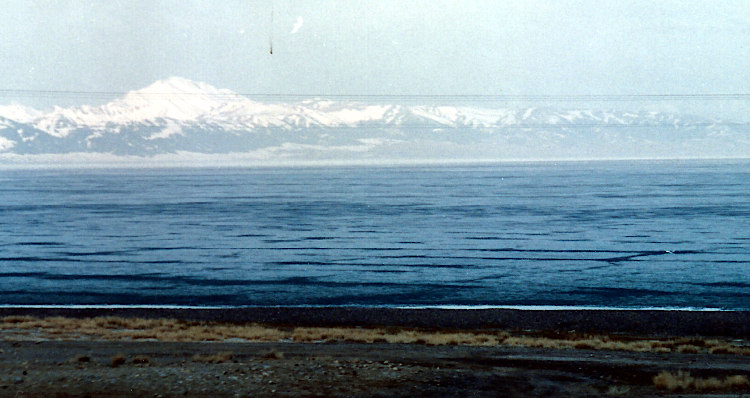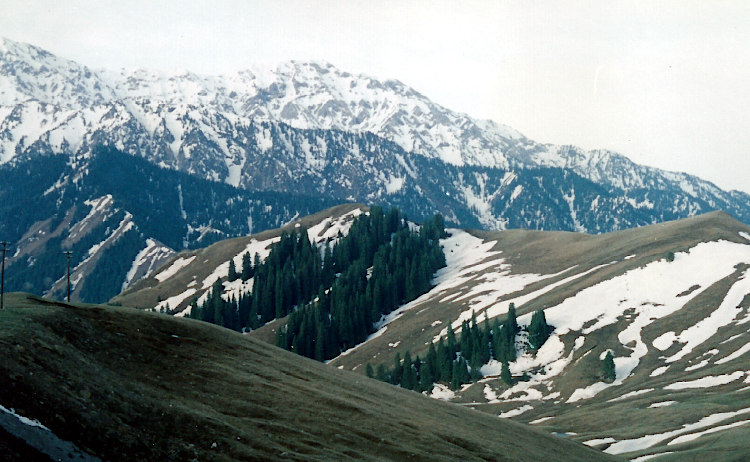 We arrived 3 hours late and then spent 30 mins tootling around town dropping people off. I walked into the Ily Hotel, basically the only place to stay in town and they only had one room available for 200Y. It seemed the place was booked out by Russians/Kazakhs most of the time. The guy in the hotel was unusually friendly though and rang around a few other hotels for me and found a place in the Post Office Hotel for 60Y. It was actually nowhere near the post office but surprisingly pleasant, a spacious room, clean, light, airy with showers from 8 – 12. The only problem is that the hotel was miles out of town which was itself very spread out.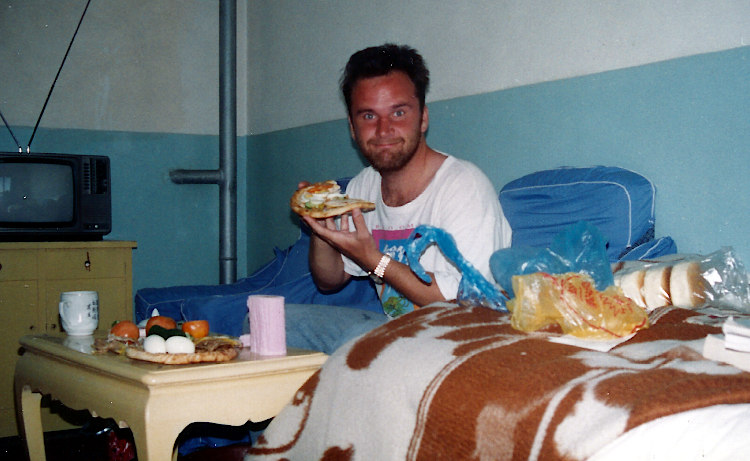 I went for a wander into the centre of town. It is thriving, there were loads of people around, lots of lads wanting to play with my camera and bother me. The streets are very dusty and everything is driven by pony carts. Plenty of Russian signs on everything. Tried the local brew – Piwa. It's in old beer bottles with a rubber stopper and apparently made from honey and wheat. It was certainly cheap at 0.6Y a bottle and quite tasty.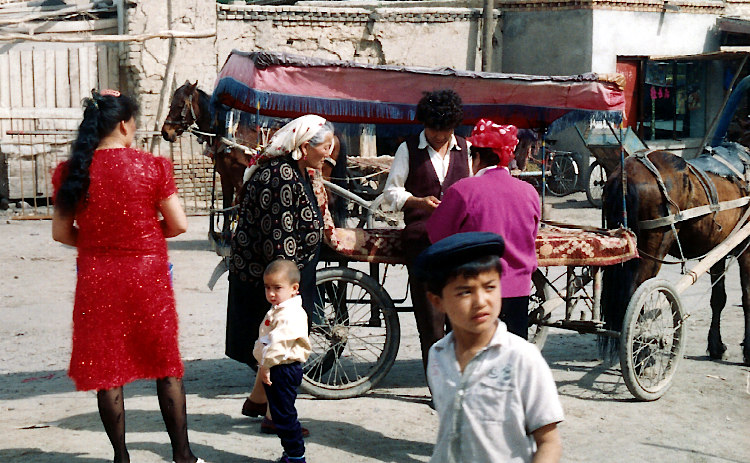 I had a bit of trouble getting a bus to Kashgar. I needed to go to two bus stations and then the next bus wasn't until 3 days later. My mood wasn't improved by the fact it was raining for the first time on the whole trip. It was cold and miserable. At this stage I stayed in the hotel and wrote a section in my diary about the food, which on the whole was very good. I was getting a bit sick of rice, spring onions and a single piece of meat which was the daily meal I got in Tibet, but in Xinjiang that changed to kebabs, shaslick and laghman noodles. Throughout the trip this has been supplemented by the excellent baoze – boiled or fried mutton dumplings which I've had nearly every day. The fruit has been a bit dodgy so I was reliant on oranges. The bananas were in a sorry state and the apples bruised and battered. I've also had dried apricots. Meanwhile I turned on the TV to see Billy Smart's Circus on the Russian/Kazakh channel.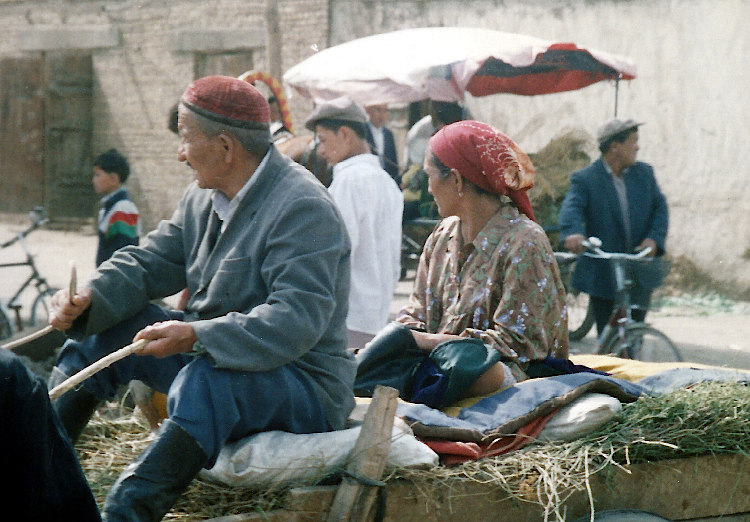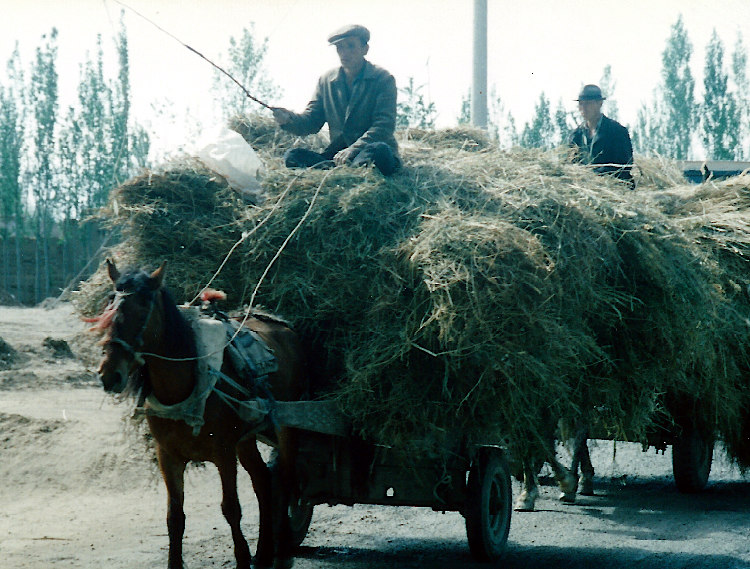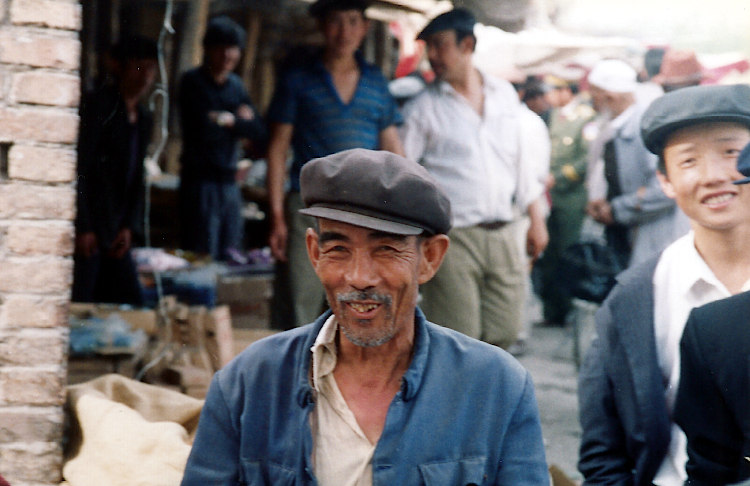 The following day the weather improved and so walked to the river in my shorts. It was a bit cold but sunny and I think I got a bit sunburned. The next day I decided to get on a local bus. I ended up going to place called Qingshuihezhen which took two hours. A pretty journey, lots of snow capped peaks but it would seem not deserving of a single photo. Back at the hotel I had a hot shower but no hot water for tea. I'm getting a bit sick of the word "meo" – not possible, no can do, can't be bothered to help you. I also can't work out why people call out "Barat" to me – it must be something in Russian. The locals look a bit funny as well, especially the women – fat, middle aged ones in their shell suits and dyed hair. Anyway, finally, tomorrow off to Kashgar!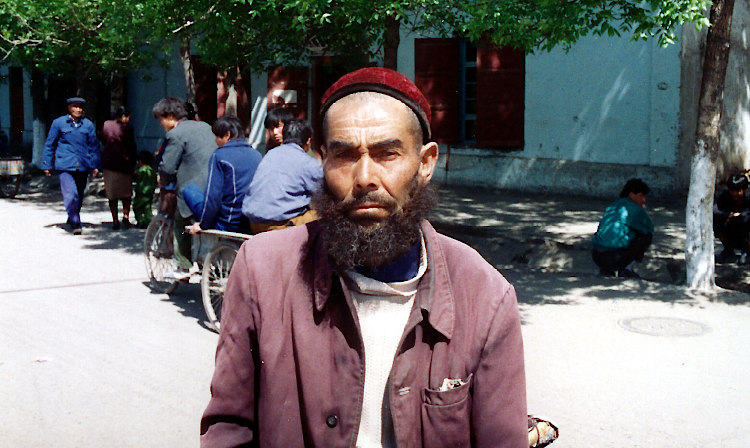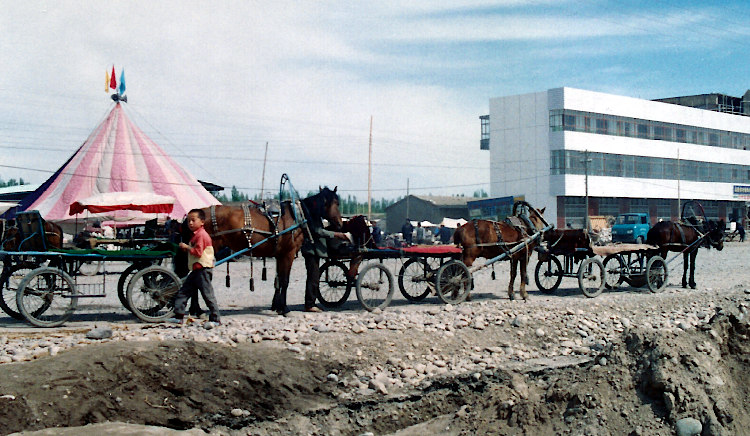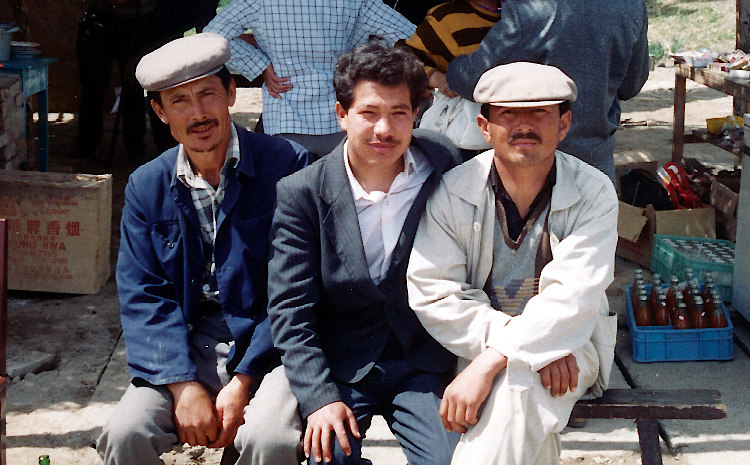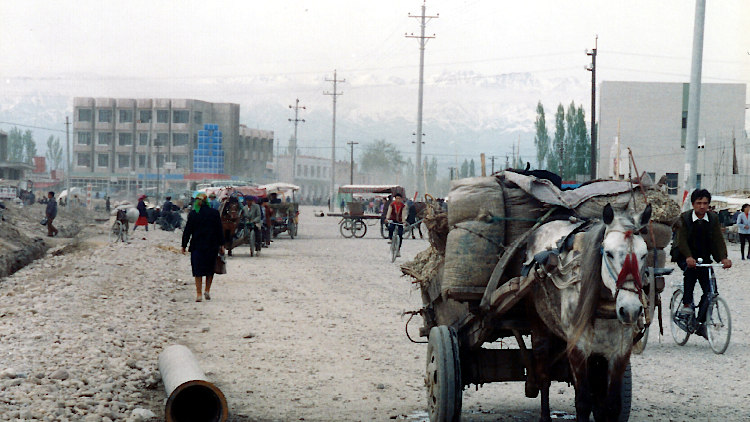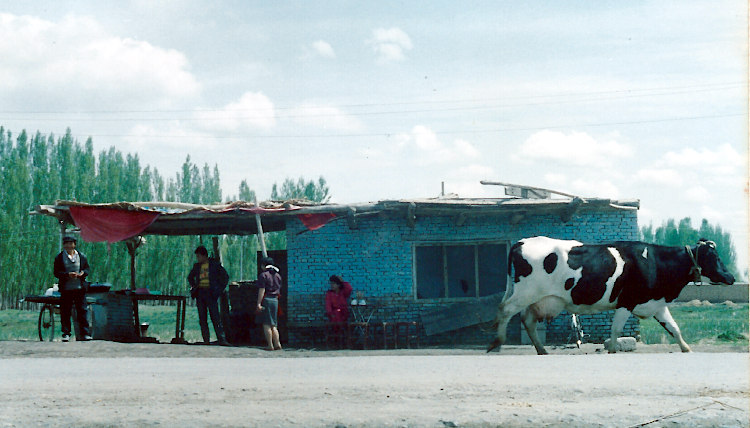 Got to the bus station 30 mins ahead of departure at 7am and the bus was already 90% full. My bag was put on the roof. I only realised later it would stay there for the whole three day trip. I got seated on the end of a row of three. The other two old blokes took up most of the three seats because they had very thick coats and I just managed to squeeze a buttock on the end. Suffice it to say the first day I was in arse pain almost the entire journey. Fortunately there were a few obviously incontinent children on board as well so we stopped at regular intervals for "comfort breaks" which gave me the chance to stretch my legs.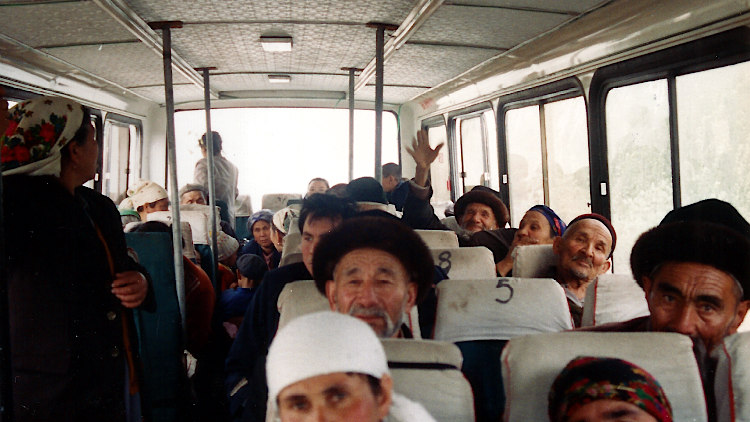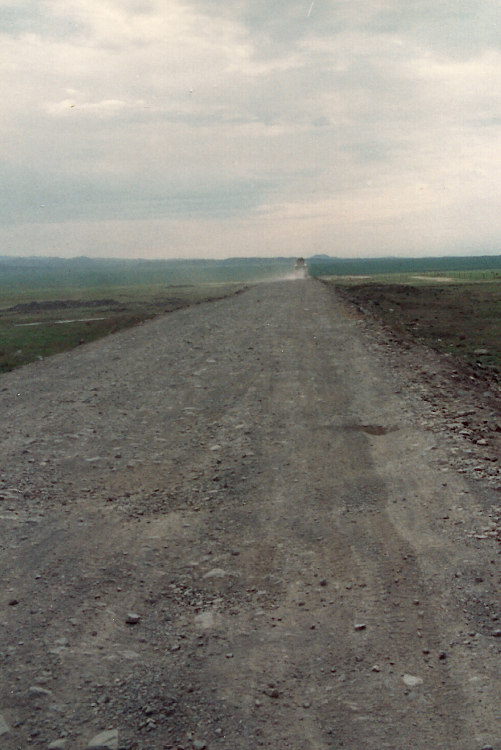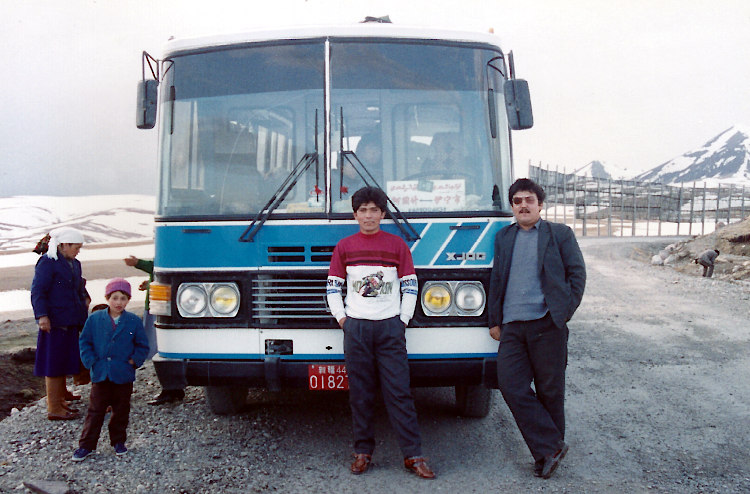 After a lunch stop it was uphill all the way into snow country and the Tien Shan mountains. Around 6-7 pm it became apparent we were lost. The driver stopped a couple of lorries going the other way asking for directions, which was a bit odd as there was only one road. It must have been something else. It was getting very cold and I had no other clothes to wear. They were in my bag which steadfastly remained on the roof for the next two days. One of my companions gave me a sheep skin. It smelt like the sheep had been wearing it just a few hours ago, but it was very warm.
In the hour or so before dark we traversed a mountain pass and passed a few yurts, a grassy plain with herds of wild horses, sheep and an upturned bus which filled me with dread. We soldiered on for two hours in the dark. By this time the drizzle had turned to sleet and we stopped for the night. I can only remember a non descript building where I shared a room with the driver and his mate. It obviously wasn't a hotel as I wasn't asked for money or had to fill in any forms.
Like the rest of the journey, the driver and the others on the bus were very friendly often chatting to me even though they must have known I had no idea what they were saying. I was the only westerner on the bus and there was actually only one person who was recognisably Chinese. He was a fairly young man, I presume on holiday as he had a camera. The others were all Uighurs, European in looks with very tanned weatherbeaten faces. A few of the old men were obviously practising muslims as seemingly every time the bus stopped they would jump out and start praying towards Mecca. Maybe they knew something I didn't.
More importantly for me, no one smoked which was very rare in China. Anyway, the driver managed to rustle up some food for us, a meat filled nan and a cup of tea before I retired for the night, wrapped in a blanket and still fully clothed as it was literally freezing.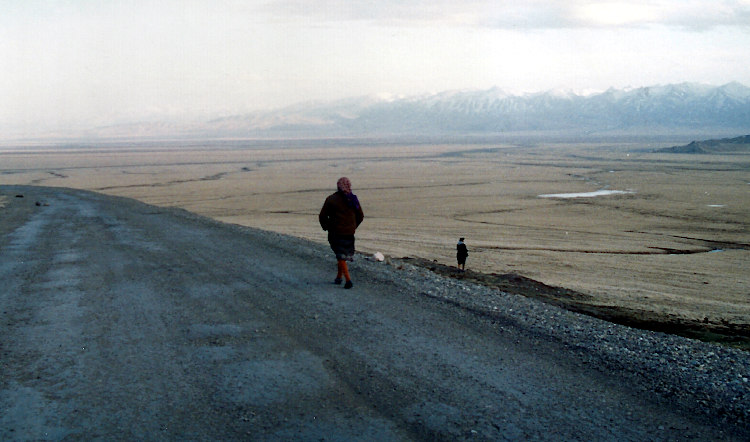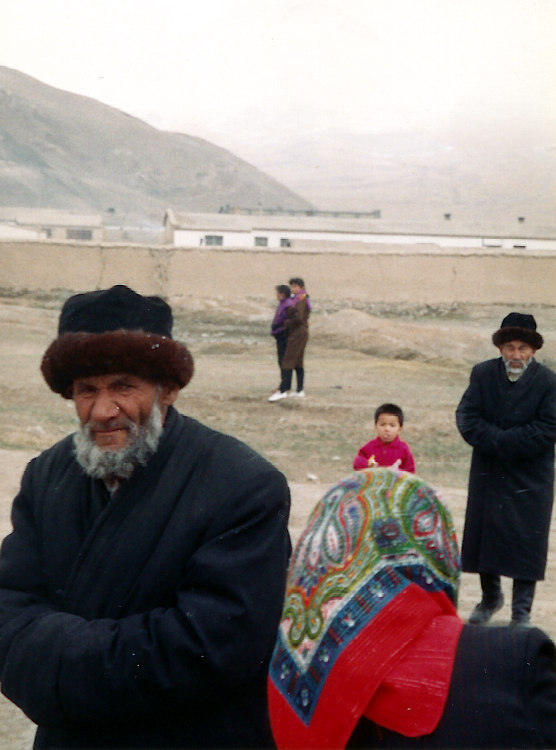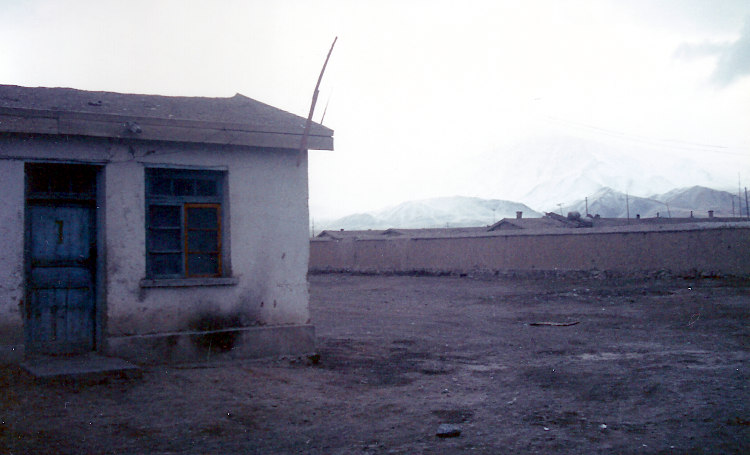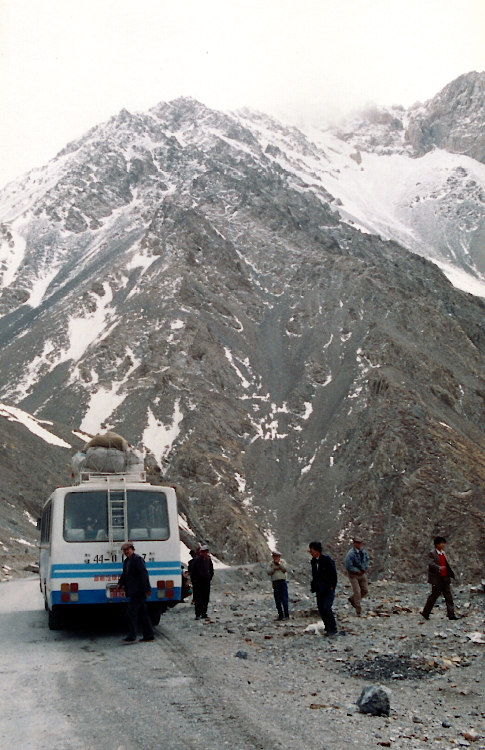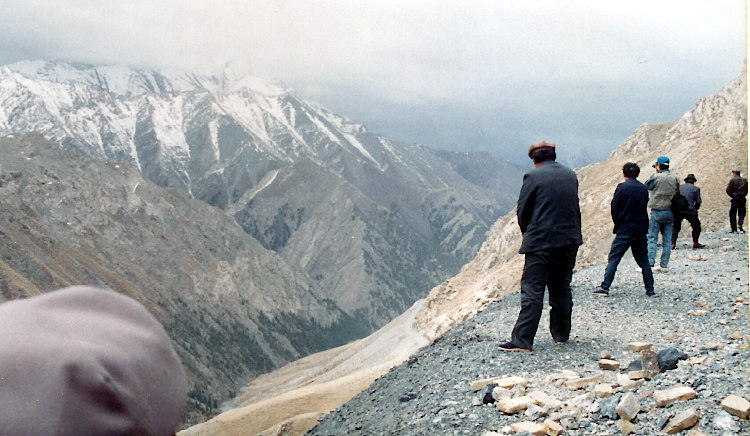 The following morning I was shaken awake at 5.30 am. There wasn't even any water for me to brush my teeth before everyone was on board and we were off again. The journey seemed to be slightly better on my arse the second day, I'm not sure why. Perhaps becasue the road had become fairly smooth now and as we descended down from the mountains it got appreciably warmer. Sometime in the afternoon we joined another road at the same time as the Taklamakan desert. I think it was somewhere near Kuqa but I can't be sure. Then it was five hours relatively plain sailing along the desert road. And then like a mirage out of the desert a fairly large oasis appeared and we stopped here for the night. Strolling out of the bus station all I could see were truckers' restaurants. Anyway, tonight we stayed in a proper (but rather shabby) hotel. I managed to get my own room for the princely sum of 15Y. No showers though, I was getting rather smelly in these clothes, and very basic communal squaty toilets.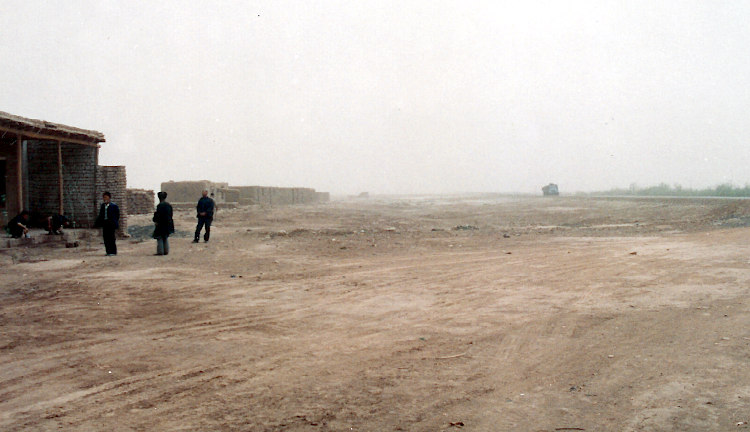 A bang on the door at 4am. Surely we aren't going now? I couldn't believe it – the bus was outside revving its engine and getting ready to go. At least I didn't have to pack. I just put my old clothes on and headed out along with everyone else. After about two hours we arrived at Aksu, a pretty large town, for breakfast.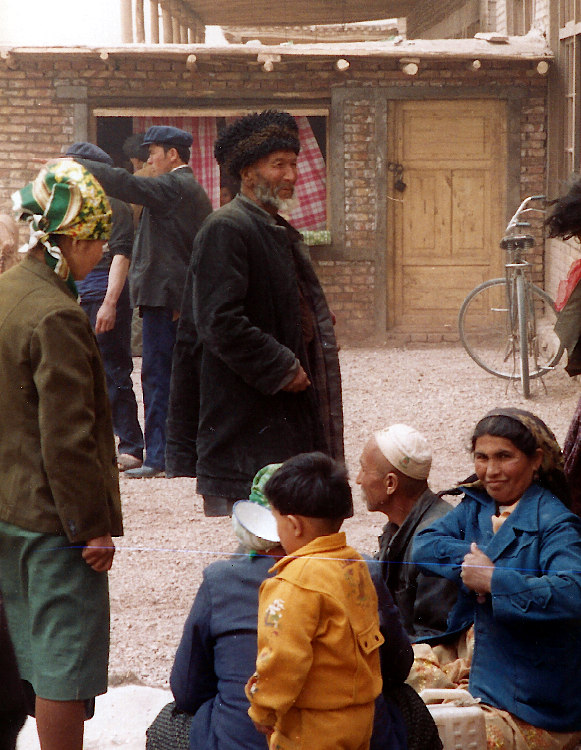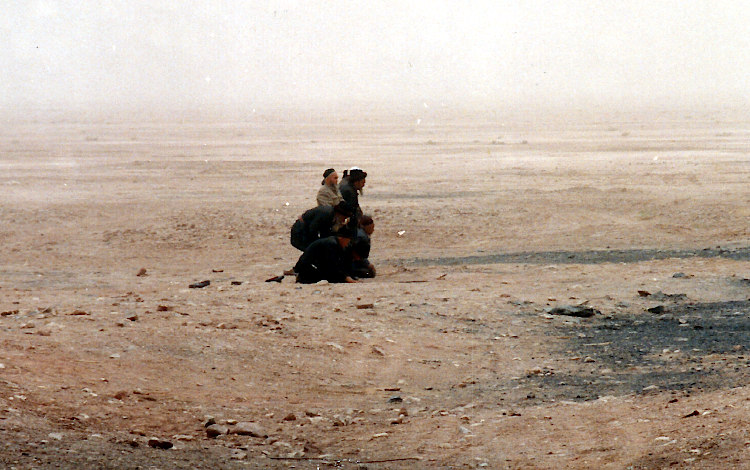 For the twenty years between taking the journey and writing about it now, I never really knew what road we took but now I think it must have been highway 217, also known as the Duku highway and famous as being an area of outstanding natural beauty. Perhaps I was in too much pain, too hot or too cold to notice!? According to Google maps it takes 11.5 hours from Yining to Aksu. It took us 2 long days plus. More than twice as long. I guess they have a new road now.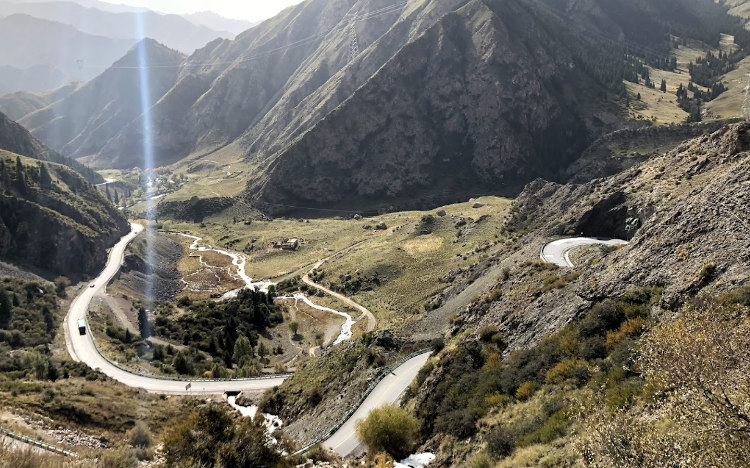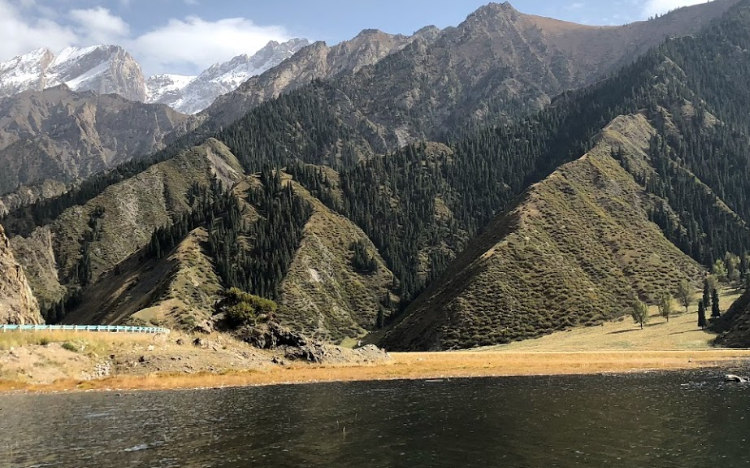 The rest of the journey was fairly boring, all desert and often minimal visibility because of dust storms. It was also getting pretty hot and foetid in the bus so I was very pleased to finally step off for the last time in a town I had dreamed of visiting for many years – Kashgar.