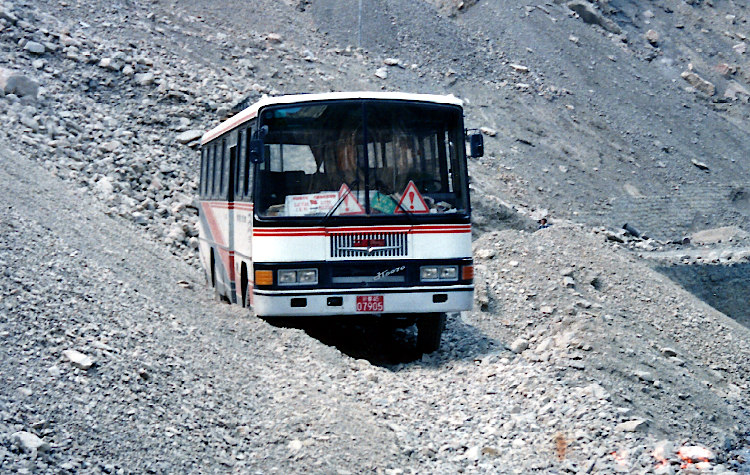 The Karakoram Highway
The Karakoram Highway
My time in China was almost at an end. On Monday morning I was off on the bus to Pakistan. Gathering in the foyer of the hotel was a bunch of foreigners also going. There were three British girls, the Chinese/American I had met before, an American from Beijing with his Chinese wife, one Japanese guy and one other American. We all handed our passports in and waited.
When the bus appeared there was a huge scrum of locals. The bus driver stood on the steps of the bus to keep them out and then called out names in turn and we each waded through the crowd onto the bus. We eventually left at 10.30. The coach was actually quite comfy, compared what I was used to and the scenery was amazing. We were off and running on the Karakoram Highway.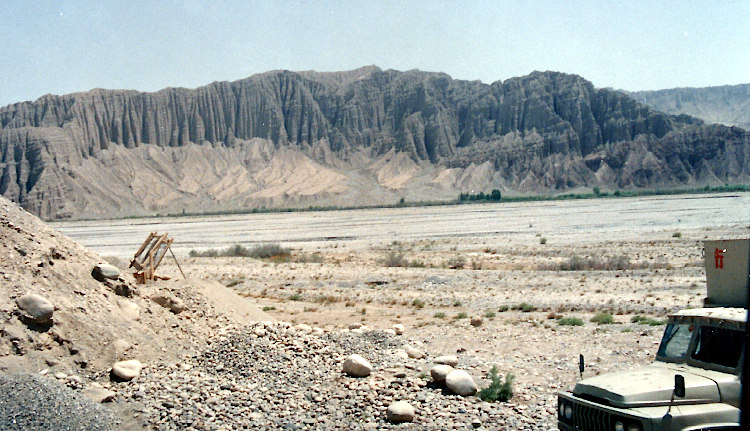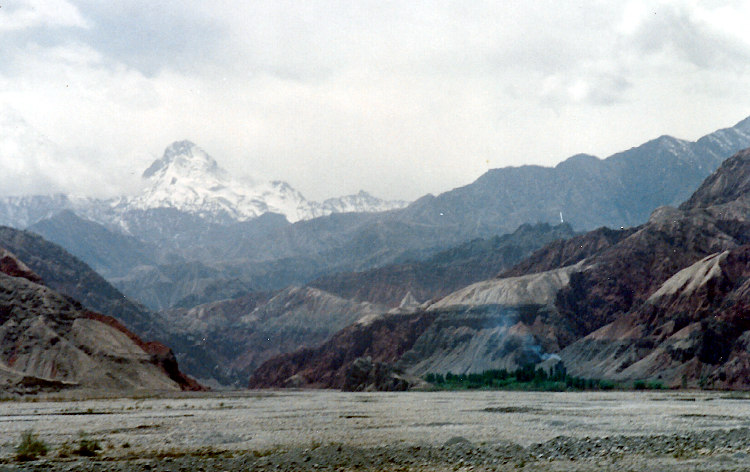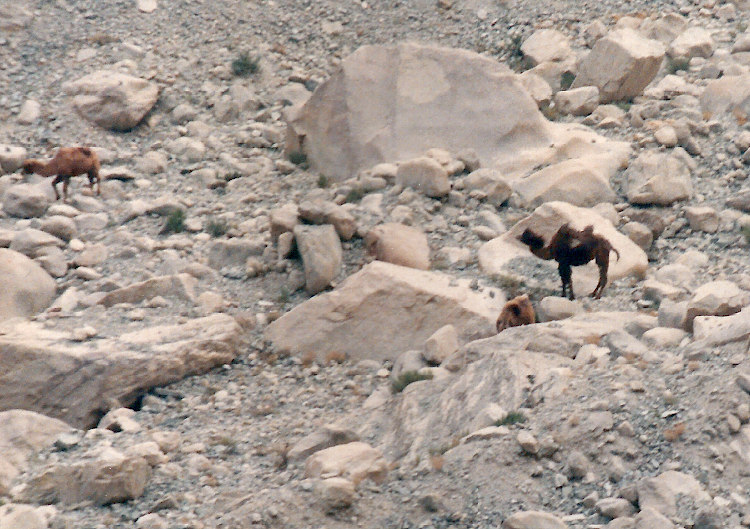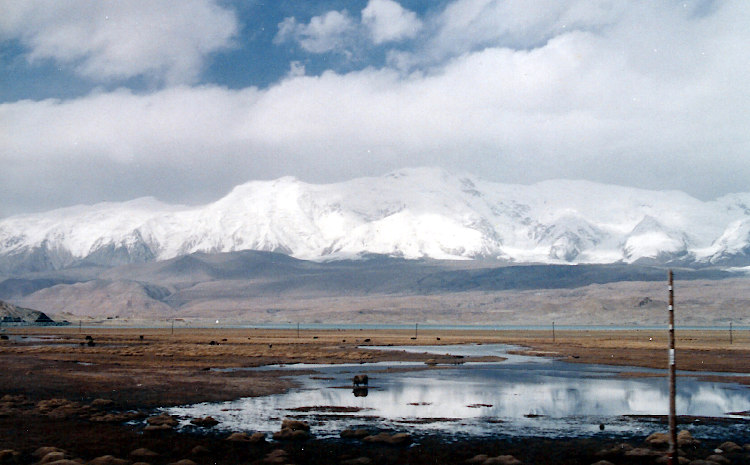 The red canyons of the Ghez river valley and then a steep section – very barren with occasional herds of goats and camels then at the top, broad valleys surrounded by snow capped peaks. The highest being Kongur Tagh and Muztagh Ata at 7720m and 7540m respectively. At this stage we were at 3500m. Very little traffic if any. We arrived at Tashgurgan (3700m) at 6 ish. I shared a room at the Pamir Hotel with Jim the Chinese American (20Y each) a room with attached bath but no water. The link describes the place quite well but I must admit I didn't note in my diary what it was like. I think I'd got used to the complete lack of service or hygene in any cheap hotel in China. Even my guidebook of the time describes the Pamir Hotel staff as follows, "Management is Chinese, staff is Uyghur and everybody is dedicated to doing as little work as possible." Again, perhaps things have changed in 27 years.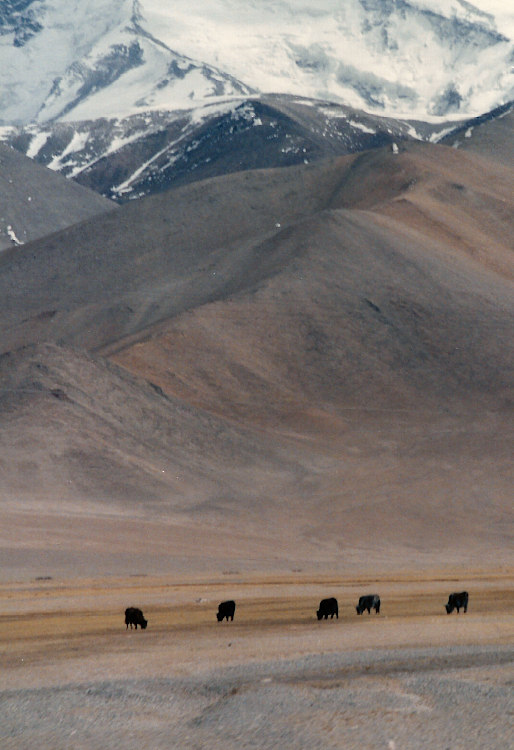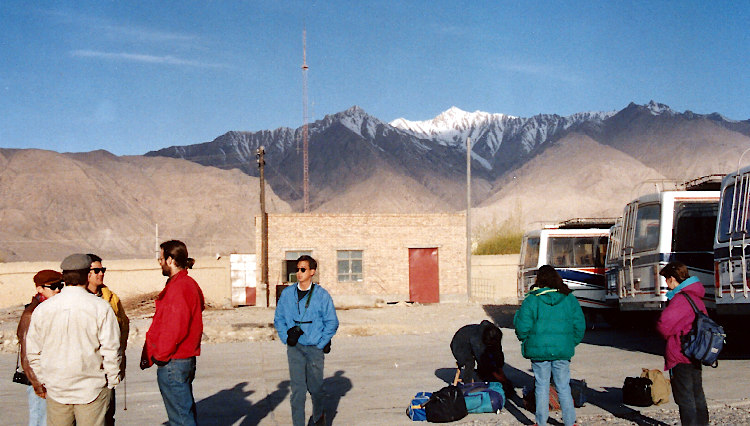 We went out for a walk to the old fort and explored the picturesque vally. Town was just one poplar lined road. Had a chinese banquet for supper – my first veggies in a while and then did a fair bit of drinking in the hotel bar. Bed at 1.30am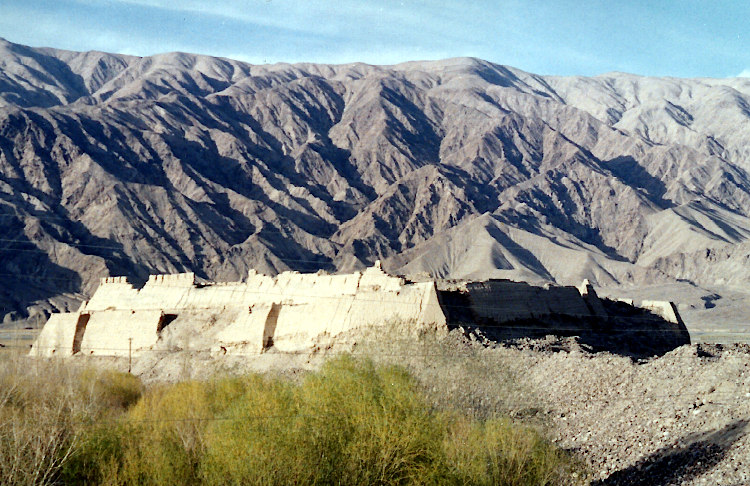 Tuesday 4th May 1993. We were supposed to leave at 7am but we found the bus drivers in a nearby restaurant so we joined them for noodle soup and my first (and last) cup of coffee in China. I am feeling the altitude a bit this morning. Having to breathe just that little bit harder. We left around 8am and went 20m down the road to the customs building where the usual red tape kept us immobile for a further two hours. We left exactly three hours later than planned.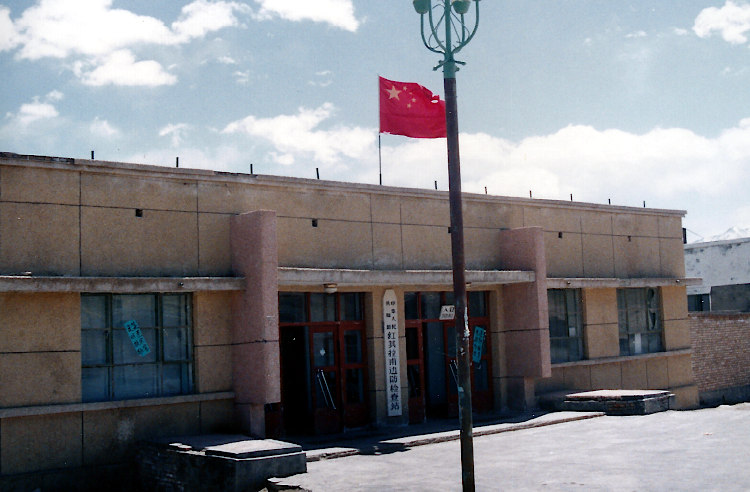 The road then climbed further until we got to the Kunjareb pass. At 4730m it is said to be the highest public highway in the world. The bus was certainly struggling with the lack of oxygen as was I. The pass itself was quite broad and flat. I saw plenty of marmots from the bus.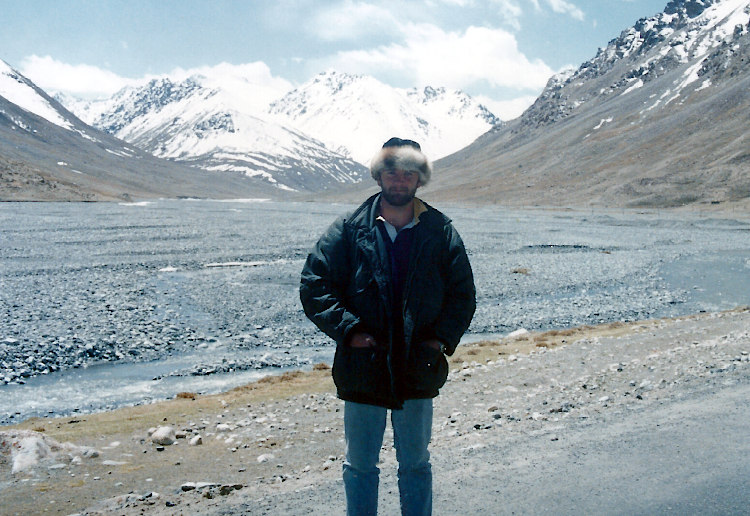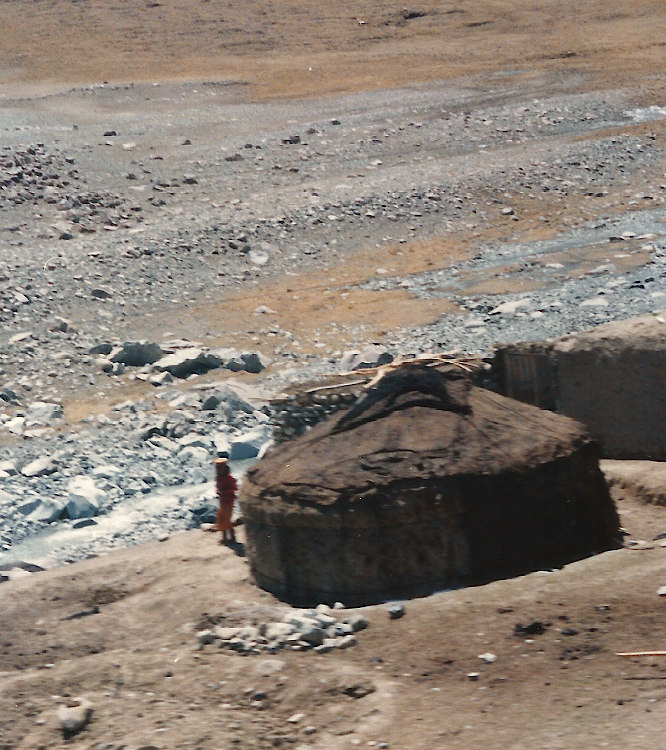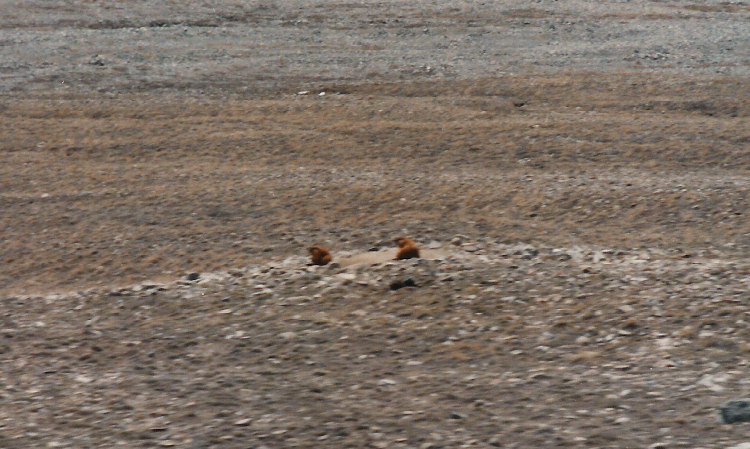 50km below the pass, we arrived at Dih, just a gate and a shabby building, the first security check in Pakistan. I couldn't believe it. A soldier/border guard got on and shook everyone's hand, all smiles and "Welcome to Pakistan". All Pakistanis by the road including the road workers waved – so different to see friendly faces!
From here the valley became very narrow and steep and the mountains looked that much larger and closer. We could see why Karakoram meant black crumbling rock in Uyghur – loads of scree by the road which was pretty dodgy. We also had a flat tyre which gave the muslims on board a chance to pray and the rest of us to take in the scenery.
Later we got stuck in a landslide and the rocks continued to fall down on the bus. There was no way through so with 10kms to go we decided to get out and walk. At the last minute a jeep turned up on the other side of the landslide and ten of us squeezed into it (for 300Rupees). We got to the first settlement, Sost, at 4.30pm. Again everyone was really friendly. They stamped our passports in what looked like a car park.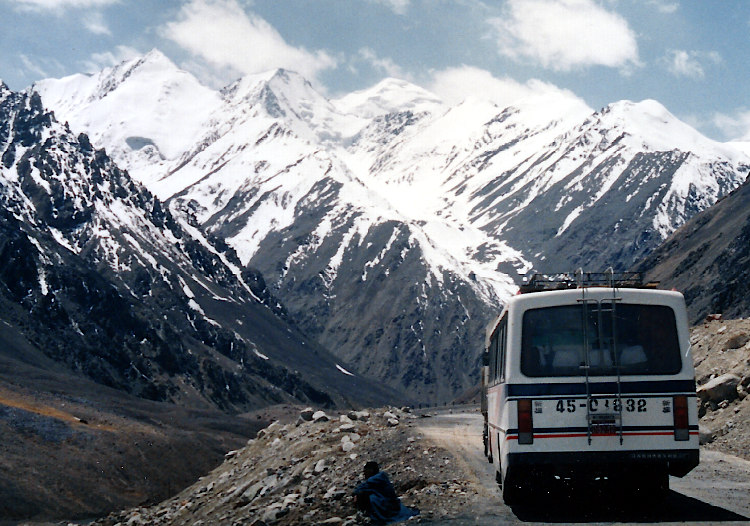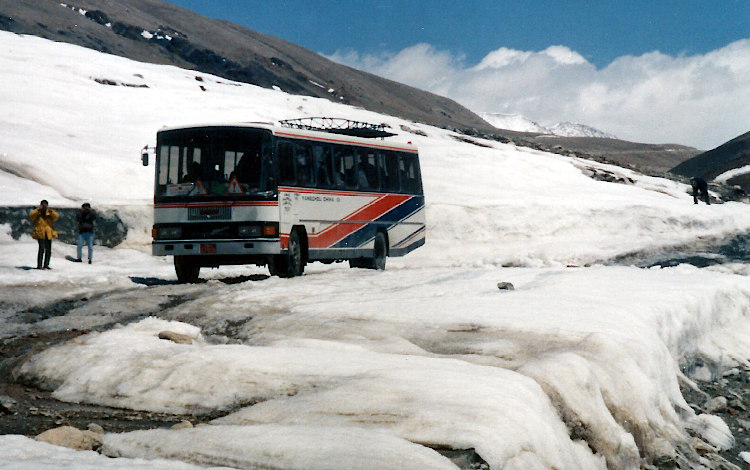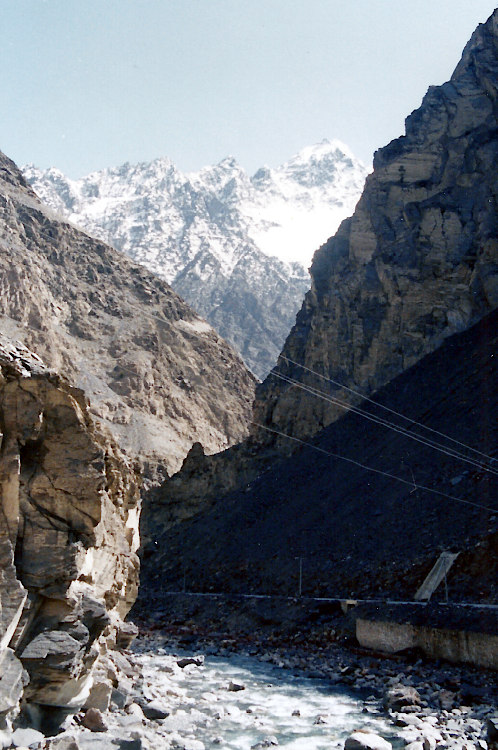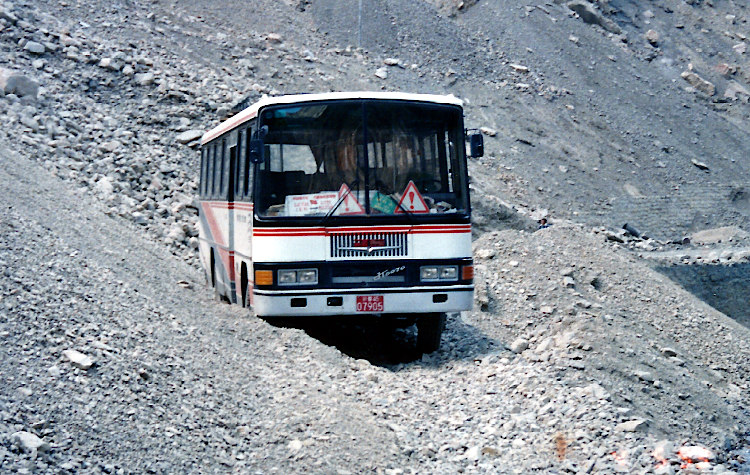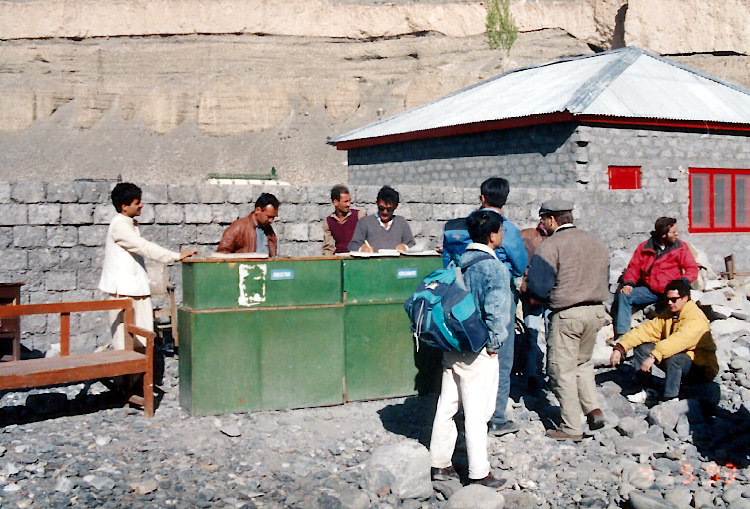 The rest of the guys hired a jeep to continue on but me and the three British girls decided to stay. Sost is only a small village dominated by a 5500m mountain to the south. We had a welcome meal of dhal and chicken with chapattis. It was so quiet and picturesque. The bloke from customs seems to have adopted us. Like all of the people here he is ethnically a Wakhi (Tadjik) and an Ismaili Muslim who follow the Aga Khan. Unlike the Muslims further south the women are often seen out and about with their heads uncovered. He also runs the only place to stay here (50 Rupees = $2) and he's taking us to the hot springs tomorrow.
The hot springs was basically a cluster of rocks round a tiny pool more like a spa. It was great though to have a hot bath. Just the right temperature and of course stupendous views. Back at base I changed some money then the customs man took us to a school in Jamalabad about 10kms down the road. There were three classrooms with kids aged from six to eleven. The teachers and principal were very friendly we took some photos. The kids were so sweet – a few had blue eyes and fair hair!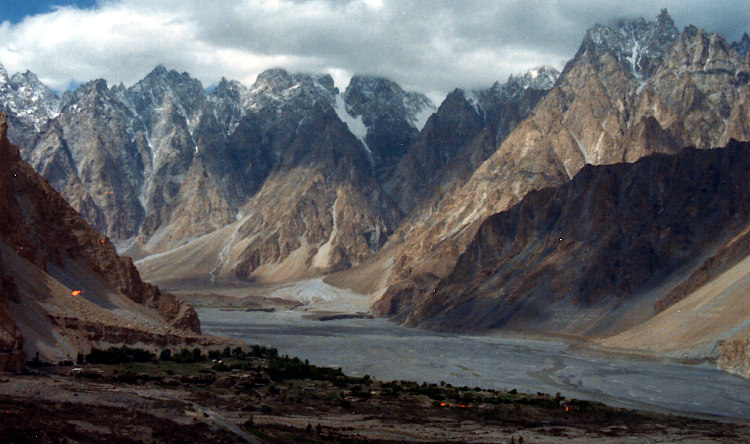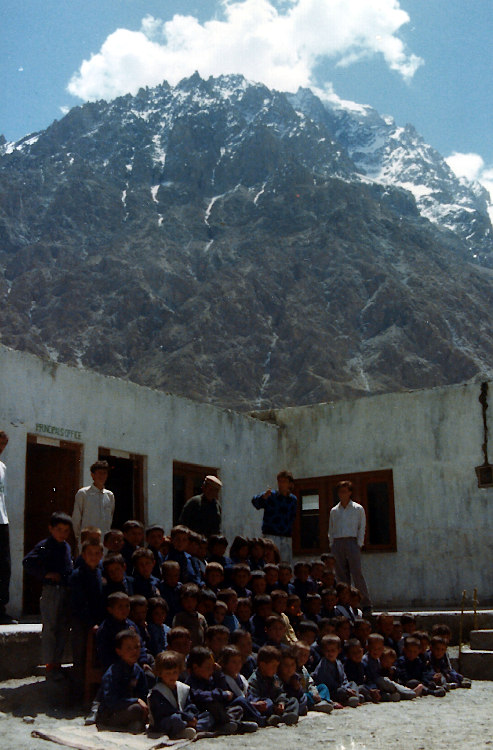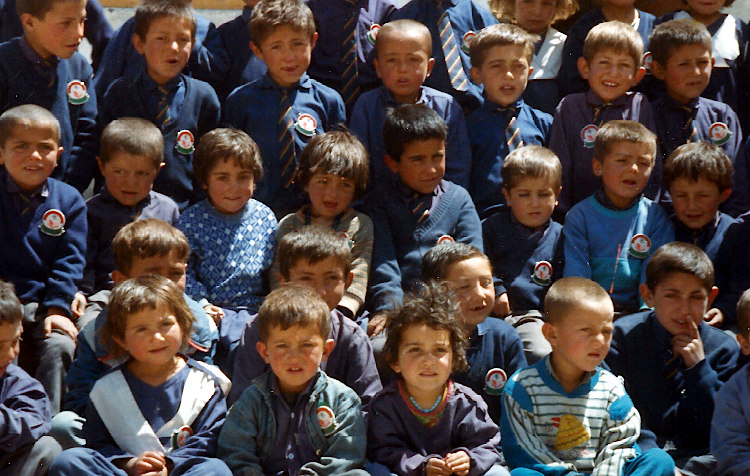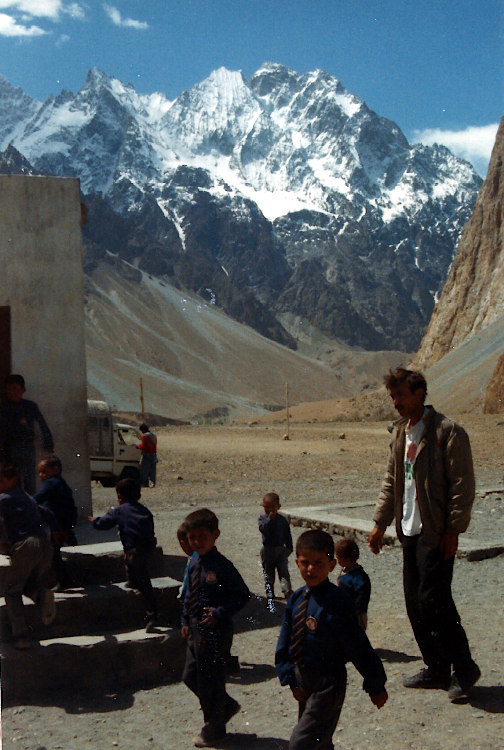 From here to Passu we picked up a local guide on the way who was (you've guessed it) very friendly and the customs man's cousin. Passu Inn was closed but we booked into Hunza House. Very nice room. There was a central area which had a skylight (for fire in old times) and beds around the walls. 50 Rupees each with a mandi attached (basically a squat toilet with a bucket also for washing). We said goodbye to customs man and paid him (a rather generous) 450R.
The following day we had cornflakes, tea and toast for breakfast. That was a welcome treat! We got a lift to Hussaini then walked to Borrit lake, again, it was so quiet. We got to the ridge near the glacier and walked up to Passu Gar for great views. Walked along a precipitous slate path at the top of a tough climb but great views of the glacier. Actually, amazing views wherever you look. Back at the hotel we had a communal meal of chips, rice noodle soup, dahl and a meaty dish which were wolfed down.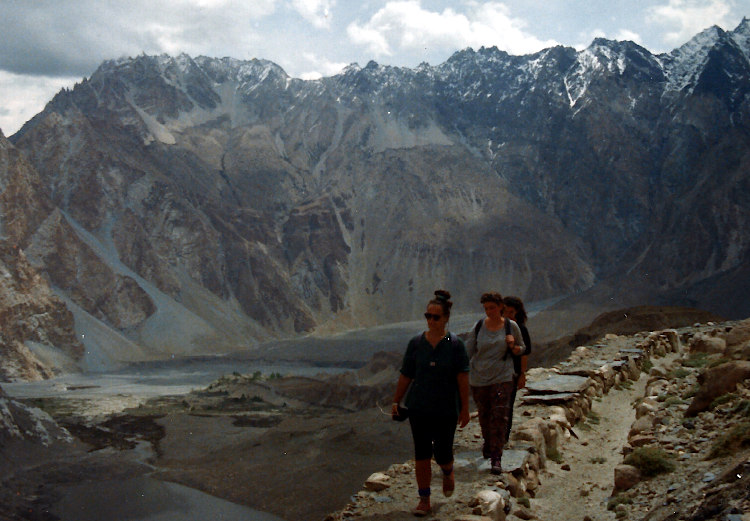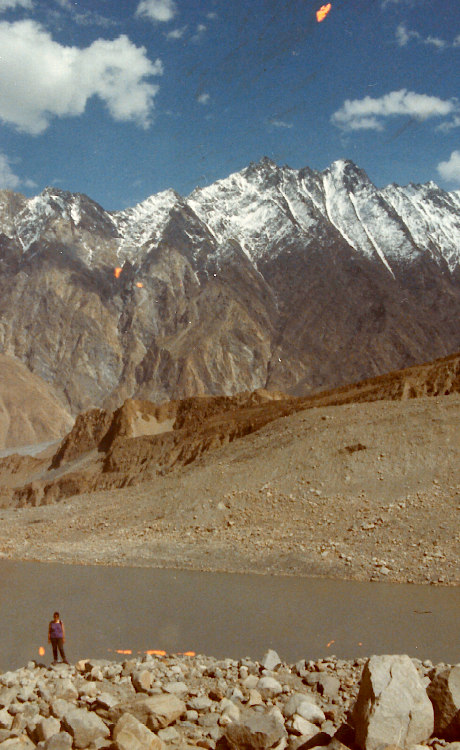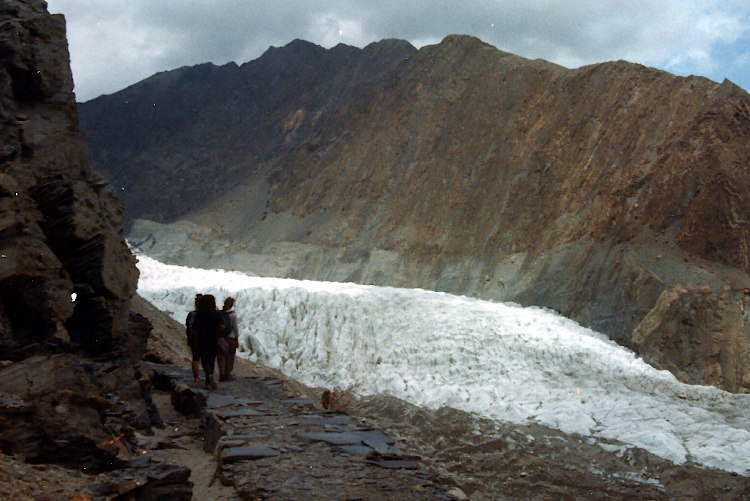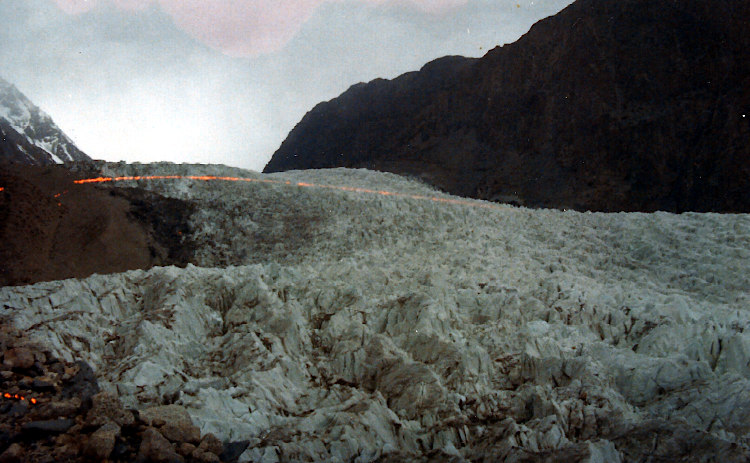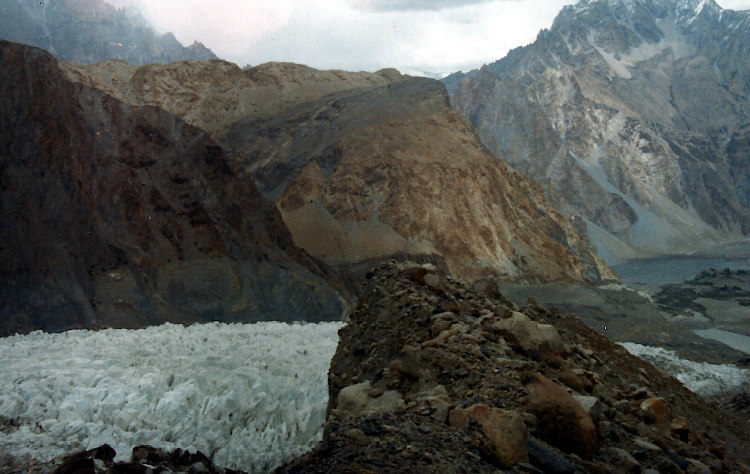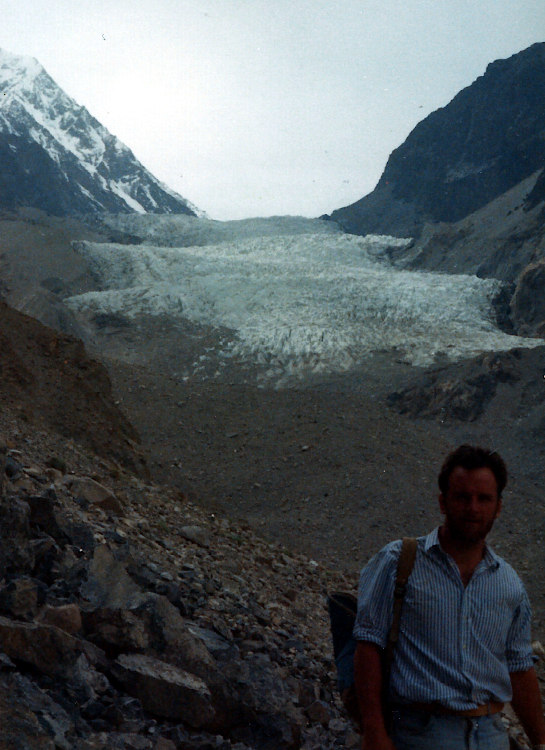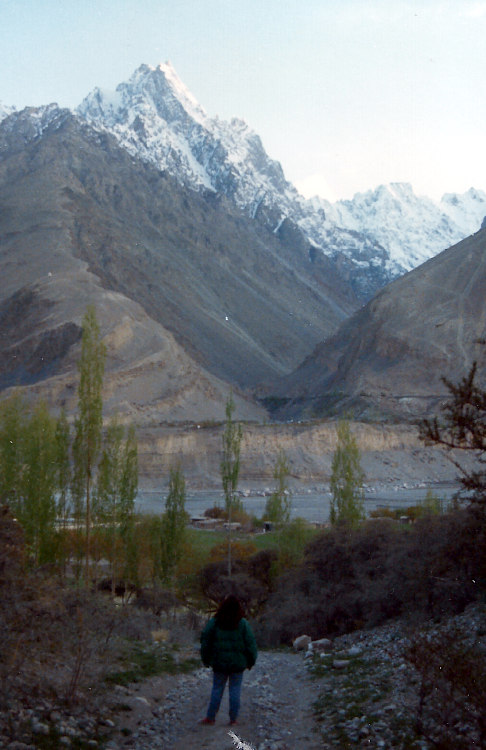 7th May 1993. Got up at 5.30am. The bus, which in fact in these valleys is generally a Suzuki jeep, came at 6.30. We picked up people rapidly and it was packed so I couldn't see anything out the window. It was a shame as we were entering probably the most beautiful part of the Karakorum Highway, the Hunza Valley, made famous as the supposed setting for the mystical lost kingdom of Shangri-La.
At one stage we had to walk across a mudslide and got picked up by a jeep on the other side. Arrived at Karimabad and booked into Hunza Inn (30Rp). Great views across river to Mt. Rakaposhi (7600m). The place was beautiful. We had brunch (porridge and an omelet – what luxury!) at a restaurant with a small garden with views over to Altit fort. Altit fort looked like something out of the middle ages – just mud brick walls, with a similar small village clustered around its base. Stunning.
We walked up to Baltit but half way there got accosted by a bloke who took us to his house. We couldn't go to the fort as it was being renovated. The land is made arable here by the use of hundreds of irrigation channels and these generally act as paths to walk on. Generally they are used to water fruit trees, including the famous apricots. Anyway, we followed a number of channels to Hyderabad. Very hot. Got followed by gang of kids.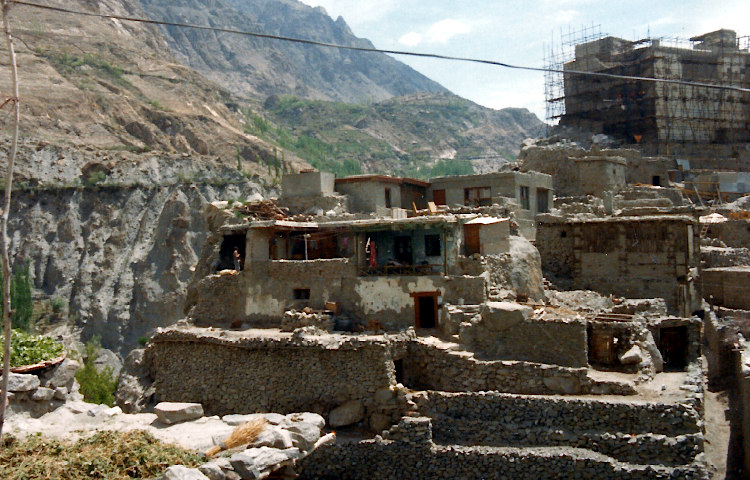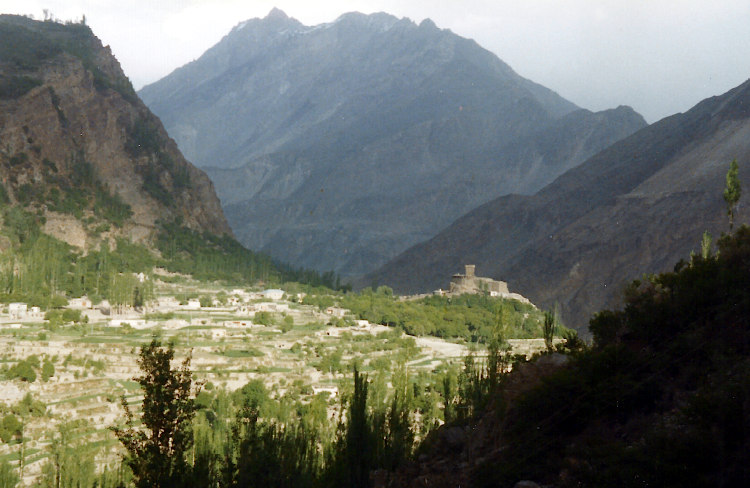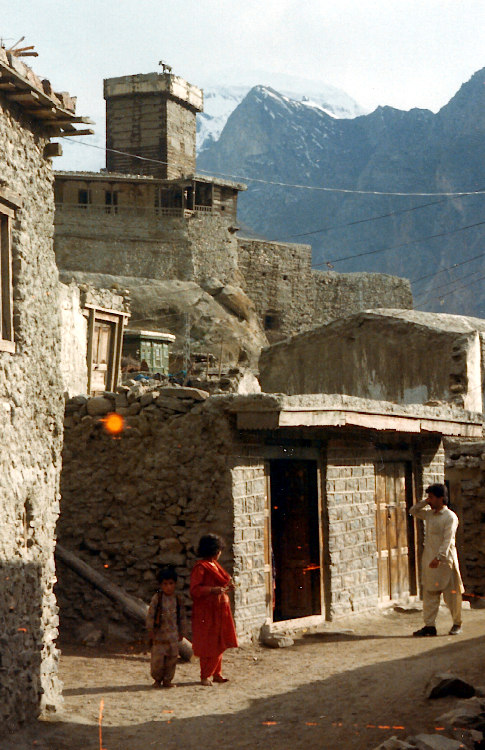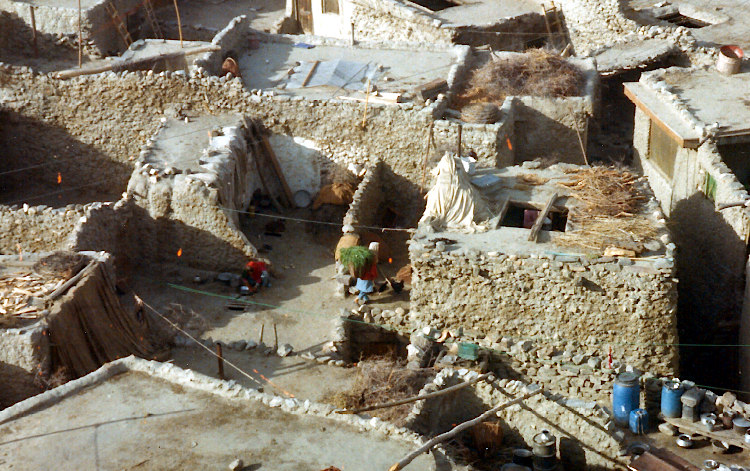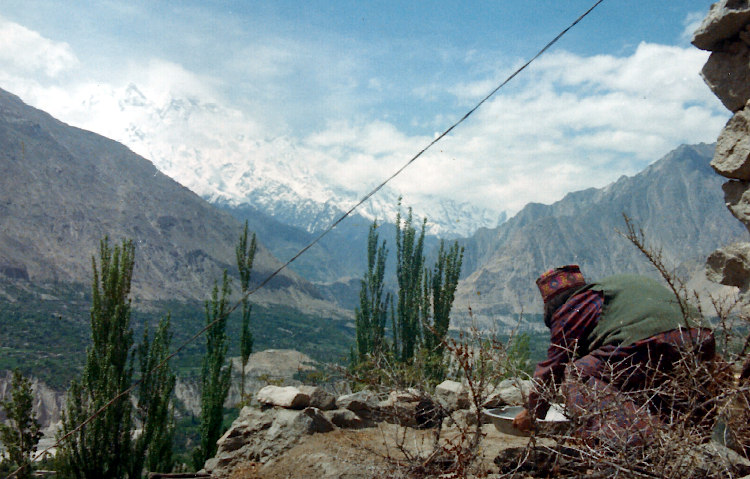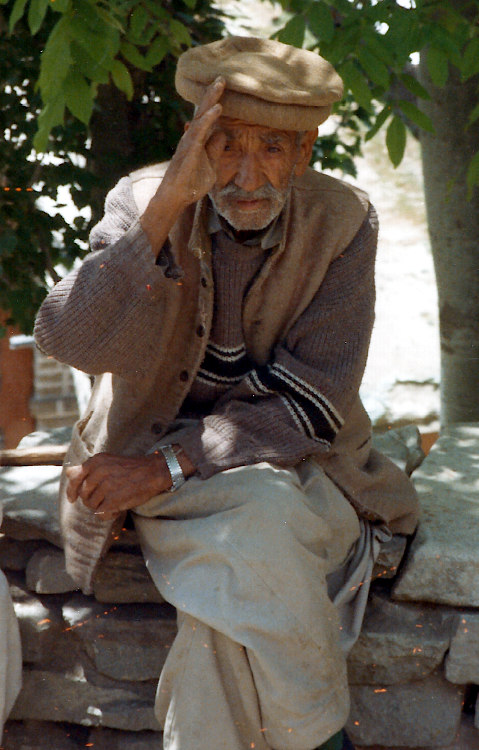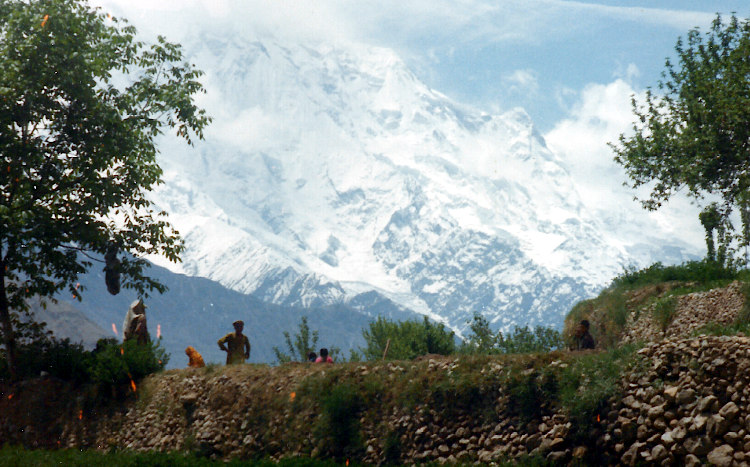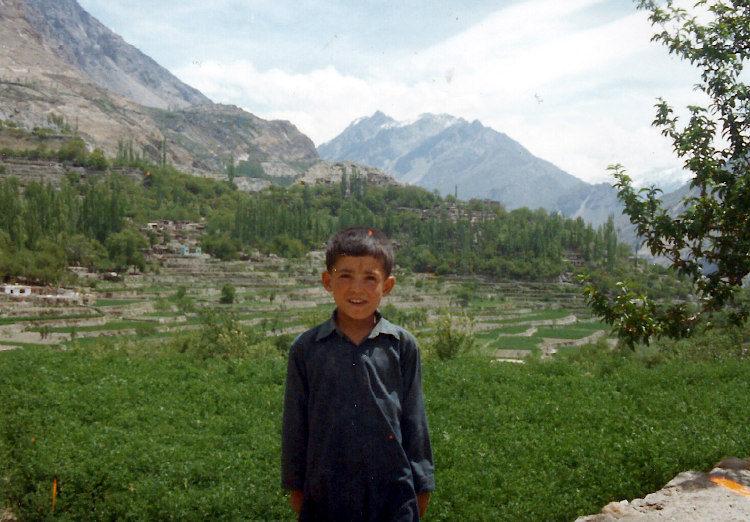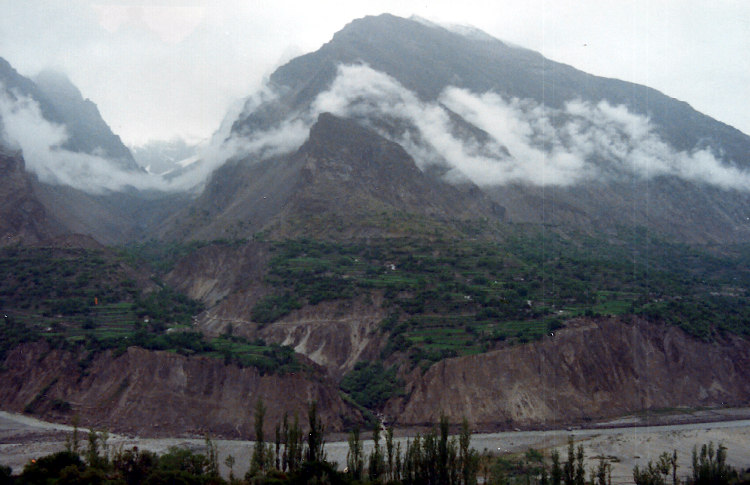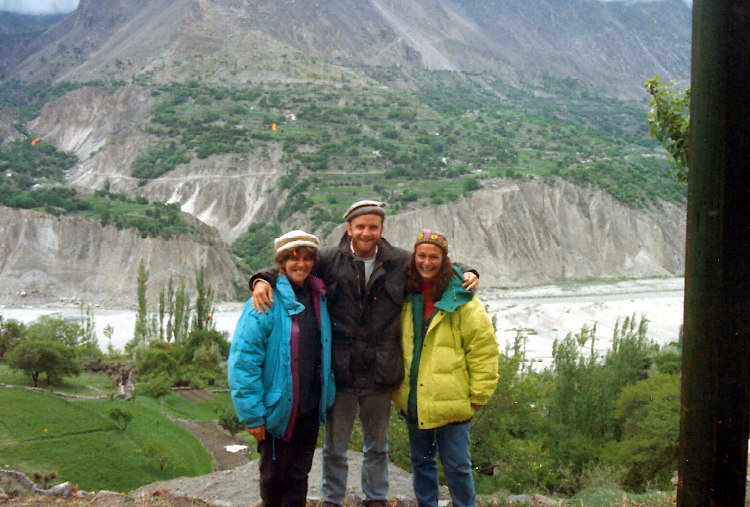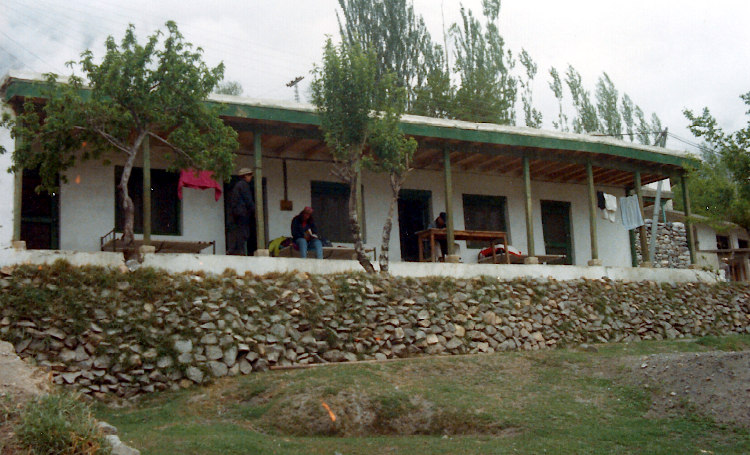 That night it rain rather a lot. Feeling rather lethargic. I think the long journey – overland from Hong Kong! is finally catching up on me so had a lie in. I hired a jeep with the girls to Nagar 300RS! Nagar was tiny. That evening had a big meat curry. It rained all night so I was rather worried about the bus to Gilgit tomorrow. As expected we had to turn back after 30 minutes. The road was blocked by a mudslide. Returned to Nagar but this time booked into a better hotel, the Golden View. It was only half finished but looked quite nice. I hadn't had a hot bath or shower since the hot springs and that continued as they only had cold water. Brrrrr.
It rained again during the night but they said the jeep would try again. We got to the landslide but walked over it to minibuses which were on the other side. There was much wrangling between drivers but eventually the passengers swapped and we headed off to Gilgit. Booked into the Madina Hotel. Seemed like friendly people and it had a pleasant garden. There was a warm dribble masquerading as a shower – my first in Pakistan. Gilgit was a strange place built around two roads and more like a shanty town – no major buildings, lots of tailors and material shops. Getting a bit weary of travel. Man at the hotel bought me a ticket for the overnight bus to Rawalpindi – 17hrs "deluxe" 190Rs. I said goodbye to the girls, had a last meal and then was off at 9pm. Deluxe meant a reclining seat and therefore no room for legs to move. Slept a bit despite having to walk over landslide at one point and getting searched at a police checkpoint.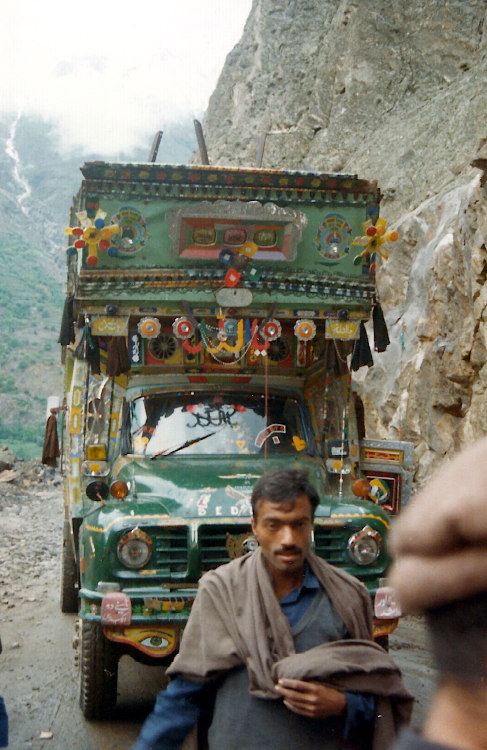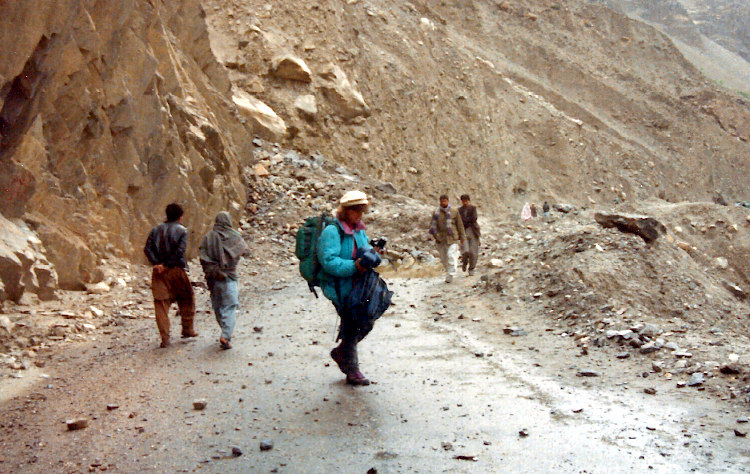 Very nice scenery in the morning, wide valleys with terraced wheat fields being harvested. I walked to Al Falah hotel. It wasn't far from the bus station and was close to Saddar Bazaar. OKish room with clean bathroom 70Rs. I had an enormous chicken massala with rice as the first meal of the day. Pretty amazing sight at the bus station, seeing loads of old Bedford wagons with the most amazing decorations. Also the suzuki minibuses. Felt rejuvenated by the sights and sounds of Raja Bazaar. An amazing place and one of the top markets i've been to. Everyone was really friendly, the shopholders inviting me in for tea and loads of people walking past and saying "welcome to pakistan!" It feels very exotic and lovely to have a warm evening. Mind you lots of mozzies about.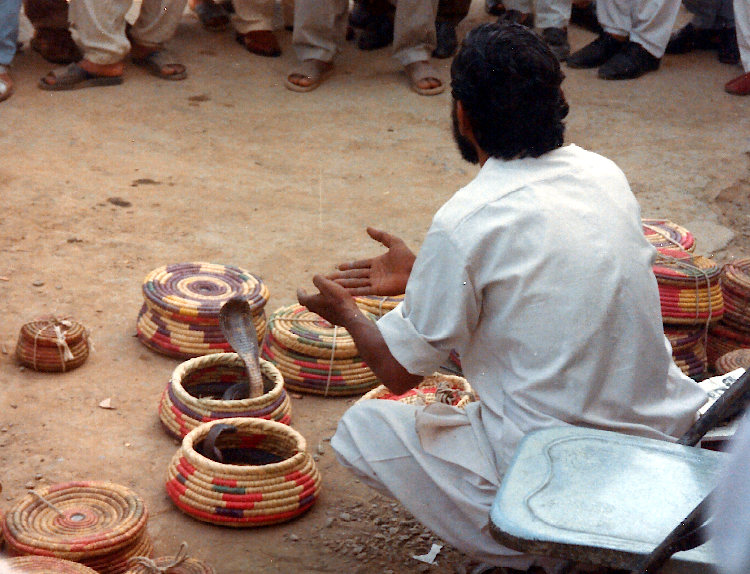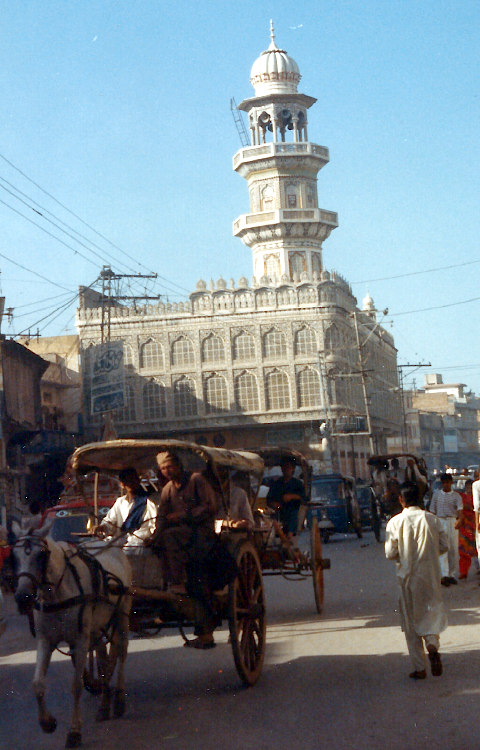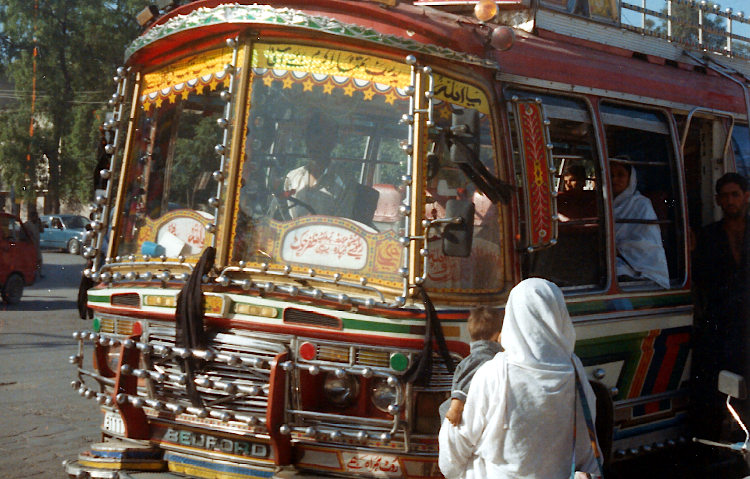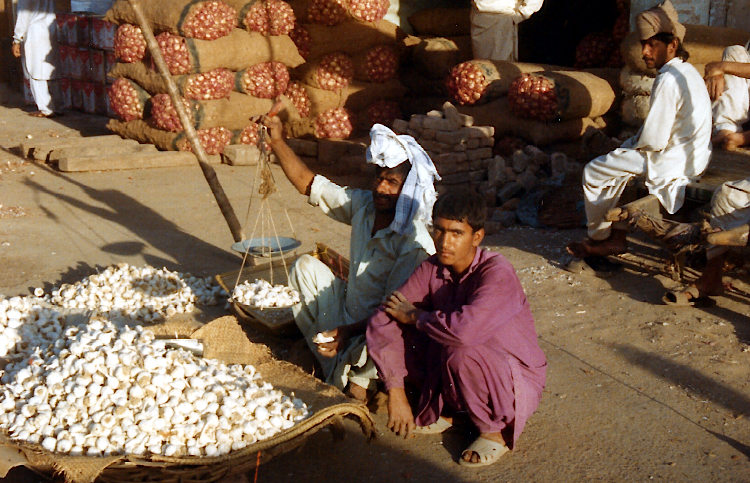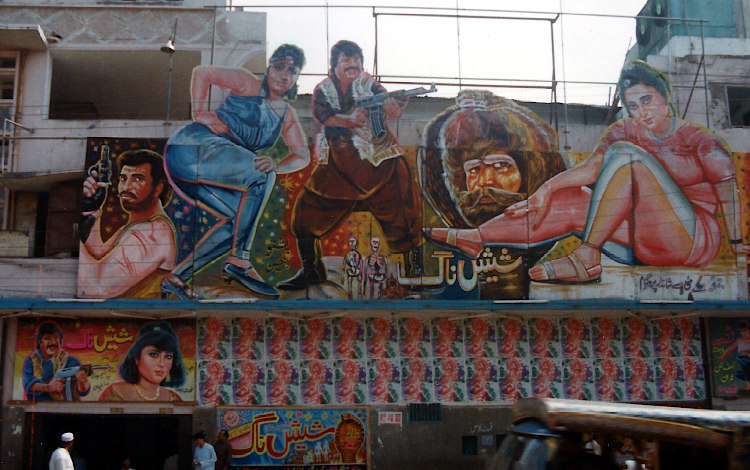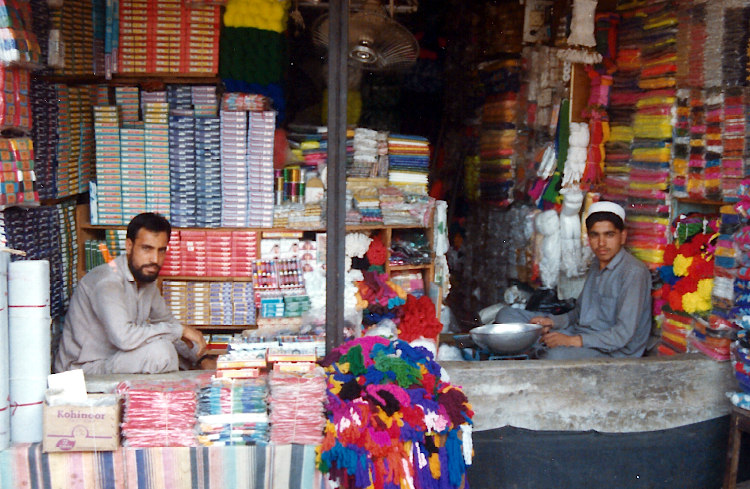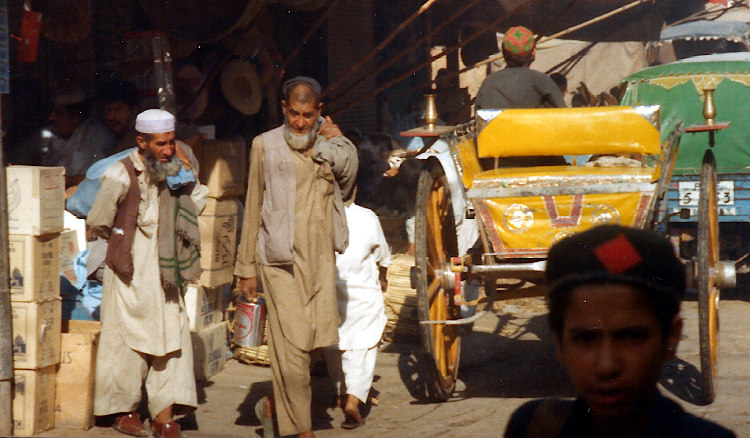 Only a few days left of my epic trip. I'm feeling pretty good. Pakistan is a really interesting place worth a longer visit. My last few days were a bit of a blur. My main problem was getting a flight back to Hong Kong. I ended up going to Peshawar for my last few days and flying from there. Another really interesting city. For my last day, I had a some spare Rupees so decided to splash out on a big breakfast and go to the Pearl Continental hotel. The hotel was quite flash but the breakfast room was nothing to write home about. I had coffee, cornflakes and at the buffet – chipolatas, spicy beans, garbanzo beans, scrambled egg and toast. All for 150rs. Then off to the airport and back to the Western World!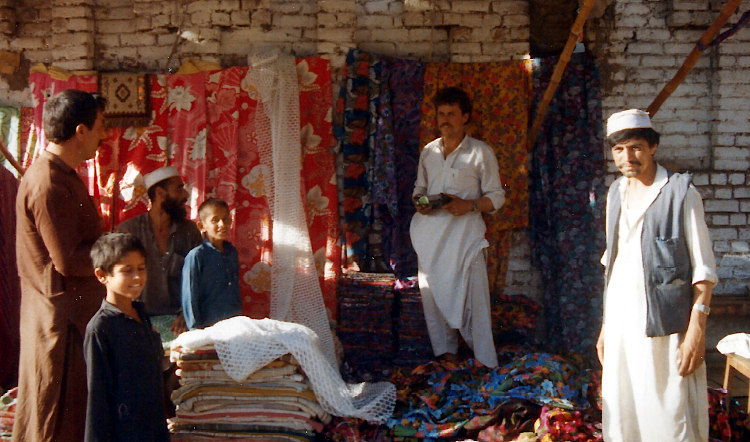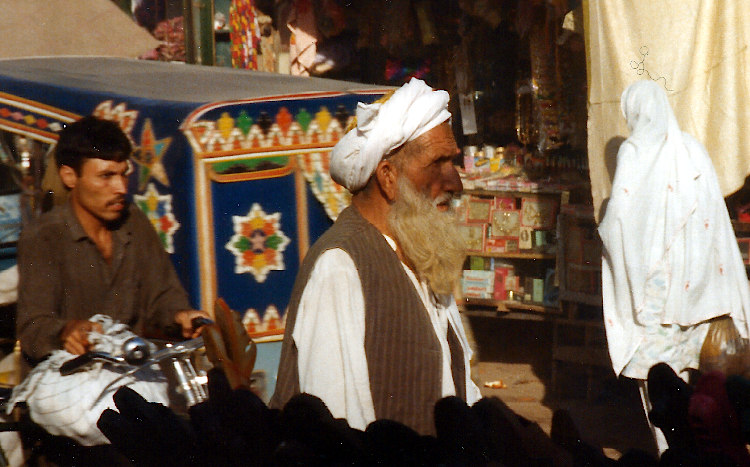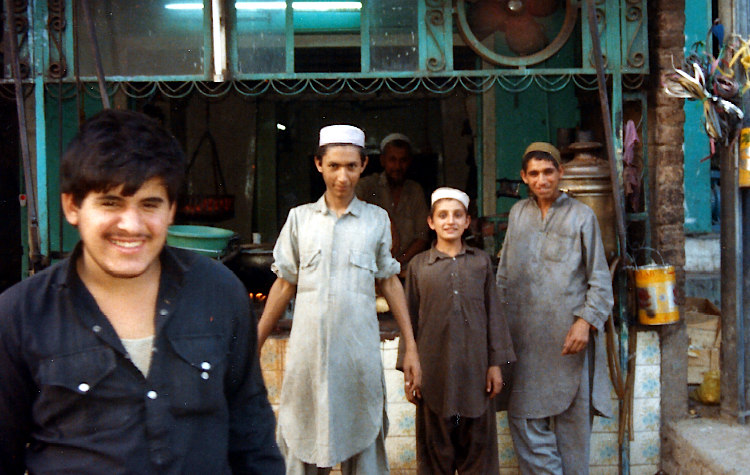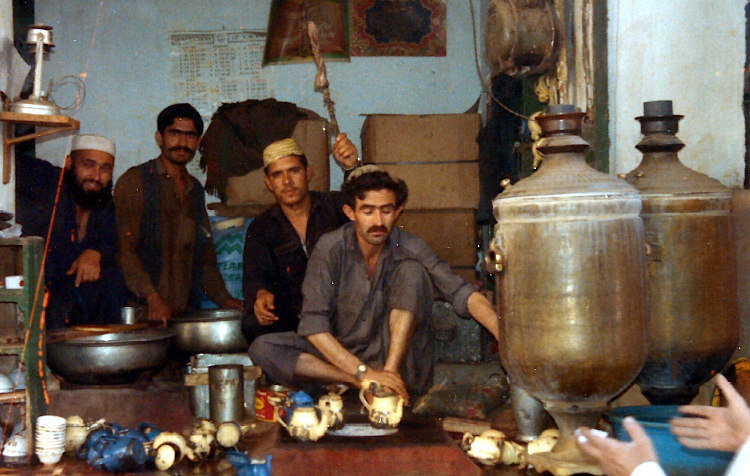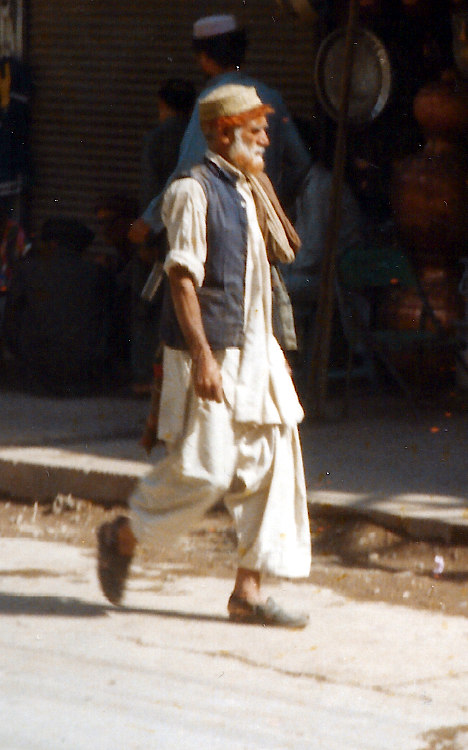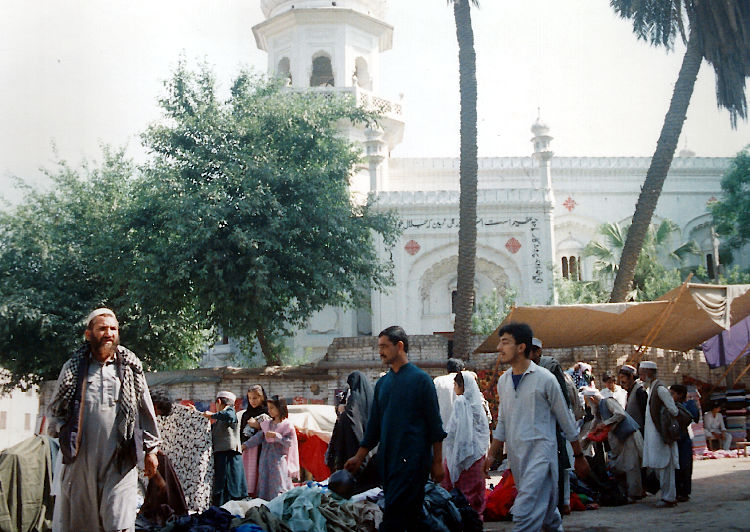 Now I've got to the end of my Karakoram Highway journey this blog goes the other way!