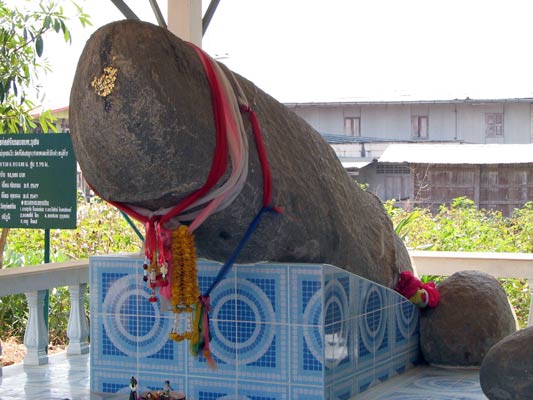 A bend in the river
A bend in the river
To many visitors to Thailand, their fondest memories come from Isaan, the North Eastern 'bulge' of Thailand. However, it doesn't rate much of a mention in many guidebooks because of the relative paucity of grand Thai monuments – either man made or natural. Its charm lies in the friendly people and the more relaxed, traditional pace and style of life. That was exactly what me Jackie were after when we went for a week's exploring around the area of Nong Khai and a bend in the Mekong River over new year 2007.
Getting to most places in Thailand far from Bangkok generally involves an overnight train trip. This was no different. On other pages in globalwanderings I have described a couple of them one journey by first class sleeper and another by second class sleeper. Unfortunately this one was second class seat. I will say no more than given the choice in future, I'm taking the bus.
We did arrive in Nong Khai in one piece though and only an hour or so late. We went to the Mut Mee guesthouse for breakfast (it's a great little hotel but more of that at the end) and hired Honda Dreams from the man who hangs out across the road (150Bht per day). Soon enough we had blown away the cobwebs from the overnight train journey and were heading west along the bank of Mekong. We soon reached the first small town, that of Sri Chiang Mai. SCM is a quiet little place like many of the towns in these parts. It's famous for making rice paper and you can supposedly see them drying on the roadside. It couldn't have been the season as we saw none. We did however head for the promenade, not much more than a broad pavement along a quiet road. It does have a great view across the river to Laos though, and its capital resting on the far bank, Vientiane. I had been to SCM many years before and then all you could see was the spires of Buddhist Wats on the other side. Vientiane is still a sleepy backwater as far as capital cities go, but it has certainly developed apace and now there were hotels, restaurants and houses clearly visible. We tucked into a very tasty noodle soup and continued our journey.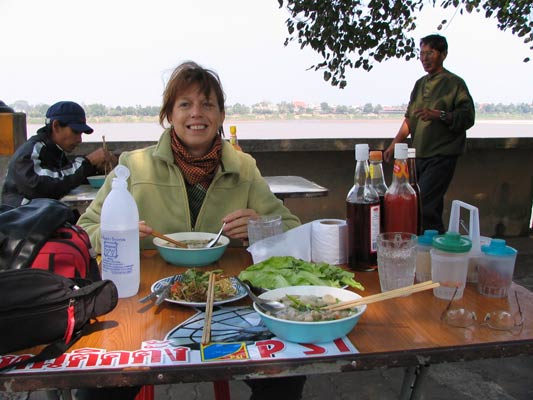 This stretch of road is supposed to be one of the most picturesque in Thailand. Maybe it was just because it was a grey day, but on this occasion it was just pleasant enough. We were also thankful that it was very quiet, the only excitement having to avoid a dog lying in the middle of the road.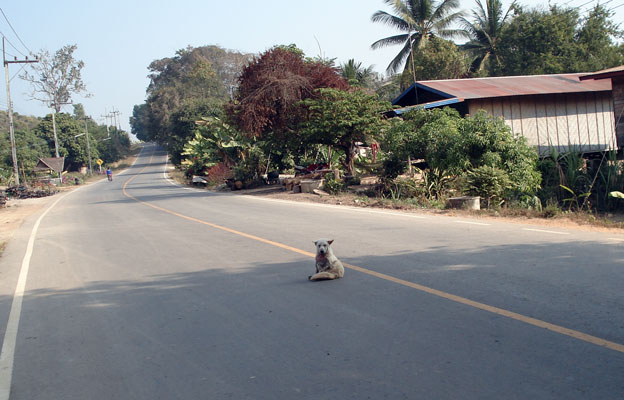 We arrived on the outskirts of the next town, Sang Khom around 2 on the afternoon. After our sleepless night I was very thankful to see the welcoming appearance of a guest house. Despite not having any signs outside apparently it was called Varna House. There was a main house where presumably the family lived and they rented out four small cottages in the garden, one of which overlooked the Mekong. This was already taken unfortunately but the cottage we got was very comfortable and the price was right (600Bht). After a snooze we went for a wander along the river. In fact recently they had built an embankment which gave pleasant views up and down the river. There was also a very handy restaurant nearby overlooking the river – Poo Pae, where we had an absolutely delicious meal, shortly followed by an excellent night's sleep.
I say we were in Sang Khan, but actually the Varna House is pretty much on its own. The town proper is another 2 or 3 kilometres away. In fact we only discovered this the following day as we continued our journey. We didn't stop but it looked quite pretty and many of the shops were made of teak, still thankfully very common in this area of Thailand.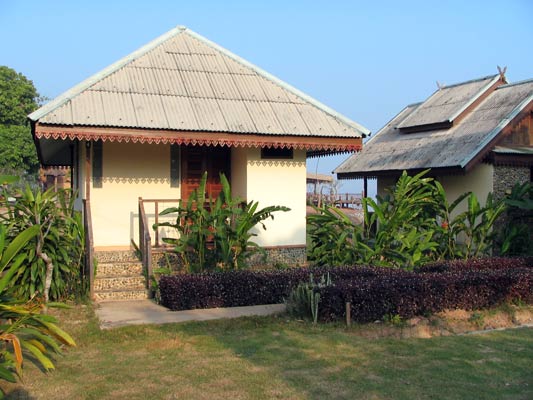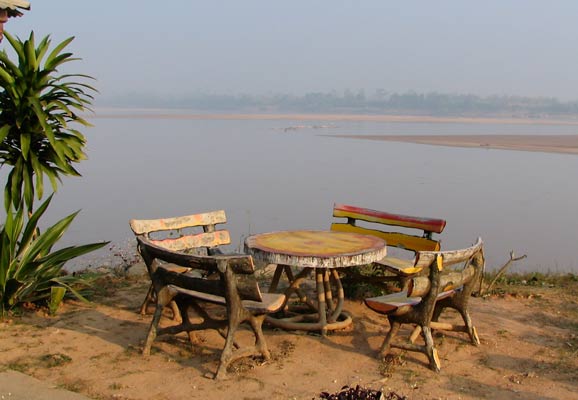 As is normal on these trips we liked to be up and running fairly early. The sun was up and rising into a clear blue sky. Funny how a bit of sun makes the scenery so much prettier. However, the North East of Thailand early on a December morning is bloody cold! Along this stretch, the river was very shallow and the area sparsely populated. It meant the scenery was much better however, plenty of stands of immature Teak and also cotton plants in addition to loads of bananas, and even a working elephant.
We stopped for lunch in Pak Chom, a little market town. We had another great meal, very simple but tasty barbequed chicken and sticky rice. We had already noted that food in these parts was even better than other areas of Thailand. In particular I loved the sticky rice for which the region is famous. It is delivered to your table not on a plate but in a small woven basket which every one at the meal shares. It is in fact easier to eat with your hands and this was originally the way everyone ate. Apparently this changed at the turn of the century when King Chulalongkorn decided to follow western custom and that is why the majority of Thais now use a fork and spoon to eat. However in these parts, outside many people's houses were low platforms and this is where people sat to eat together, taking rice out of these woven baskets with their fingers.
In winter in the north of Thailand many dogs, even those appearing to be strays, have T-shirts on. This one even had a nappy!!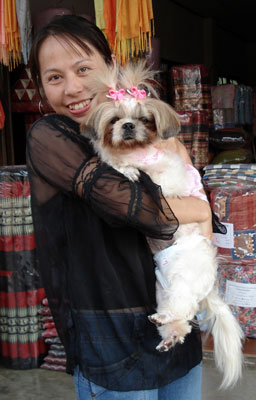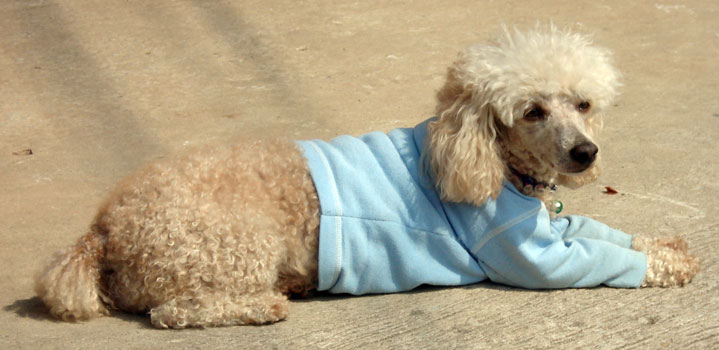 Yes, the picture below is what you think it is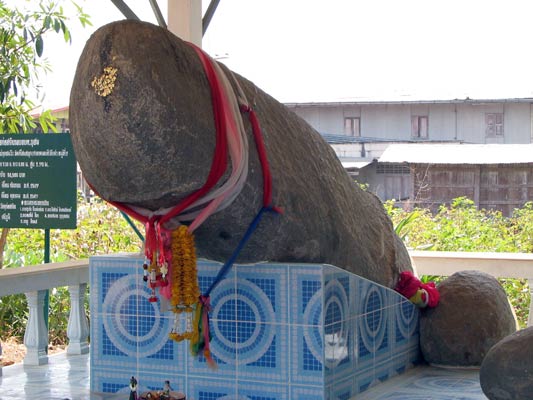 In the late afternoon we arrived at our destination, Chiang Khan, probably the most picturesque of all the villages along this stretch. It is also one of the best to stay as there are a number of well established guesthouses. They are all very cheap and basic which has the added bonus of deterring the package tourists. We stayed at the Chiang Khan Guesthouse, one of the originals, run by a mad but friendly Thai lady and her Dutch husband. The place itself is all wooden with a pleasant balcony overlooking the Mekong. I know I keep going on about the river but everything revolves around the river and it is central to the story! I must admit the Chiang Khan Guesthouse was our second choice but the Loong Mai which looked like a really interesting French style Villa was full.
There is not much to do in Chiang Khan, but that's not the point, it's just a quiet, picturesque town with loads of wooden houses: great for a wander, for a chill out and to savour the local food.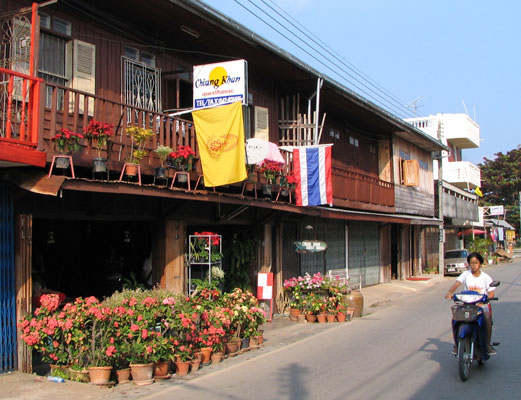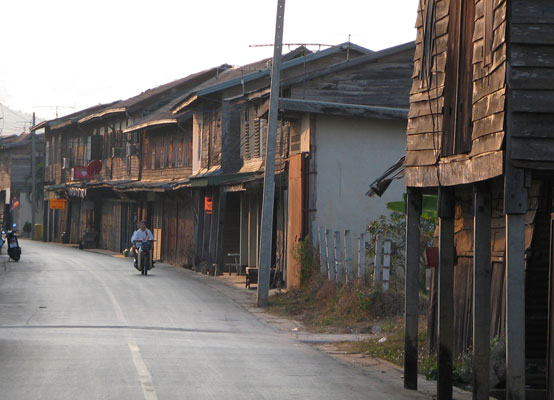 view of the Mekong from the Chiang Khan Guesthouse balcony
This wasn't a 'temple trip' but there are always temple photo opportunities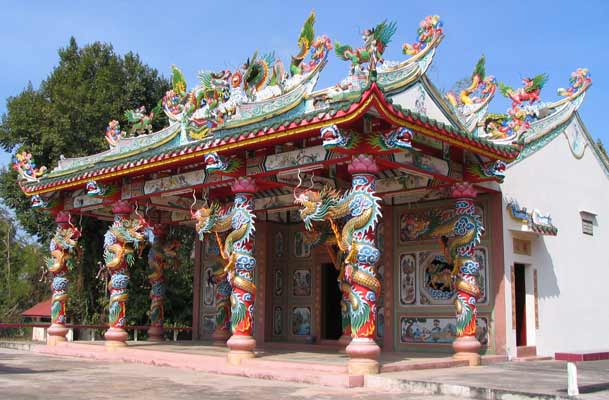 Sticky rice is always steamed rather than cooked in water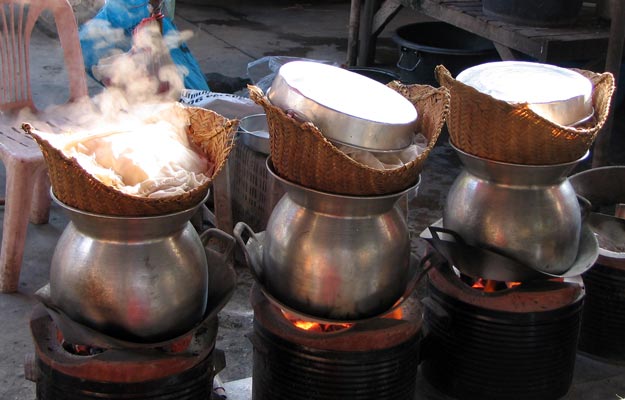 From here we could have continued west into even more quiet and remote parts, but we had to get back to Nong Khai. We didn't want to return by the same way we had come so we struck inland as we planned on returning via Loei. This part of Loie province is sparsely populated and dominated by rolling hills. Unfortunately the road is a bit busier and wider than the one along the river and so not as pleasant for bike riding. We therefore pinned our ears back, revved the bikes up and started chewing up the kilometres. Admittedly you can't chew up that many kilometres on a Honda Dream but we were getting there. We decided to bypass Loei and then took a left turning at the crossroads town of Wang Sa Phung. Here we joined a much quieter road so took this at a gentler pace. We were also rewarded with much better scenery, very rural but with plenty of forest cover as well. By the side of the road were small stalls of tamarind for sale.
We stopped at the small country town of Na Klang as it had a number of places to stay. These 'resorts' were not what immediately comes to mind, but more like motels. There were two or three of them here and we chose Porn Poon (300Baht. It was on a large area of land with the big house in the middle and lots of small cottages spread around each with a carport. We thought it quite strange to have such a place which was basically in the middle of nowhere. No tourists would come here (except for the likes of us who just happened by). However it became clear later – when I noticed the sign 'open 24 hours' and the presence of condoms in the room, a rare sight in most mainstream hotels. It was basically a country 'love hotel'. Mind you I still doubted they would do much business considering we were way out in the country.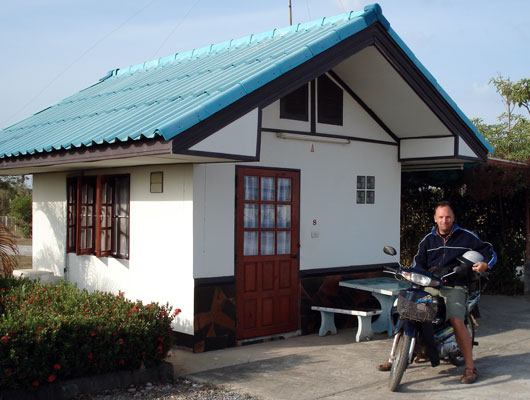 The final sunset of 2006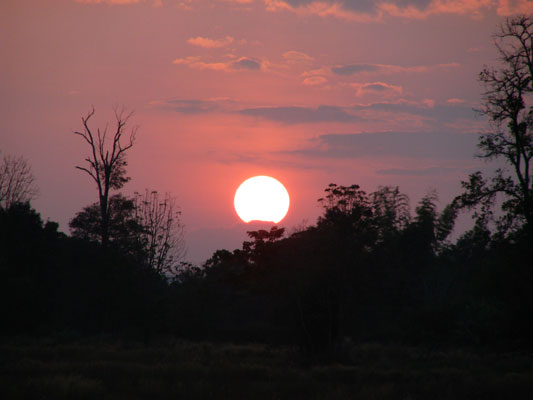 Anyway, here we were for New Year's Eve. Being a very quiet town indeed we were a bit stuck for places to go, but we did find a uniquely Thai style barbeque place. You get a pot of hot coals and on top of this is placed a metal dome. You place small strips of meat on the dome and as they cook, the juices flow into down to the outside where they make a kind of soup. Anyway, it's delicious and very popular with groups of people because you get to choose your raw food and get to cook it yourself. We had a good time here, but I must say we were in tucked away in bed by 9.30!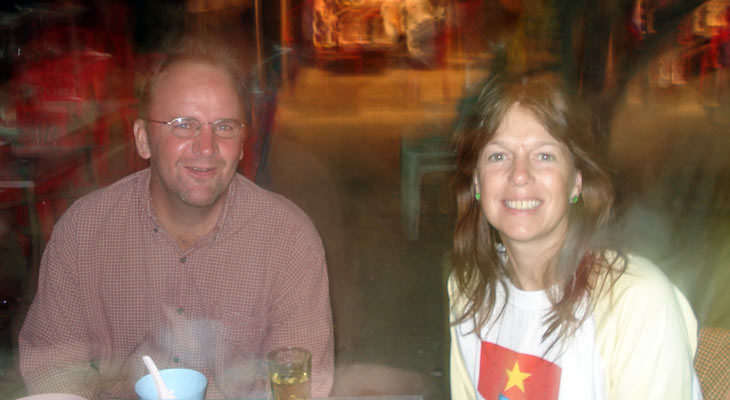 New Year's Day dawned bright and sunny and we were soon off. Not long out of Na Klang we saw a Thai monk's ordination procession. We had actually seen one quite like it near Kanchanaburi. At that one the monk was on a donkey and all the people in the procession were walking. This one was more 20th century. The monk was on the back of a truck and another truck behind it had a huge sound system blaring out music. Lots of people on the back of other trucks were dancing away to the music. A bizarre sight I must admit.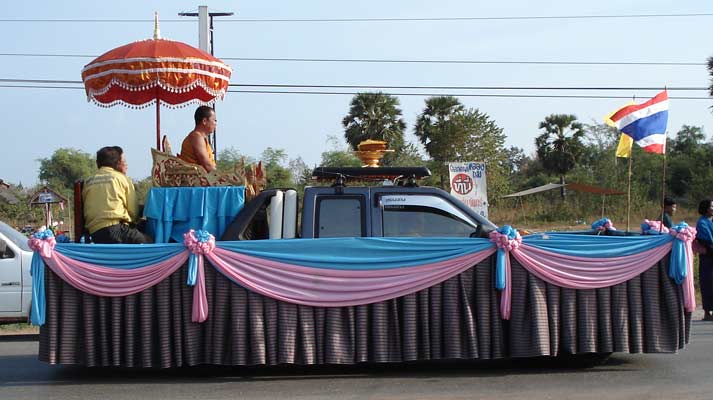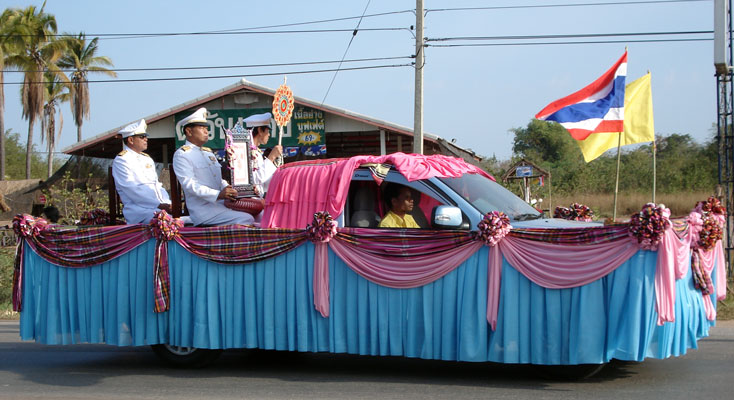 From here the scenery got much drier and more barren, but still very picturesque. There were rocky outcrops of limestone dotted about. About here we took a small detour to Phu Phra Bat Historical Park. We had not idea what was there but it seemed a good idea at the time. The place itself was at the top of a small forested hill. Fortunately there was an informative information centre and well marked trails. It had been inhabited 3,000 years ago and there were still some cave painting visible. It had also been important in times since then as there were Buddhist and Hindu shrines located in strange monolithic rock formations. Interesting little spot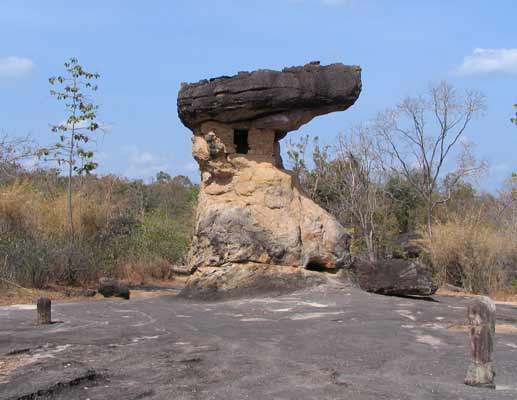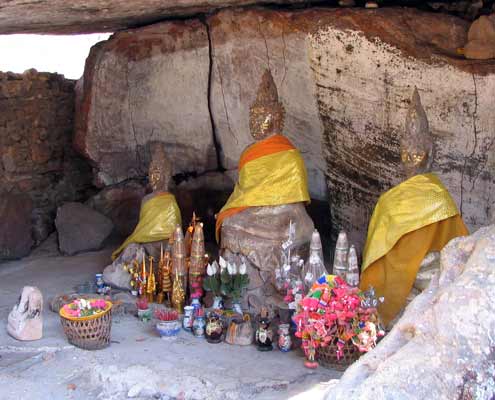 We had lunch in one small place which had a pet parrot who delighted in stealing the customers food!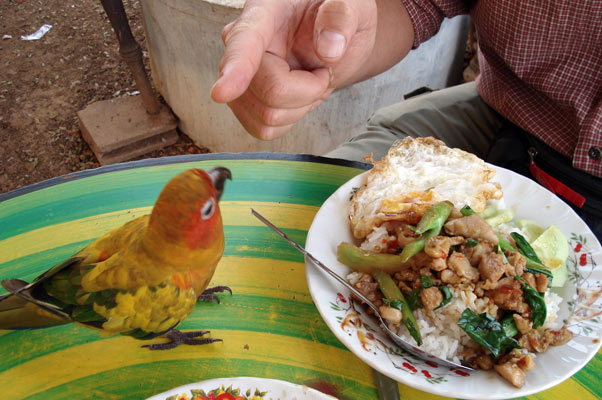 From here it was just a couple of hours back to Nong Khai. After being impressed with Mut Mee guesthouse when we first arrived here a few days previously we decided to check in. We weren't disappointed. The place had the look of an old large villa and the rooms had been very tastefully decorated. They also had a shady garden where many tourists were hanging out. I had to make the comparison with when I was in the area 18 years ago when I first started travelling in Asia. Around that time at any guesthouse you would see travellers hanging out, dressed like hippies with long hair, bedraggled clothes etc. Then, like now, most people came through Nong Khai as a jumping off point for Laos. Back in those days, before the Friendship Bridge, there was a sign at the ferry terminal with a list of people who would not be allowed into Laos. These included: men with earrings, men with over collar length hair, people with flared trousers (I kid you not). The list went on. Nowadays, however, the Lao immigration people need not worry, the travellers are more likely to be much better turned out and those in the guesthouses are more likely to be tapping on laptops rather than tripping on exotic substances. One thing that never changes though is the sight of someone poring over their well-thumbed copy of lonely planet planning the next stage of their journey.
We stayed a few days in Nong Khai. It's an excellent destination in itself. It has a famous market (Taa Sadej) which is OK, but too full of tat for our liking. However, the streets themselves are good for a wander and it has some interesting old temples. The sight everyone recommends seeing is Salakeawkoo. It's a bit further out of town than you think, so hiring a tuk tuk to take you out (and getting him to wait to take you back) is the best thing to do.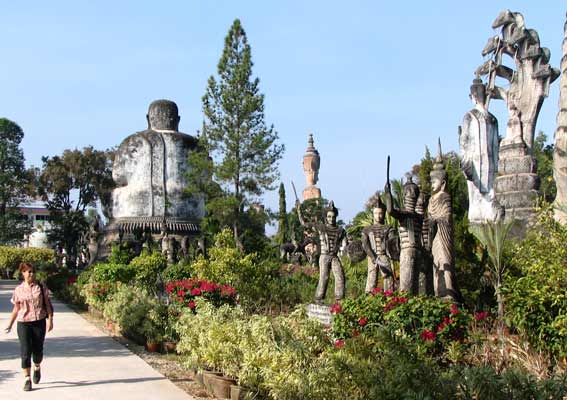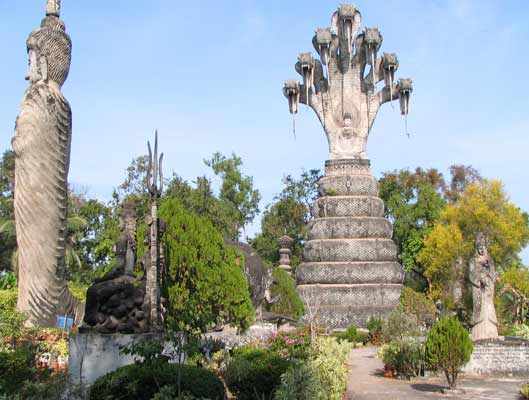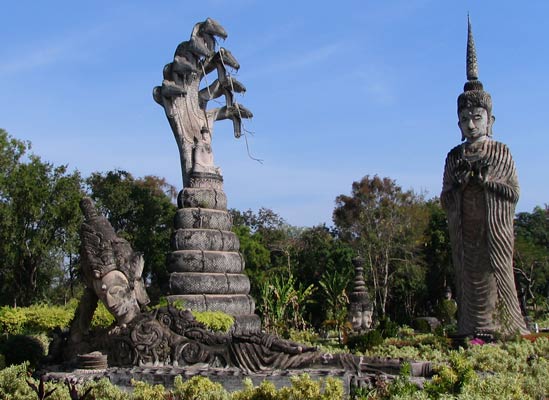 It really is an amazing place. There are concrete figures dotted all over an attractive garden with plenty of flowers and trees. Some are truly enormous. I think the biggest is 100ft tall. Nowadays there is an added attraction. The founder and sculptor, who died in 1996 is still there but as an exhibit himself. He now resides in a small room under a glass dome. One of his acolytes may come up to you and tell you he hasn't been mummified or preserved, and quite frankly from his skin tone I can believe it. He is surrounded by hundreds of pictures of himself. As a young man he bared a startling resemblance to Elvis, but I won't go down that road.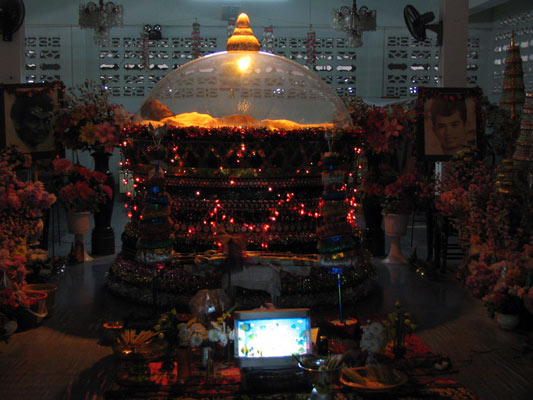 Relaxing in Mut Mee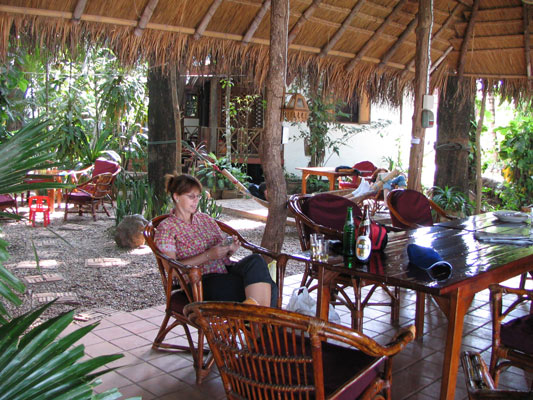 To finish off our trip to the north east we took the sunset cruise which departs from Mut Mee Guesthouse. It tootles up the river to the Friendship Bridge in time for sunset and then comes back down again. Worth every penny as the sun usually puts on a great show as the colours of the sky change from blue through every hue to red and then black. A perfect end to a perfect little break.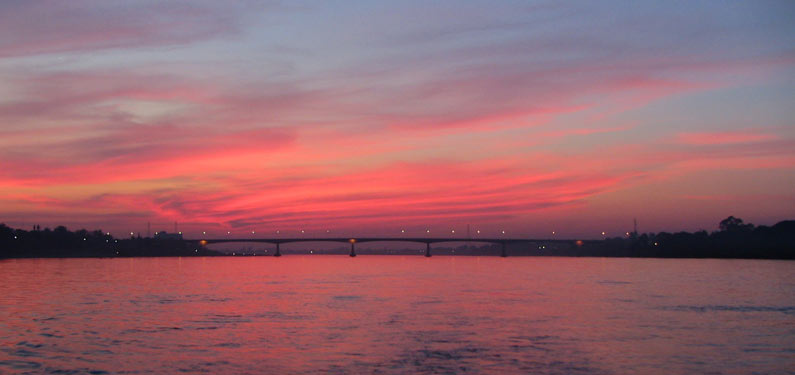 Practicalities:
Mut Mee Guesthouse: Highly recommended 450 Baht per night, rooms with fan, ensuite
Varna House, Sang Khan: Very clean cottages, 600Baht, a/c, ensuite

Chiang Khan Guest House: 200Baht, fairly small room, recommended, fan, shared bath

Porn Poon Resort, Na Klang: comfortable cottages, 300Baht, TV, a/c, ensuite