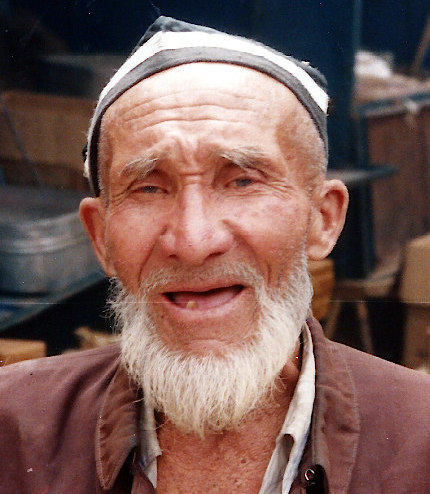 The southernmost metropolis of China's New Frontier, Kashgar (Kāshí) has been the epicentre of cultural conflict and cooperation for over two millennia. Modernity has swept in like a sandstorm. A paved Silk Road preceded an airport and in 1999 the Iron Rooster arrived, along with many Han Chinese. Taxis and motorbikes are everywhere, and much of the old architecture is giving way to the new. This is the guidebook description from 2010. It was very different 17 years earlier.
After getting off the bus I managed to stretch my legs. I hadn't actually walked for three days during that epic bus journey. I walked to the hotel- Chini Bagh. I was really looking forward to visiting and staying there if I could. It was the residence of the British Consul general around 1900. This was the time of "the Great Game" which was also covered in two entertaining books I was reading at the time by Peter Hopkirk: Foreign Devils on the Silk Road and The Great Game. Later, the residence was converted into a hotel which it still is. I'm really disappointed I didn't take any photos of the building as it's now been replaced to a large extent by a huge monstrosity. The original residence is still apparently there.
Anyway, back to the story, I expected the usual trouble – no dorm room, no hot water, only expensive rooms available or any extra inconvenience. My guidebook of the time said, "The Chini Bagh Hotel shows little of its splendour as the old British Consulate. A shower building built in 1986 hasn't been cleaned since then. Water is occasionally hot for an hour each morning. This is where most Pakistani traders stay and Uyghur money-changers loiter everywhere".
But I was desperate. I couldn't believe it when the young lady on reception spoke good English and was able to offer me a double room with bath and hot water for 40Y! I was a bit worried when the promised hot water didn't arrive immediately but within an hour I was luxuriating in a bath watching the water rather rapidly turning brown as the grime cleaned off me.
I then dropped off my laundry and bumped into a friendly overseas Chinese/American guy called Jim. He told me that buses had started going over the Karakoram Highway from Kashgar into Pakistan (they only start each year when the road is clear of snow) so that was good and I could get a ticket from the hotel. He said there were few foreigners in town and that there was a good western-style restaurant round the corner. All good. And then better news – I had my first bowel movement in 4 days!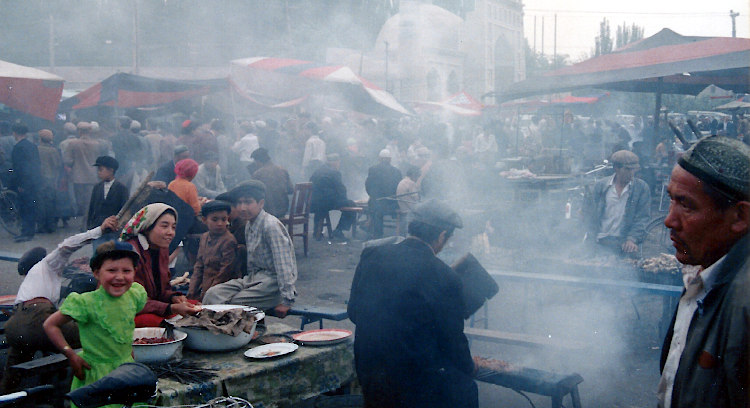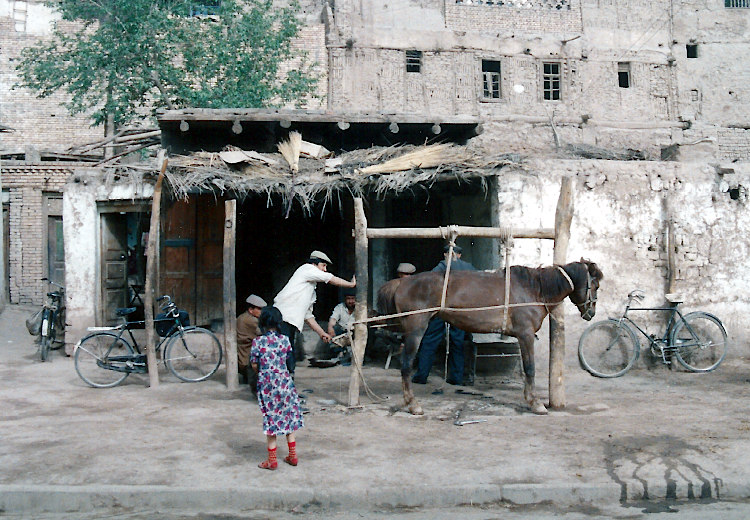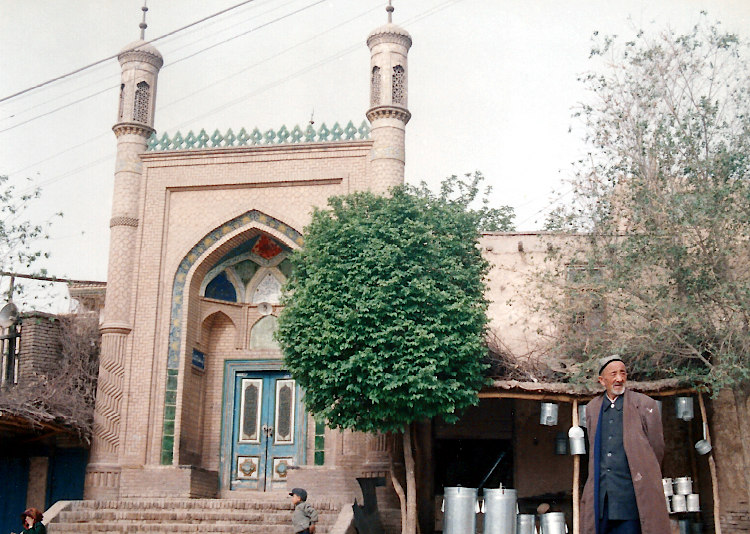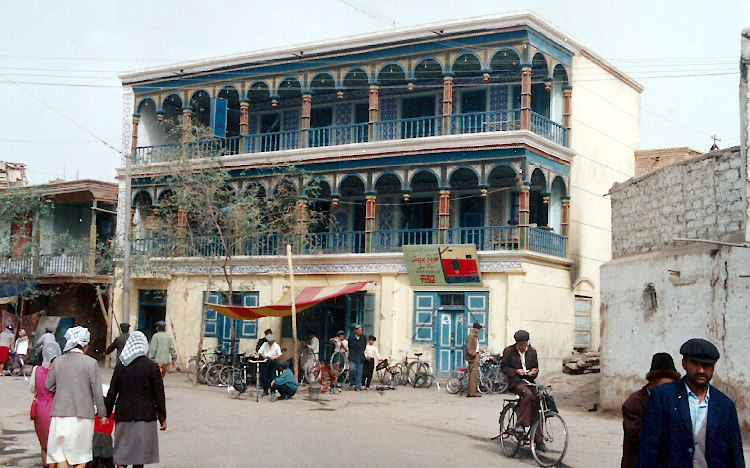 The following day I went to "Le Bistro" for a farmer's breakfast and fruit salad and yoghurt. My diary actually didn't mention what was in the farmer's breakfast. Refreshed and rejuvenated I headed around the old town. It was fascinating. Lots of small alleyways, mud brick walls and small shops selling a whole range of items : there were tinkers, tailors, hatters, carpenters, farriers, blacksmiths and of course, plenty of food stalls. Later, I returned to the night market. It was very busy and loads of food. I had fried fish but also meatballs with potatoes and some unidentified but tasty morsels. A bit different from the usual shaslick. I also visited the Id Kah mosque which was just round the corner from the hotel.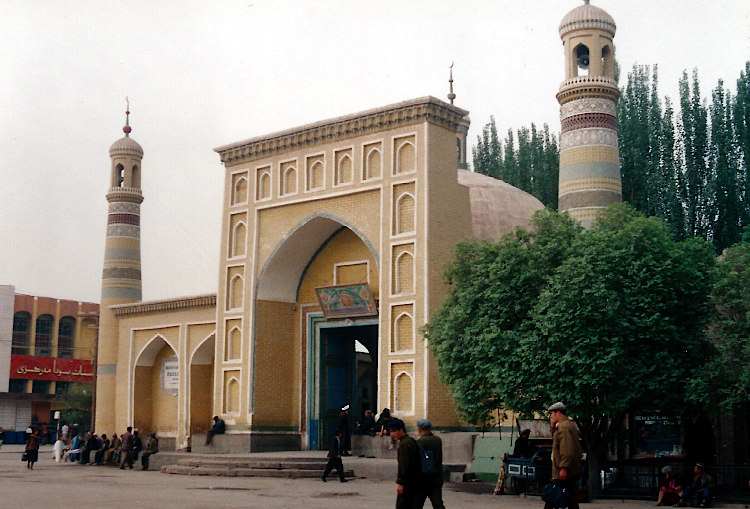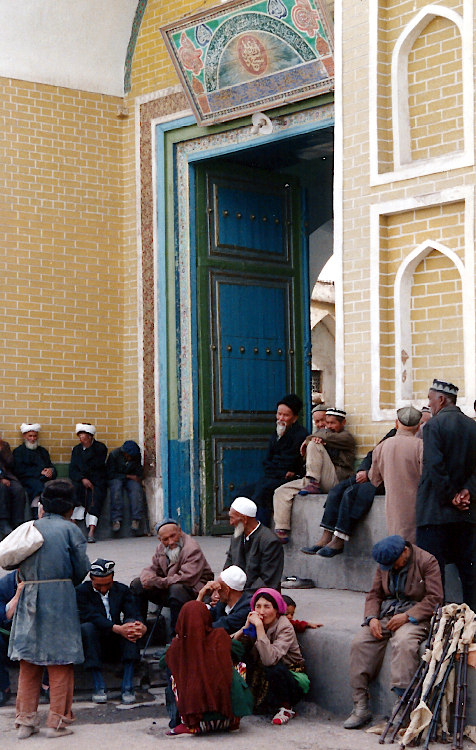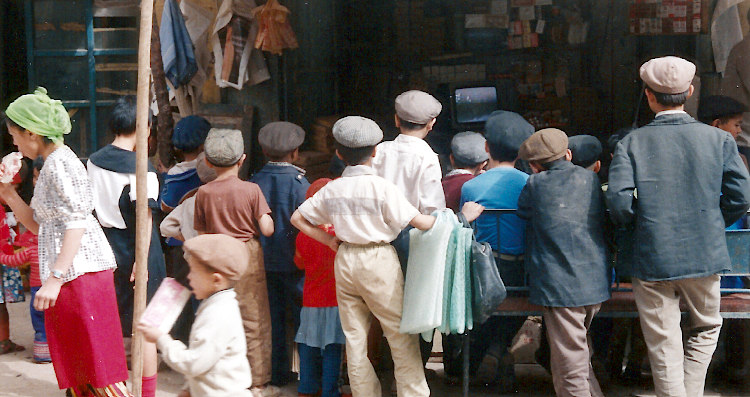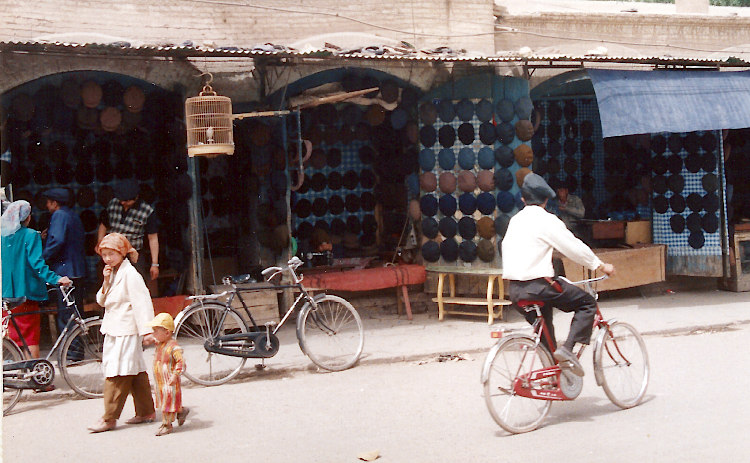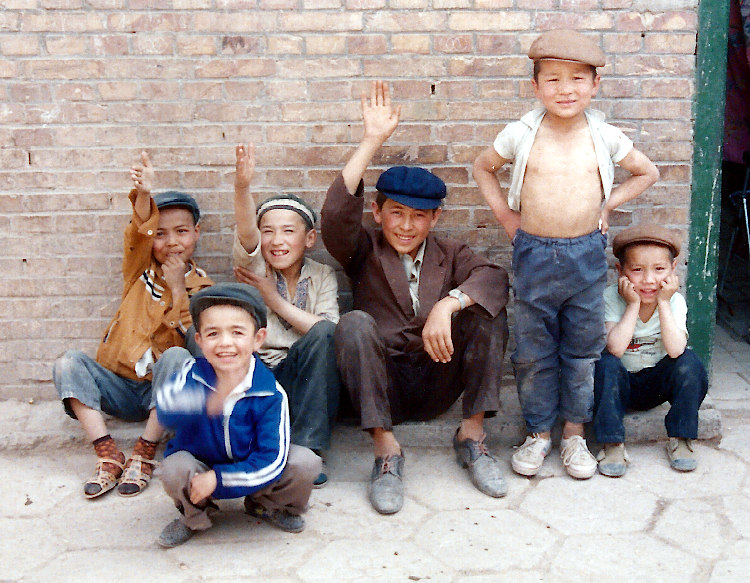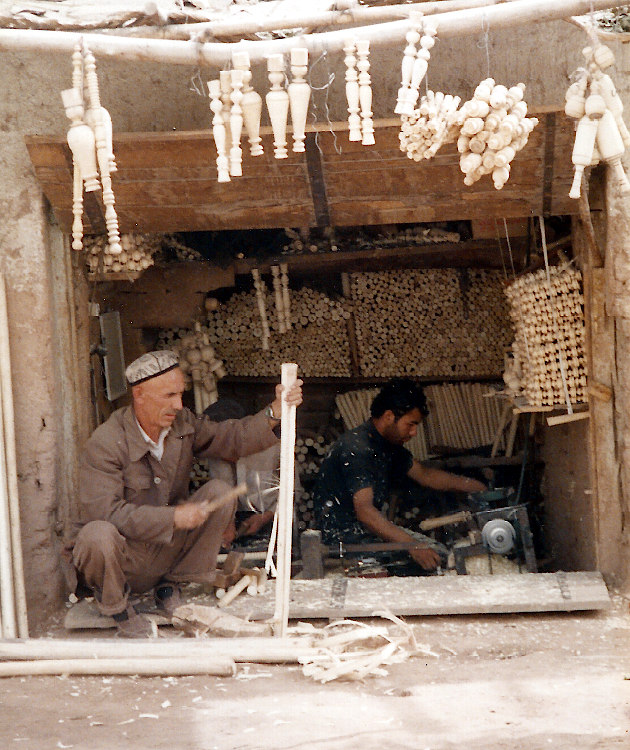 Sunday 2nd May 1993. Up at 8am and off to the famous Kashgar market. Found my way to the old mosque and then just followed the crowds. Before the main market there was a side market with piles of smelly animal skins and leather goods. There was also a live bird area, I think for pigeon fanciers, also budgies for sale. Also areas for clothes, shoes, hats, material and household goods. I actually made some purchases – I got what I think was a rabbit fur lined hat and some long johns.
There were, of course, loads of interesting people, obviously they had come from miles and miles around. I noticed at least two unfortunate men with no noses, just holes in the middle of their face. Did they have leprosy? I suppose the most interesting section was the enormous livestock area. Here there were hundreds of fat tailed sheep for sale and also camels, cattle and horses. Some cowboys were obviously road testing their horses before buying. All in all an amazing experience.