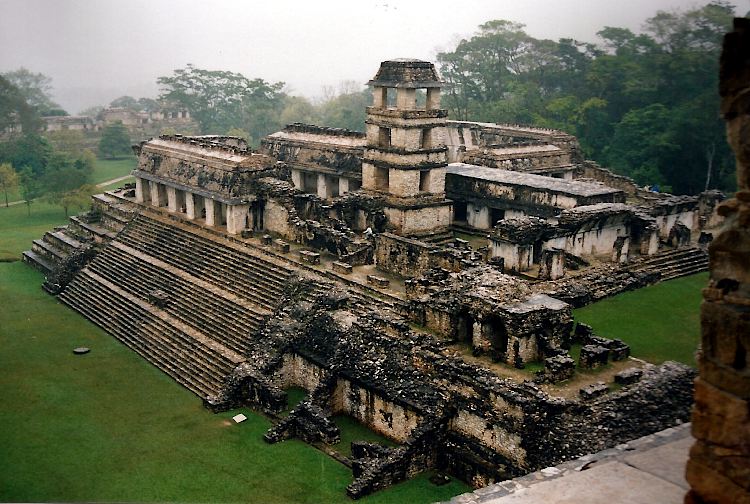 Down Mexico way.
Down Mexico way.
Coming through the turnstile from USA, Mexican Nogales not surprisingly seemed very different. There were lots of dodgy looking blokes on street corners looking very macho. My diary simply notes that the hotel was OK, $15.
The following morning I got a local bus to the main bus station – I had been learning Spanish before I left so I knew it was the Central Camionera. I had been told that the bus I wanted was at 8.30 so I got there in plenty of time at 7.45. At the ticket office I was told it would be 10.30 but then someone else sold me a ticket for the 7.15 bus which then left at 8.00. This is how things are done down Mexico way.
My diary notes that the bus was quite comfy, like a Greyhound but with videos. The day was cool and cloudy and my newly utilised Spanish once again came into play when I had some burritos for lunch at a stand in the bus station. My diary notes all this but not even the name of the town I was in. I think it must have been Los Mochas. The place is now infamous as the place El Chapo, one of Mexico's biggest drug lords, was captured. It is obviously not the sort of place I wanted to hang around in even then. However, I was there for one reason, to hop on board the Copper Canyon train.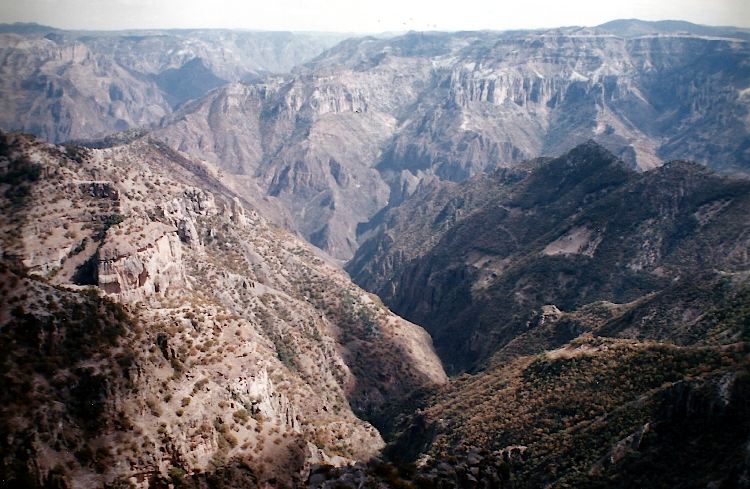 Wherever I stayed, I slept like a log and got up at 4.30 to get a taxi to the station. I had to be early as you could only buy tickets at the station on the day and the train left at 6 am! I ended up sitting next to an old German bloke. The journey was amazing – I note that we went through 86 tunnels and over 39 bridges. Lots of cacti but also pine forests and of course the huge canyon. We stopped at a place called Divisideo for 15 mins for views and where Taratumara Indian women were selling home made baskets and trinkets.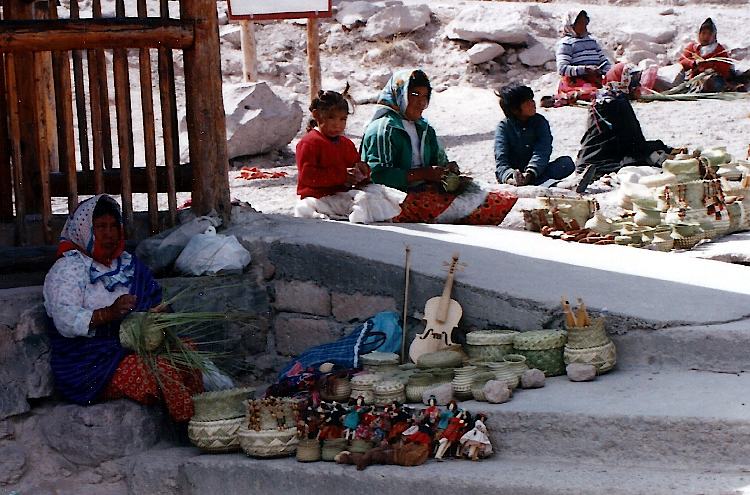 I saw some overturned trains way down the canyon which didn't fill me with confidence or the fact that there were a number of guards on the train with shotguns. Anyway after 10 hours we arrived at Creel.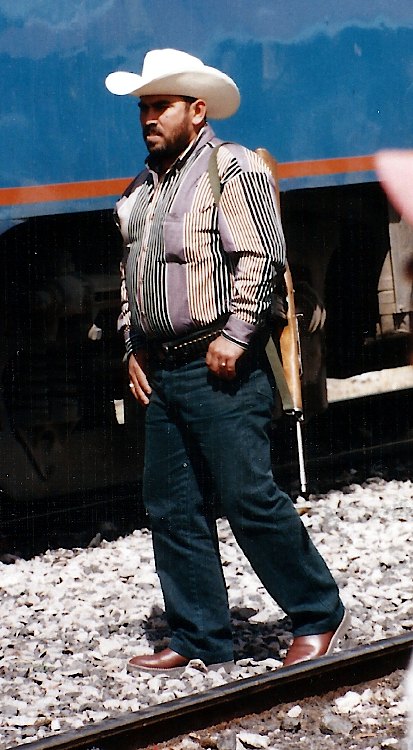 This is a video of a trip going the other way, actually from Chihuahua. At 9 mins it gets to Creel and then the journey I did to Los Mochas.
Again, I joined a little group and we arrived at Marguaritas, apparently a famous place in Creel that refuses no one. There were five of us and we were shown a room with three beds. The place was packed solid but I drew a long straw and got a bed to myself!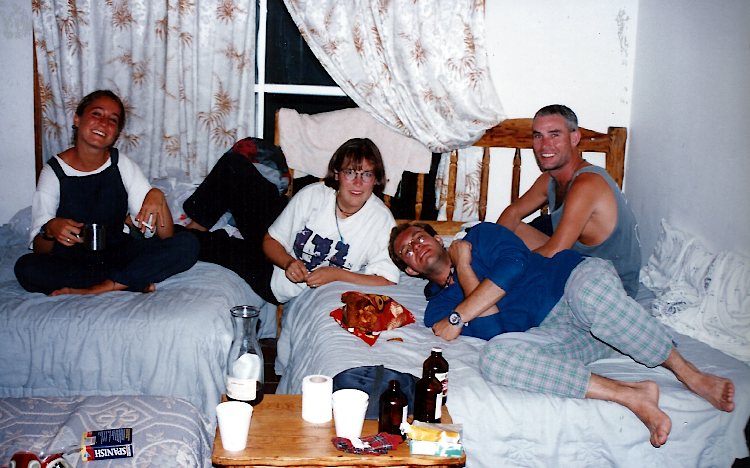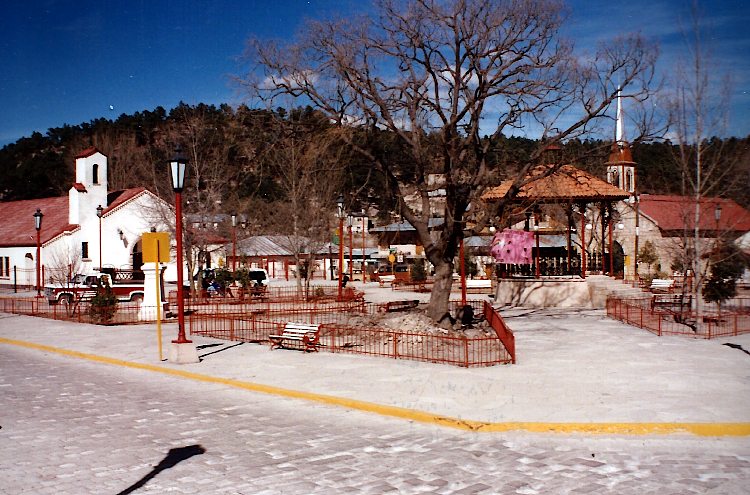 Town was pretty small, just one street with various shops, restaurants, hotels and quite a few new-looking buildings – they were obviously expecting a tourist boom. Food was included at the hotel and the evening meal was a case of wait for a place, sit down, eat, vacate your place. It was packed but the system worked quite well. Food was OK – frijoles (black bean paste – a staple in Mexico), carne (some sort of meat!) with chilli.
Went for a walk with my room mates to a nearby lake, which I guess was Lago Areko, (not sure it was warm enough for a swim) and to enjoy the sun. Supper that night was tortillas, spaghetti and mashed potato. Not sure why the food here was more important than any description of the town or environs.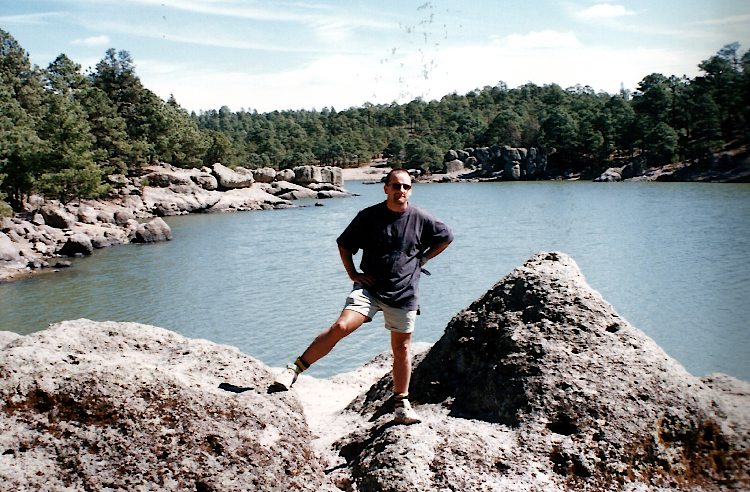 The following day we hired a bloke in a van to take us to the hot springs. We drove through a large pine forest and stopped on the edge of a canyon. An Indian boy led us down a very steep slope to the spring – basically water gushing out the side of the mountain. The water was just the right temperature and a gorgeous spot. The river here was also quite warm.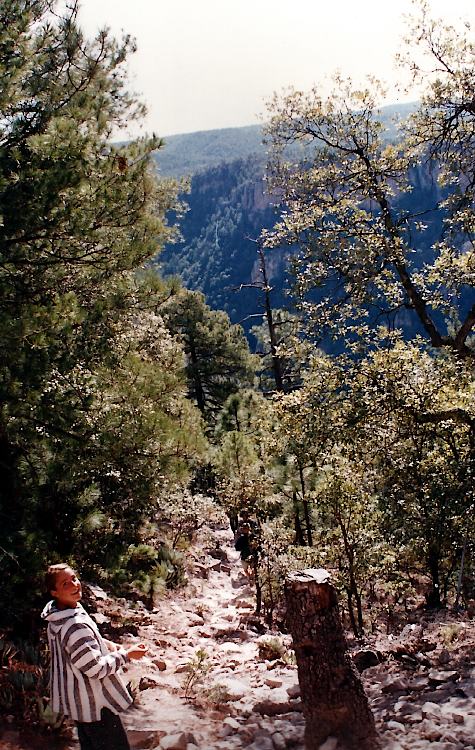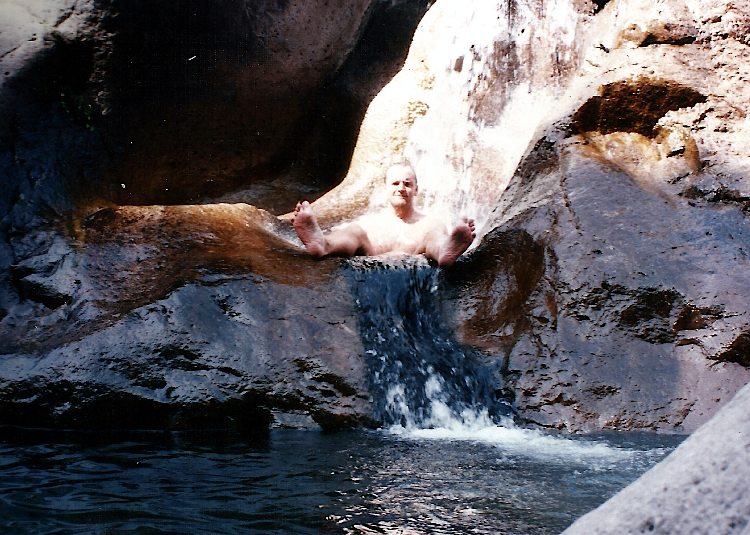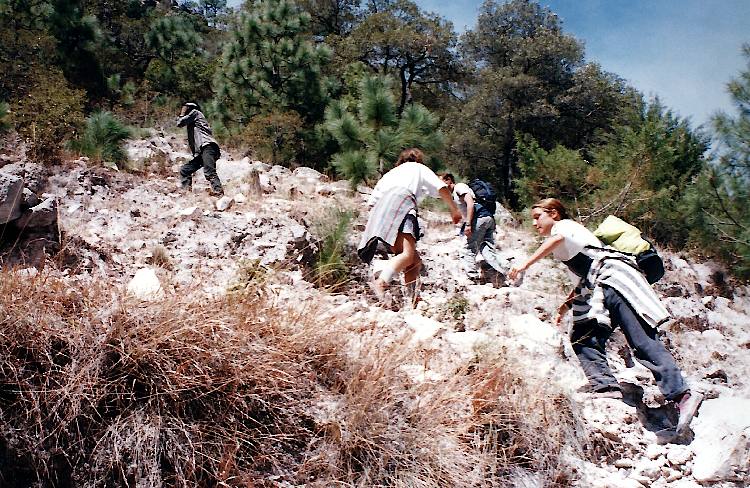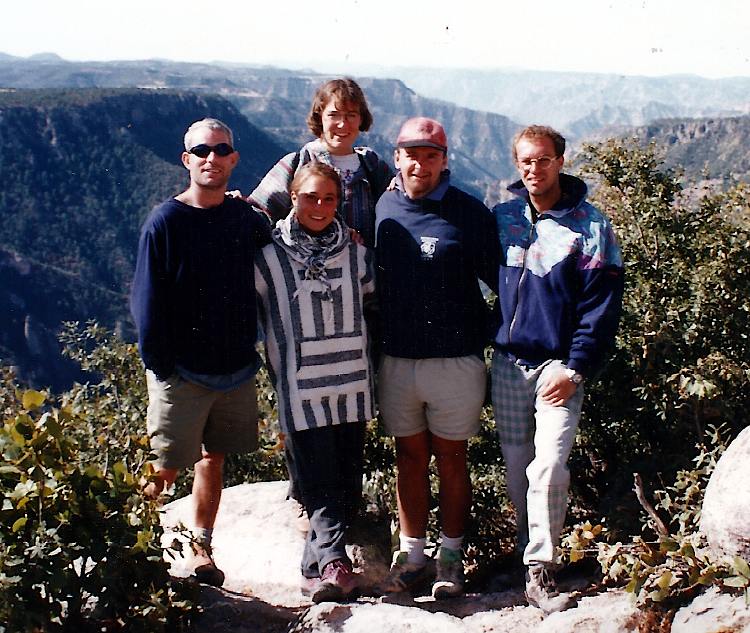 That night I was off the beer but tried the local sweet wine which was pretty good.
Breakfast was scrambled eggs and more frijoles. I said goodbye to my new friends and hopped on a bus to Chihuahua. I noted the scenery was very good but very arid. Left the bus but also left my jacket on the bus. Fortunately it was the last stop and so after explaining the situation to the foreman of the station we found the bus and it still had my jacket on board. Calamity over! I stayed at the station to get a connecting bus to Zacatecas. It was going to be an overnight trip of 12 hours. I was certainly racking up the miles with long journeys on this trip already. I noted that I changed money at the station $US120 @ 7.45 got me 729 pesos.
It was another long night as expected. The seats were small but not too uncomfortable and there were only about half a dozen people on board. I got some sleep but I was annoyed that they made a number of long stops and then another stop to try to fix the faulty aircon/heater. To no avail – it was freezing on the bus. Anyway we arrived in Zacatecas at 8.45 am only an hour later.
I caught a local bus into town which dropped me near the cathedral and I walked to a cheap hotel nearby. The room was a cell, clean but very basic. It was technically an ensuite with a cold shower and a toilet with no seat, all in a room the size of a wardrobe. What did I expect for 30 pesos? ($4).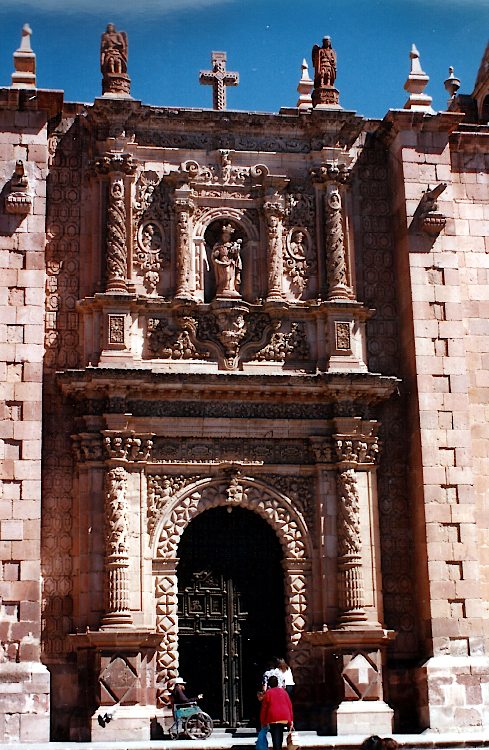 I was very impressed with Zacatecas. Lots of small windy streets with old Spanish/Mexican architecture, small squares with pretty trees, the pink of the buildings and countryside in stark contrast to the azure sky. The place is famous for a silver mine, the Mina el Eden. The mine was first opened in 1586, when silver was discovered in Zacatecas. It was in operation for nearly 500 years until 1964 and then opened to tourists in 1975. The compulsory guided tour was in Spanish, but I understood a bit. It was certainly an eery place where thousands of Indians died by all accounts. I could quite believe it – lots of the tunnels looked as if they had collapsed and there were shafts that dropped into the abyss.  At the end of the tour, you can ride an elevator up at the other end, and you eventually emerge at the western side of the mine. From there, it is a short walk to the Teleferico station.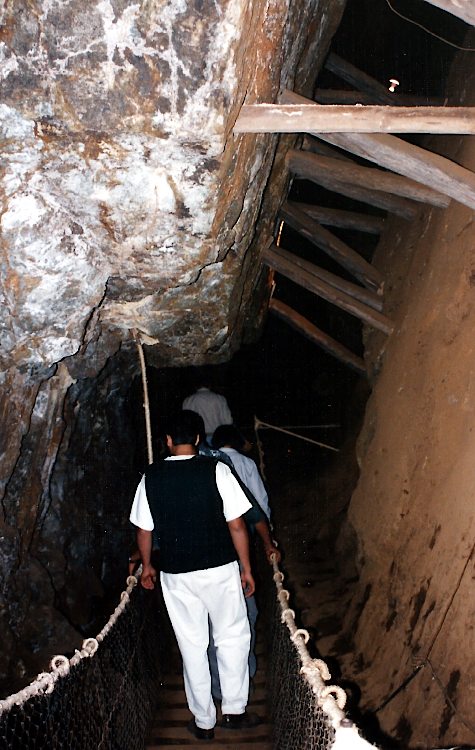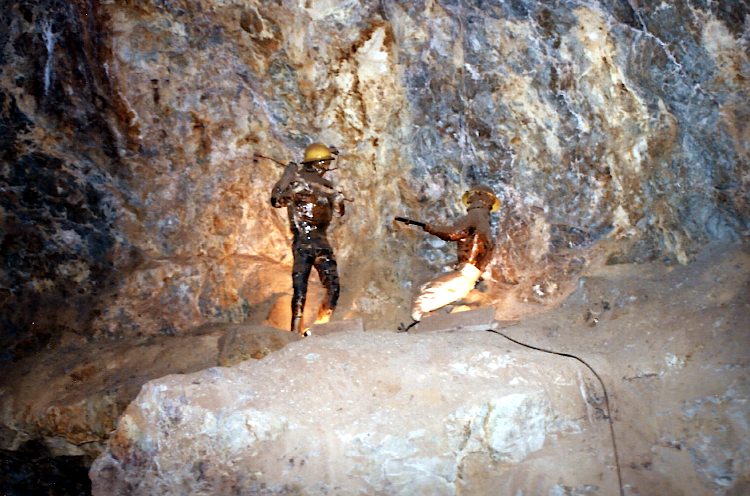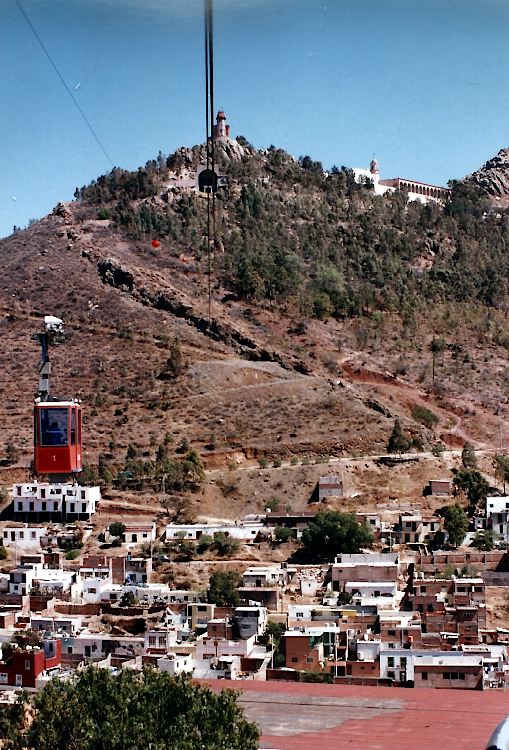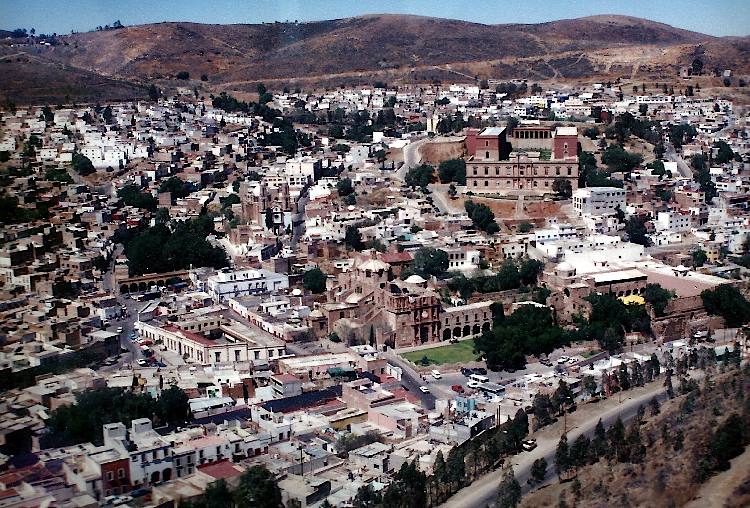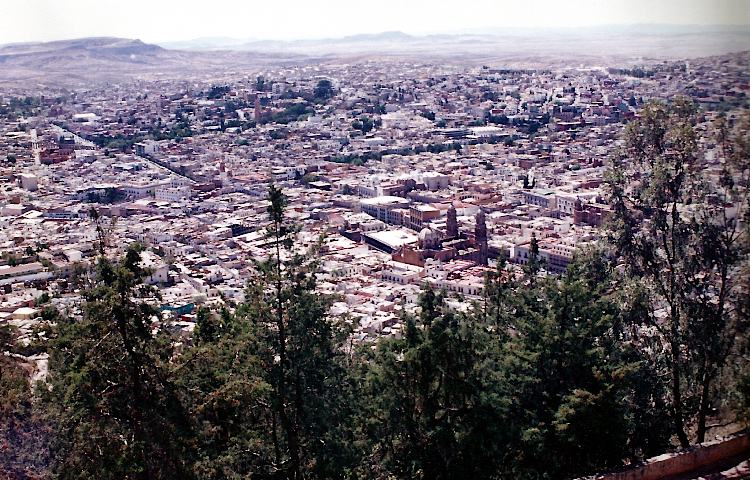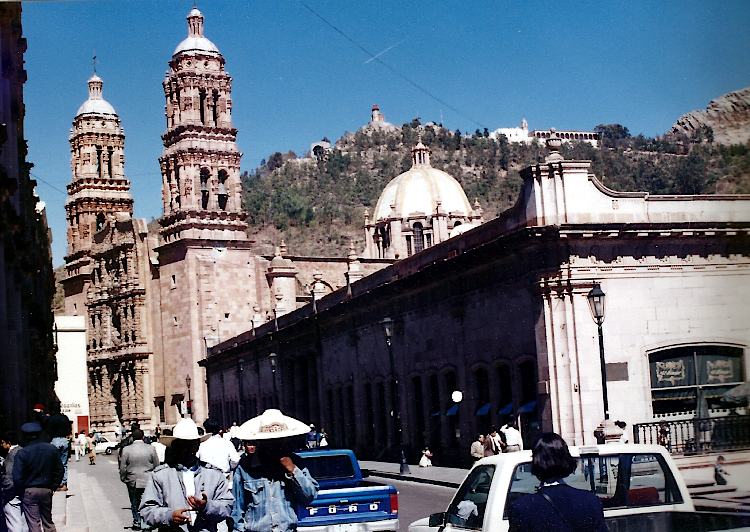 The teleferico is quite a short ride back into town but with some fantastic views. Here's quick video of the trip which also includes a bit in the mine:
Back in town I went for a further wander. I tried a Comida corrida (lunch of the day) – Fish stock soup with veggies followed by fish kebabs with rice, followed by a splodge of beans with a lump of cheese on top and four tacos, all for 20P.
I noted that it seemed a prosperous city, the majority of people better dressed than in the UK although there were a few Indians begging and some very dirty looking cowboys.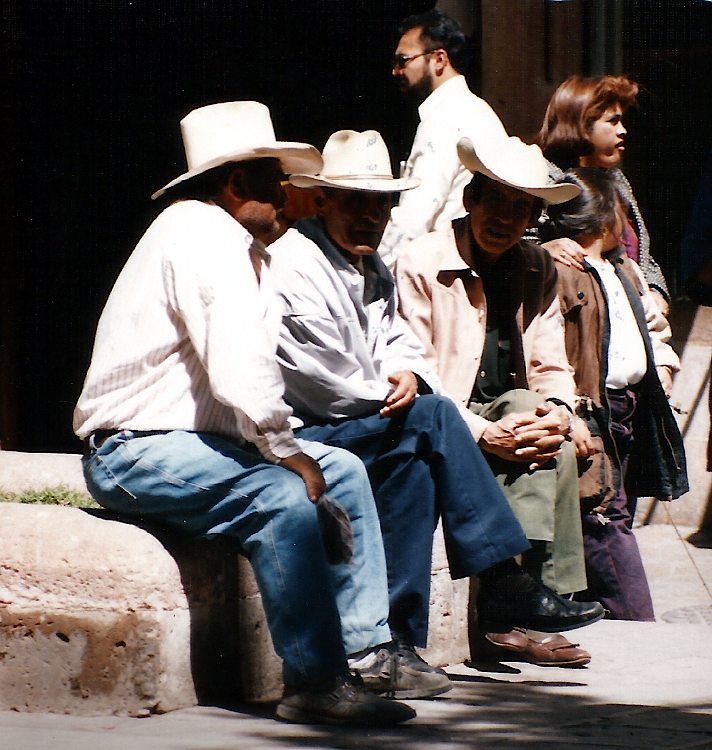 Saturday 2nd March
On the road again. This time on the 8.45 am bus to Guadalajara. This time the bus filled up and I sat next to a Mexican cowboy. In fact I haven't seen any foreigners for a while. Arriving in Guadalajara I actually mention the name of the hotel – Posada de los Plantes. I rang the bell but it took quite some time for an old lady to come to unlock the gate to the hotel. It was actually a really nice place, a big room with high ceilings, two beds and a mirror and some pleasant courtyards. The street is fairly quiet as well despite being only a 10 minute walk to the centre of town.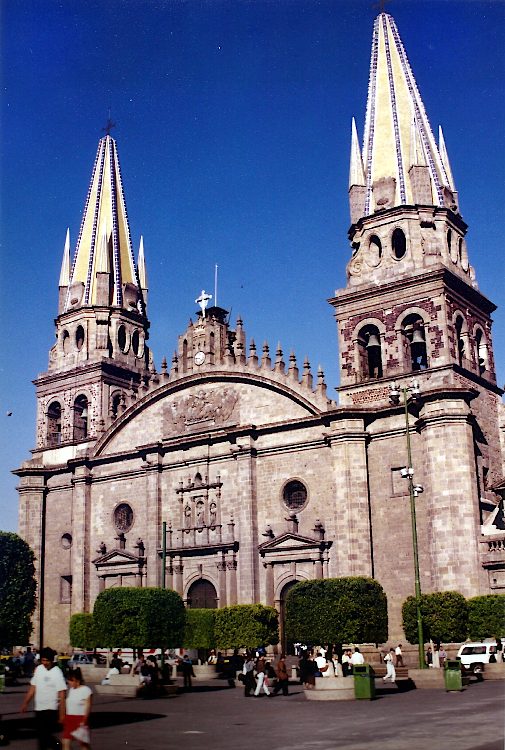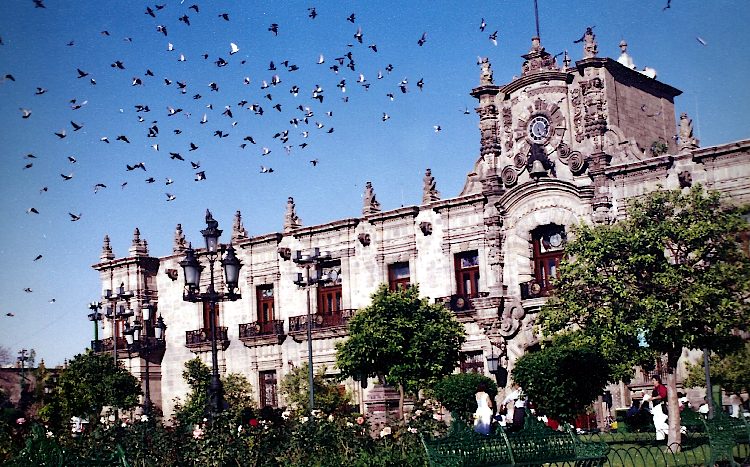 I went for a wander and stopped at La Terrazza restaurant – a bit of a student hangout. I had the comida corridor – soup, rice, enchiladas, bolos and rice pudding for desert 10P. Guadalajara is another good looking city. There are plenty of big colonial buildings crowding quite a compact centre. Lots of people strolling about enjoying the late afternoon sun. I visited the market and bought some fresh fruit. Wandered past the birthplace of Mariachi – a square where two competing bands were making a racket ten yards from each other and bothering the diners for tips.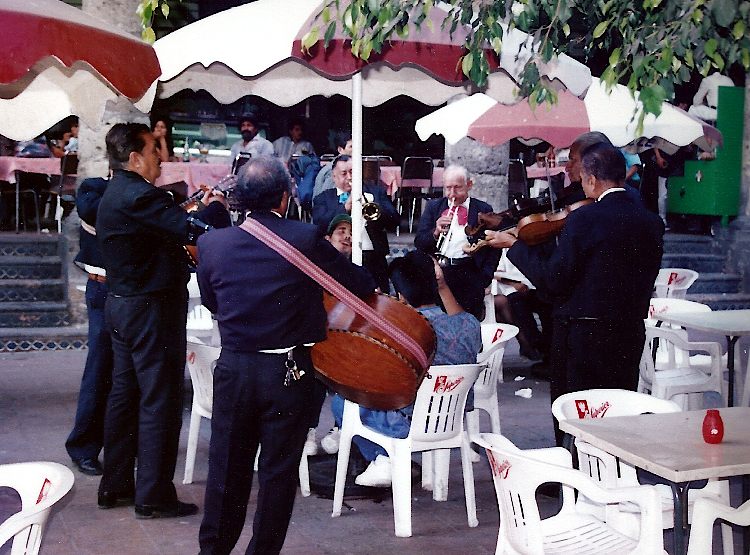 I bought an English language newspaper and had a pineapple ice lolly. I noted that my Lonely planet advised caution with ice lollies ensuring they are made with purified water. It also warned of bag slashing, pick pockets and muggings although I had seen no sign of any of this so far.
Mariachi Band:
3rd March. Had a lie in then walked to Parque Agua Azul a pleasant little park which also had an orchid house, butterfly house and aviary. I sat down to write a few postcards. Then moved on to a quiet little square for lunch. Here I ordered the Plato Grande unsure of what I was in for. It turned out to be a plate of spicy vertebra with all the tortillas you could eat. It was actually pretty good and a bargain for 16P.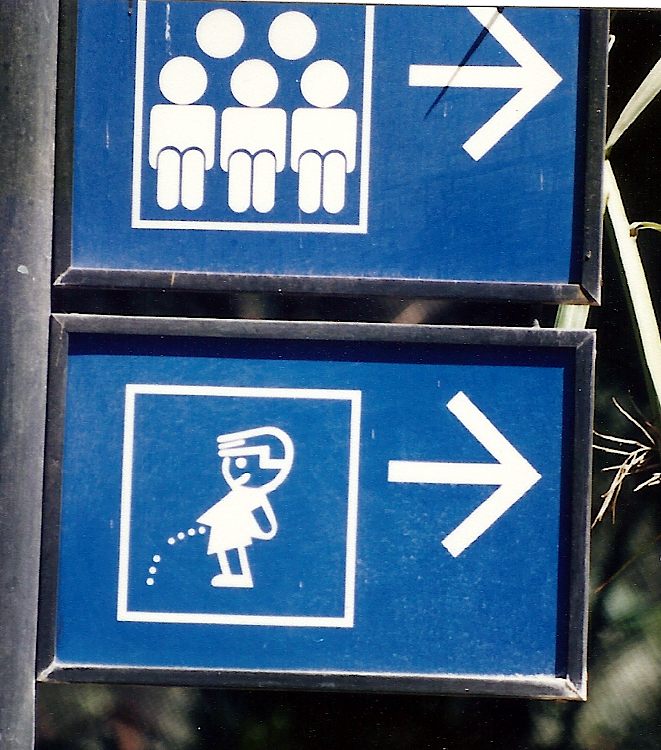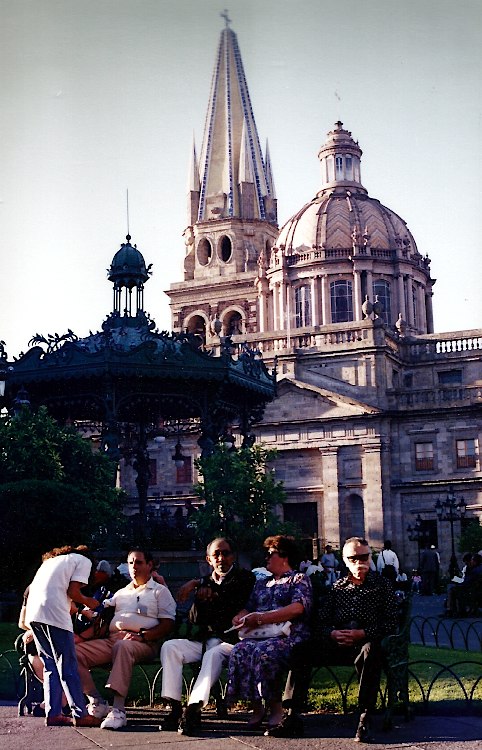 Later in the afternoon I returned to the Plaza de Armas by the Cathedral to watch the locals promenading. I hadn't seen many tourists at all, just locals in their Sunday best. Then a band struck up which was pretty good. More oom pah than Mariachi but very enjoyable.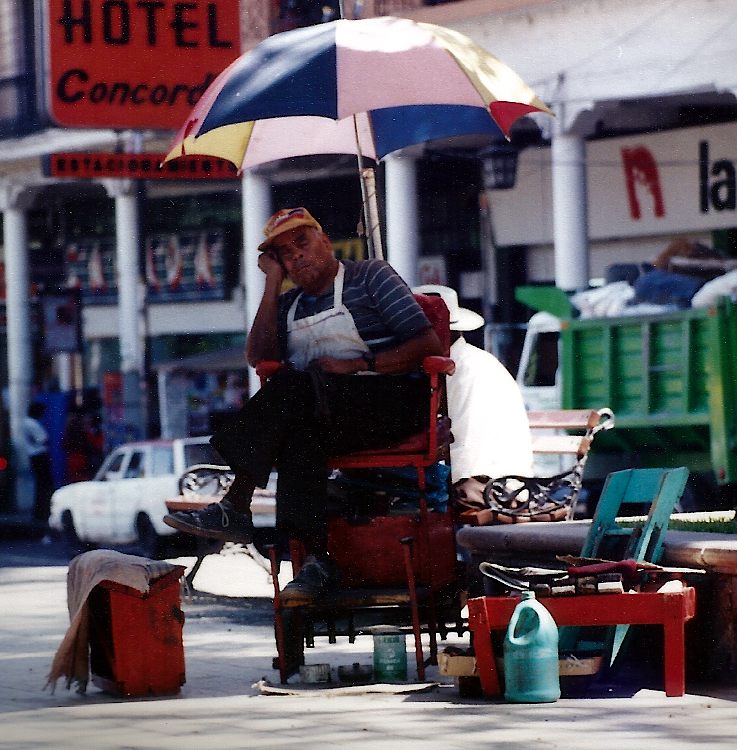 The following day I was on the move again. Not too far this time, a 5 hour trip to Uruapan. The town square was very attractive surrounded by small shops and a shaded area in the centre. I booked into the Hotel del Parque, which according to the photo below from google streetview still exists. The place was clean and airy and I was the only guest. They had a French person a couple of days previously and before that a German.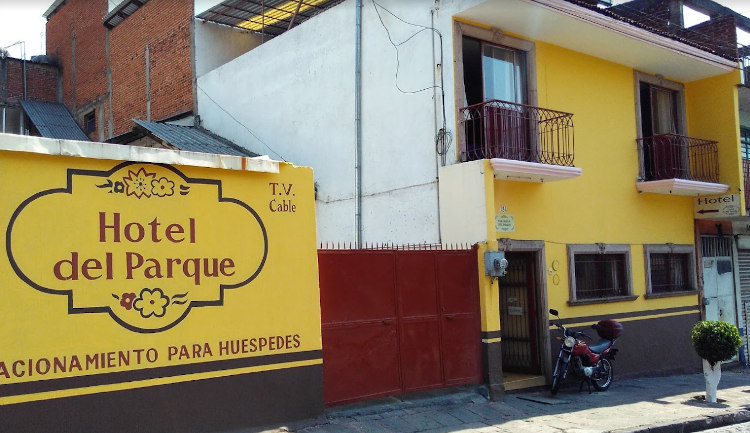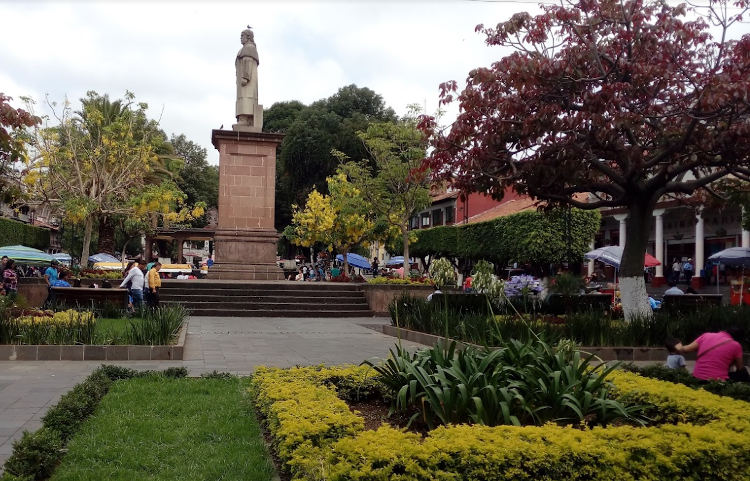 The reason I had come here was to visit Volcan Paracutin. The day didn't start very well. I stopped at a stall for breakfast. No menu, no English. He had what looked like tomato soup so I thought why not. It turned out to be tripe soup and the tripe was as tough and tasty as elastic bands.
The day didn't get much better. I was told there was a bus at 7.30. It arrived at 9.00. I got off at a village near the volcano. Apparently it is quite difficult to find your way to the lava field through a thick forest so I hired a bloke for a few pesos (Apparently there is a tourist centre there now) He left me at the base of the lava field and then my troubles began. It looked easy to follow the path but somehow I got lost. I slipped a few times on the rough path and grazed my leg. I eventually got to the crater and it was a tough scramble up the hot sand. It was hot – not just because of the sun but because the ground itself was still hot – the volcano only exploded in 1943 and there is still hot lava under the surface.
Once at the top there were great views of the surrounding countryside and I could see the path to a church which had been engulfed by the hot lava and was now encased in stone. From here it wasn't too bad to get back to the village but I hadn't brought enough water and only a few oranges to give me strength. It was a very tough day!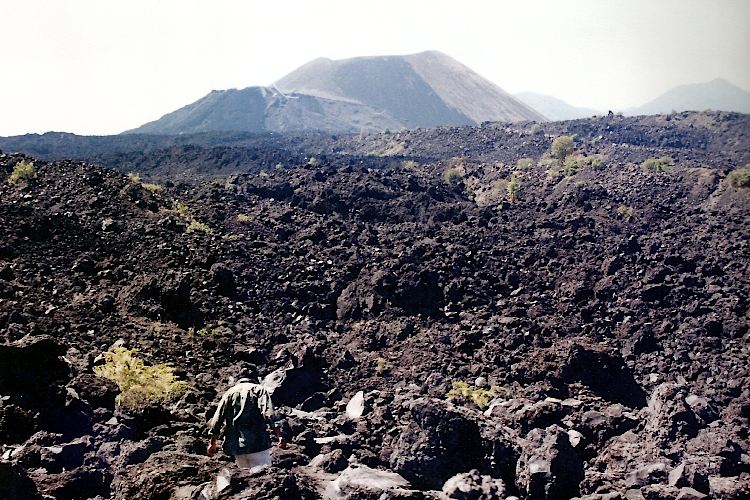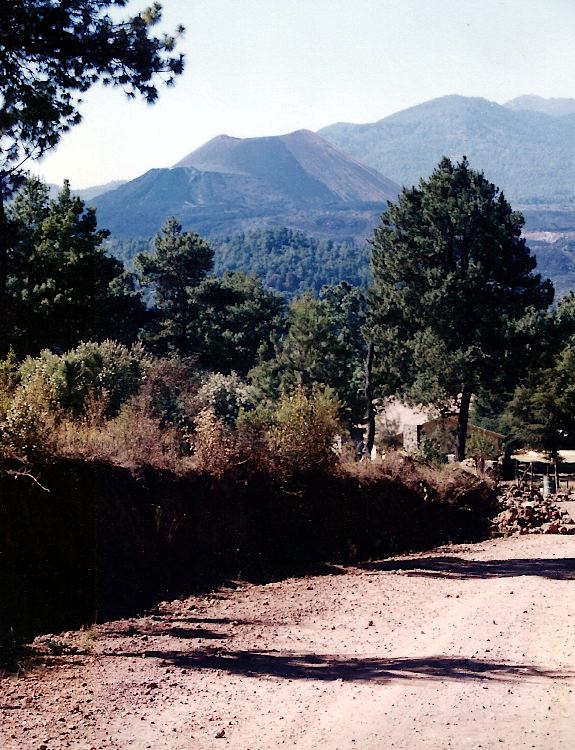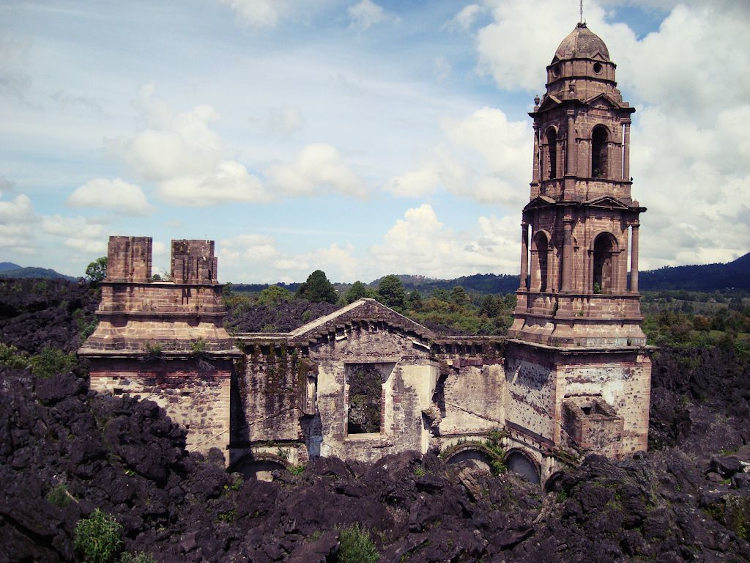 Back at the village my luck changed. I had a very welcome cold drink in a cafe and asked about the next bus to Uruapan. There wasn't one for ages but a bloke in the cafe offered to drive me there as he was on his way. I even managed to talk to him on the drive back and understand about a third of what he said.
I was exhausted after my day and the previous weeks' travelling were starting to take their toll so I had an early night and a lie in the morning after. I also treated myself to a Bistec Ranchero for breakfast at Commidor Mary, washed down with a jug of Strawberry juice. Then on to the tropical park by the hotel, the Barranca del Cupatitzio National Park. It was a real oasis right in the heart of the city. But my muscles were aching so every set of steps (there were many) were painful. The water was crystal clear as it is a spring which emerges right in the heart of the park. It was a beautiful sunny day but I had the sniffles, I must have picked up a cold from somewhere. I think the almost constant travelling was taking it out of me.
Here's quite a nice short video of a wander in Uruapan:
7th March, feeling much better so back on the road for the short bus ride to Patzcuarro. This also looked like quite a nice place with an old historic centre where I found a fairly cheap and basic hotel – Hotel Valmen.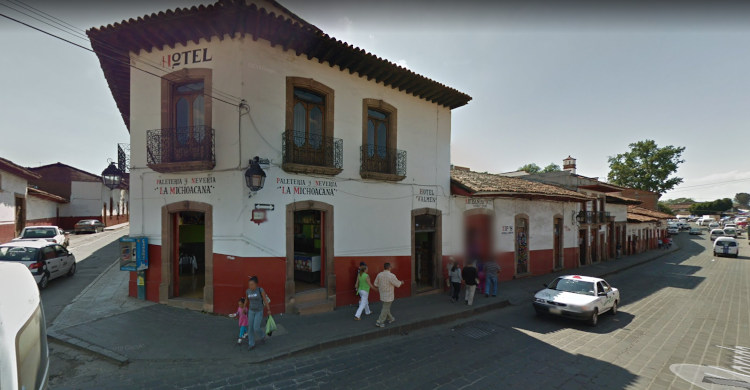 I was soon off exploring and the first thing I did was head off to lake Patzcuarro for a trip to the Isla de Janitzio. Down at the Embarcadero there were a few more foreigners about. We had to wait for the boat to fill but we were soon off across the lake. Of course we had to share the boat with a band. In Mexico the buskers are never on their own – they have to be in a band.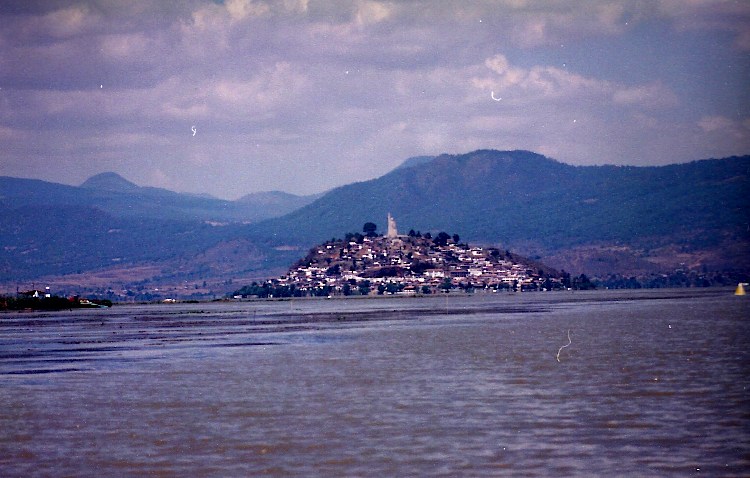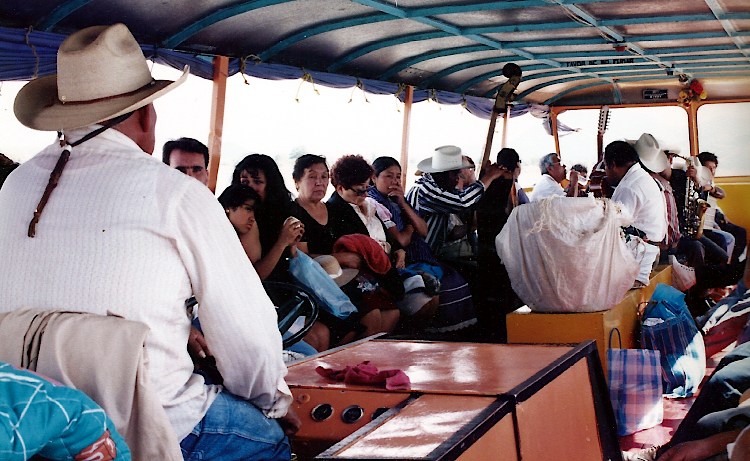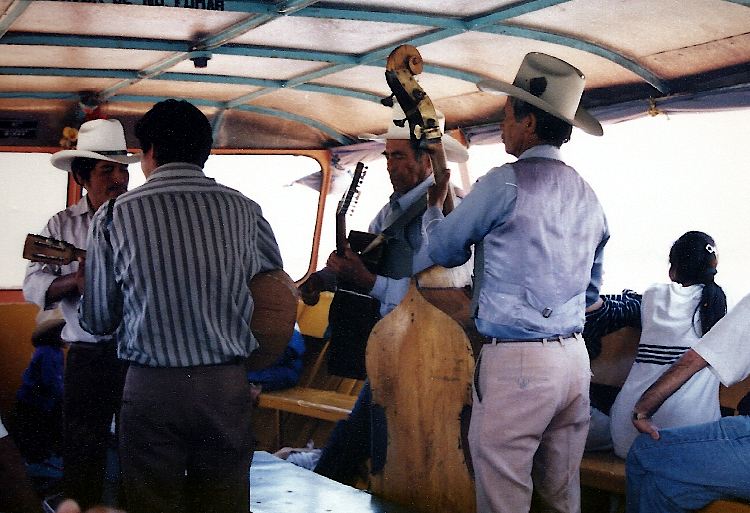 There wasn't that much to see on the island. Every building on the steep slopes seemed to be either a restaurant or a knick-knack shop. Obviously the place was popular with tourists. Apparently it was a big place to be for the festival of the Day of the Dead. I had to climb up inside the huge statue there of José María Morelos, a Mexican rebel leader and there were good views from his fist. Waiting for a boat on the pretty quayside I had a beer and listened to the many bands that were busking by the waterfront.
Back in town the sniffles had started again and feeling a bit run down so had an early night. The following day I had a wander round the old town of Patzcuaro, wrote some postcards and also put some clothes into the lavanderia to get washed. I also wandered around a market. There were plenty of indigenous people setting up stalls of mainly pottery along the pavements.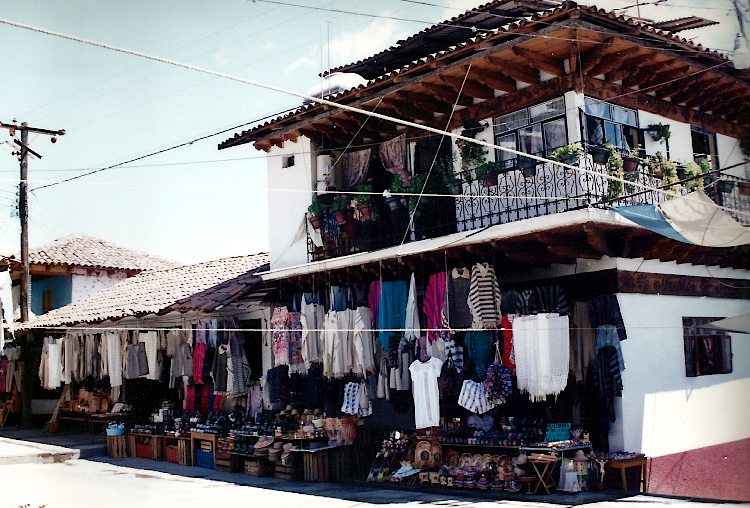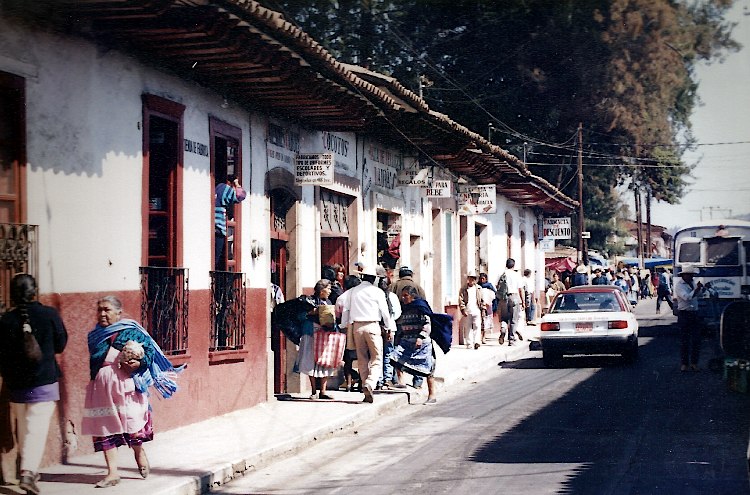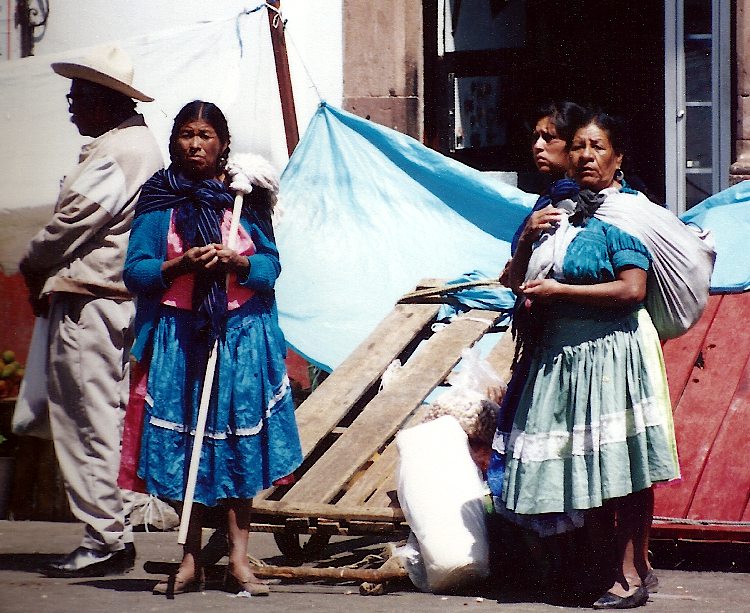 The following day I was off again, this time only an hour's trip to Morelia on another almost empty bus. I booked into the Hotel San Marcos and then headed out for a wander around town. Another pleasant town, I thought a bit French in character. Lots of old colonial buildings of course. Another comida corrida for lunch, this time Chicken adobo. Chicken in a very dark brown sauce with rice. Pretty good. I copied the locals and put the chicken into the tortillas to make little sandwiches. Interesting town, but not interesting enough for me to take any photos! Anyway, here's a photo of the hotel thanks to Google street view.
Sat. 9th March. Alarm at 6.00. Streets still dark and quiet. Heading to Taxco. However there were no direct buses so I had to get one to Toluca first. As we approached the town, the driver told me he wasn't going into town so he dropped me on the ring road! Fortunately a taxi showed up to take me to the bus station where I had a few tacos for lunch and was directed onto the Taxco bus. Taxco was a bit of a shock – full of gringos and as it was a weekend the hotels were full. Managed to find a pretty crappy room in Los Arcos Hotel Mind you checking out the link, the hotel looks pretty good. Actually later I managed to change the room and even had my own set of steps leading to it. Also there were great views from the roof and a place where I had lunch – avocado sandwich with avocados and tomatoes along with strawberries bought from the local market.
Taxco was originally famous for its silver and there are still many silversmiths etc around the small town. But now tourism is the mainstay of the local economy. The town itself is still very attractive with lots of small steep streets winding around the town. The following day I got up very early to avoid the tourists and climbed the steep roads to the Church of Guadelupe. It was a steep hill but of course great views. I spent the rest of that days just wandering the streets, hanging out in the plazas and watching the local life. Lots of people selling various things – woven baskets, hammocks, silly snake things you put on your fingers, pots and pans, balloons.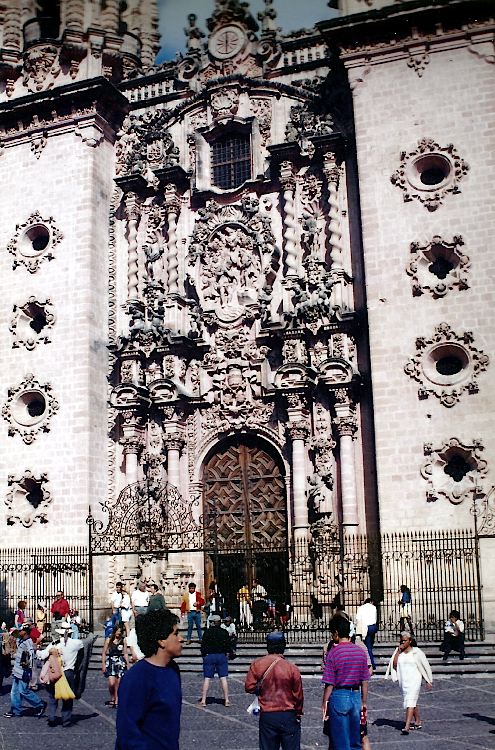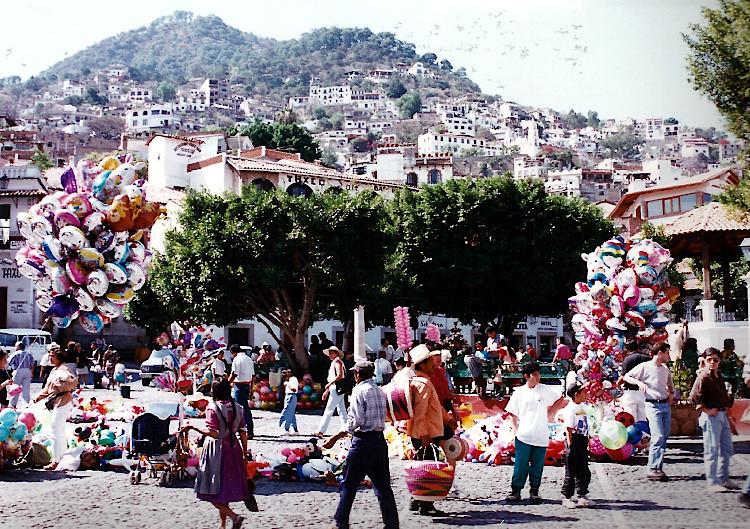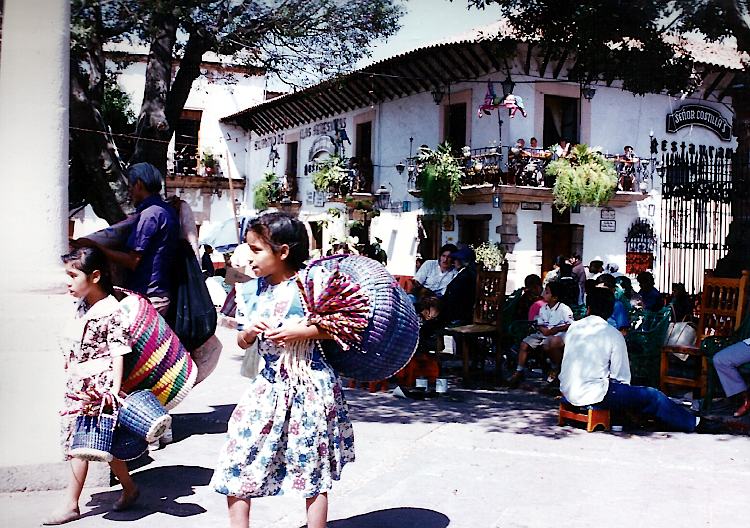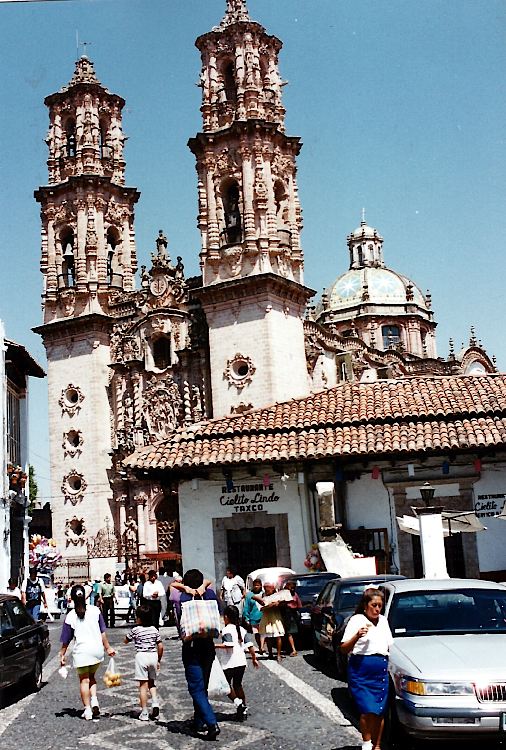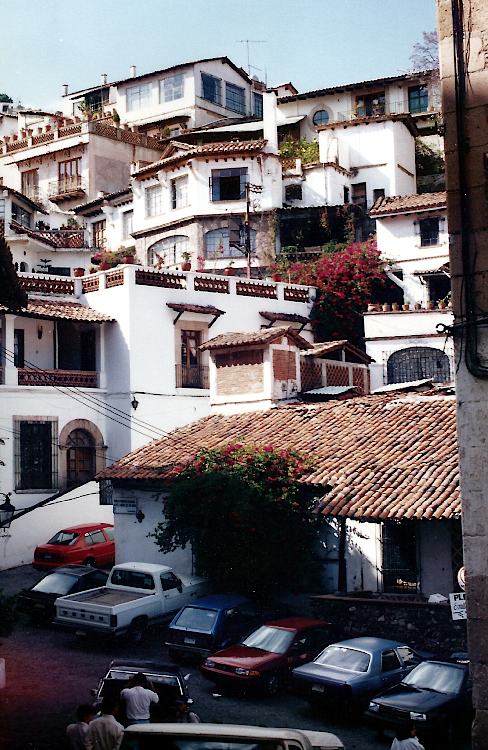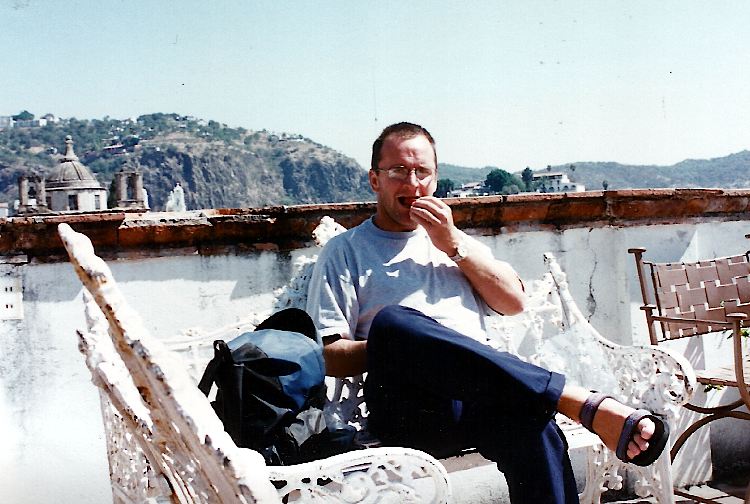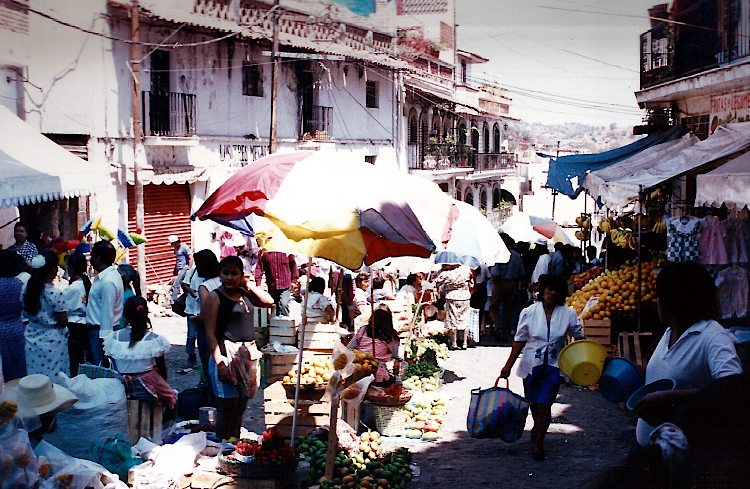 Supplemental: Two and a half weeks in Mexico, one month travelling in total so far. It's all passed very quickly although I've travelled a hell of a lot. Mexico is a pretty good place, more western than Asia and more expensive. No one speaks English so just as well I learned a bit before arriving. A lot of attractive towns with colonial architecture. People seem honest and friendly and none of the expected rip-offs. The expected dangers (pick pocketing or worse) haven't materialised nor has the so-called machismo. Food has been pretty good. Street stalls selling tacos – small tortillas with meat, onions and salsa for as low as 1 peso each. Not many tourists either – quite a few in Taxco but they are mainly concentrated in the main square. Mexico City next up.
11th March. Up and out about 7.00. Got the bus to the big cheese. Great views of Iztaccihuatl and Popocatépetl before descending into the smog. Popocatépetl was smoking and there was talk in the Mexican papers of a possible eruption. It had spewed lots of gas and ash in a previous eruption in December 1994.
Got a taxi to my hotel – Hotel Isabel. Quite a nice hotel, roomy and old-fashioned. Big room, TV, telephone, desk and balcony but as it's on the first floor, rather noisy. Mexico City seems like a good place (a common theme in my diary notes). Roads are quite small, the pollution nowhere near as bad as expected.
Following day had breakfast on the street – quesadillas and naranja and walked to the Zocalo. The photo below of the cathedral looks a bit askew, well actually the cathedral is on an angle as the whole city is built on an ancient lake and it is sinking into the ground. (I think this has been rectified by now).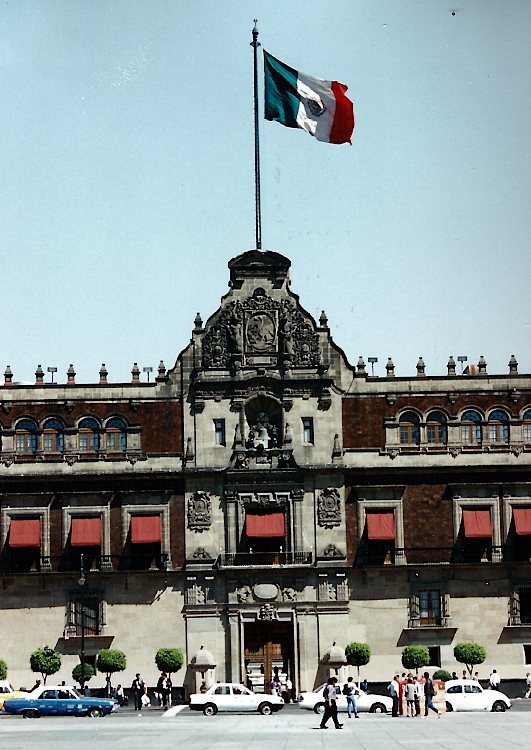 From here I walked west to the Zona Rosa. Now it is known as the LGBTQ hub of the city but in 1996 it was just the tourist area. It was a lot more low rise than I expected, quiet, peaceful but at 9.30 everything felt as if it were just getting ready to open. The city seems to start quite late. Carrying on, I got to Chapultepec wood – more wood than park, the huge lungs of a city in need of fresh air and I sat by the lake – lots of pesky lads on their day out. The Anthropological museum was a bit disappointing but much more exciting was the Danza de los Voladores.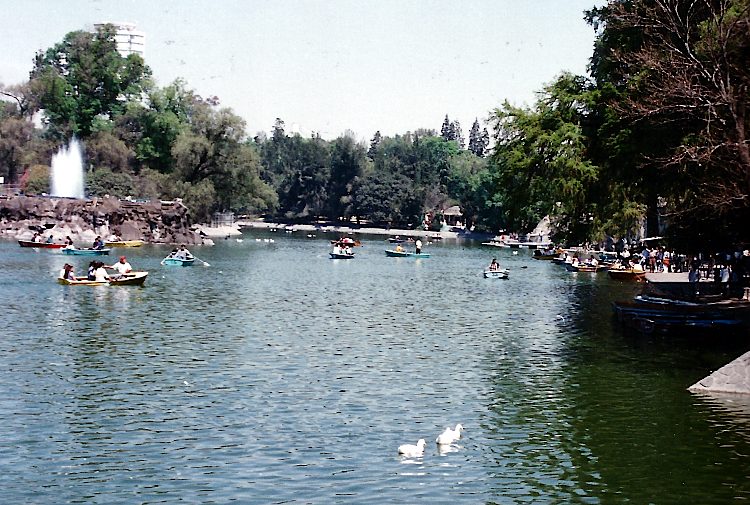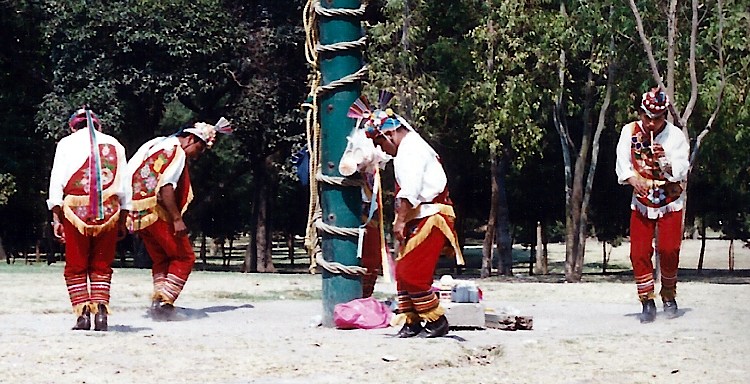 On the way back, I walked past a lot of riot police. Apparently there was going to be a number of marches today. Later I saw a political rally supporting the "Popular Front".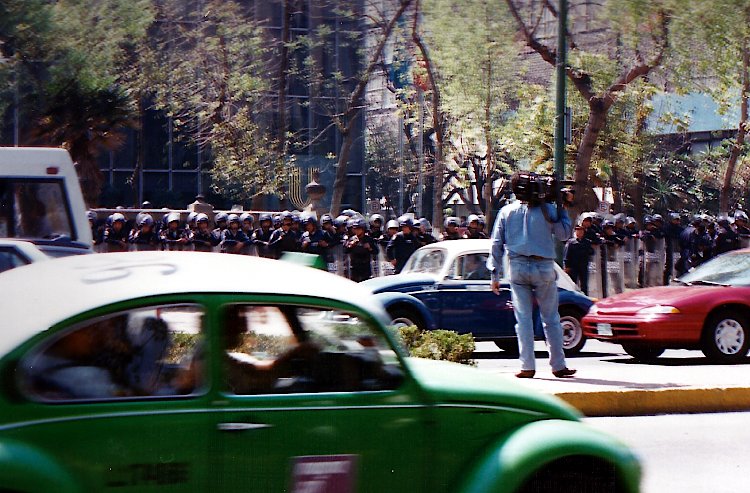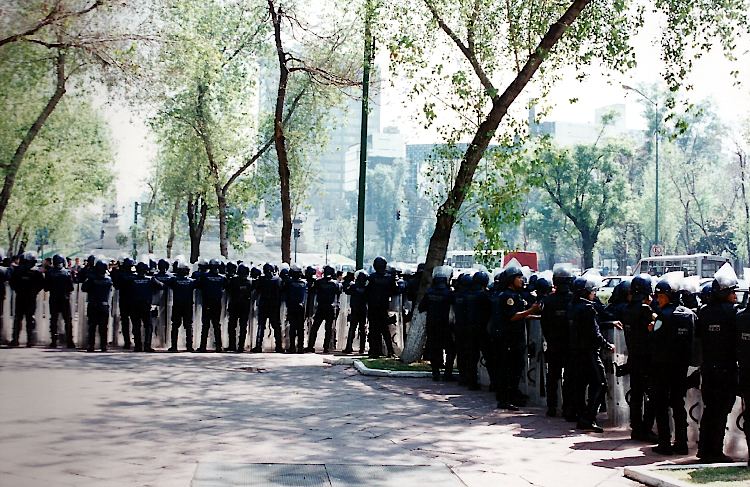 Wed 13th. Out for breakfast and decided to get the overnight train to Oaxaca despite Lonely Planet warnings. Got a taxi to the train station to buy a ticket. Left my backpack at the station and took a bus to the Central Camioneta Norte. Got another bus to Teotihuacan. My diary notes: "Here I am perched on top of the Pyramid of the Sun. What a place! Despite rather too many annoying yanks, it is one of the most amazing places I have visited. It was rebuilt in 1908, so there is a lot of concrete about. It is good that they haven't done so much renovation on the Pyramid of the Moon which looks unfinished." I spent some hours wandering around and I also bought a carved obsidian statuette which I quite like.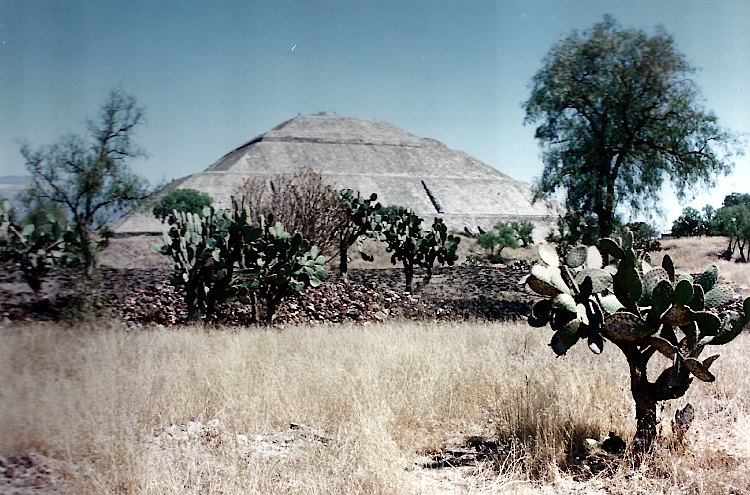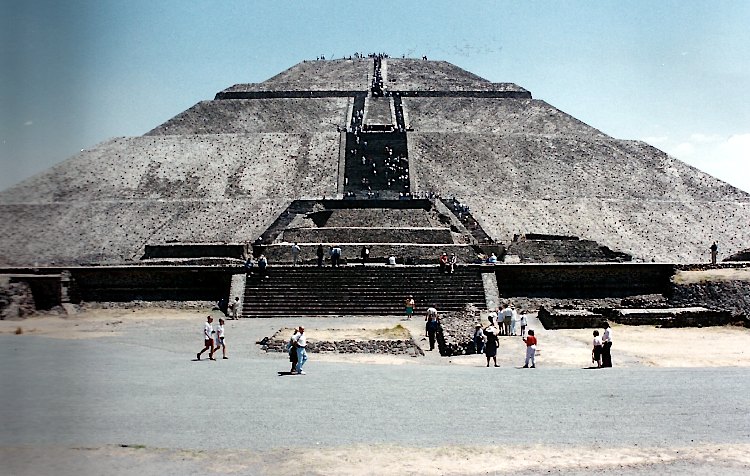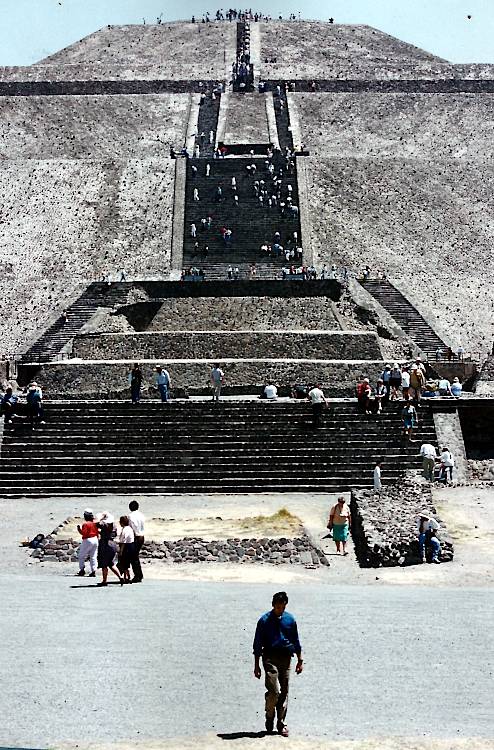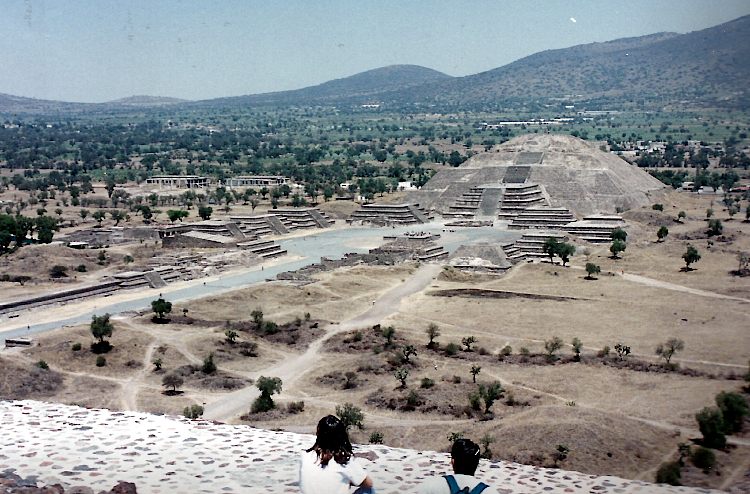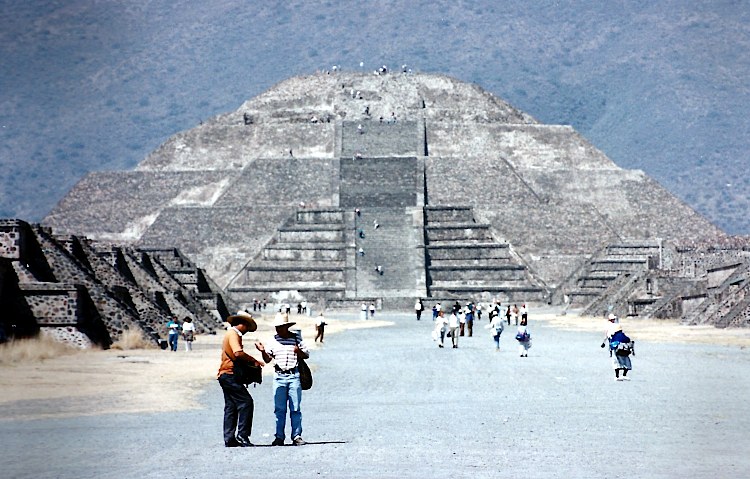 Then it was back to the train station for the night train. NB this service was discontinued a few years later. The carriage seemed pretty good but no AC and it was very hot. It was more than half empty but of course I was next to a crying baby. However, I slept pretty well that night and we arrived right on time.
In Oaxaca I walked to the hotel. 50 Pesos for a box with ensuite shower with brown water. Another decent enough town, quite touristy. As it happened I bumped into one of the blokes I shared a room with in Creel and arranged to meet later on. It happened to be my birthday – 32 today! So me and Ray had a few beers to celebrate and we put the world to rights. Interestingly, it seemed to be here that I first got an idea to give up my job in Sydney and travel the world as a TEFL teacher. This was to come into fruition a year later with my first teaching job in Indonesia. But that story is told elsewhere in this blog.
The next day, the first thing I did was check out of my crappy hotel and move into another run by a mad but friendly Mexican family. I also had breakfast in the Mercado including a very tasty alfalfa juice. Got the bus with Ray to Ocotlán de Morelos where they were having their weekly market.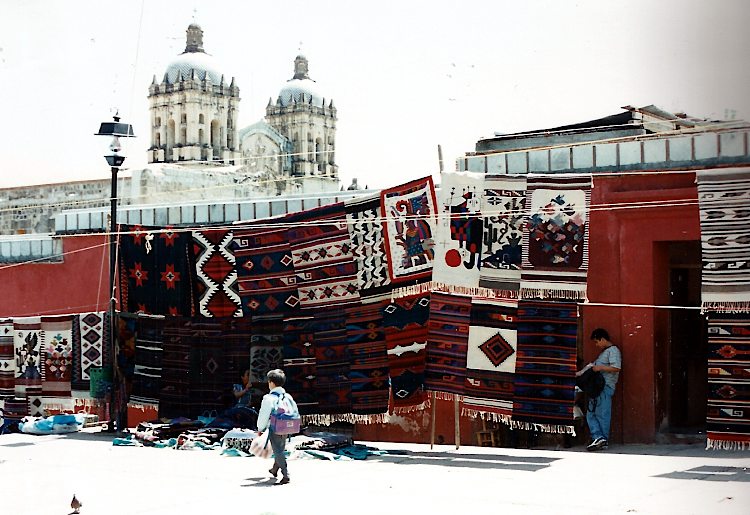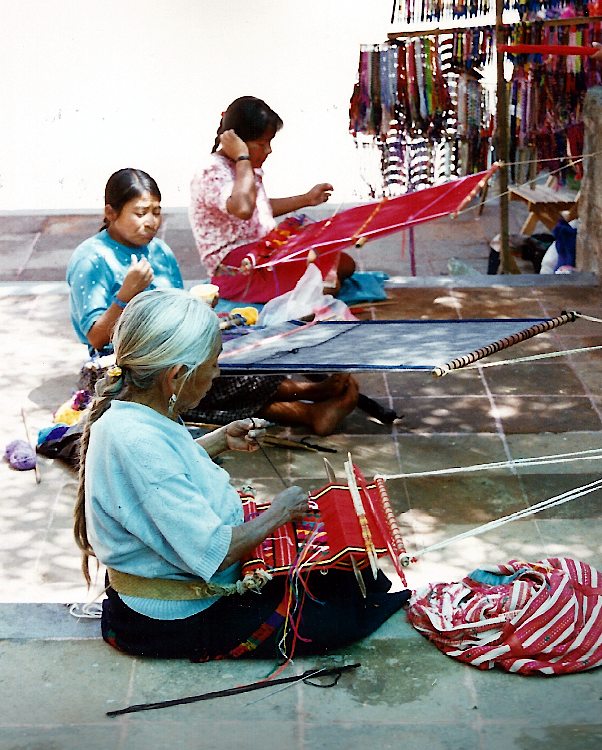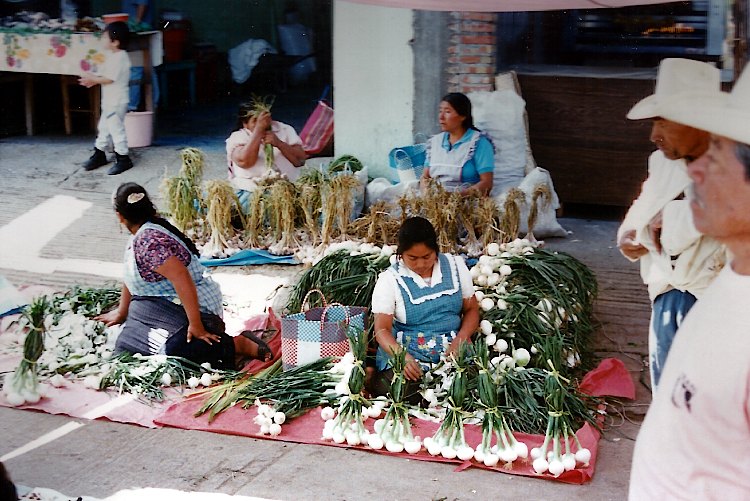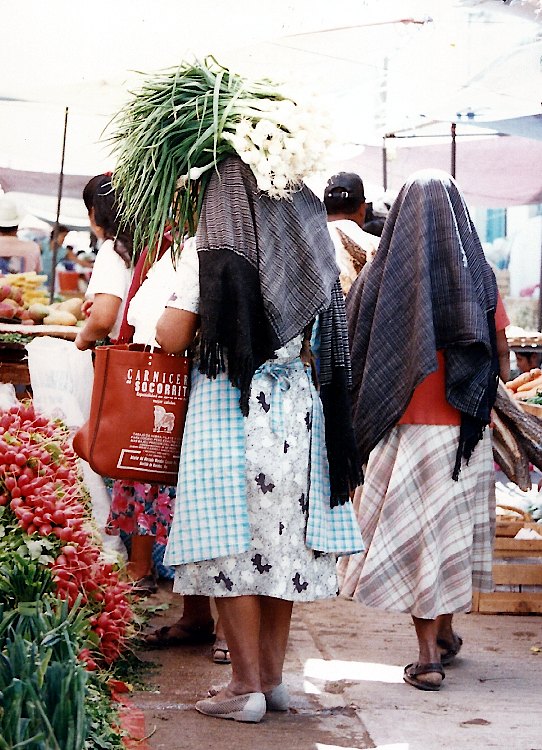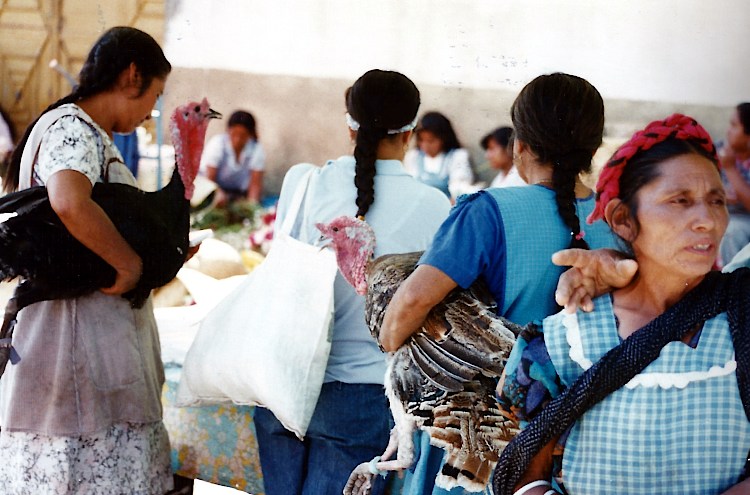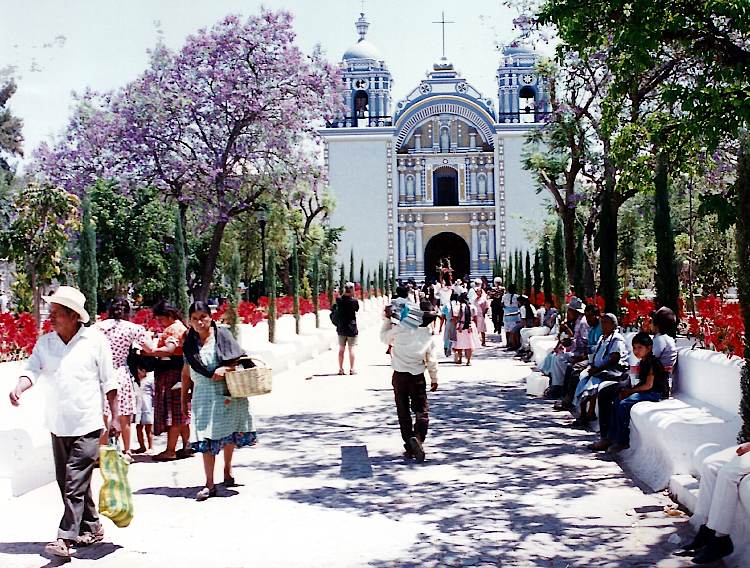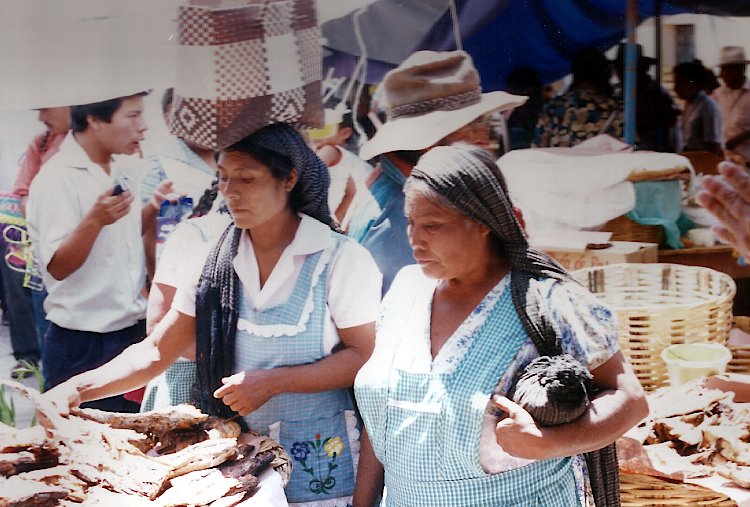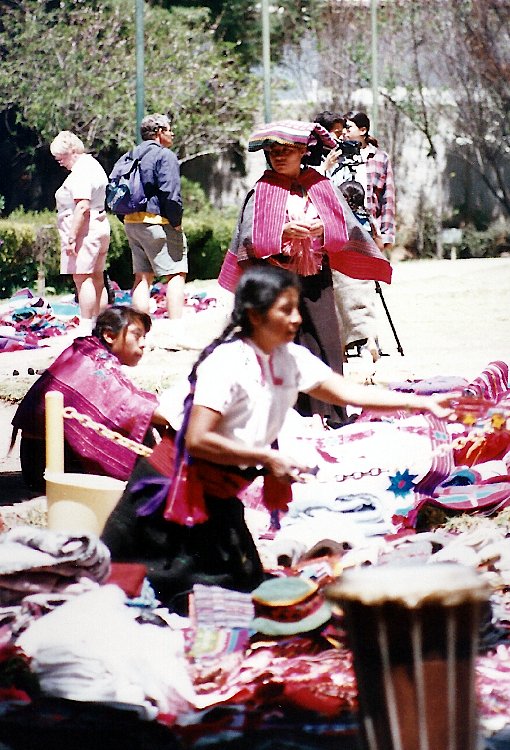 Interestingly, the main churches of Oaxaca and Ocotlan are both named after Domingo de Guzmán who founded the Domininicans.
Anyway, the following day Ray headed off to Zipolite but I stayed on for a few hours more to get the overnight bus to San Cristóbal de las Casas. Another overnight journey? Yes, I'm a glutton for punishment. This one was due to be 11 hours but took 13 but not too bad. My diary notes that I found a good hotel – a family run place with three floors and a sunny terrace (Jovel Hotel). I went the whole hog and got "con baño" for 50 Pesos and had an expensive breakfast on the roof for 15 Pesos.
Walking around town I much preferred it to Oaxaca, I'm not sure why, quieter? more peaceful? and quite a few indigenous people. That night in the Zócalo, I saw a beauty pageant. All the girls came out on stage swinging their hips all with their left arms behind their backs. One unlucky contestant got her stiletto stuck in a crack on the stage.
The following morning I was rudely awoken by cocks crowing and turkeys gobbling and it was freezing. I stayed in bed till 8.30 and then appeared on the roof for breakfast in the sun. Town was much busier today – lots of local men with red ponchos and more tourists. I went to the market and had a couple of fried fish for lunch and bought avocados and guavas. I took the local minibus to Ocosingo squashed against the window by a local woman and her kid at least I could see the landscape.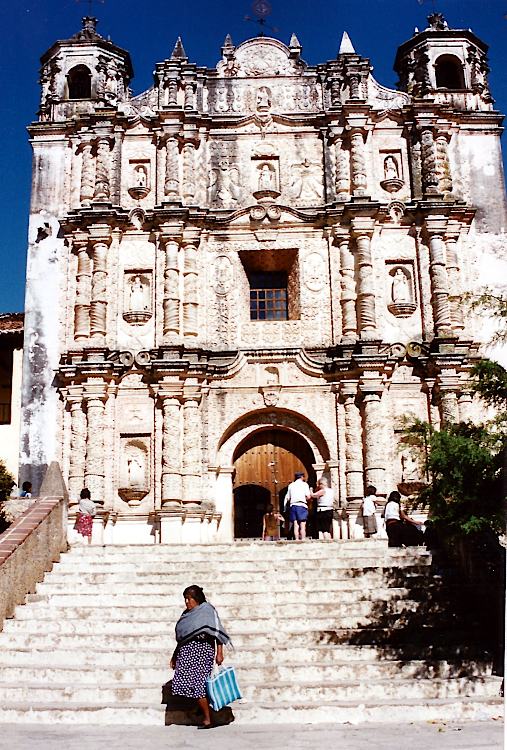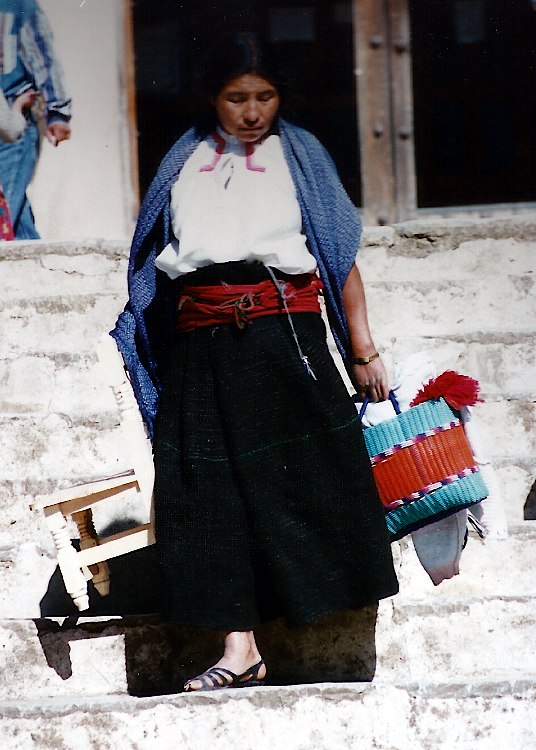 Ocosingo was billed as a Tzetzal town and there were quite a few indigenous people around town. It was a small town, no colonial architecture and no tourists. I managed to find a room in Posada Agua Azul for 40 pesos. With swimming pool! one and a half foot deep and surrounded by a cage with a baby deer, a turkey and duck. They also had a 3-legged poodle.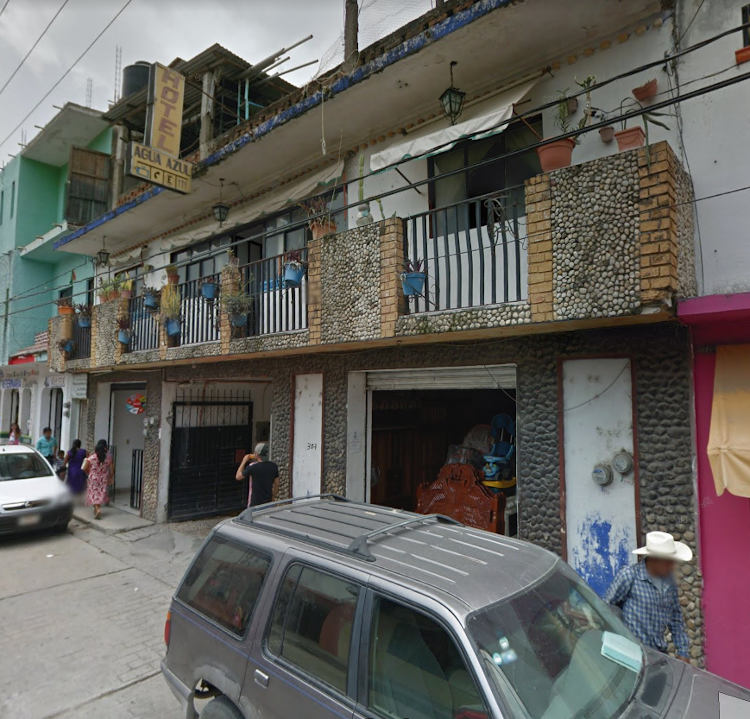 There were loads of panaderias in town so I had a famous pan sin dulce (I'm not sure what it is now as I can't find it on the net!). Later for dinner I had pig stew (guisado de la puerca) which was pretty good and sat in the town square to watch the sun go down.
From Wikipedia: Ocosingo rose to national prominence during the Zapatista uprising of 1994. It was occupied by the EZLN along with several other towns in Chiapas (including San Cristóbal). The EZLN retreated from most towns before the arrival of the Mexican army but not so in Ocosingo. Thus, the town saw several days of intense fighting, leaving dozens of rebels, soldiers and civilians dead.
And that is why everywhere around here I saw markets selling Subcomandante Marcos dolls, the charismatic leader of the Zapatistas and famous for smoking a pipe and wearing a ski mask (at the same time).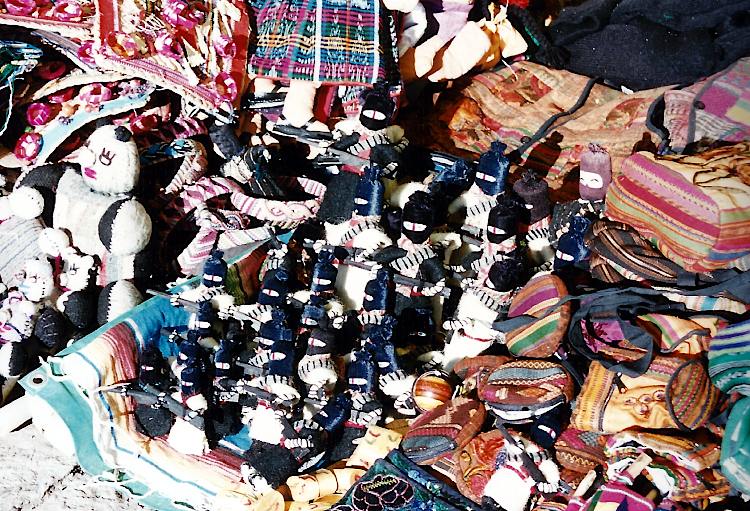 One of the reasons I went to Ocosingo was that it was on the way to my real target – the ruins of Palenque, capital of an ancient Mayan city state. I had to get there first though. Somehow I found a local bloke also going so I waited for a bus with him. It was looking rather cloudy and started to drizzle, this was a portent of things to come. The bus eventually came and it took three hours rather than the one I was expecting.
By the time we got there it was chucking it down. I decided to wait at the gate for a while but then thought bugger it, I'm going in. I got drenched but it was well worth it. In fact the mist and rain gave it even more of a mysterious feeling. The first temple was King Pakal's tomb. His body was only discovered in 1952. He was taken away but his sarcophagus is still in Palenque. It was interesting in that half the temples seemed to have been restored but there were others still enclosed in the jungle. Supposedly there are 500 buildings but only 30 had been excavated when I was there. And it is thick jungle all around.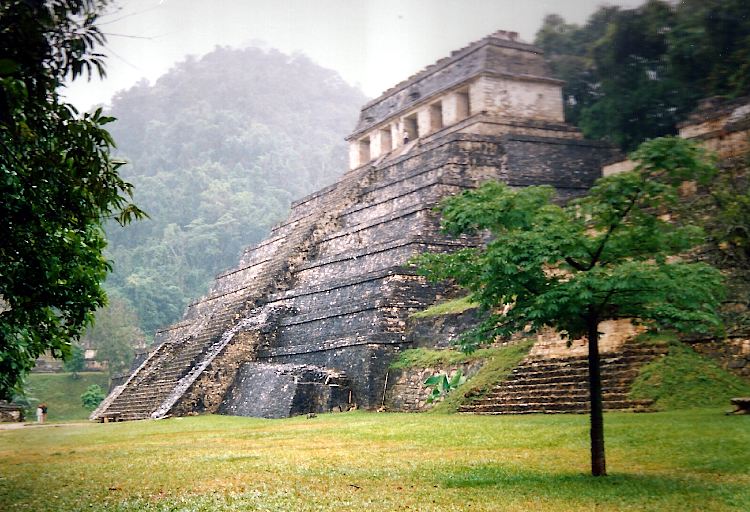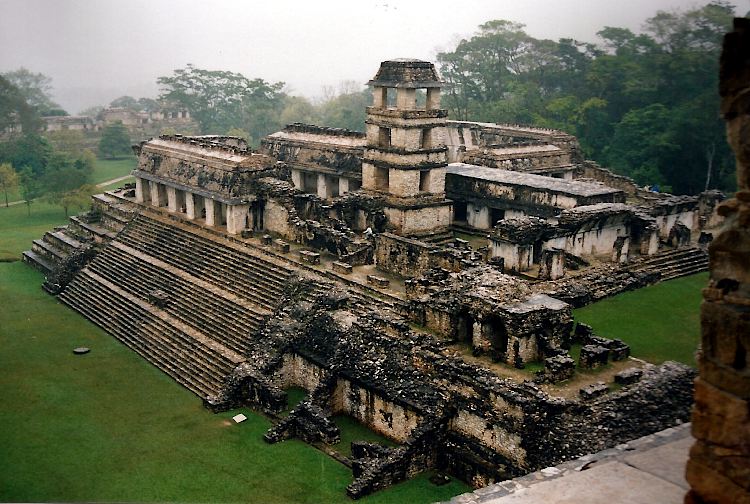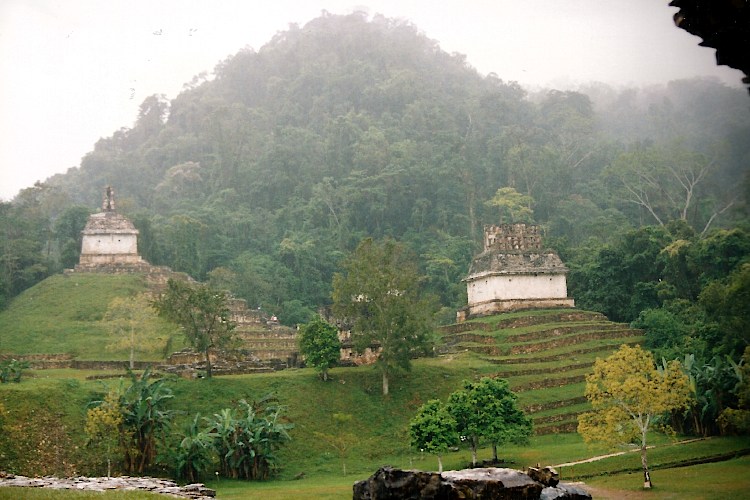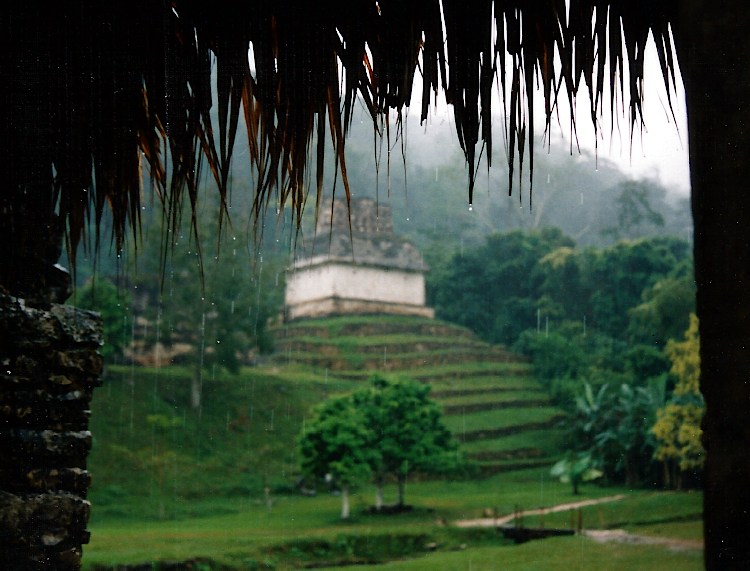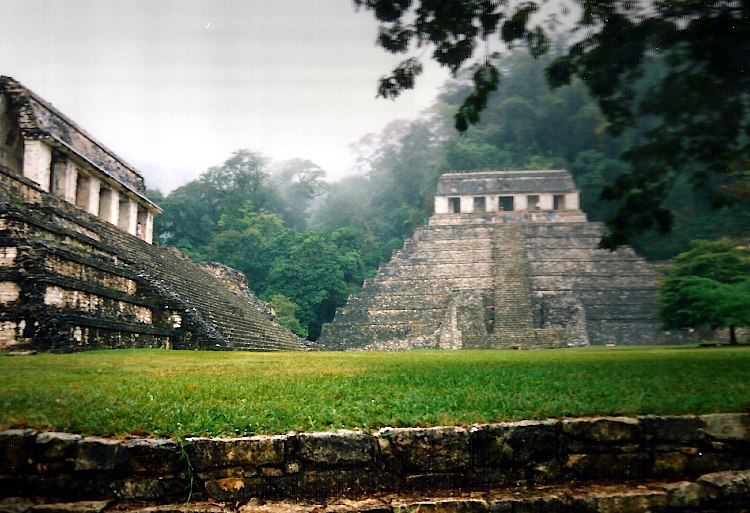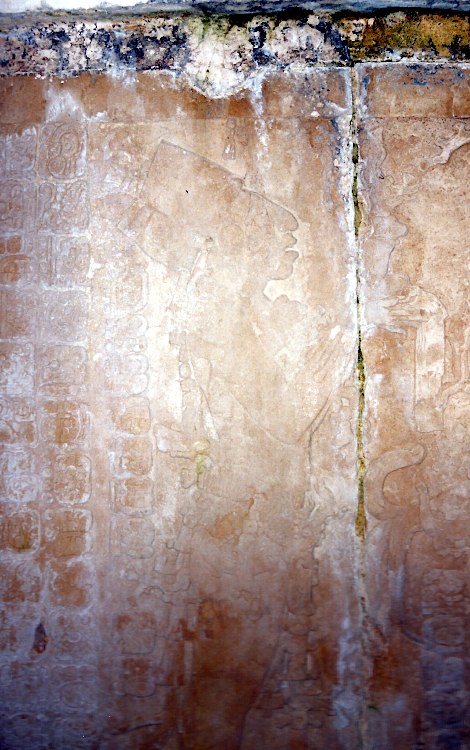 There is more on palenque here. I got a bus back into town and almost immediately got another headed to San Cristobal. I sat at the very front which wasn't a great idea as the rain and fog made driving almost impossible. It got worse as it got dark. All the time people were getting on and off. How did they know where to get off when we couldn't see anything? At the same time there was a Mexican band on the bus singing Edith Piaf songs but with trumpets?? At last I saw a beautiful sign, "San Cristobel 12kms" I was soaked and my feet were freezing. I went back to my former hovel sorry Hotel Jovel and was welcomed back with open arms by the Hovel family and straight to bed. Nine hours of travel and three hours at the ruins. Other people have had similar adventures on the road to Ocosingo.
I now know why I was in such a hurry. I wanted to get to the beaches of Honduras before the crowds were due to arrive for Semana Santa – THE big holiday time.
So the following morning I was off again. this time to Comitan, the last town of any size before Guatemala. According to Lonely Planet I needed to go to the embassy here to get a visa – wrong. I could get a visa at the border. I did want to change money though but no one would change my pesos into quetzals (Guatemala currency). Anyway, I made my way to the highway outside town and eventually I got into an old Chevy which was a share taxi going to the border town of Ciudad Cuauhtémoc.
I was dropped off at a dusty collection of buildings which I was told was immigration. I got my stamp and hopped into a battered old car for 5 Pesos for the 4km trip to the Guatemalan border. Then I joined a line of people passing the "control hut" into Guatemala.
And there I found a smiling man who was happy to fleece me of my Mexican Pesos (570 Pesos to 420 Quetzals). Anyway, with a wad of cash I hopped on an old American school bus (common transport in Central america) and onto the next stage of my adventure.