Onward and southward
Onward and southward
I stayed in Hampi for a few days relaxing and exploring more ruins and then got yet another overnight train, this time to Bangalore. I can only assume I kept on travelling overnight to save time and money (on hotels). I didn't have much luck in Bangalore as all the hotels seemed to be full so I went back to the train station and got a train to Mysore. I had more luck here. My diary just says I stayed in the Government run hotel and that the staff were very unhelpful. Although also run down, it had olde world charm, my room was spacious and the bathroom enormous. Not bad for 150Rs (£3). From this description it must have been the Hotel Mayura Hoysala Mysore. In fact the latest review on Trip advisor says "Not that great! Run by government – The place is cheap with surprisingly spacious rooms. Service is almost non-existent thanks to the people running this place. It does have a beautiful small garden facing all rooms to make stay slightly more cheerful." so I guess nothing much has changed. I liked Mysore. The markets were interesting and I was especially impressed by the palace: inlaid rosewood doors, carved ceilings, stained glass windows, murals, absolutely exquisite! I also bought a fake sandalwood box. Apparently the thing to do here. For exercise, I walked up Chamundi Hill, a local tourist attraction, and back down again to a fairground which was just starting up as night descended. I noted that the highlight was the science exhibit which was a curious creature which had a woman's head and a serpent's body. The serpent lady had a microphone next to her head so I presume you could ask her a few questions but unfortunately she didn't speak English. It was certainly excellent value to see this amazing creature – 1 Rupee. That night I really pushed the boat out and had an enormous veggie meal costing 100Rps.
The following day, I had some film developed: £4 for a film of 36. Coming out of the film shop I met an Irish Sailor who said he's lost his cash card and he managed to cadge 30Rs off me. I also had a new experience – my first custard apple, a very exotic fruit and quite tasty. After a couple of days I was on the move again. I am not sure why, I went to the Forest Office but they had no rooms available anyway, so on a spur of the moment thing I decided to go to Tamil Nadu – Mudumlai (which was later to become Mudumlai Tiger Reserve/National Park). I think I must have been after an experience of wild India.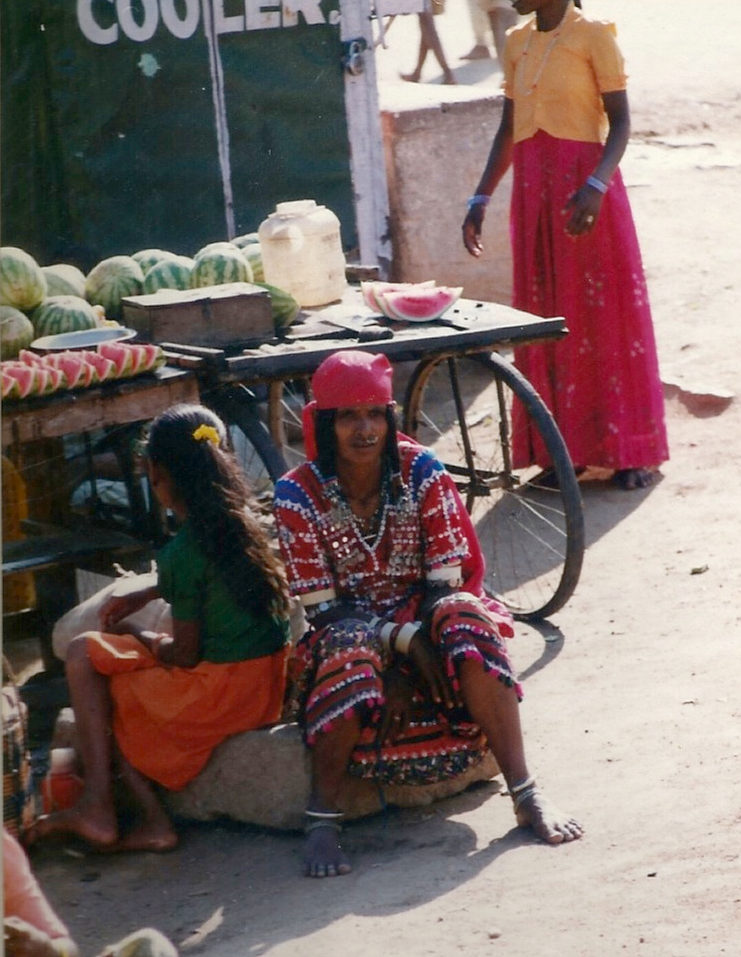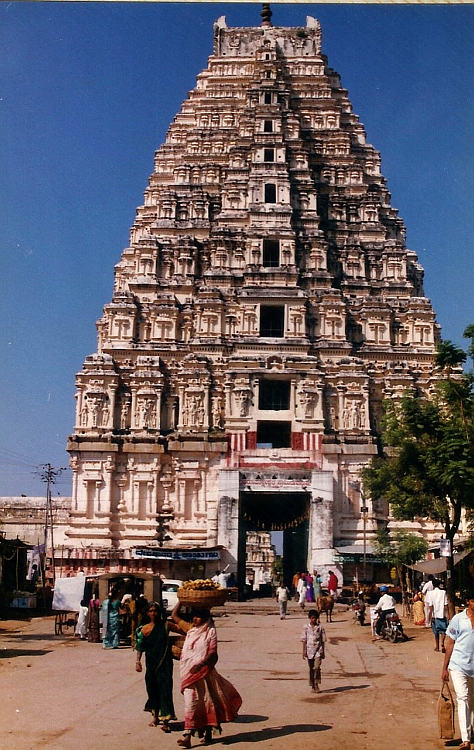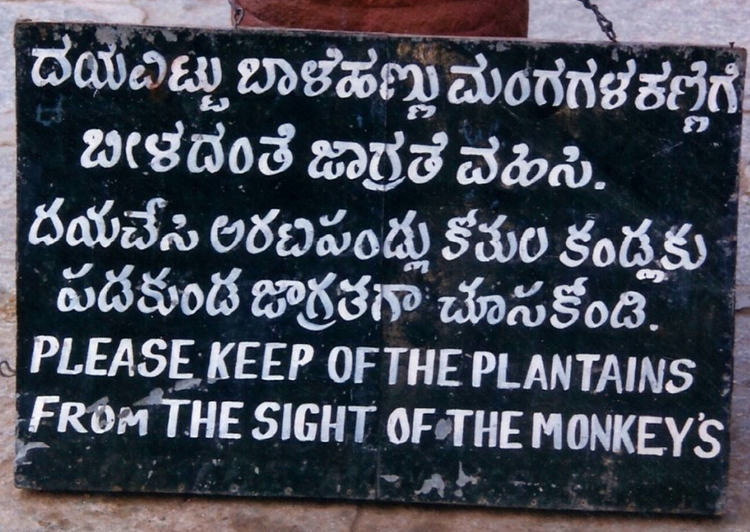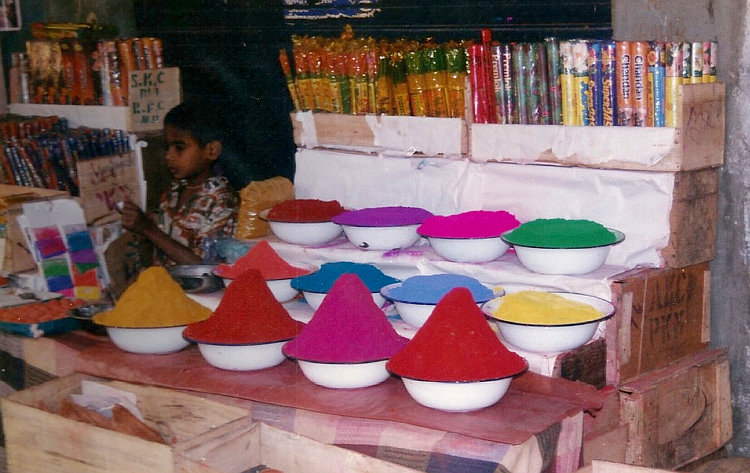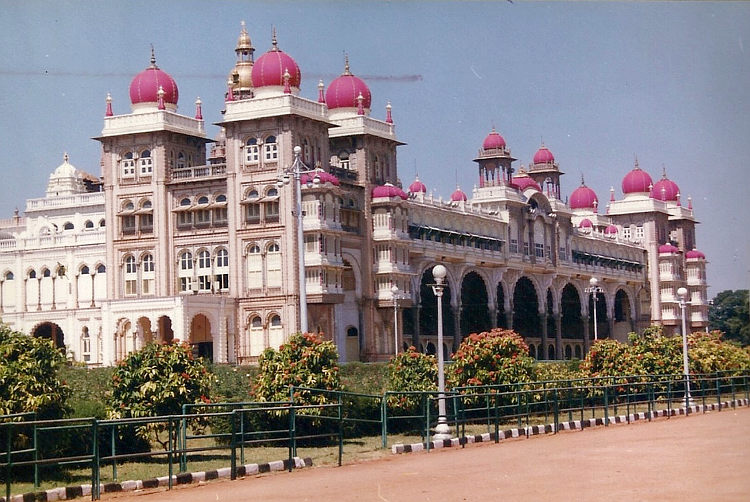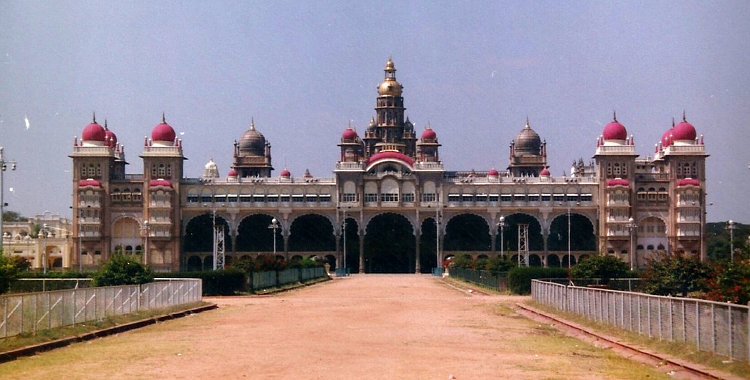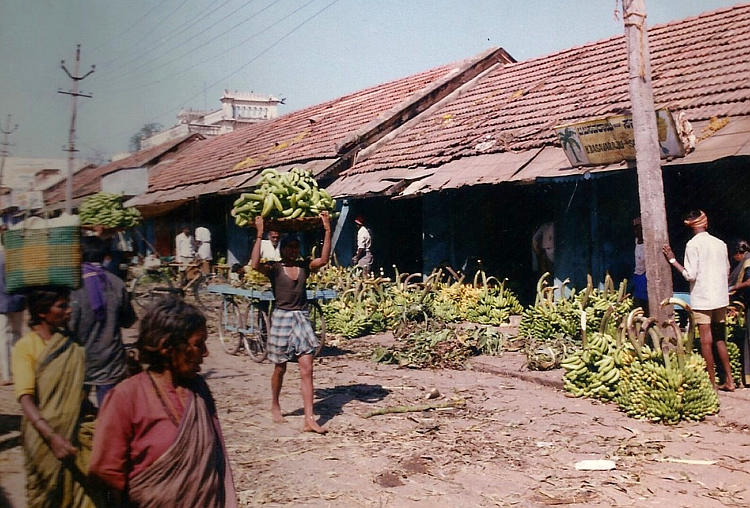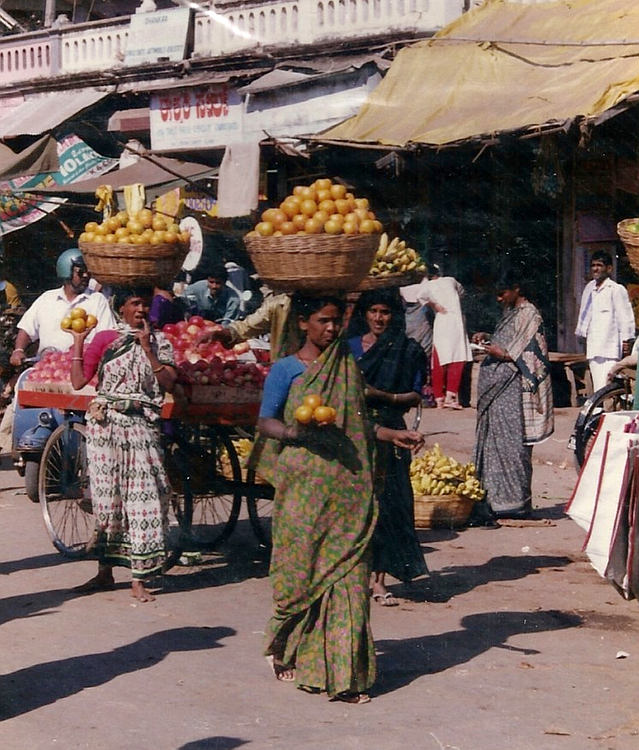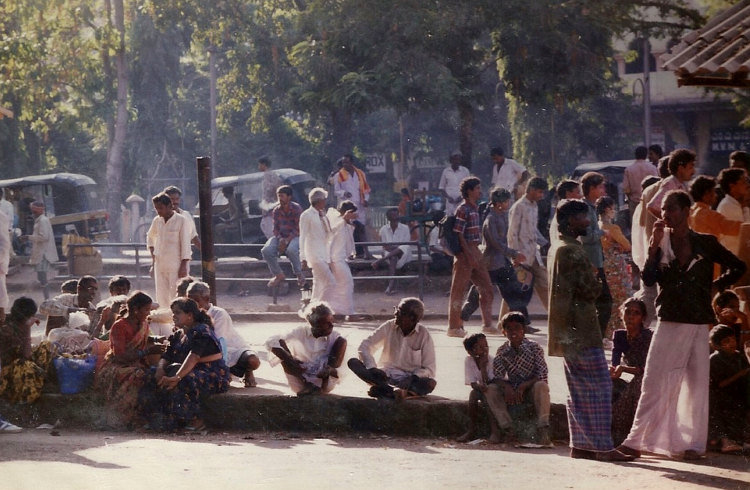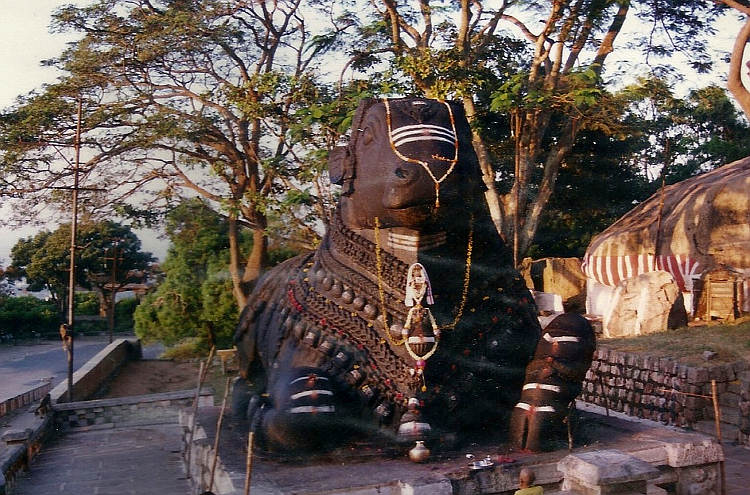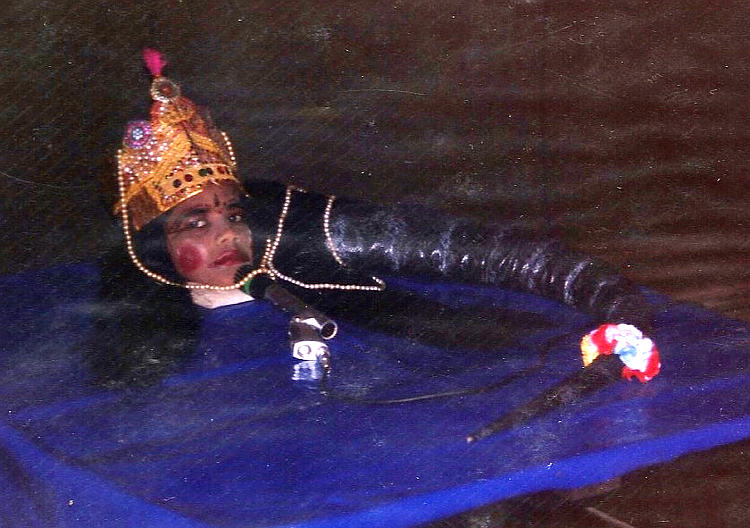 Cheetal Walk, Tamil Nadu
My diary is a bit short on details but it seems I got a bit lost on the journey into Tamil Nadu. But I did meet a British couple in a place called Theppakadu and they recommended a place to stay not far away. After a couple of local bus trips I found myself in the middle of nowhere at a place called Jungle Trails.
I had an interesting couple of days there. The place was run by a grumpy fellow who insisted that I not stray too far from the house for fear of being attacked by leopards, elephants or any number of creatures, although he didn't say tigers. Therefore I was restricted to long distance views of deer from the veranda. However, in the night I heard a herd of elephants come very close by and the grumpy owner was even more grumpy in the morning as they had destroyed his veg patch. While researching this page I did actually find a number of stories about my grumpy host and Cheetal Walk (as Jungle Trails is also known). It's a bit of a sad tale.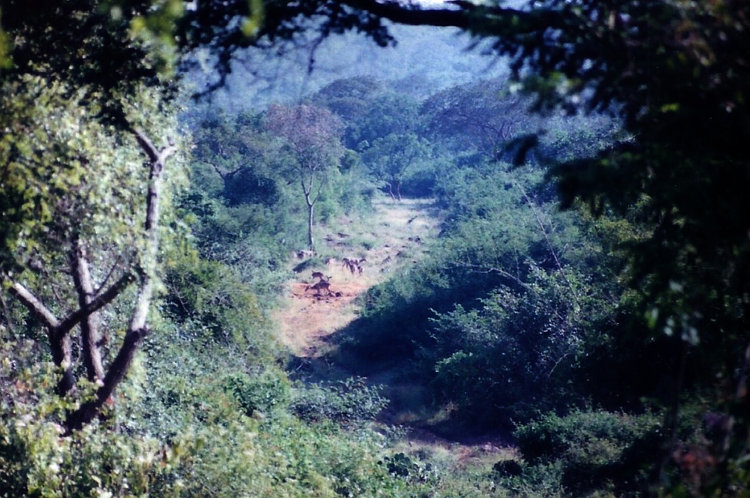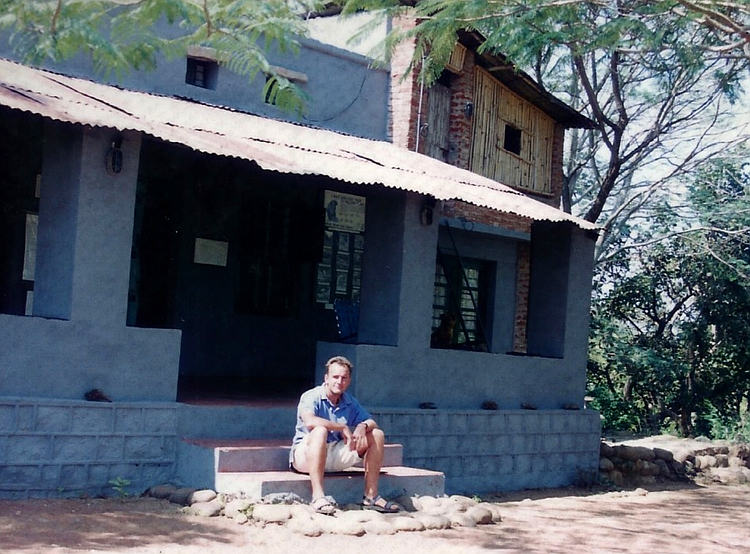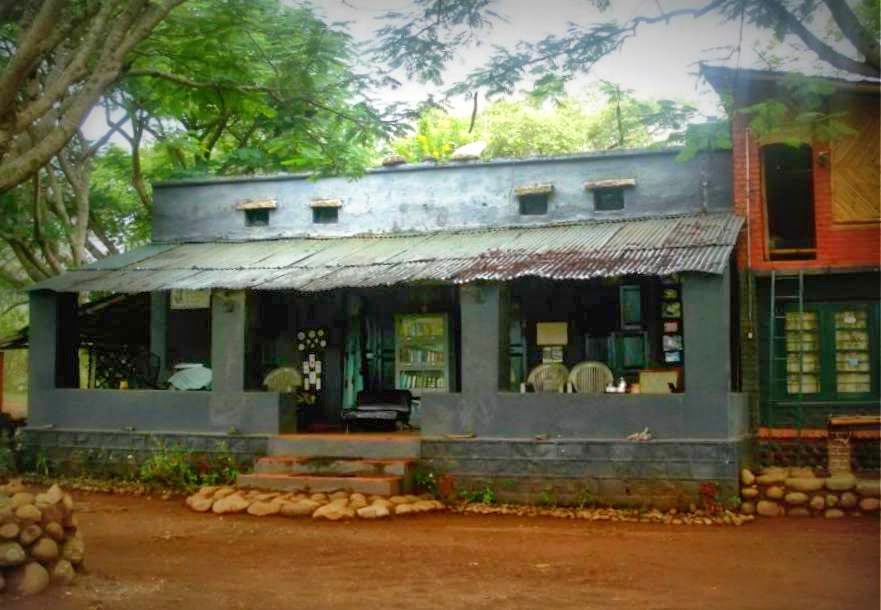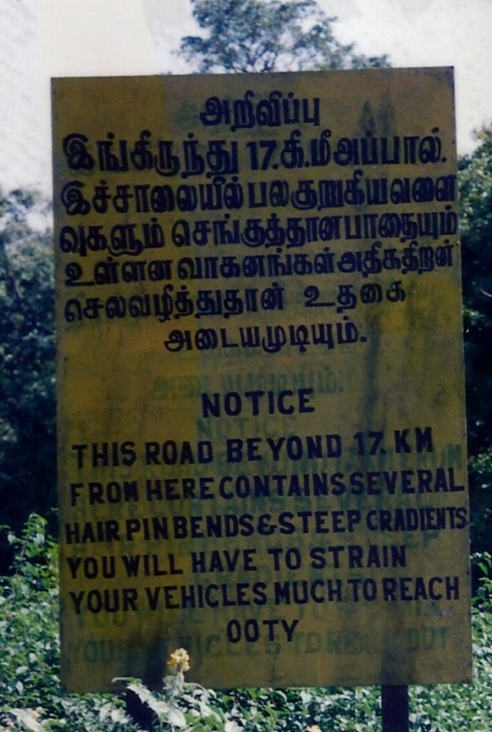 Friday 9th Dec
The day of the 6 buses and the 12 hour trip. From Cheetal Walk to Ooty to Coimbatore to Uddakam to Palghat to Trichur to Cochin, or rather the mainland part of the city, called Ernakulam. But I arrived At the Lucya Hotel in good spirits and celebrated with a cold beer. After a good night's sleep I got the ferry to Fort Cochin and had a good explore of the many narrow alleys of Jewtown and the traders' quarter.
Even now I can remember passing the spice traders' godowns and taking in the heady aroma of cardamom, turmeric, cloves and cumin. Not far away from the hustle and bustle of the old town and lined up along the waterways I found the famous Chinese fishing nets which are something of a symbol of Kerala. But it was only a brief stop as I was soon off again. My diary is a bit light on details but I took in the famous backwater boat trip before getting more buses before arriving for some beach R and R at Kovalam. It had a bit of a reputaion in those days as a hippy retreat for those who thought Goa was getting too mainstream. It's a bit different now.
I stayed at Surya's and took the Presidential suite at the princely sum of 150Rs (£3). I ended up staying almost a week at Kovalam, chilling out at Lighthouse beach during the day, playing backgammon and then partying at night. But before long it was time for the off again on the final stage of my trip, to Madurai.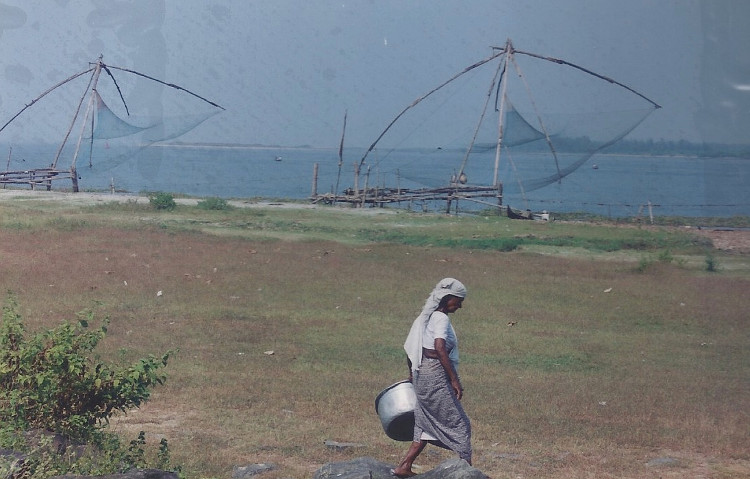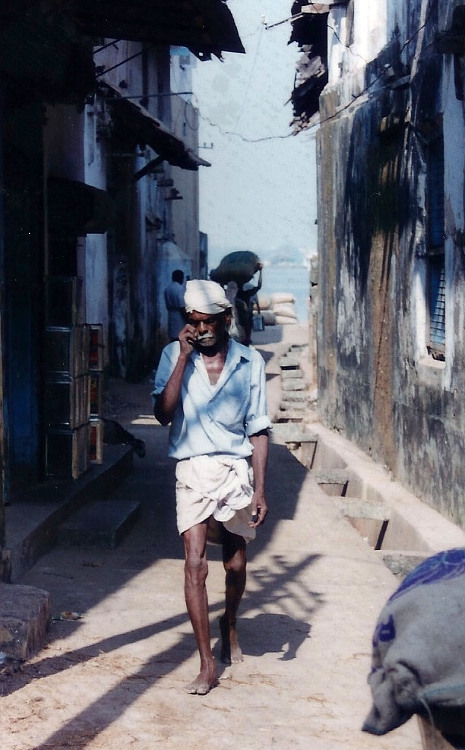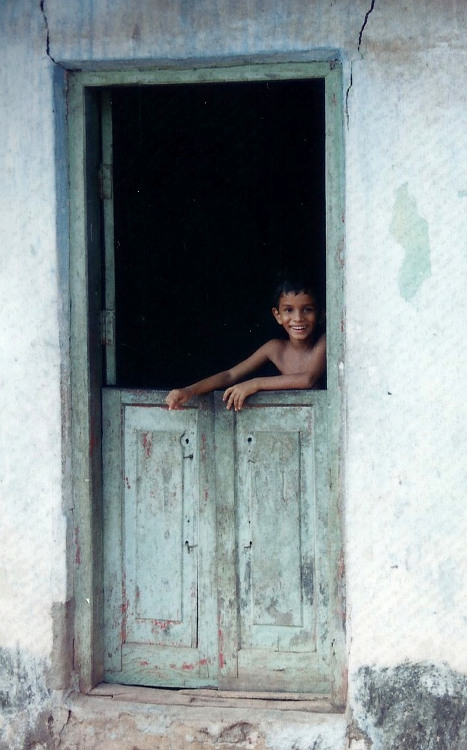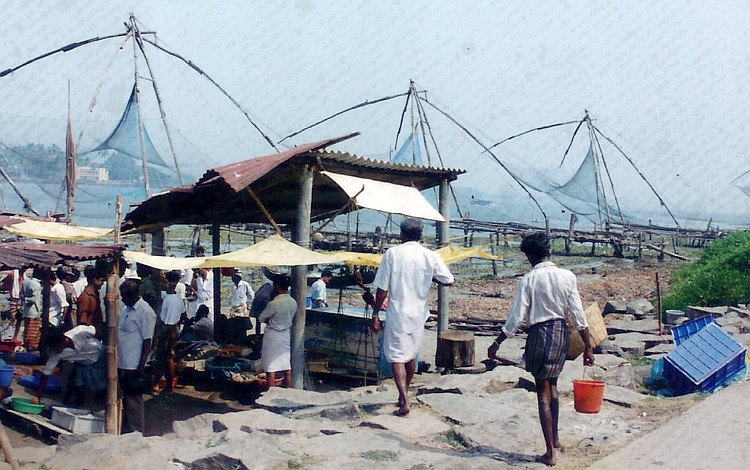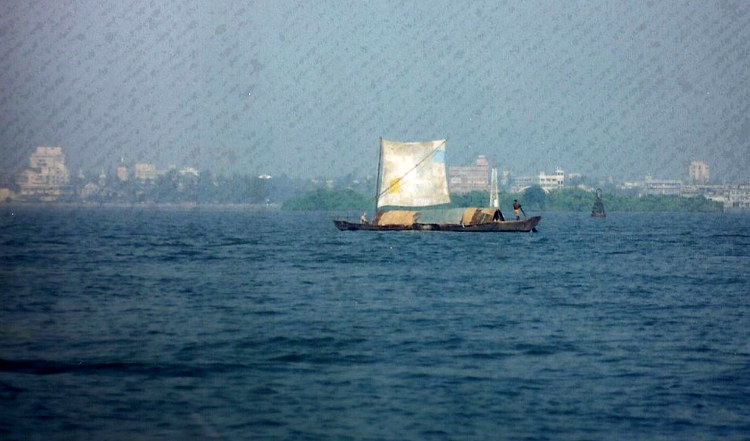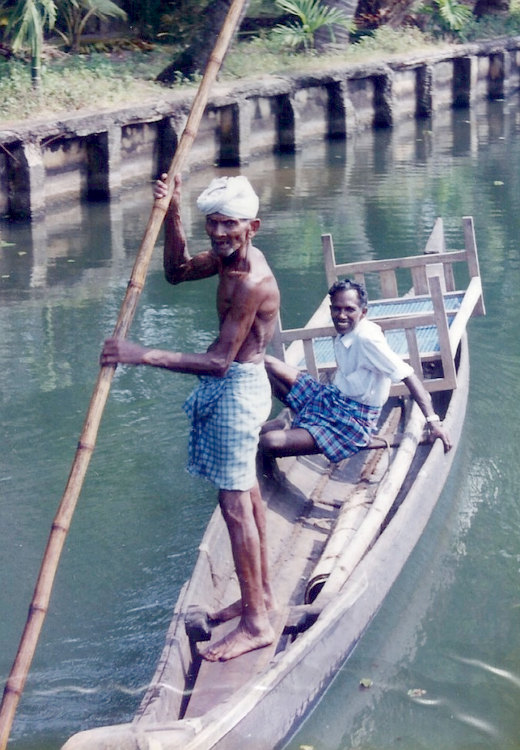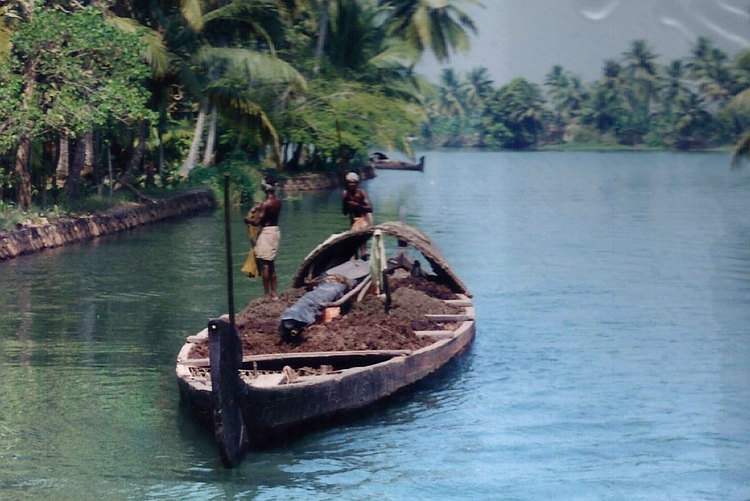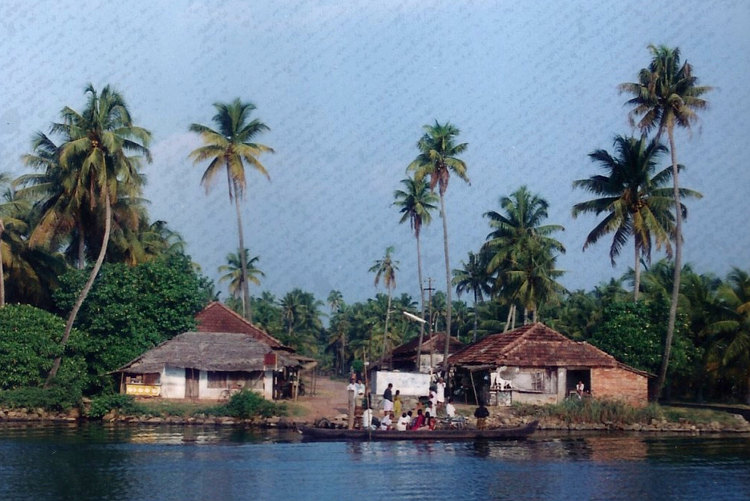 Beach time: Kovalam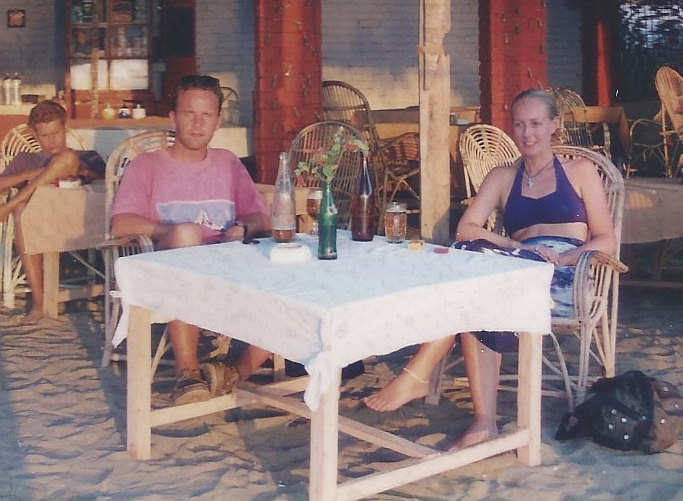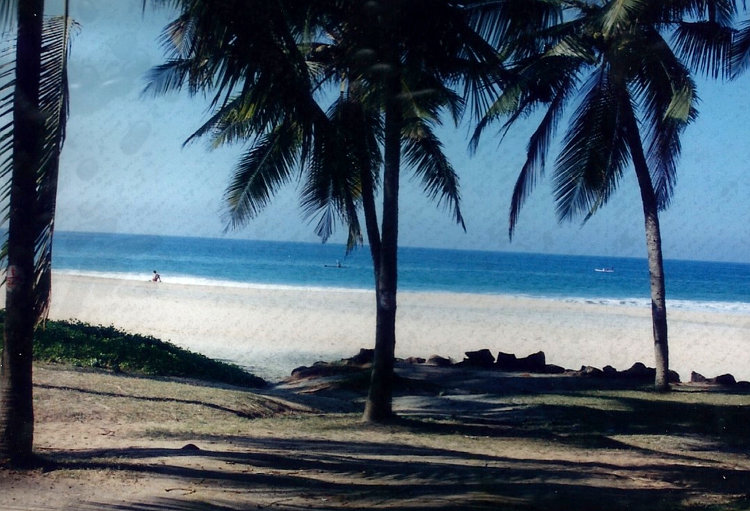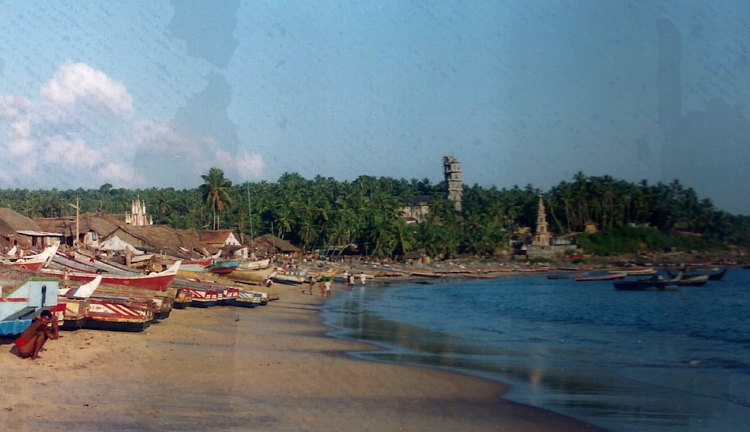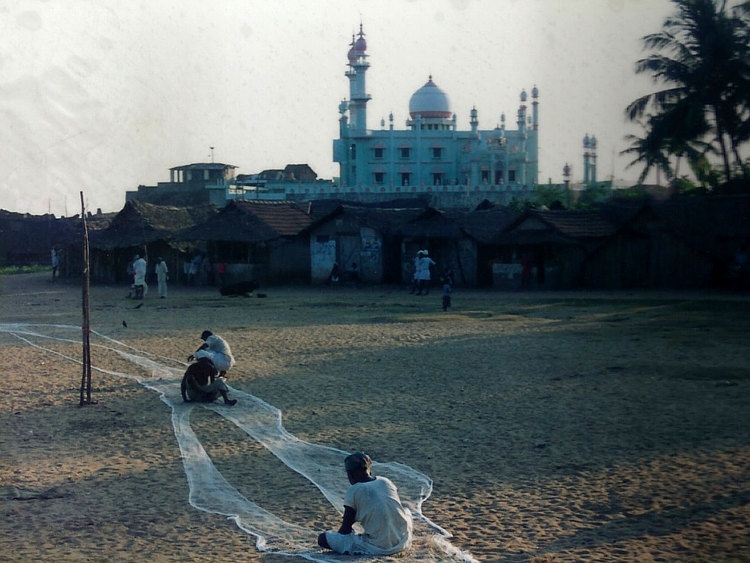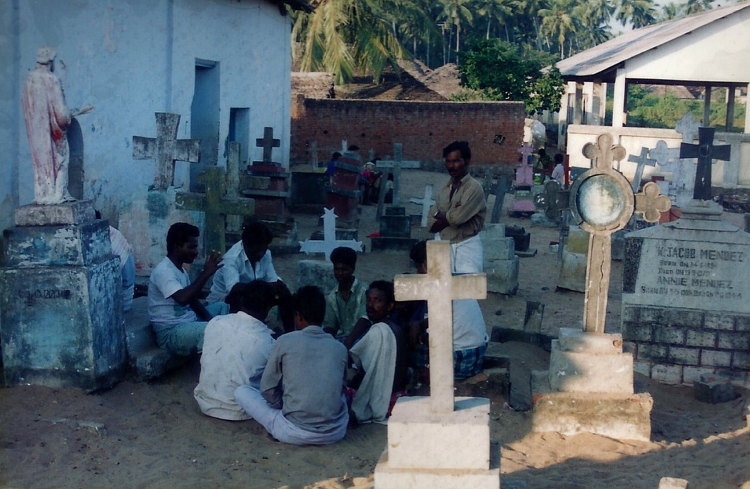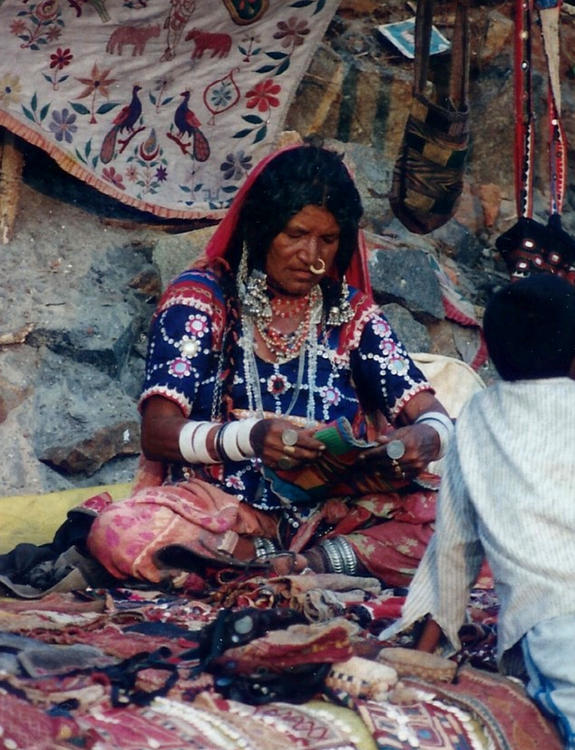 The last leg, Madurai
My diary notes, "Welcome back to India!". After chilling at the beach, I was once again assaulted by the noise, smell and general hubbub of life in India. Not only were the senses assaulted though, I felt under seige myself, from various various rickshaw wallahs and beggars. I noted that it was a shame I didn't take my camera to the temple in the heart of town, the famous Madurai Meenakshi Amman Temple because it was absolutely amazing. Like stepping back in time. The temple itself is home to many dark corridors and ancient columns, pagan shrines, flickering candles and colourful devotees. I was also fortunate enough to be blessed by the temple elephant. It's a shame that I didn't write more about this amazing city but I was soon off again. This time to Trichy and for the first time on the trip the weather turned a bit grim. Very humid and overcast with a few showers. I got to the Hotel Ashby in Trichy (144Rs). I noted that the shower didn't work (and recent reviews show no improvement in 20 years!) so moved to Ajanta across the road for a deal clinching hottish shower and 100Rs. I had yet another Masala Dhosa for supper – I seemed to be living on them at the time. I then went to Srirangam, and the Ranganathaswamy Temple, the largest functioning Hindu temple in the world. I was lucky in that it was festival time and I was in time to see the temple gates open and out came a huge temple chariot with what appeared to be baby Vishnu sitting proudly on top. Of course this is not verified as once again I don't have any pictures of the moment. I think at the time I must have been a bit India'd out, as my notes are quite sparse in spite of the obviously amazing places I was visiting. Home sick perhaps? Time for home then. My last few notes describe the train trip to Madras and then having a splash up lunch at the Connemarra Hotel and listening to Christmas carols sung by an old guy on the piano.
And in the blink of an eye, after 75 days in India, I was on a plane back to blighty.