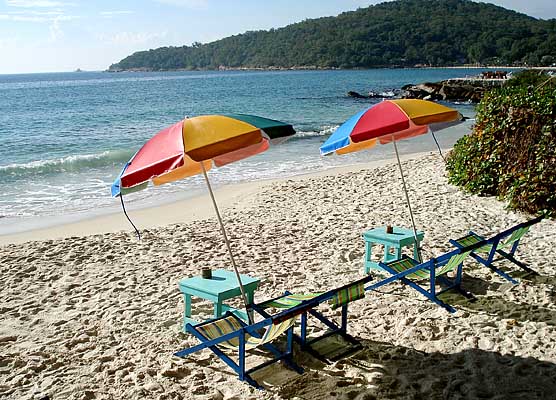 Island in the sun
Island in the sun
We'd been in Thailand a month (Sep '05) – all of that time in the steaming metropolis which is Bangkok. Although the wet season hadn't been as bad as expected, our soi was still calf deep in water when we paddled off to our first holiday. We'd picked Ko Samet because it was fairly quiet, accessible and it promised to be one of the driest spots in Thailand in October. We were very pleasantly surprised – it wasn't as developed as we had feared and the sand was just as white and pristine as promised and the sea couldn't have been clearer. And the weather lived up to its promise to boot. In fact it became our favoured "get away from it all" hideaways.
We live in Ari, pretty close to the Skytrain stop so it was fairly straightforward to hop on and then hop off again at Ekamai which was supposed to be the Eastern Bus terminal. As it happened there were no signs from the Skytrain but wandering about looking lost we were soon accosted by the helpers/botherers who inhabit bus stations all over south east Asia. Having experienced my fair share of hot sweaty bus stations which are a mass of confusion, dust and diesel fumes this was remarkably sedate. Within minutes we were washed along by our tide of helpers through ticket booths and onto a bus. Even the bus was air-conditioned and very comfortable. This isn't what I experienced 16 years ago when I first backpacked around Thailand – this was luxury.
Three hours later we were disgorged at the other end. Rayong is a small provincial town, but like the rest of Thailand it seems to have developed very quickly – the huge sign of a Tesco Lotus superstore and various fast food chains signaling its arrival in the 21st century. From Rayong we changed vehicle, shunning the taxi in order to go local and save a few quid by hopping onto a songthaew. Literally it means 'two benches' and that's what it is – a truck with two benches at the back but perfectly acceptable for a 30 minute journey. At the other end, at the town which had grown around the jetty, we came face to face with the ugly side of tourism – the tourist rip off.
It wasn't clear where the regular public boat to Ko Samet left and so we went straight into the arms of a local tout who was all too willing to fleece us for tickets on a non-existent boat. Having escaped his clutches but with still no idea where the ferry left, we asked half of Rayong. Eventually someone took us under their wing and we somehow managed to hitch a ride on a speedboat. I'm really not sure how we did it but we were soon paddling again – this time through the gently lapping waters of Tubtim bay.
We had booked a room at the TubTim resort (NB resort in Thailand means any place with more than one hut for rent). It was then that we found out that in Ko Samet 'reserved' means they will keep the room as long as no-one else comes along first. Fortunately there was another 'resort' sharing the same bay – the more homely named 'Pudsa Cottages'.
We were soon enjoying a cold beer and surveying a priceless view from our $15 cottage. (click on the photo below to see a video view from the cottage). We were exactly four hours and a million miles away from Bangkok.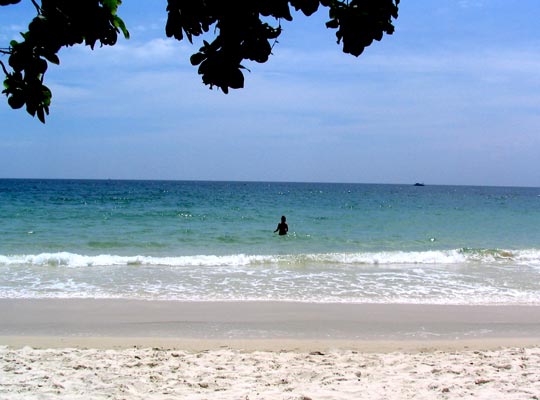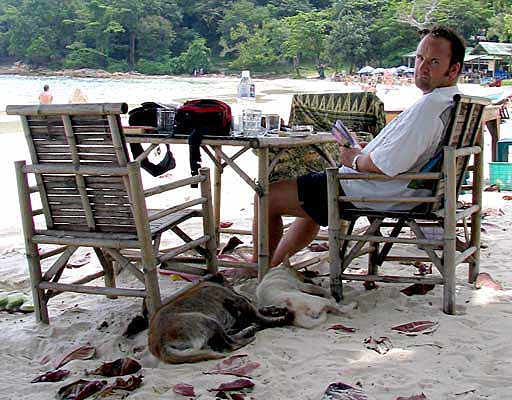 Despite what some guidebooks say we found the 'wild' dogs to be anything but. I don't know why I'm looking so glum though…
For the next few days we alternated lazing around with a bit of exploration. Mind you there wasn't much exploring to do. Just around the headland from our gloriously quiet little beach is the busy, lively area of Ao Hin Khok. If three or four restaurants, a couple of bars and low cost accommodation is your idea of lively. Lively enough to have a bit of life, but not lively enough to have any building higher than a palm tree or the sound of music overpowering the sound of the waves. Just right in my book. As you go further north the stretches of sand become less and the restaurants become more, but the sand remains white and the pace of life remains slow.
Ko Samet is certainly not big, as you can walk across it in just a few minutes but it's also no desert island. The ground is quite rocky but covered in thick scraggy bushland. It's quite long though and has a very rough track going down the length of its spine. Perfect for a bit of exploration on a Honda dream especially at the ridiculously low price of 150 Bht a day ($4). While bouncing along the track we occasionally saw other tourists but very few. One thing we did see however was a huge monitor lizard. He graciously posed for a photograph but also indicated who was boss by refusing to let us pass until he was ready.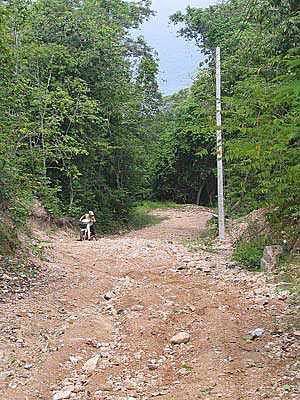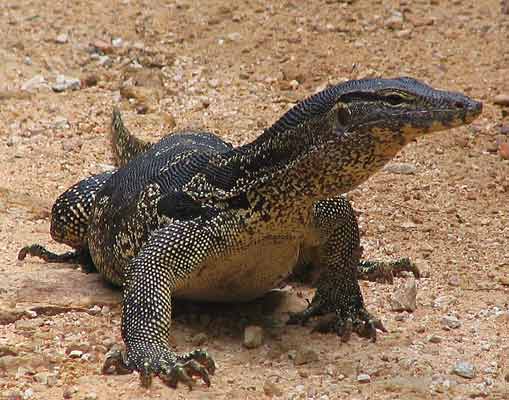 If you want solitude then there are a few resorts spread down a handful of beaches along the coast. One of the nicest being Ao Thian or Candlelight beach which has a couple of restaurants and a few cottages. It seems to have an atmosphere all its own, even more laid back than the rest of the island.
We also hired a Kayak for a day along with snorkel and masks. It's no barrier reef but we were pleasantly surprised at the amount of living coral around and we were lucky enough to be the object of some interest by a passing turtle. Altogether I think a better day out than the tours of the local fishfarms which are very popular with the Thai holiday makers.
Transport back to the mainland is now easier than indicated even in the more recent guide books. It is 200Bht per person to have a speedboat pick you up and then deposit you on the mainland. And so almost before it had begun we were on our way back to Bangkok. Thankfully for the return journey there was no more paddling  
one last look at that beach…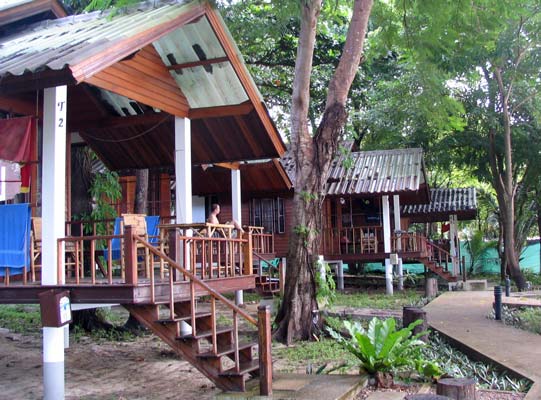 We got one of the Tub Tim huts (above) on our second trip (900Baht)
Ko Samet revisited Nov 06
This was actually our third trip to Samet – and our favoured beach resort. Of the places close to Bangkok, it gets the nod ahead of Hua Hin because we prefer small bays and island life and Pattaya is out for many reasons. Our usual choice on Ko Samet, Tub Tim, was full (you also can't book ahead which is a pain – or rather they will happily take your booking but then ignore it and tell you they're full when you arrive), so we phoned a few hours ahead and secured a place at Candlelight Resort on the beach of the same name (also called Ao Thian).
As we only had the weekend we decided to splash out on a taxi from Bangkok. We just hailed one on the street and away we went. Two and a half hours and 1300 Baht later we were at Ban Phe pier. For some reason the speedboat operators try to get you to charter a boat at over 1000 Baht and then when you explain you've been here before, they quickly get down to the proper price of 250 Baht per person (it's 200 to Tub Tim). 20 mins later we arrive at our picture postcard tropical beach.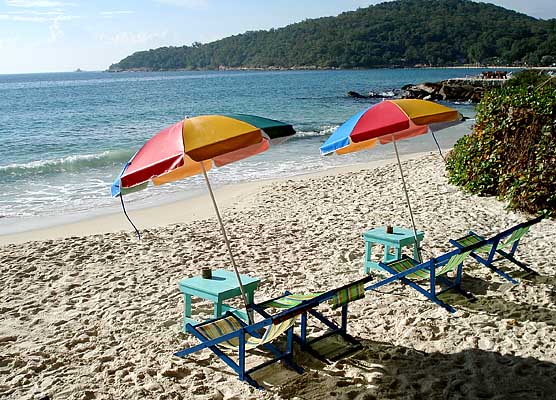 Candlelight beach is very similar to Tub Tim in being very laid back with just a couple of cottage operations (resorts is stretching it a bit far) and a few restaurants. Of course the water is just as crystal clear and the sand as powder white. Candlelight resort is in fact half a dozen stilt houses facing the beach. Only slight problem is finding a person to show you one. It's a small beach with two or three bungalow operations and the same number of restaurants. As it's slightly confusing where one starts and another ends it's difficult to know who to ask. Anyway we soon found someone to show us to our bargain priced 600 Baht stilit house, unpacked our swimming stuff and towels and raced into that gorgeous water.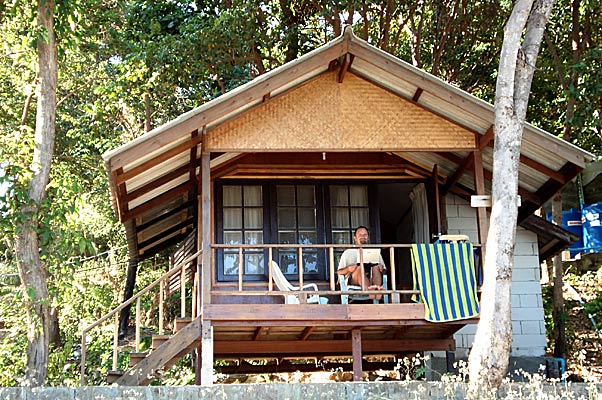 view from our hut (below)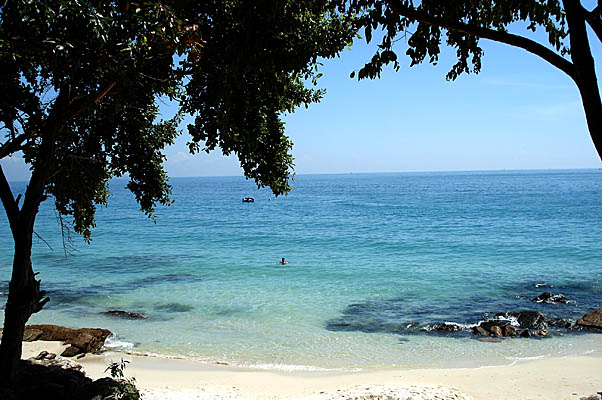 Our aim for the weekend away was to do nothing. And we did that admirably. The beach is quite small and there were other tourists (quite a few Thais as it was a weekend), but it was still remarkably quiet. At many stages in the afternoon we were actually the only ones in the water with just a scant few people on the beach. The restaurants were OK, but I must admit I got a bit annoyed because they seemed to insist on toning down all their meals to suit the farangs – i.e. taking all the chillies and therefore taste out, despite our protestations.
The only exploration I undertook was a short walk over the headland to the next beach north – Wong Duan. A much bigger and better beach. Only problem is, it is also much more developed. There are a number of hotel developments, admittedly still cottage based and low rise but more of them and also quite a few bars. In addition, lots of lardy European tourists on package tours with accompanying boats, jet skis etc cluttering up the bay. I quickly headed back to the relative seclusion of Candlelight.
Adjoining Candlelight there is another small beach where you will find a few quiet bungalows to stay and the Apache restaurant. Apache restaurant is one of those quirky places you still find on the backpacker trail. It looks like it started off as a small restaurant and then grew, unplanned and untethered, rather like the climbing plants and general flotsam and jetsam that have become part of the structure. There is also a small pier which is a great place for a sundowner beer. In the cold light of day the beach here is a bit scruffy though and so are the cottages.
In between Apache and Candlelight there is a place worth mentioning. Horizons restaurant and resort . The cottages come tumbling down the hillside on either side of a broad path. The restaurant itself looks a bit like a Spanish hacienda but with a few tables spread around under the palm trees. Imaginative menu, but the food again suffers from a lack of chillies. However the deserts are to die for – especially the taro and coconut milk.
Two days later our time is up and we are on the speedboat back to the mainland where we can find a proper Thai meal at the stalls on the Ban Phe pier. Then negotiate for a taxi (usually only 1000 Baht coming back in an unmarked car) back to the Big Mango. We will be back.