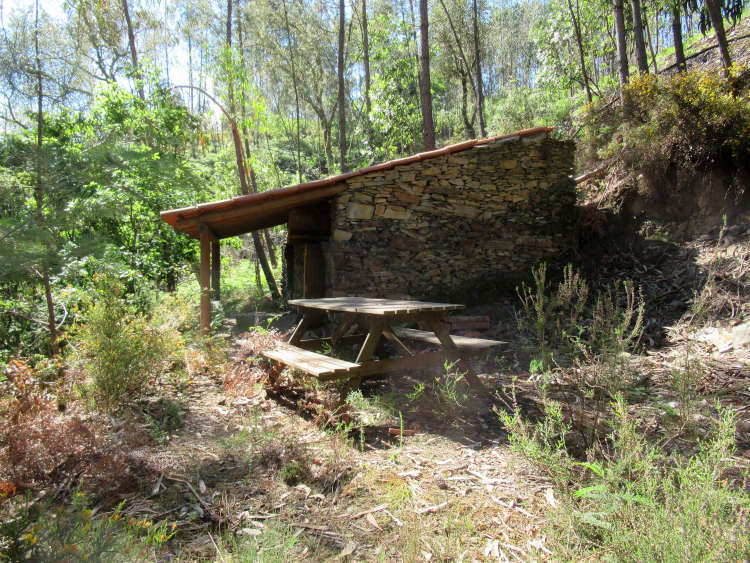 Goodbye River Cottage
Goodbye River Cottage
One of the joys of living in central Portugal is to go up into the hills in the summer and swim in the lakes and rivers. Not just for us but also our dogs Betty and Jussi. Although it was only a half hour drive we sometimes camped on the side of the Cabril Reservoir. Near one of our favourite spots we heard that there was some land for sale so in May 2013, almost on a whim we bought about an acre by the lake which also contained a small ruin.
We continued to camp there on and off for about a year and then we decided to renovate the cottage so we could stay there. I got a couple of builders in and I was to act as their mate in the rebuilding. Effectively I collected schist stone from nearby and then mixed the cement as they gradually rebuilt the walls using shuttering. It was all fairly simple in the end and only took us the best part of two weeks. The final part was getting the logs for the roof and the veranda and making sure it was all secure. Overall it cost us about €2000 half of which was the labour. I felt I was fine on my own from here so I put the tiles on and plastered the inside of the walls.
And that was it. We basically carried on as before but as a home from home and we could sleep with a roof over our heads. In truth, we only slept over a few times as we were only 30-40 mins drive from home but we enjoyed many more days away and were joined by a number of friends over the next few years. But then we realised that the dogs were getting older and we used it less and less. And we also had much bigger plans. We were to move our main home – we were moving to Ponte de Lima in the north of the country and so we had to sell the cottage. Anything to do with bureaucracy in Portugal is a nightmare. However, there was loads of interest in the cottage when we put it up for sale. Perhaps we were asking too little but in the end we made a tidy profit and we managed to negotiate the bureaucracy with few problems. So in August 2021 we finally said Goodbye to River cottage!