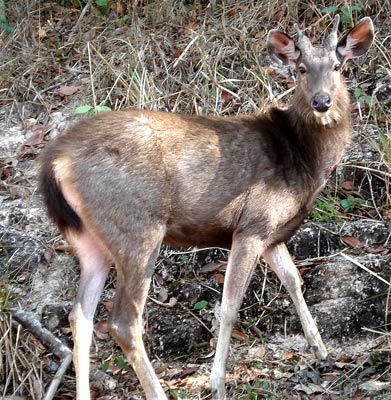 Khao Yai National Park
Khao Yai National Park
Khao Yai is Thailand's oldest and also one of its biggest National Parks. At an average of 700m above sea level, its climate is reasonable pleasant all year round and as it is only 2.5 hours outside Bangkok it is also one of the most popular parks. We went up for a long weekend in February 2007.
We got the bus to Pak Chong, the nearest town of any size, which is itself about two hours from Bangkok. From here we were soon able to hire our favourite form of transport, two Honda Waves, and were soon off down the road to Khao Yai. We drove for about 10kms to "His Grace's Farm" a local resort which had been recommended. It is one of the first of a whole string of resorts along this road right up to the Park gate. It was quite run down and rather expensive for what it was (1100HBht per night for a cottage) but was set in very attractive, if a little wild, grounds. There are about 6 or 7 huts spread over quite a large area, so each is quite private. We also had a pleasant sitting area by our hut to observe the many birds that inhabited the trees.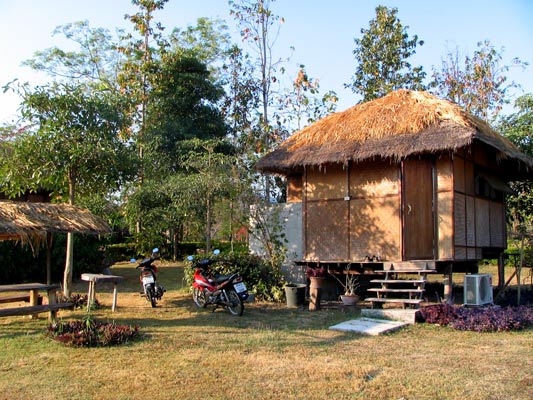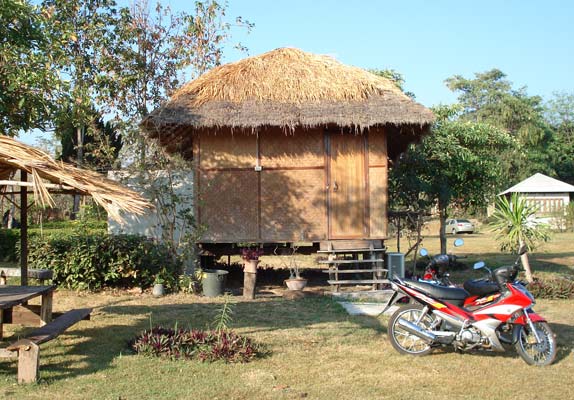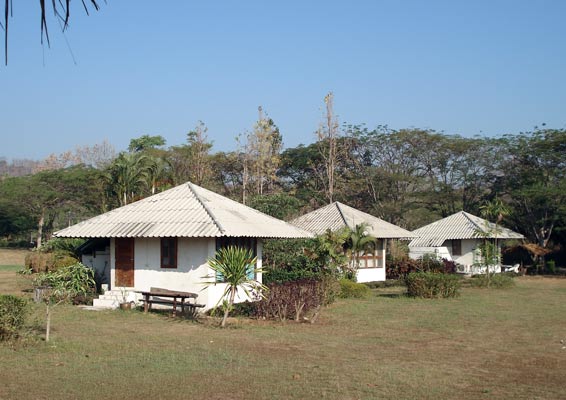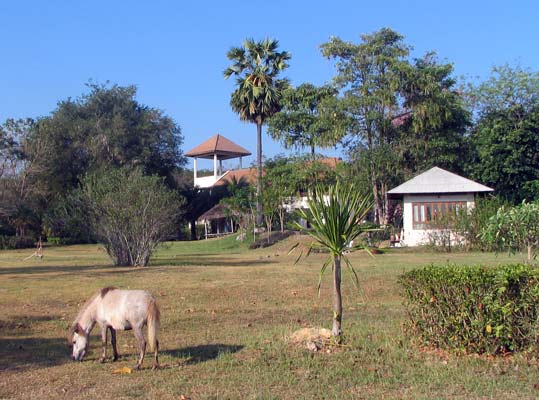 As it was fairly quiet, they weren't too keen on cooking for us (except the excellent breakfasts) so we went down the road to some barbeque places and here is where we had our first wildlife encounter. I don't think they were wild boars but we did enjoy barbecued piglet.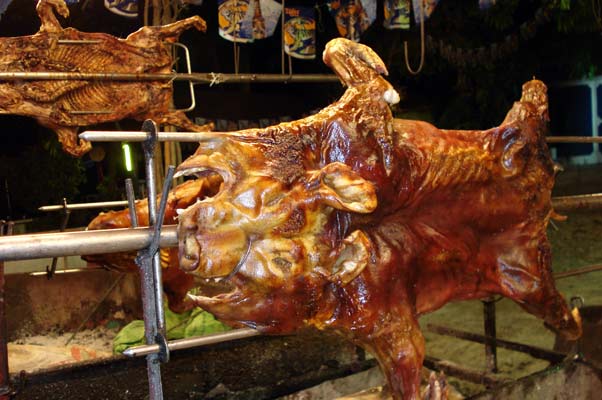 The next day we set off on the 20 or so kilometres to the park gates. I must say the journey was quite attractive, plenty of countryside on view with the odd outcrop of limestone hills. The road was dotted with some quite attractive looking resorts.
Once at the gate, you pay your fee. Foreigners pay 400Baht each which is rather more expensive than the local rate of 40Baht which we managed to get after showing our British Council id cards, showing we lived in Thailand. Shortly after the gate, as the road narrows and then ascends the mountain, you immediately realise you are entering the jungle. Monkeys start appearing on the side of the road and once at the top of the escarpment there is the occasional salt lick. There are also some rather optimistic signs warning tourists of 'cobra crossings' 'Warning: Gaur territory', 'Tiger area!', After about 15 kms you reach the Park HQ. Here there is a quite impressive visitor centre explaining all about the wildlife in the park an describing most of the animals you may encounter. There are also two stuffed tigers which apparently killed a few people in the 1980's. There is also the Park HQ where you can book accommodation (a wide variety and which looked pretty good actually) and also an open air restaurant.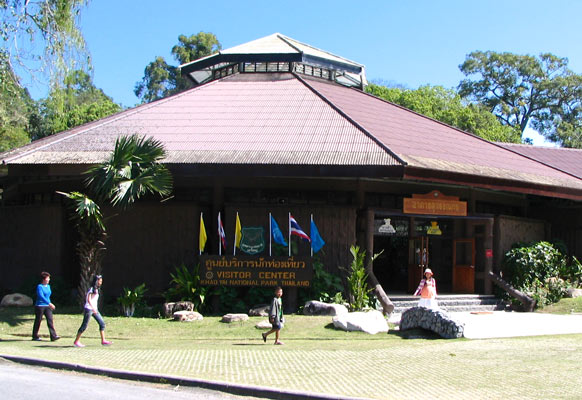 We were keen to see some wildlife so we picked up a brochure of walking trails and off we went. The one we picked was the shortest, an hour it said in the leaflet, and it also started nearest to the centre. The map and description proved to be rather innacurate as it took us rather longer, but the trail was fairly easy to follow and we experienced (heard) quite a lot of animal life. Monkeys can be seen on the road but on the trail, Jackie saw a gibbon and I saw a Barking Deer in addition to plenty of birds.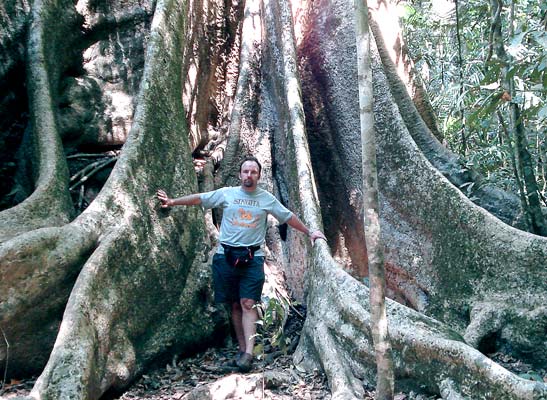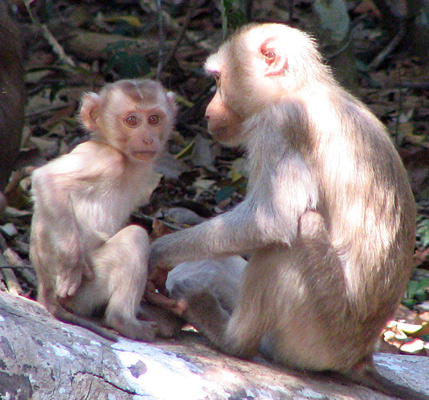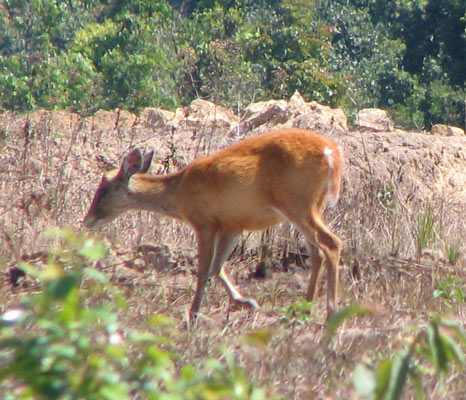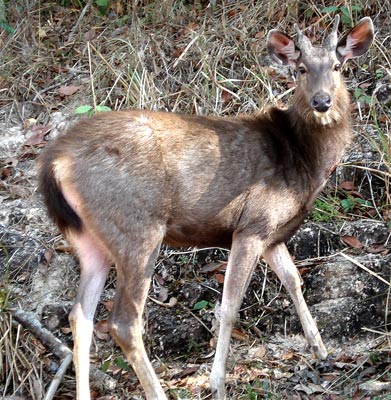 We also took our bikes around a lot of the roads crisscrossing the park which was fun and saw plenty more monkeys and deer, although no elephants which is what we really wanted to see. There are areas of jungle but also grassland, which at this time of year was pretty dried up. As were the waterfalls which are quite famous. The accommodation is dotted around the park and there is quite a variety from bunglaows for 2-4 people to dormitories to campsites. These are fairly well spread and so don't ruin the countryside feel to the place, although I can imagine on busy weekends there will be plenty of cars buzzing around, although we didn't actually feel this was a problem on the weekend we went.
We also booked on the night safari. For this you get in the back of a pick up which drives slowly around the park. There is a man on the back with the tourists with a spotlight. He is actually very good at homing in on any wildlife around. In our hour (7pm -8pm) we saw 3 Indian Civets, more deer, and a porcupine (we also encountered a porcupine when we drove back to the hotel afterwards). We also saw what we later identified as a Giant Red Flying Squirrel. OK squirrel doesn't sound exciting, but when we saw it, it was definitely a giant – we thought it was a bear! Anyway, the night safari was well worth going on. And to top it off, on our last day in the park we got some great views of a pair of pied hornbills, one of the highlights of the weekend. Next time we decided we would stay in amongst it in one of the park bungalows – so watch this space!