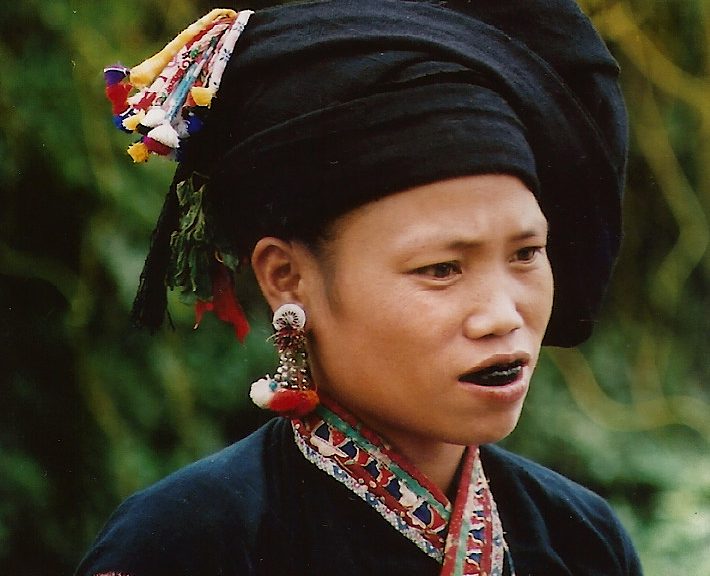 North West Loop
North West Loop
3 Nov 2001. I'd been in Vietnam for almost two months. I'd bought my Minsk motorbike and now was its first big test – the North West Loop. The plan was to leave Hanoi and go west to the village of Mai Châu. It was a popular weekend getaway and a place that I had been to before. Then head North West past Son La to  Điện Biên Phủ, a place scorched into the collective memory of all Vietnamese – for it was here that saw the final rout of the French in 1954. From here, we were to head North East to the mountain of Fansipan and the small town of Sa pa which was already becoming quite famous as a centre of hilltribes and therefore tourism. From here we would take a little side trip to the famous Sunday market at Bac Ha before getting on the overnight train from Lào Cai back to Hanoi. I was travelling with my fellow teacher Alan.
That was the plan anyway. The trip to Mai Châu was uneventful. Back in those days there was a lot of road building going on and this road was no exception. The road to Mai Châu was through some lovely limestone hills so the road was quite gravelly rather than thick mud which we were to find later. Mai Châu was a sleepy little village of the White Thai (Tai Dom) ethnicity set in a broad, pretty valley. We stayed in a traditional stilt house and had views over the paddy fields.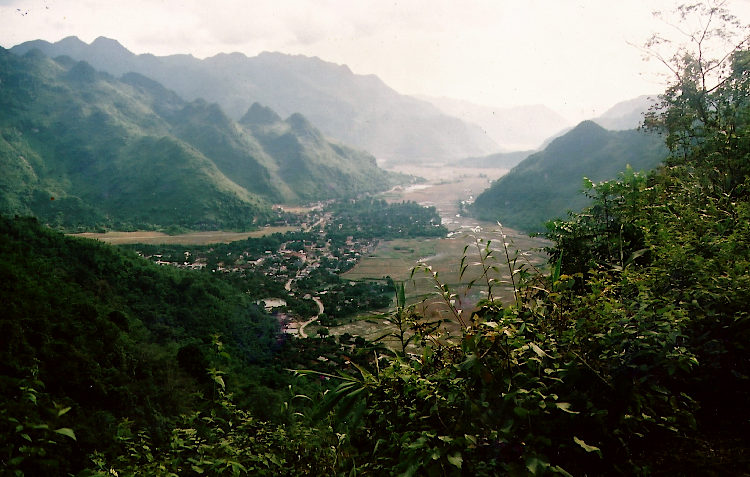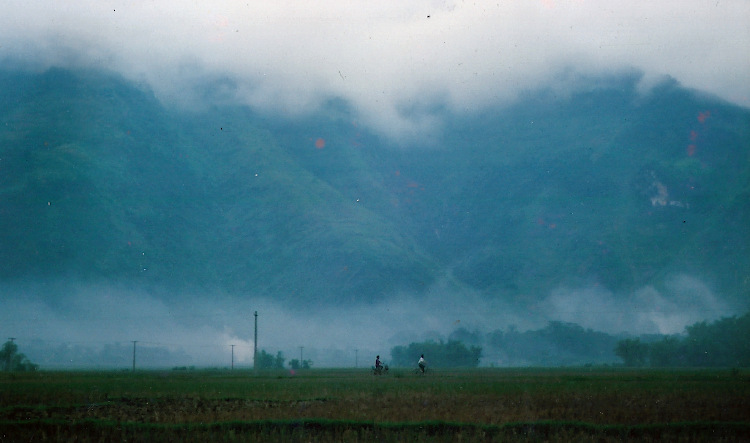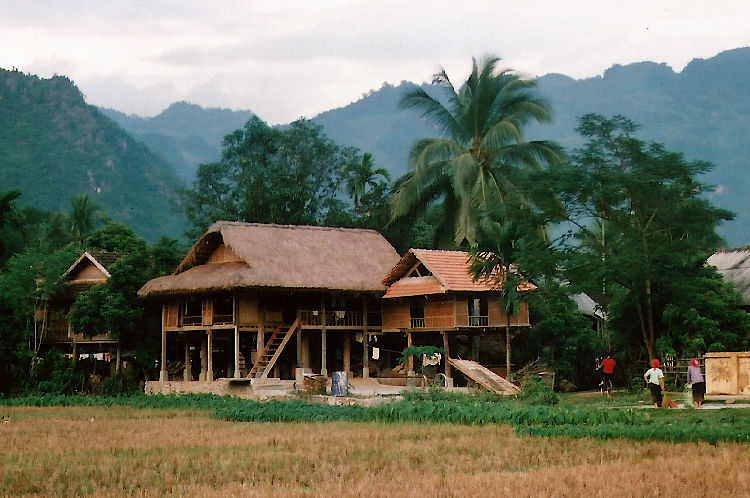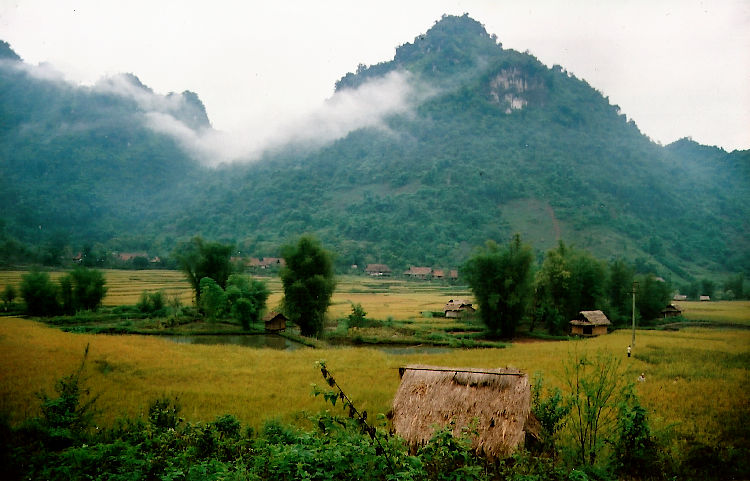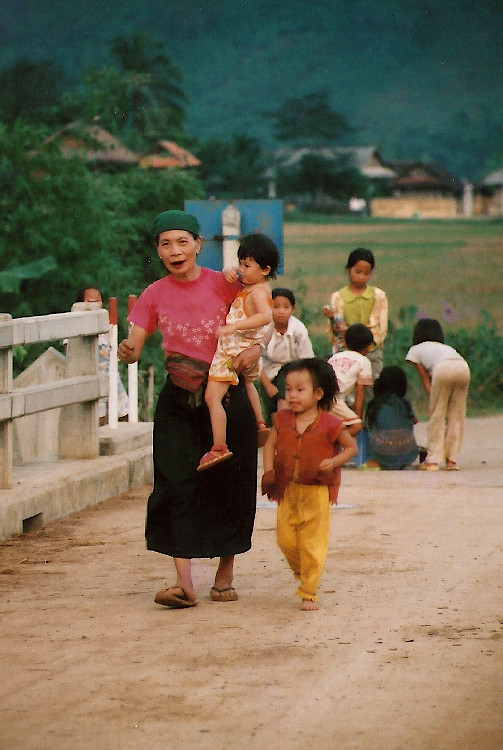 The following morning we set off about 8am but soon had the waterproofs on as it chucked it down. Fortunately it was just sporadic showers, pretty common for Northern Vietnam in the winter. We got to Son La around lunchtime and checked in at the New Hotel at a cost of 100,000 Dong. We went to see the only tourist site in town, the old prison. That night we found a small Com Bin Dan stall and had some delicious barbecued pork and rice. They also had a small telly with English football – and the added bonus – Liverpool beat Man Utd 3-1. An excellent start to the trip.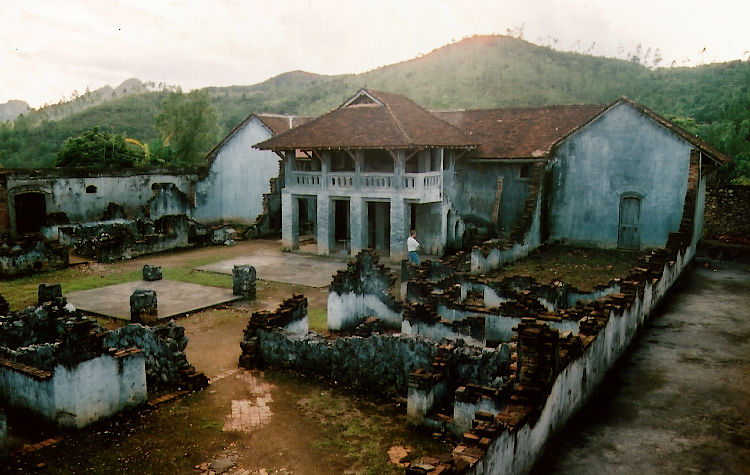 We were up early again the following day, up through forested hills and valleys of coffee and banana trees. We immediately saw some hilltribe women – mainly Black Thai who have been the dominant minority people in this area for a millennium.  The ladies were very striking with their distinctive brightly coloured headdresses. We headed on to the market town of Thuận Châu for breakfast. The usual bowl of Pho.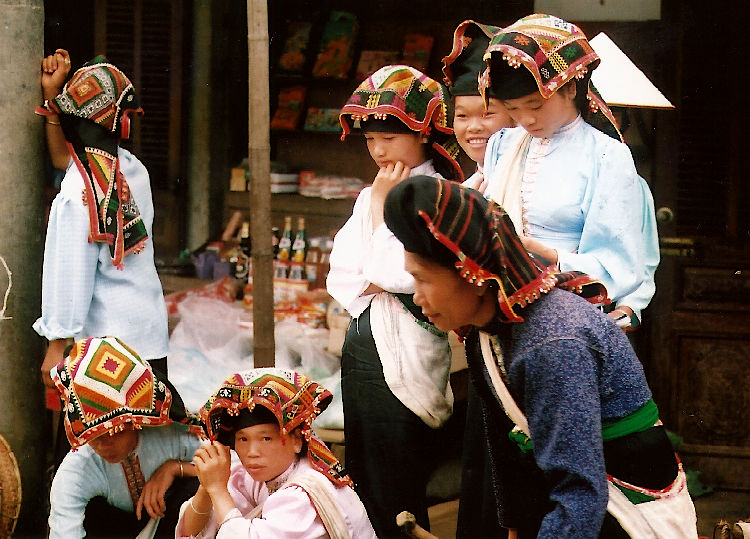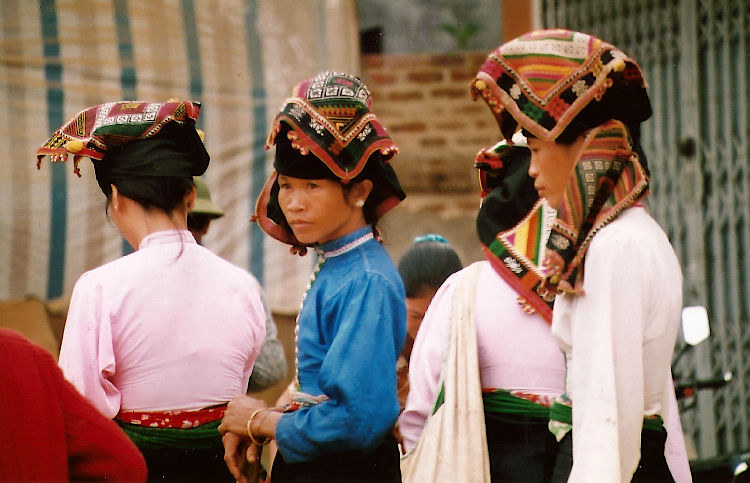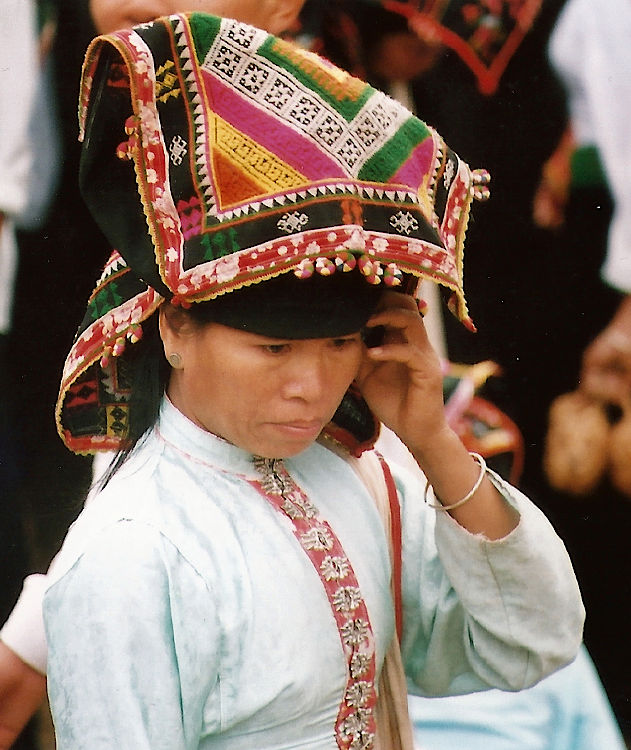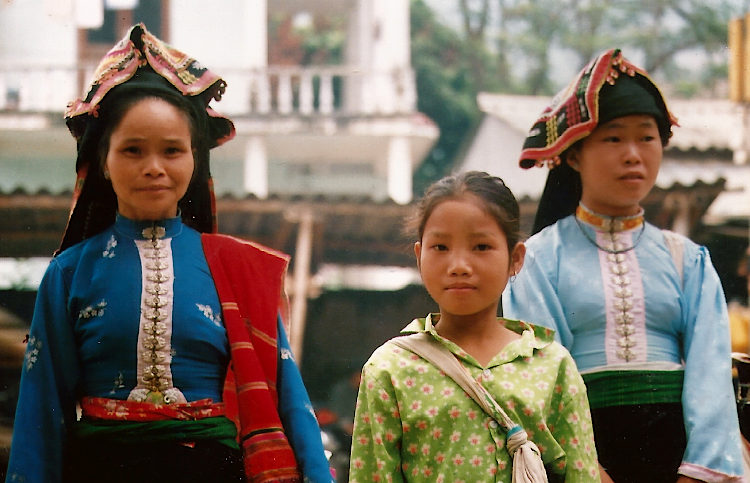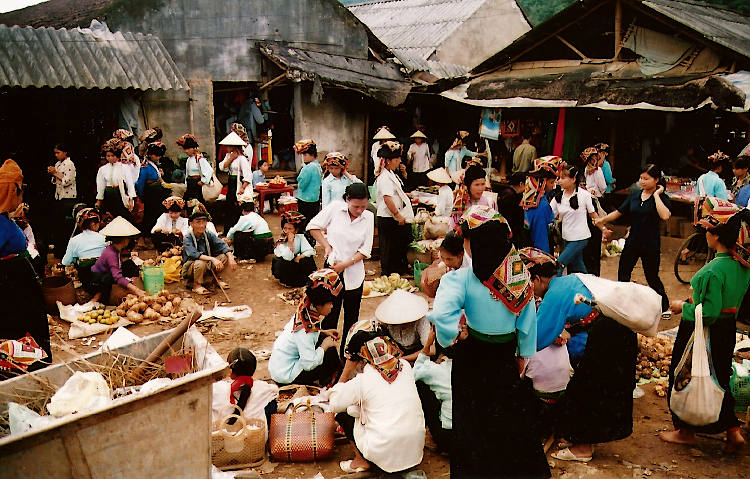 We were soon off again over more mountains. From Thuận Châu the road climbs up the Pha Din Pass at over 1000 metres before descending into Lai Chau province and the valley of Tuần Giáo. Here we came across an overturned lorry. Unfortunately car/lorry/motorbike accidents were to become a common sight in my time in Vietnam but in this one no one seemed to be injured. Tuần Giáo has a population of yet another hilltribe. The people round here were mainly White H'mong famous for their tasselled turbans, green/black striped tops and black trousers.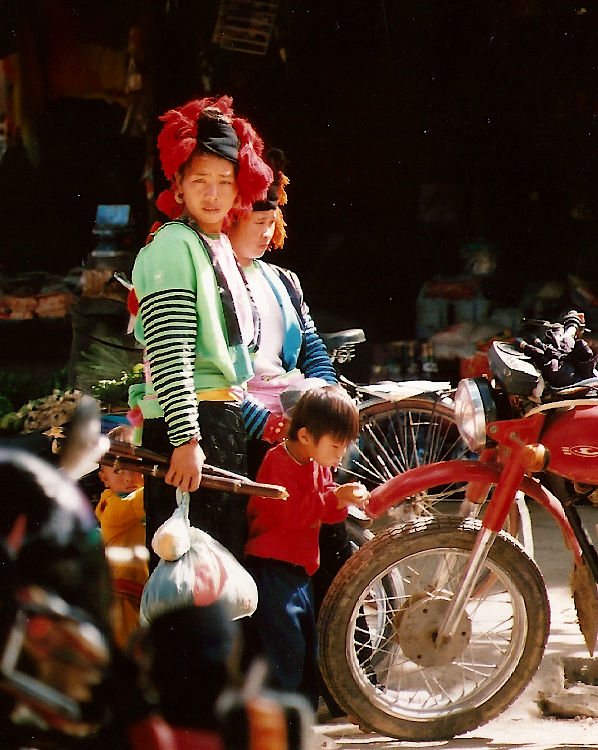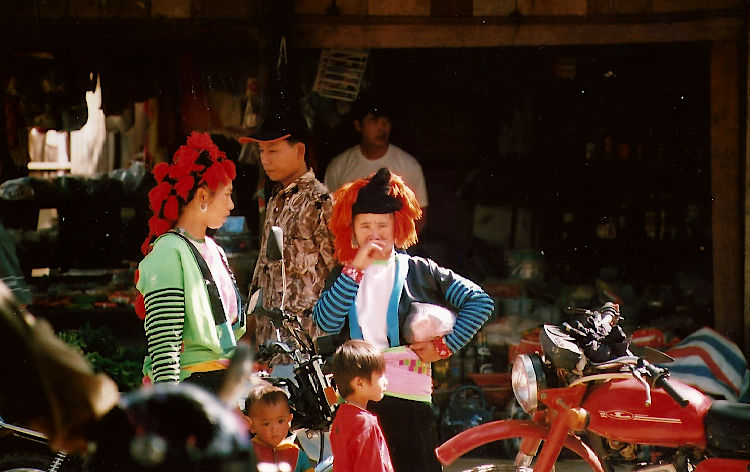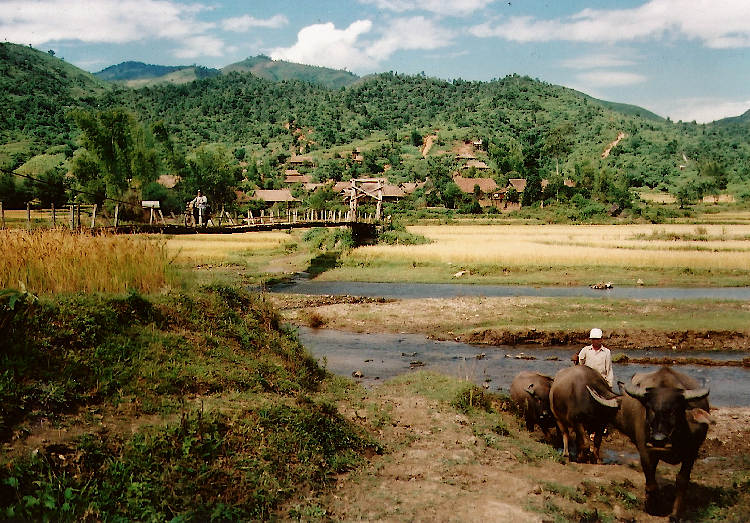 From here we thought the road would get pretty rough but it was dry and sunny and we had no problems. The 80 kms took us three hours which was not bad going in those days. Remember also in those days there were no google maps so we weren't sure of road conditions. In fact I had one small map which covered the whole of Northern Vietnam. The communist government was not keen on anyone having a map at all.
Dien Bien Phu is situated in a broad valley so we got over the final hills and then it was a long slow descent into town. In fact here the road was a broad but empty dual carriageway. The place to stay in DBP was the Beer Factory Hotel and true enough we went for a little explore and found the very friendly lady bottling the beers insisting that we try a few!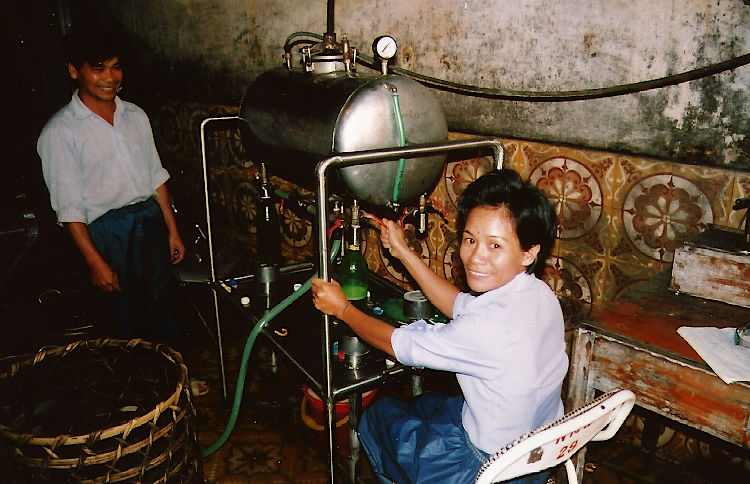 After a few hard days in the saddle we decided to rest the following day and just explore around DBP. The museum was interesting, mainly detailing how the brave Vietnamese got rid of the dastardly French at the battle of DBP. There was plenty of scrap metal about – bits of old planes, propellers, wings, shells etc. We also went up the famous Hill A1, the site of a famous battle. Outside of town we also visited General Giap's bunker where he plotted the downfall of the French. There were a couple of tanks parked nearby along with a Chinese cemetery. There were great views back to town from here. On the way back we noticed fields of roses but with the emerging flowers covered with individual caps. Interesting.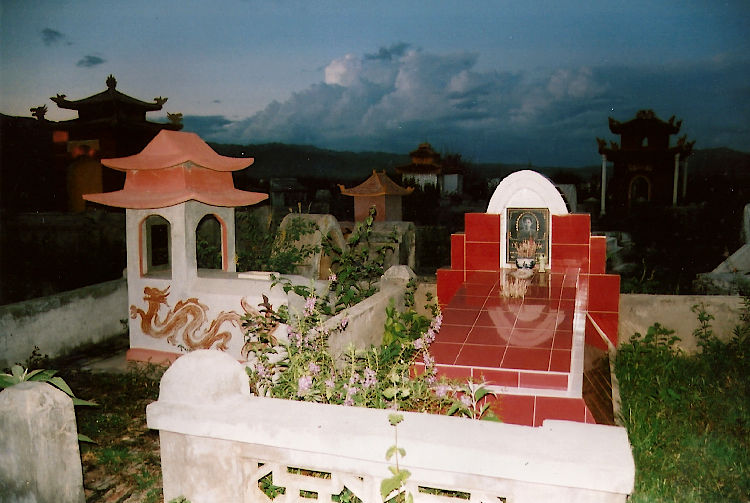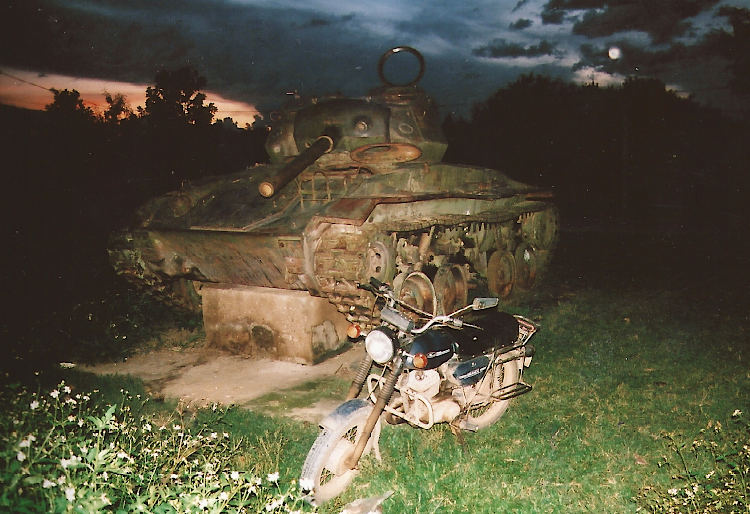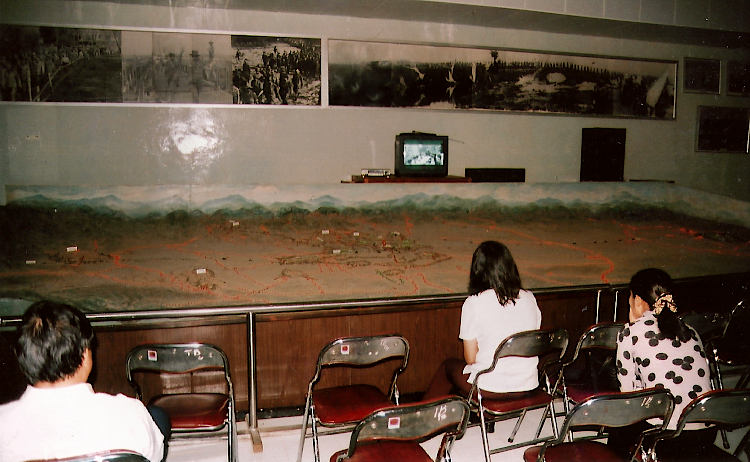 After our rest day we were up at 6am and off by 6.45. We knew it was going to be a tough one. Although most of the villages we passed through had bamboo huts, I noticed that along this stretch, the people looked very poor, these were Kho Mu (Xa) people. Apparently they had suffered centuries of oppression from their Thai neighbours. As there are no towns between here and Lai Chau we were expecting it to be rough but it actually started off as tarmac. However, this abruptly stopped as we started heading up into forested mountains.
It was then we started passing small groups of Red H'mong along the road with their characteristic Big Hair. Some of the hilltribes people are happy to have their photos taken and will pose, some are unsure and some don't like it all. The Red H'mong despite their striking appearance are unfortunately very shy so I don't have many photos of them. Apparently, they carefully collect all the dead hair that falls out when combed and then weave it into the living hair.
This was excellent off roading terrain – a decent dirt road and pretty forests. We were soon down into our next place for the night – Lai Chau. We also found quite a posh hotel, the Hotel Lan Anh which looked rather like a Swiss chalet. We were pleased that we had made the 100kms or so in just over 4 hours. It was here that we saw our first foreigners of the trip – a couple of old army 4WDs filled with Dutch tourists. It must have been quite popular with tour parties as we realised the restaurants were all quite expensive and we were even offered chips.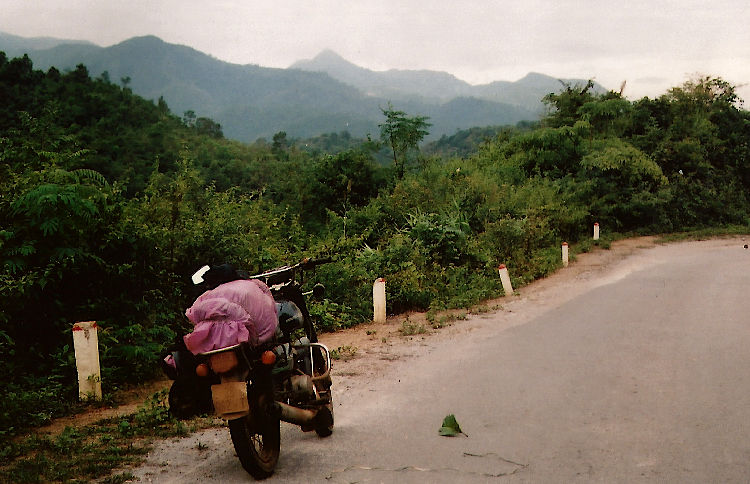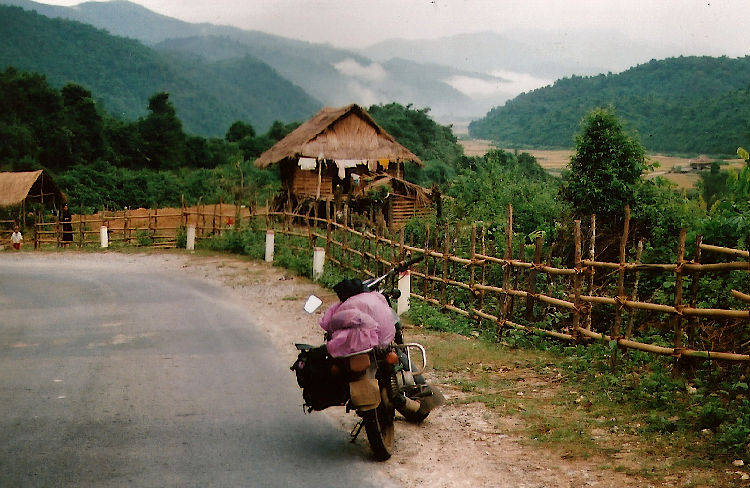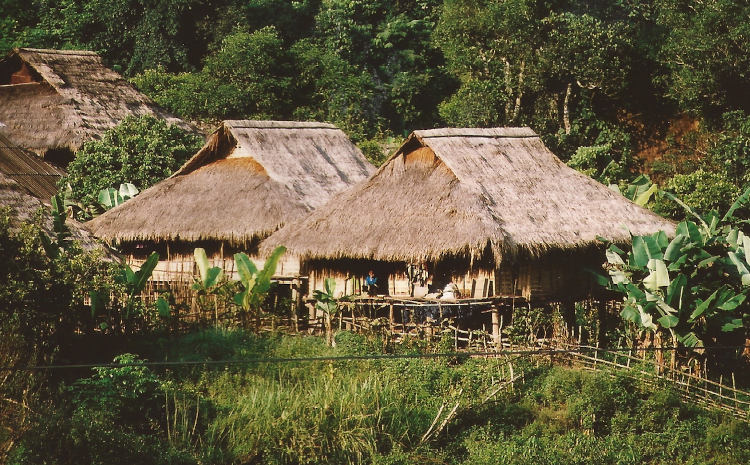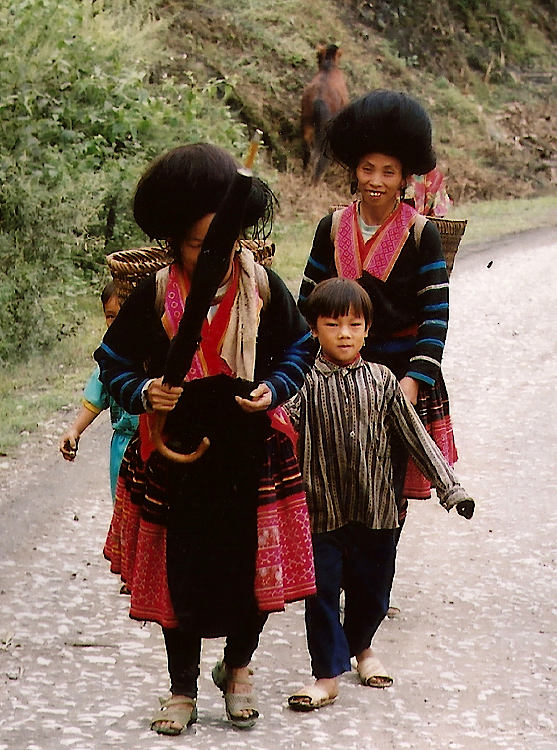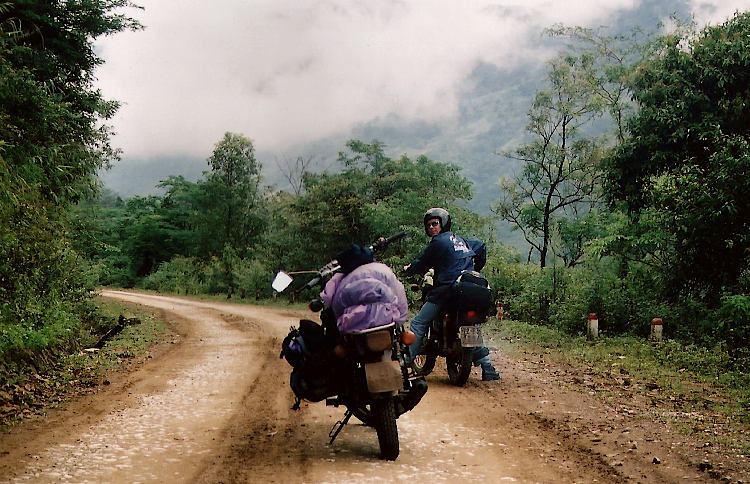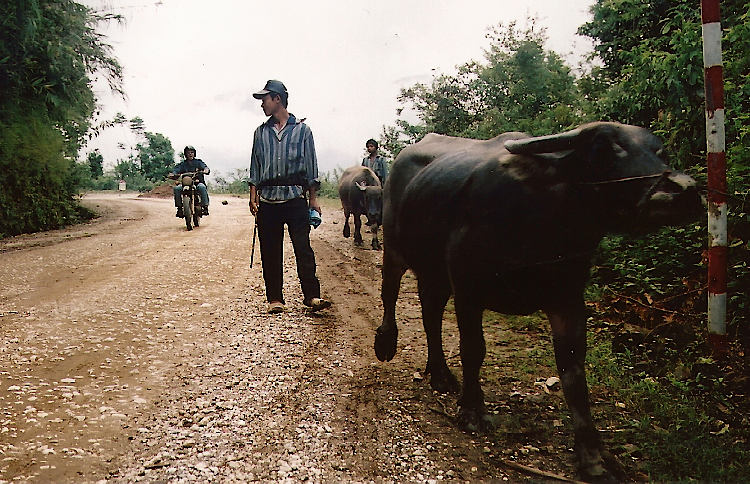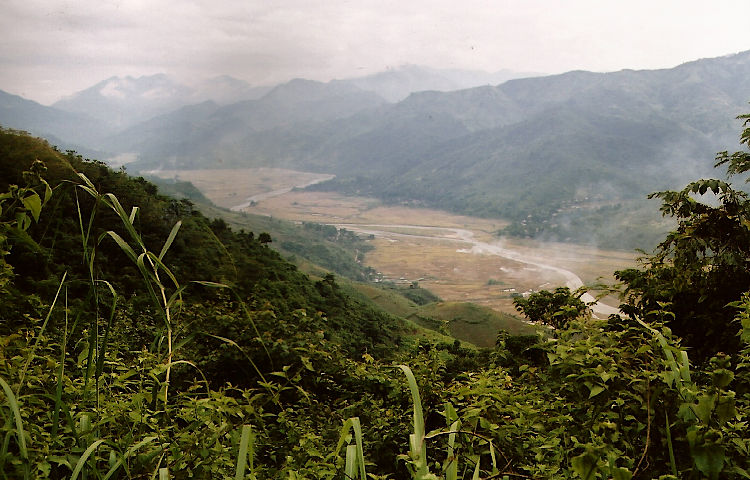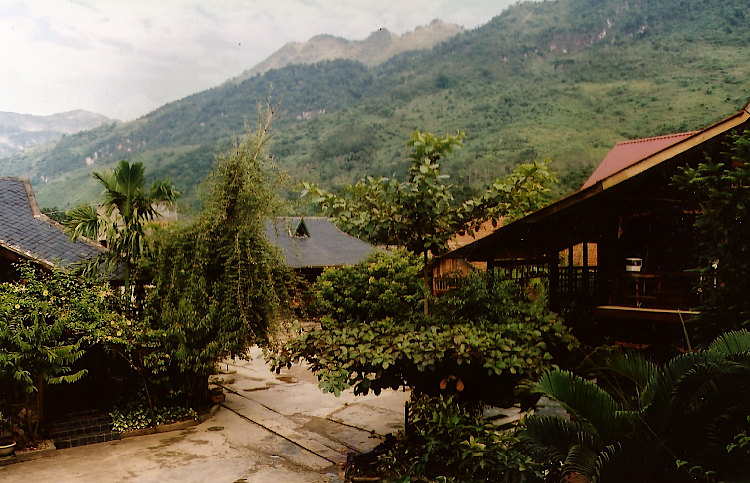 Off again. This time up the Da river valley. The road was pretty rough and no people about at all. We got within a few kms of where we planned to have breakfast (PaSo) when there was a huge landslide. There was already a minibus covered in mud when we got there. Eventually we got though but rather disturbingly the mud may have got into my exhaust pipe it was so thick and deep – thank goodness for the wellies. It soon became clear that my bike was in trouble. Fortunately in the Vietnamese countryside everyone goes about by Minsk and so there are plenty of little roadside repair shops, so although my bike needed new clutch plates it was all fixed by the time we had had breakfast. Shortly afterwards we saw some more White H'mong ladies but these were from a different branch and had different clothes. This time the lower sleeves of their jackets had concentric rings of blue and floral patterns. A black Thai or plain black headscarf is worn but without the red tassles.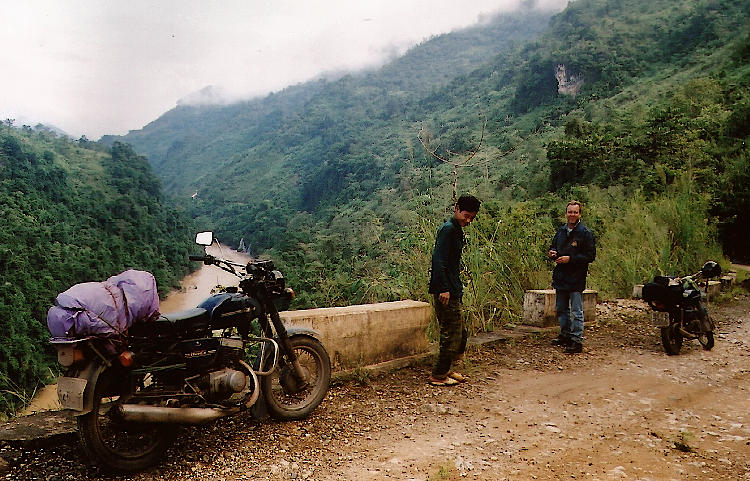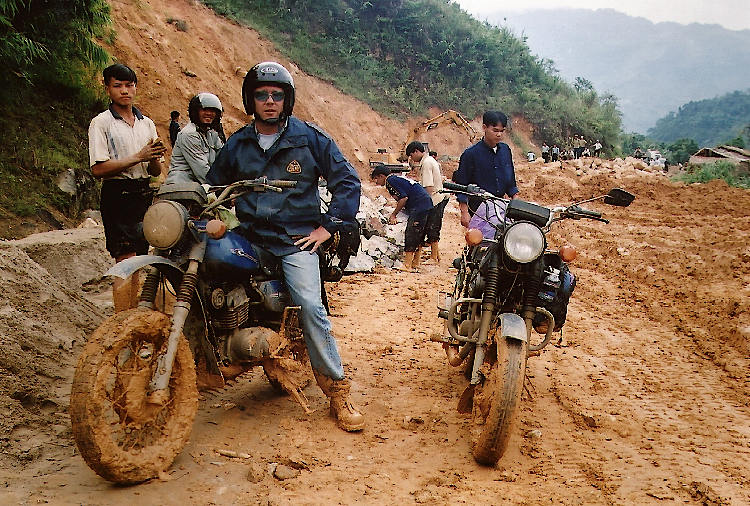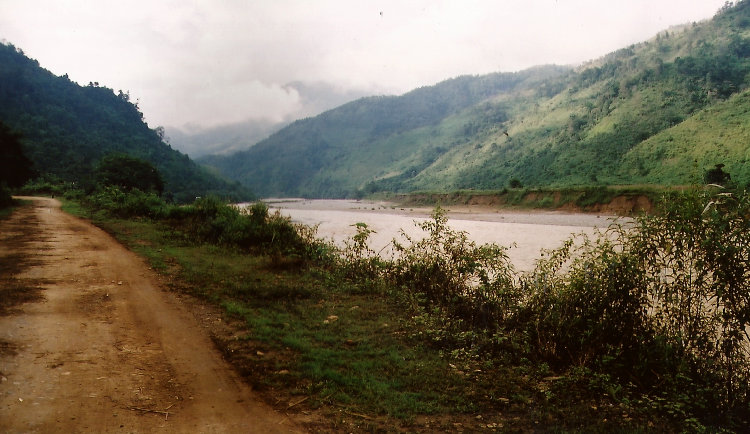 From here it was up, up, up. Limestone crags and fields of tea.  We also saw many new minority people. More White H'mong but this time White H'mong Sin Ho. The most characteristic feature of their clothing being the tall peaked black turban. They also wear a white pleated skirt over which is suspended a black apron.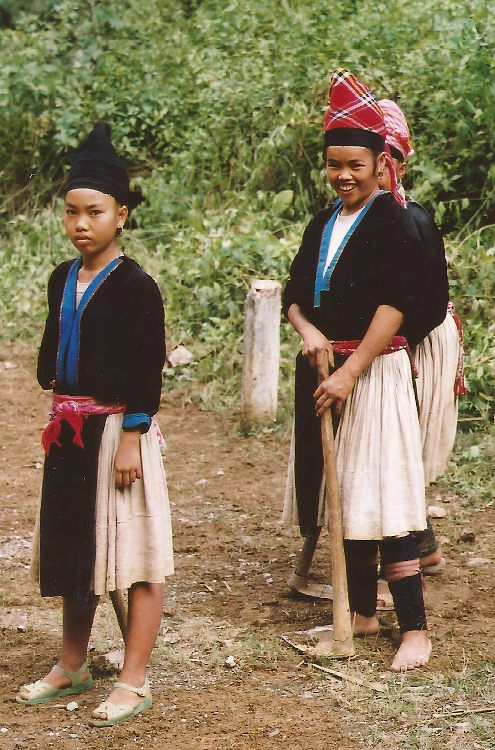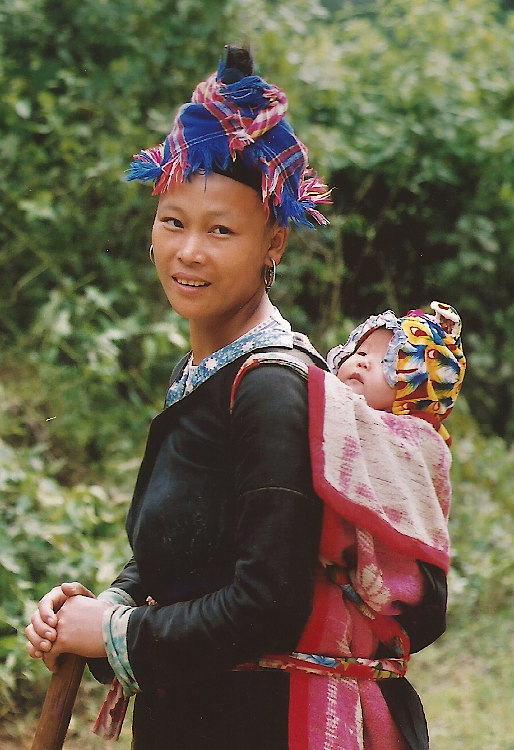 And we saw a new branch of the Dao people – the Dao Khau, or the Sewing Dao.they are well named as especially their trousers have intricately sewed patterns. Often they shave their eyebrows (like many Dao ladies) and also shave their hair back to the tops of of the head in order to display a larger area of forehead. This is seen in one of the photos below. Also these ladies are not shy and are happy to pose for photos. Two of the ladies below have strange pointy hats. I'm not sure if they are from another branch of Dao Khau.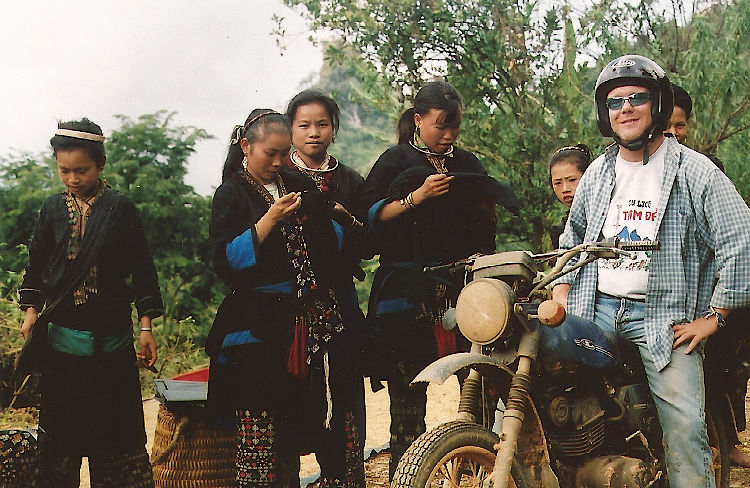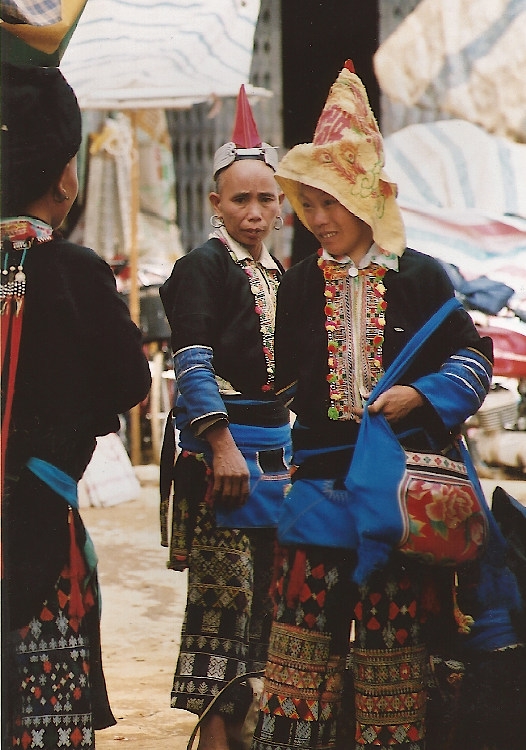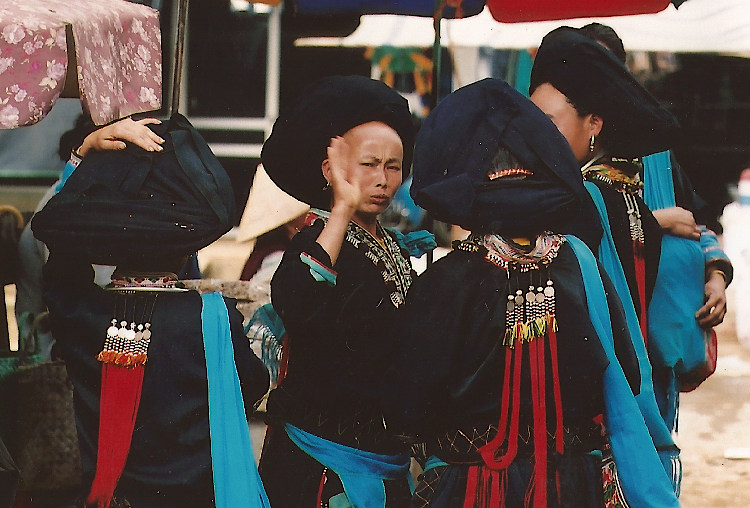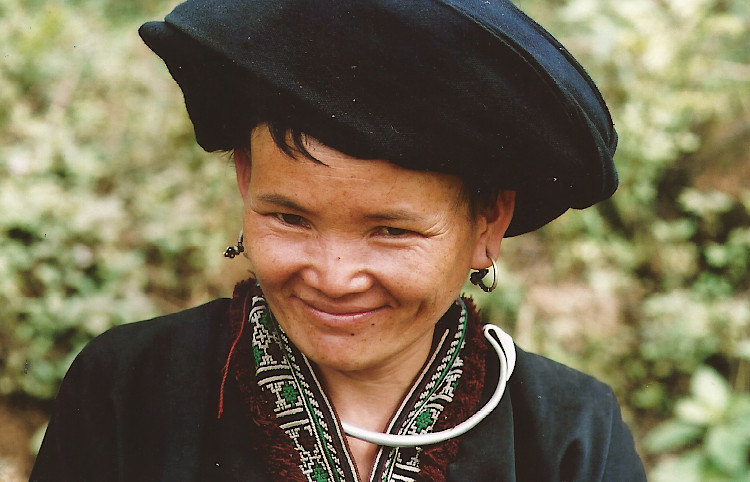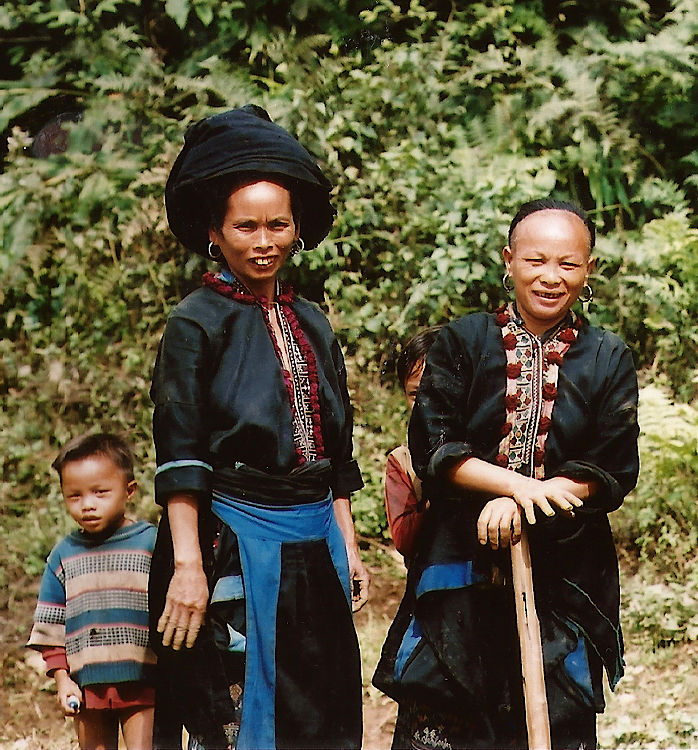 We arrived in Tam Duong and found there was no where to stay. It was another 4 hours at least to Sapa up into the clouds so we didn't fancy pressing on. Eventually someone directed us to a house where we could stay the night. There was a room full of beds so I guessed it must have been some sort of hotel. We dropped our bags off and explored the town. Here we saw some Flower H'mong people and also Giay. these people are related to the Tay/Thai minority family.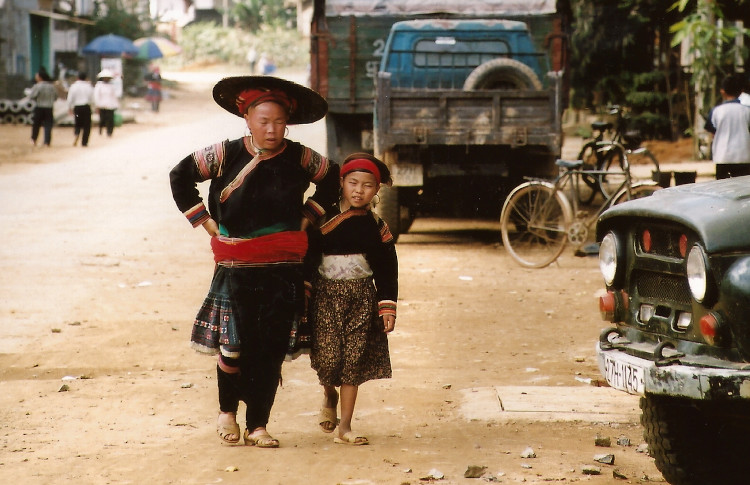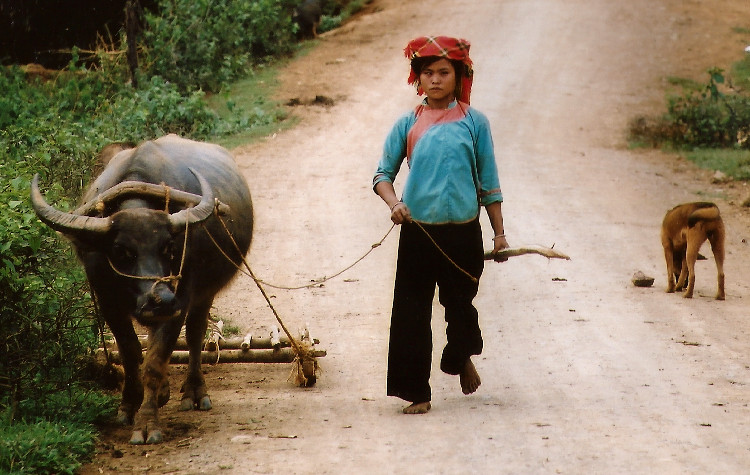 As we had arrived fairly early we decided to explore the countryside around. It was quite wild but there were also a few tea plantations. We went through the village of Nha Nhi which was very picturesque and then Ban Hon, which was populated by another new minority – the Lu people – another group related to the Tay/Thai having migrated south from China during the 9th century. Their population of 4,000 makes them the 40th largest ethnic group in Vietnam. They worship their ancestors and animal spirits in common with many people in the area. They were very friendly and quite forward. All the girls crowded round us showing off their black teeth – they lacquer their teeth to protect them.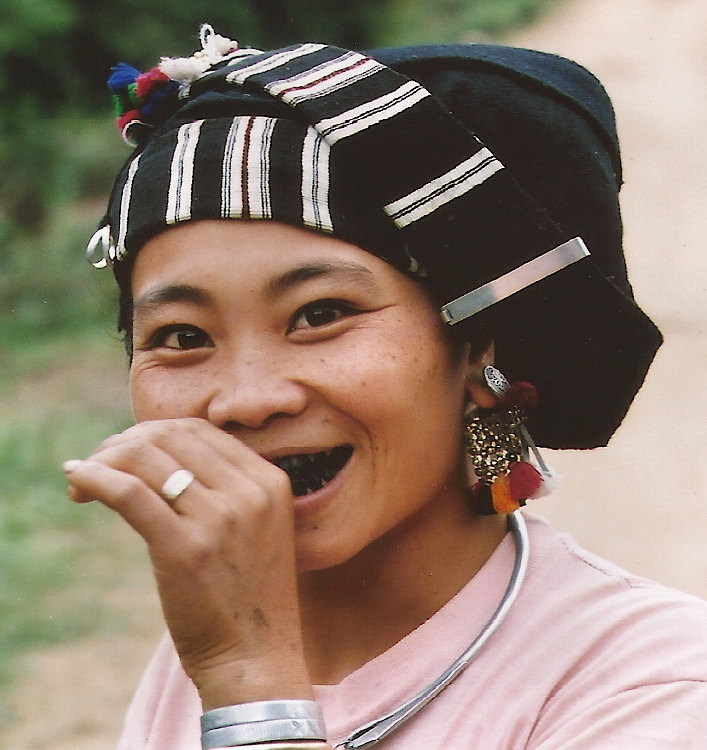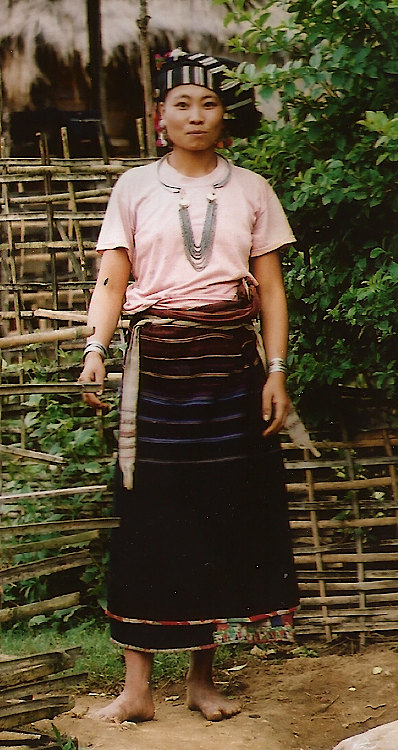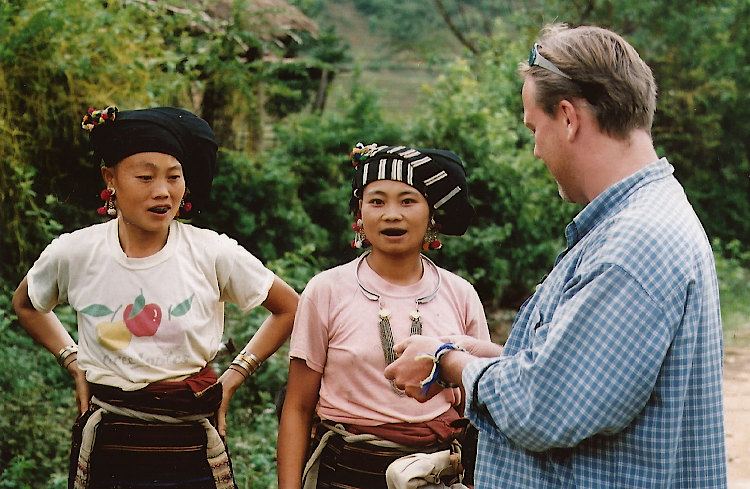 That evening we had a another decent rice meal, a few bia hois and then some ruou (fire-water rice wine) at the "homestay" before bed. However, we were rudely awoken in the middle of the night by the police. Speaking little Vietnamese we had no idea what was going on, perhaps we weren't allowed to stay at the place after all, but we filled out some forms and all seemed to be well. The following morning, the bloke whose house it was, was still there and happy so he hadn't been taken away in the night to a re-education camp so all was well. I think it goes to show that in those days the authorities like to know the whereabouts of all foreigners and to ensure we weren't up to any nefarious activities. This was also a continuing theme of my stay. Having said that the Vietnamese people, even the police were always friendly and courteous.
For the next stage, the weather was rather cloudy and not looking too good. We knew we had a lot of climbing to do and although it was only 75 kms to Sapa on paper, it could be tough on the bikes. We passed through a number of small villages and then the only town in the area, Binh Lu. We were approached by some tribeswomen wanting to sell us some things. These were Black Dao. Then the long climb up to the Fansipan pass which I believe is the highest road in Vietnam. It was really misty and cold but the road was fairly decent. After the pass the road descended but we had to get though a lot of nasty cold drizzle before finally arriving in Sapa.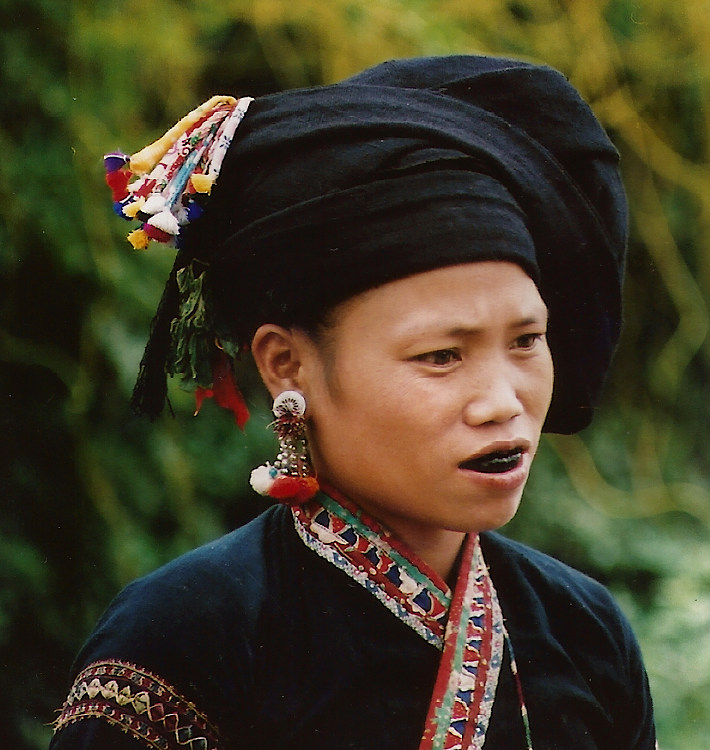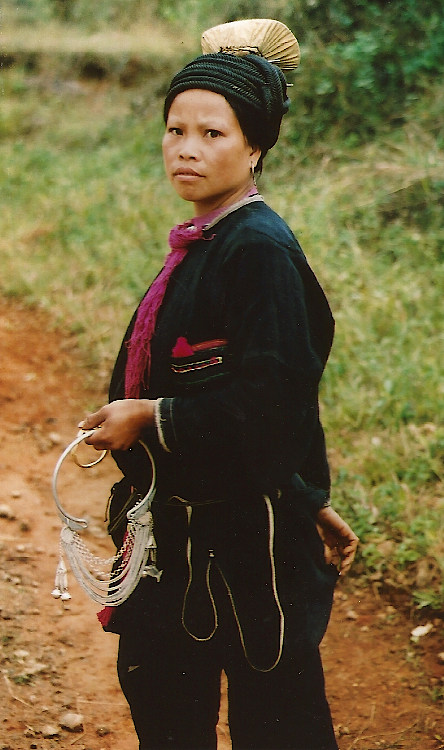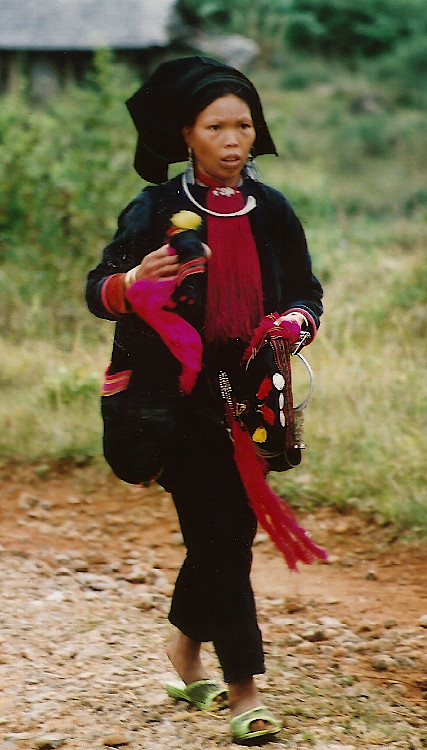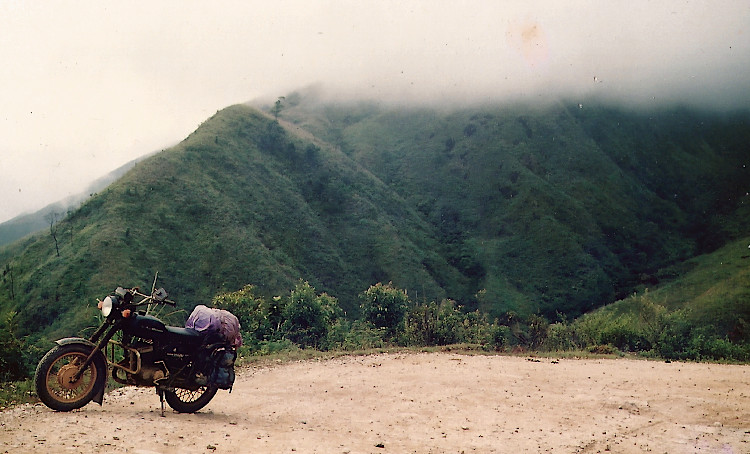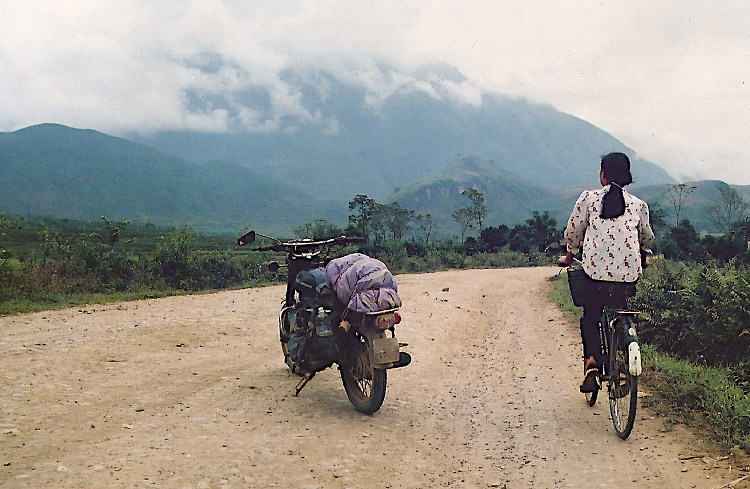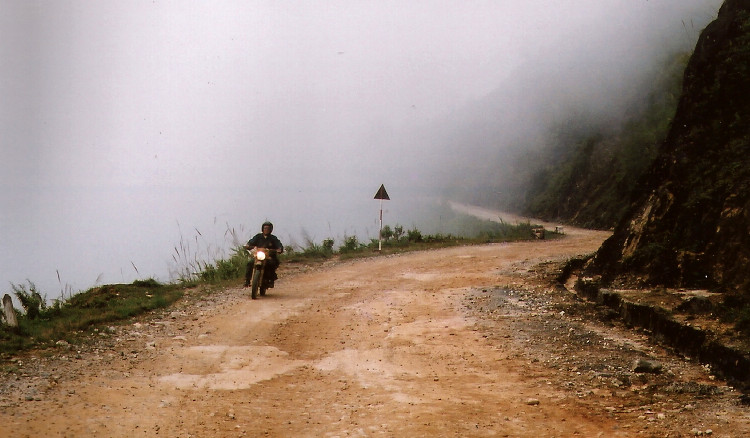 Once in Sapa we found our hotel: The Mountain View/Ninh Hong, however due to the thick fog there was no mountain to see. Fortunately I was to return later in the year and was rewarded with some stupendous views – but that is in another post. There were plenty of Munchkins about though – Black H'mong girls who were very forceful trying to sell us their wares. They were very friendly though and many of them spoke pretty good English. Sapa was already a feature on the tourist trail. We headed for the market and on the way saw the other major ethnic minority here – the Red Dao, many of whom had gold teeth. It is interesting to note that of the two main ethnic groups in the area, the H'mong wear skirts and live in thatched houses on the ground, and the Dao, wear trousers and live in stilt houses.  That night we went to the Bamboo Bar which was interesting. They had a show of ethnic minority girls singing. They were hauntingly beautiful songs. The highlight, however, was a small girl playing a leaf. It was utterly amazing!
We stayed in Sapa a couple of days, just wandering around town, mooching in the market, wandering down to see the waterfall – the "highlight" of the town and chatting to the locals. We also enjoyed our only "foreign" meals of the trip – pizza!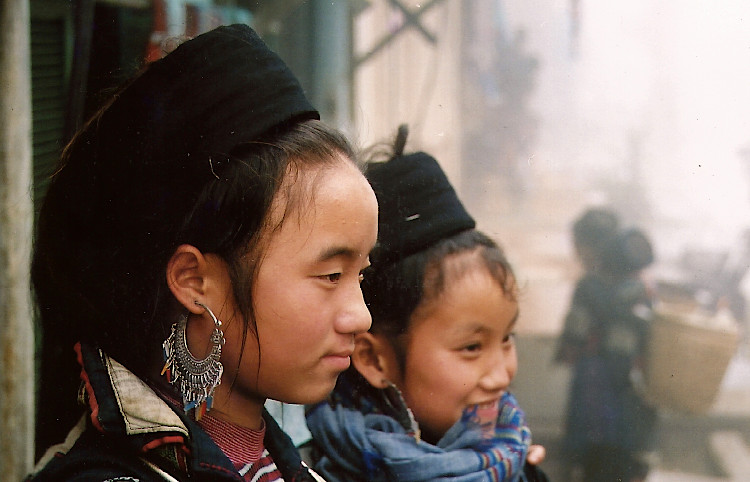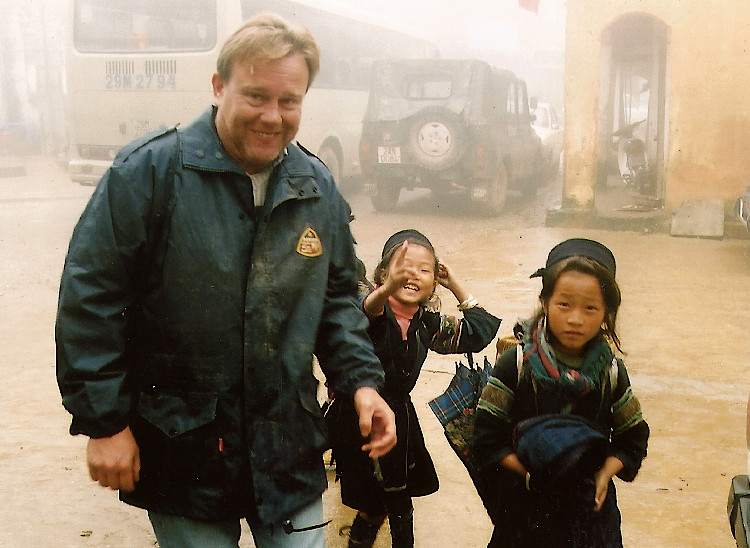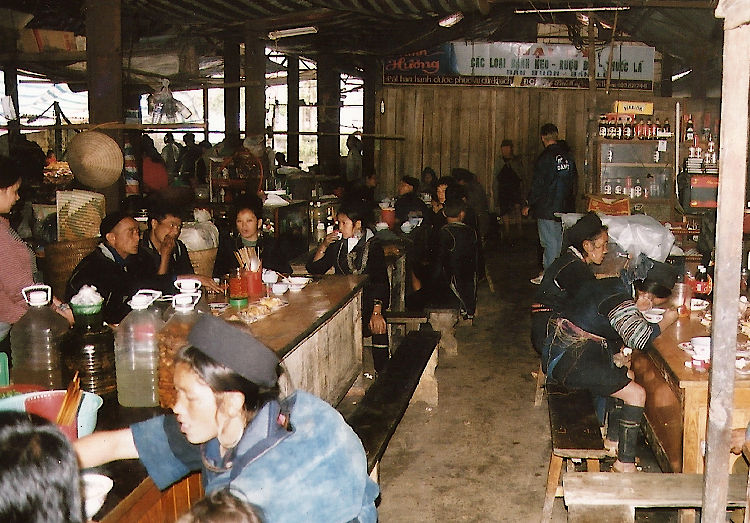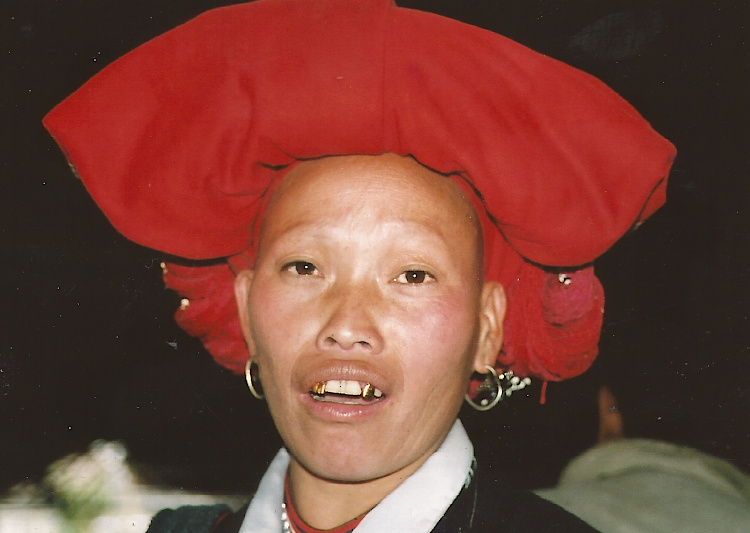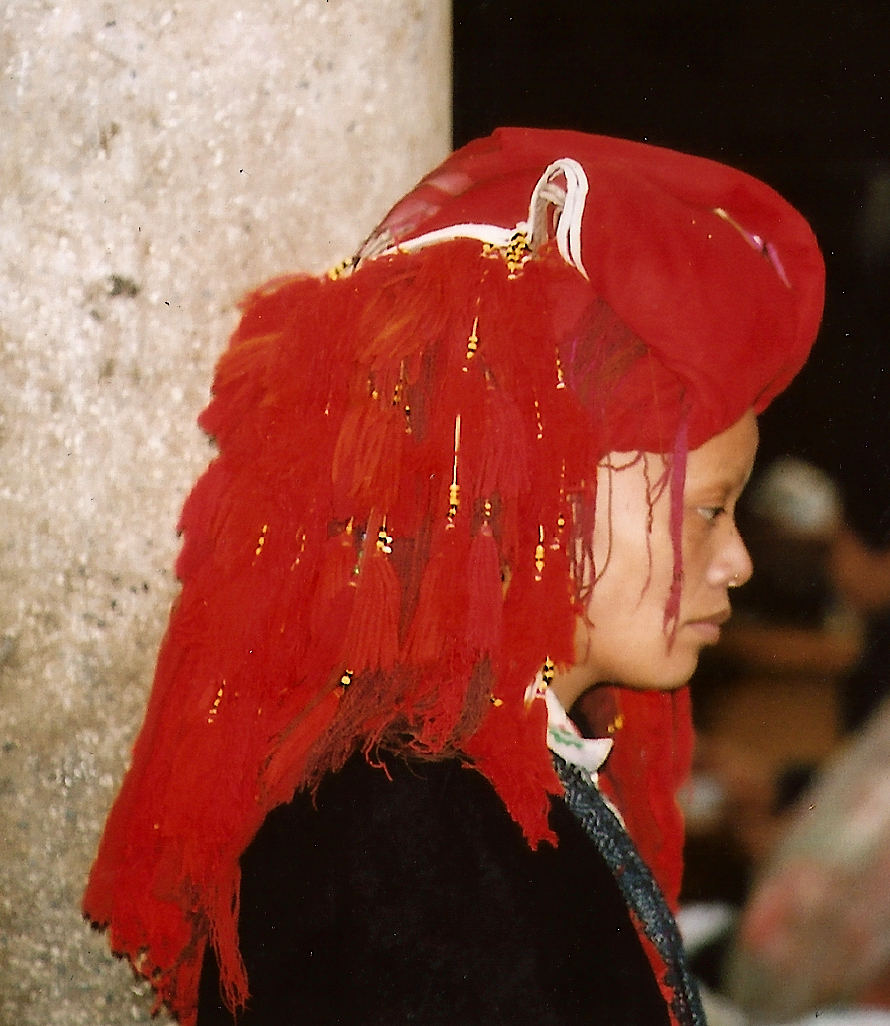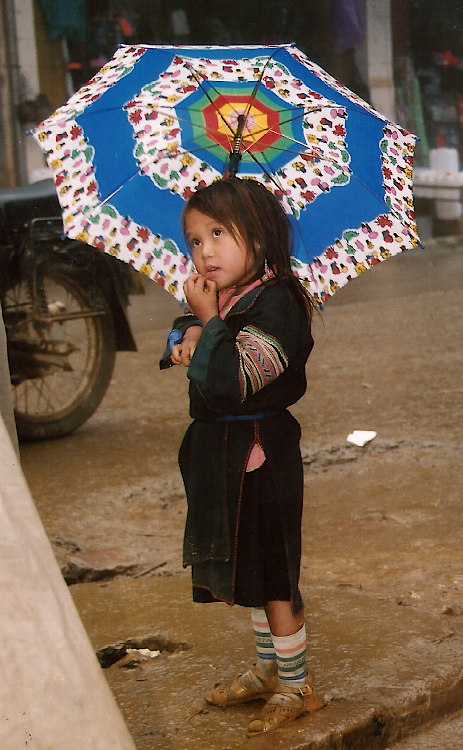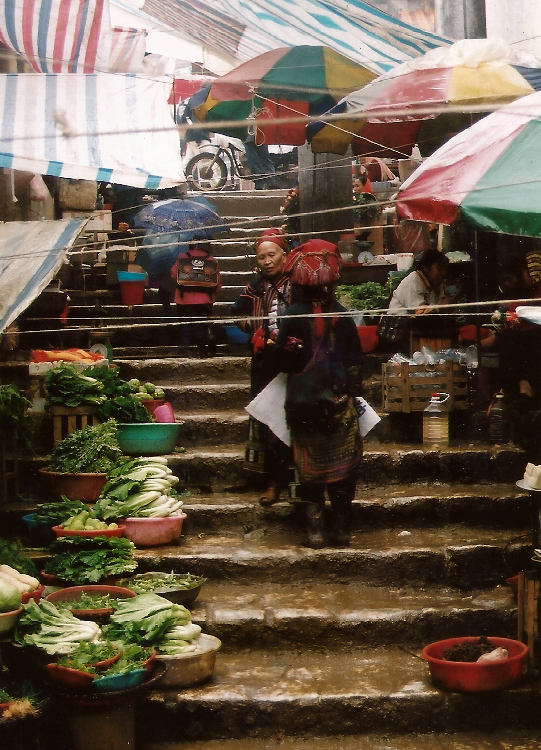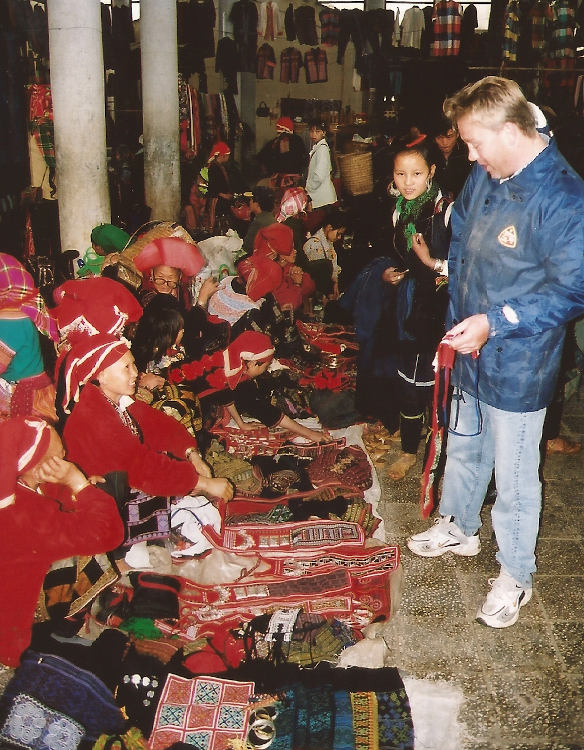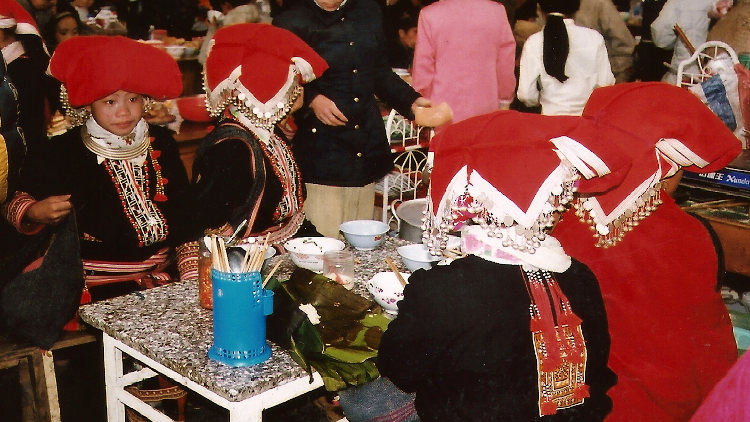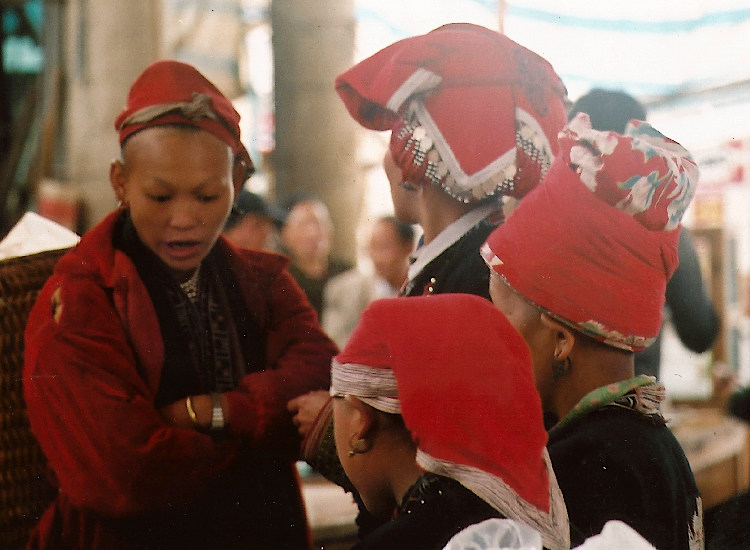 I'm not sure why, but one of the girls in the photo below insisted on wearing my glasses for the photo. Maybe she wanted to look more sophisticated!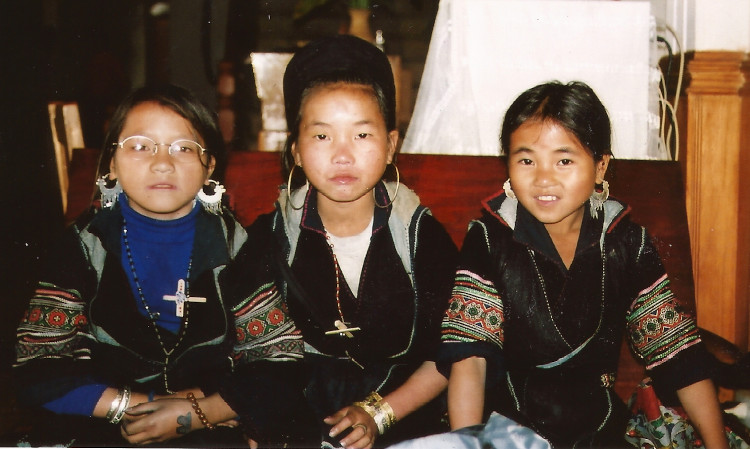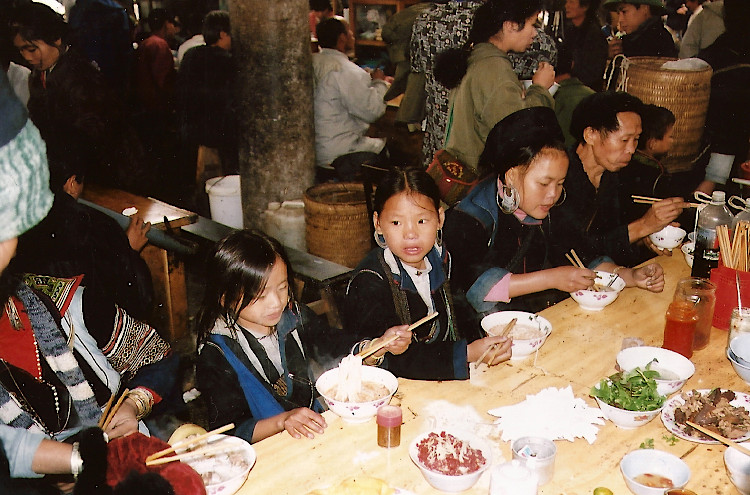 Soon enough our trip was almost at an end. However, one more market to go to, the famous Sunday market at Bac Ha (It's a bit different in 2015). For this we descended the mountains around Sapa into the broad river valley of the mighty Red River which splits Northern Vietnam in two and goes from the Chinese border right past Hanoi and into the Gulf of Tonkin. As we got lower, the sun came out and it got hot, but once over the Red River we were going up again following a tributary up a broad valley. It was pretty steep as I had to stop the bike a few times as the engine was overheating. But eventually we got to Bac Ha. What a riot of colour. The Black H'mong of Sapa were replaced by the flower H'mong, so named because of their colourful skirts. And they were everywhere. There were quite a few tourists but we were swamped by this riot of colour.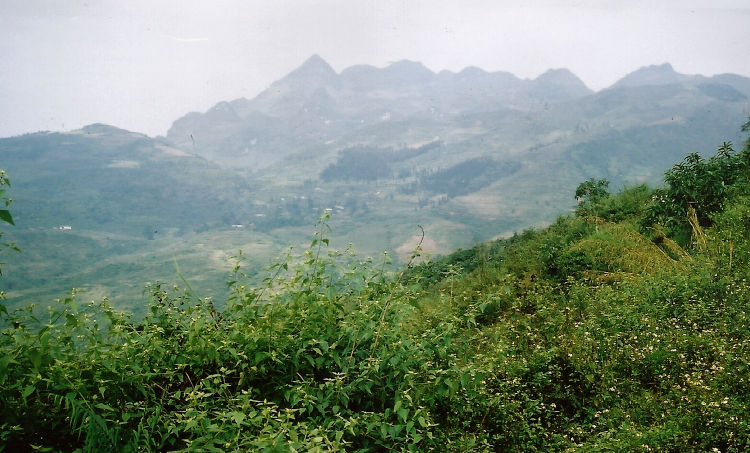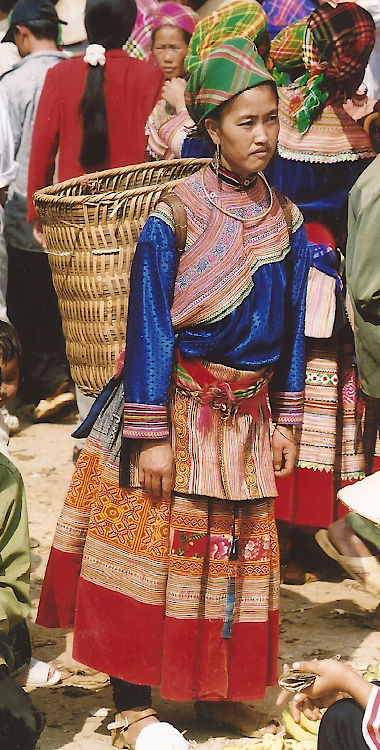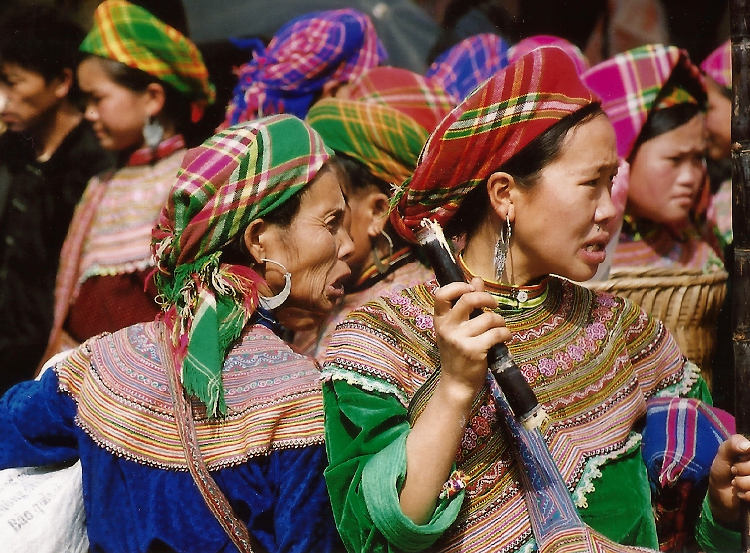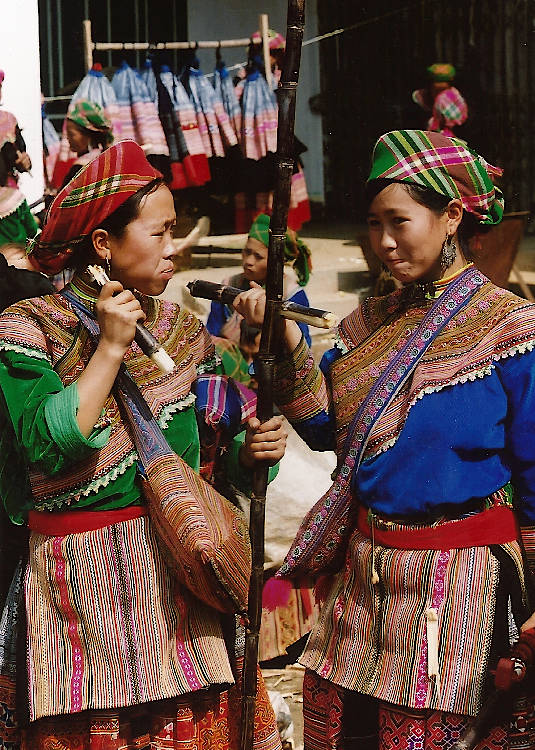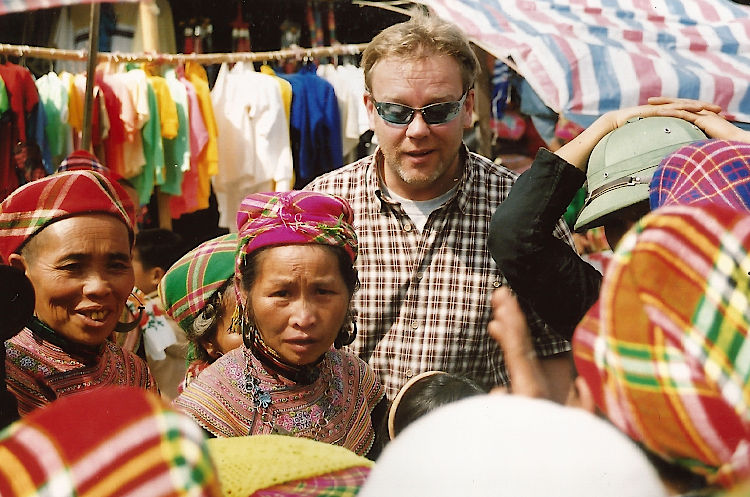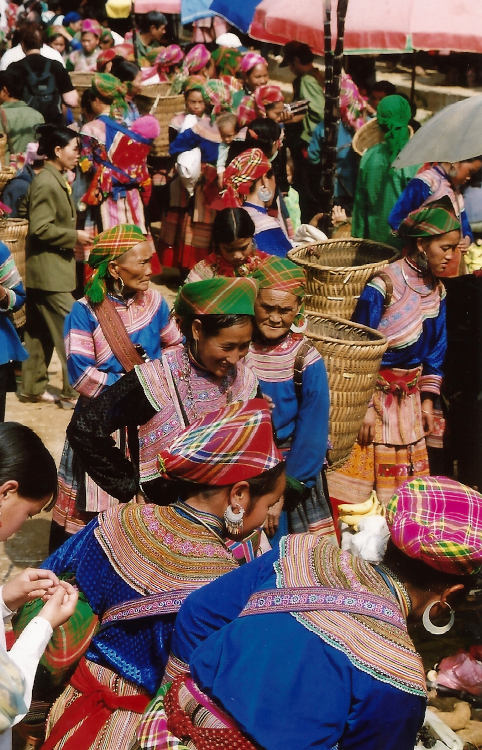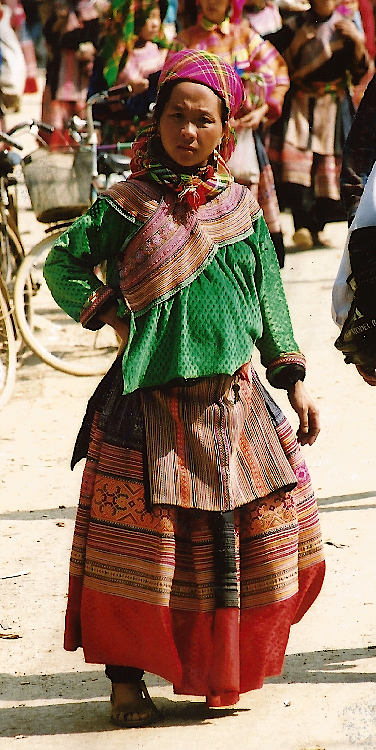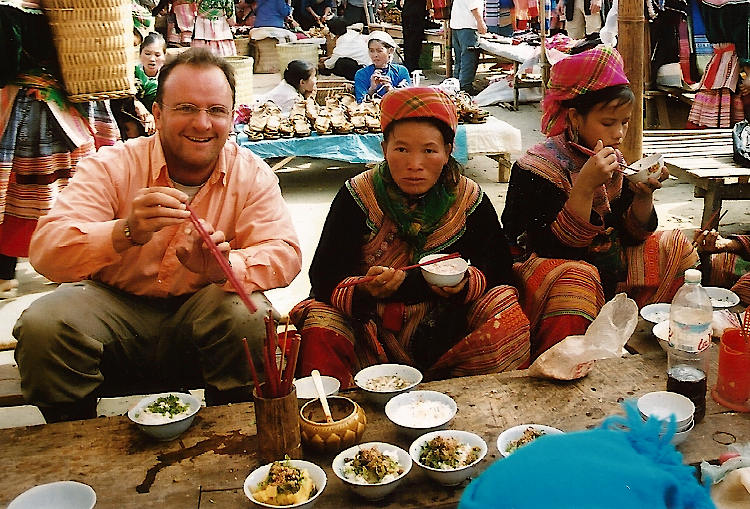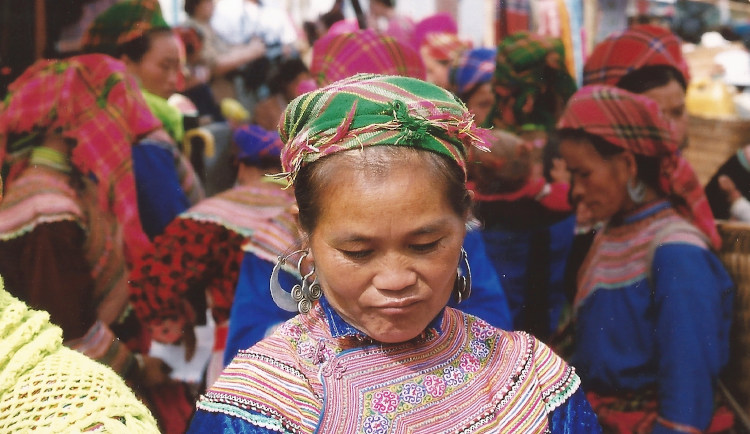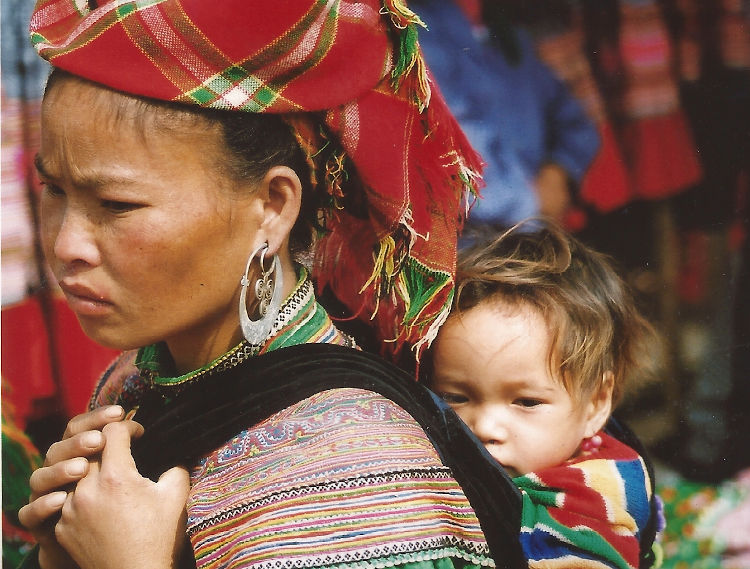 The two ladies below are actually from the Dao Ao Dai minority. These people wear quite simple costumes for Dao. The Ao Dai in their name is due to the similarity of their tunic to the Ao Dai of the Viet Kinh. However, it is usually hooked up at the front. A distinctive bonnet of black and red material embroidered at the edges and decorated with coloured tassels and small coins is also worn.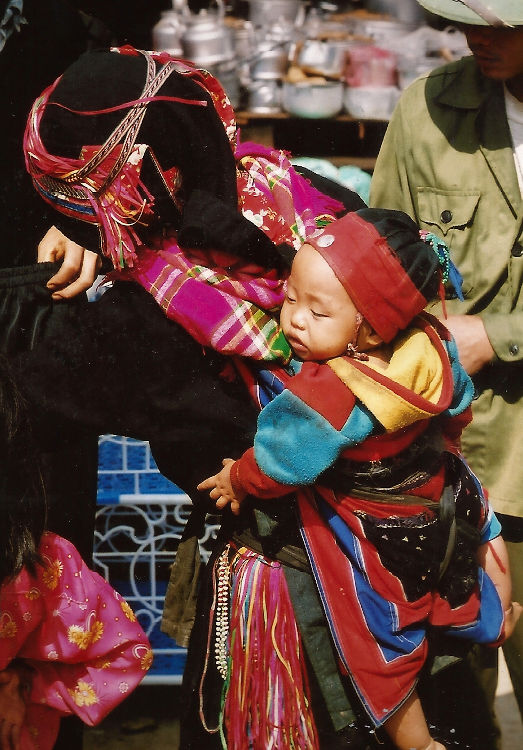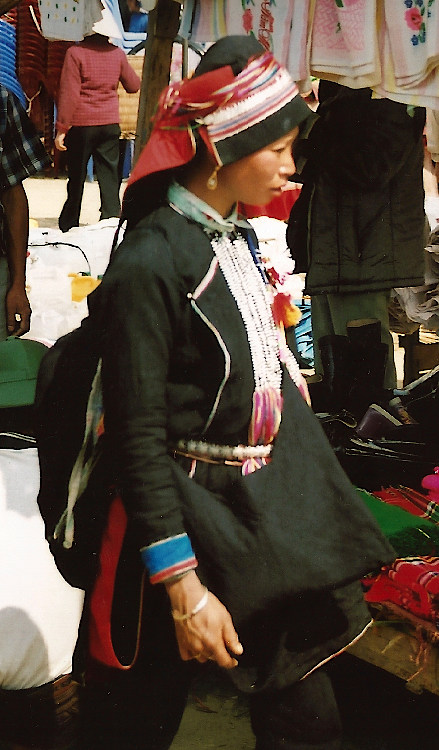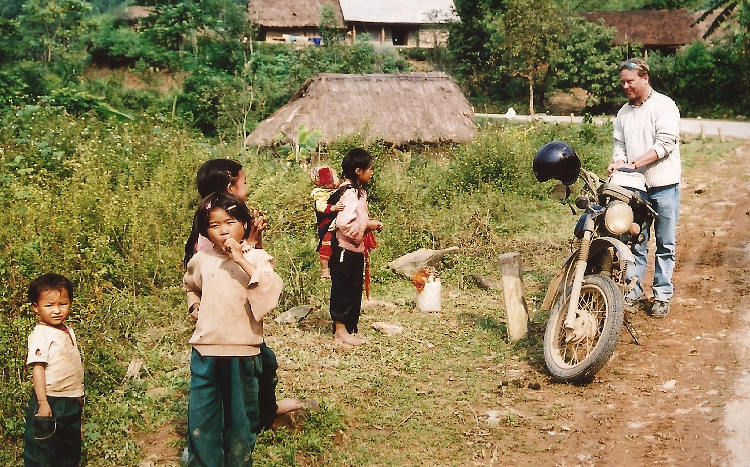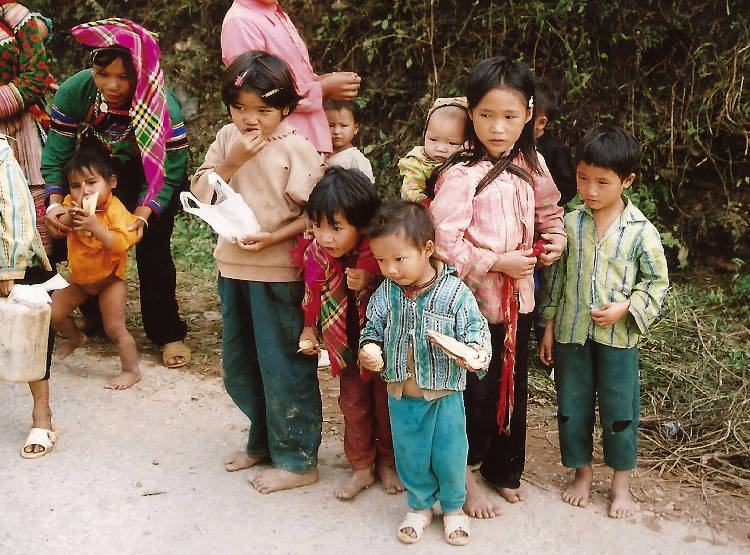 We had one last journey to make. Back down the mountain to Lao Cai on the border with China where we found the railhead back to Hanoi. Of course being Vietnam it wasn't straightforward. We were told that we couldn't put our bikes on the train despite the fact that we had bought tickets for ourselves and the bikes. Obviously the language barrier was a major problem but eventually we found someone, or rather he found us and he told us that he would bring the bikes down with him on tomorrow's train! So of course we just left the bikes with him and climbed aboard. We arrived in Hanoi at 5am the following morning and spent 24 hours fretting about our bikes. Lo and behold the following day our man appeared with our bikes none the worse for the journey. Fantastic!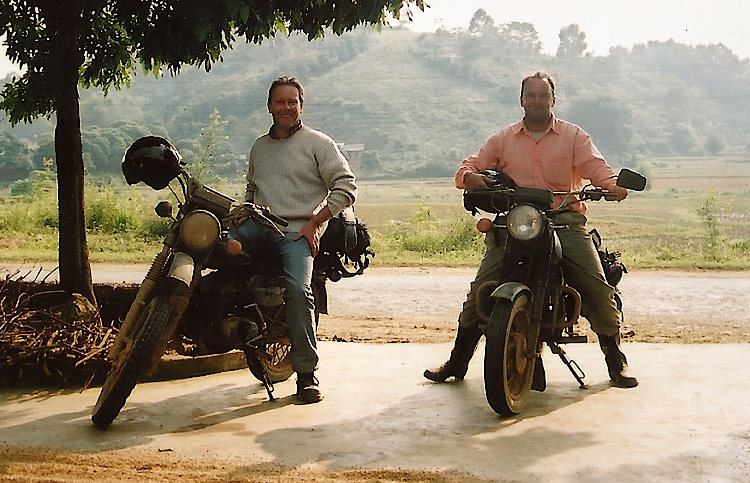 Here's a map of our route scanned from the actual map I had (route in black) :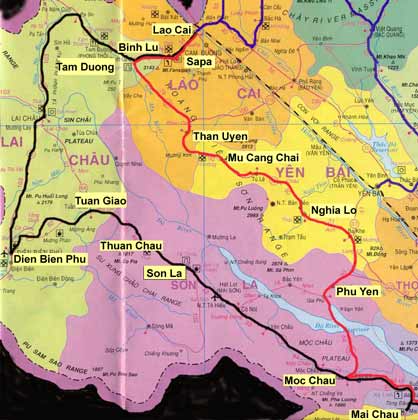 And here on google maps: