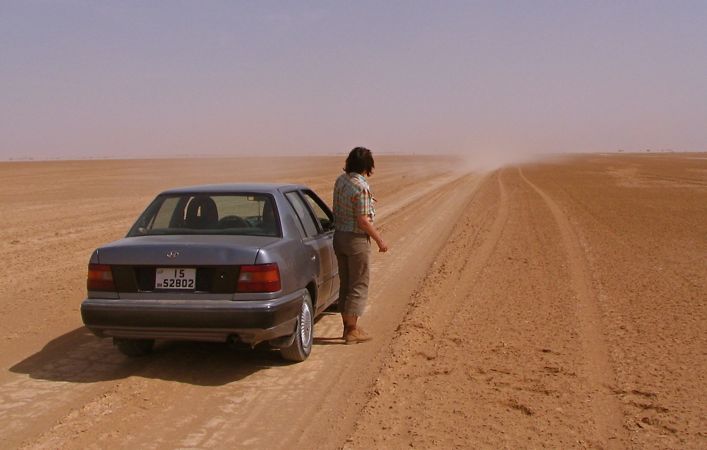 Oases & desert castles
Oases & desert castles
Jordan's deserts comprise 80% of the land area but only 5% of the population. the biggest desert starts as the suburbs of Amman peter out and continue East to the Iraqi, Syrian and Saudi borders. The area is mainly desolate as you'd expect but there are a few highlights, both natural and man-made. One of these is Azraq oasis which used to provide water for roaming herds of animals. Unfortunately since the 1960's it has had to supply water to Jordan's burgening population and has therefore become an environmental disaster to such an extent that the the wetlands dried up completely. Since 1994 water has been pumped back into the wetlands but into a tiny area compared to previous years. However, it is still an important stopover point for migrating birds which can still be seen, mainly in spring. And that is why we chose this time of year to visit.
In addition to the Oasis we also wanted to see the nearby Shaumari reserve. Established in 1975 it was set up to reintroduce wildlife that had disappeared from the region most notably the Arabian Oryx.
The man-made highlights of the region are the so-called 'desert castles', only one of which being a castle – Azraq – famous for sheltering Lawrence of Arabia during the arab revolt in 1917. Other so-called castles include Qasayr Amra, a former bath house complex built around 700AD and Qasr Kharana a building standing alone in the deep desert, its function and history almost completely unknown.
Leaving Amman behind we are soon deep into the desert.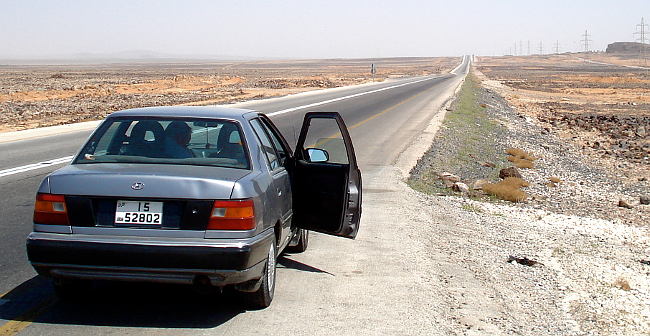 We stayed in Azraq lodge – the former British Military hospital during WWII. It has been very tastefuly renovated by the Royal Society for the Conservation of Nature (RSCN). It's very modern but still has a nostalgic 1950's feel to the place. (Tel:3835017) The RSCN are also responsible for the Azraq and Shaumari Reserves so staff at the lodge can give you information about them. One such piece of information which the RSCN in Amman (at Wild Jordan) hadn't told us was that the Shaumari Reserve was closed and had been for almost a year! (this was in 2008). Even so they managed to organise a night safari for us (see later).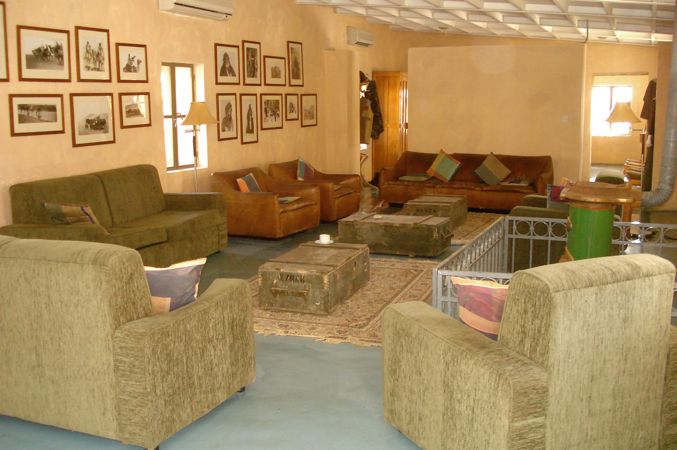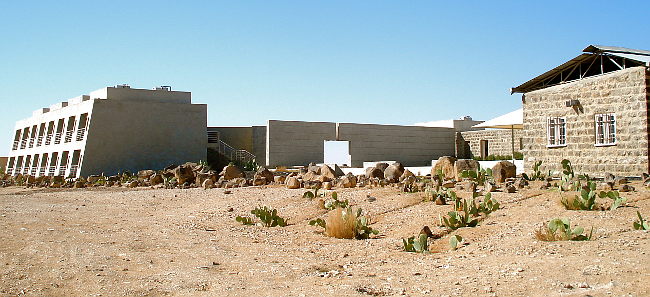 Azraq town itself is just a T junction on the road between Saudi Arabia and Iraq and serves as a refueling stop for trucks. We were amazed to see a constant stream of huge trucks coming and going from Saudi all day long. It's not short of places to eat however because in between the petrol stations and truck repair shacks (like the one below) there are a string of barbecue places serving freshly barbecued sheep – absolutely delicious!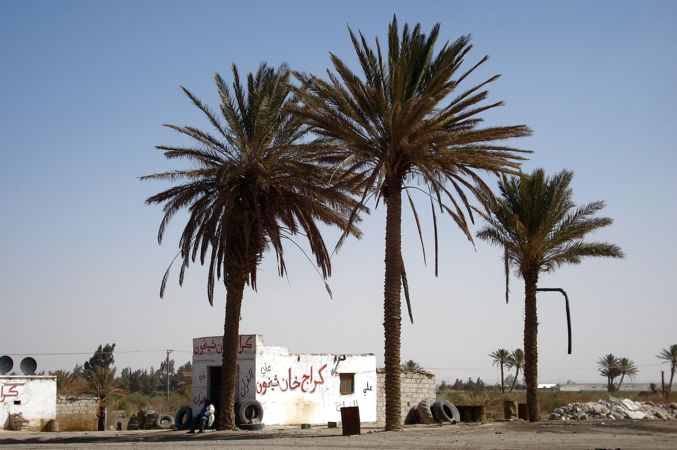 We were here for the wetlands. As can be seen below a bit of a misnomer. Even in spring when we visited, it was very dry. However the RSCN have set up a small centre with a museum describing the destruction of the area and there is a small trail you can follow which stops at a bird hide overlooking one of the few remaining ponds.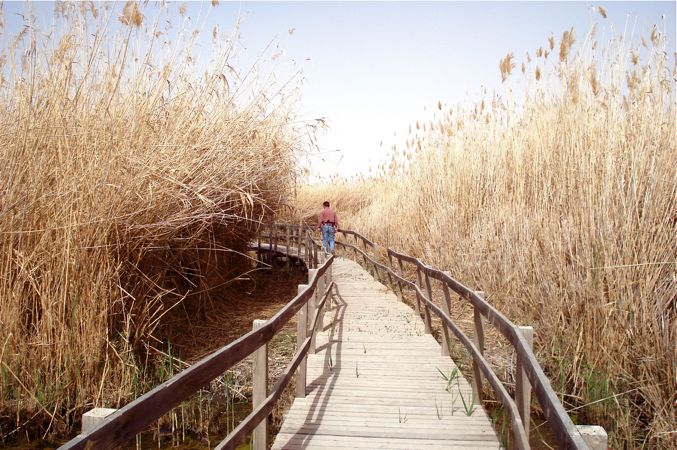 Below you can see a picture which shows what the wetlands used to look like even just a few years ago.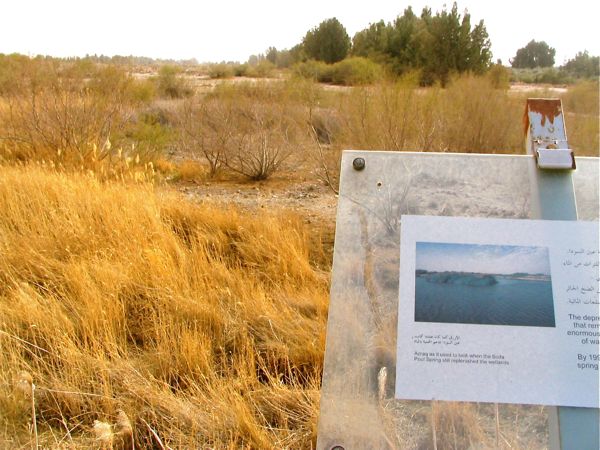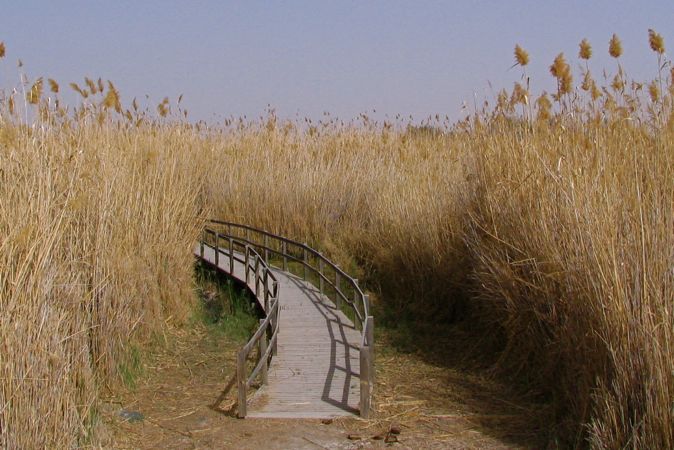 THere is still some birdlife here though – for instance we saw a few Hoopoes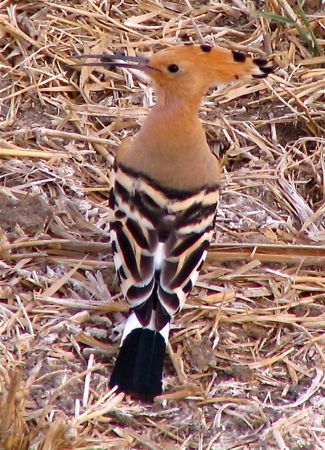 We were also fortunate to be there when the volunteers were catching birds in order to ring them and keep track of numbers. This is a chiff chaff.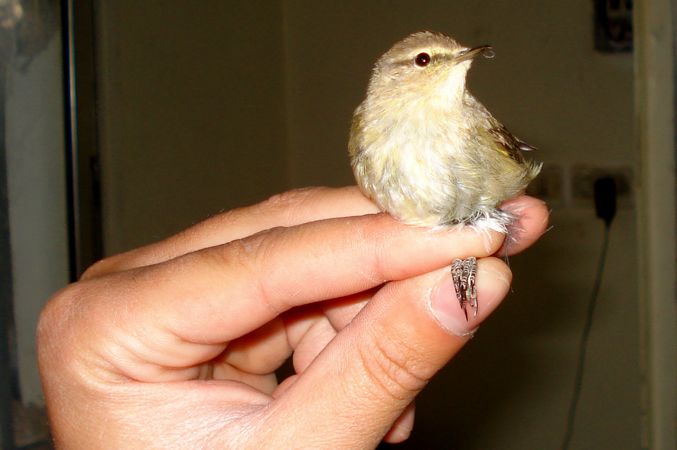 Hide to observe the birds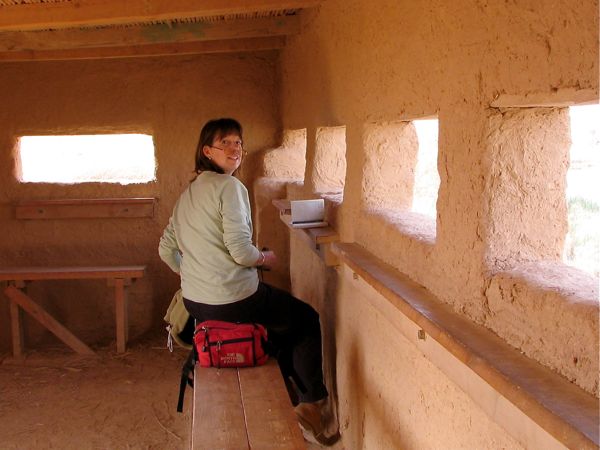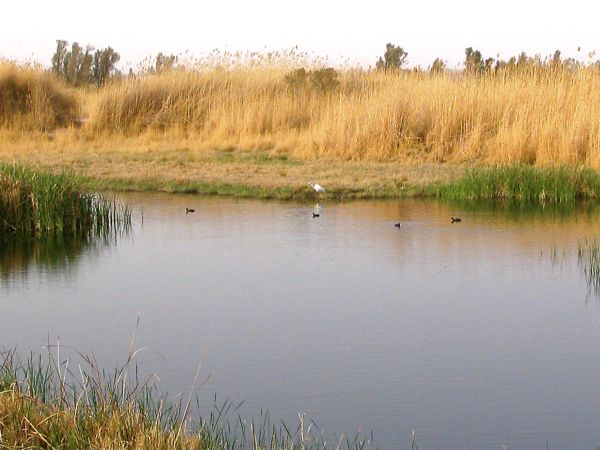 Surrounding the wetlands there was a vast floodplain – the 'Qa' which used to flood in winter – now it is just desert.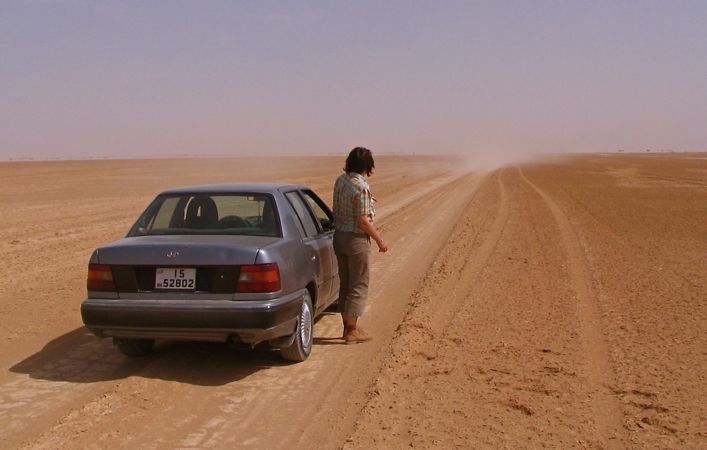 The Shaumari Reserve was set up in 1975 to breed the Arabian Oryx which became extinct in Jordan in the 1920's. They have about 30 Oryxs in the Reserve but it has been closed to the public since 2007. However it is still possible to go out with the wardens on night safaris. Don't expect to see much however. In addition to this Oryx which was sitting next to the enclosure, we only saw one rabbit. The wardens told us they very rarely see Hyenas and Jackals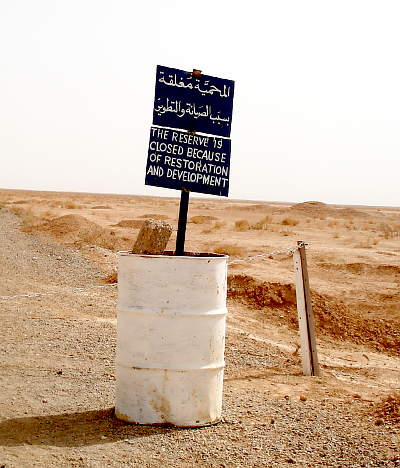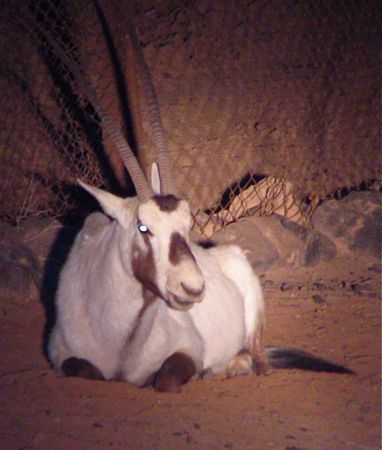 The Azraq lodge is in South Azraq, where the trucks pass through. It is home to a mainly Chechen population who founded the town after fleeing Russian persecution in the 19th century. Azraq Castle (below) is a few kilometres north. Much more picturesque and quieter, North Azraq is home to a minority of Druze who fled here in the 1920's from Syria. The Castle (Qasr Al-Azraq) has a long history. It was first built by the Romans but has gone through many transformations over the centuries, being occupied by Byzantines, and all the Islamic Dynasties up until the Ottomans in the early part of the 20th century. It is now probably most famous as the temporary home of Lawrence of Arabia during the Arab revolt of 1917. It's still quite impressive but its most notable feature must be its huge stone door which you can still open and close with a bit of effort.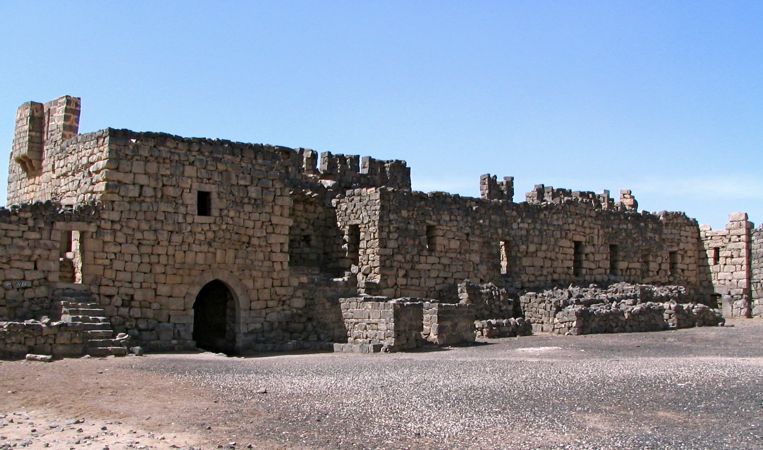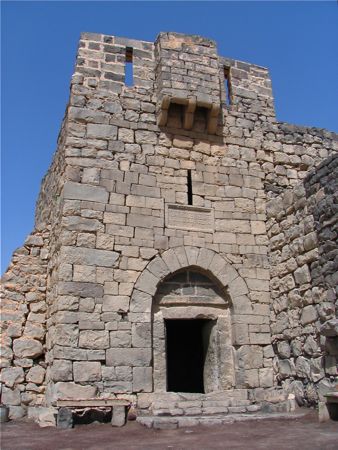 After our short stay in Azraq it was time to head home. It's about 100km and all desert between Azraq and Amman but there a few sites of interest. Below is a picture of Qusayr Amra. It seems a bit odd just stuck in the middle of the desert but apparently it is a bath house complex built in about 711 AD. When Caliph Walid went off into the desert on hunting trips, he and his entourage could stop here and have a hot bath and sauna. Despite being well over a thousand years old there are still intact frescoes on the walls and ceiling of hunting scenes and lots of frolicking in the bath house and this is why it is a World Heritage site. It seems that in the past, Islam had no problem with depicting the human form as it does today. There is a small museum on site which has lots of fascinating information about the complex. Here it is interesting to read:' None of the paintings of Qusayr Amr portray scenes of unbridled loose-living or carryings-on'. Heaven forbid for anyone to think that the ancient rulers of Islam were any less pious than those today.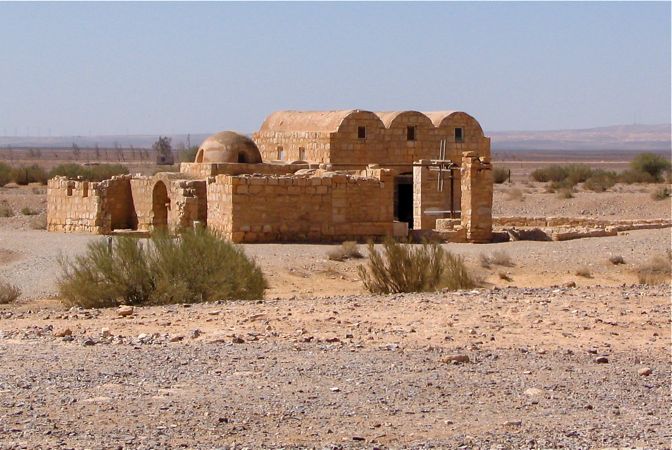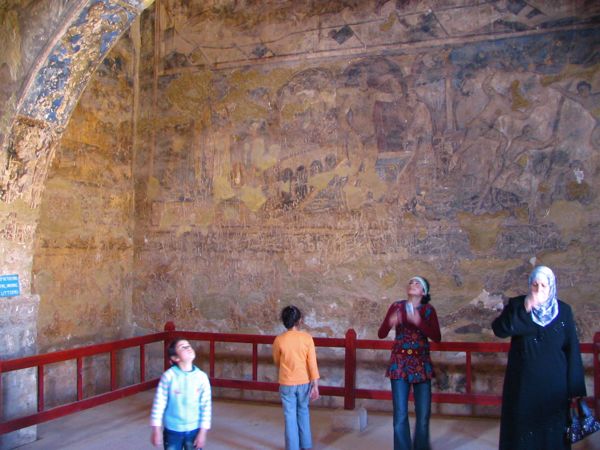 Qasr Kharana is an interesting building. Just like Qusayr Amra it now sits alone in the desert wilderness but is even more of an enigma. It clearly looks like a fortress but most historians now think it is a caravanserai (ancient hotel). However, it wasn't situated on any major trade route. Most people now think it was built by muslim rulers as a meeting place with the local beduin but no one is sure. Whatever it is, it is very imposing – although probably more so from the outside than in. The present beduins have set up a large tent nearby to welcome tourists and have even got a coke dispenser to quench thirsts.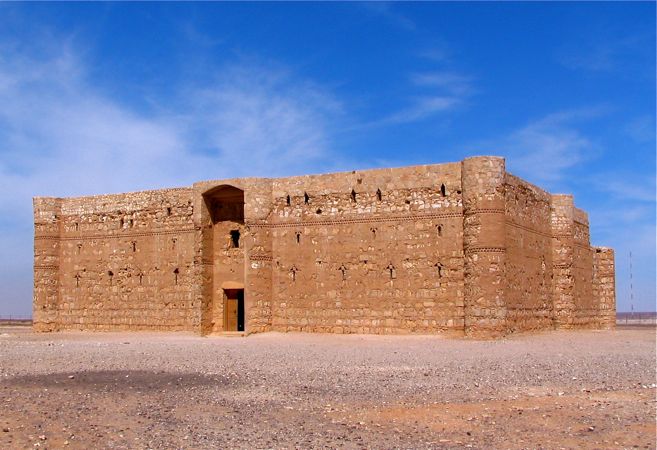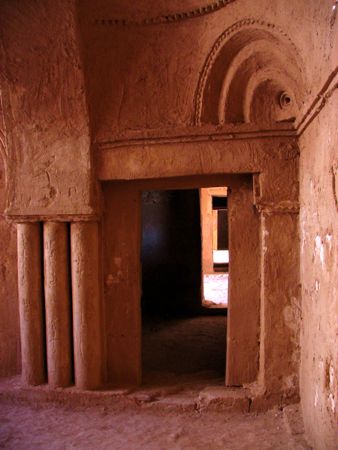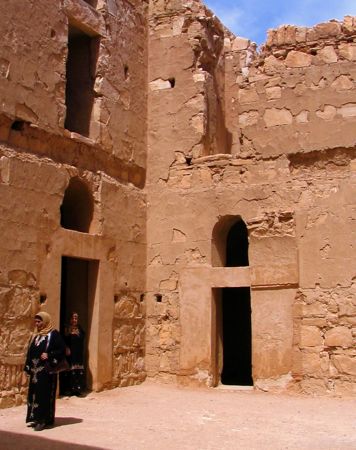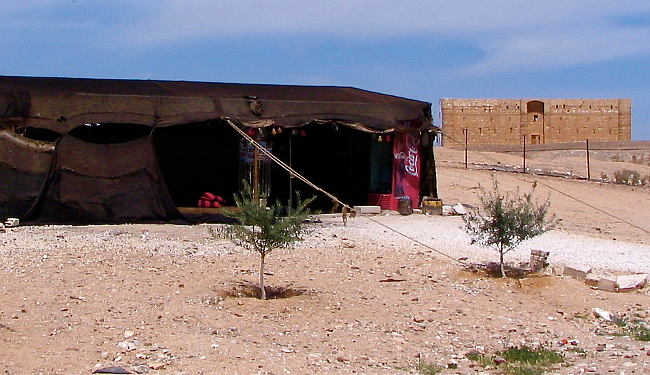 A video we made about the Azraq reserve speaking to one of the rangers.
More photos here