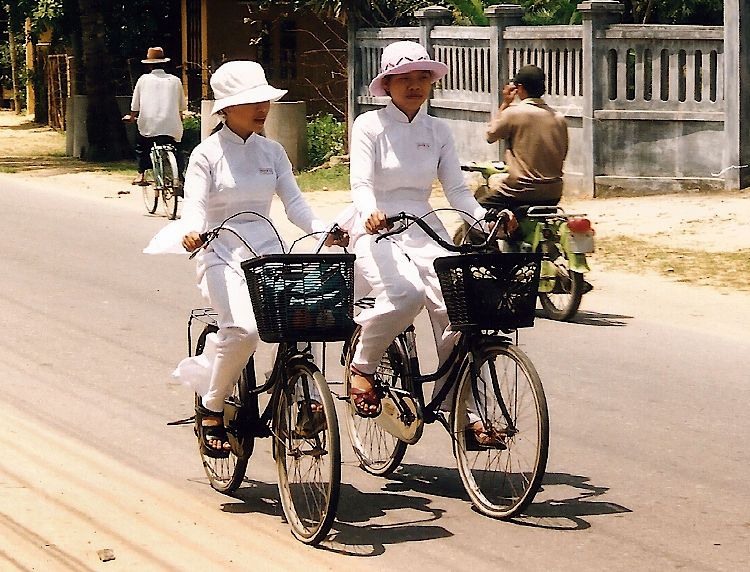 Central Vietnam
Central Vietnam
Hanoi 8th June 2002
I'd already undertaken motorbike trips to the North and to the South, this time it was Central Vietnam's turn. Not so big on Ethnic Minorities but the trip was centred on the ancient capital of Hue. It was also quite novel as I wasn;t taking my trusty Minsk as I wasn't travelling around much. However, it started, as ever, with an overnight train trip from Ga Hanoi (Hanoi Railway Station). I woke up fairly fresh on Sunday morning and checked in at the Bing Minh Hotel. I'm glad to see almost 20 years later it's still there taking guest under its slightly new name the Binh Minh Sunrise Hotel. I was also lucky enough to secure a room with a balcony for the princely sum of $11. After a shower and brekky I hired a bicycle and ventured out into the heat to explore the citadel, a highlight of any trip to central Vietnam. Construction started in 1804 and it's quite a large, impressive area encircled by a series of moats. Inside the citadel, encircled by its own moats is the Imperial city, reserved for the emperor and his minions. This is accessible by a series of bridges and ornate gates. It must be said some of the buildings inside the citadel were quite new and other areas just fields because the area was extensively bombed by the Americans. Still worth a full day exploring the nooks and crannies. Extremely hot mind you in June.
The following day I did the Perfume River boat trip – another "must-do" in Hue. On board with me were seven Vietnamese students on holiday from Singapore, a Dutch couple, a Belgian couple and four people from France. The guides were two students. On the boat there was a very pleasant breeze, but when we stopped to explore the sights, there was none so it was boiling! The first stop was the Seven Storey Pagoda (Thien Mu) /Buddhist Monastery where they still had the car that was used to transport the monk who self immolated while protesting about the pro-Catholic and anti-Buddhist Government of US Supported President Diem which made front page news all over the world. I'm not sure why I took a photo of the car and not the pagoda! It was rather relaxing now to wander the gardens. a highlight for me was to see pergola of orchids being pollinated by huge black Xmas beetle-like insects.
From here we headed to the tombs. By now the foreigners were succumbing to the heat as many remained in the boat, or they felt that $4 was too much to pay. The first was Tu Duc's. the mausoleum was quite serene with an ornamental lake and a few interesting building dotted around. Minh Mang was more formal but bigger and more impressive and the gardens even more impressive. By now there was a move by the foreigners just to head home as it was so hot but fortunately we didn't as the last mausoleum was the best – Khai Dinh. Smaller, on a small hill, quite Gothic in style and an amazing tomb, all the more impressive because I was the only tourist who had made it this far! 40 mins had been allotted but I went round in 30 as I thought the others might be getting a bit anxious but it was fine. I spent the remaining 10 mins having a welcome cold beer and chatted to the Vietnamese students.
The following morning I breakfasted on a local delicacy: Banh Khoai – fried pancake with shrimps, beansprouts and a peanut sauce which had bits of liver in it! An interesting way to start the day. More importantly, I couldn't last any longer. Today I had to rent a motorbike to do more exploring. I got a trusty Honda Dream and headed for the hills. Well, out of Hue anyway. Once out of town I followed the Perfume river until i got to a point opposite the Mausoleum of Minh Mang which I had visited the day before. Here I had to bargain with a sampan man to ferry me across the river (there's a bridge there now apparently). The road then wound its way up the hills, a noticeable lime green colour and covered in what was known as American grass – it is the only thing that grows apparently on the formerly defoliated soil. Other hills however were forested – no doubt untouched during the American war. My diary then notes I went over a ridge and down to the valley of Aloui – which I can't find on the map but my diary says it was a major staging post on the Ho Chi Minh trail. Here I had lunch of chicken bones and bamboo shoots with rice. I got back to Hue in time to catch a bit of the Football World Cup before heading to the beach. It was quite a busy road but pleasant enough. The beach was very good, lined with beach restaurants eager for business. I had a swim and then headed back to the hotel.
The following day I made a fairly sudden decision to hop on a bus to Hoi An. As it happens I didn't even get that far – on a whim I got the bus driver to let me off at the beach village of Lan Co. It was a picture perfect tropical beach with soft white sand facing the calm South China Sea. I spent a couple of nights just chilling out interspersed by the occasional swim. Interesting to note that there were a few churches around the village.
Then it was time to move on. I hired a Xe Om driver (motorbike taxi) to take me to Hoi An, about two hours further south. To get there we had to go over the spectacular Hải Vân Pass which separates North from South Vietnam (geographically and climatologically).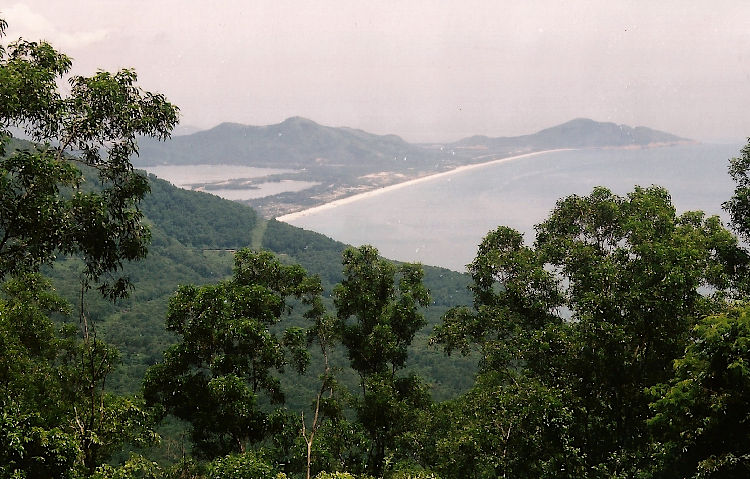 The Xe Om driver dropped me at my hotel, Vinh Hung 2. Rather more salubrious than my usual standard of hotel, I stumped up the $18 per night. I went for a wander around 3pm and noted that the streets were deserted. As is usual in Vietnam, the houses were very open to the street and I noted that everyone was glued to their tellies and watching the World Cup. Today's match was Belgium 3-2 Russia. I then had a rather bizarre late lunch – fried pizza! It was smeared with tomato sauce and tinned mushrooms. It actually tasted OK and was a welcome change from rice or noodles. Hoi An itself has got to be one of the most enchanting and picturesque towns in Vietnam, no doubt in great part because it was relatively untouched by the American war. I also remember it as being the setting for a number of scenes in the film The Quiet American which was filmed when I lived in Hanoi (I remember as a mate was in the film as an extra).
The following day I was up early but by 7.30 it was already very hot. I rented a motorbike and headed out to the stunning ruins of My Son. Built as the capital of the Champa kingdom it rivals the other Indian influenced great cities of South East Asia namely Anchor, Bagan, Ayuthaya and Borubudur. It was actually occupied between the 4th and 13th centuries – longer than any of the above. It was actually a bit further than I anticipated. I'm not sure whether the new road they were building helped or hindered me. The road was flat and the site itself is nestled in a bowl of low hills. I stopped in the parking lot where there was a ticket desk. I paid my 50,000 Dong and then hopped in a jeep to the site proper. There were just a few local tourists about. It was an amazing site and I immediately recognised the similarities with Javanese buildings I had visited while living in Indonesia. Definitely the best archaeological site in Vietnam.
The next day I just chilled in Hoi An, luxuriating in the hotel pool but also heading out into the streets. Of course I couldn't resist the imploring ladies of the market and had a suit and a couple of shirts made. But soon my trip was over and I boarded the overnight train to Hanoi.
However, there is a bit of an addendum to this story as I had made a previous trip to Central Vietnam. I ran a teacher training workshop for the Vietnamese Ministry of Education in Danang in March 2002. After the workshop I headed to Hoi An and spent a couple of days there and at the nearby beach and here are a few photos I took then:.