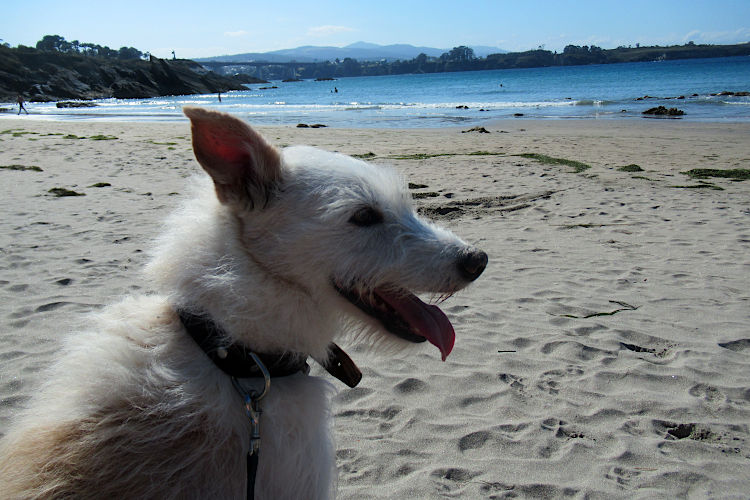 It was getting to the end of summer, so just time to squeeze in a weekend away – this time up north to the Rias Altas. It was already late September so if we got some decent weather it would be a perfect time for a dip in the clear blue waters for which this area of Spain is well known, and it was.
But we had to get there first. Since 1 July we had been living in our new rented house in Ponte de Lima so it was a very pleasant 3.5 hours drive to the north coast in time for a late lunch in the attractive harbourside town of Ribadeo. We found a very pleasant little restaurant right by the harbour, the Restaurant Marinero and could sit outside in the sun as we had Betty with us. Seafood was compulsory so we had a plates of octopus and scallops washed down with a local Ribeiro wine. What could be better?!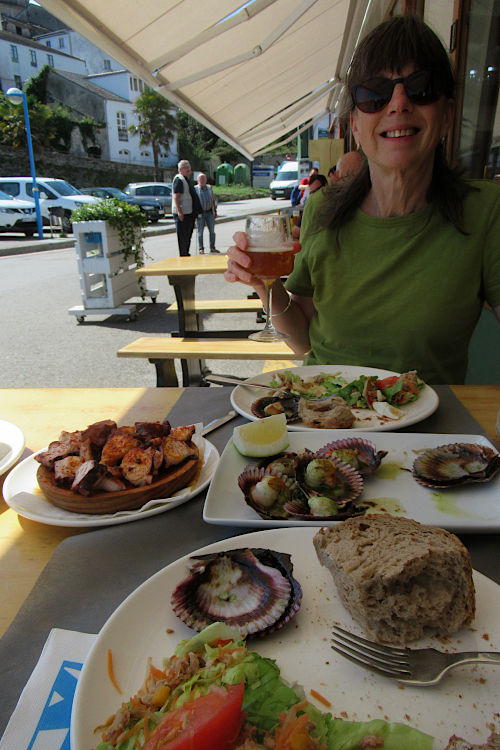 In the afternoon we explored the town itself which had some interesting architecture – "Architectura Indiano" Named after the rich merchants who had made their money in the Americas and had come back to build some fine mansions in Ribadeo.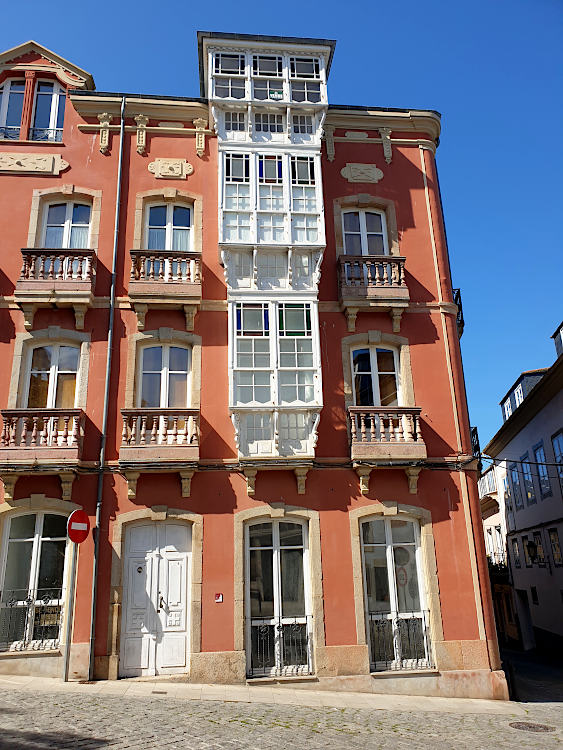 then we drove along the coast to the nearby Isla Pancha to get a first view of that pristine clear water, although it was a bit rough here, next to the lighthouse. the water was better on the other side of the ria at the Playa de Arnao and that is where I joined a few hardy souls in the water – it was bliss! not cold at all and so clear and so invigorating. I'm not sure how but the temp was supposed to be 21 degrees.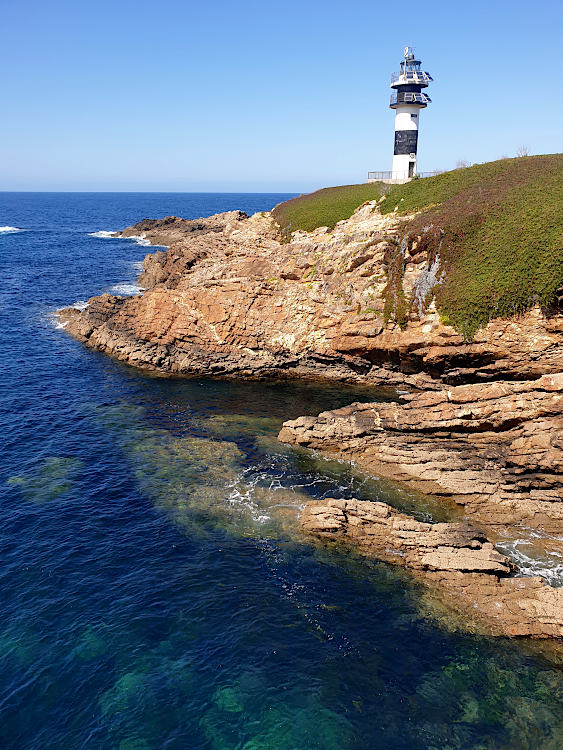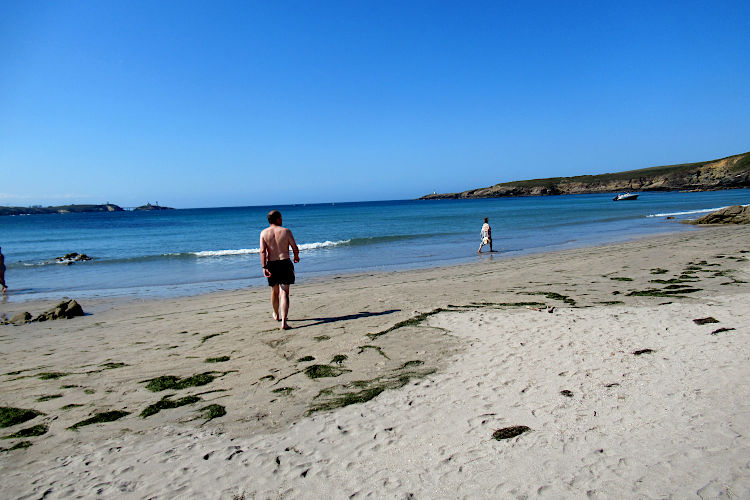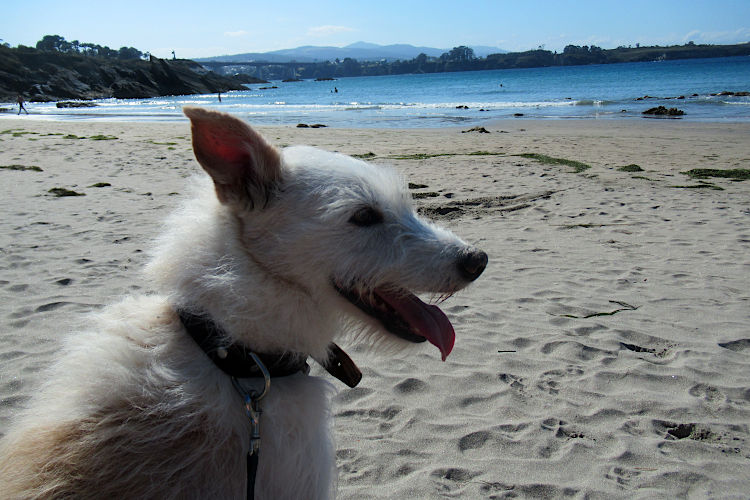 From here we headed inland to the Air B'n'B we had booked in the village of Lourenzá. IT was a small house with a large garden so we could let Betty be free (for a while). That evening we headed into the village to the local shop where we gathered some cheese, salad and cider for a small supper back at the house. Local cider was appropriate as we were right on the border with Asturias.
the next day, we headed to Mondonedo, a famous stopping off point on the Camino de Santiago and as well as visiting the impressive cathedral we diod see quite a few pilgrims walking through the village. we were also there for a walk but not along the camino we had decided to do a local walk: Ruta da Auga One of the reasons for doing the walk was to tire Betty out so then we could leave her in the house and head of on our own to another so-called highlight of the trip the town of Viveiro. We had a pleasant enough lunch in one of the town squares but overall it was a failry uninspiring place. Later we headed off to a true highlight of the area Playa de las catedrales. Normally you need a ticket (free) just to walk on th ebeach as it is restruicted to a certain number of people at low tide. Fortunately however we arrived a few hours before low tide so were able to wander around ticketless. IT was very pleasant but I'm not sure I would have queued up for a ticket.
So our short break was almost at an end. Rather than just drive home we decided to break the journey in the ancient Roman City of Lugo and in many ways this was a highlight of the trip. The town is completely encircled by a complete Roman wall (one of the best preserved in Europe) and this is the best place to start your visit. It took about an house to walk all the way round. Inside the walls are a maze of streets, a mixture of preserved and new but what we liked was that it was a living city with people going about their business as well as a few tourists like ourselves. We also found a great little place to have lunch. It was billed as a tapas bar: "101 vinos" but we had the Menú del día, which for me was the fried hake and Jackie, more octopus, after all pulpo a la gallega is the national dish of Galicia and is always delicious, if sometimes a bit pricey.