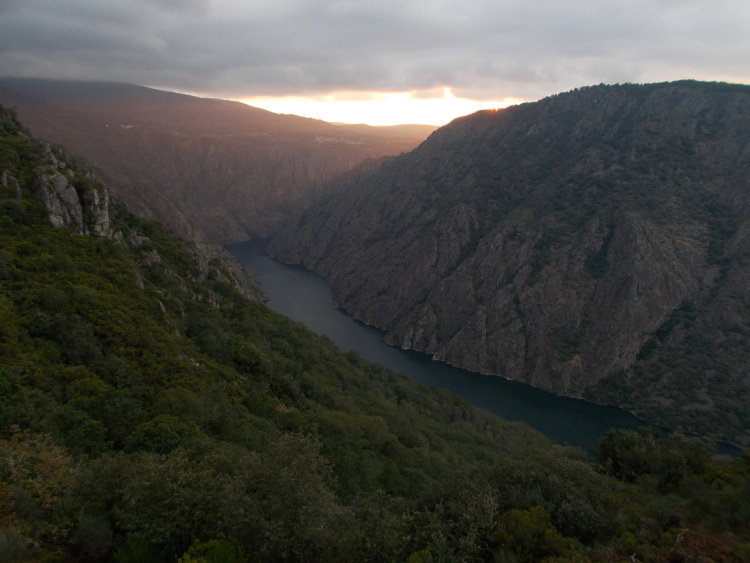 Canyon del Sil to Peneda Geres
Canyon del Sil to Peneda Geres
For us, September is holiday time and it usually means a road trip into Spain. This year we went to the Canyon del Sil in southern Galicia and then returned south to the Peneda Geres National Park in northern Portugal. The main objective was a bit of camping and walking but also to see a stage of La Vuelta de Espana bike race.
Headed north at 9 am. 4.5 hrs, 385km. Canyon do Sil Campsite, pretty good, right on canyon edge, few people there. No wifi! but village of Parada de Sil close by and can get wifi in store and outside tourist office which is usually closed. First restaurant we saw, dinner from 9pm! so had a meal at campsite. Thunder and then some rain in the night.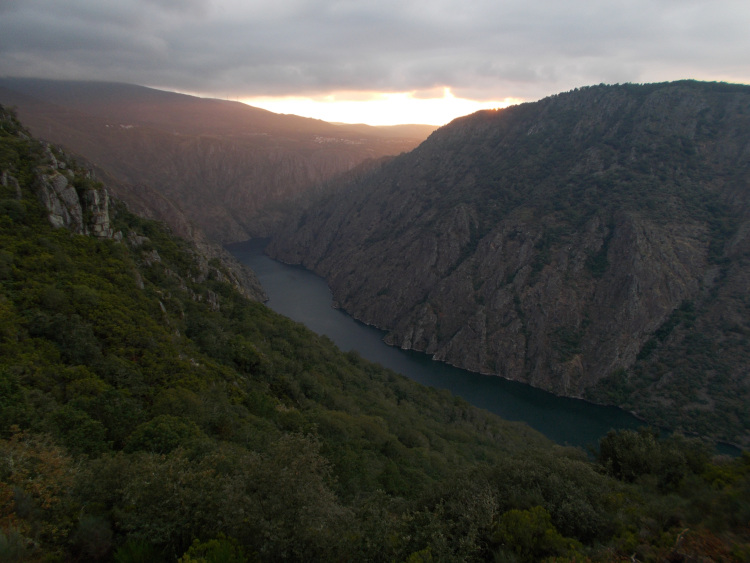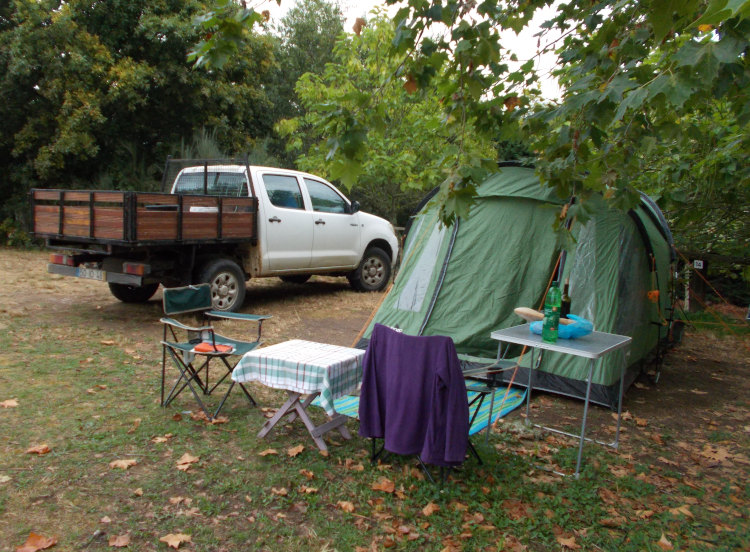 Day two (4 Sep). Drove to St. Lorenzo church, starting point for Ruta Canon de Rio Mao (PR-G177). (wikiloc) Great views of canyon, lots of vineyards, lots of gunshots, hunters about. Steep climb up through the forest, cool and cloudy, lots of broadleaf forest and lichen on trees. Jackie sprained her ankle so had to get help from local village and phoned for a taxi. They spoke Galego, very similar to Portuguese. Back to Meson Casa Pepe restaurant in Parada de Sil for pork steak and chips. Lunch was 4pm to 5pm!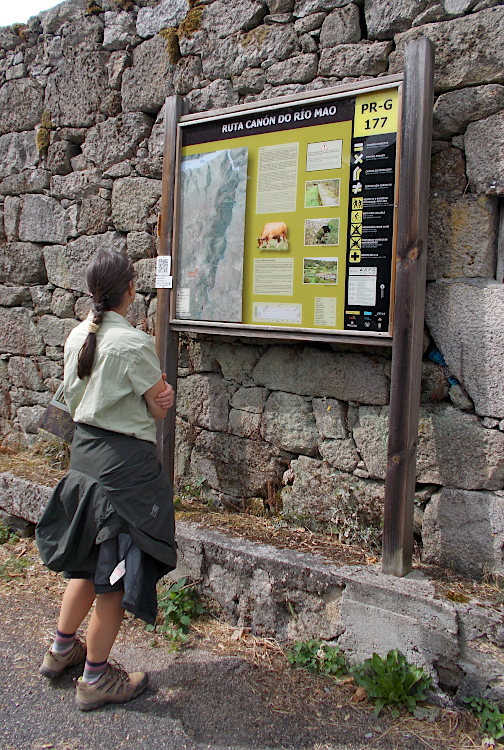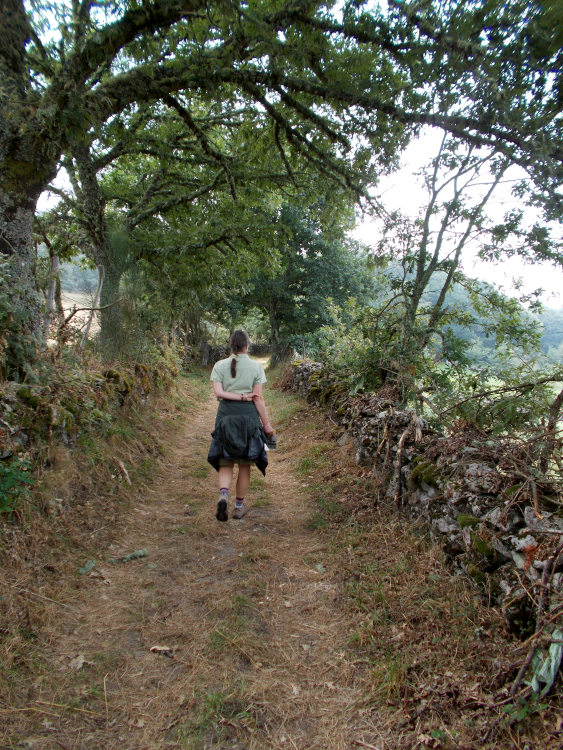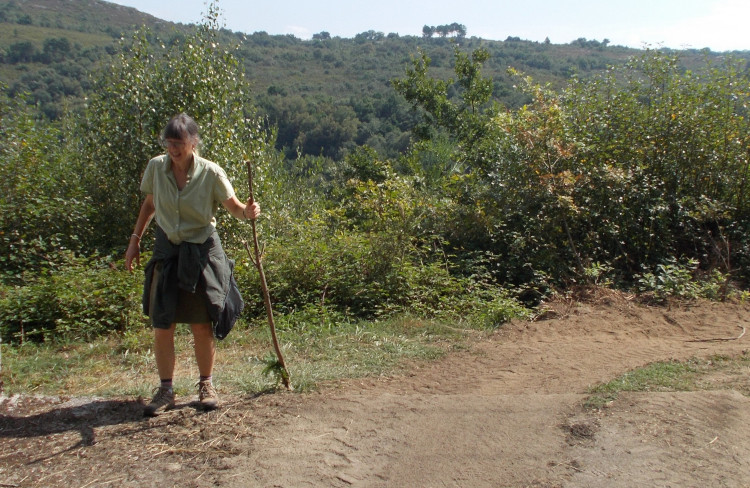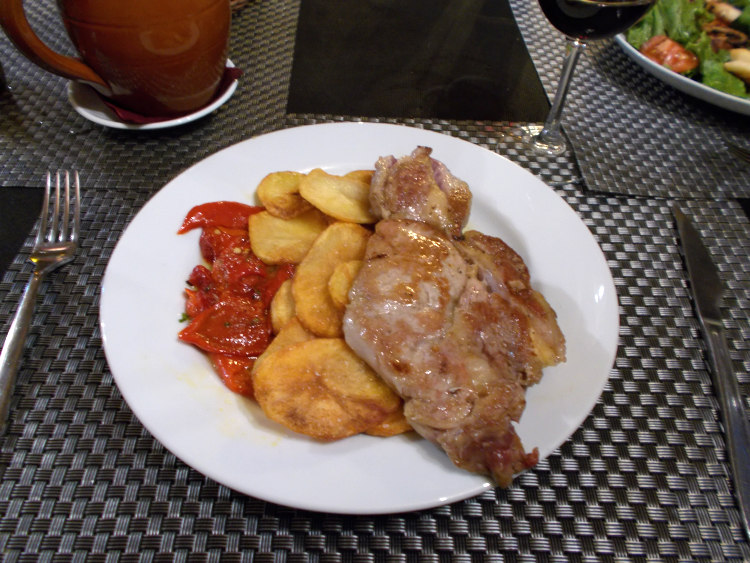 Day three. Rain in tent overnight, Jackie not too bad but not walking very well. Into Parada del Sil for recce. Putting up barricades ready for La Vuelta. Got some pulpo a la Gallega (Galician octopus) from a stall outside a bar – The bar let us bring it inside and provided a salad and local cider to go with it – very nice indeed. Headed off to our designated spot to watch the Vuelta. Watched sunset at the canyon under leaden skies.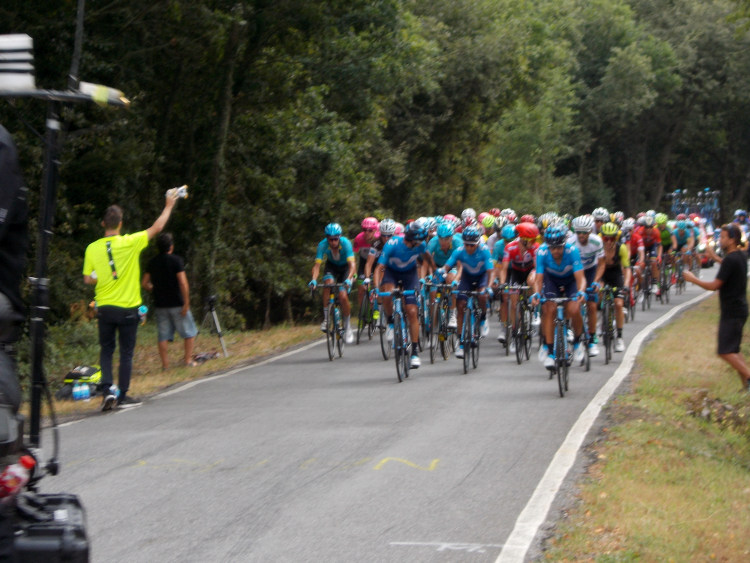 Day four. Dry night! Drove to Ourense for the day. Rather quiet in town, but pleasant, saw cathedral and the old thermal baths for which town is famous (it is also famous as hottest and coldest place in Galicia). From 2pm-5pm place completely shut up shop – obviously the siesta is rigorously enforced here. Back to campsite, weather definitely improved as has Jackie's foot.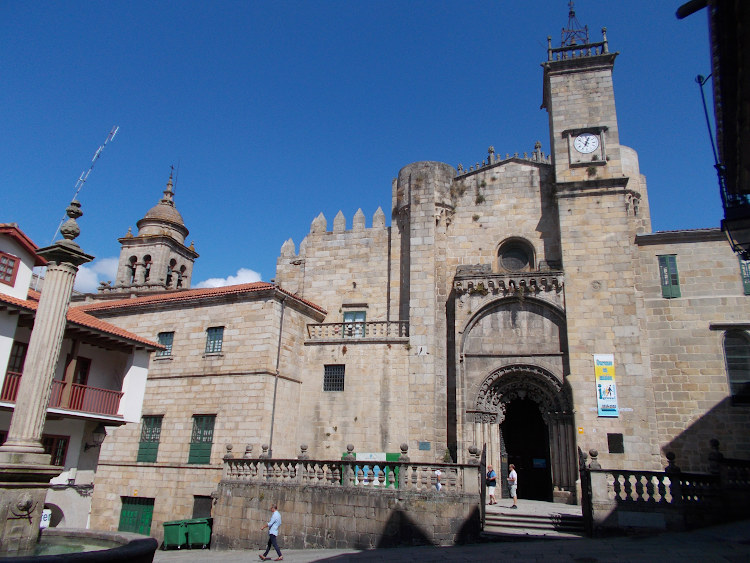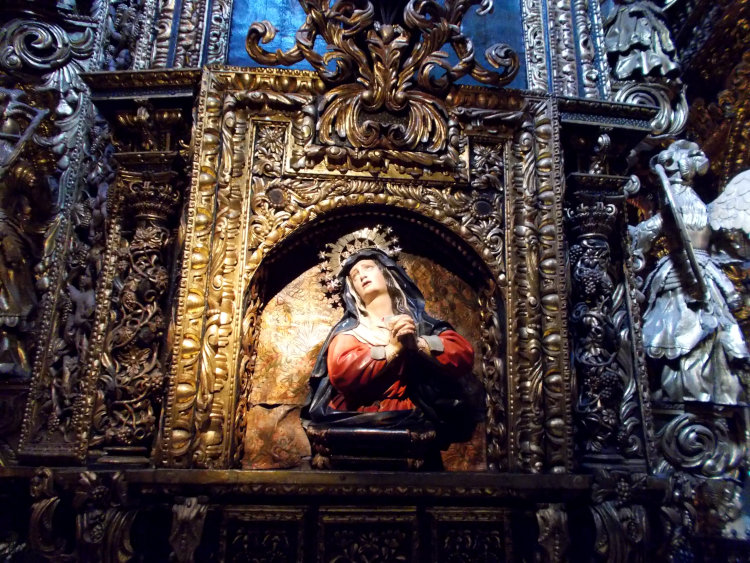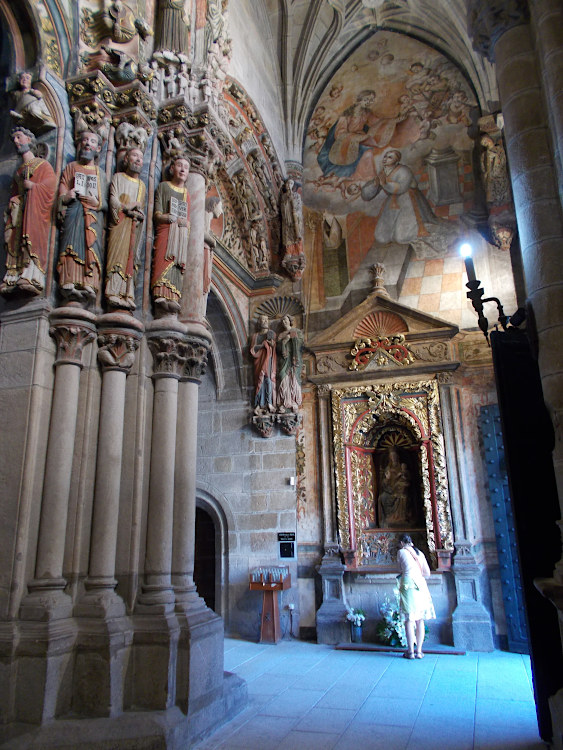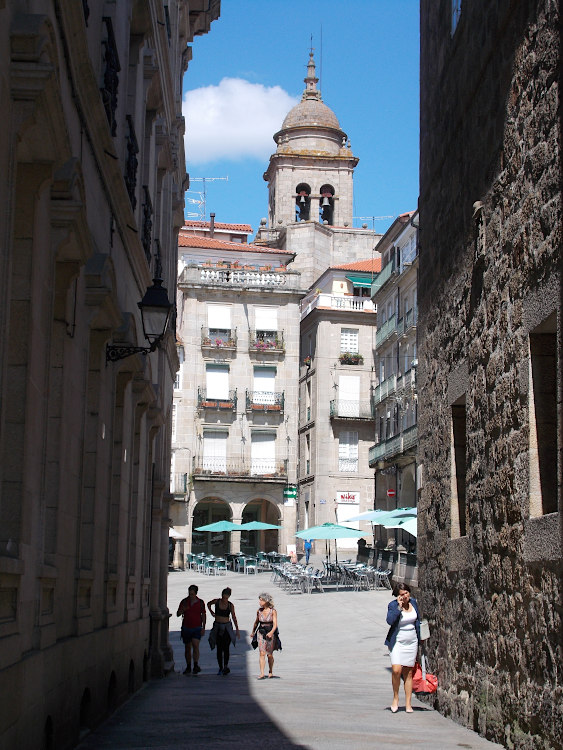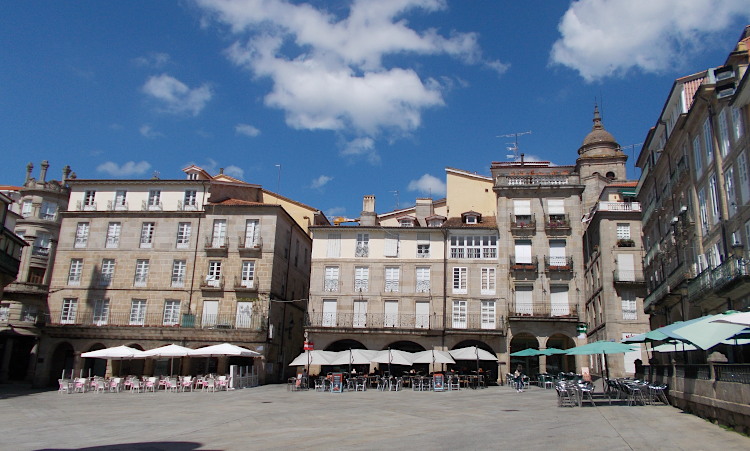 Day five. Packed up and headed south. Small roads, interesting little towns. Slightly disappointed with campsite at Lima Escape. In a pine forest but all very open (not many others around mind). Went for a drive into the Peneda Geres National Park near village of Ermida. Very bare hillsides. Saw some cattle with very large horns (Cachena cattle) wandering freely. Then to Ponte de Barca for a beer. Had supper at onsite restaurant at the campsite. Very popular.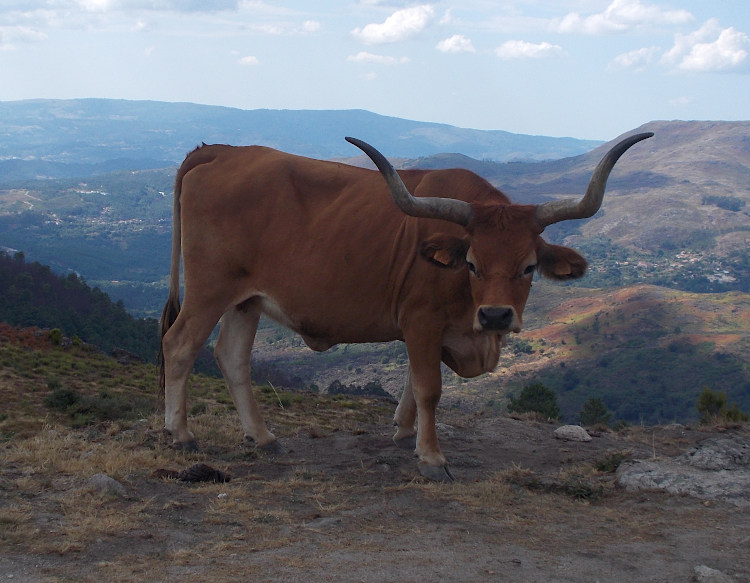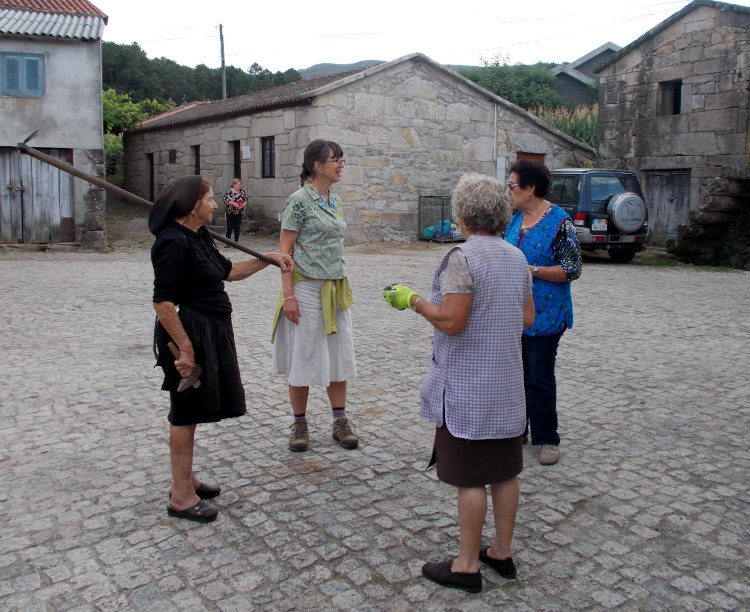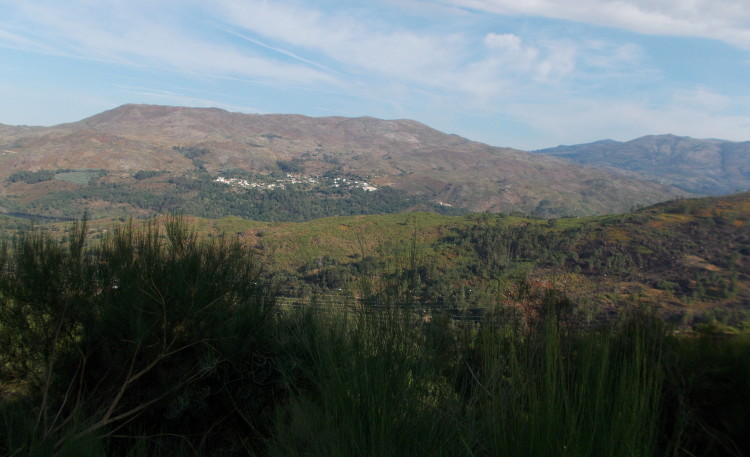 Day six. Off to the Megalithic trail (PR3 PTB) (wikiloc) Up and up walking along the tops of a plateau, no trees and very hot, lots of bracken, quite moorish, a few megaliths and some geocaches 7km 2 hrs. Back to campsite, more people arrived (now Saturday) walked across road to alternative restaurant, usual stuff.
More hikes on this page.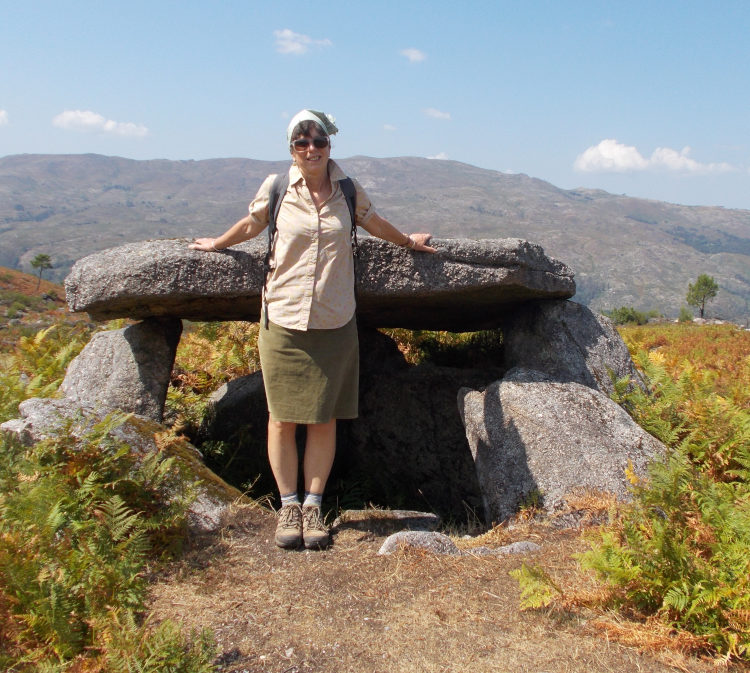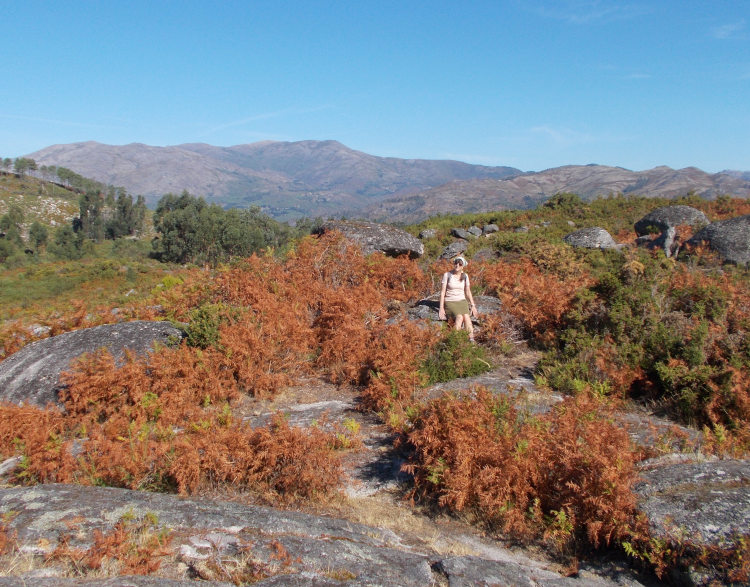 Day seven. Another walk – from Frouffe. This time plenty of forest, then following a stream lined with cork oaks. 7km 2.75hrs.

Then to Arcos de Valvedez. Quite prettily located by a river, lots of churches but not many cafes! Restaurants all full (Sunday lunch). Went up the hill to Soajo. Changed in last few years. Our old lonely planet said there were no restaurants here – now there were plenty. Packed with weekending tourists. Saw the espigueros for which the place is famous. Had supper by tent and saw nuthatch and then later small bats and heard tawny owls. Weekenders have gone to leave the campsite quiet again. Weather much improved so very pleasant outside the tent.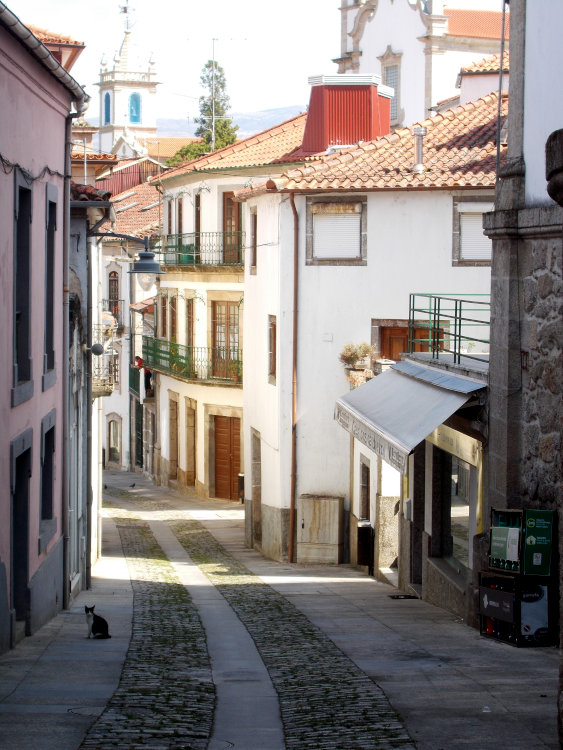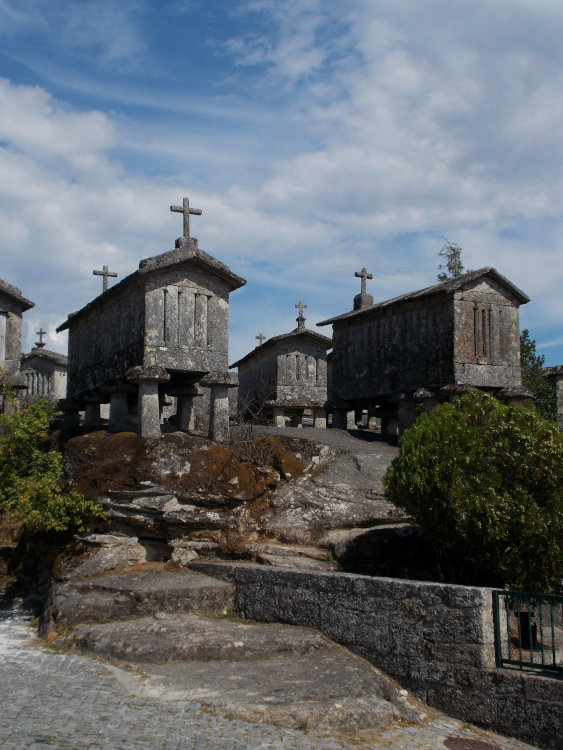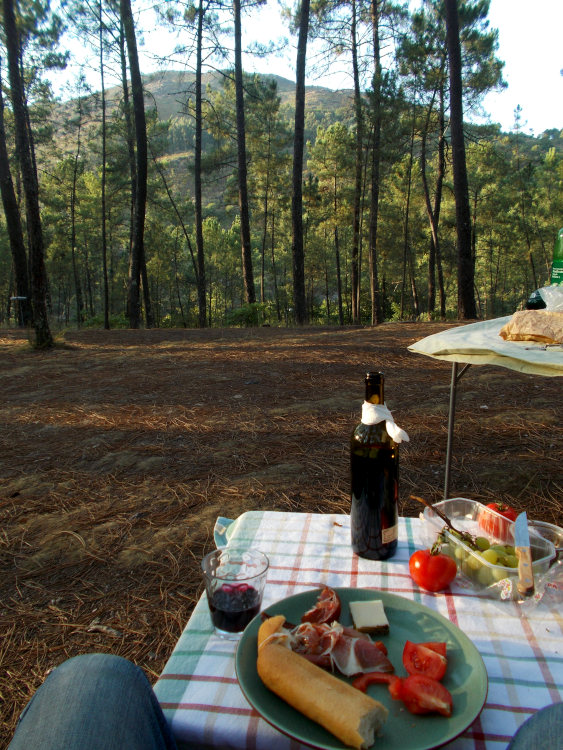 Gorgeous day today. Started walk in Parada – nicest village in the area. Lots of old houses and sensitively renovated. More espigueros. Hot in the sun even at 10am. Found another geocache. Circular route back to village 2.25 hrs, 5.4kms. Then drove off to Lindoso castle. Quite nice, more espigueros a few tourists but no cafe. Had a relaxing afternoon wandering around the campsite and by the river.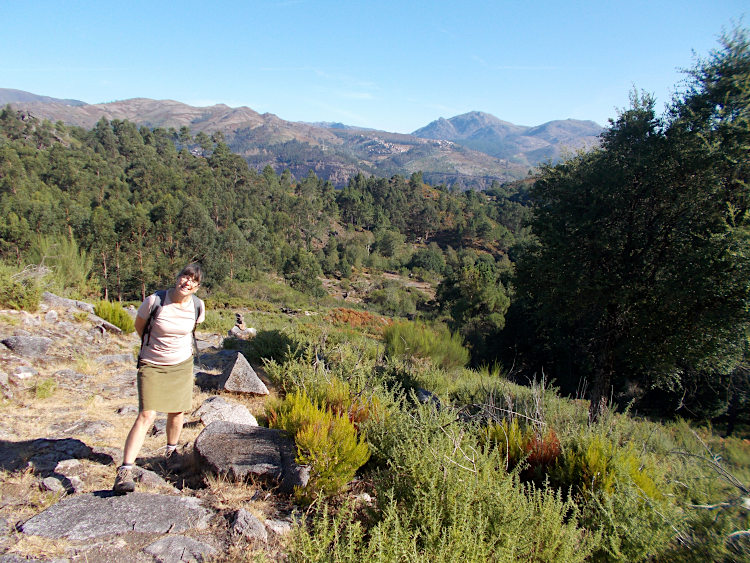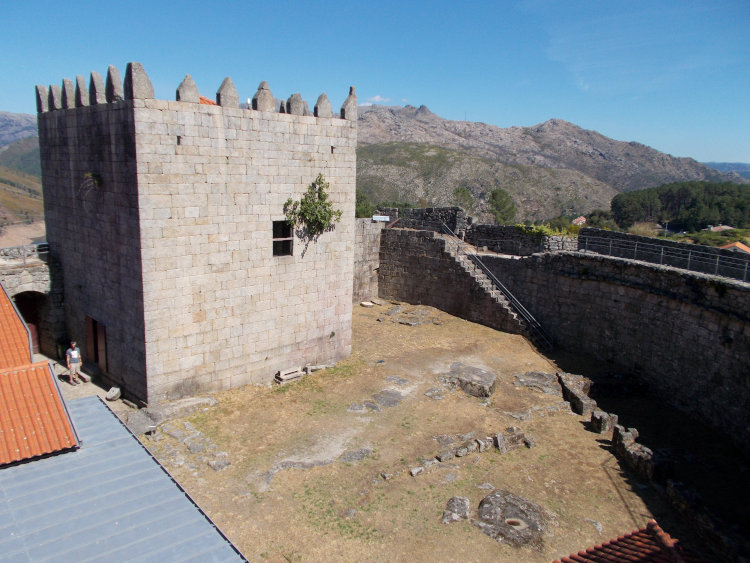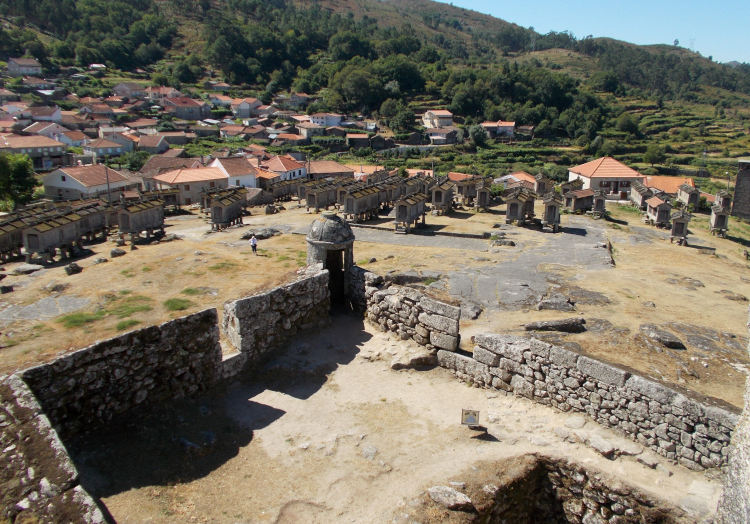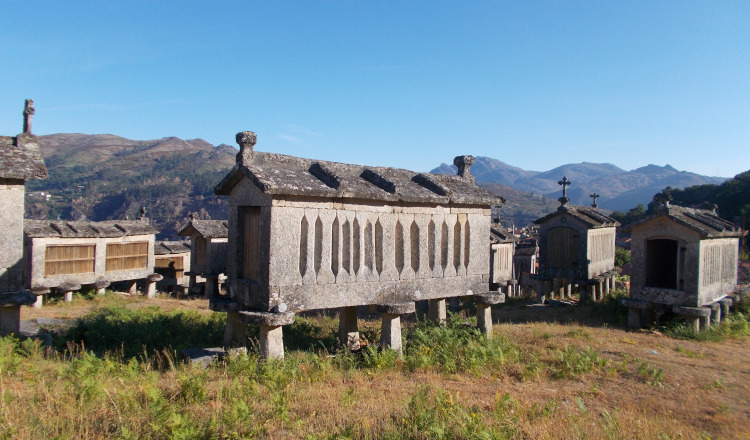 That's it for the walks in Peneda Geres, but more walks and info here.
Off again, this time to Barcelos. Pleasant, charming, laid back sort of town. Huge square where they have the regular market. A few interesting churches and quite a few peregrinos on their way to Santiago de Compostela. Had a drink in a nice cafe by a fountain. Unfortunately for Jackie the pottery museum was closed but we saw one place which had an exhibition of Barcelos cocks, famous throughout portugal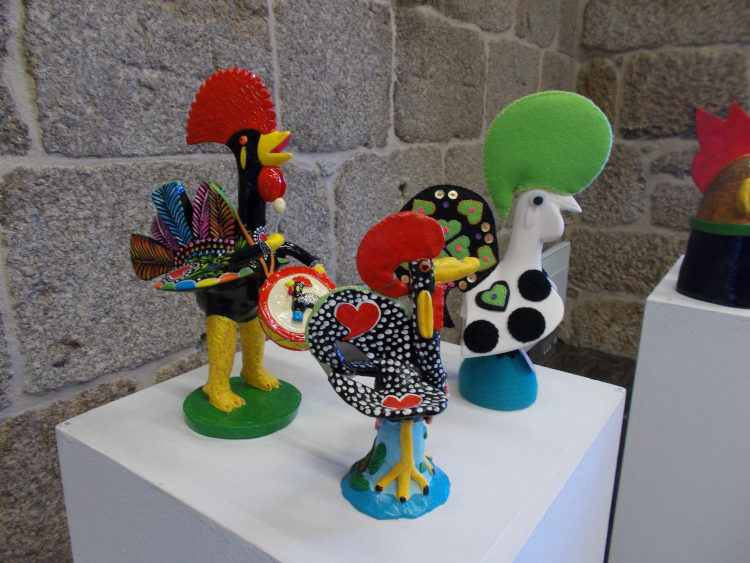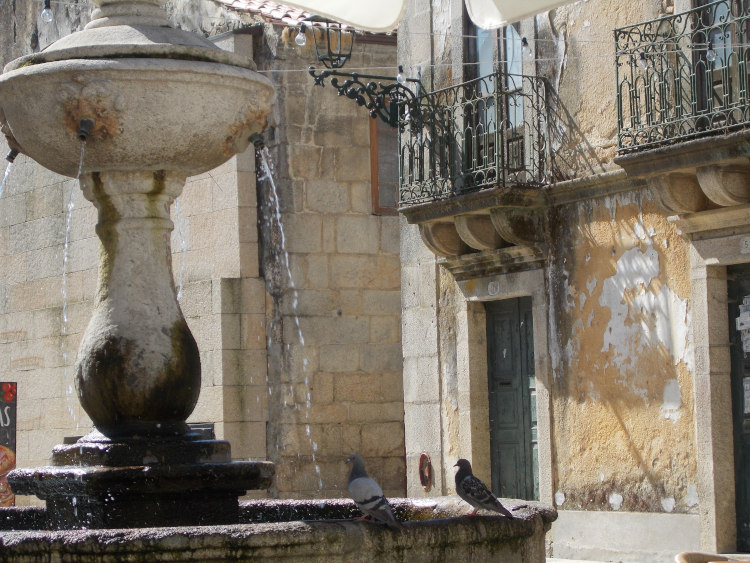 Drove on to our final hotel, the Quinta do Terreiro outside Lamego. Nice hotel but no restaurant. However they had a pool. Just the job to relax tired bones. As no restaurant drove to Tarouca, a fairly grim place but restaurant Chave D'oruro was very good. Usual stuff – pork steaks.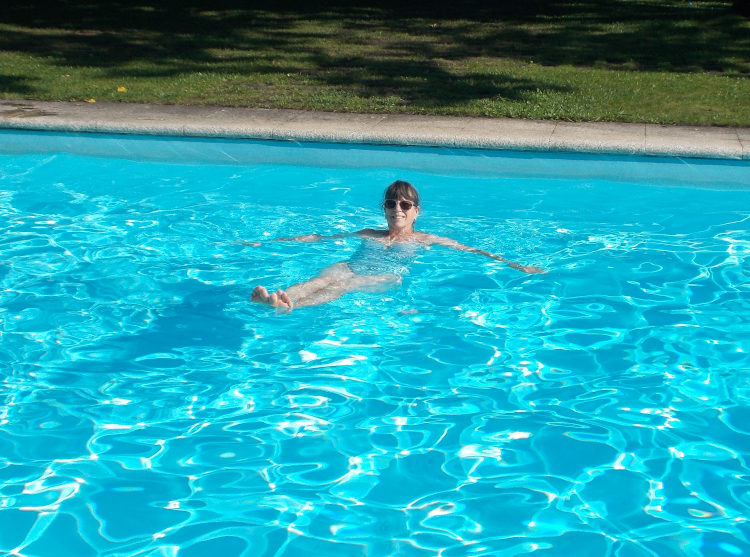 Next day up at 7am for sumptuous breakfast and then off to explore Lamego. Cathedral OK, Museum, not brilliant then we headed up the hill by the town to the Raposeira winery. We were the only ones there but a young lady gave us a very rushed tour of the place. Then popped into the big church on the hill, the Santuário de Nossa Senhora dos Remédios. Very nice. Bit similar to Bom Jesus in Braga. Back in the town found a nice restaurant called Casa Filipe in a side alley behind the cathedral and sat outside in the sun. Drove out along the Douro to Pinhao. Quite a touristy little place but a very attractive spot by the river.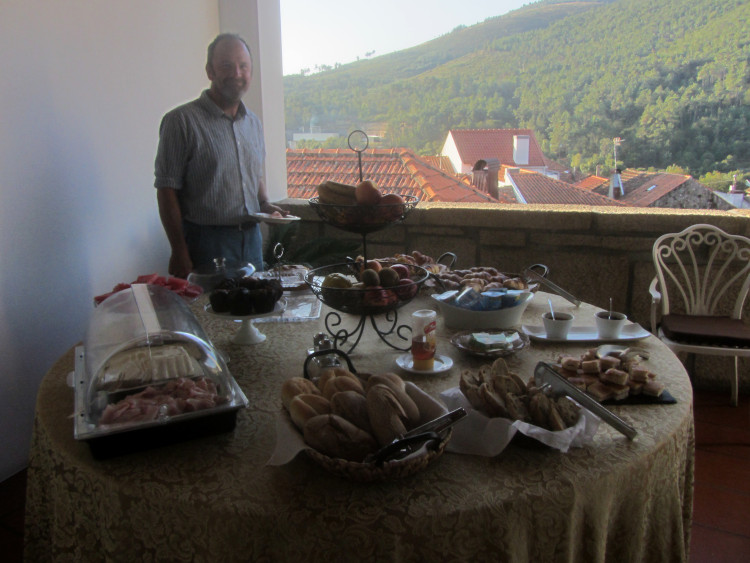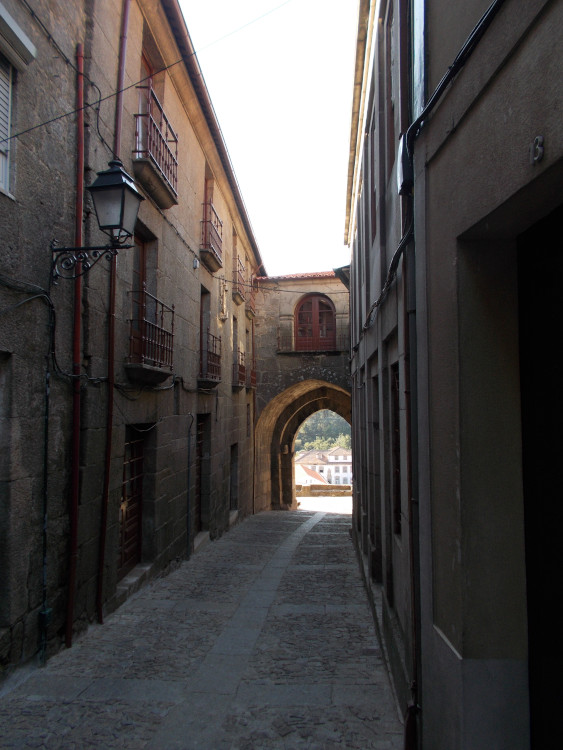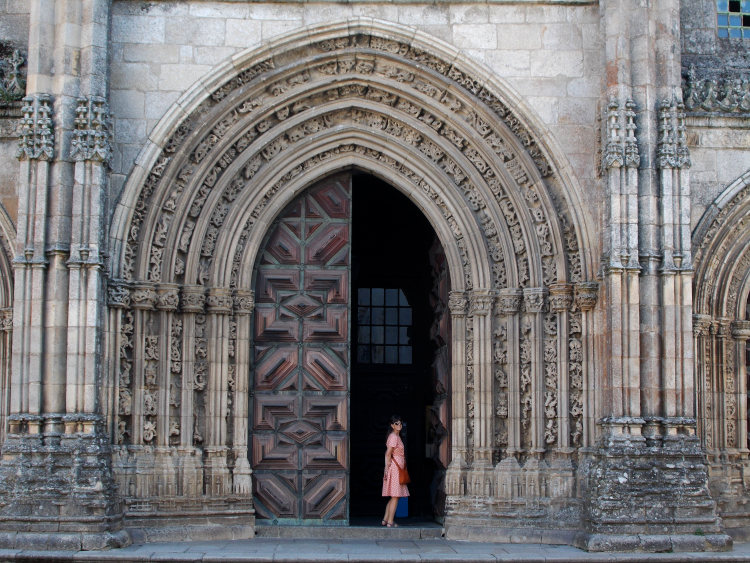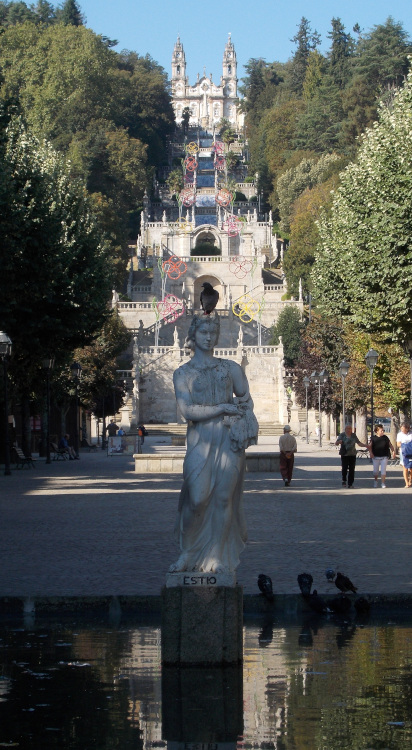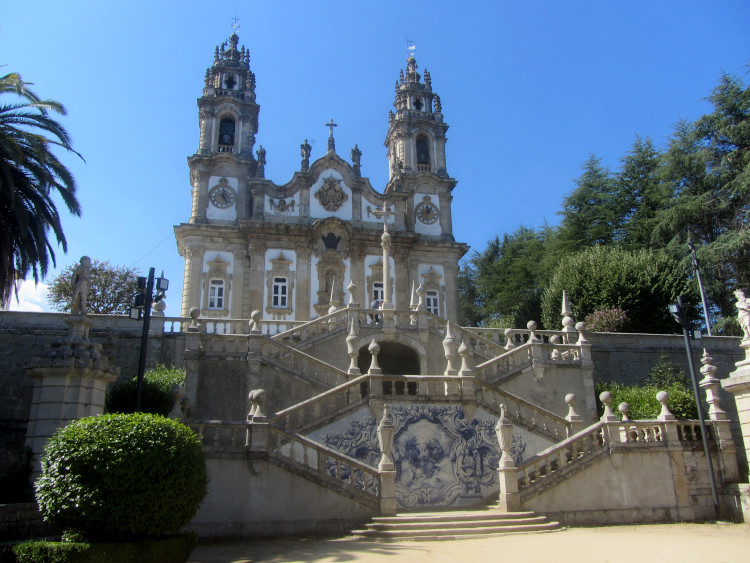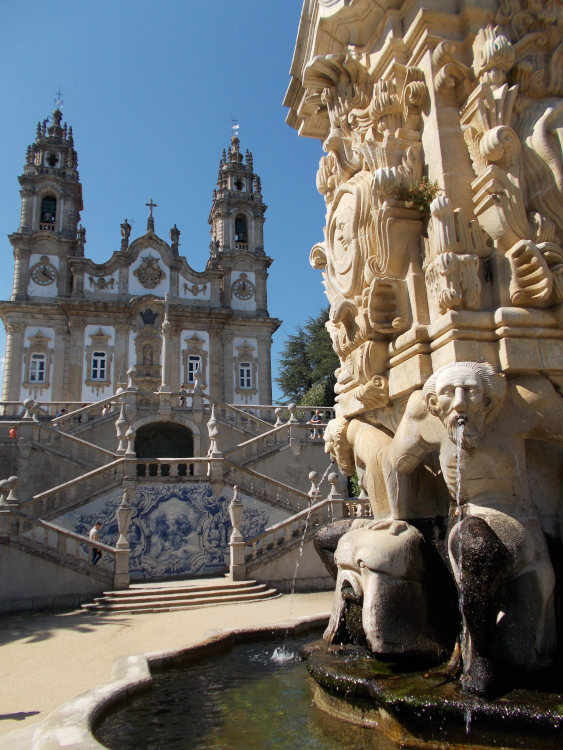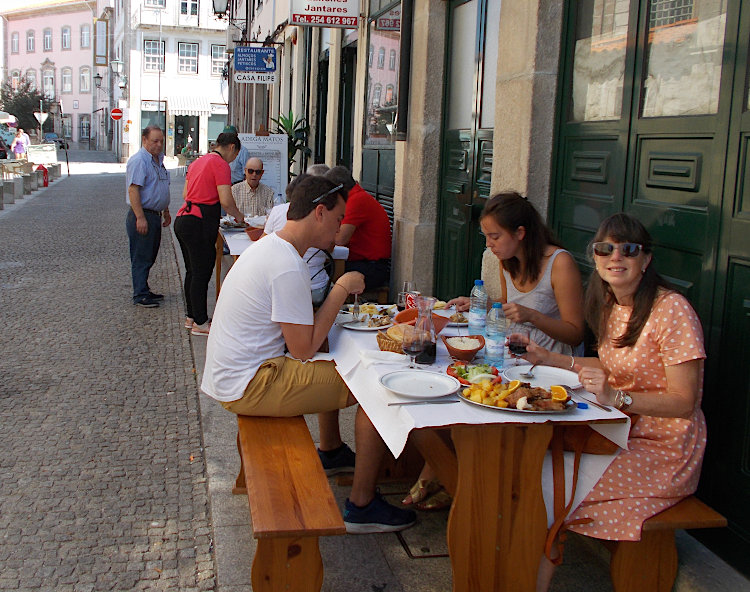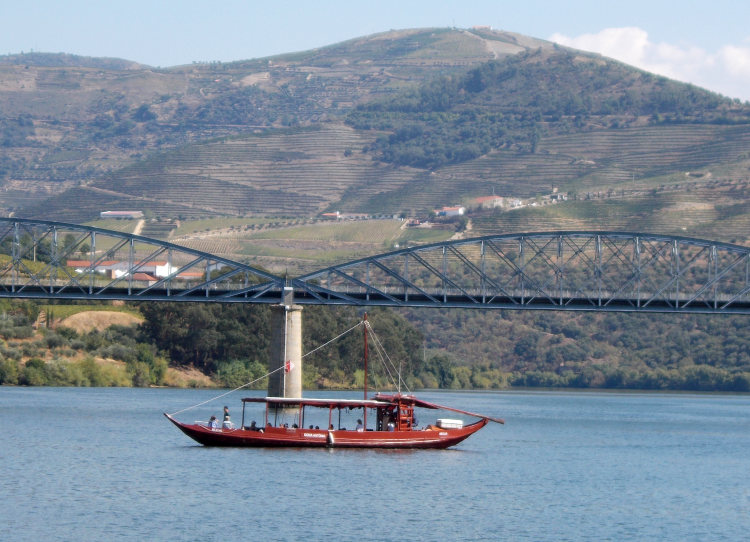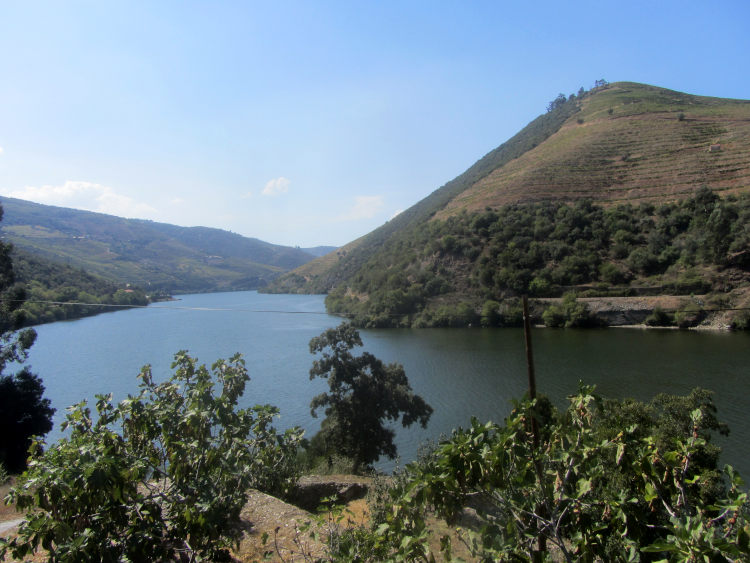 More photos of our trip here