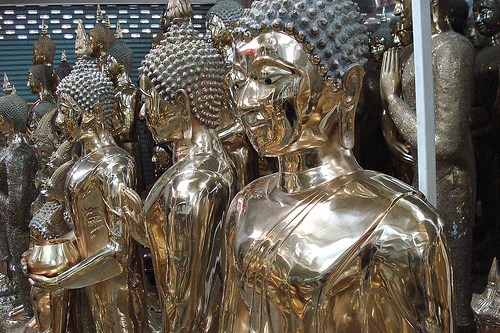 Bangkok wanderings
Bangkok wanderings
Bangkok to foreigners, Krung Thep to locals, City of Angels to people of the past, city of horrific traffic jams to people of today. You can read all about this amazing city elsewhere, for here is just an eclectic mixture of photos I've taken over the past few months. I've tried to avoid the typical tourist shots and hope to continually update this page as I continue my explorations.
My first picture is fairly typical however, a shot of the river from the River View Guesthouse.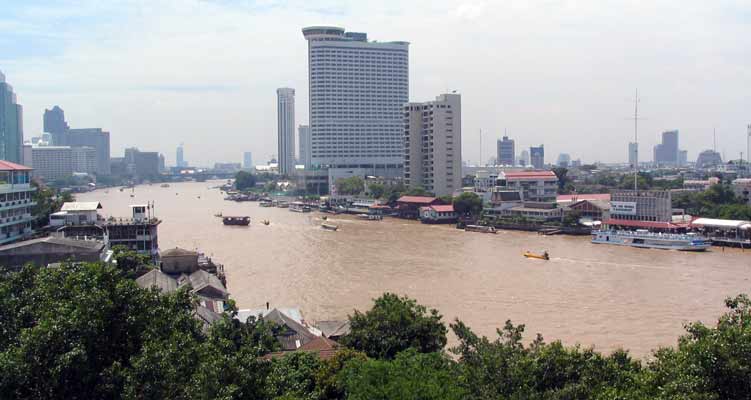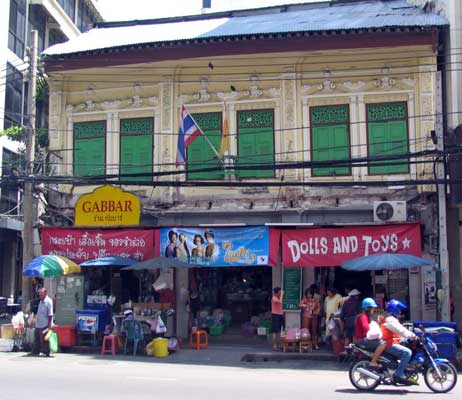 Sampeng Lane in Chinatown is a very long, narrow and famous lane where you can buy all sorts of tat. If these wires catch light however, it could be destroyed within minutes.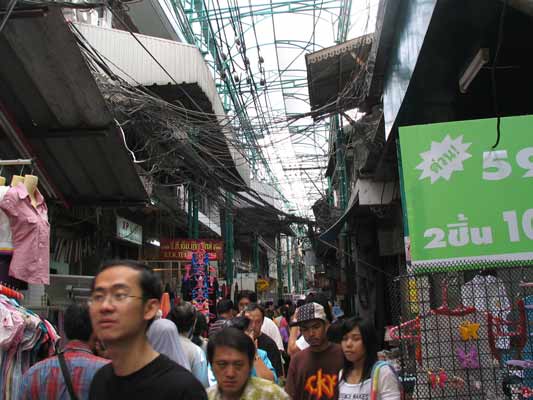 There are still a few decaying old mansions in the city but I'm afraid it is only a matter of time before they are torn down to be replaced by condos.

Shop houses within Chinatown are in a similar perilous condition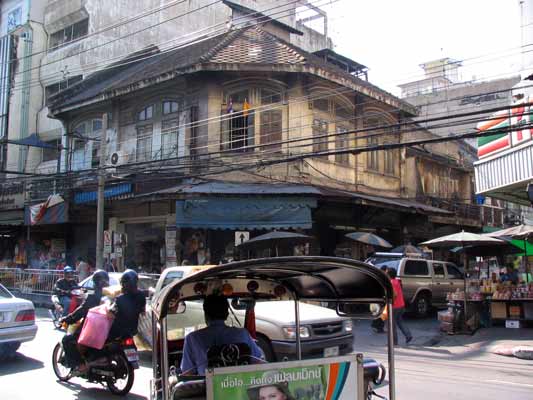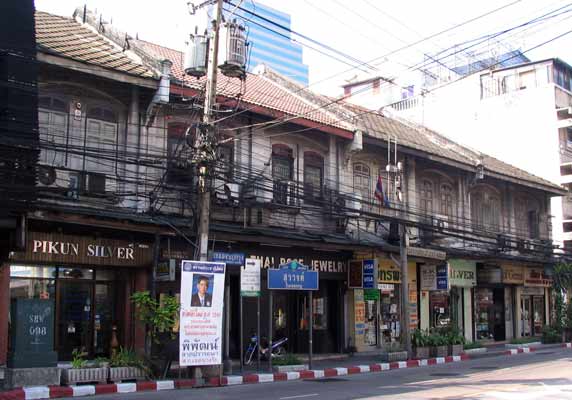 Although Thailand was never colonized by the western powers there are still a few colonial-style buildings. Again, not for long.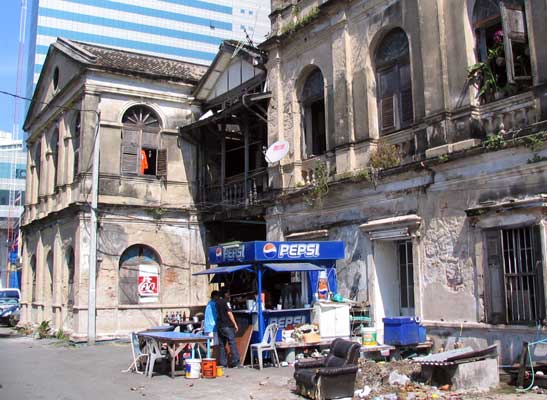 There is a sizeable Muslim population in Bangkok and the Haroon Mosque, found in the middle of a tangle of alleyways near the Oriental Hotel is one of the most famous and oldest in the city.
There's an area around Wat Suthat in central Bangkok that is famous for religious paraphernalia. We found a huge shop that was packed with golden buddhas, looking like extras from a "Terminator" movie – you know the one.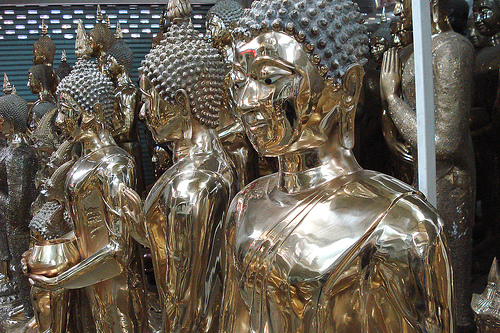 So many golden Buddhas were inside the shop this poor bronze one was left outside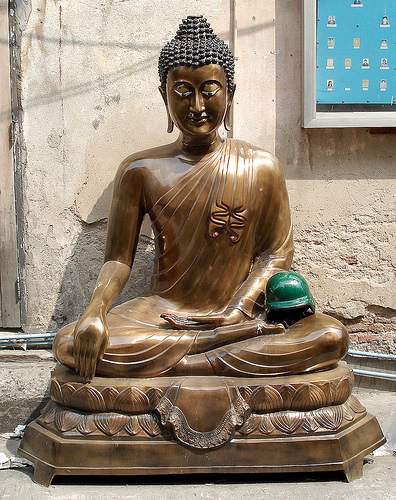 You need plenty of brushes to keep the Buddhas and the shop clean. Fortunately there are plenty of mobile brush sellers…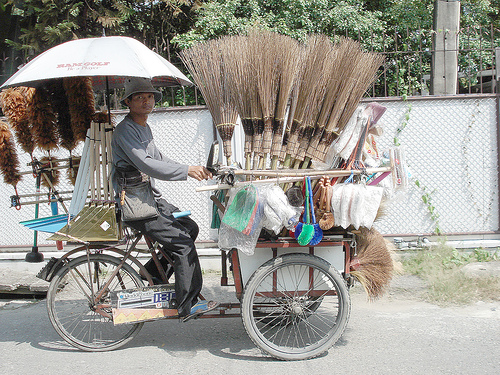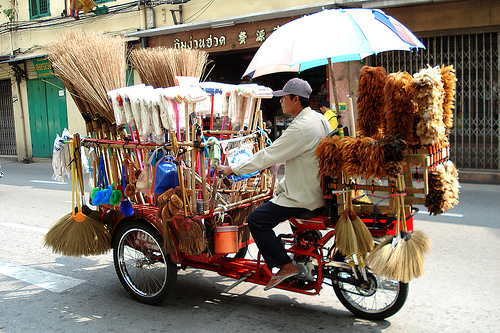 After a hot day wandering around we needed some sustenance. This small restaurant only served one thing – cold rice noodles served with a spicy peanut sauce with a side dish of overcooked, squishy and delicious cabbage.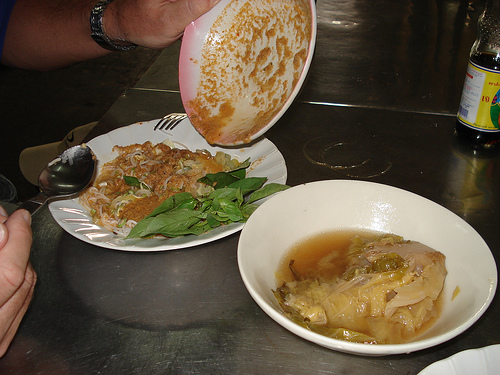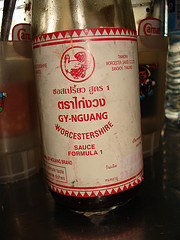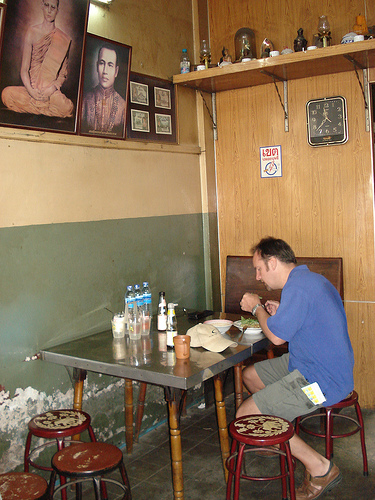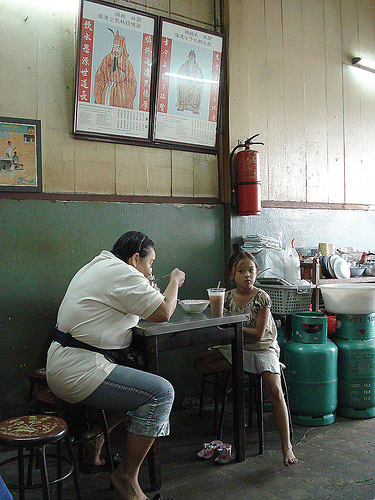 Cats are everywhere. This one's obviously had a tough day.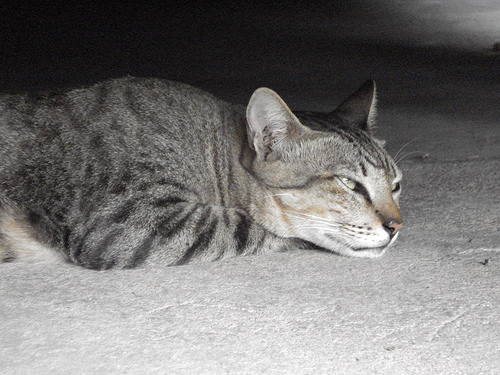 Quiet lanes and khlongs of old Bangkok.
This walk basically circles Democracy Monument – one of the busiest intersections in central Bangkok. A stone's throw from the tourist ghettos of Khao San road and the Grand Palace, but an area few tourists ever see.
We started near Democracy Monument. In this picture you can see it in the distance on the left. Taking centre stage however, is a mobile food vendor battling with the traffic. Is she in the right lane?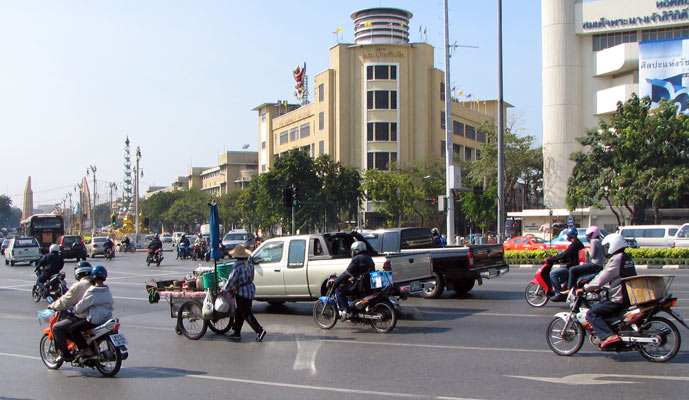 We were here to visit Wat Ratchanadaram (Rajanada). It's quite a new temple dating from the mid 19th century, but is very striking with it's unique black metal roofs, possible influenced by Burmese styles. It's also a popular place to buy amulets. Most wats have metal gates and most are decorated like the one below.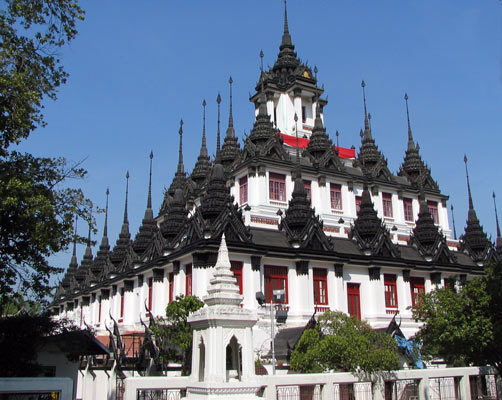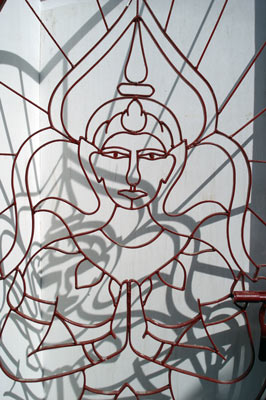 From here we crossed busy Ratchadamnon Klang Road to follow Khlong Banglamphu. Immediately the atmosphere changed to a much quieter residential area. Most khlongs in Bangkok have paths on either side so it is easy for pedestrians and also of course you are never far from mobile food vendors. Below are fried frogs and assorted fried bugs. In winter, up country you quite often see dogs in T-shirts – but I must admit I had never seen a fully clothed dog before. He looked rather French in his shirt, trousers and neckerchief.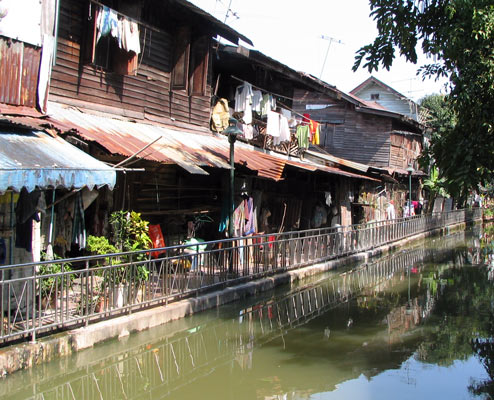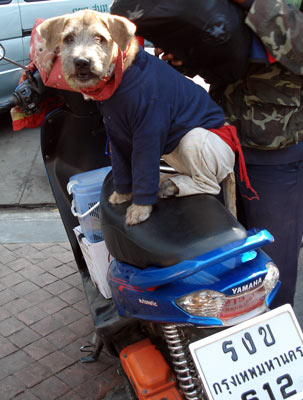 We left Klong Banglamphu near Wat Bowonniwet, to continue our circle of Democracy Monument and walked along Thanon Tanao, not un-interesting in its own right. Our next target was the small Klong Wat Thepthida. The picture below shows a rather bemused-looking garland seller on the corner of the klong and Thanon Tanao. The garlands are made of real flowers and are bought by passersby to decorate everything from temples and spirit houses to acting as good luck charms around car mirrors.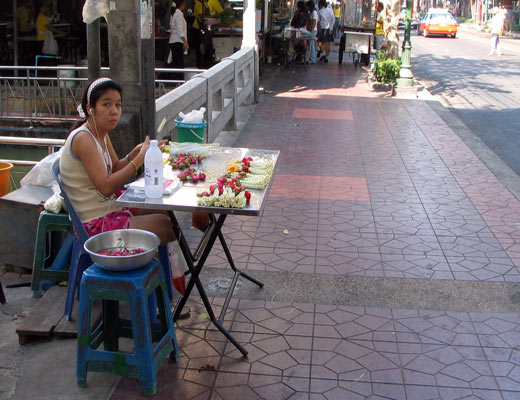 The path lining Klong Wat Thepthida is a bit narrower than most but provides views into a lot of houses on the other side. By following the khlong to its junction with the much bigger Khlong Ong Ang we were back to where we started and Wat Rajanada. A very pleasant few hours walk.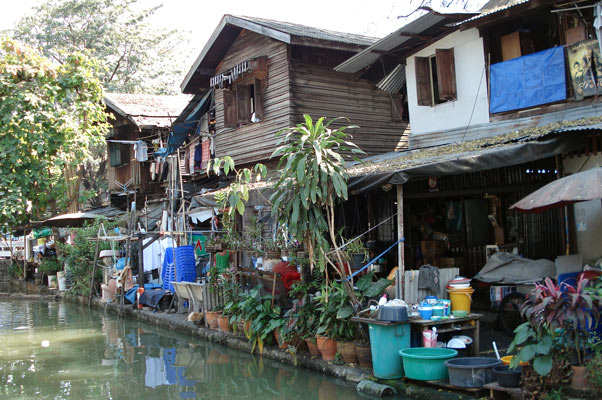 Inside a few Wats of central Bangkok
What follows are a few photos taken in and around a variety of Bangkok's Wats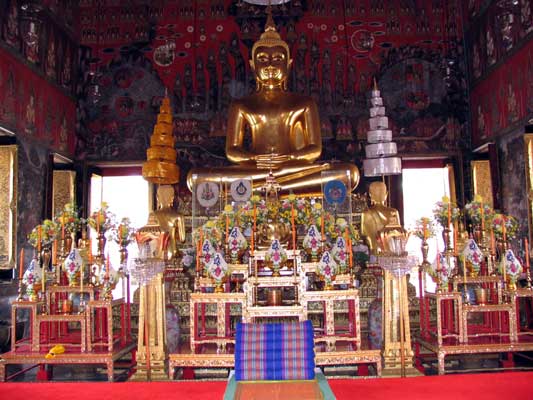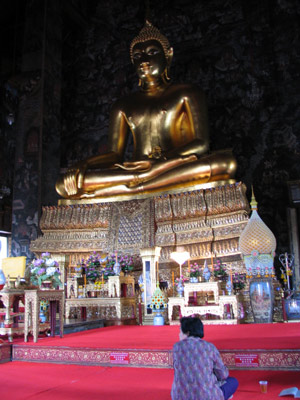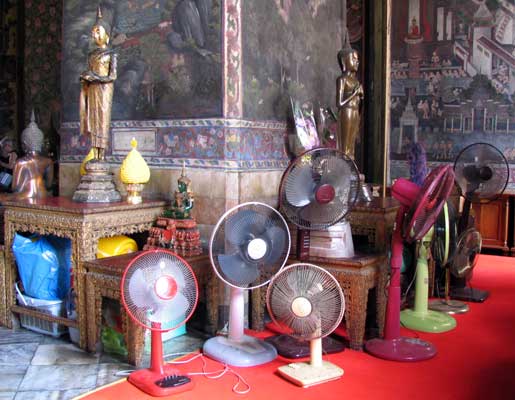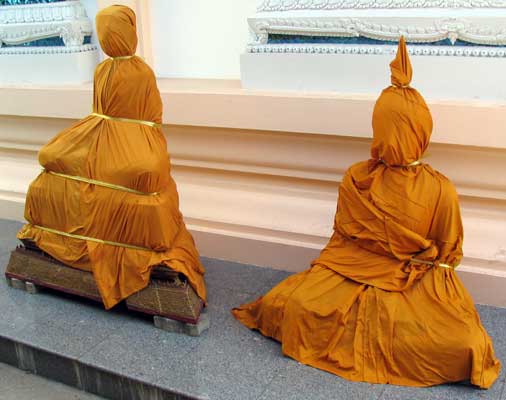 Wat Pho is home to the famous reclining Buddha, but it also covers a wide area of central Bangkok and is worth a stroll as there are many interesting and colourful smaller wats and stupas within its precincts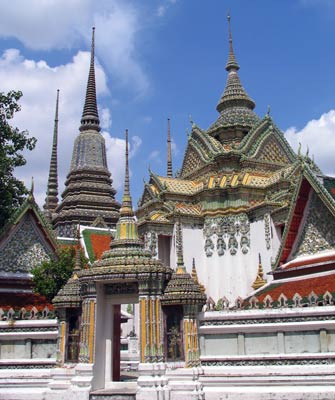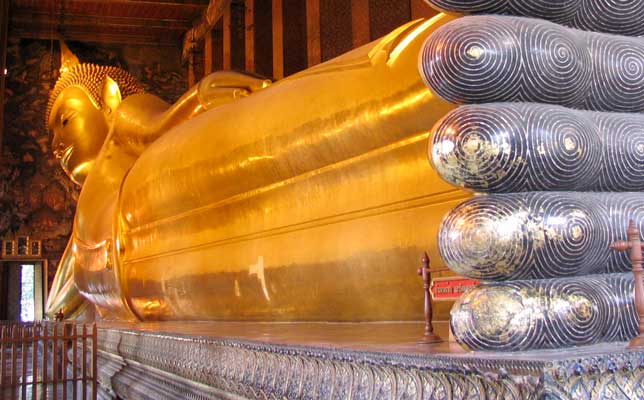 Wat Arun, the Temple of Dawn is similarly justly famous, but whatever you do, don't dangle any doll!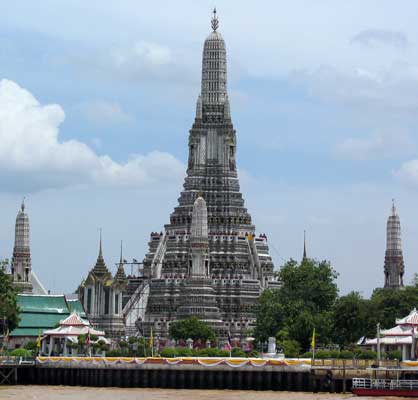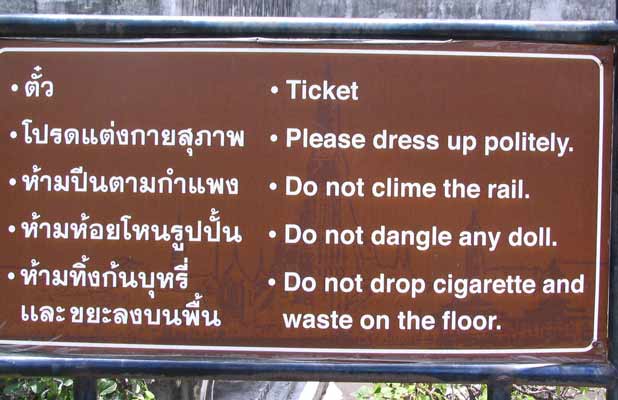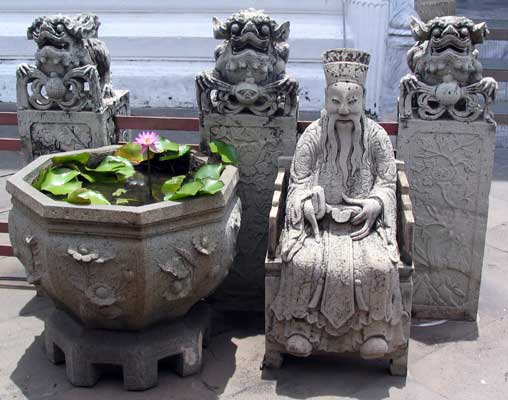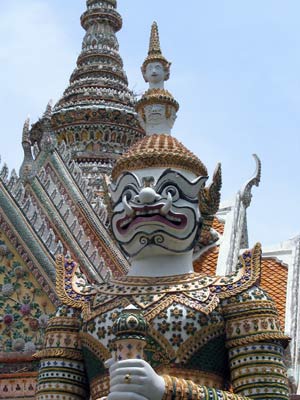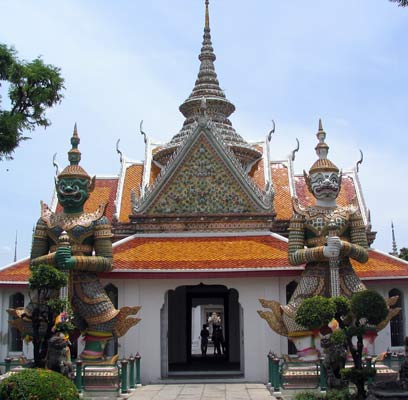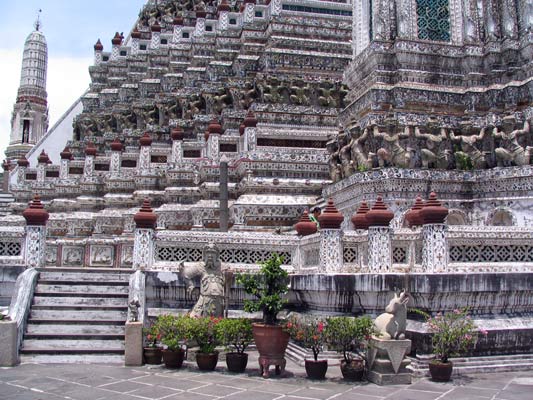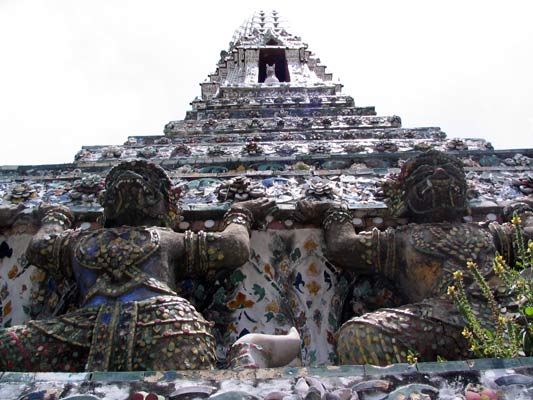 The Suan Pakkad Palace was the residence of the grandson of Rama V (The famous King Chulalongkorn), but has been a museum since the 1970's. It is in the heart of Bangkok, almost in the shadow of the Baiyoke Tower (World's tallest hotel), but you wouldn't know it once you enter the quiet shaded garden, watch the giant fish in the ponds and explore the old teak stilt houses.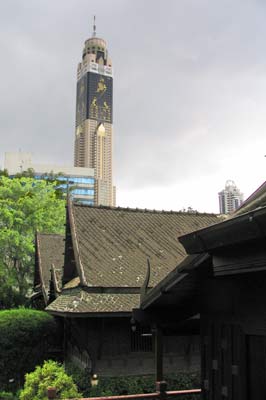 One of the buildings is known as the Lacquer Pavilion. This small pavillion, originally dating from the 17th century, was transported from Ayuthaya and restored in 1959 as the Prince's birthday present to the Princess. Inside are magnificent mural paintings, with gold on black lacquer, depicting the life of Lord Buddha and stories from the Ramayana.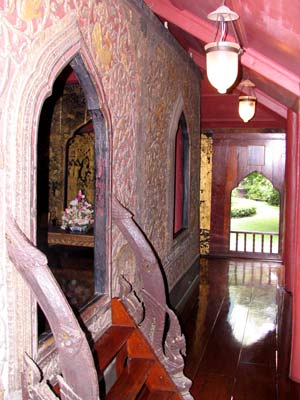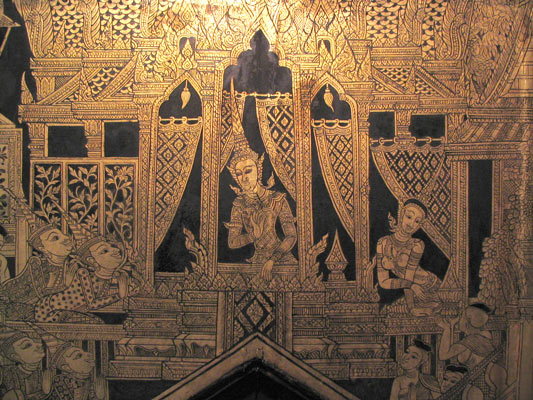 In another building is the 'Khon' museum. Khon is the masked dancing telling stories from the Ramayana. The collection displays several masks, puppets and clay figurines.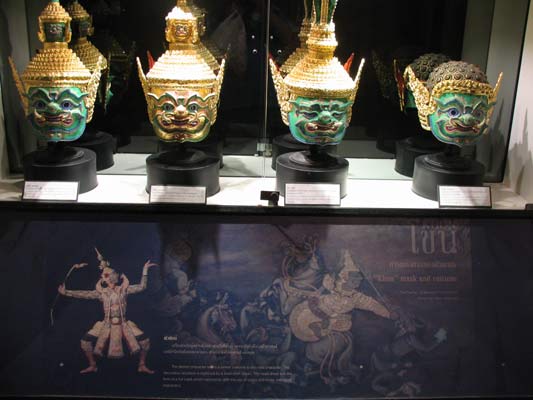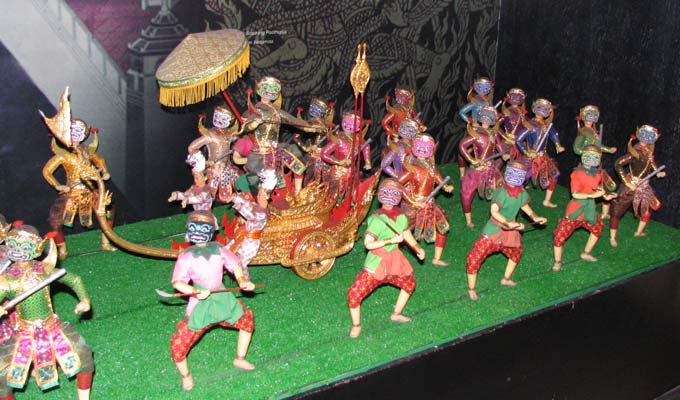 Another building (the only new, but airconditioned building in the complex) houses the famous Ban Chiang, prehistoric pottery collection.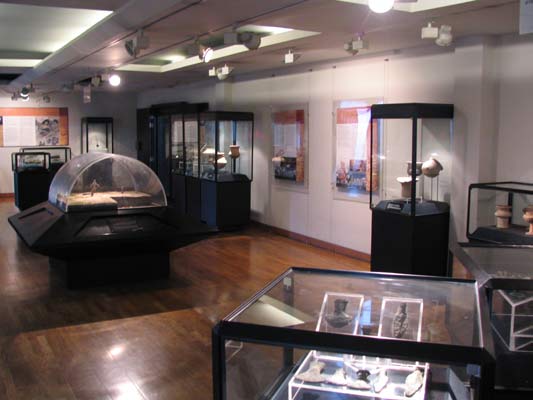 Yet other old teak buildings house seashell collections and a small souvenir shop. All in all well worth a few hours stroll. And just round the corner (all be it a taxi ride) is Soi Rangnam which has a number of good local restaurants and watering holes.