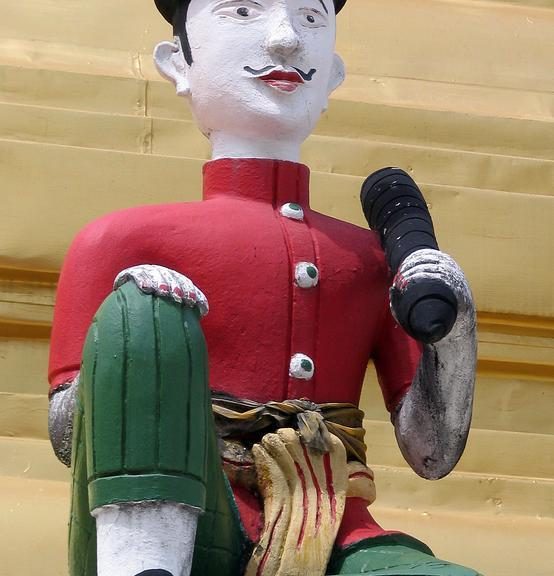 Nan and the remote north
Nan and the remote north
It was mid October in Bangkok. As per normal it was hot, busy and congested. In addition, the wet season was kicking in with a vengeance. We had a week's holiday. We wanted to stay in Thailand but wanted to get away from it all and be as dry as possible. Generally the driest place in Thailand is Ko Samet, but we went there last weekend. We decided on Nan, an obscure province up north which had been a hideout for communist rebels in the 1970s. We hoped it would be as beautiful but less touristed than the other parts of northern Thailand. It had also recently suffered from serious flooding but apparently it had now dried out. By all accounts the dry season starts in the north and comes south – so it should be dryer than Bangkok. Anyway, I finished work and headed for Hualumpong Train Station for the overnight journey.
We usually splurge out on first class (hardly a splurge given Thailand's cheap rail fares) but as there were no first class carriages to Den Chai (the nearest station) we had to slum it in second. No real hardship as the sleepers are very comfortable, with pristine clean sheets. Only problem was that they keep the lights on all night – probably no bad thing because unless you padlock your bag to your bed it might disappear overnight. Your bag, not your bed.
Despite lots of rocking and rolling and the odd shunt we managed a bit of shuteye before the day revealed a rather grey outlook. Anyway we got off at Den Chai and were soon whisked by songthaew to the nearest main town of Phrae. Quote a strange little town – not only for its pronunciation – I heard it variously described as Prey, Frare and many similar things in between. We had decided to stay here for a day to just have a look around and also to try and find a rental car to take us further north into Nan.
Choosing a hotel proved a little difficult – in the guidebooks most were described as fleapits, but we wanted to stay away from any posh resorty places. Given that the poshest pad in town was only 900Bht a night we went for comfort. The Maeyom Palace was hardly a palace, but it was near the bus station and after a day of traipsing around the wats had the added advantage of quite a nice swimming pool to relax aching limbs.
Phrae is quite an interesting little town as Thai country towns go – you can still see the remains of the city wall which encloses a few interesting temples and old teak houses, including some in grand colonial style, such as Vongburi house which houses a small museum and is well worth a visit. It was quite pleasant just wandering the quiet streets.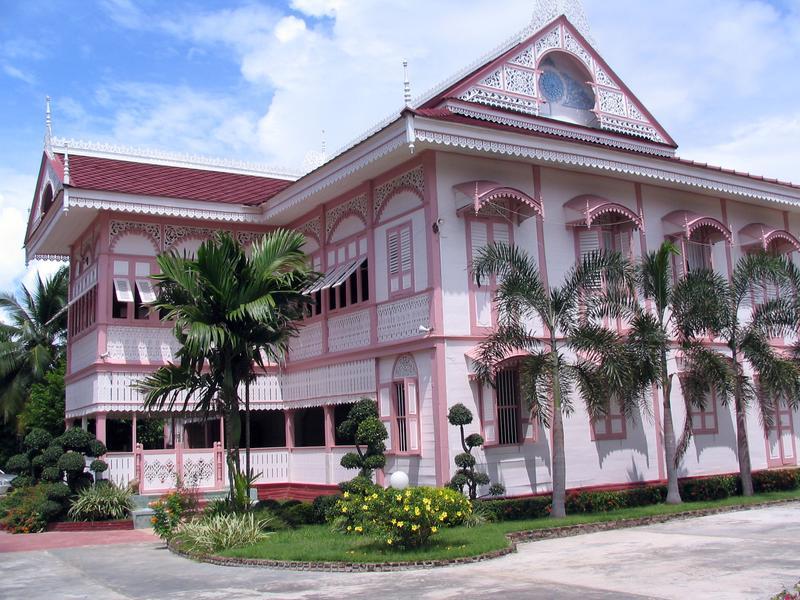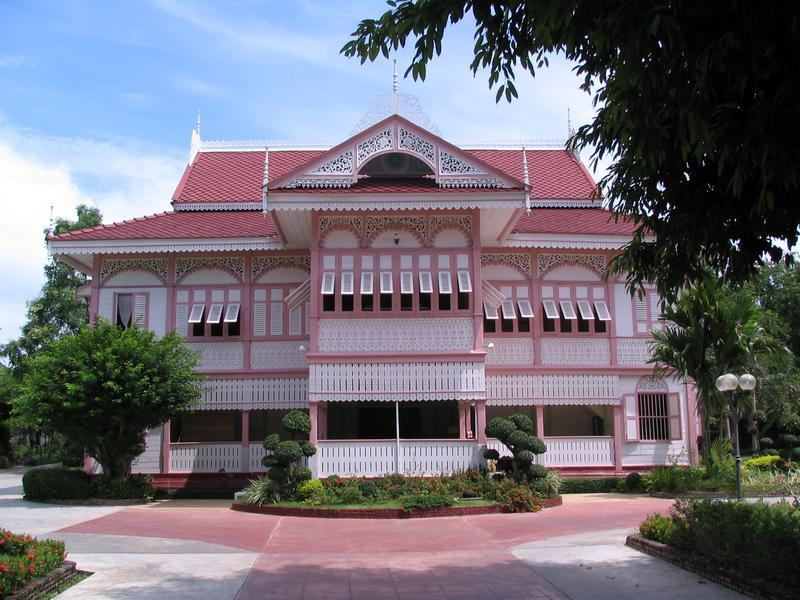 Phrae's main claim to fame is Wat Luang, but I must admit it didn't even warrant a photo being more important for historical reasons rather than photogenic. There are a few other interesting wats though, including Wat Phong (below).
Wat Phra Non's stupa is quite interesting in that it is protected by European figures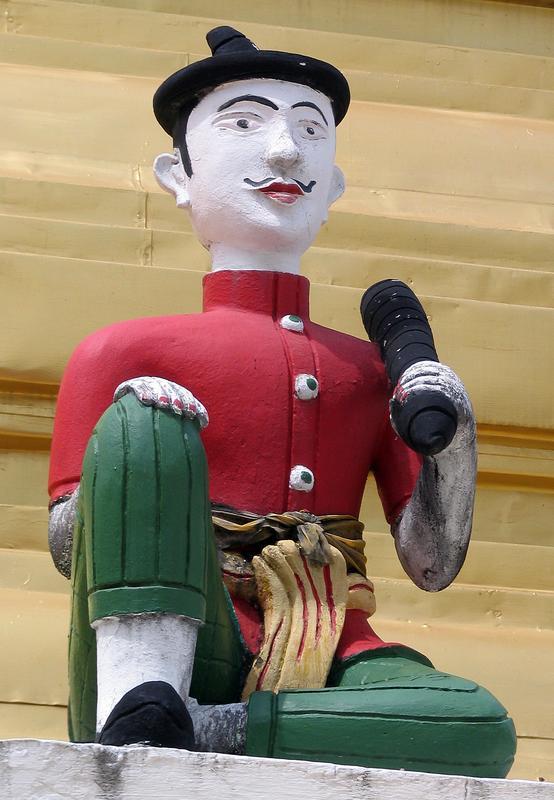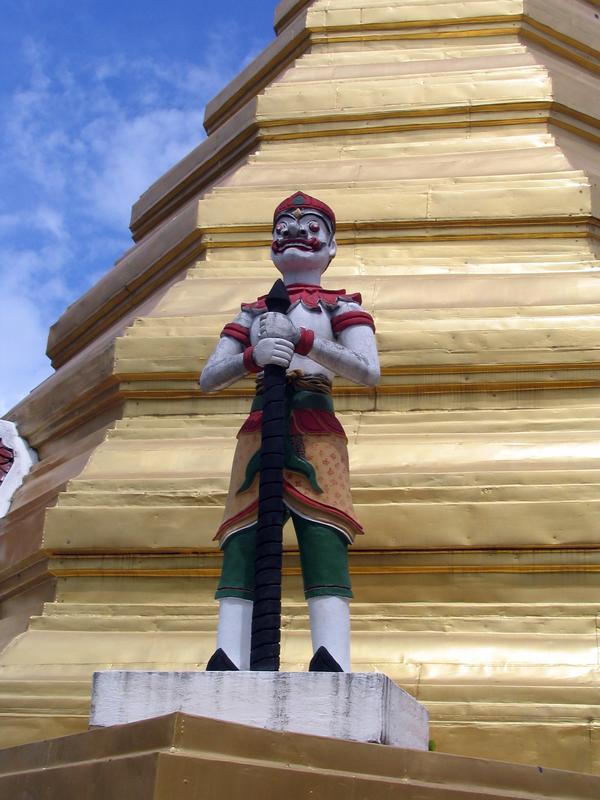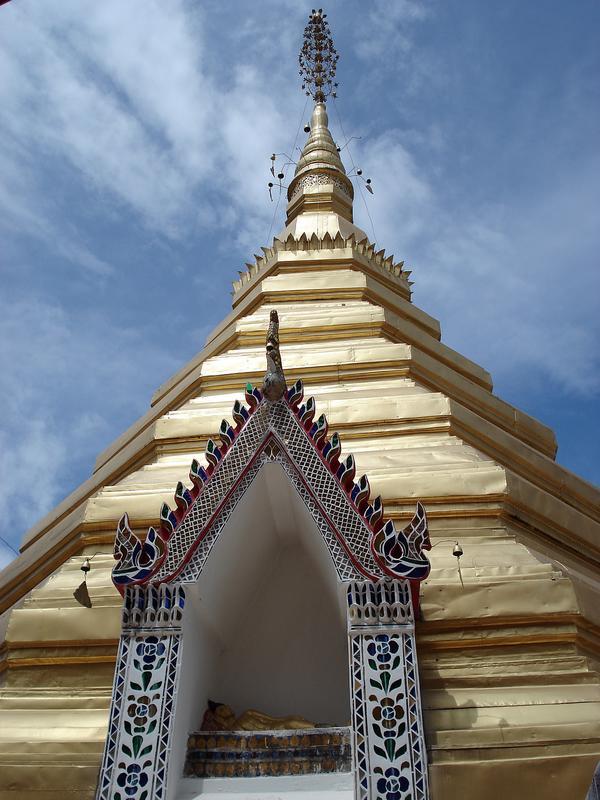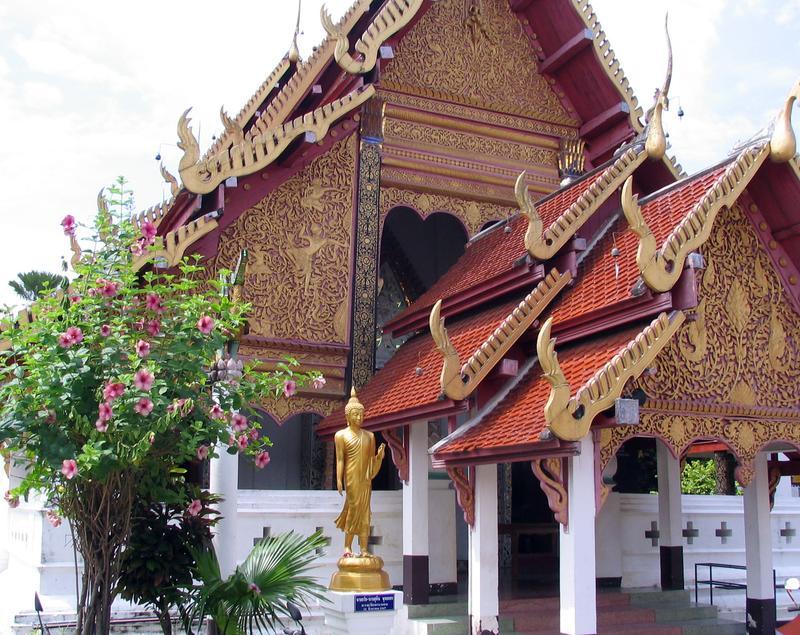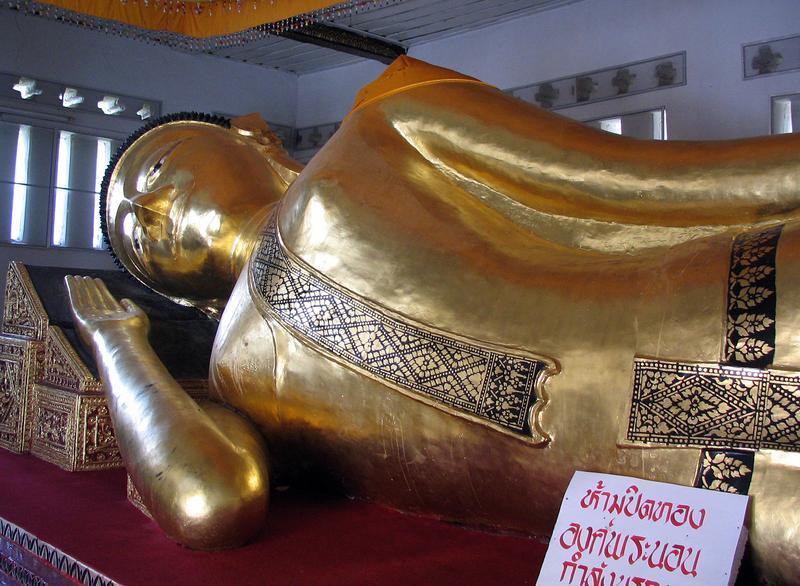 In the evening we decided to stay in the hotel and eat and were entertained by the 'cabaret' in a wooden Thai/wild west style area. There was a curious duet, I think husband and wife. The wife had a great voice and could play the guitar very well while the husband was pretty hopeless on both. It sounded a bit better after a curious local cocktail. We had asked for a Martini, surprised that it was on the drinks menu. When it arrived it was a brownish colour. They had decided to add some local whisky to give it a bit more kick!
Renting a car drew a blank however – we were told that the bloke who had the only rental car in town had gone to Bangkok for the weekend. So therefore the following day we bussed it up to Nan, a quick and easy two and a half hour jaunt through a very rural landscape, with quite a few young teak trees on either side of the road.
In Nan we also went for the comfy option: the Dhevaraj Hotel which at 600Bht was a pretty good choice (big buffet breakfast as well!). Nan is in many ways very similar to Phrae. A bit bigger and a bit more lively but with a few more wats to see and an interesting museum. The places of greatest interest are all clustered together so doable in half a day.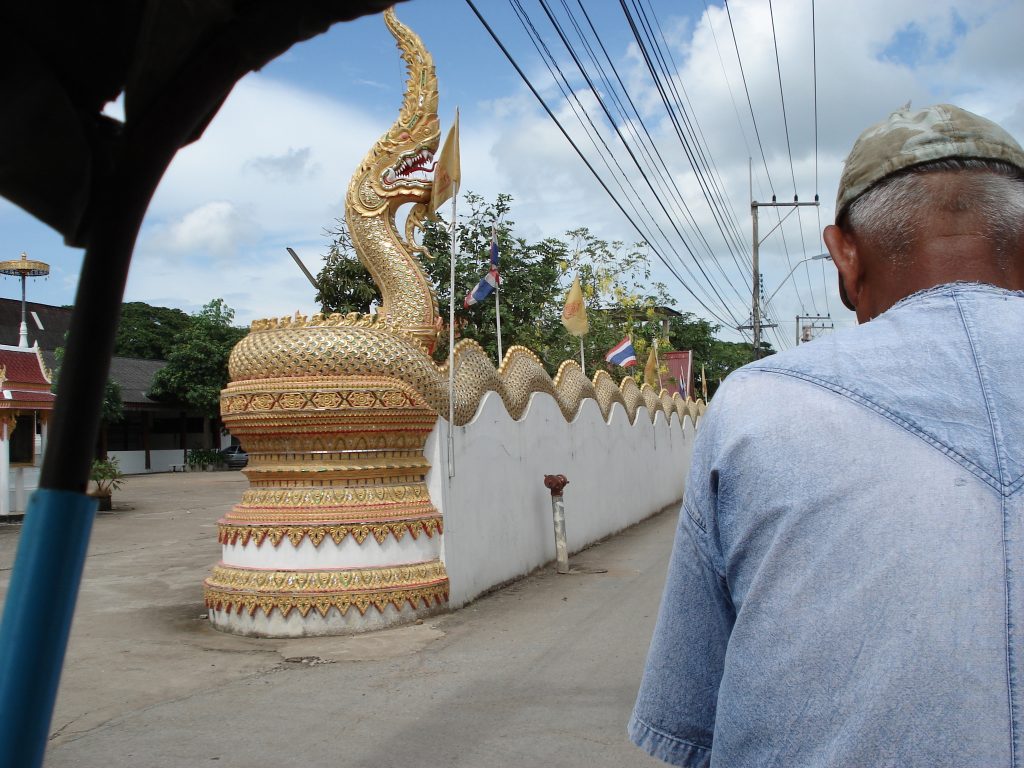 Wat Phumin is its most well-known temple, famous for its cruciform shape and murals which depict life in 19th century Nan.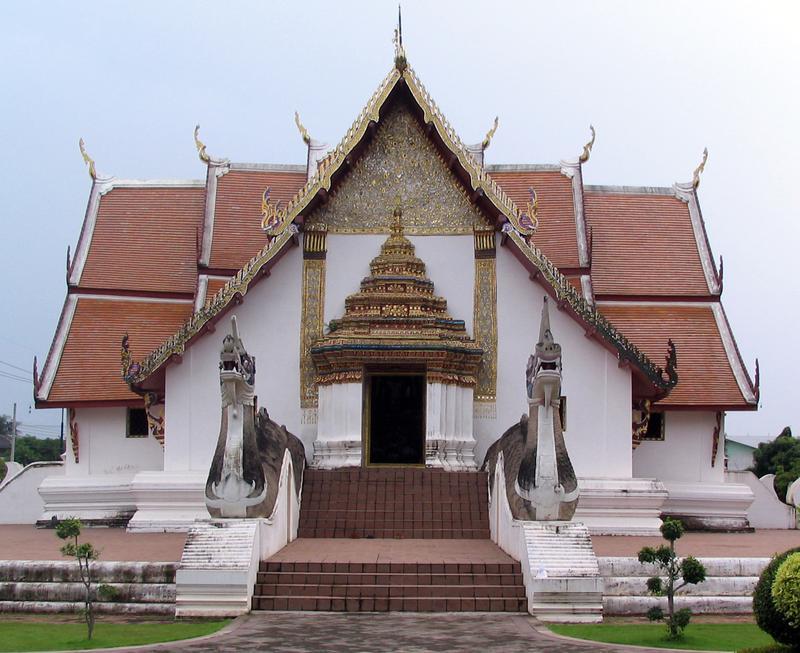 Smoking seems to have been very popular and there are also a few European figures with guns. (As it happens Wat Phra Non in Phrae has European figures guarding the main stupa).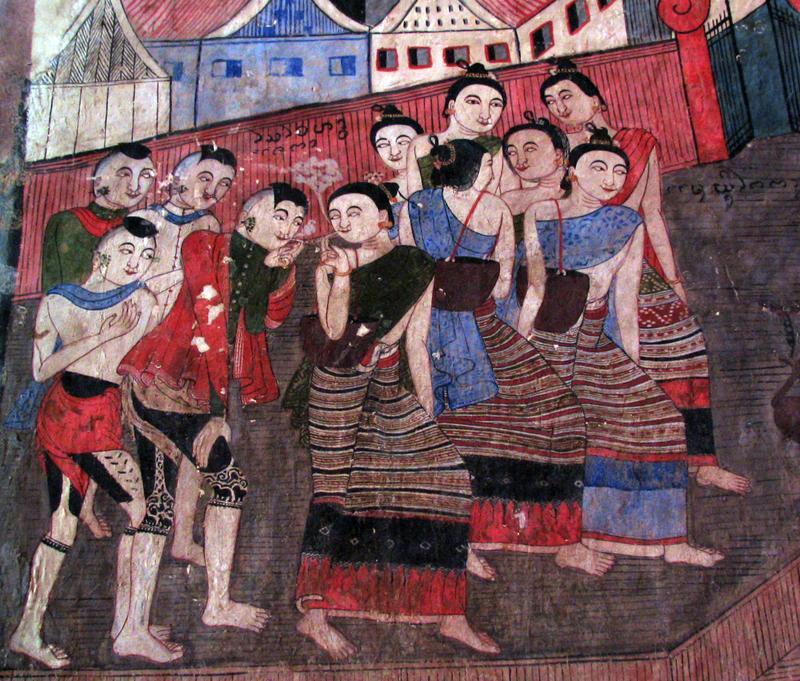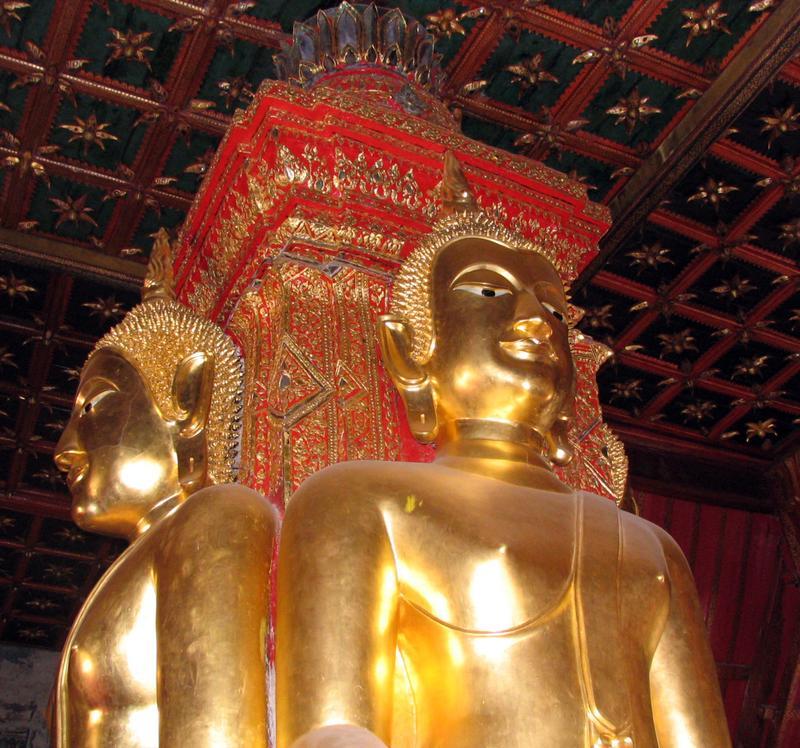 Across the road from Wat Phumin is the National Museum of Nan. The building itself is a very impressive old teak structure which contains some impressive exhibits including on local ethnic minorities and also some interesting buddha figures. And most of the signage is in English.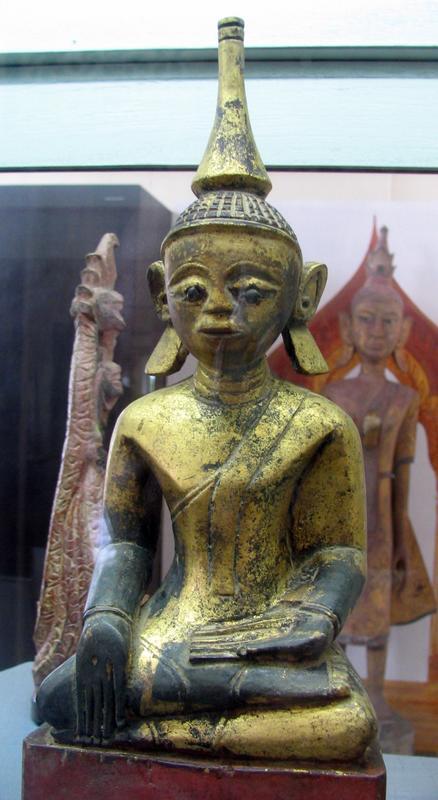 Across the road from here is Wat Pra That Chang – famous for its stupa protected by elephants around its base.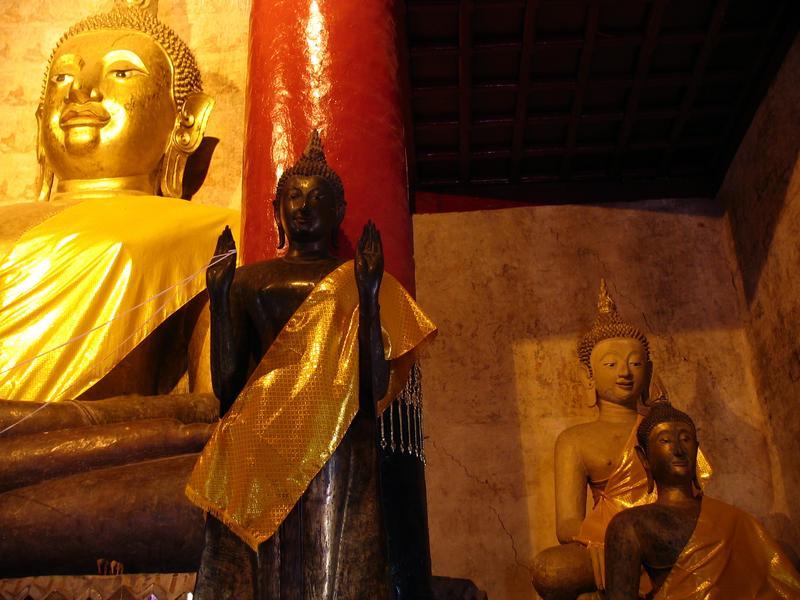 and Wat Hua Wiangtai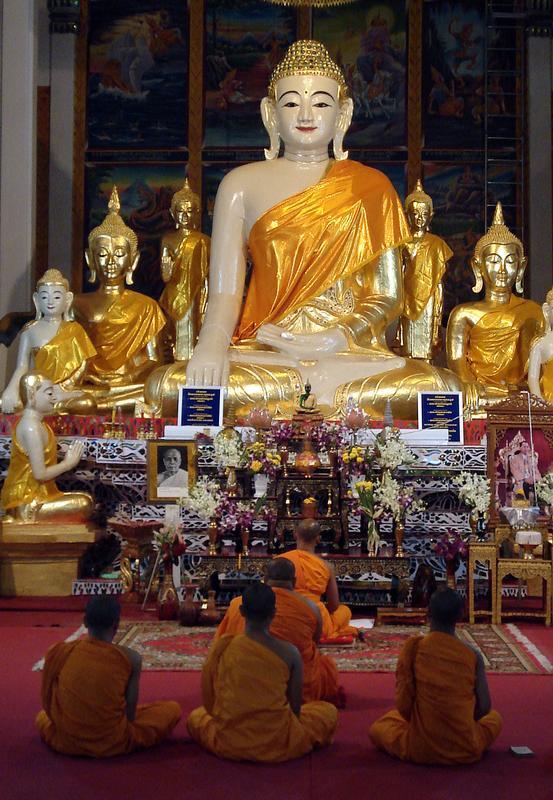 Like Phrae, Nan has some interesting vernacular architecture – attractive teak stilt houses in common parlance.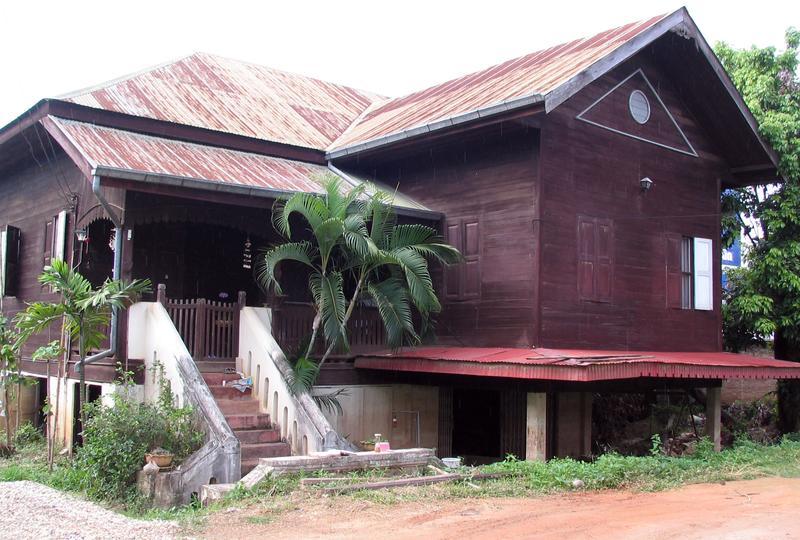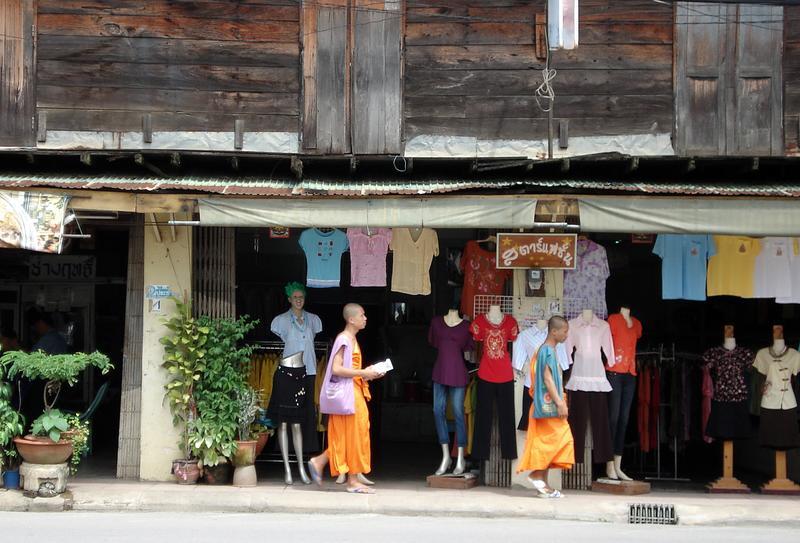 We didn't manage to go to the night market in Phrae, but markets are always a favourite of mine and Nan's is quite interesting and includes a rather large live fish section.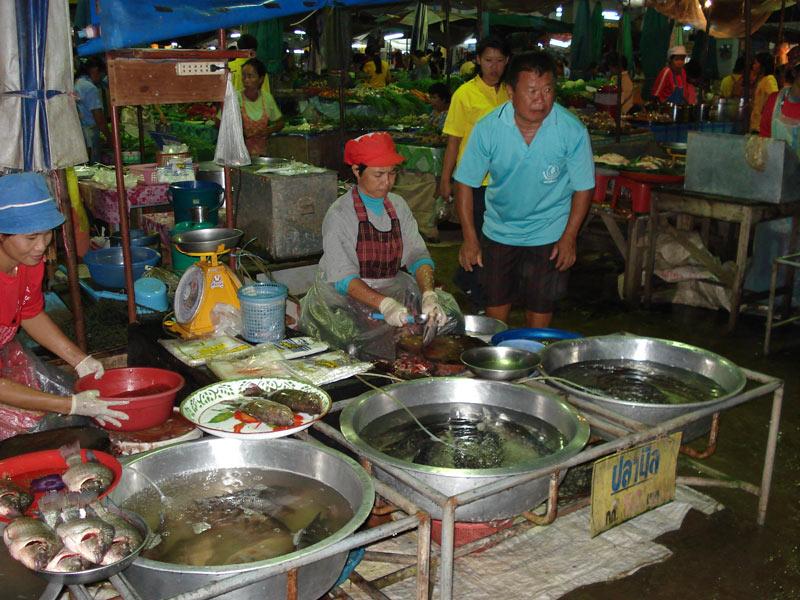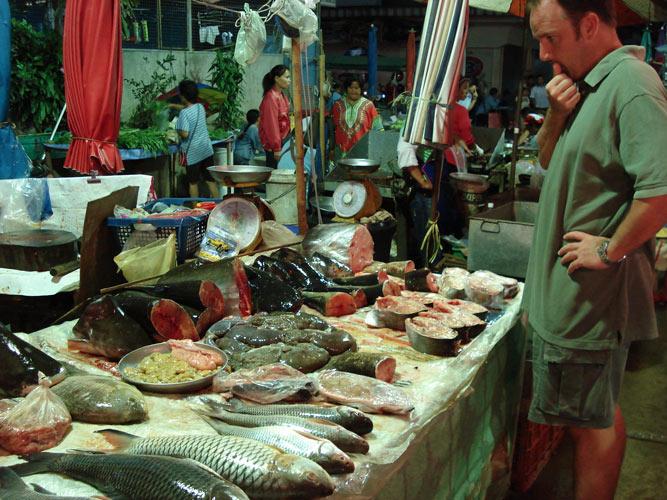 Around sunset there is an interesting little phenomenon. Thousands of swiftlets swoop and scurry about the sky catching small insects. Of course as night descends they all disappear. However, after dinner we crossed a quiet junction where I noticed large amounts of bird droppings. I looked up and found them. They were all roosting on the electricity lines, just above this one small intersection. Most peculiar. Given our rather dangerous predicament at this time, we took to observing this from across the street!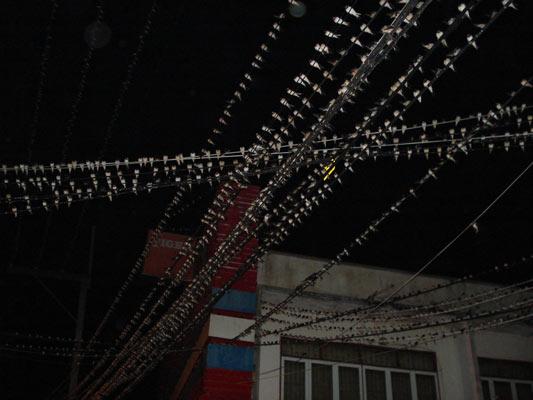 Actually near to this spot (I can't remember the exact intersection) is I believe the only place in central Nan town which could be described as a bar/restaurant. The Chokchai Torung. Semi trendy sort of places with fairy lights and a poster of Che Guevera. I think it was on Thanon Mahayot. Handy place to know.
Although the hotel didn't rent out cars, they knew a man who did – actually it was also the man who seemed to repair all of Nan's tellies. He obviously didn't spend much time repairing his jeep as we found it didn't have a passenger side seatbelt or a handbrake but as it was the only car available and for only 800Bht a day, we weren't going to quibble over minor issues of safety. So the following day we were off again – into the wilds of northern Nan.
The following day we followed the Nan river north, it's quite a big river with a broad and fertile valley with an attractive backdrop of mountains. It's a particularly rural scene with few people but plenty of paddy fields. Our destination was the Doi Phu Kha national park, but there were a few places of interest to visit along the way first.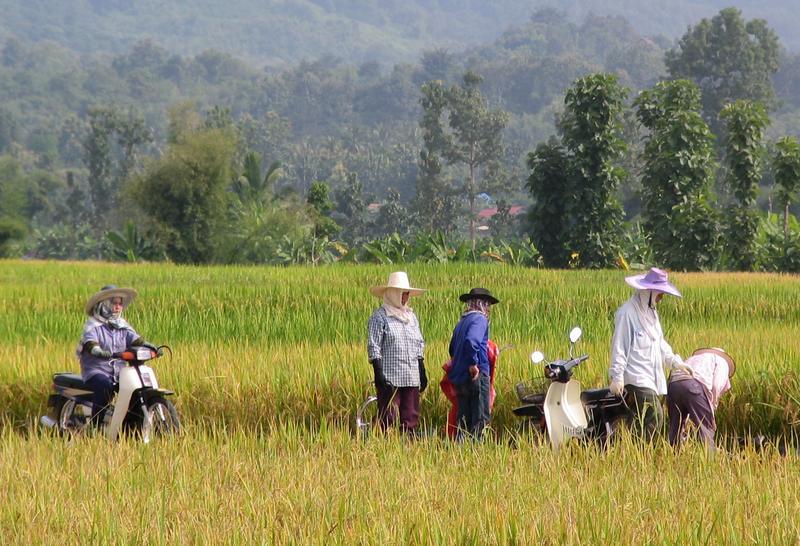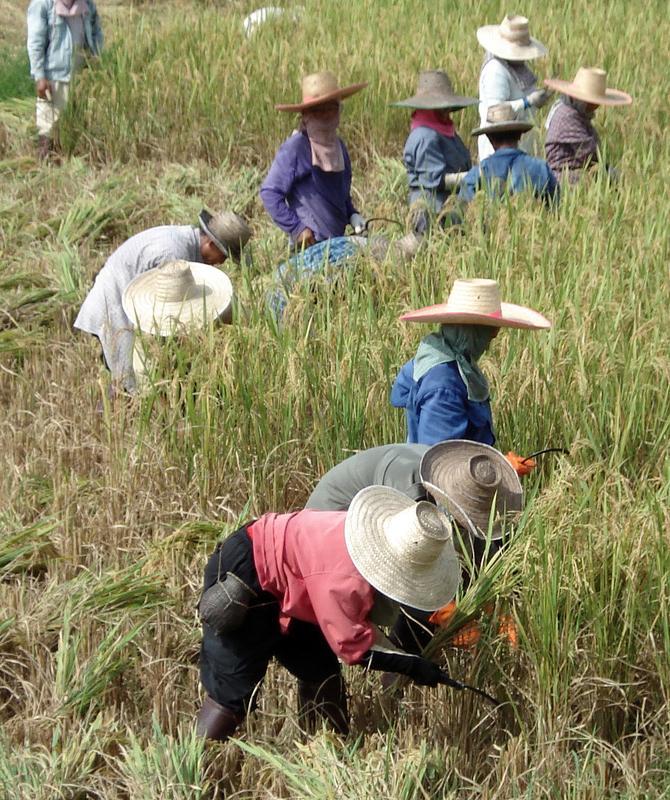 30 kms north of Nan we reached the town of Tha Wang Pha. We took a short detour here across the river to Nong Bua a small village famous for its weaving and interesting wat. The people of the village are Thai Lu. A group which is fairly widely spread in Nan and Phrae. They are originally from Xishuangbanna, in China's Yunnan province but migrated to the area in 1836. they are ethnically thai and so are not so different from the local people but are famous for their weaving and their style of temples (typified by Wat Nong Bua and Wat Phumin in Nan) which is distinctive. We found the temple with not too much bother and were greeted by the temple guardian and his old mate, a very talkative albino. I impressed with my broad knowledge of Thai by getting across the fact that I was from Angrit (England) but not much more. Wat Nong Bua was one of the most charming of the wats we saw on this trip. I think because of its position in the middle of a village, but it also had some interesting murals and Buddha images. Round the back were a few traditional teak stilt houses with looms underneath and a couple of the local old ladies who were working on them when we arrived were only too pleased to show us some fabrics.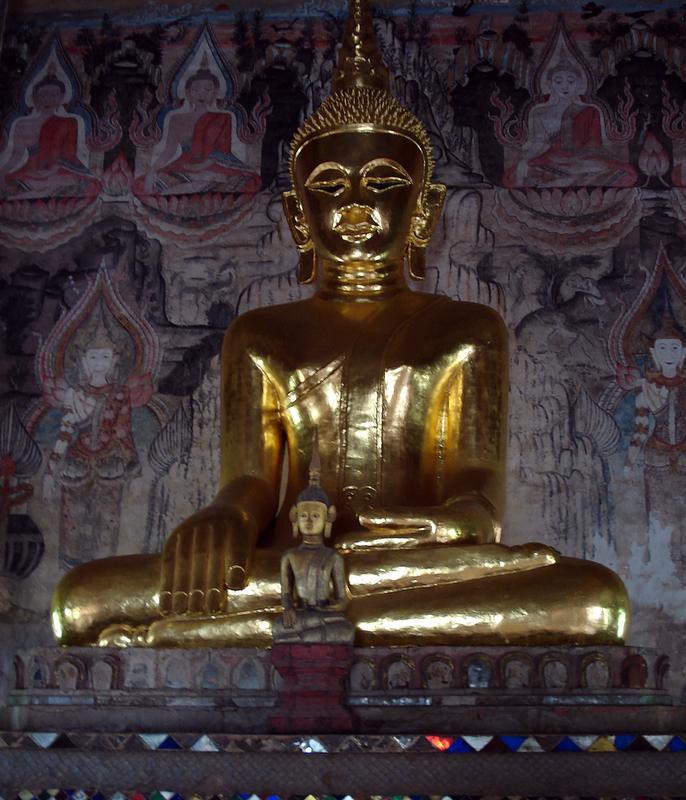 Getting back on the main road we crossed the river again and this time we managed to see a couple of dragon boats practising for their annual regatta. I don't know whether dragon boating started here before it became more famous elsewhere but it is still very famous in Thailand and in Nan in October is where it all happens.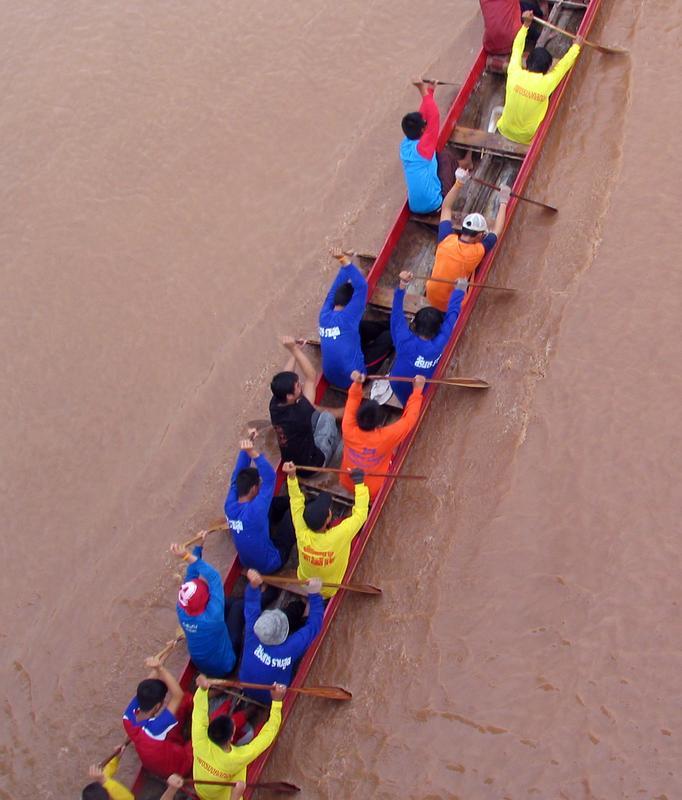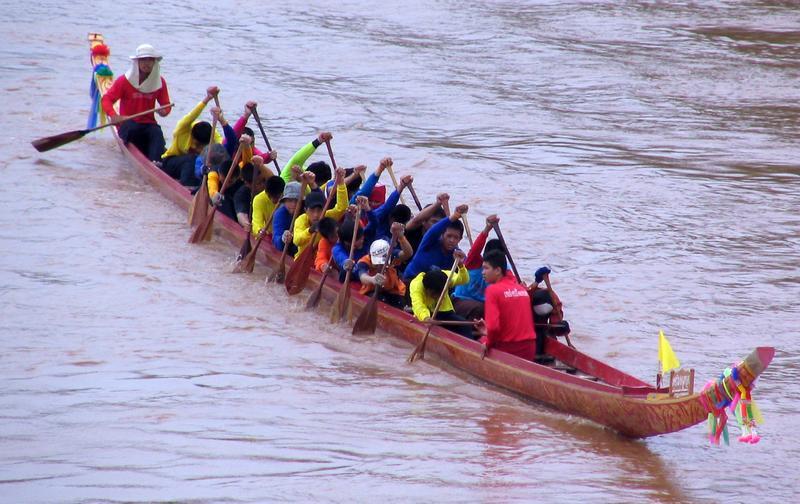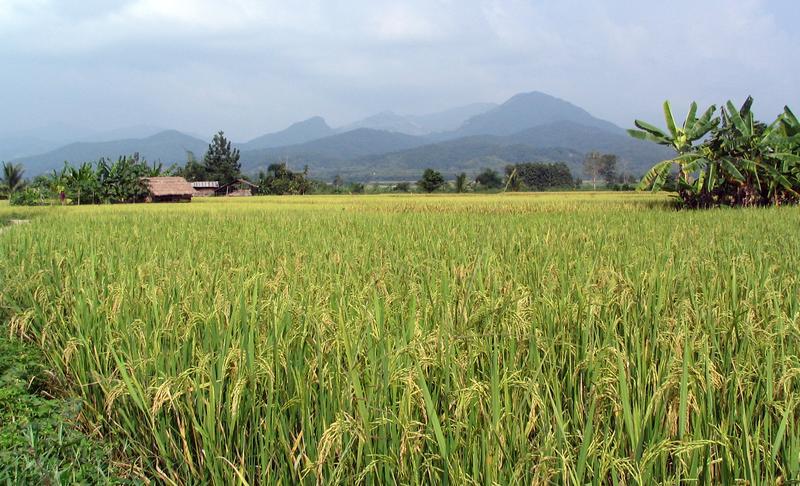 Further along the main road we reached Pua, a bit of a cross roads town. We didn't stop but it looked quite attractive and with a couple of places and decent restaurants. We took a right here and headed out of the valley and into the mountains. In fact only a few kms out of Pua the road climbs quite steeply leaving the paddy fields behind and entering thick forest and hairpin turns. Fortunately like most of the journey so far and for the next few days we were to meet very little traffic and the condition of the roads was very good.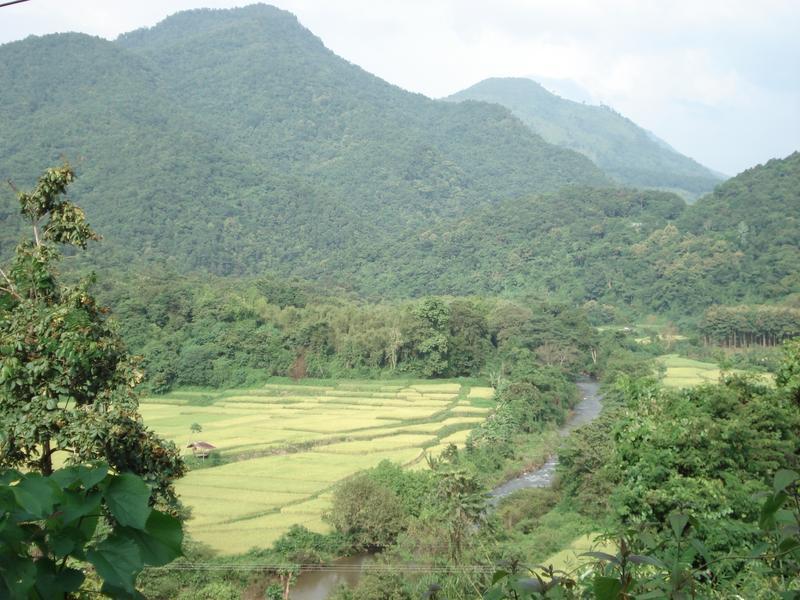 Up, up and up we went. The weather had been pretty cloudy but dry so far on the trip, but now we were actually right in the clouds, but still given some excellent views of the mountains in the swirling mists. Near the top of Doi Phu Kha (at 2000m the highest point in Nan province) we spotted the turn off to Bamboo hut our destination. From here it was a further 4 kms, past a couple of small villages.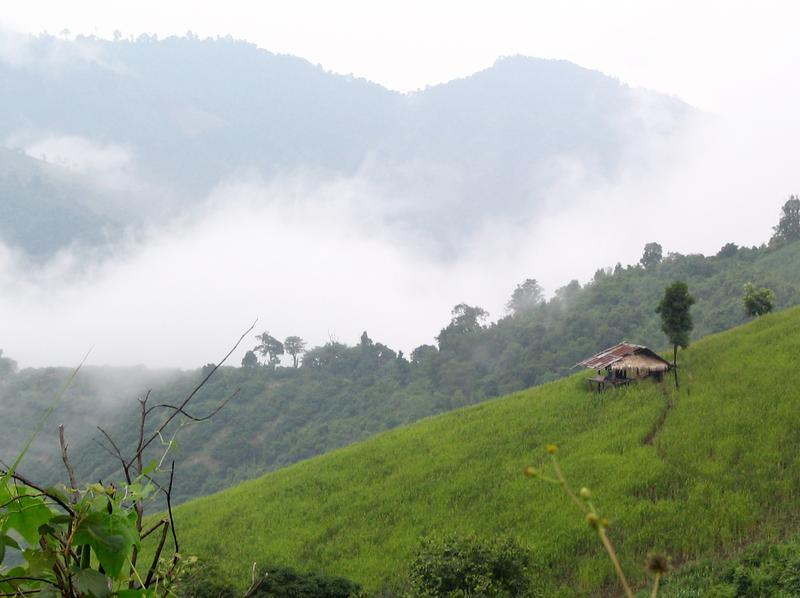 What can I say about Bamboo hut? (apart from the fact that apparently as of 2009 it's closed). Anyway, William, the owner has been running the operation for 6 years and I don't think it has changed in that time. There is a steady trickle of tourists and they all leave with fond memories and having left 100% positive comments in his growing guest book. It has to be said it is fairly basic accommodation – small bamboo huts spread on the mountain slope behind the communal eating area. The communal shower is a bamboo pipe with spring fresh (and refreshing ) water. In fact the paying tourists (150Bht per hut per night) live in much more primitive conditions than the local villagers, but William has guessed right that this is what they want. There is however the modern convenience of electricity so that travellers can still plug in their lap tops and recharge their batteries (literally).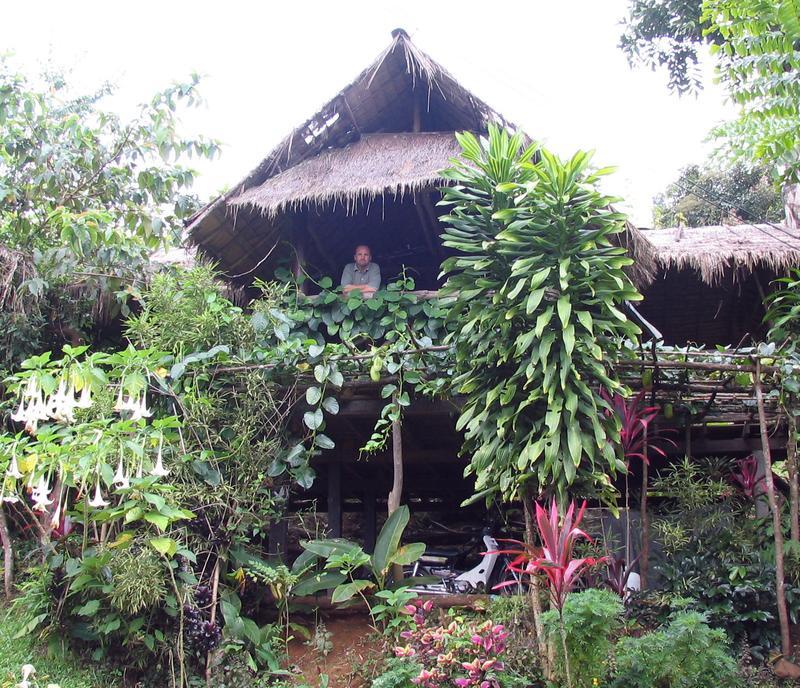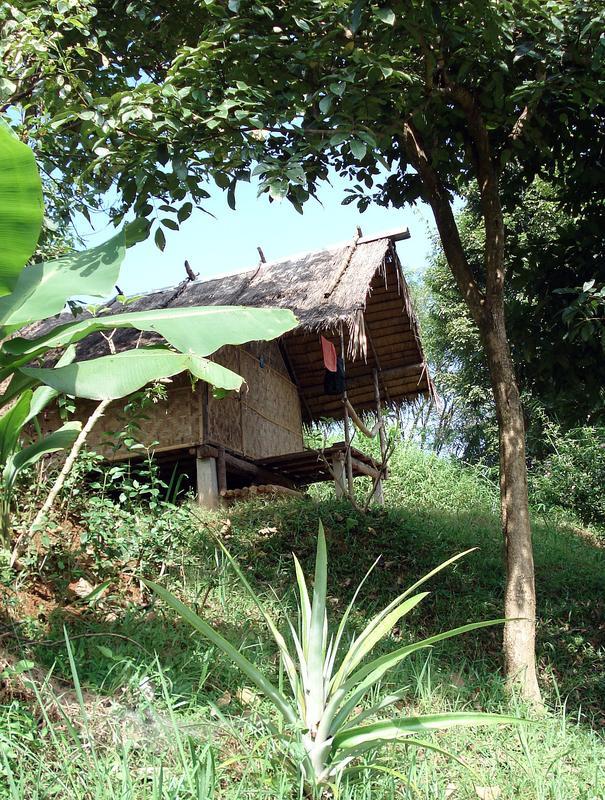 Although the conditions are fairly primitive, the place has a wonderful get-away-from-it-all feeling and the views are fantastic.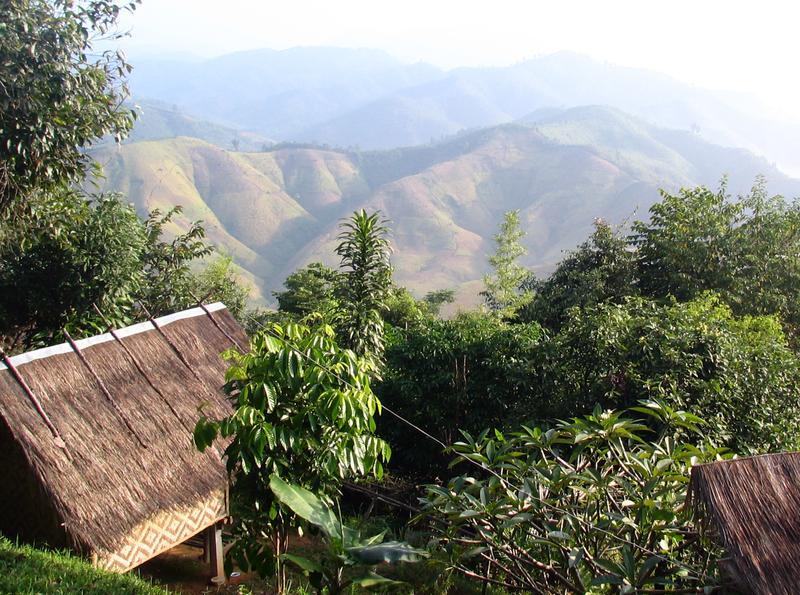 A few other inhabitants of the Bamboo Hut.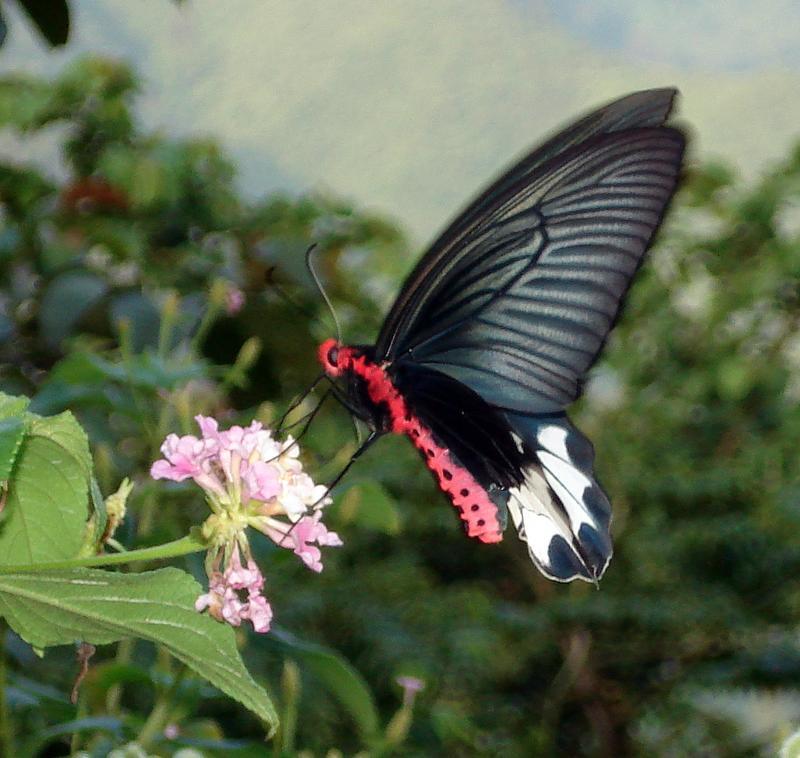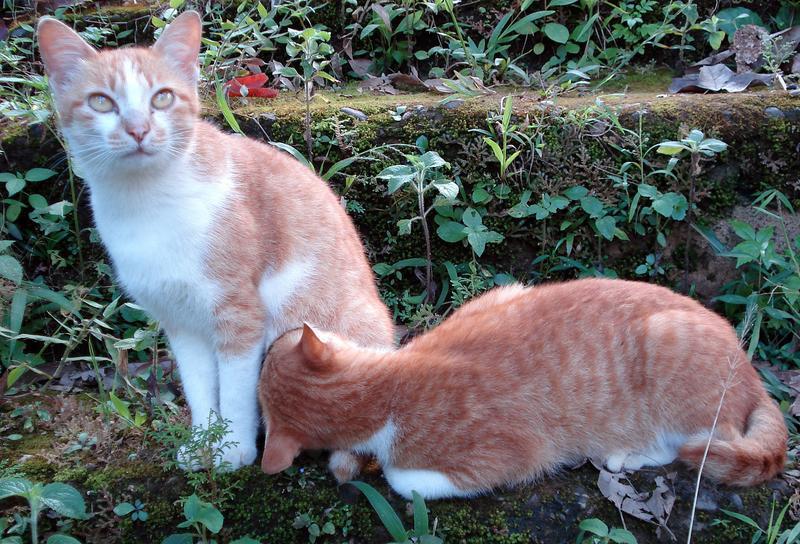 When we got there there was just one other couple staying, They had taken over a year travelling by motorbike from Germany. There had factored in another year getting to Australia. They told us they had been at Bamboo Hut for six days and had not seen any other tourists.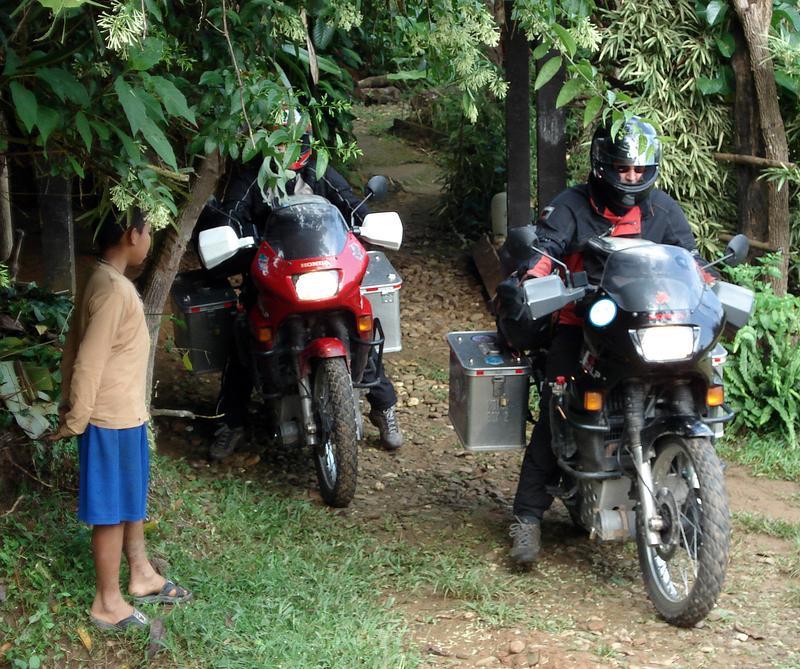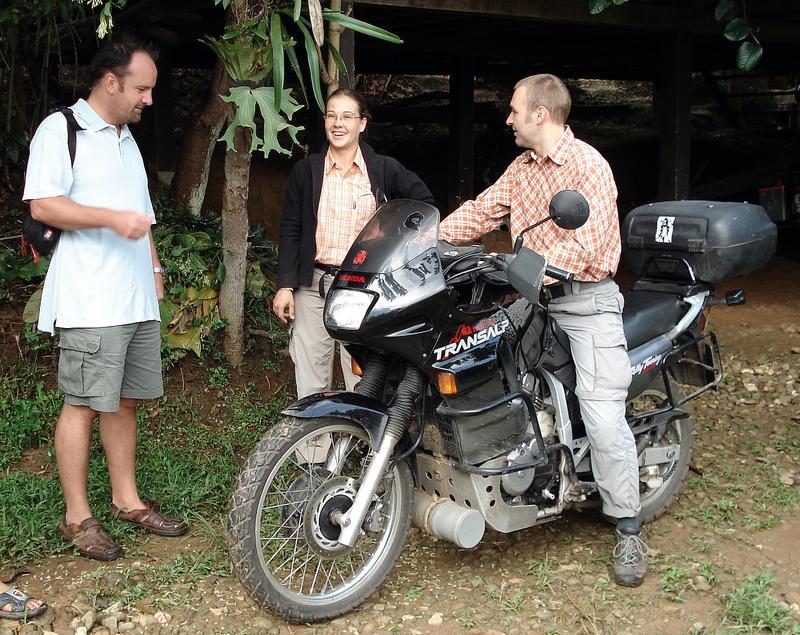 The following day we were joined by a Dutch couple. William had told us that this year had been very quiet. What with bird flu, the Tsunami and now the military coup Thai tourism had taken a hit (there were still hordes of them on the islands down south however). Both couples went on one of Williams treks which were very popular, but we decided on a more leisurely tour of the area in our Suzuki Jeep, including the national park. (Doi Phuka)
While we were there one of William's cousins got married. We didn't get to find out anything about the marriage, but we did find ourselves at the celebrations. These seemed to consist of extremely loud karaoke and everyone getting completely drunk. There were about half a dozen different kinds of home brew rice wine on offer and some interesting food. Most of it very tasty, but we decided against the raw pork (the red dish below).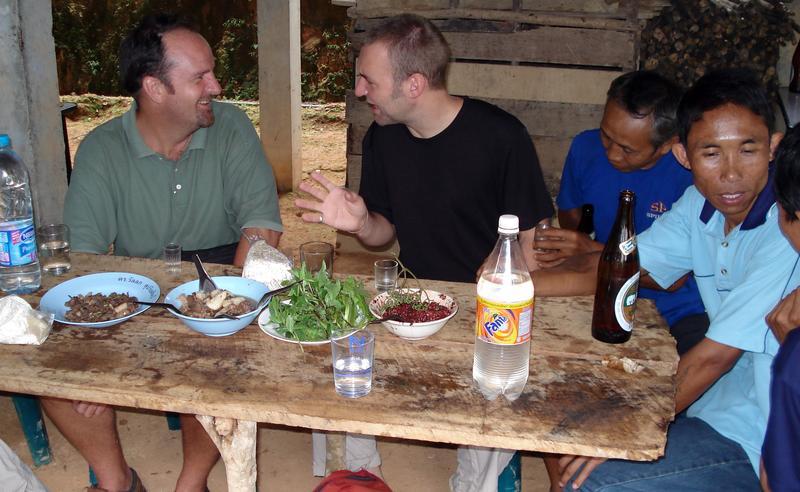 I must say that the landscape was stunning but some of the things we were looking forward to were a bit of a letdown. There are supposed to be quite a few ethnic minority villages in the region. Unfortunately as far as us gawking tourists were concerned it was a bit disappointing that they no longer seem to wear their traditional dress – in marked contrast to those we had seen in Vietnam.
One Mien village (Ban Pa Klang) is very famous for making traditional silver wear. It's fantastic that the village is prospering from its industry, but now it's just a collection of modern tourist shops. Bo Kleua is supposed to be a Htin village famous for the extraction of salt from local wells. We saw the remains of old disused wells which could have been used for the task in an otherwise unremarkable village. We didn't have time to get to other attractions of the province – such as the Earth pillars of Sao Din or the waterfalls at Silaphet which are supposed to be quite impressive.
We'd had a great time, done what we wanted to do – i.e. not much and achieved that admirably. Our time was short and we were soon descending the mountains and catching the overnight train back to Bangkok.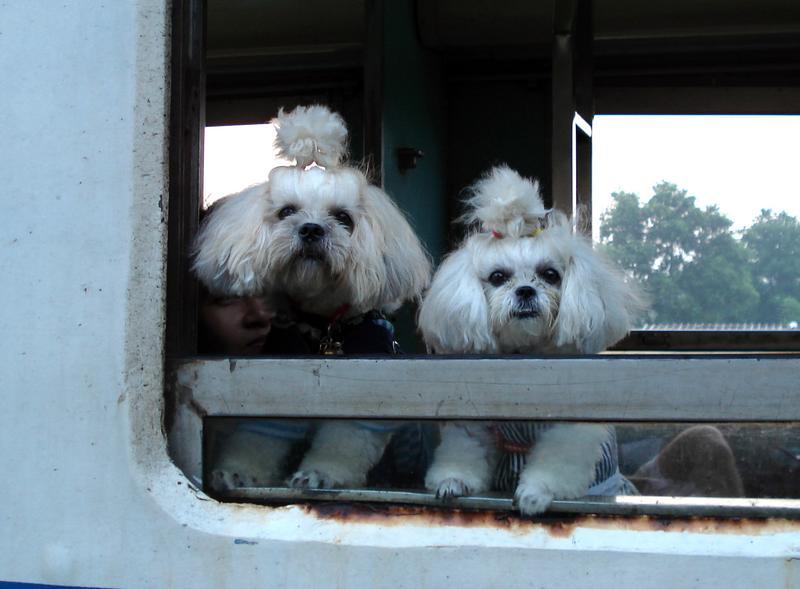 Practicalities
Train: there are 4 or 5 trains from Bangkok to Den Chai, we took the night train both ways, on the way up leaving at 10pm and arriving at 8am and for the return leaving at 8pm and arriving at 6am. Price for a/c 2class sleeper aboput 700Bht (10pounds)
From Den Chai to Phrae there are many Songthaews waiting at the station 30Bht for 20minute trip
Hotel in Phrae was Maeyom Palace: Very comfortable, nice pool, satellite TV 900Bht double room with breakfast
Many local buses from Phrae to Nan 2-2.5 hrs (in fact regular buses to all towns in northern Thailand – the buses throughout Thailand are very good)
In Nan we stayed at the Dheveraj Hotel. another comfortable place 600Bht for a double room per night. They also have a charmless restaurant but with good and cheap food.
Roads in Nan province are all in excellent condition and traffic is light. On the road to Pua there are a couple of resorts (Nan valley resort is one) which seems OK, great if you want to stay in the countryside. Pua itself has a couple of decent hotels.