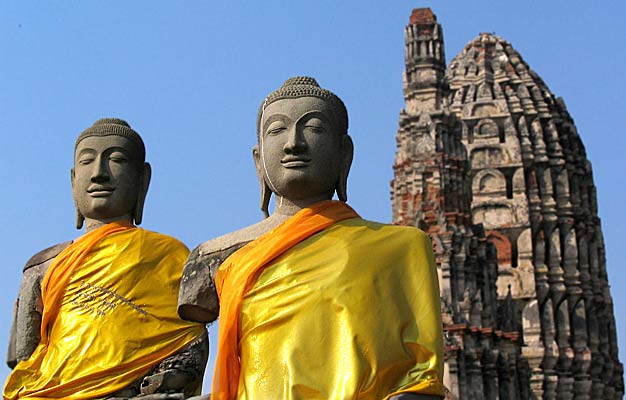 Weekend in Ayuthaya
Weekend in Ayuthaya
Ayuthaya was the Siamese royal capital from 1350 to 1767, when it was destryoed by the Bumese. In its prime it was home to over a million people and international commerce flourished. In fact most of the evidence of its splendour come from accounts of European travellers who described it as the most splendid city on Earth. Those days are now well gone and Ayuthaya, the ruined city, is a pleasant excursion from the traffic clogged streets of Bangkok which is only 86kms away. As it is so close, a couple of hours by bus, many people visit on a day trip, but it is well worth exploring the ruins at a more leisurely pace, taking in the atmosphere. Although a number of the ruins stand among the more modern buildings of the new town, it is still quite peaceful and the crumbling buildings given ample breathing space, many of them with the pleasant backdrop of the river which encircles the old city.
If you are interested in any particular wat, click on the links here: Wat Ratburana, Wat Phra Mahathat, Wat Phra Si Sanphet, Wat Mongkhon Bophit, Wat Lokaya Suthaa, Wat Chai Wattanaram, St. Joseph's Cathedral, accomodation
Wat Rat burana (Ratchaburana) is in the centre of the old city. In the centre of the central prang is a crypt where grave robbers made off with a huge cache of gold artifacts in 1957. Today you can still decend into the crypt via a narrow staircase. All that is left are a few faded 15th century Ayuthayan frescos, rare in their own right.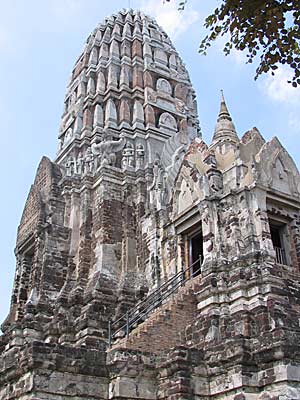 If you look carefully at the central prang, above, you will see the statue of Garuda – detailed below.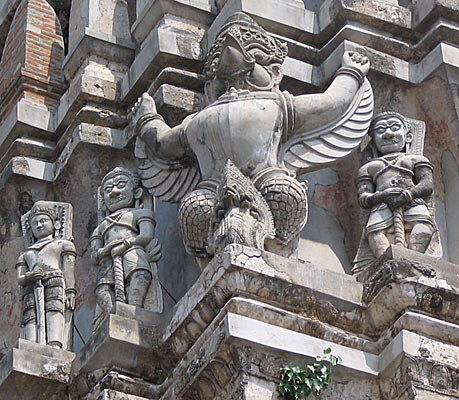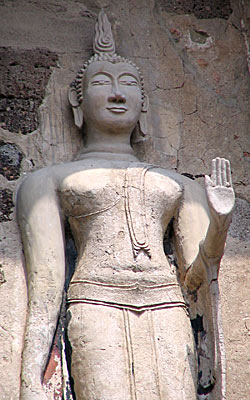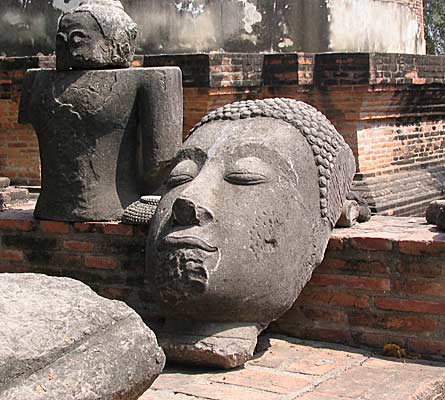 Across the road from Rat Burana is Wat Phra Mahathat, built by King Ramewan in the 14th Century, but now more famous for the Buddha head embedded in twisted tree roots.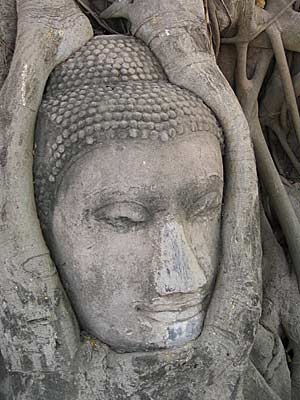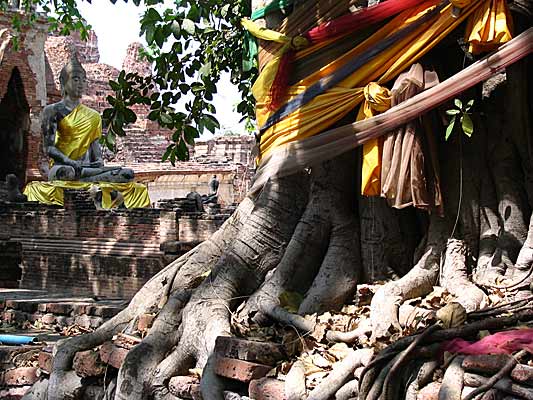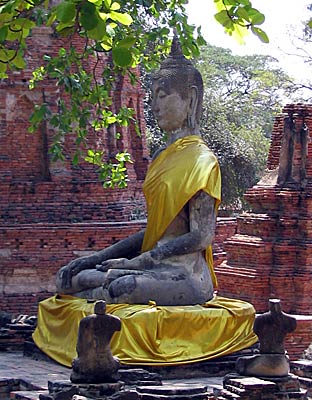 Many buddha's heads were apparently destroyed in the Burmese invasions of the 18th century, but no doubt quite a few have also been taken and sold as antiques.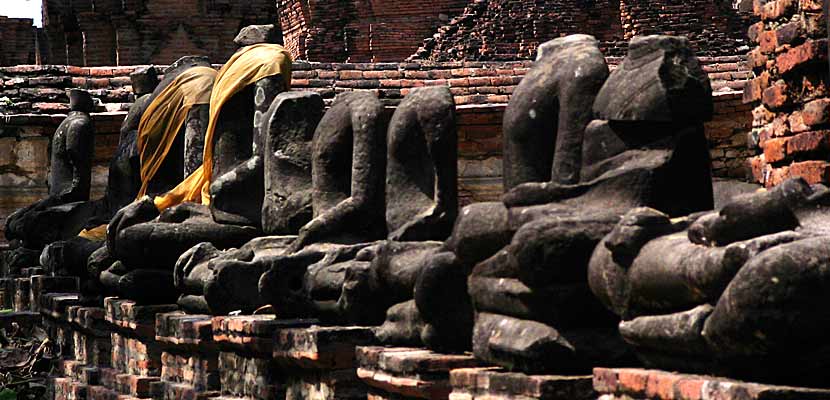 The image of the three stupas of Wat Phra Si Sanphet is synonomous with that of Ayuthaya in general. It is one of the largest and most impressive monuments.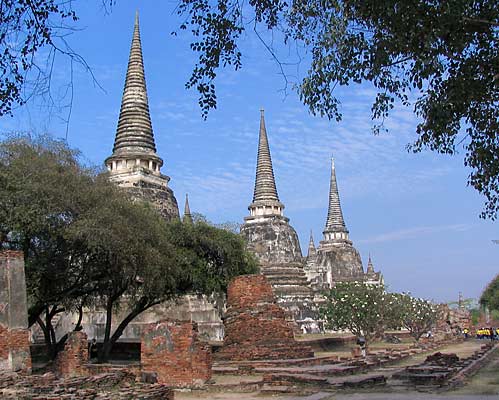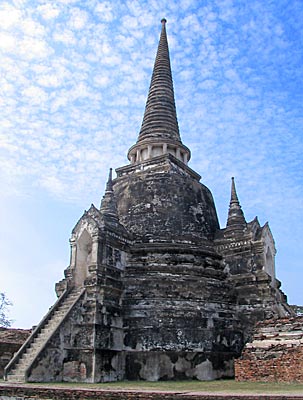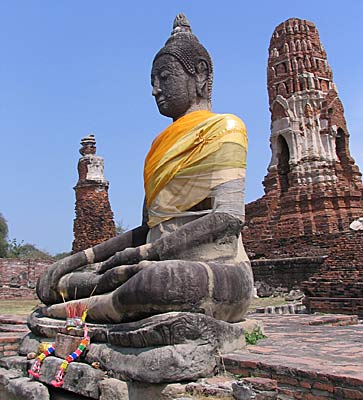 Wat Mongkhon Bophit is a modern monastery next to Wat Phra Si Sanphet and contains one of Thailand's largest Buddha images, a 15th century bronze casting. The image is squeezed into a modern building.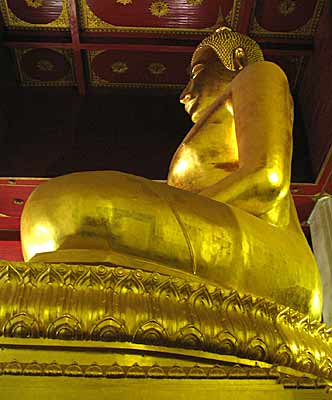 Outside the monastery is a pool containing a few guardian turtles. These were probably released by Thais as a form of merit-making.
Wat Lokaya Sutharam is the site of a 42m long reclining Buddha. It was once enclosed in a Wihan which was destroyed by the Burmese
Wat Chai Wattanaram has got to be my favourite of the Ayuthaya sites. Although a little distance from the other sites, it is impressivley situated by the river, well laid out and has been thoughtfully restored.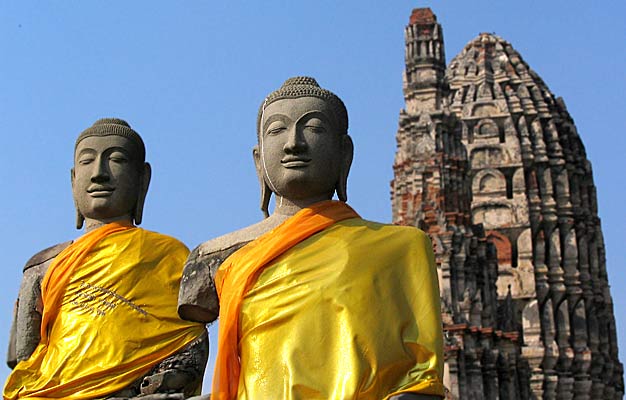 There's a great 360 degree view of this wat on the World Heritage Tour site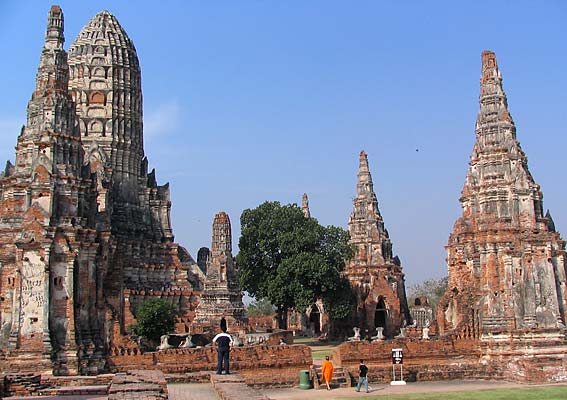 St. Joseph's Cathedral was built by the Portuguese in the 17th century at the peak of Ayuthaya's power until it was destroyed by the Burmese. The present church was built in the 19th century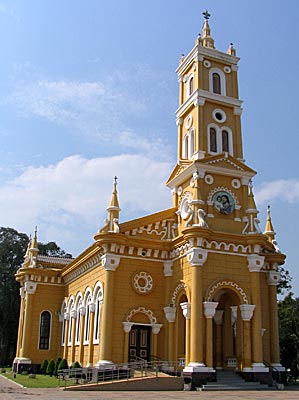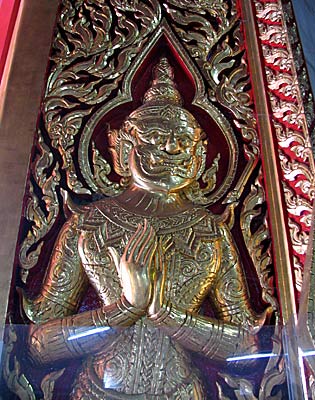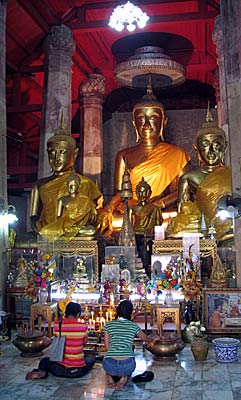 unique public transport in Ayuthaya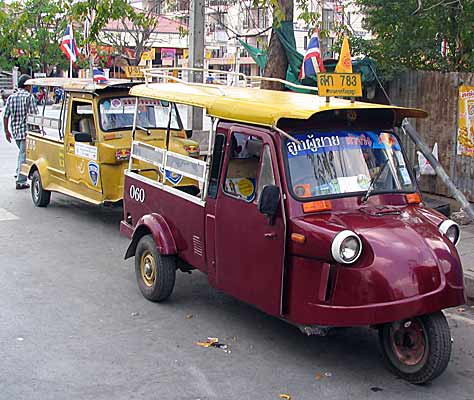 mobile food vendor – definitely NOT unique in Thailand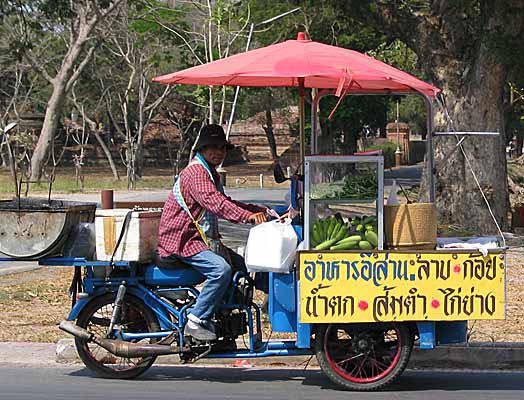 Although many people visit Ayuthaya on a day trip from Bangkok, it really is well worth staying for a couple of days and exploring the ruins at your own pace. There is a pleasant backpacker ghetto in Soi 1, thanon Naresuan with the usual cafes, restaurants, tour operators and bike and motorbike rentals (at 2 pounds a day an absolute bargain!), although all very low key. However we stayed around the corner at Baan Lotus Guest House. (pictured below). Run by a charming old batty landlady who learned her English at university in Israel of all places, it offers a cool and quiet respite after a hot day around the ruins.
Baan Lotus Guest House (Tel: 03 525 1988) 300Bht/room

recommended Ayuthaya Links:
Thailand for visitors
DevaDeep