The Far North
The Far North
This was the fourth of my bike trips in Vietnam. I'd been down to the Central Highlands, up to the North West and the North East and now- the Far North. Although I was getting used to the protocol, it never got any easier. The first problem was getting train tickets and getting the bikes on the train to Lao Cai. It was always a real hassle and this was no different, perhaps more so as I saw the blokes loading my bike on the train and braking the starter pedal. Also we (me and Jackie) could only get hard seat tickets for the overnight journey. A few welcome beers as the train lurched out of the station were very welcome…
We arrived in the morning in one piece and I actually fixed my starter pedal myself. When you put the bikes on the train they have to be emptied of petrol so we found some fuel for the bikes and for us before we biked out of Lao Cai and started our journey proper. It was a bit surreal to cross over the bridge in town to see the Chinese town just a few metres away. We followed the border, in a North Easterly direction. At first very close to the border and then a bit further away to our first destination, the village of Mường Khương. My diary doesn't mention much about the journey but I guess it was OK and presumably with some fine mountain scenery.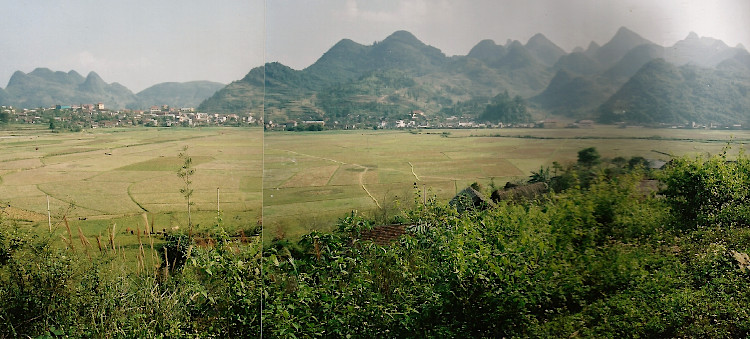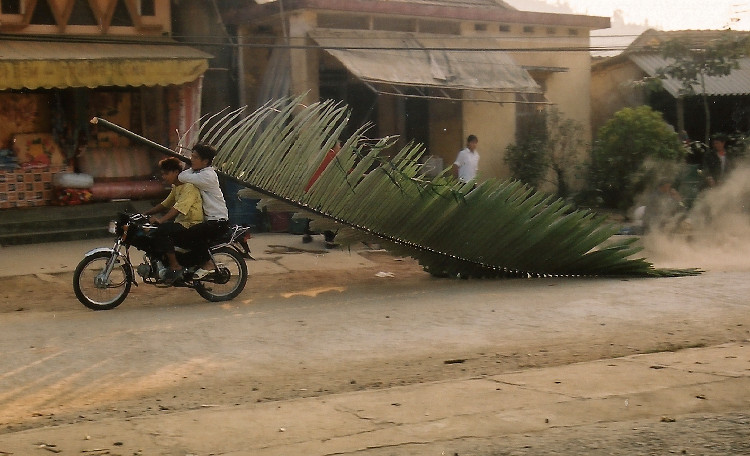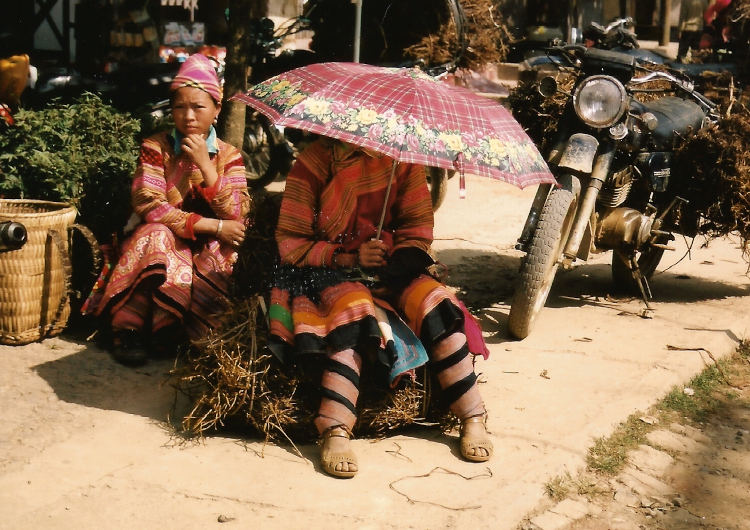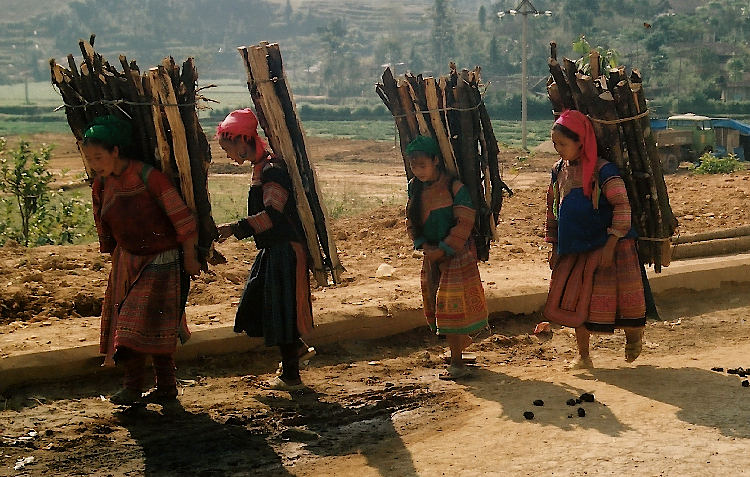 We found the one hotel in town and got settled in. After lunch we headed out for some exploring and took the road to the Chinese border. We knew it was the border simply because there was a single soldier and a bamboo barrier. He told us this was as far as we could go. We could see a Chinese concrete building in the distance and a few soldiers. It was amazing to think that a few years ago there had a been a mini-war and Chinese soldiers had invaded not too far distant from here. On the way back we stopped at a Dao Tuyen village. The people looked rather bemused to see us but the kids, as always, made quite a fuss and were laughing and running around.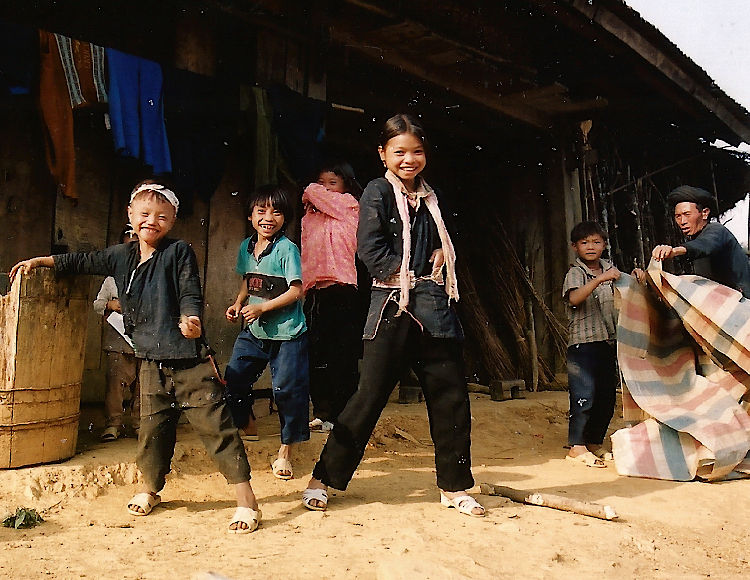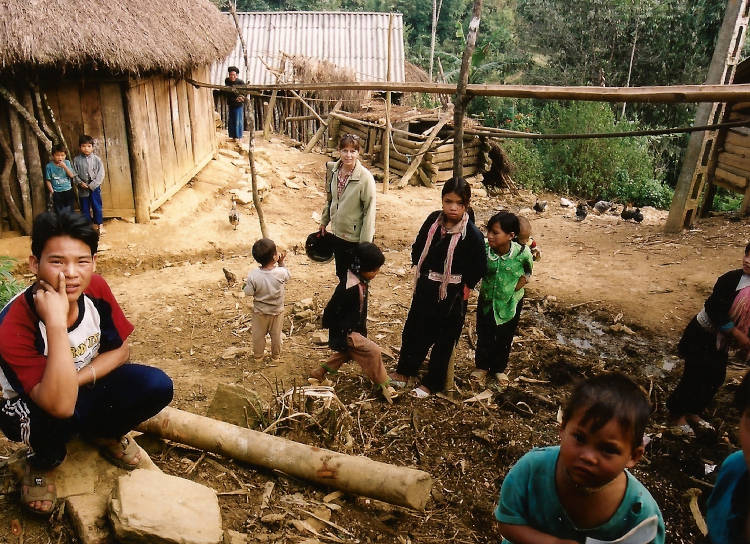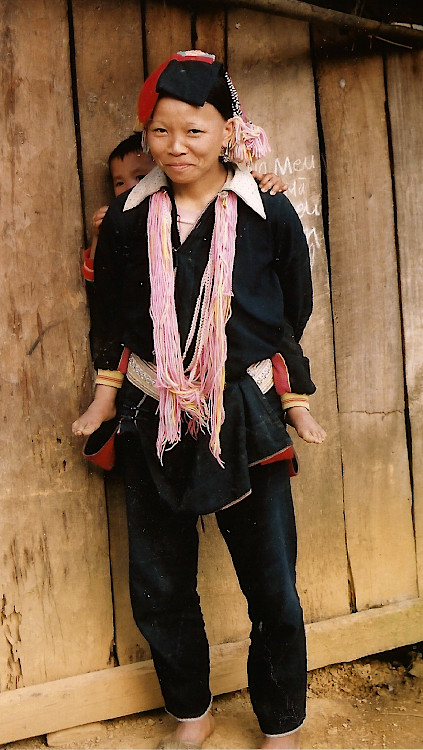 The following morning we were woken to the sound of the Voice of Vietnam which was broadcast from a number of speakers about the town. The main reason we were here was for the Sunday market, much less touristy than the more famous Bac Ha market which we were to visit later. There was also the opportunity to spot a few different minorities, including the Pa Di and the Bo Yi as well as the ubiquitous Flower H'mong.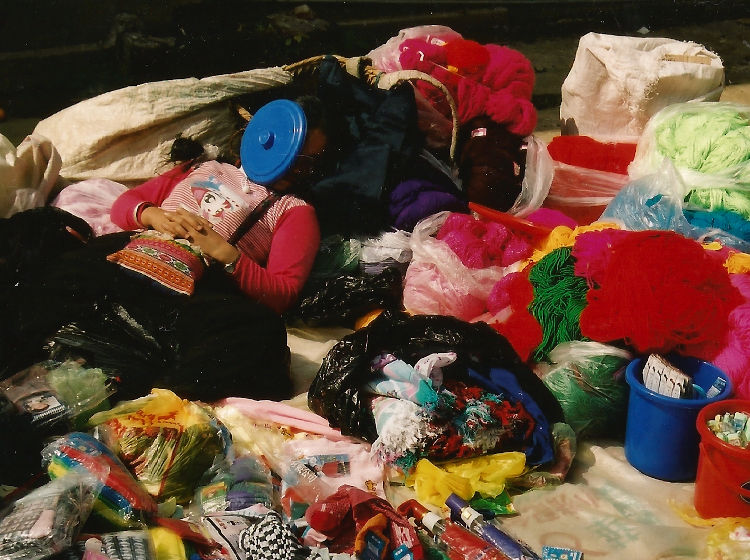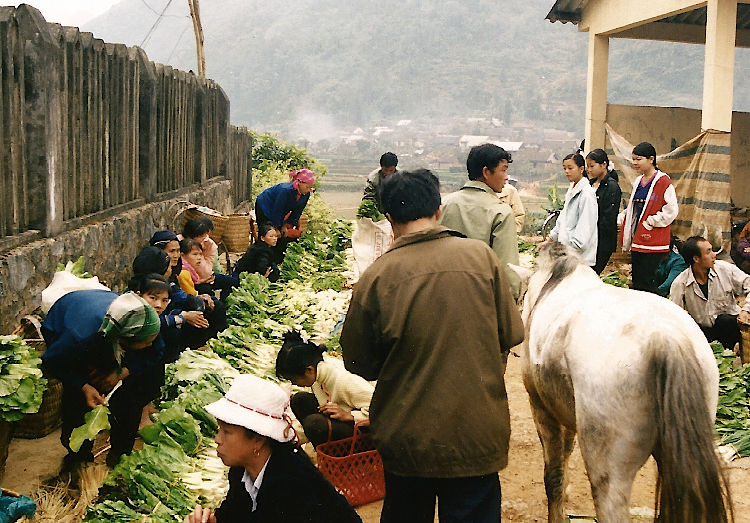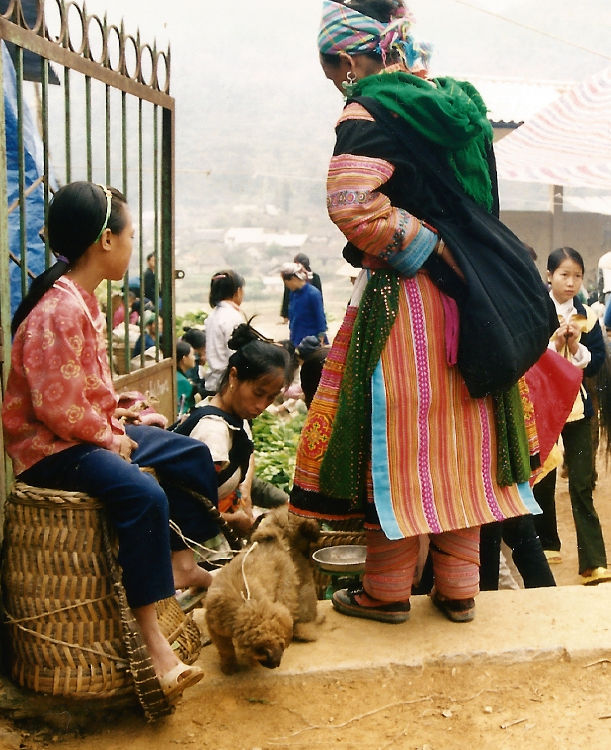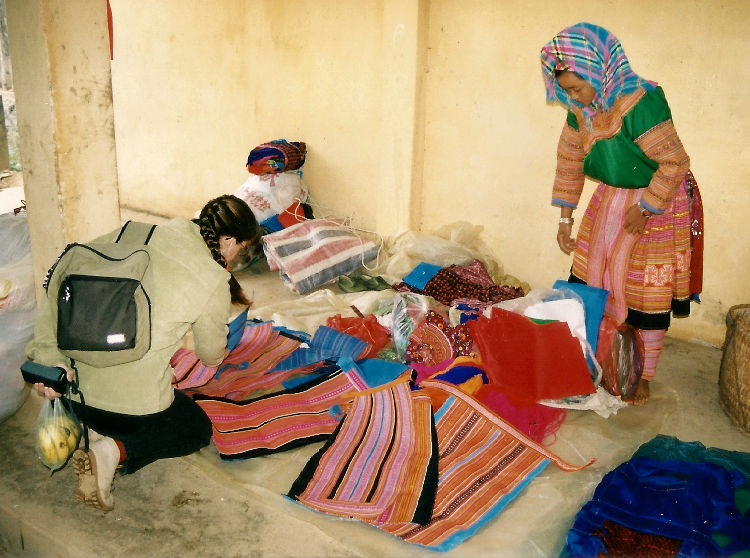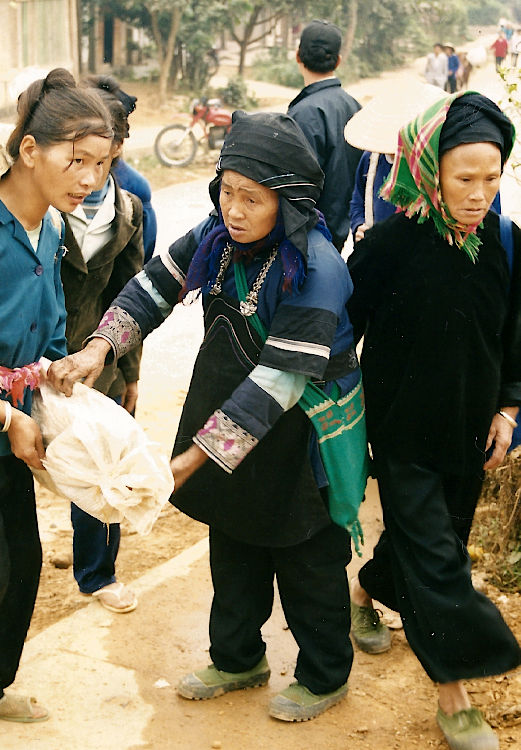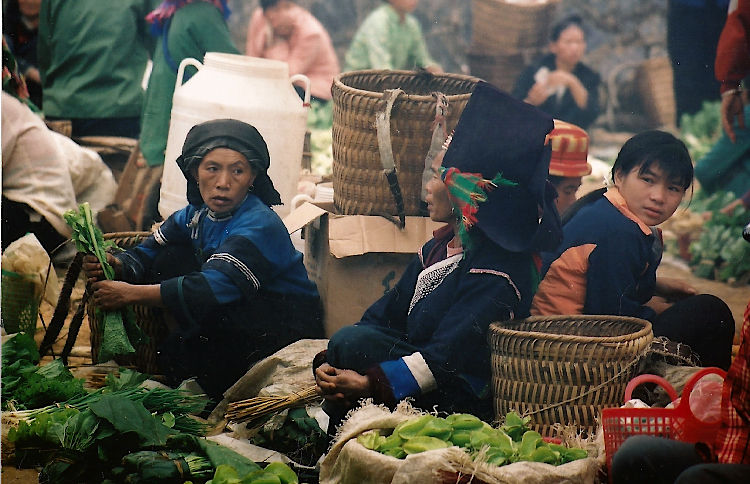 The Pa Di are a sub-ethnicity of the Tay who live exclusively in Muong Kuong district. There are approximately 3,000 of them. There are less than 1,500 members of the Bo Y ethnicity in Vietnam. They are members of the Tay-Thai language group whose ancestors left Guizhou in China some 250 years ago. The sub branch of the Bo Y who live in Muong Khuong are known as the Tu Di. They are ancestor worshippers.
As we also wanted to get to the Sunday market at Bac Ha so we left around 8.30 just as the market was getting going. We followed the Song Chai river back to the main road and then up the next river valley to Bac Ha. I knew this road from a previous trip. It went up, up, up and we had to stop a number of times to let our small 2 stroke engines cool down. Although touristy, Bac Ha is a riot of colour, the mass of Flower H'mong women overwhelming the rather drab looking tourists.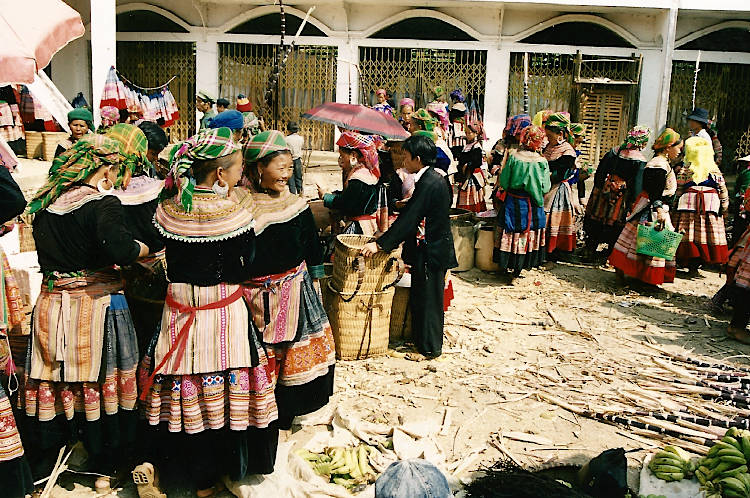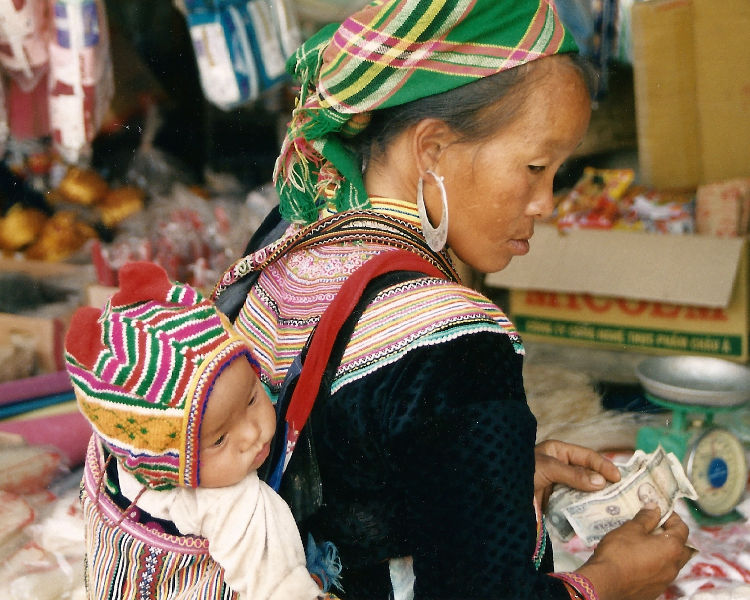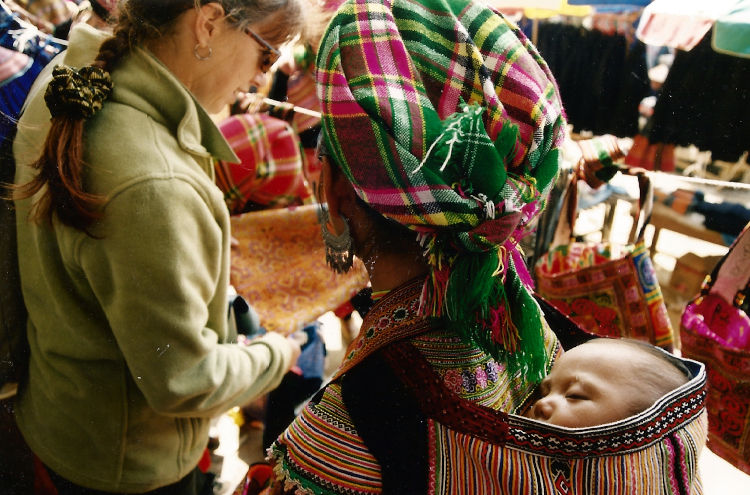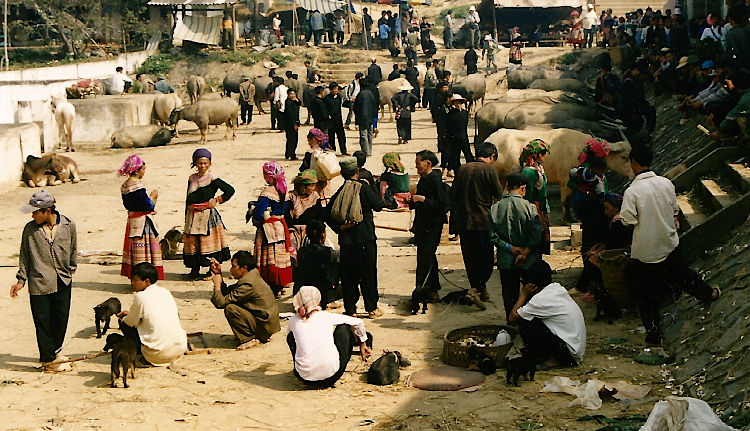 Because we had decided time was short, we didn't stay very long at Bac Ha and pressed on. In retrospect this was a bit of a mistake as the road was rougher and more difficult to follow than I thought. However, it was beautiful. Although we had climbed a fair amount to get to Bac Ha we continued climbing and carried on North. The road disappeared and became a track but there was a constant stream of minority people on the way to or from the market to give us directions- although to be fair there was only one track. We had to stop in a fork in the track for quite some time as we weren't sure which direction to take. I think Jackie was thankful for the rest as she was already exhausted and we didn't know how far our destination for the night was (Xin Man). However, as the road got rougher and rougher, the scenery got better and better.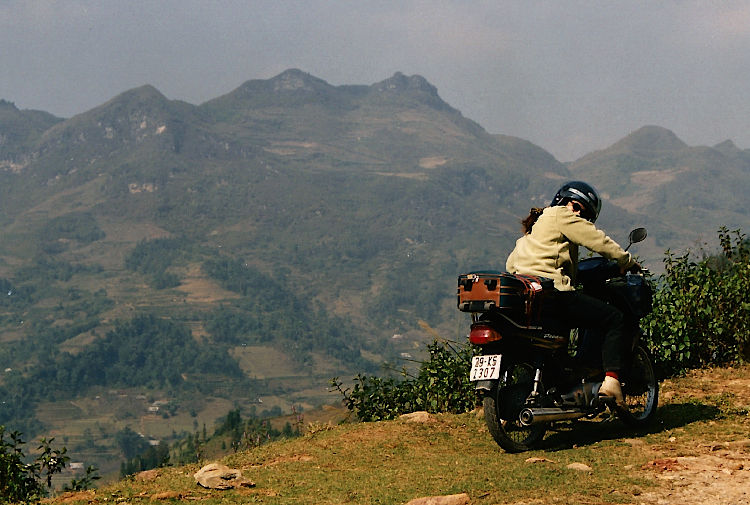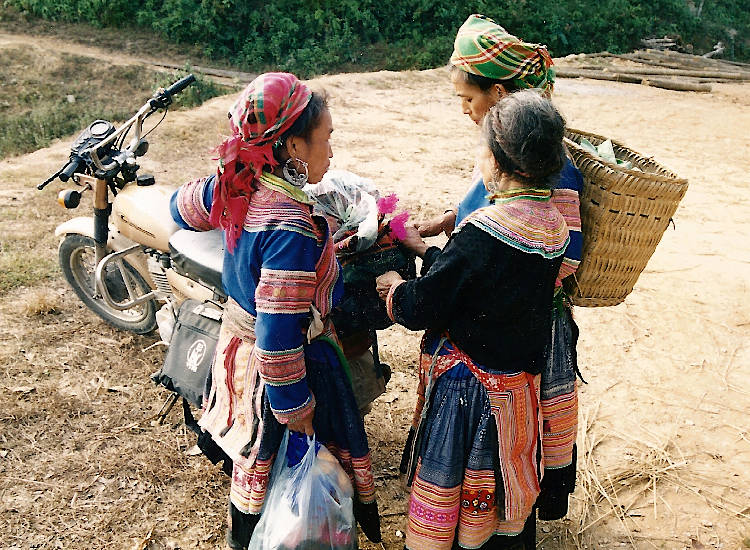 I'm not sure what these ladies were doing rummaging in my things!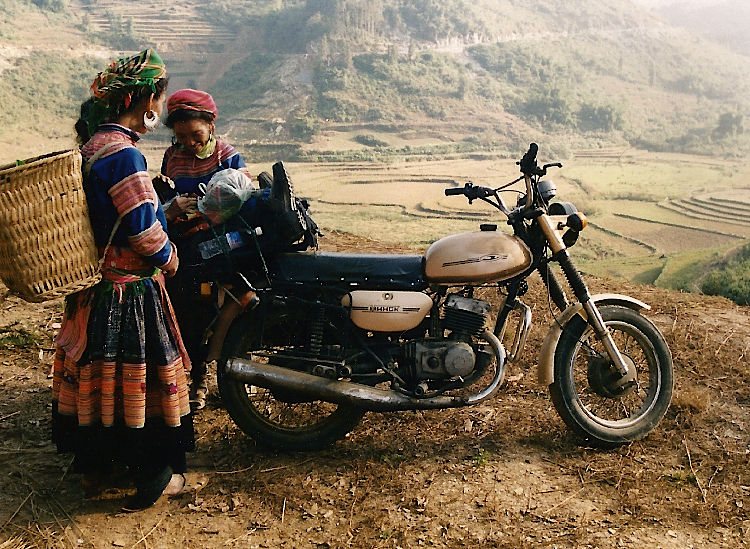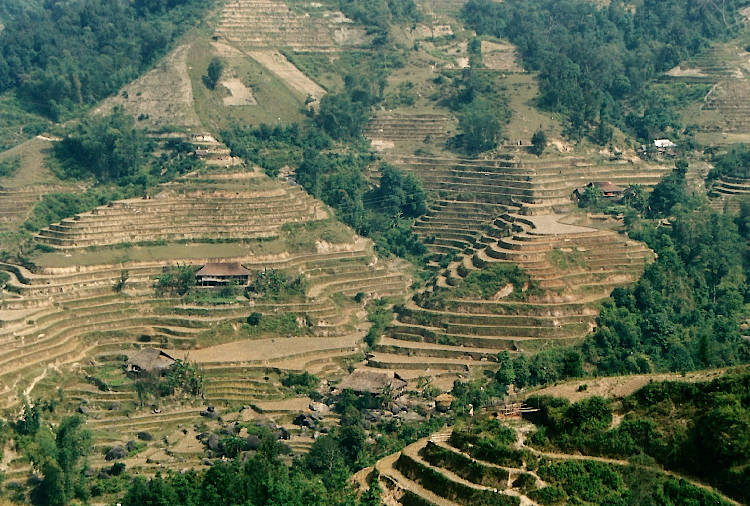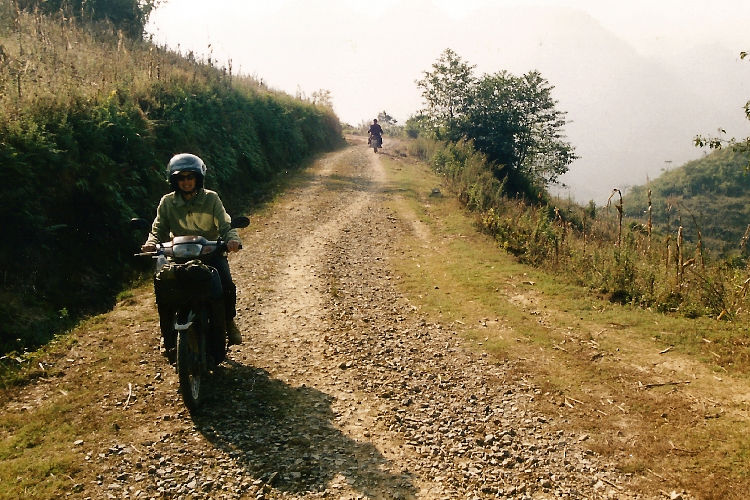 Eventually we started a rapid descent and soon enough we arrived in Xin Man and its hotel which was a very welcome sight and the cold beer on the balcony tasted like nectar. I found the Gia Long Hotel on the internet. We paid 130,000 in 2002 and rooms are going now (2021) at 200,000VND. I'm not sure what that is in dollars then or now! Anyway, here is how it looks now: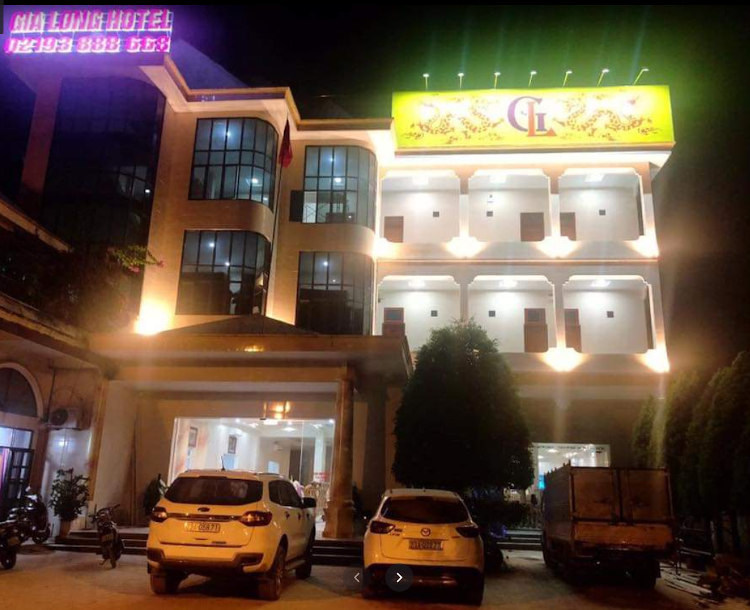 There certainly weren't any cars when we were there. I noted that the hotel was pretty good but the photo below belies the fact that Xin Man town wasn't the prettiest of places.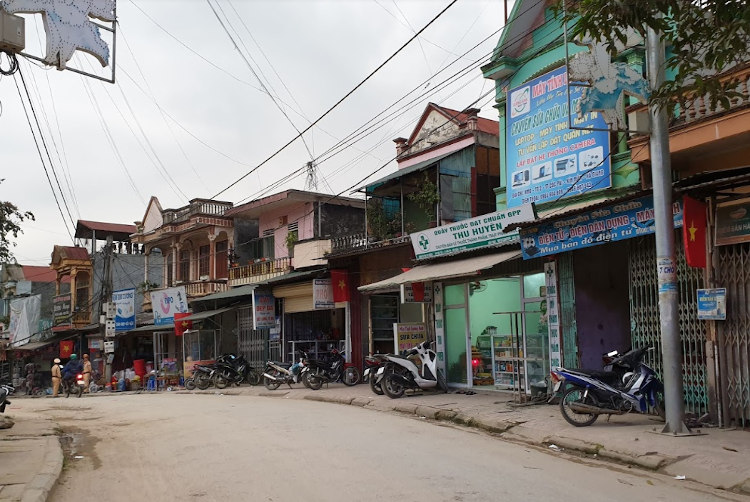 The following day we were off again. We headed across the bridge below town and then followed the river upstream.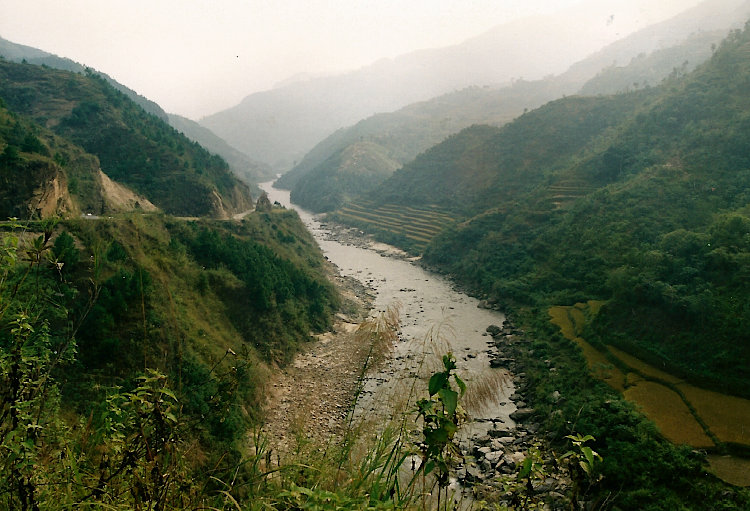 The road was fine but very sandy in places which would have been a nightmare in the rain. We arrived in Huang Si Phu at 9.45. It didn't seem like a bad place. I noted lots of new Government buildings going up and plenty of ethnic minority women about, mainly Nung. The Nung belong to the Austro-Asian language family and specifically Tay -Thai. With a total population of 700,000 they are the seventh largest minority group in Vietnam. I also saw plenty of Nung people on my trip to Lang Son. We had the usual Pho breakfast and headed off.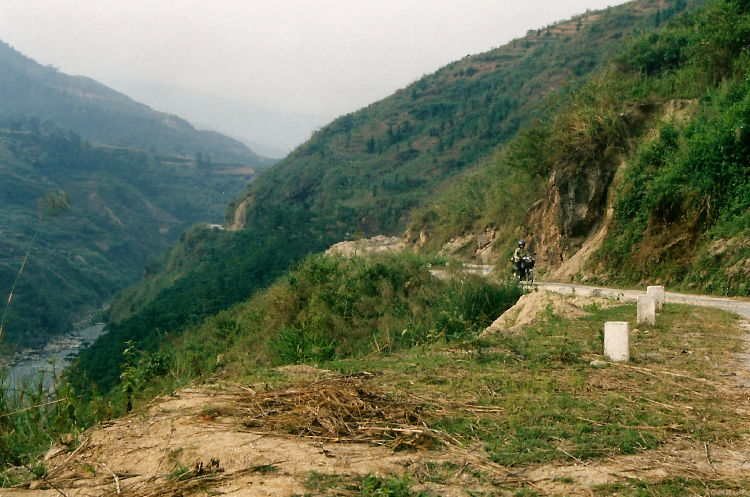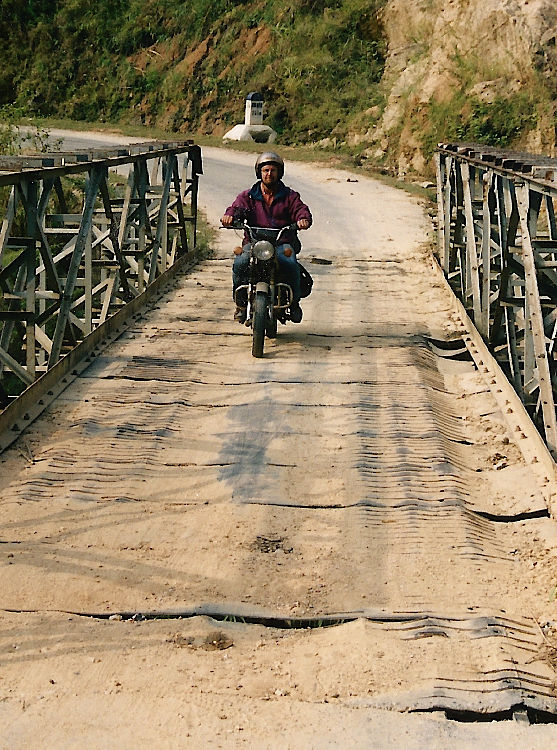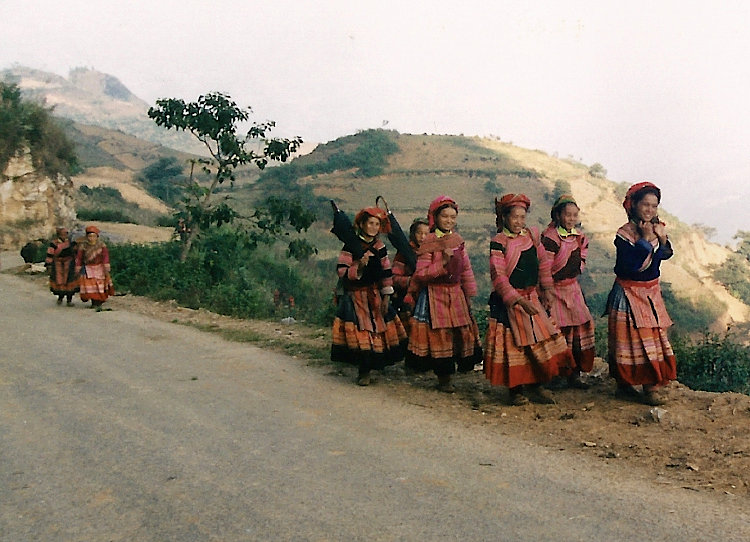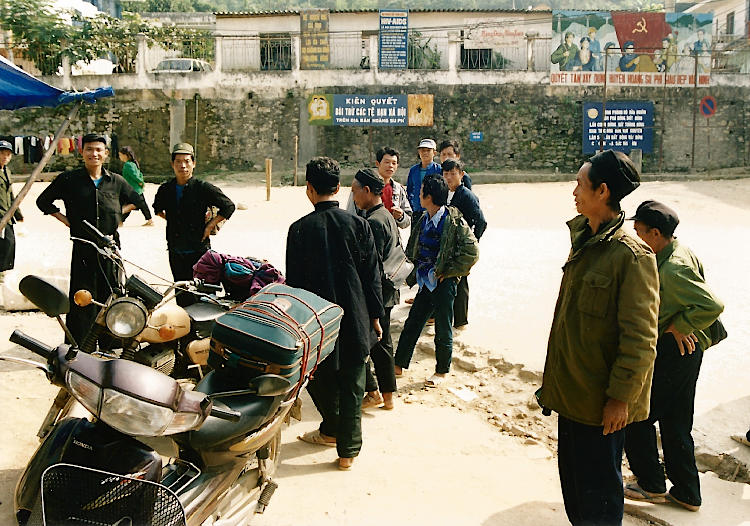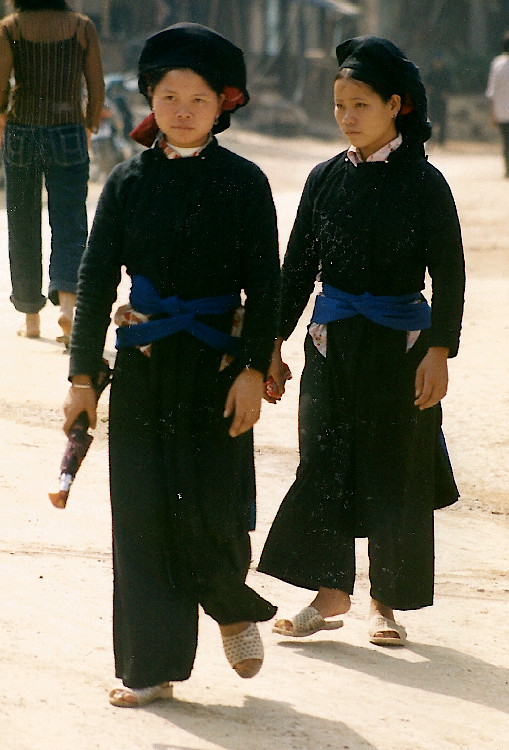 After Huang Si Phu the mountain scenery was magnificent. We crossed two more mountain passes and then came down off the Chay river massif.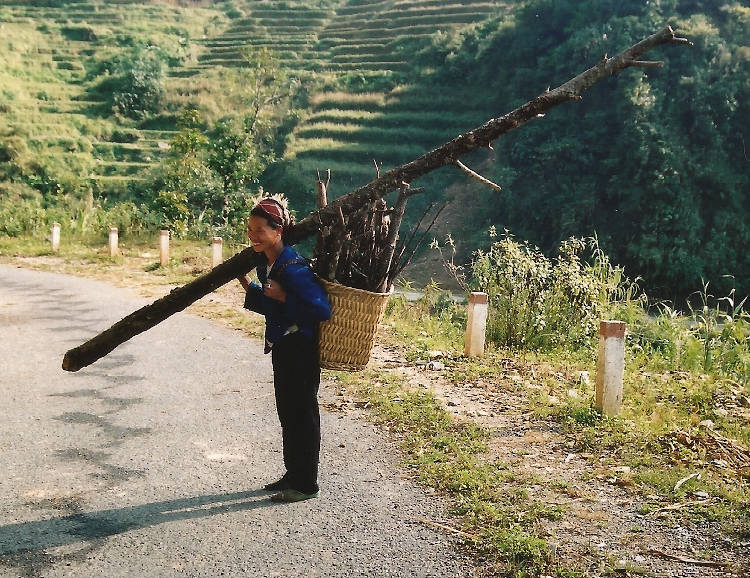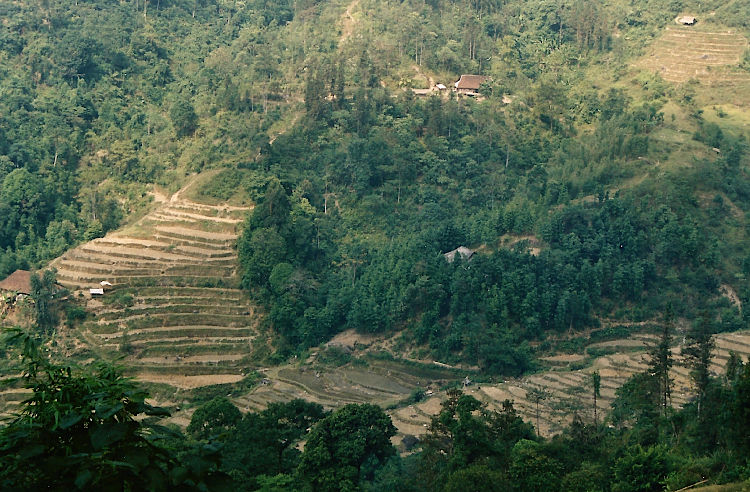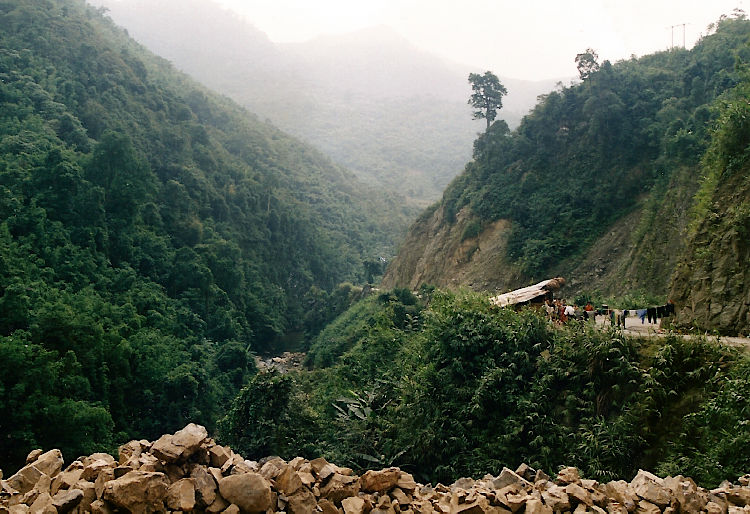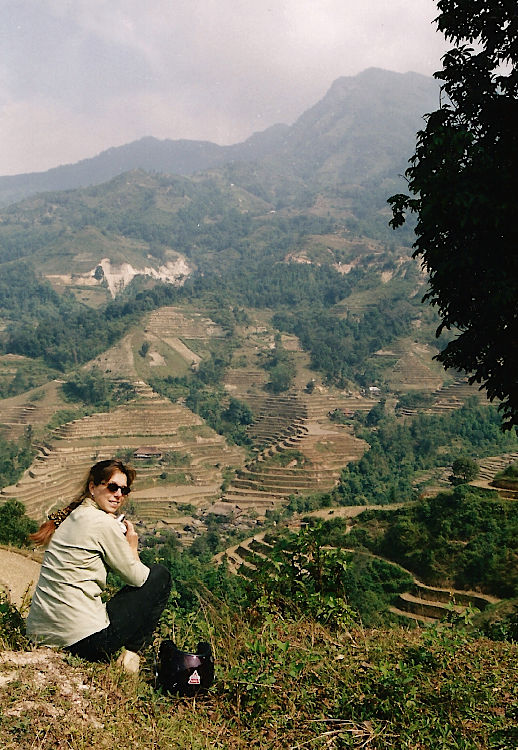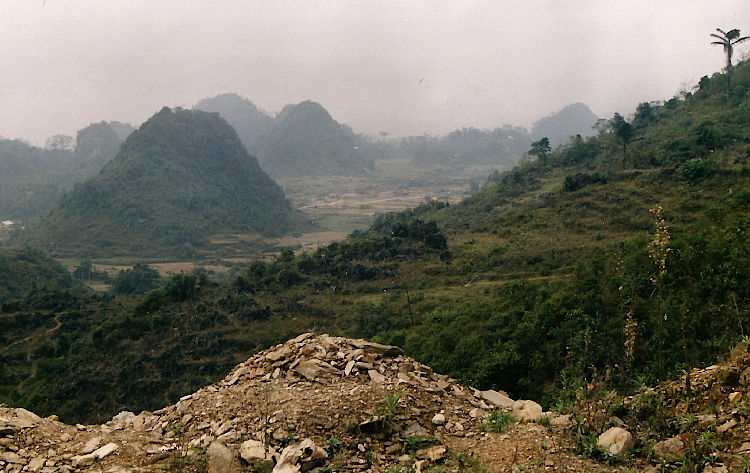 Once we reached the junction of the main road to Ha Giang we saw more Red Dao people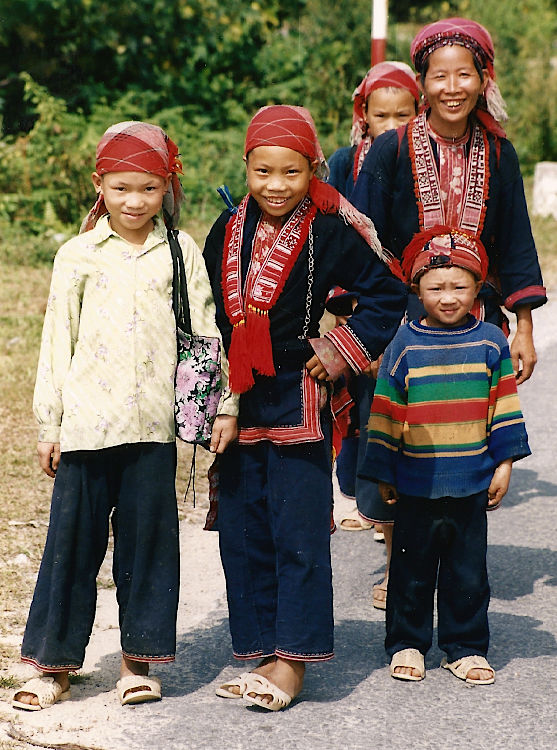 It was then quite fast going into Ha Giang. It felt very strange having been a couple of days in the wilderness being on a main road and seeing buses, trucks and cars again but it was 45kms and 1.5 hrs from the junction into town. No pictures of Ha Giang but we had rather an adventure! We found the hotel OK, the Huang Phuong Hotel (I couldn't find whether it was still open today) and the lady there spoke a little English. We knew, in order to ride on further north, we needed a Police permit.
The lady directed us to the Police station but it was the wrong one. A man there then directed us to the main Police station where someone examined our passports and then directed us to the Tourist office. I'm not sure how we found it as there were no signs and there was a family living there. The guard managed to tell us that they would phone us in the morning. As I believe we were the only foreigners in Ha Giang at the time, they already seemed to know where we were staying. Remarkably in the morning our "guide" (who was really a secret Policeman and spoke no English) showed up, with suit and briefcase where he kept our passports. He was a bit surprised we didn't have a car as he had no transport. Rather bizarrely we stopped a Xe Om (motorcycle taxi) who didn't seemed fazed by a request to go with us for three nights into the hinterland. No he didn't need to tell his wife, or get a change of underwear. We agreed a price, $20 for three days, the Policeman/guide paying half somehow, and he hopped on the back and away we went.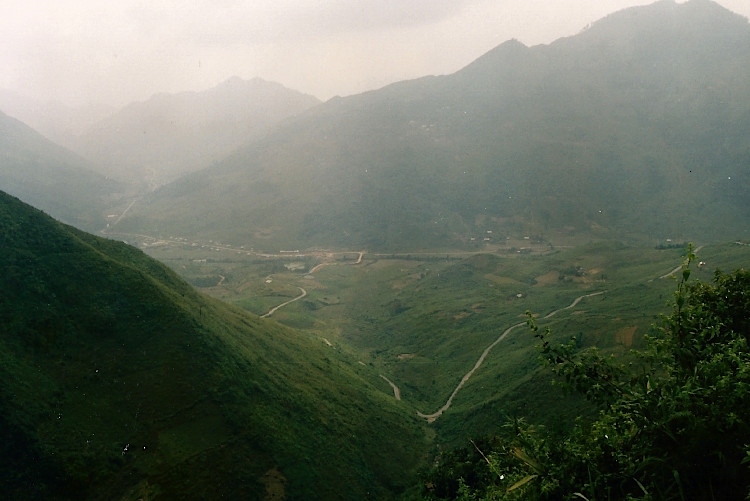 The road was rather rough straight out of Ha Giang and I thought it would be trouble, however, not long afterwards the road turned to tarmac and the scenery was amazing, jungly at first but then as we climbed the first pass (Pac Sum) it opened up. We passed quite a few white H'mong people walking along the road. As the road climbed and climbed the going got a bit tougher and eventually the Xe Om conked out. However I think it had just overheated. They managed to fix it between them and on we went. The landscape then became very rocky and it was cold and grey. There were maize fields by the side of the road which had already been harvested so just the stumps remained. Then up again and eventually we reached "Heaven's Gate", and down to the small town of Quan Ba.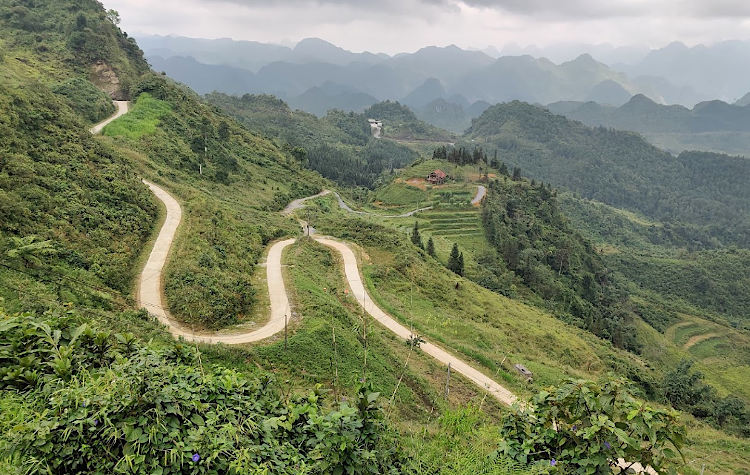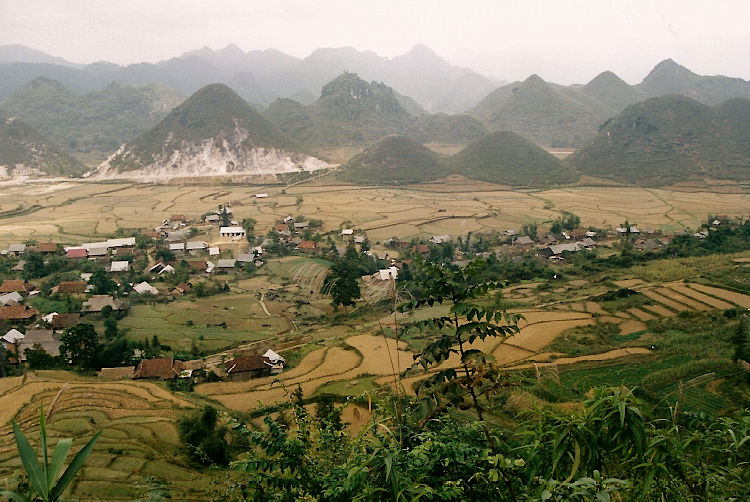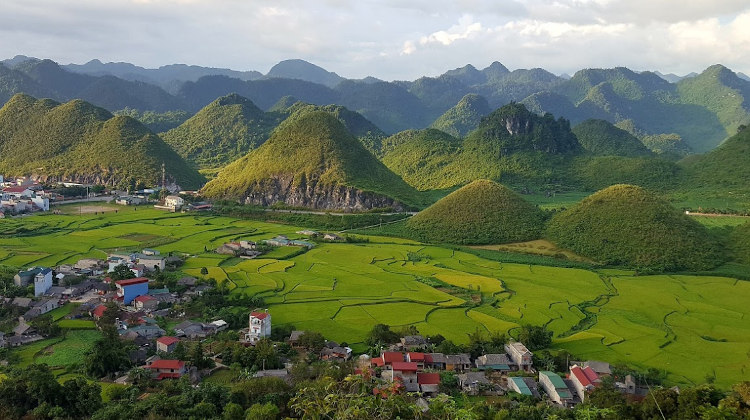 There is some respite here as we drive a long a valley floor with arable fields and then across a river (Sông Miện) which we followed up a rather narrow gorge where there were more White H'mong and a few Red Dao. Then it is up again to the pass at Kan Ty. Another climb into the clouds. We hugged the side of the mountain for miles, twisting and turning until we got to the other side of the ridge and entered a pine forest. Soon we crested the ridge and descended in to the valley of Yen Minh.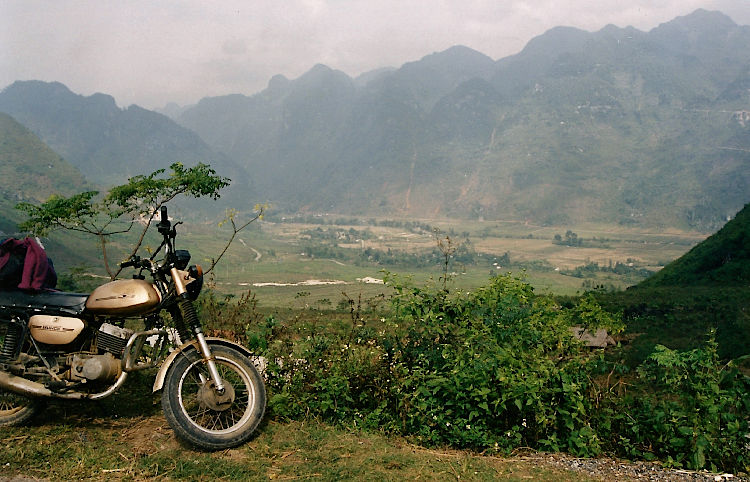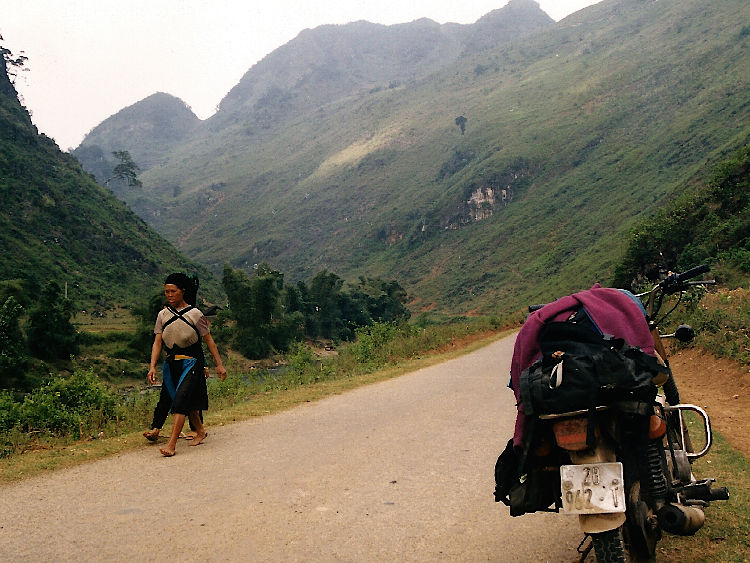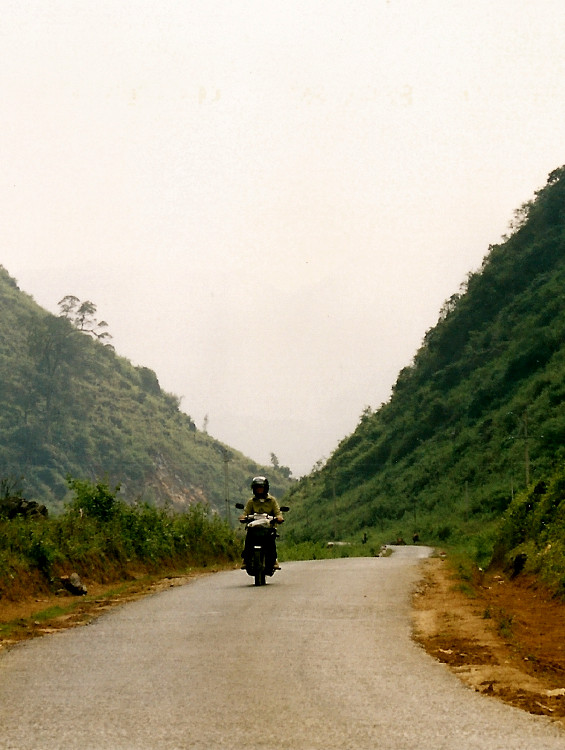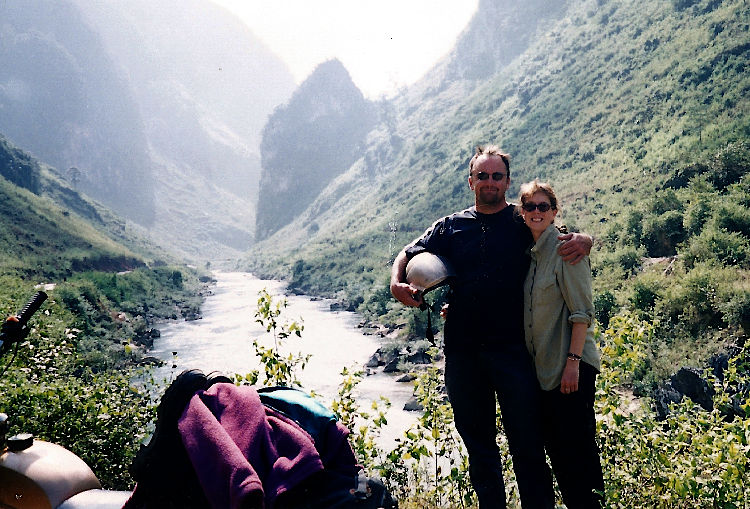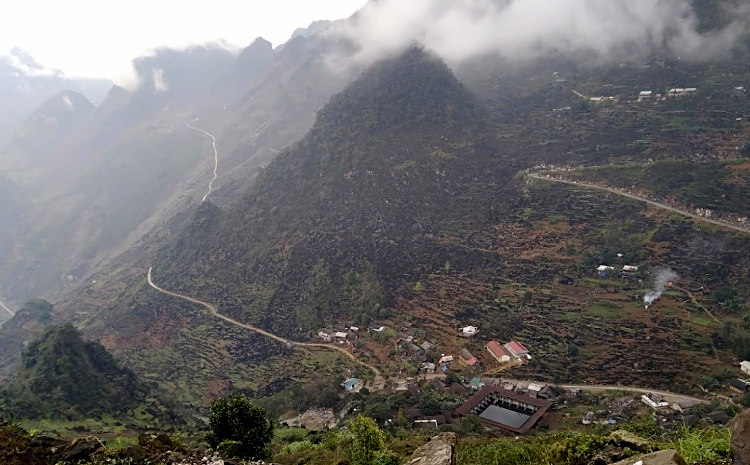 Yen Minh turned out to be one of the most attractive towns we visited. A mixture of old buildings made of wattle and daub and the new "wedding cake" type houses proliferating in Vietnam. We had to register with the Police first and then checked in at the hotel. There was a discussion about whether we should pay for a room for our escort given that he would be able to stay at the official Government rest house for free. I'm not sure what we agreed in the end. Despite being followed everywhere by a bunch of kids (no need for the Police to keep tabs on us!) we enjoyed a beer in the late afternoon sunshine. That night we had a great meal of kidney and beansprouts, fish with tomatoes and cabbage. We also saw two Russians who we presumed were engineers working on a local project. They were the only foreigners we had seen since Bac Ha. We fell asleep to the gentle sound of ethnic music on the town's loudspeakers.
Wed 13th November 2002
Woken with a start at 5.30am by the same loudspeakers but this time a rather harsh sounding bloke was reading the news. I managed to snooze again but was then woken up by our minder at 7.15 saying we should be off. After quite a few hard days in the saddle Jackie decided to stay in Yen Minh while I did a loop into the far northern corner of Vietnam. We had no idea about the state of the road but we planned on staying in either Meo Vac or Dang Van, the only two towns of any size, before returning to Yen Minh.
We hadn't gone very far before we came up on a market at Mau Due. I took some snaps of the unique Red Dao women who were there. The costume of the Red Dao of Northern Ha Giang and northwestern Cao Bang is quite simple with a plain black tunic and trousers, bordered with embroidery. However, in contrast to other Dao, they do not shave their hair; instead it is parted with silver clips underneath a square bonnet.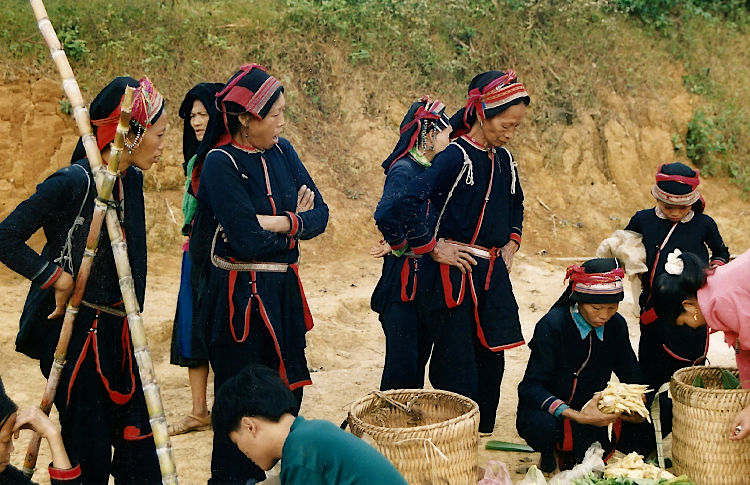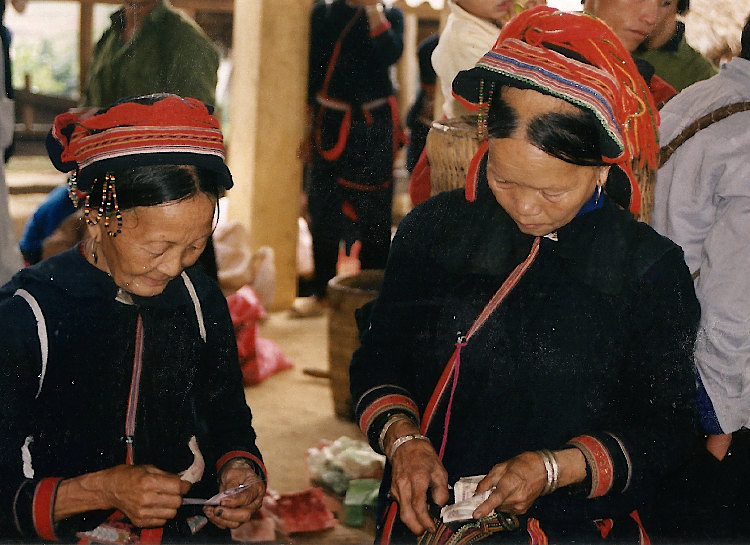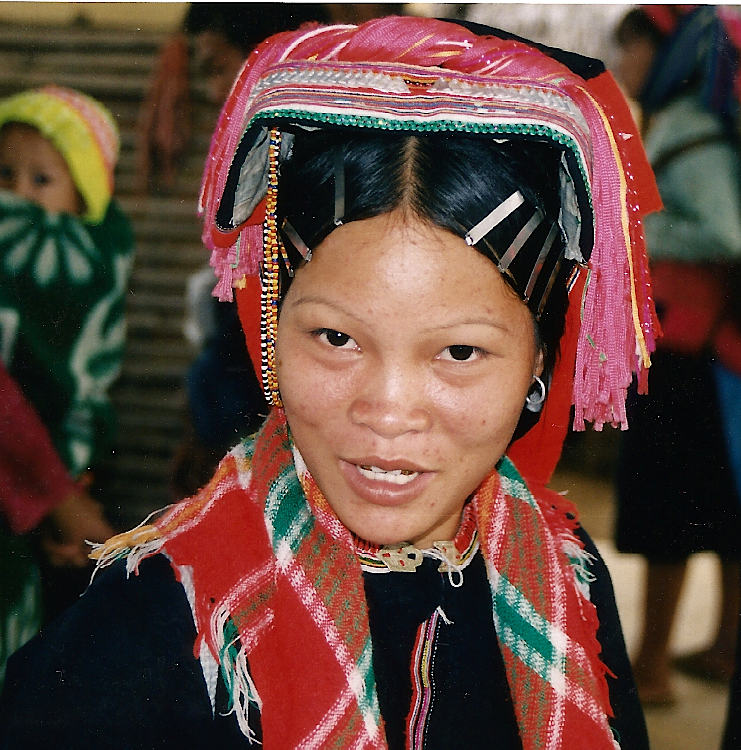 The road was surprisingly good, obviously unbeknownst to our minder a lot of it had recently been tarmacked. We also saw a number of White H'mong women and children in road gangs breaking rocks for the new road.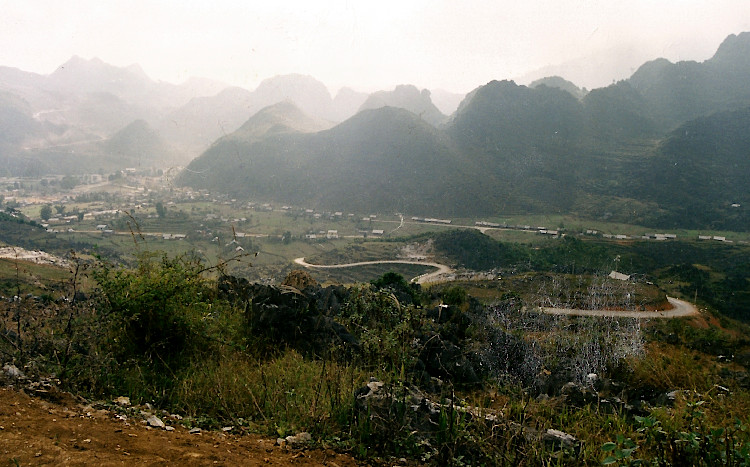 We reached Meo Vac in two hours and stopped for pho in the scruffy market – surrounded by big new government buildings and a golden statue of Uncle Ho. After Meo Vac the scenery was stunning. We were riding along the edge of a gorge with a tiny green river miles below us. This was the Ma Pi Leng pass and the Nho Que river. China was just a few miles away from here, hence the need for my minder to be with me at all times. Despite the road being in very good condition, there were plenty of White H'mong girls clearing rocks from the side of the road after a rockslide.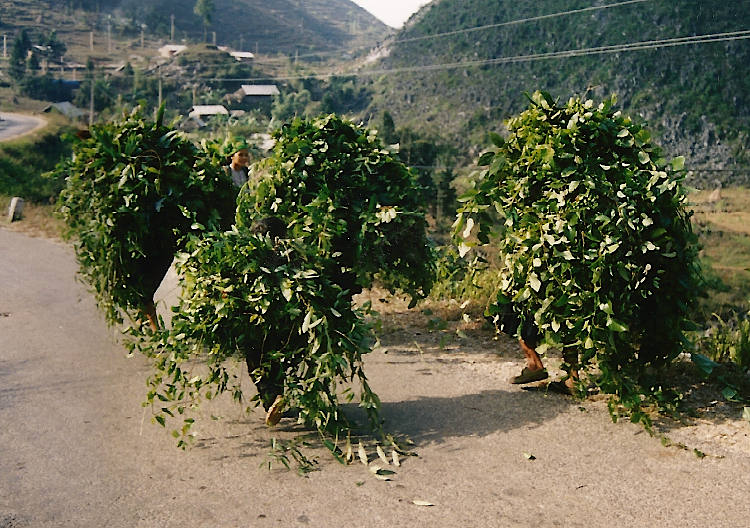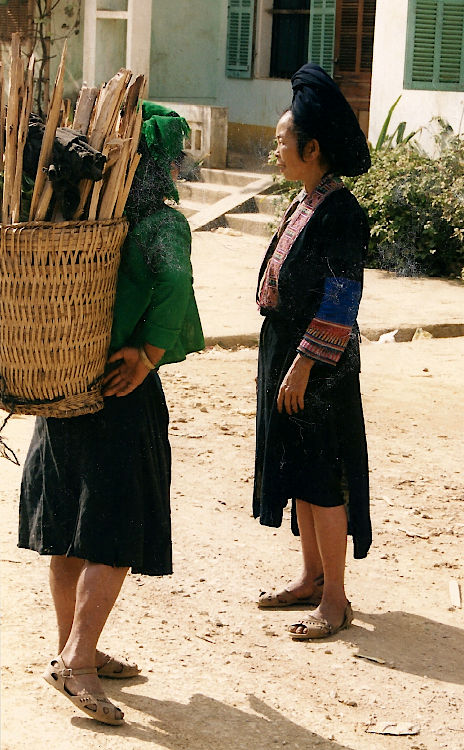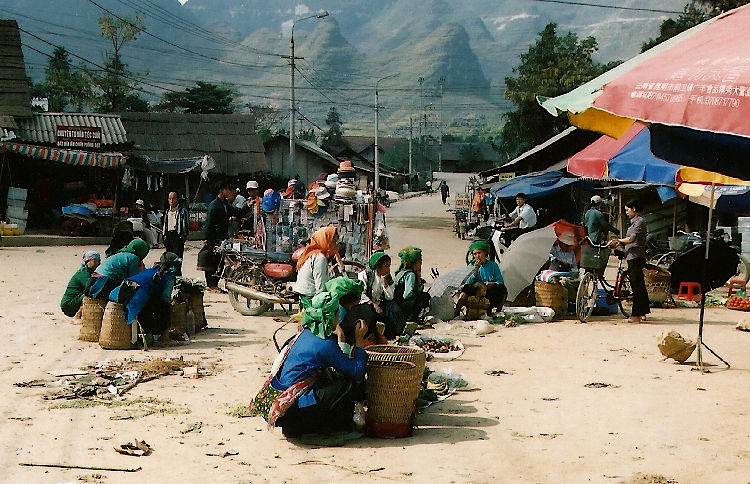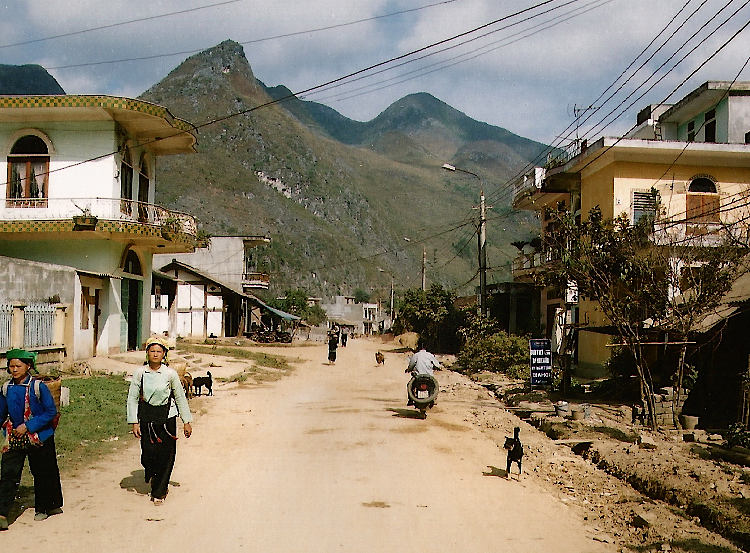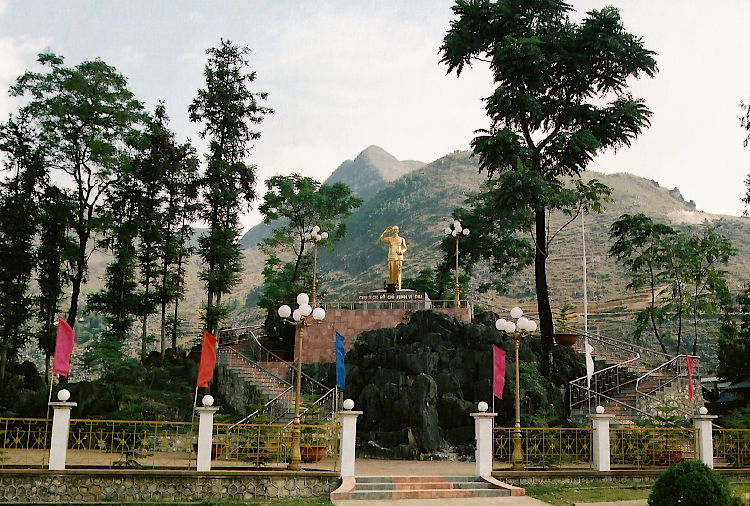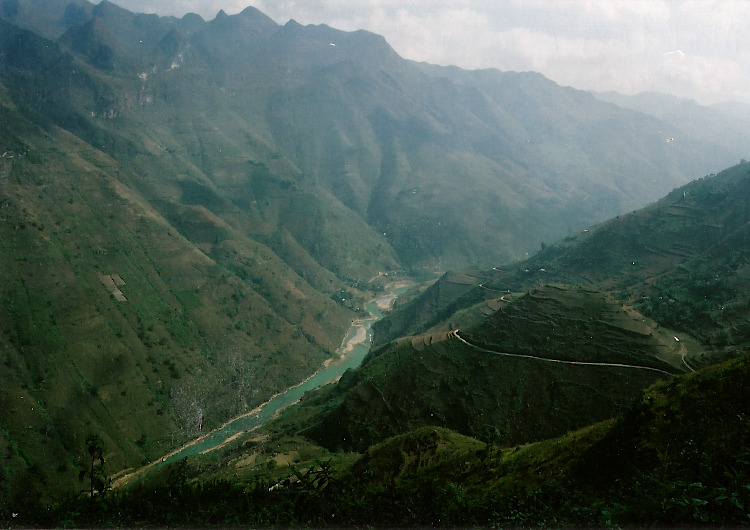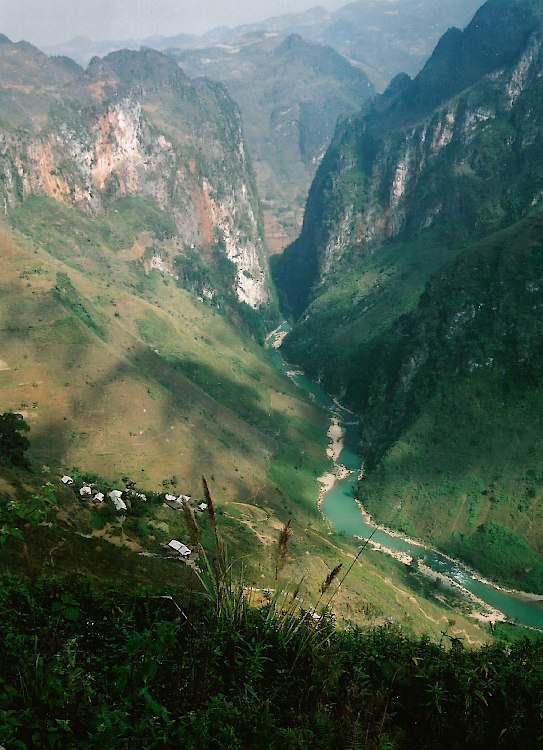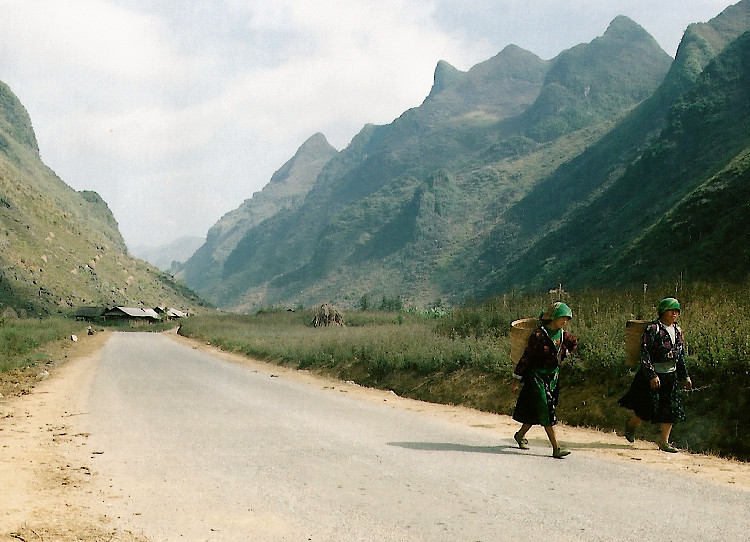 Only an hour to Dong Van, the most northerly town in Vietnam. This was more of a proper town. Despite a rash of new development, the market area was still very traditional with some very old looking houses. Lots of White H'mong people about with the men dressed totally in black with black berets.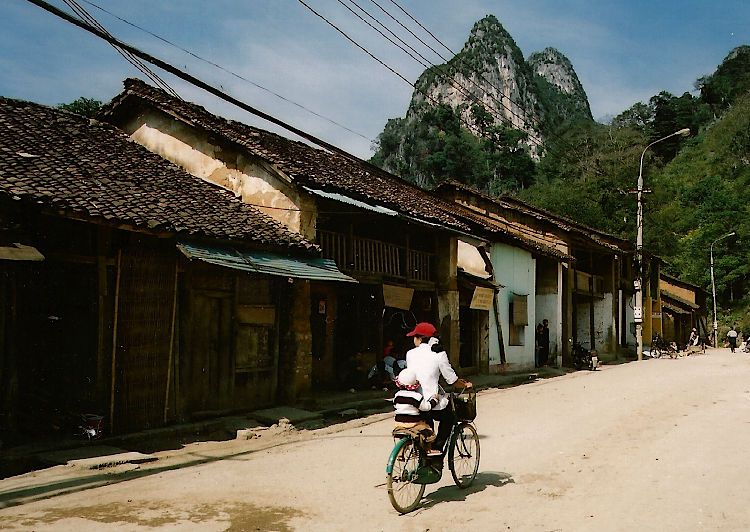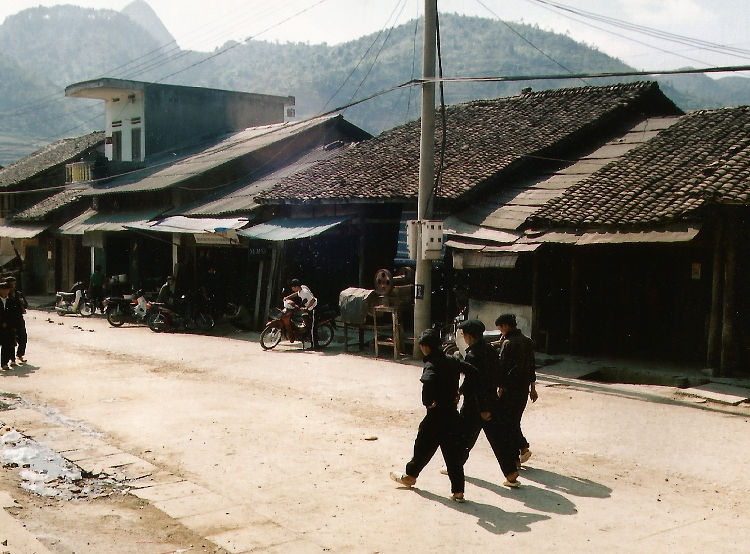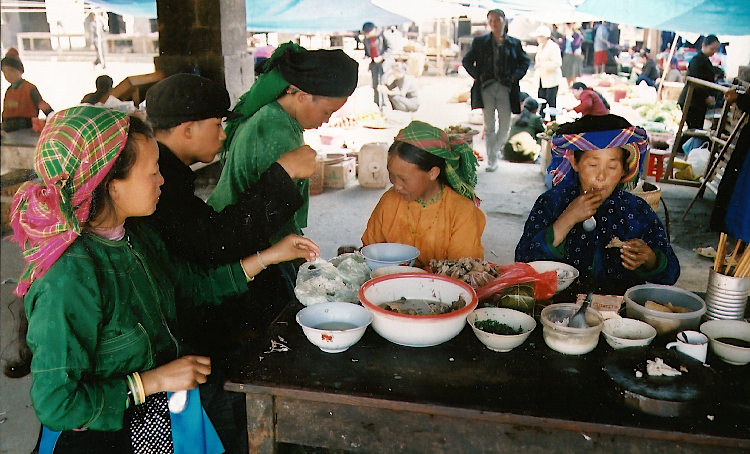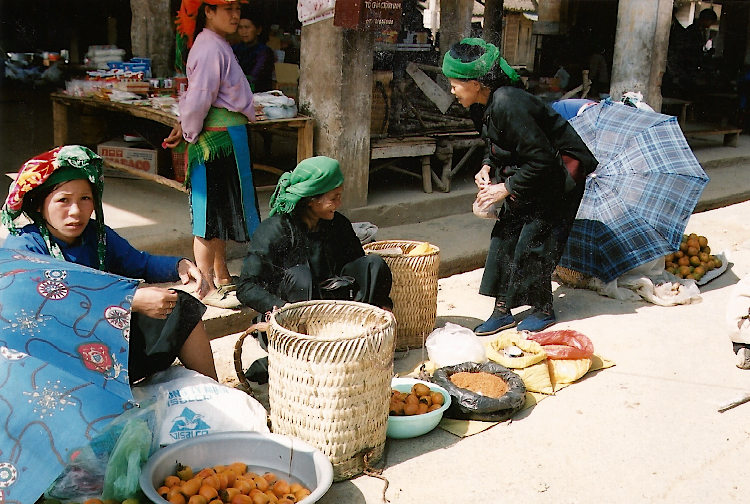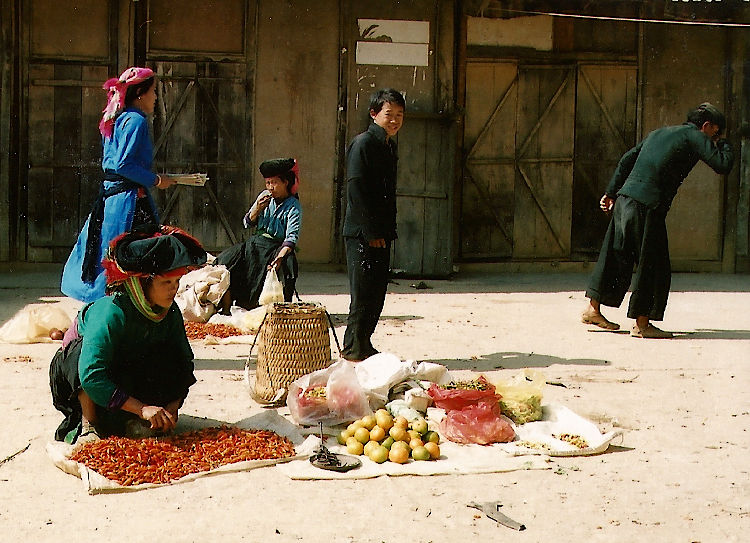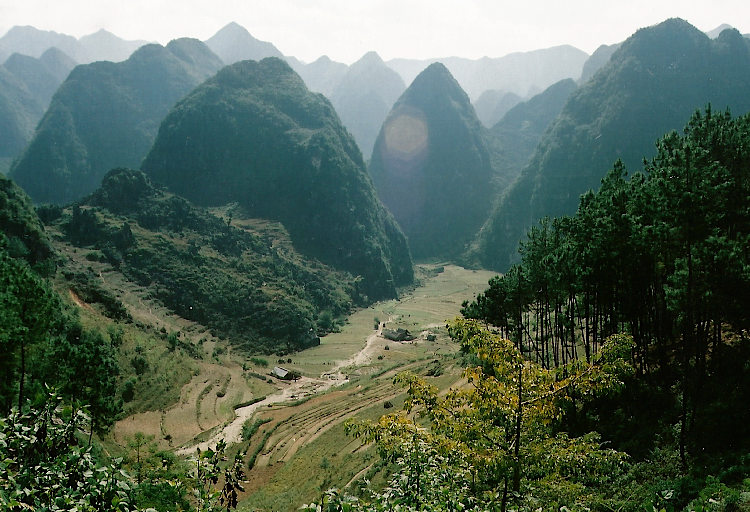 I was going to stay here but as we arrived so early I decided to press on. By now I was suffering from sensory overload with the amazing landscape changing so frequently. We stopped off at Sa Phin to see the Vuong H'mong royal Palace. It was basically a large Chinese style house with three inner courtyards surrounded by a wall and a small village surrounding, all set in a natural amphitheatre. As we arrived we apparently had happened upon a funeral I think, as one man was wailing and in fits of tears while three guys were playing musical instruments. No sign of a body and the women who were there, were keeping their distance.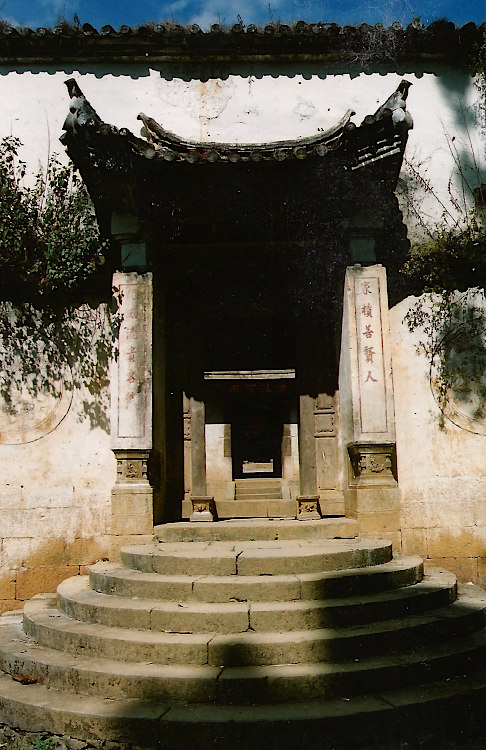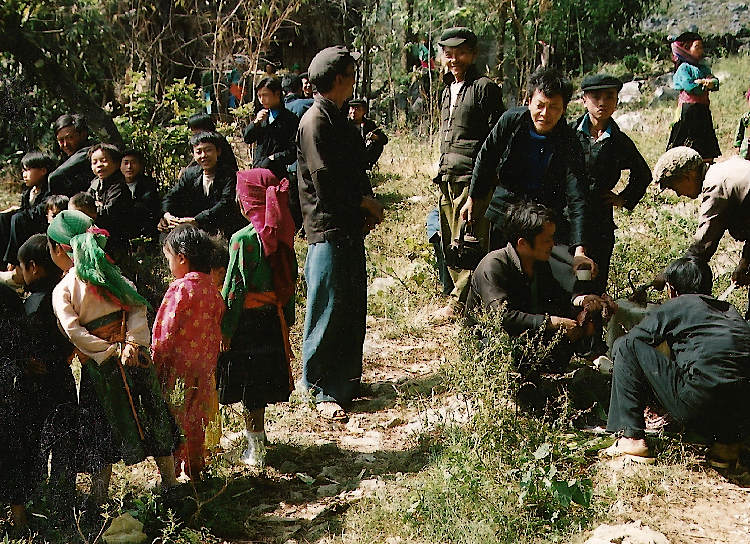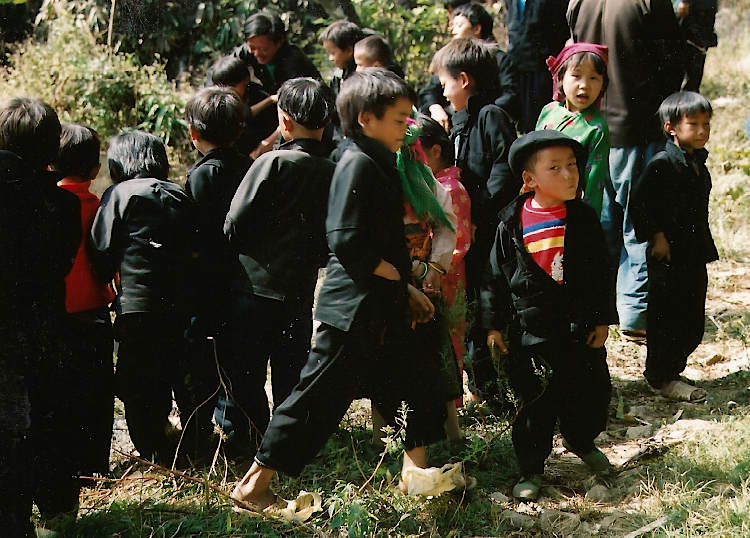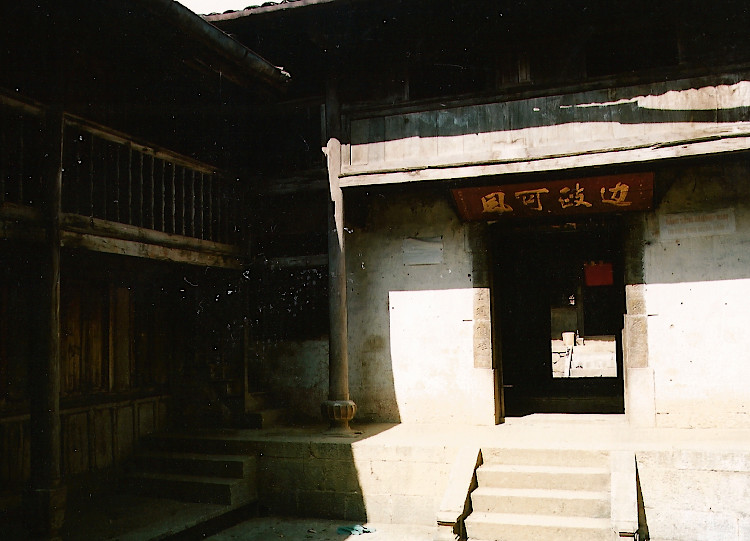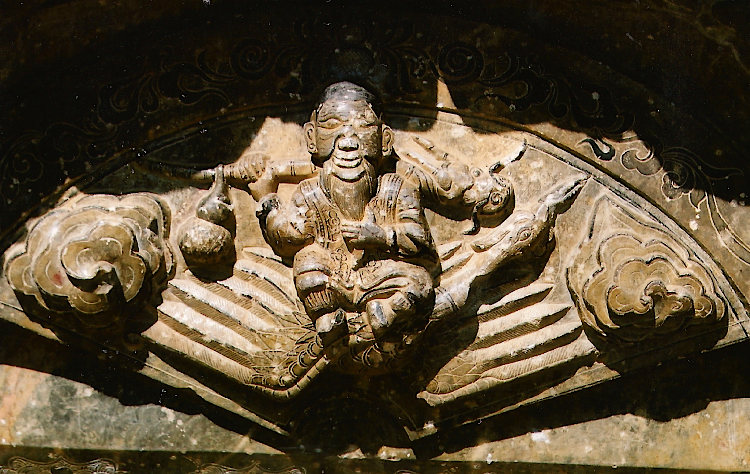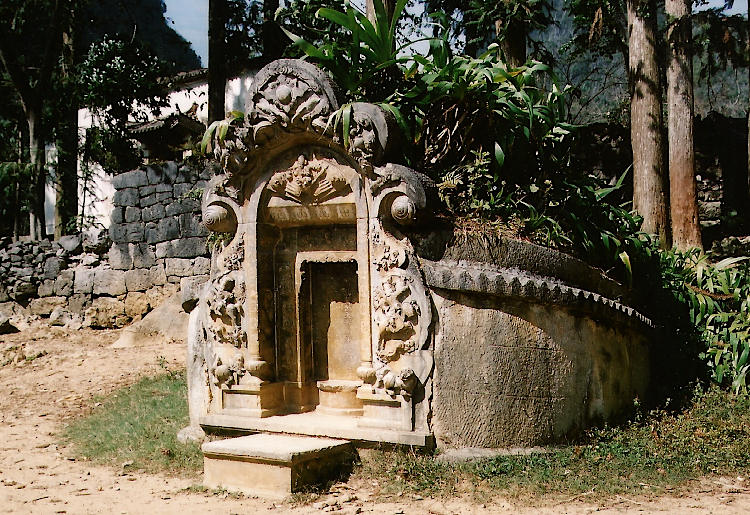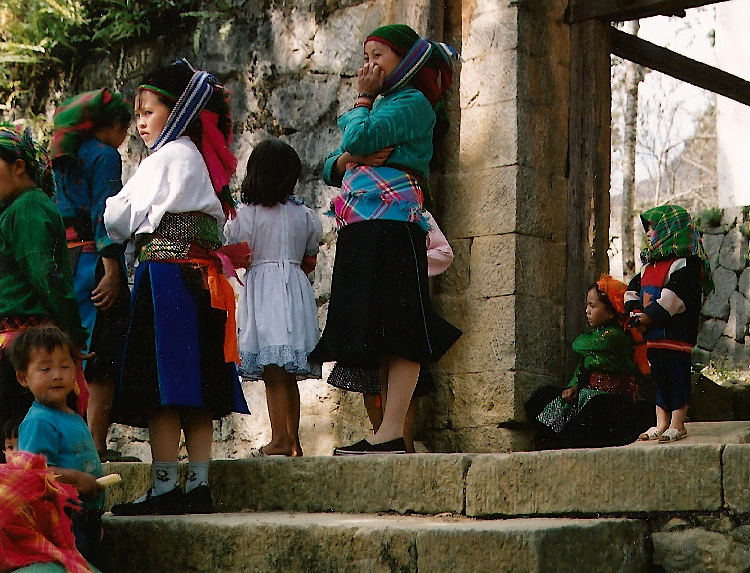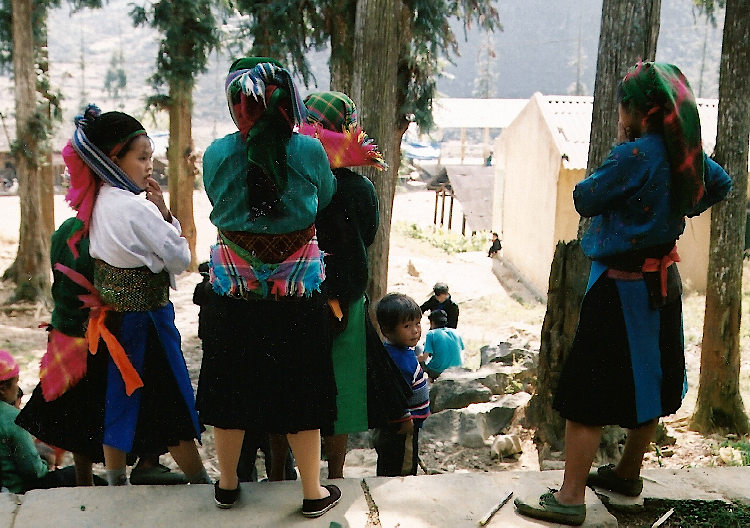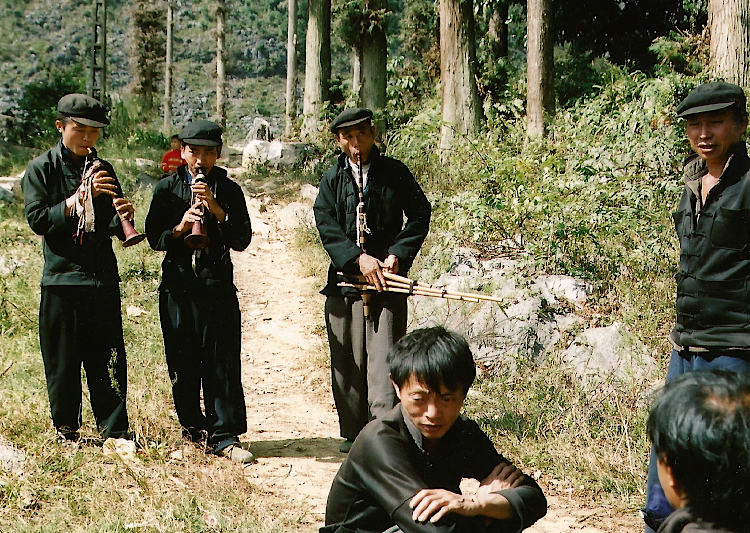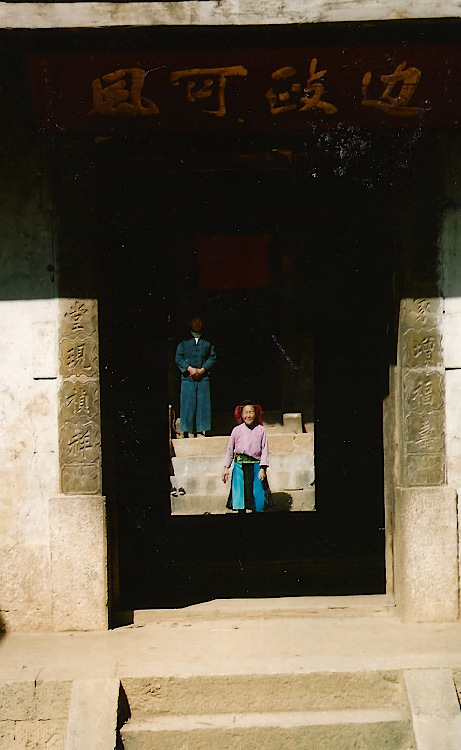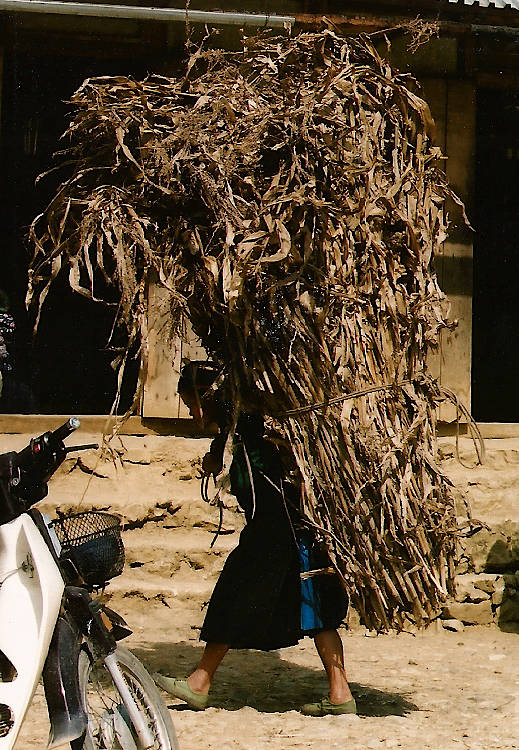 From here there were more very pretty valleys and down, down, down through a series of passes back to Yen Minh. Rather than two days, this little loop had taken seven hours with two stops. Jackie was rather surprised to see me to say the least. Later that afternoon we walked out amongst the paddy fields. Back towards the hotel we stopped at an old wooden house where a friendly old couple gave us some beers and a bowl of rice. Slept well that night.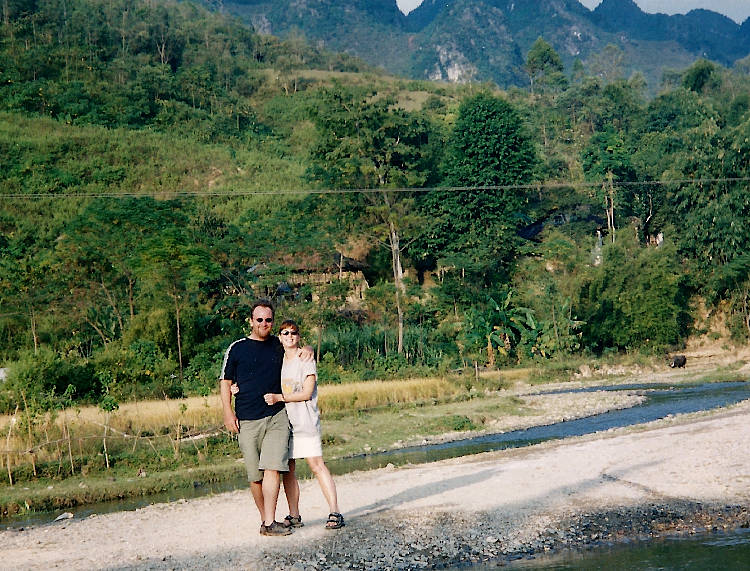 Another abrupt waking up at 5 am from the loudspeakers and then at 6am a Karaoke from next door! By 7.30 we were wandering around the market. Already there were Red Dao women bringing firewood in on their ponies. We knew it was a fairly easy ride back to Ha Giang so we didn't start off until 8.30. Our minders must have been keen to get home as they sped ahead of us and Jackie then managed to get a puncture. We were miles from anywhere and while we were deciding what to do, a man on a motorbike stopped and took the tire away to repair it – I think he said he lived nearby. Anyway, he was soon back and we were soon off again.
Not long after this I spied a market taking place on the other side of quite a wide valley. Although our minder had told us we weren't allowed to leave the main road, it was too good an opportunity to miss. There were loads of minorities there and very colourful. However, before we knew it a border policeman shows up and escorts us to the local police station (actually just a one roomed building where his boss was waiting). He wanted our passports of course which we didn't have and so things started to get a little sticky. I think they were quite keen to impound our bikes (and us!) so I told Jackie to get on the bike and make a break for it. Fortunately the crowd that had gathered, parted very quickly and we sped off to safety. Up ahead our minder had stopped and was quite angry with us until we told him we were delayed because of the puncture. We were a bit concerned but we heard nothing more.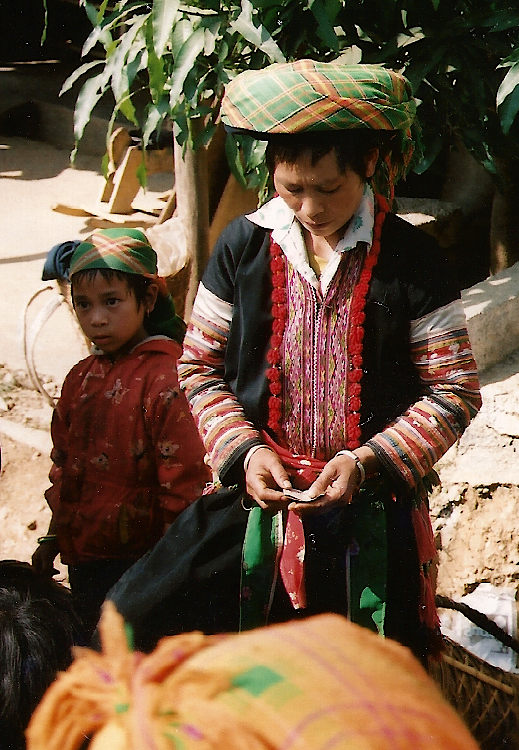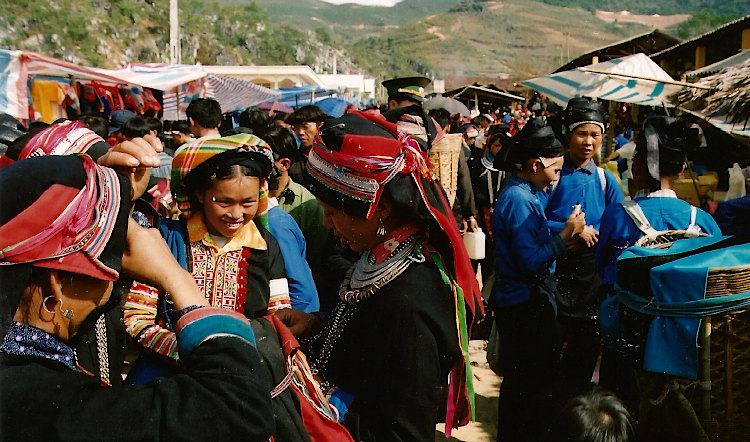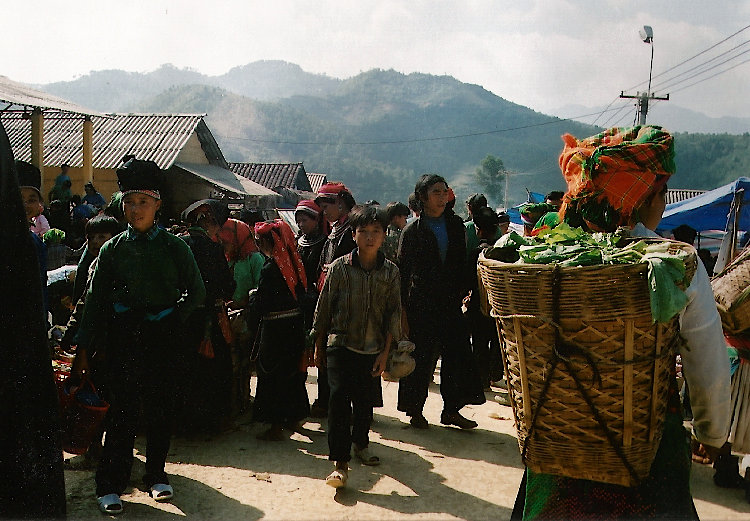 After this the road climbed again back to the Quan Be pass and up over Heaven's Gate again. The weather had improved so it was a glorious ride. One final hurdle was the Pac Sum pass, which was more like a gorge. We had to wait 15mins while a bulldozer cleared a landslide and then a very dusty stretch into Ha Giang where we said goodbyes to our minder. I wonder what the Xe Om rider said to his family on his return?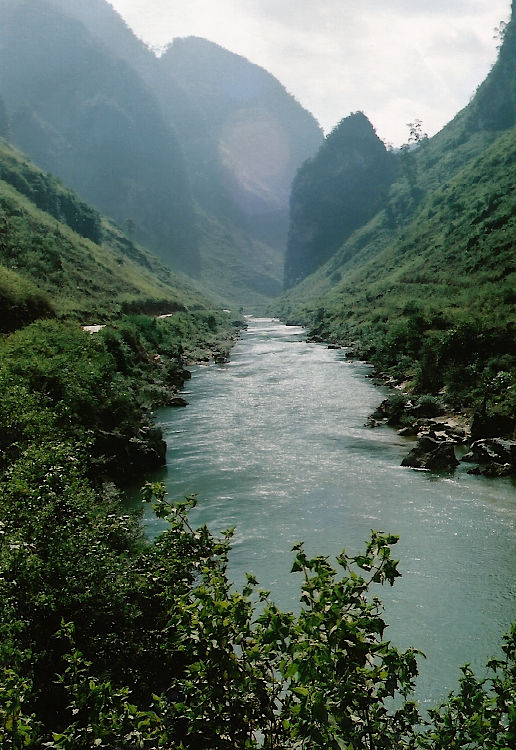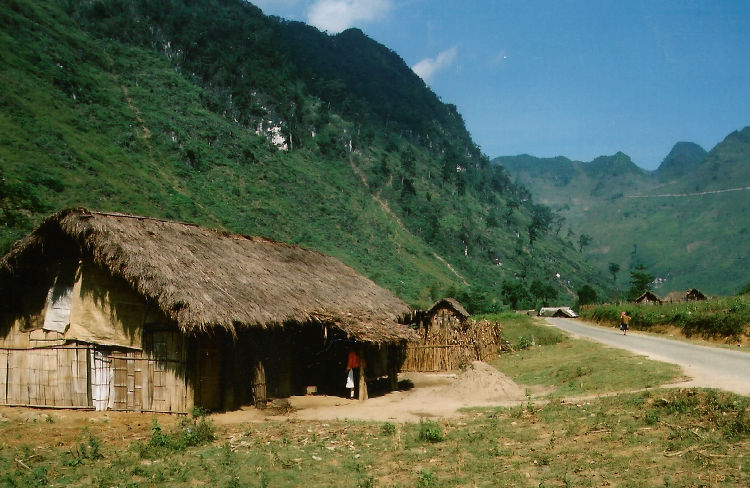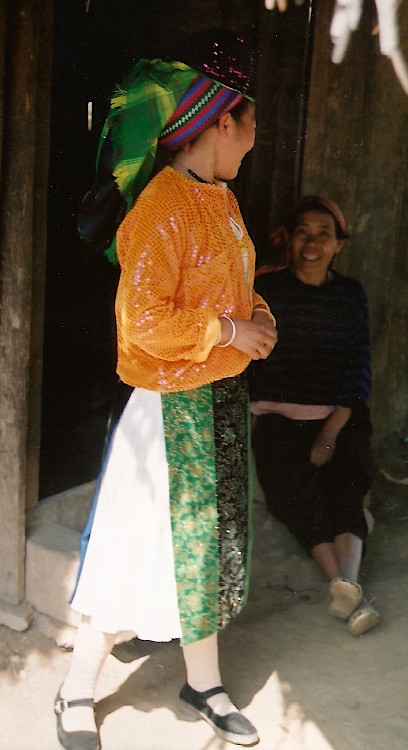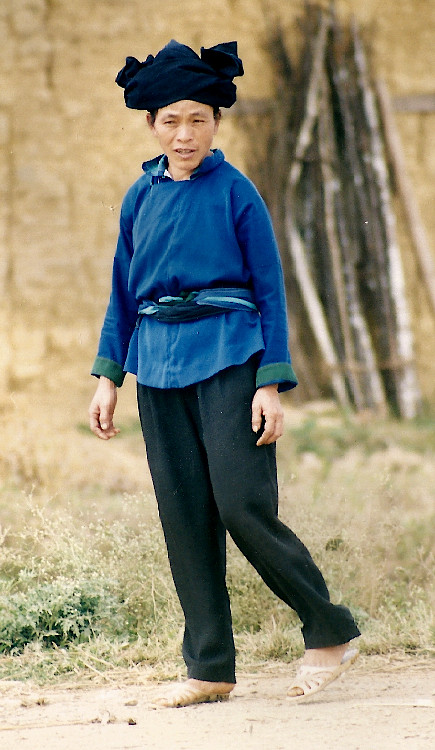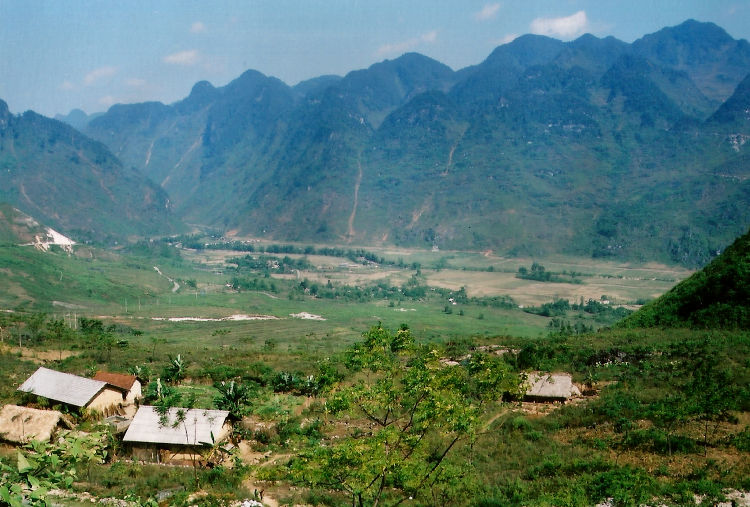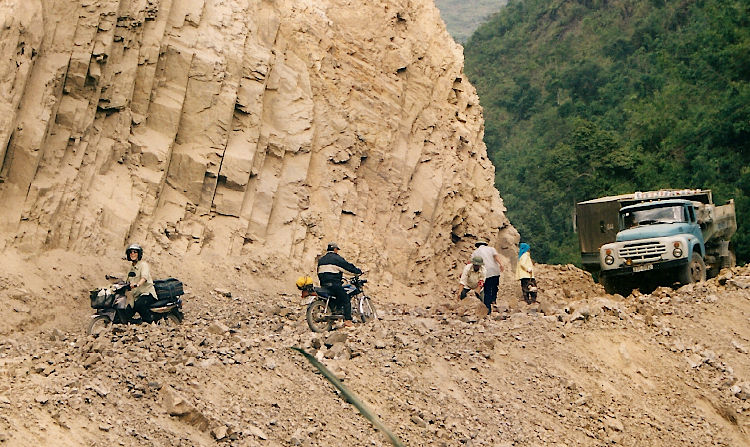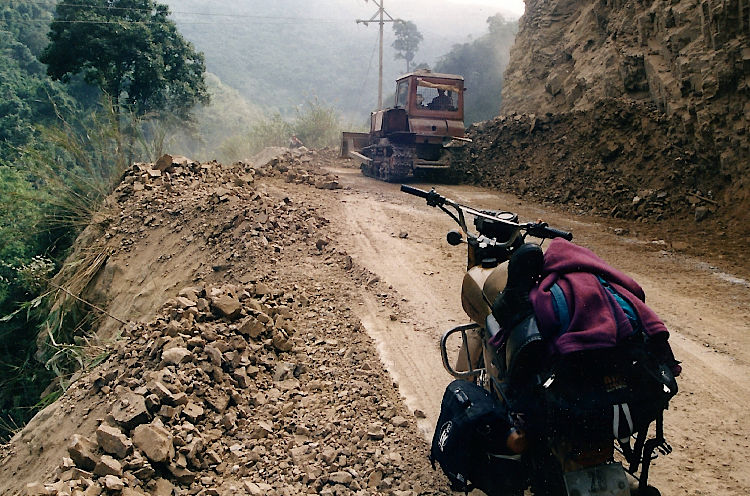 The following morning we headed off at 7.45 in the rain, our first of the trip, however as soon as I put on my wet weather gear it stopped and the rest of the day was a scorcher. We made good time on the road which was just as well as we ended up riding for 240kms – a bit of a record for us. A highlight was as we were riding along a very dusty stretch I noticed some strange looking women by the side of the road. I didn't recognise their ethnicity at first (they turned out to be White Trousered Dao) but after initially being very shy, they were a lot of fun and loved having their photos taken. We went past Tuyen Quang but missed the turn off to Yen Bai leading to an extra 40 kms. We had to put our feet down to arrive in Yen Bai at 6pm and checked in to the nearest hotel we could find. It was then that I discovered we had left our passports at the hotel in Ha Giang! Not to worry I took a ride out of town and managed to find the train station and buy tickets for tomorrow's train to Hanoi. That night the beer never tasted so good. It had been a long day.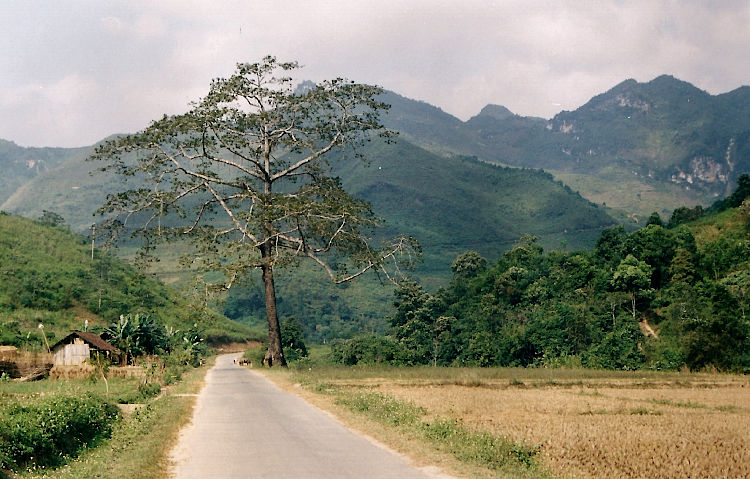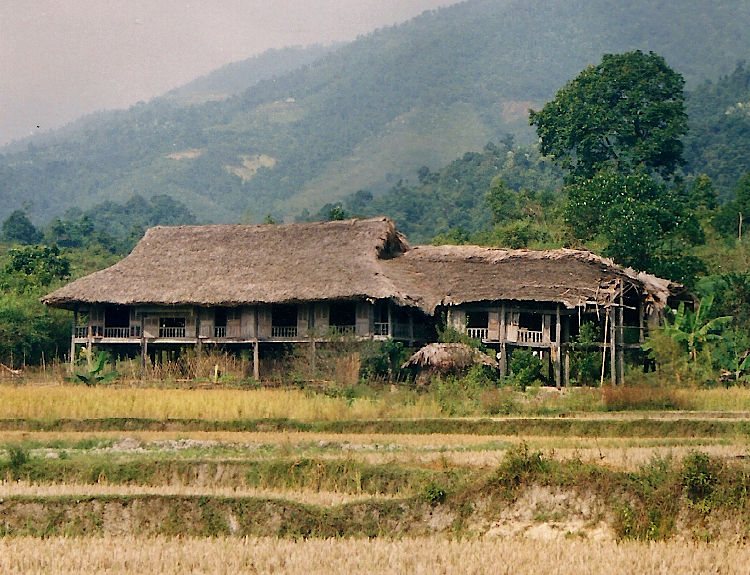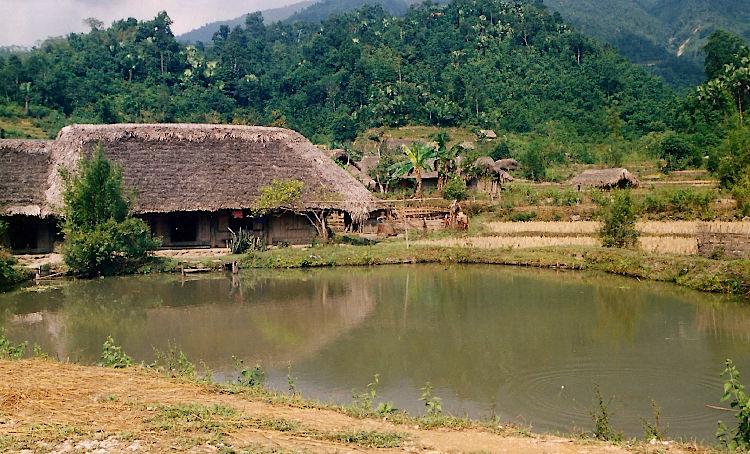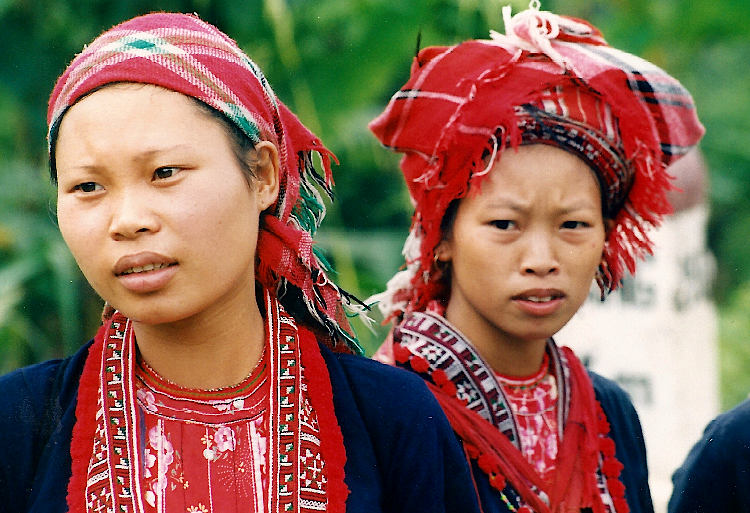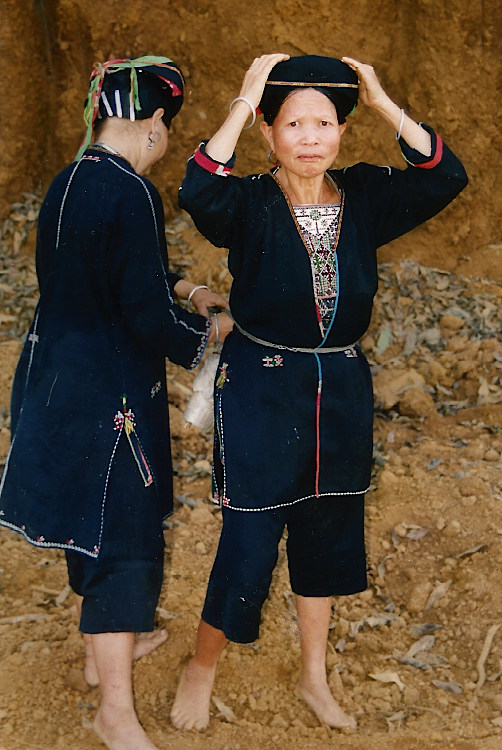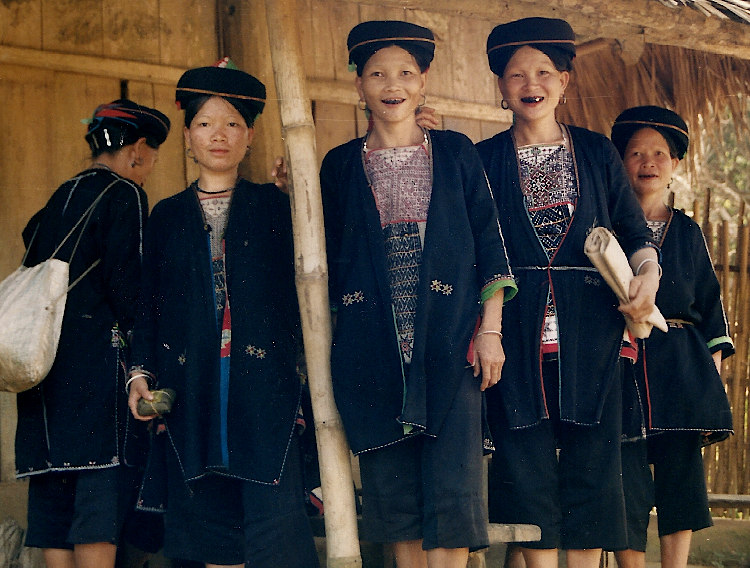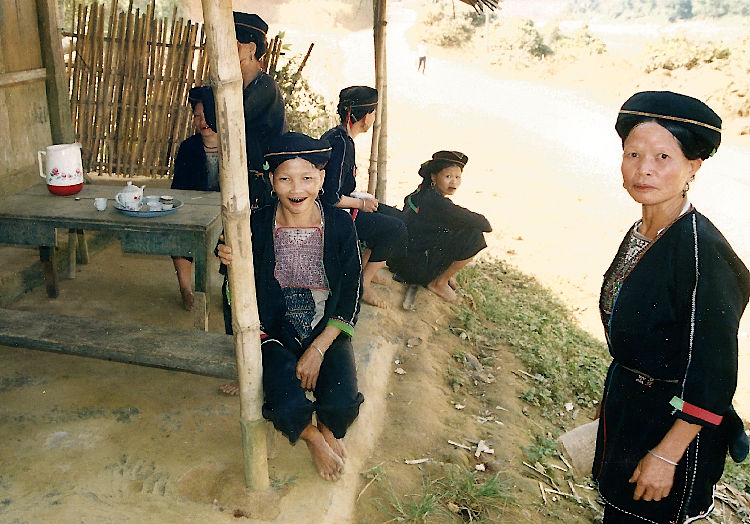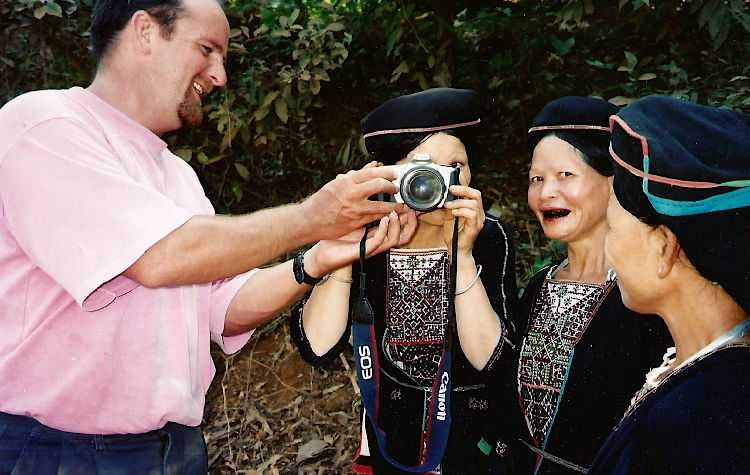 The following day we relaxed around town. Feeling a bit sad the trip was almost at an end but it had been exhilarating and we had seen plenty. I was also looking forward to the luxuries of Hanoi again! The train actually arrived on time, the wooden seats were rather hard on our already sore behinds but the five hours passed rather quickly. Another North Vietnamese biking adventure over!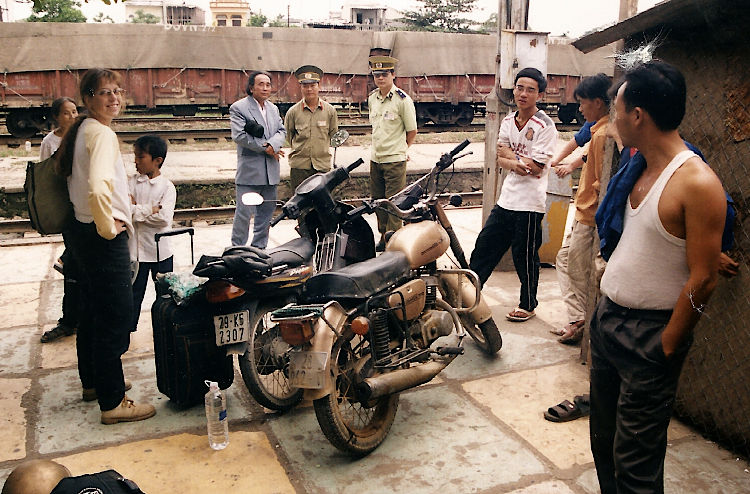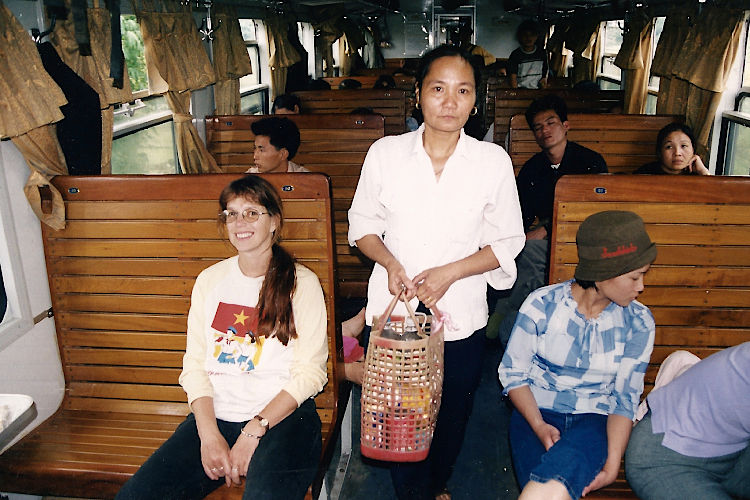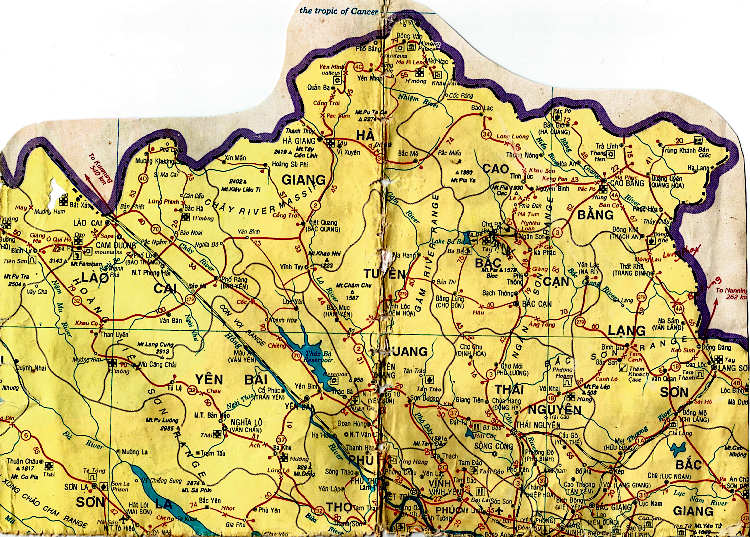 and how it looks today!: