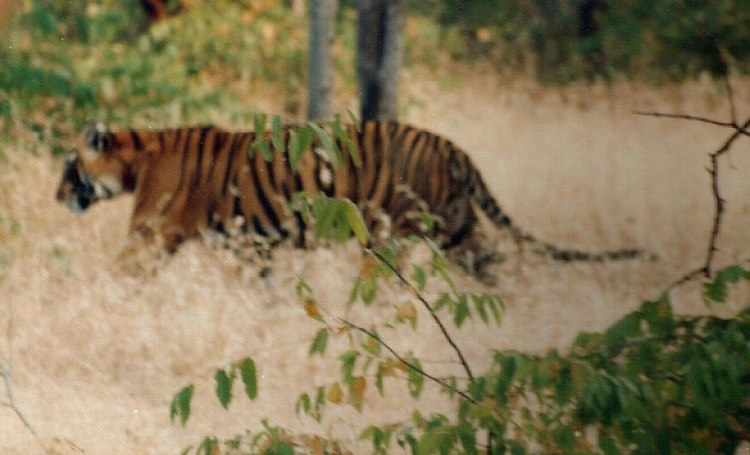 From Amritsar I took the overnight train to Delhi, quickly changing to another for Sawai Madupur. I must have been pretty hardy in those days or just in a mad hurry because I didn't even stay a night there before heading off to Jaipur. But I digress. The reason for going to Sawai Madupur was to visit the Ranthambore National Park and spot a tiger. My diary says I got a pony and trap from the train station to the tourist office where there was a jeep all ready to head to the park, so I just hopped on. I wasn't too hopeful of spotting a tiger as I was told there were only about 15 left at the time due to poaching. However, we had only been driving around for a short while before we saw two! One in the bushes by the jeep and another ambling across the track. I think I was so excited I only got one half decent photograph. However, there were also plenty of other wildlife there, as I remember seeing loads of deer, crocodiles and monkeys. I also remember seeing a young lad with a herd of water buffalo and thought that was a bit of a dangerous job! I notice that nowadays the population of tigers stands at a very respectable 62 (in 2014) but presumably it is also much more touristy. The safari was an afternoon affair and apparently there weren't many accommodation options at the time so before I knew it I had hooked up with some Italian blokes and we had hired a jeep to take us to Jaipur, "only" 150kms away. My diary notes it was a hair raising journey and we didn't arrive in Jaipur until late into the night. I can quite believe this as I remember driving in the night in India to be fraught with danger as it still is.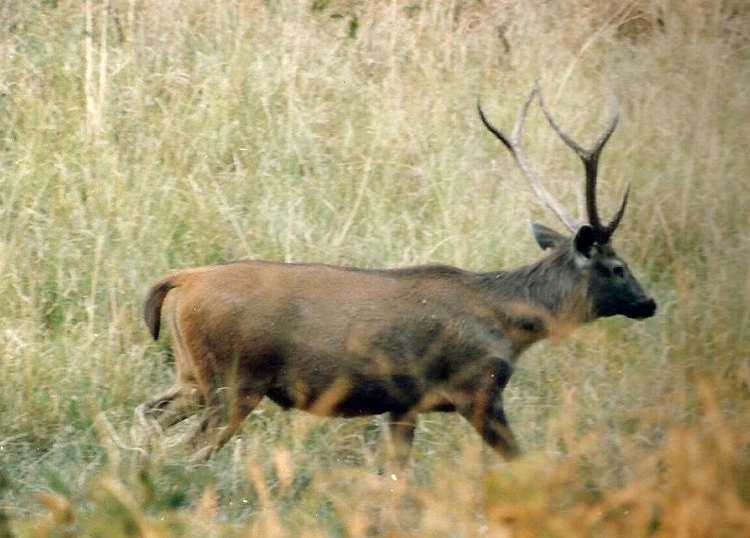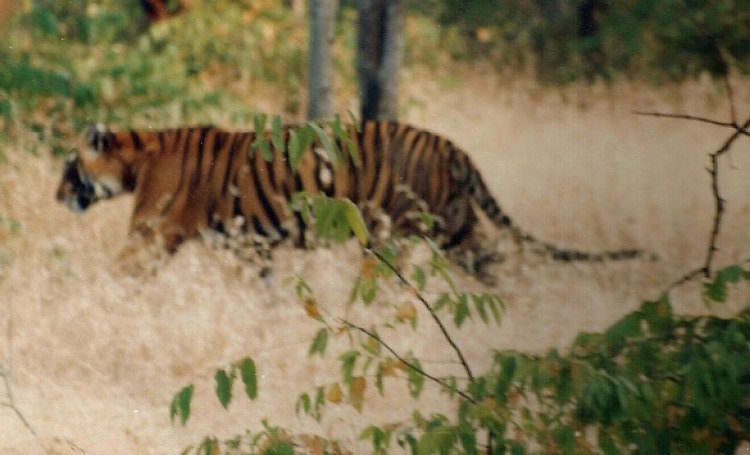 Jaipur
In Jaipur, I booked into the government run Swagatam Lodge near the Railway station. They only had deluxe rooms – for 200Rs. They may have been deluxe 20yrs before but not any more. The cockroaches and ants were included for free. I needed to change money so Î hopped into a rickshaw and the bloke took me into the old city and ushered me into the back room of a jewelry store where I changed money with the owner. The driver then took me to another hotel. It just shows you how trustworthy I was in those days. But the hotel, the Madhuban, was in fact very pleasant and had a shady garden where I was given a cool drink before going to my room. It cost 200Rs. I found it again on the internet, it looks much posher than I remember, "owned and run by the royal family of Patan" and the cheapest rooms are over 2000Rs. Later the driver took me on a half day tour to see the highlights of Jaipur including the rather disappointing Palace of the Winds and the Amber fort which I noted as being covered in rubbish and grafitti. The photos are quite good though. Naturally if you go on a tour with a rickshaw driver you are also obliged to be taken to a few craft shops as well which I don't usually mind. On this trip I seemed to have bought a tablecloth. I don't know what happened to it. I'm also not sure which hotel I took the snap of the receptionists but it's quite funny so I thought I'd include it.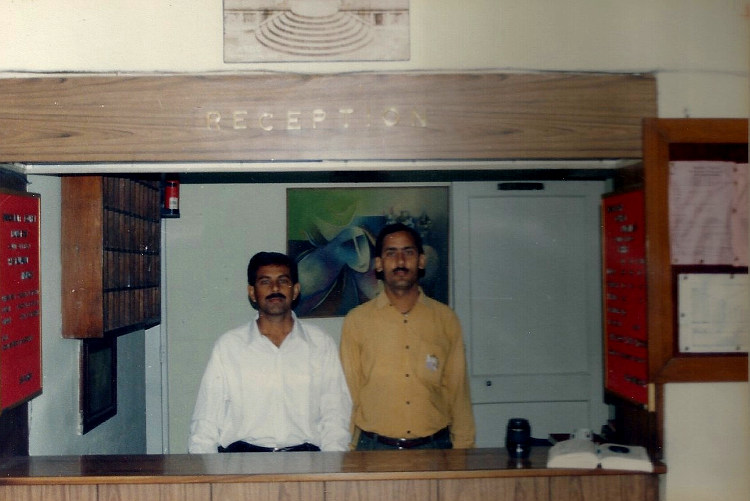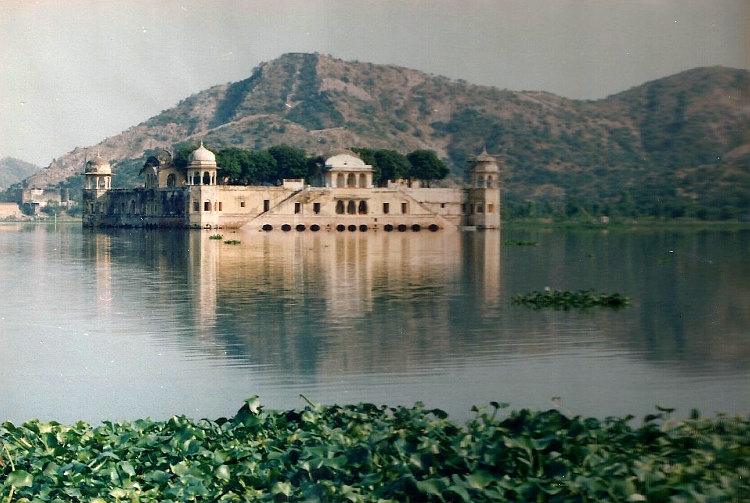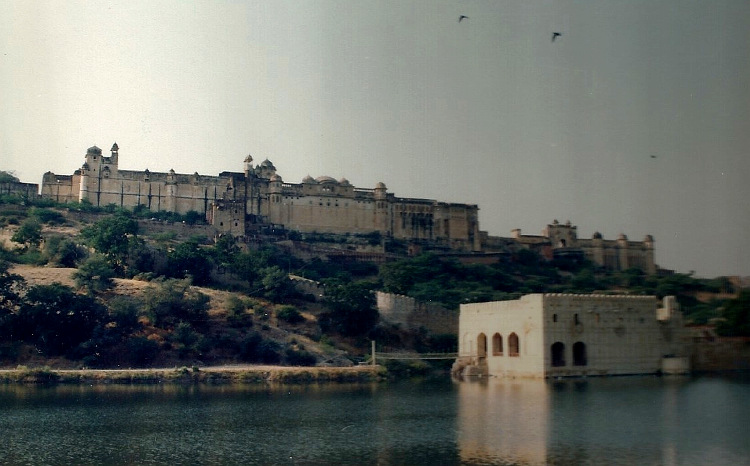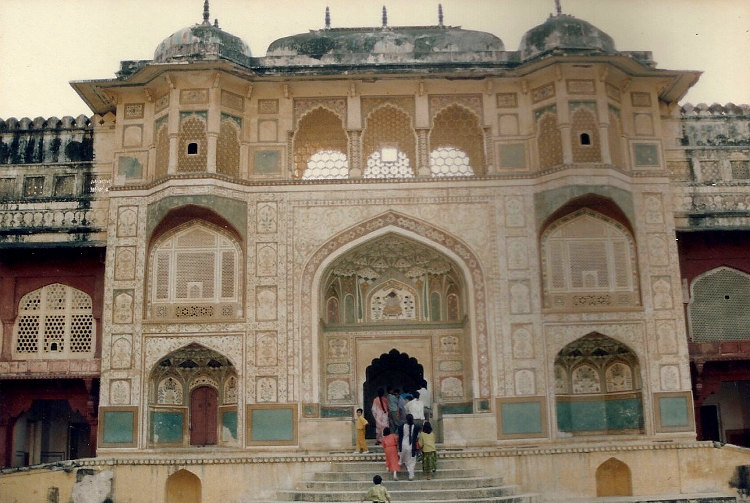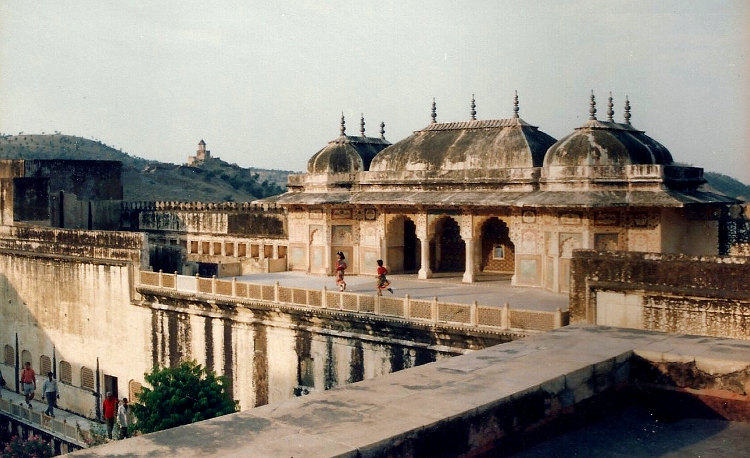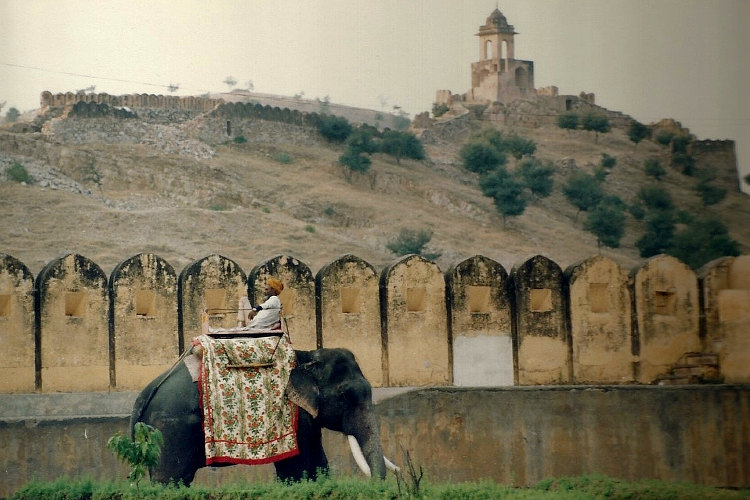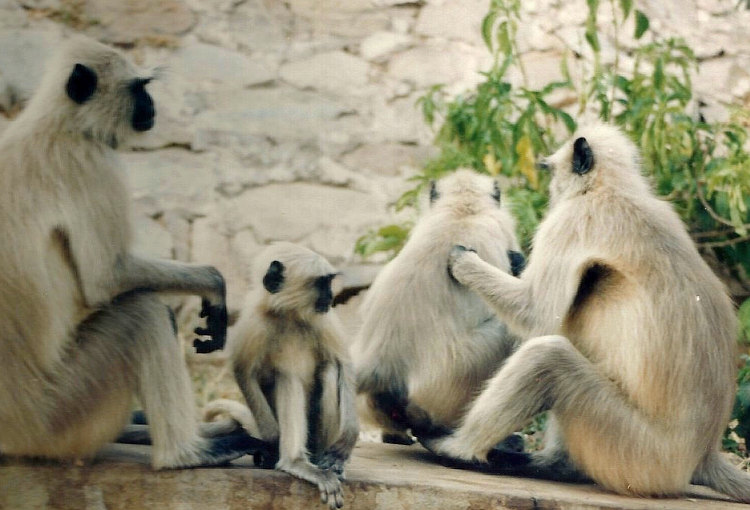 Pushkar
After breakfasting on a bowl of cornflakes, I was off to the bus station and then on to Pushkar. My diary notes that I stayed at the Pushkar Palace Hotel and paid 60 Rs. However, the only Pushkar Palace listed now is way out of my price range. The place I stayed in is much more likely to be the Pushkar Inn's Hotel. It was near to the lake and had a pleasant cool garden with a hammock. I remember the whitewashed cell of a room which was spotlessly clean. At just over a pound what did you expect. I noted that Pushkar had very few tourists and with good reason. I was in India in October 1994. Tourism had plummeted because of an outbreak of bubonic plague in Surat, Gujarat (where I was going next). Even now the phrase bubonic plague sends shivers down your spine but actually in this day and age it is very easily cured with a dose of the antibiotic tetracycline. However, for the poor of India it was deadly and there were about 700 cases and 56 deaths reported. Pushkar was my sort of place, very traditional, and with very photogenic people, markets and buildings. It is also very religious and spiritual and so there is no alcohol or in fact meat served in any of the restaurants. The worst aspect of the religiousness of the place was, however, getting woken up every day at 4am with wailing and bashing of drums. Presumably some sort of religious ritual.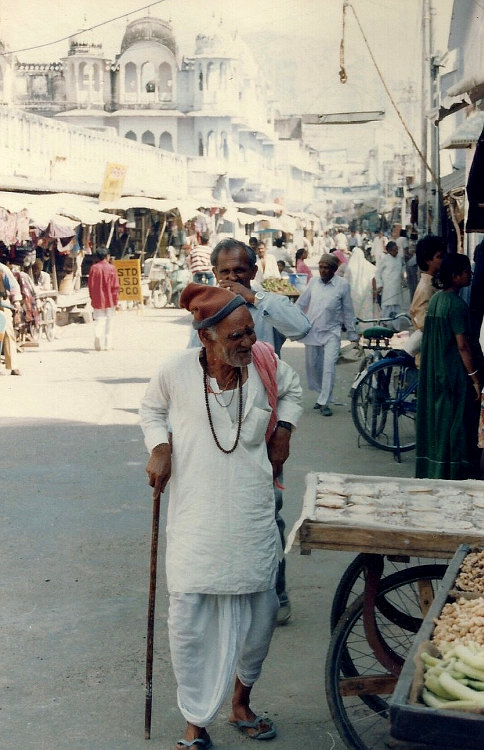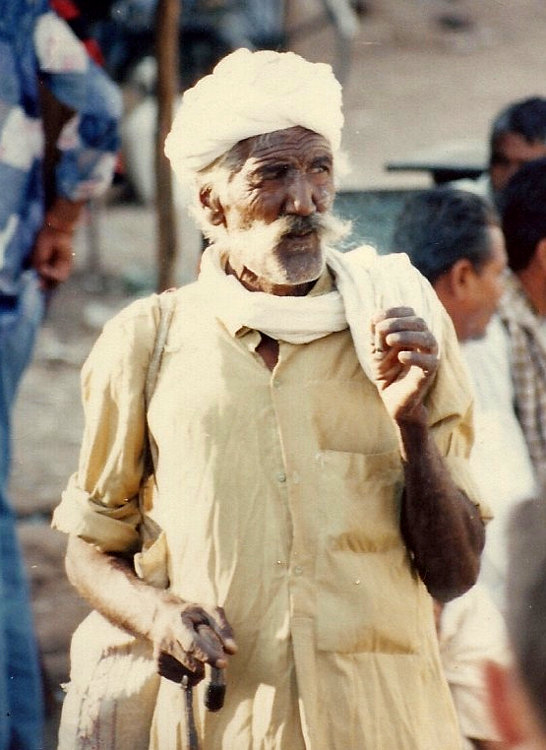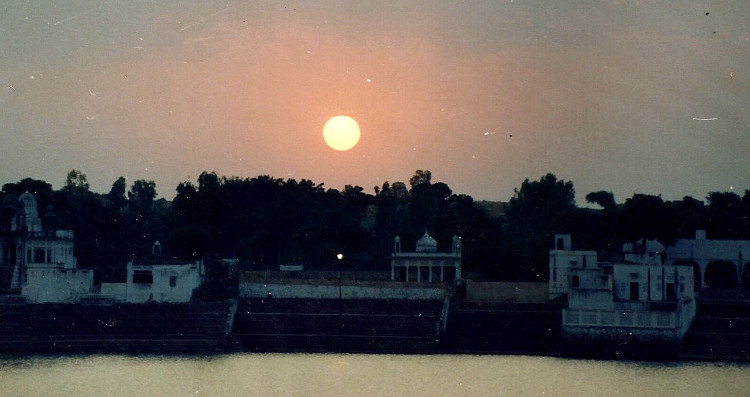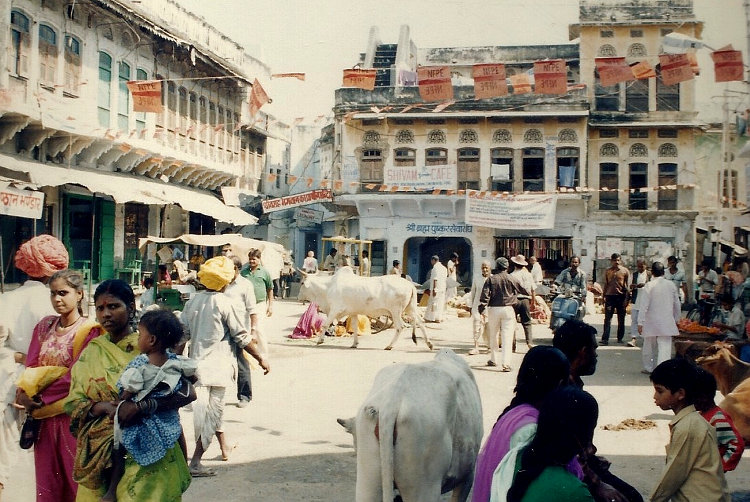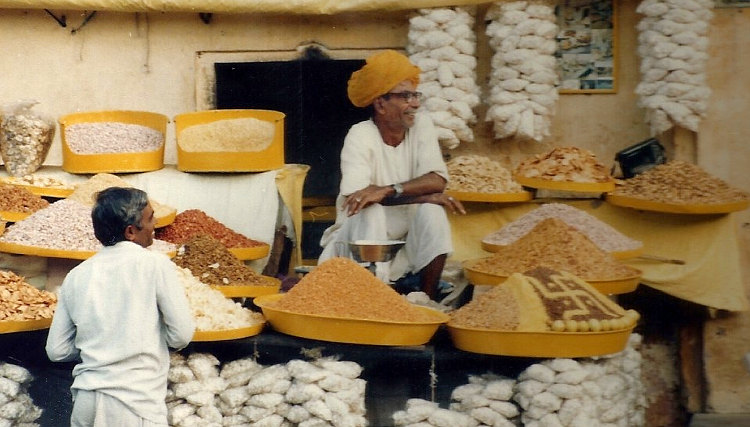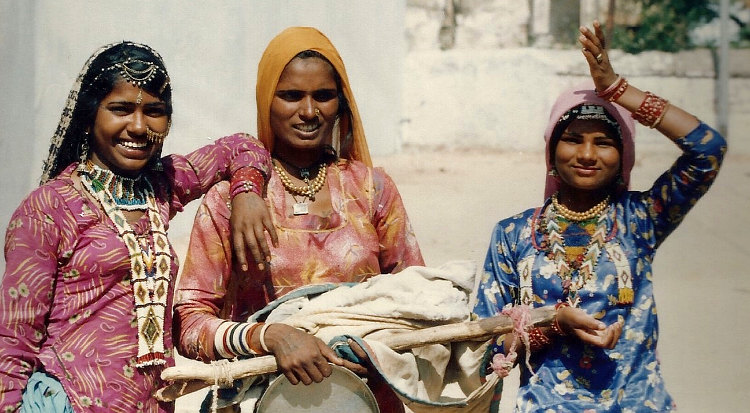 Jodhpur
After a few days R and R in Pushkar, I pushed off to Jodhpur. My diary says I got a jeep then a bus and for some reason I hadn't actually wanted to stay in Jodpur but to push on to Jaisalemere. However, having waited for a bus for 4 hours which didn't show up I decided to stay. I stayed in a hotel round the corner from the railway station, and got a small room on the roof for 40Rs, less than a pound! "Seems clean enough, if typically cell-like" says my diary. I think it may have been the Govind. My whirlwind tour didn't pause for much breath in Jodhpur as I was only there one night but I still managed to be impressed by the fort and museum and also by the old town. I'm amazed that I whizzed through so quickly as there seem to be so many things to see in these places. No doubt it was because I had decided to cover so much ground in too little time. I do my travelling at a much more leisurely pace nowadays!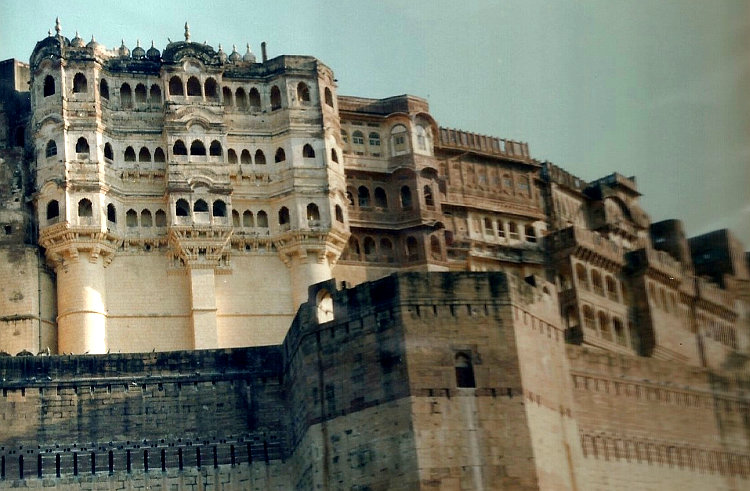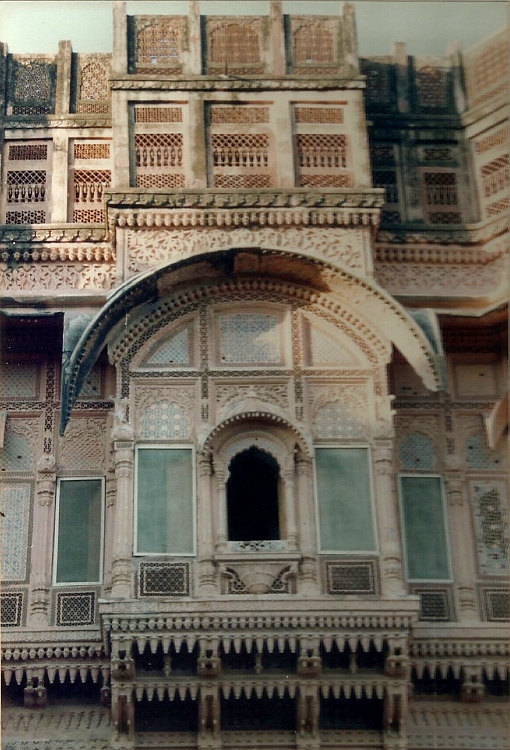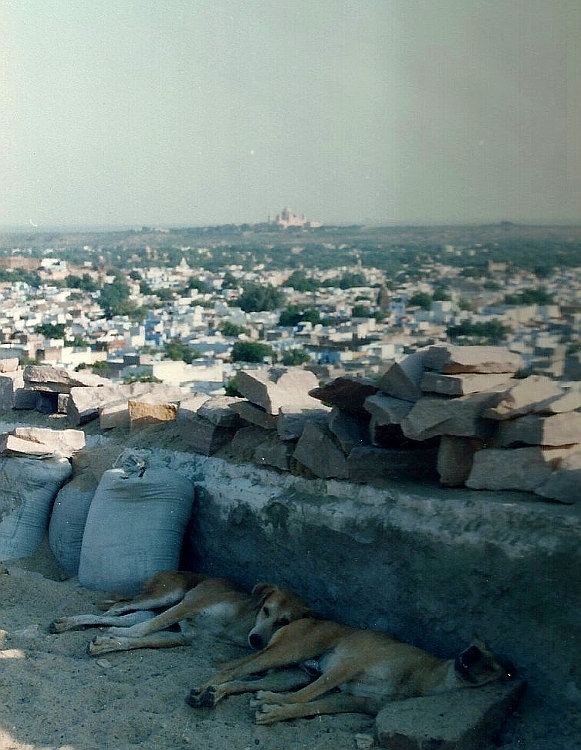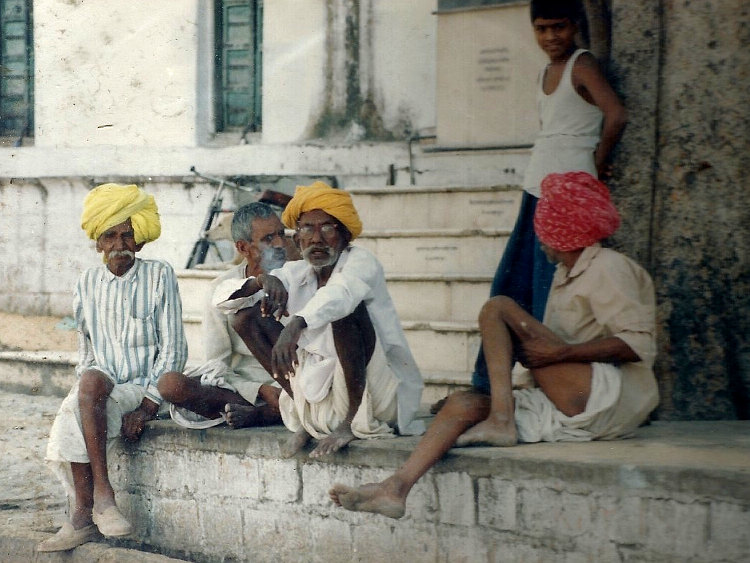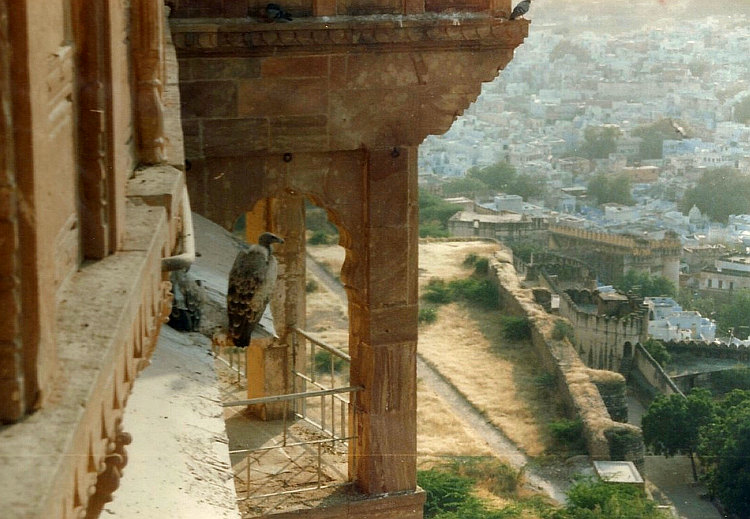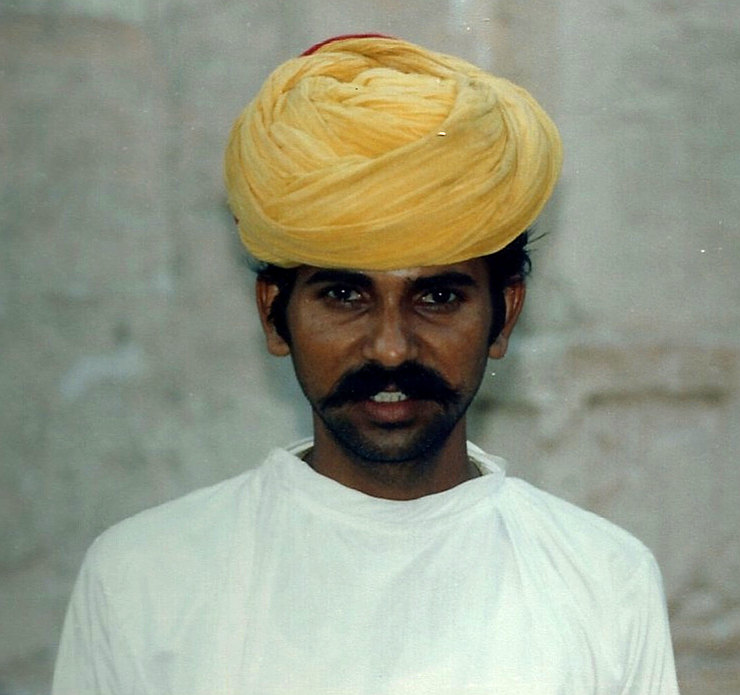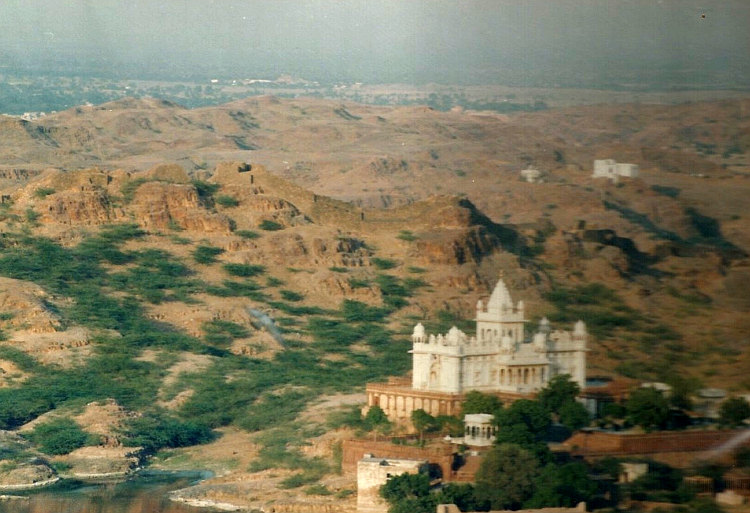 Jaisalmer
So after a night in Jodpur I was back at the bus station headed to Jaisalmer. Here I met Barbara and Sharon from Canada and Jonathan from the UK. I was to stay with them for the next few days. So we got on the bus headed into the Thar desert and the beguiling city of Jaisalmer. I noted the desert was actually quite green with quite a few trees and plants. I'm not sure what I was expecting but I met the real desert in a few days. Anyway, at the bus station we were met by the jeep from the Hotel Swastika. The man said, "Come to my hotel, if you don't like, no problem". We agreed as the station was some way from town. It was also a nice hotel, but we all fancied something right in the middle of the fort. It was a bit of a hike walking up narrow alleys full of cows and cow pats I seem to remember but eventually we found our way right into the centre of the fort and the Paradise hotel. And I have to say it was pretty good. A palace within a fort. Me and Jonathan got the Presidential Suite for 150Rs. The room was actually set into the walls of the castle with fantastic views over the desert on one side and the fort on the other. Meals were served on the roof with great views all around. It really was a 1001 nights experience! Made all the better by the fact that we seemed to be the only tourists in the entire place.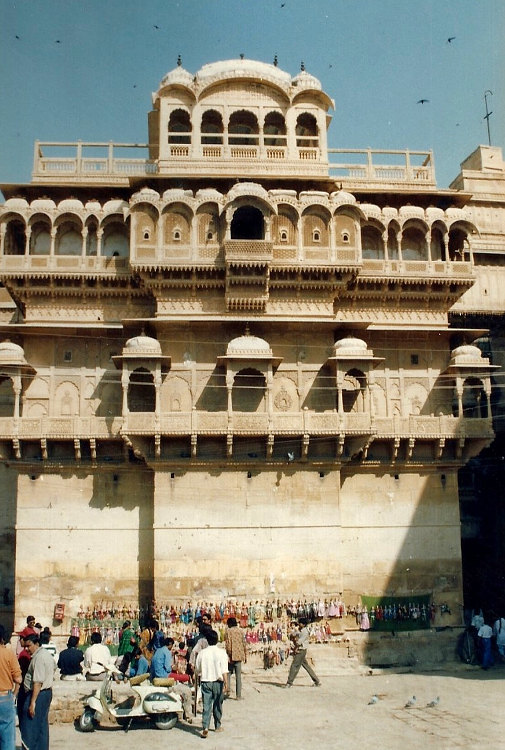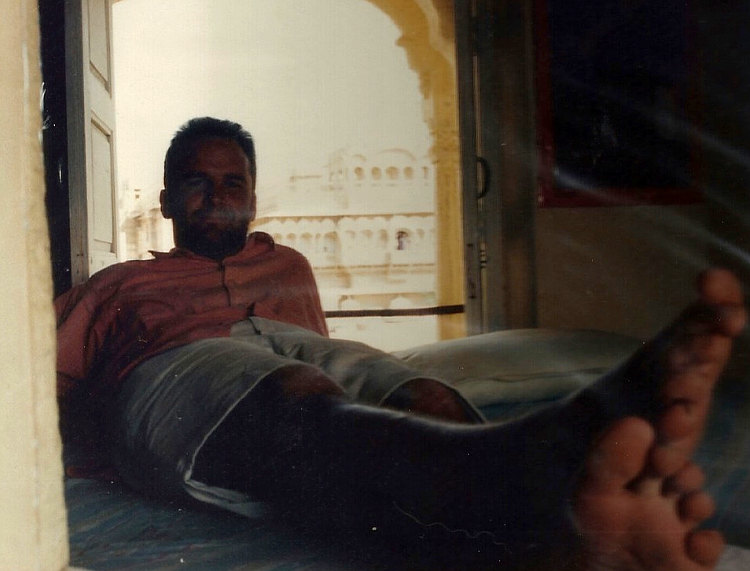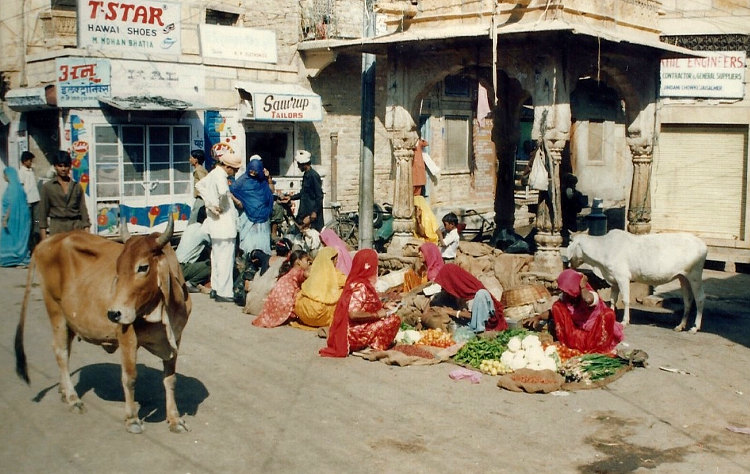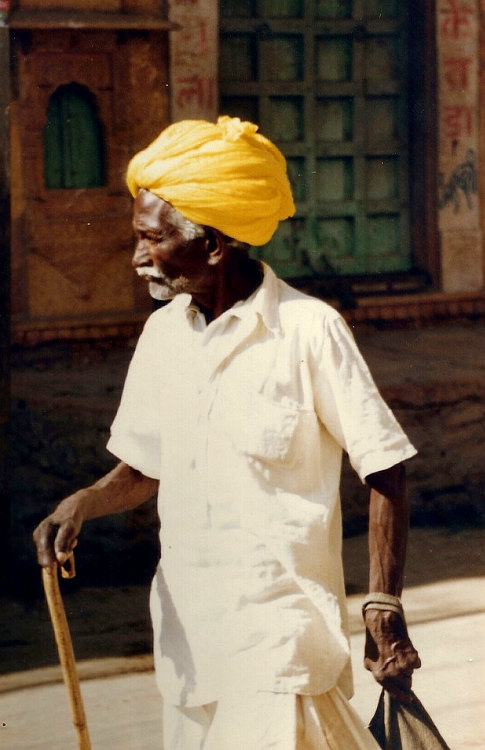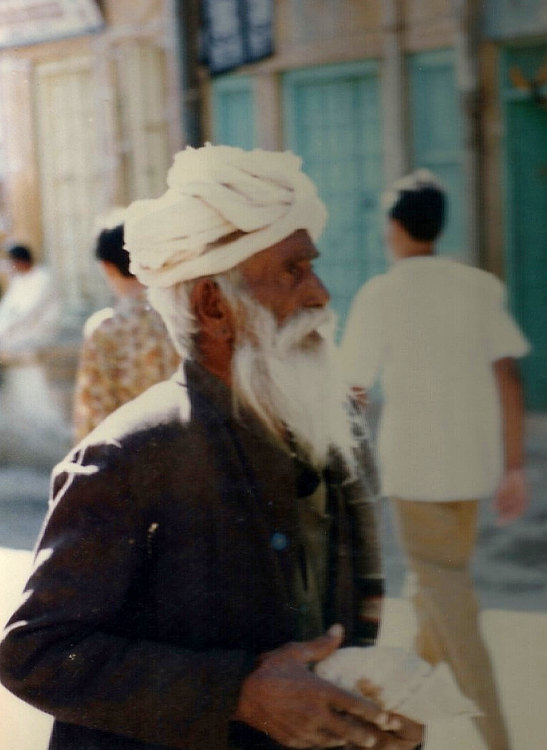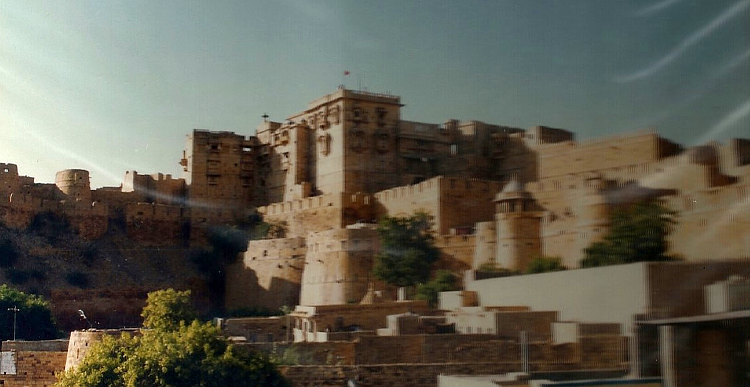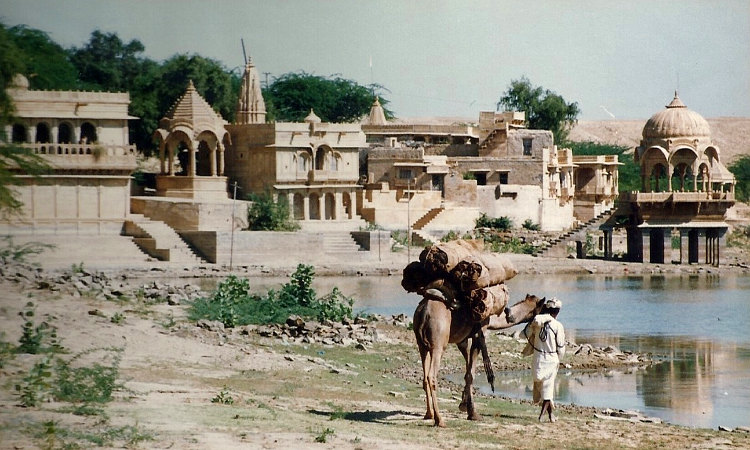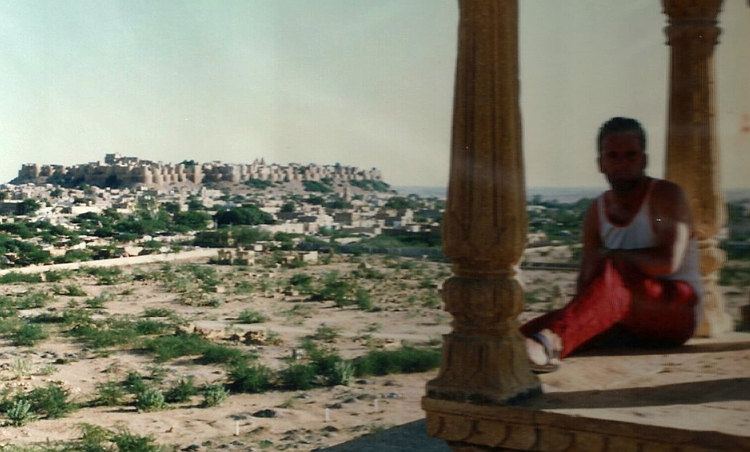 Jaiselmere was impressive and slightly sad at the same time. You could tell it was once a very important place as the old buildings were impressive anyway, but also covered in intricate carvings. Unfortunately when repairs were needed more recently they were done very crudely with cement and many old buildings were simply falling apart. Perhaps since my visit, with World Heritage status further repairs have been much more kind. I just don't know. While we were in Jaisalmer we had to take a camel safari into the desert as that's what everyone does. It was a great experience as I'd never been in a desert (this was before I lived in the Middle East where I saw plenty) or ridden a camel. Day one was quite relaxed to say the least. It simply involved a jeep ride to the nearby village of Khuri (45kms) which is right on the edge of the desert proper so it's where the sand dunes start. In those days it was just a local village with people going about their daily routines unmoved by the presence of a few tourists. We stayed near the house of the brother of the guy we booked the tour from, in a mud hut which was quite pleasant as was the traditional evening meal. The following day we set off on the camels and most of the day in the saddle wasn't too bad, real Lawrence of Arabia stuff, climbing sand dunes and passing the odd dead cow and attendant vultures. We slept under the stars which was great, except in the morning we could see the tracks of various animals which had visited nearby during the night. The next day we came back, I remember passing a couple of villages and villagers tending their scrawny herds of sheep and goats, a tough existence.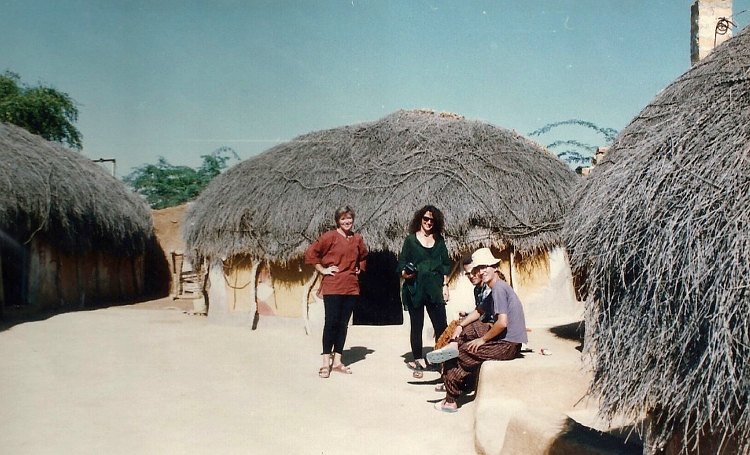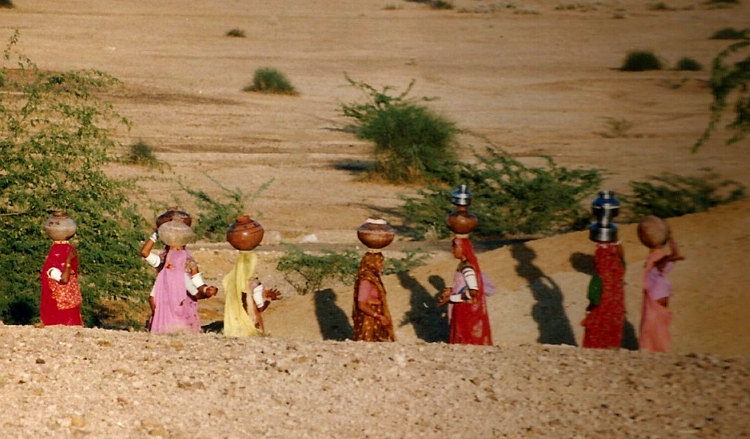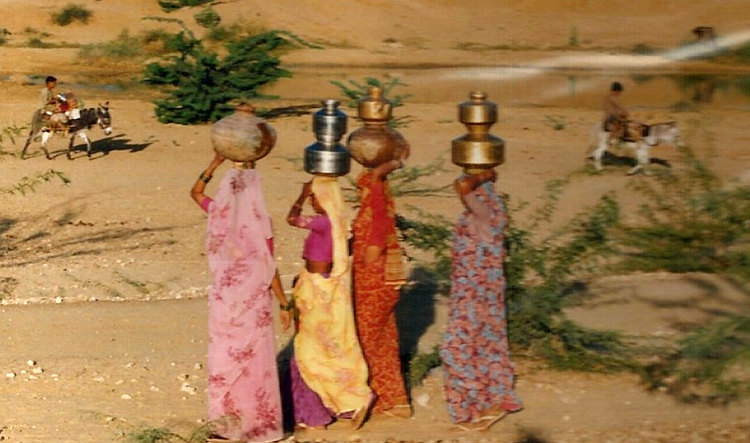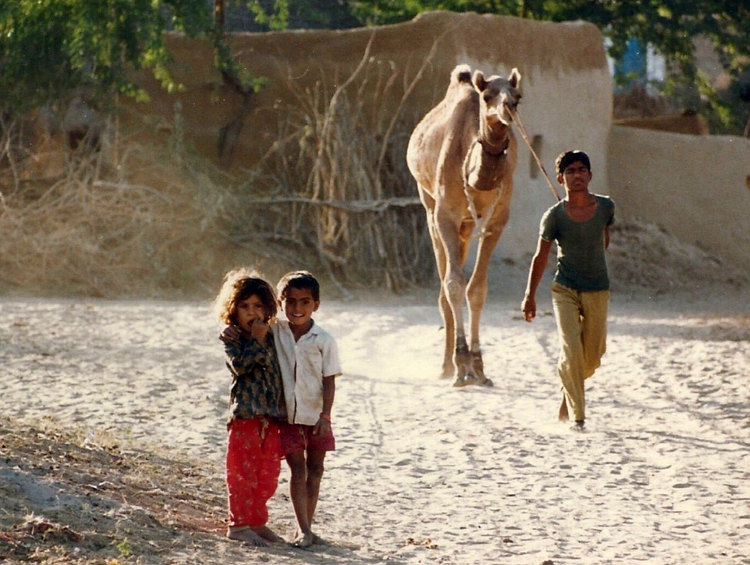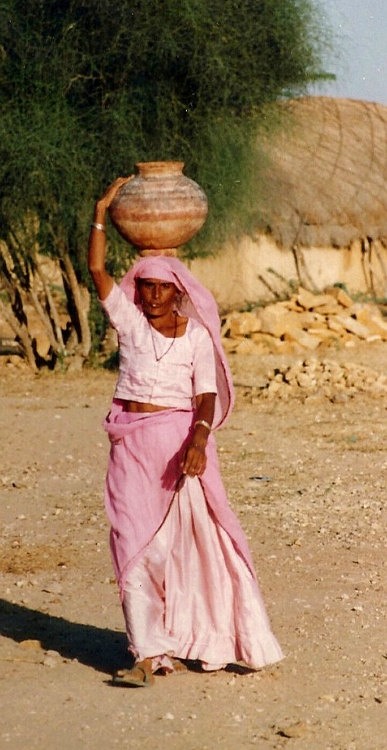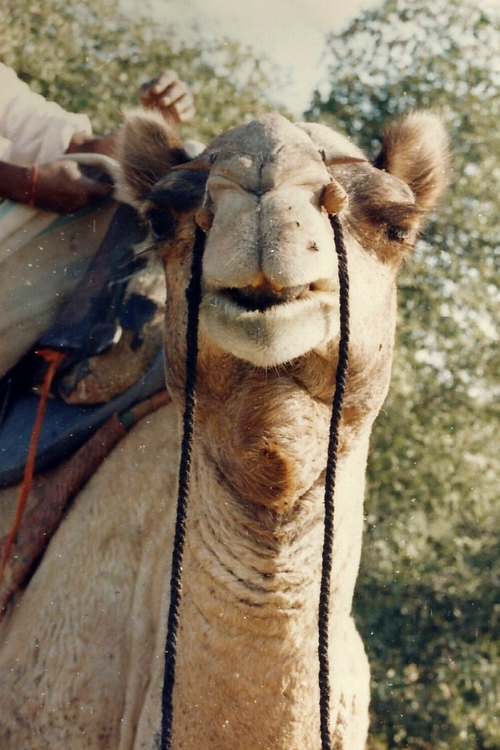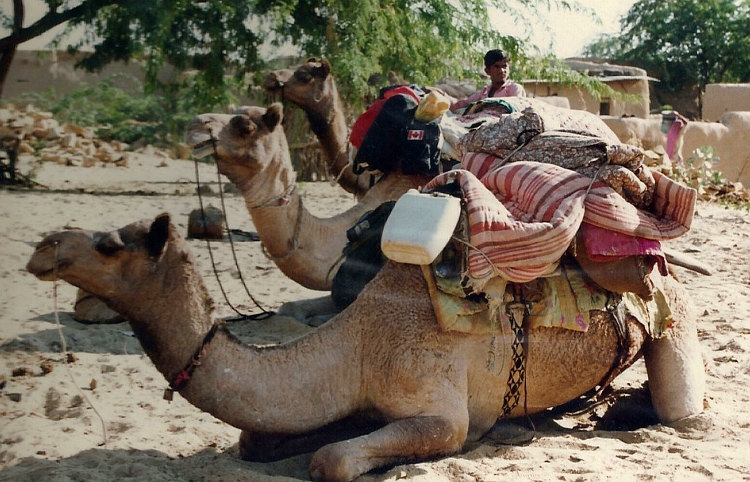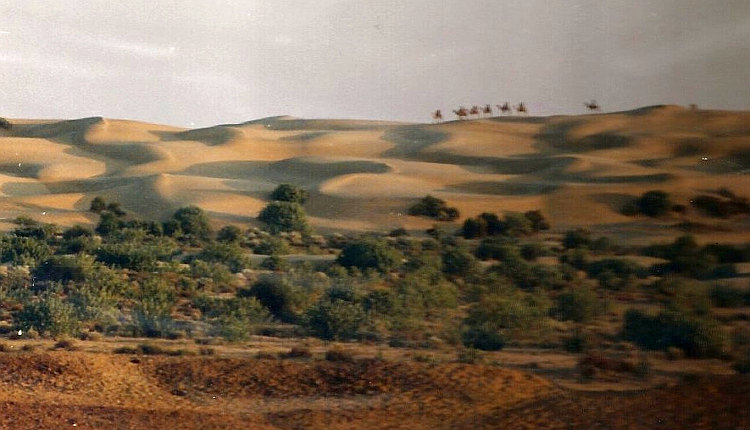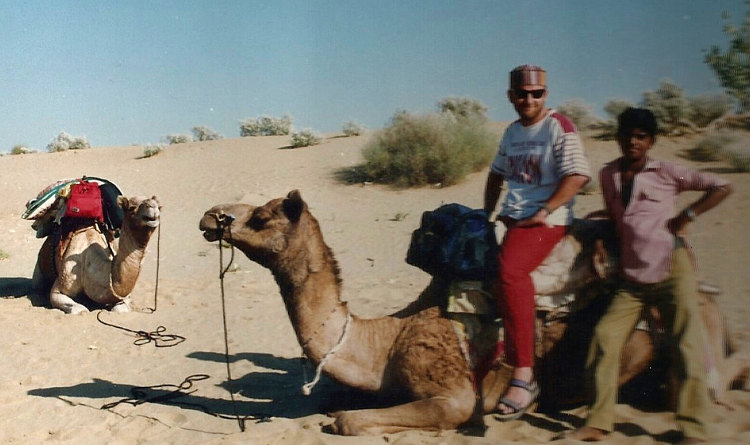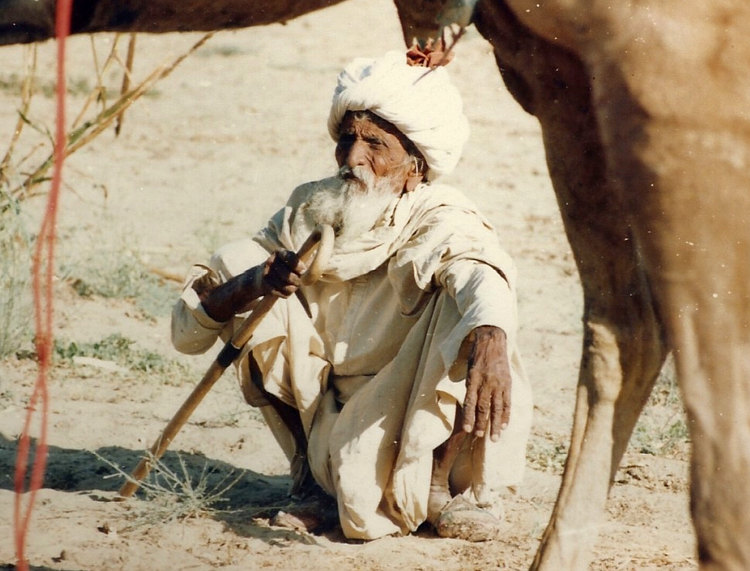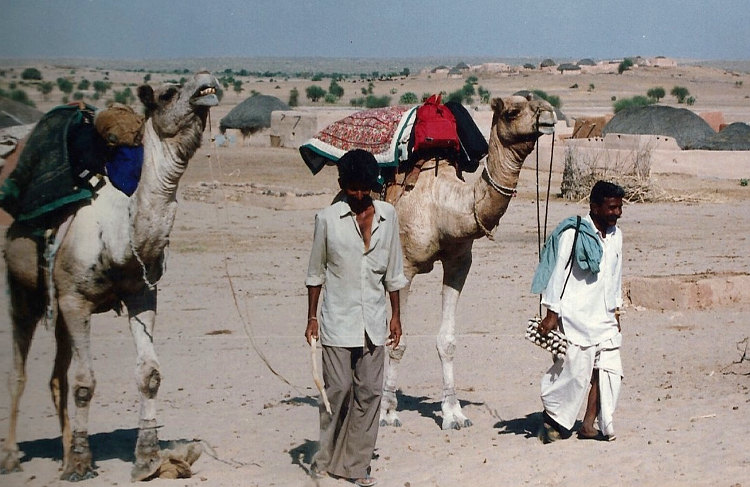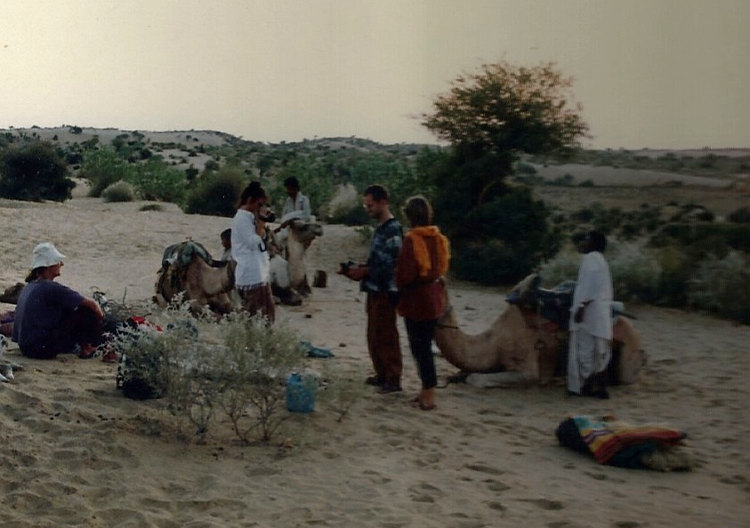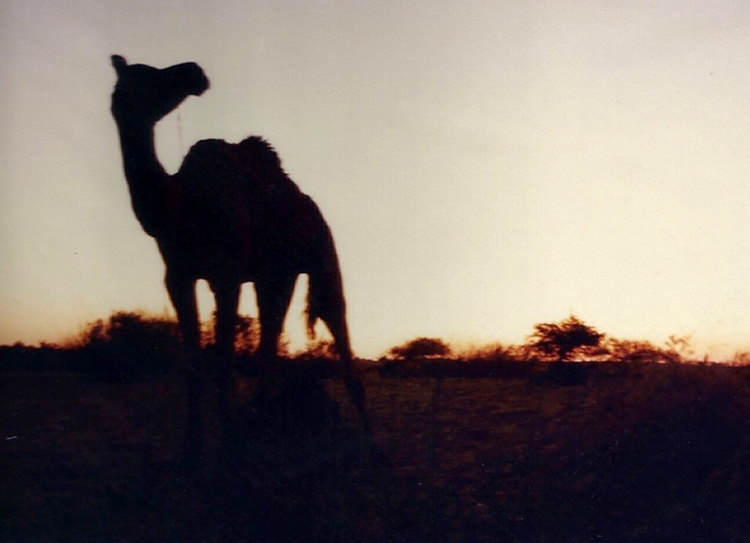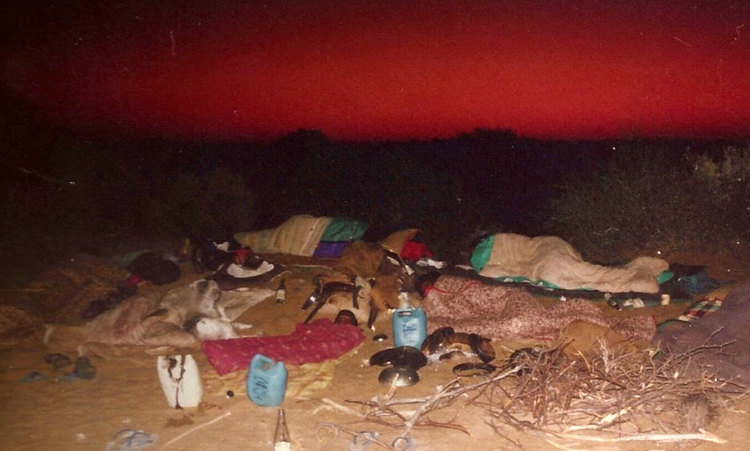 Next up – into Gujarat – but first a 16 hour overnight bus journey …..