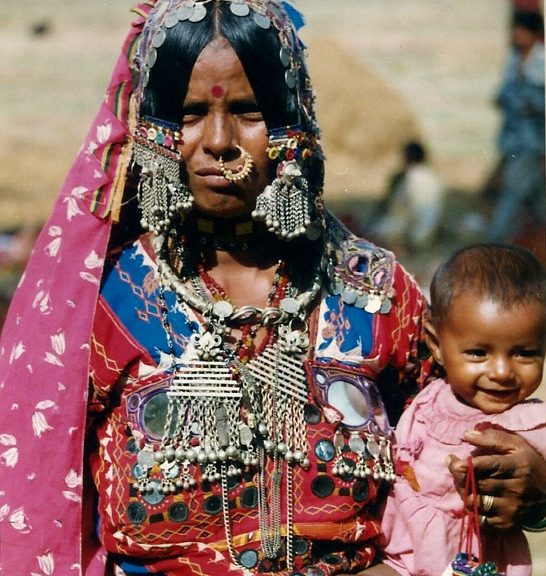 Bombay, Goa & Hampi
Bombay, Goa & Hampi
After a pleasant few days in Diu it was time to move on. My next stop was Bombay (as it was still known then). Nowadays I would have no hesitation in finding a cheap flight but then it was another long distance trudge by road and rail. It started with an overnight bus journey to Ahmedabad. It wasn't an auspicious start as I noted we only moved 8kms in the first hour and although the bus was only one third full, my travelling companians seemed to be all drunk! In addition, the driver had the much dreaded screechingly loud Indian videos on. However, I seemed to get some sleep and was woken at 6am in Ahmedabad. I managed to get to the train station easily enough and then a ticket to Bombay which left at 7.15am. The train journey was uneventful and I arrived at 5pm, 22 hours after leaving Diu. However the journey wasn't quite over. I got a suburban train to Churchgate station and then had some trouble finding a cheap hotel but eventually getting one at a place called Bentley's for 275Rps which I thought a tremendous rip off at the time. I think this was actually the Bentley Hotel as it is nearer to the station than another confusingly same titled hotel further south.
Sunday 20th November (Day 38)
As it happens, the Bentley Hotel is very close to the Wankhede Stadium so I spent the following day watching a test match between India and the West Indies and got the chance of seeing local hero Tendulkar playing a sublime innings but unfortunately getting out before a deserved 100. I also got some film developed, 1160Rps (£23) for 5 rolls – quite a lump out of my meagre budget in those days. To make matters worse 2 rolls out of the 5 were pretty useless, completely overexposed. Poor film developing was a major reason why there are so many gaps in my photographic record of this trip. This is exemplified by the fact that my only pictures of Bombay are of The Gateway of India and the cricket match.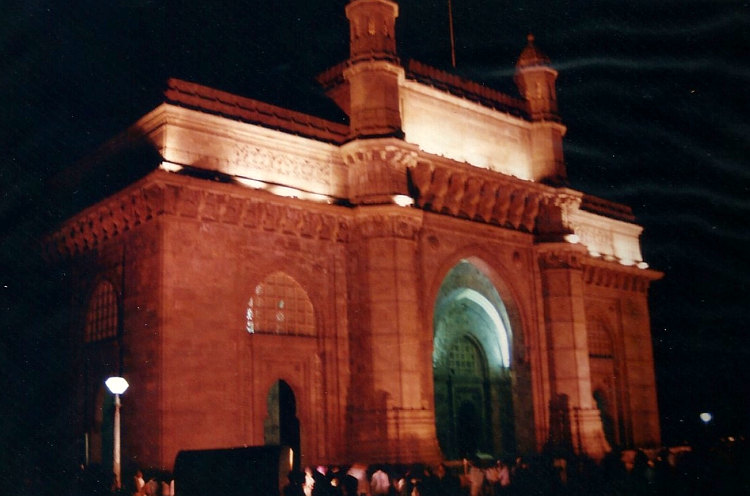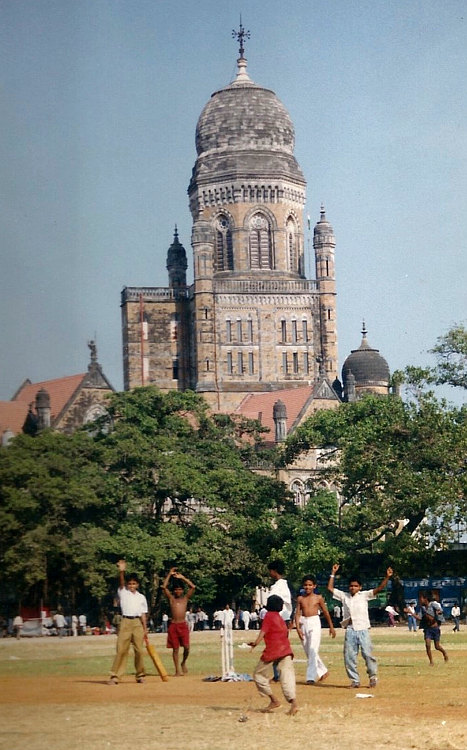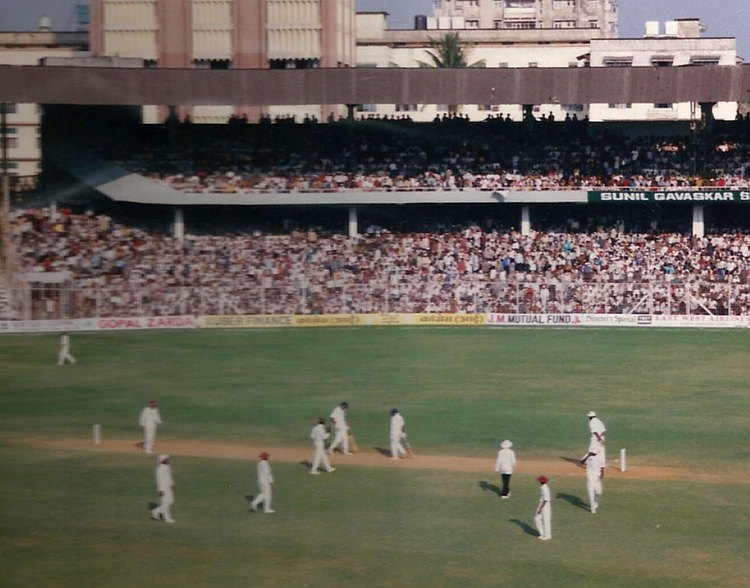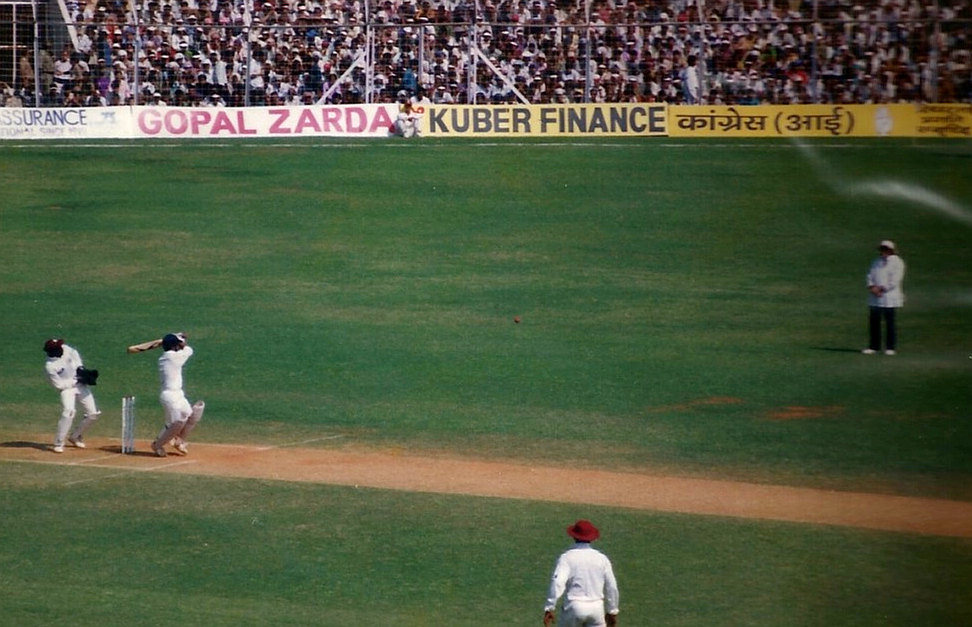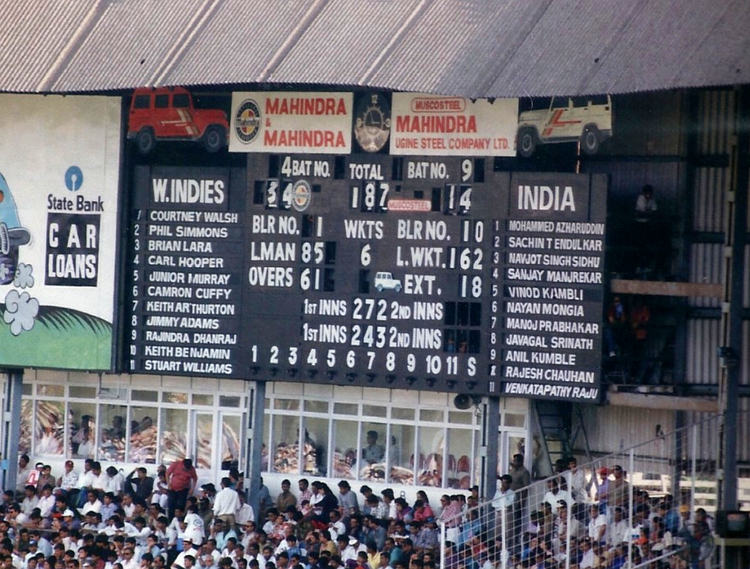 I also had trouble getting a bus to my next destination, Goa, which did nothing for my spirits at this stage which I described as very low. Anyway, I did manage to get an uncomfortable overnight bus to Goa eventually and arrived at Benaulim in much better spirits. No doubt improved by the sight of swaying palms and the sound of surf on powder white sands.
I described Benaulim beach as very quiet (almost too quiet!!) and checked in at Rosario's Guest House. It was the day of the Anjuna market (Wed) so I was soon off on a local bus. I took quite a few photos at the market as most of the stallholders were from a colourful ethnic minority it seemed, I think from Karnataka. There were also plenty of hippies and apparently the market started out a few years previously as some sort of hippy barter cum flea market. No doubt nowadays it is a whole lot more commercialised. Anyway, they must have been pretty good sellers as I came away with quite a few things including a beach towel/lunghi and a number of bags.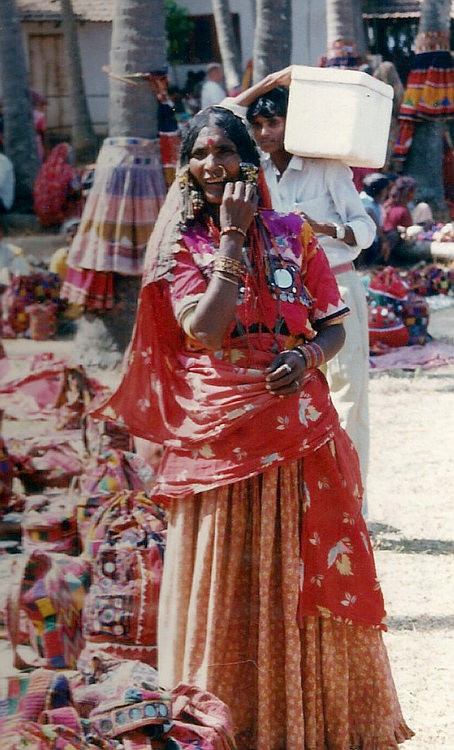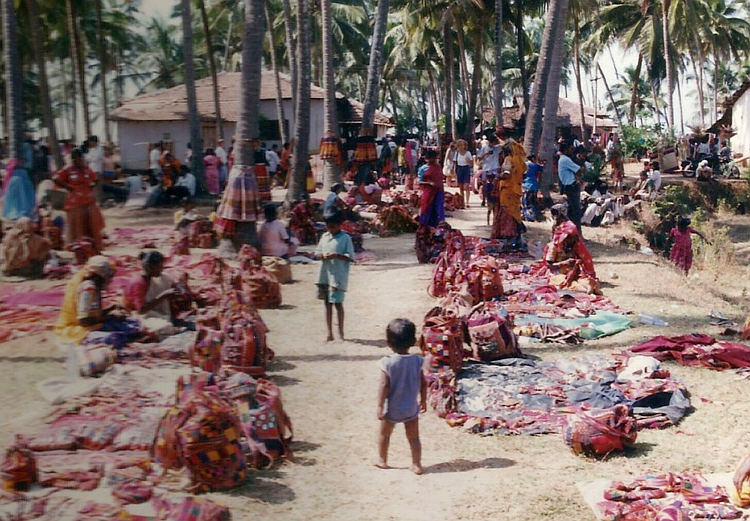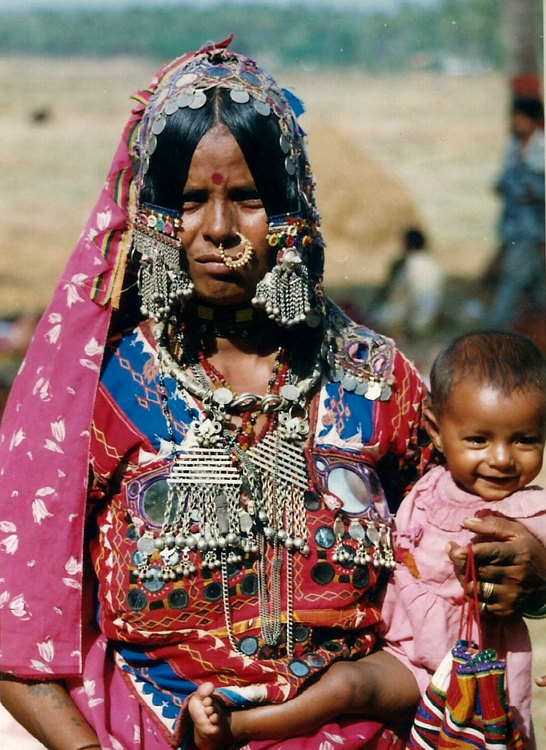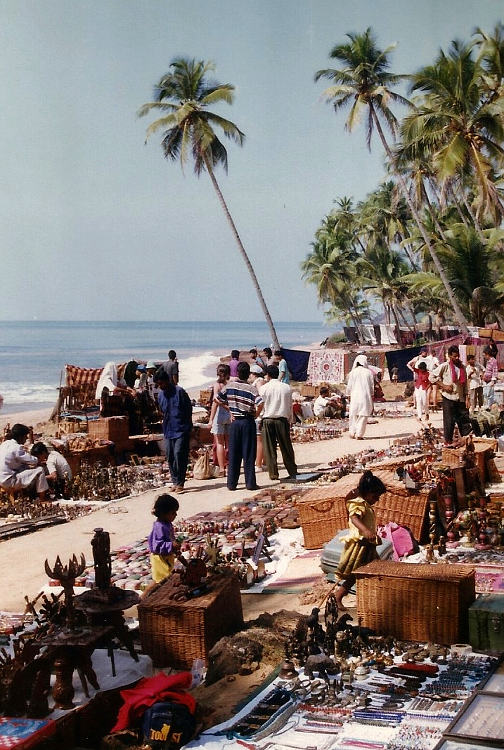 I spent the next few days chilling on the beach, noting that a number of the shacks hadn't even opened yet and would only open nearer to Christmas when there were more tourists. It seems I spent most of the days chatting to the various sellers which had come to Goa for the tourist season. They came from all over – Karnataka, Rajasthan, and Gujarat. There were also a few travellers from Europe as well. I seemed to have spent most of my time at the only bar/restaurant on the beach called Pedro's which is still going strong. I also cycled to a number of other beach markets – including Panjim and Margao. I also went to a bullfight. Not your usual bullfight but one where the two bulls fight each other until one has had enough and runs away, usually into the crowd which has to scatter sharpish. I saw a couple of guys getting trampled but they seemed to be OK. I also popped into Panjim which is the capital of Goa. The reason I had trouble getting a bus ticket was because it was the Francis Xavier festival. They brought his preserved body out of storage to display him every ten years or so and this was the time. Apparently he had died in China where they first buried him, then, when they dug him up some time later to bring him back to Goa, they found that his body was perfectly preserved. Obviously a miracle. Whatever happened, it is an interesting story which is told here. This is the link to the regular wikipedia page about Francis Xavier which is also quite interesting. The church itself, the Basilica de Bom Jesus, is also very impressive. On one of my last days in Goa I hired a motorbike and headed off south on picturesque palm lined roads. I first had to cross a river on an old steam ferry and later I mention in my diary visiting an unnamed fort with great views (must have been Cabo de Rama) and then onto a beautiful empty secluded beach called Palolem with just one restaurant and a collection of fishermen's shacks. I recently found a picture on the internet of what it looks like now (see below), somewhat different!!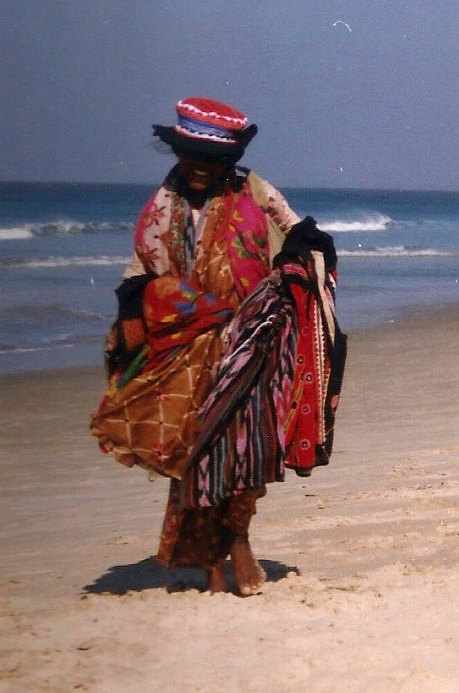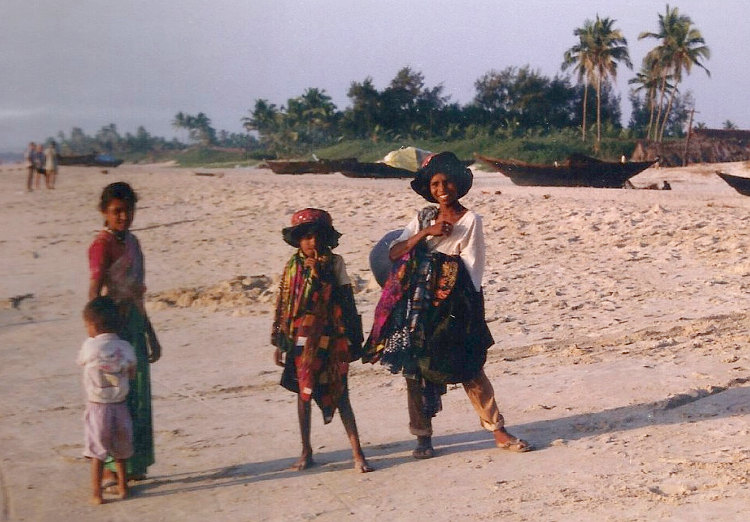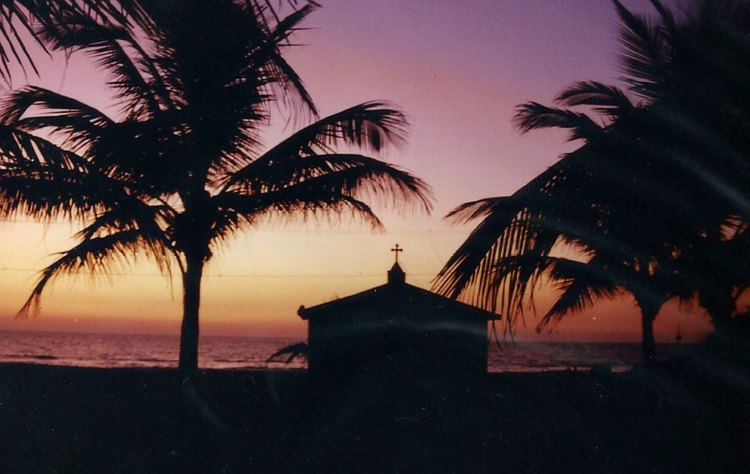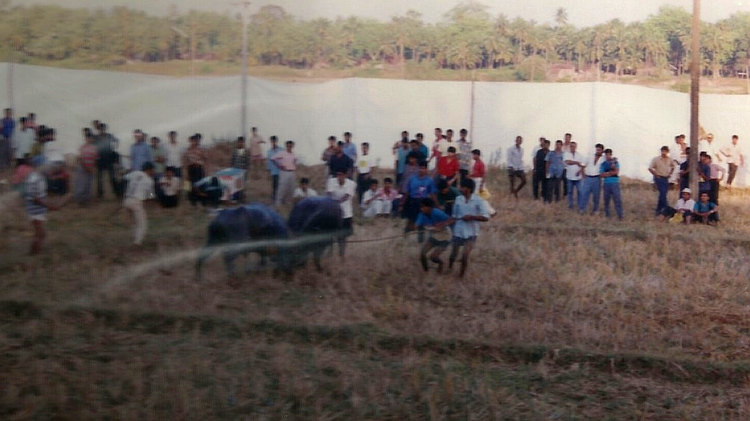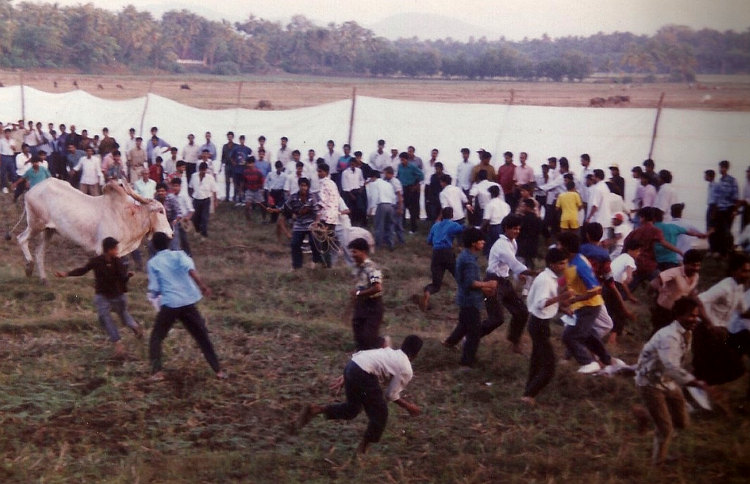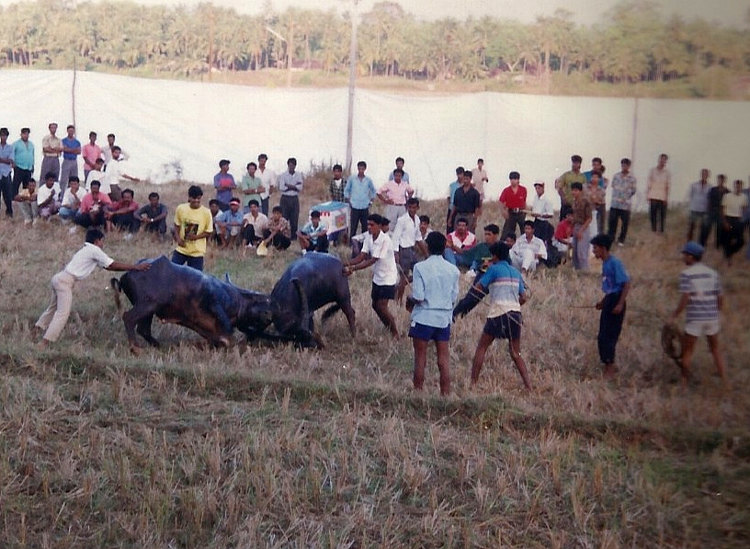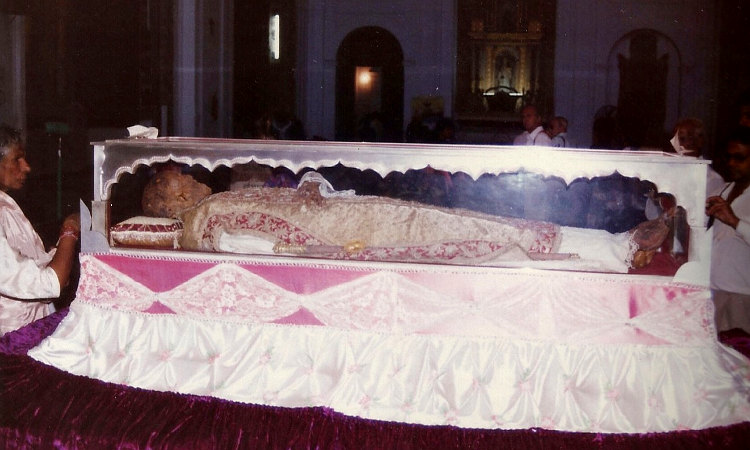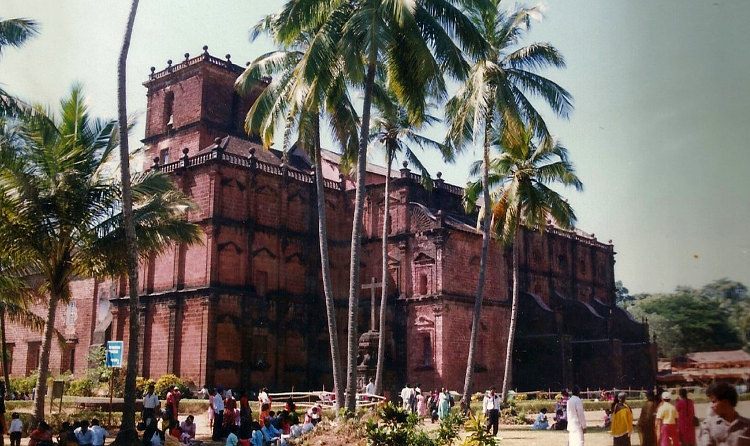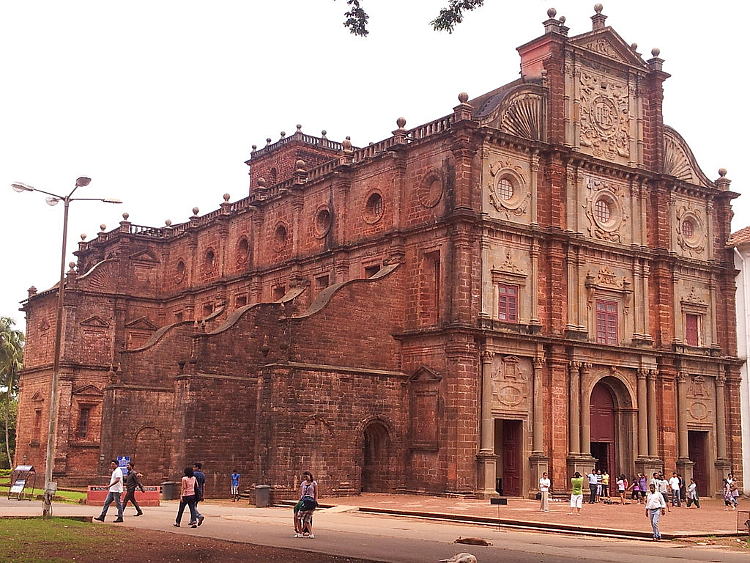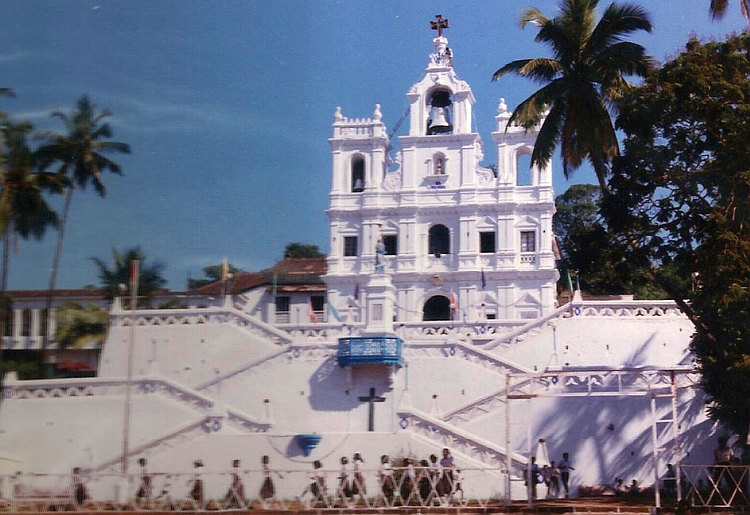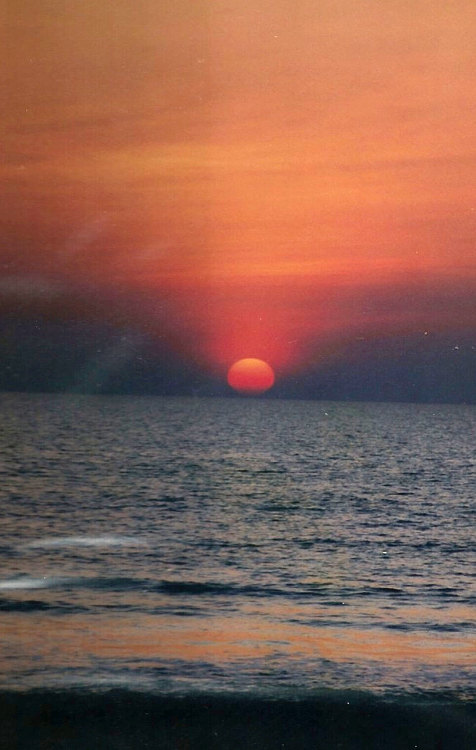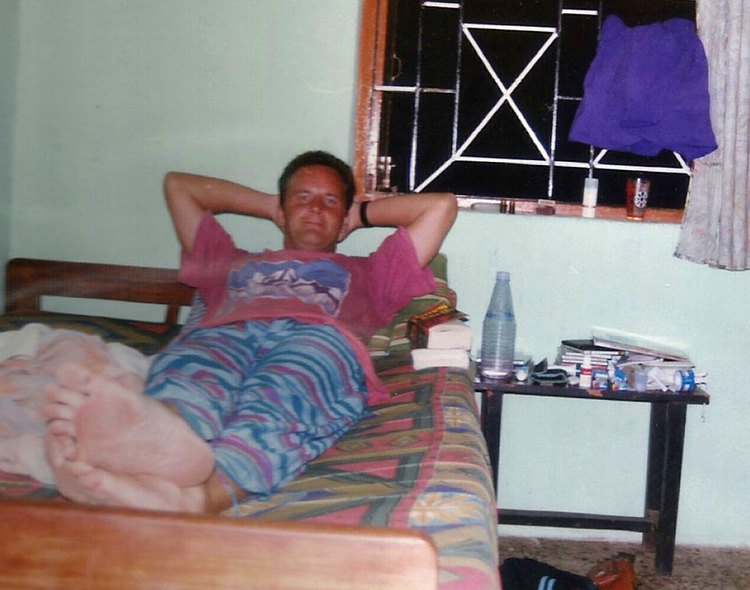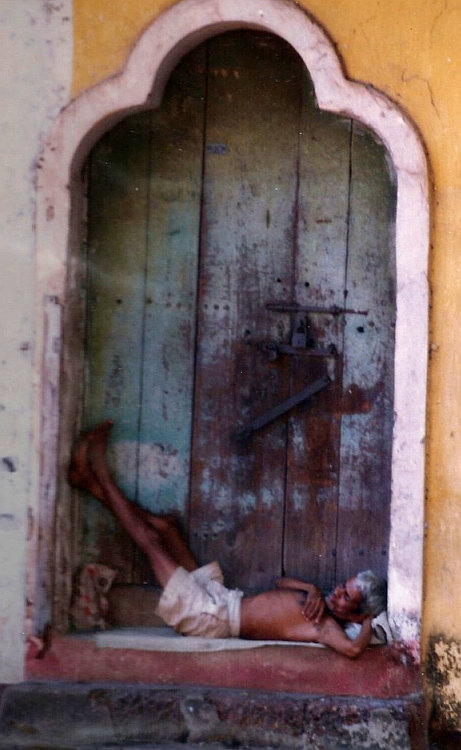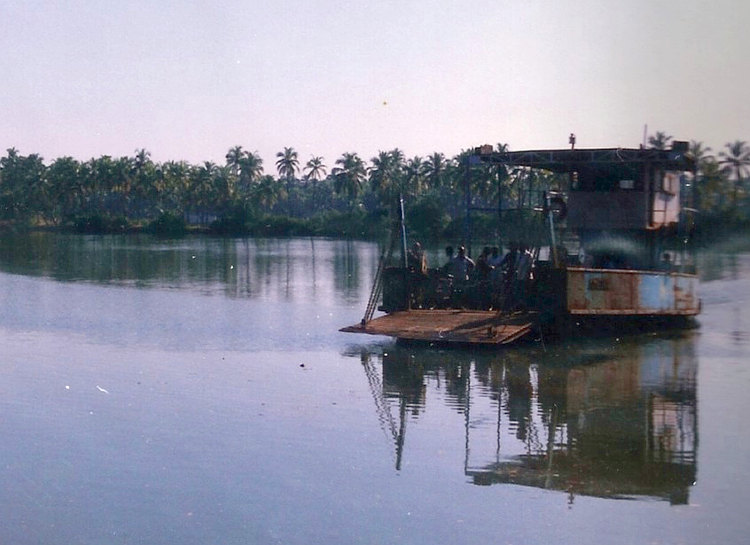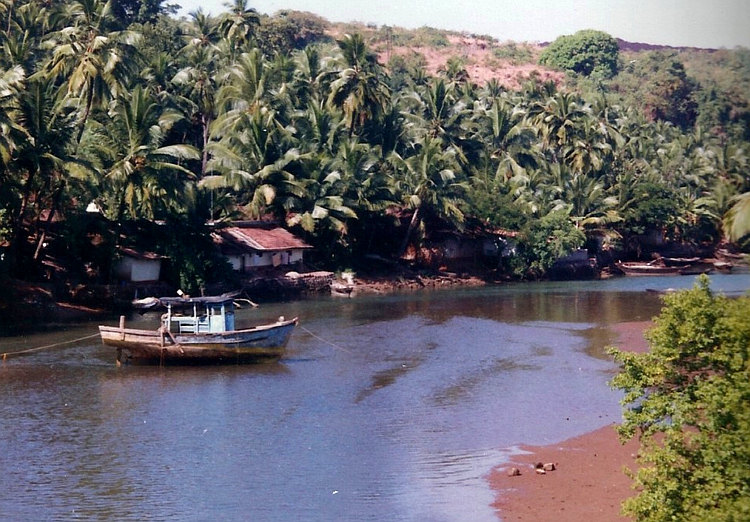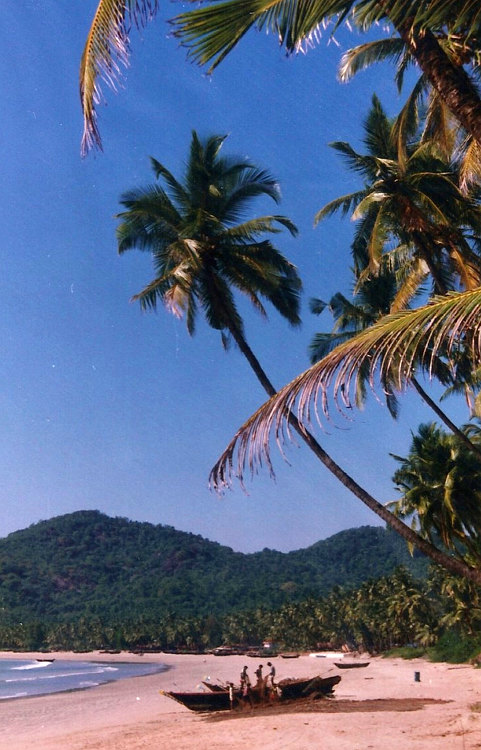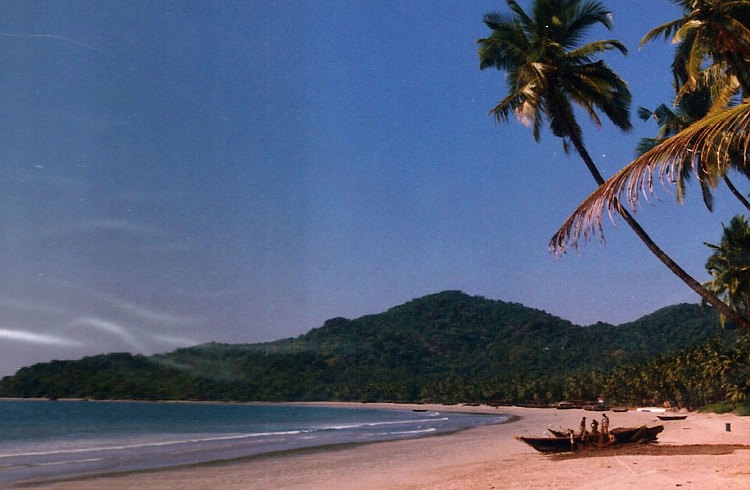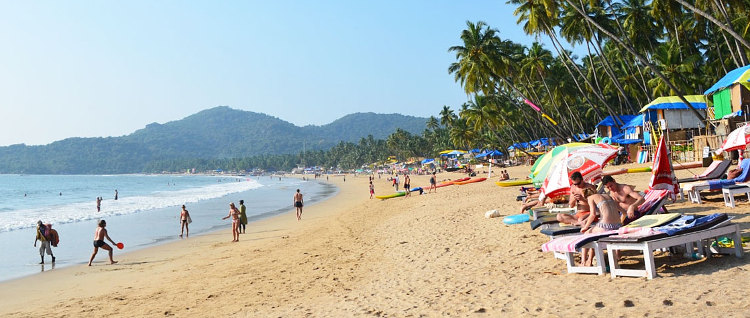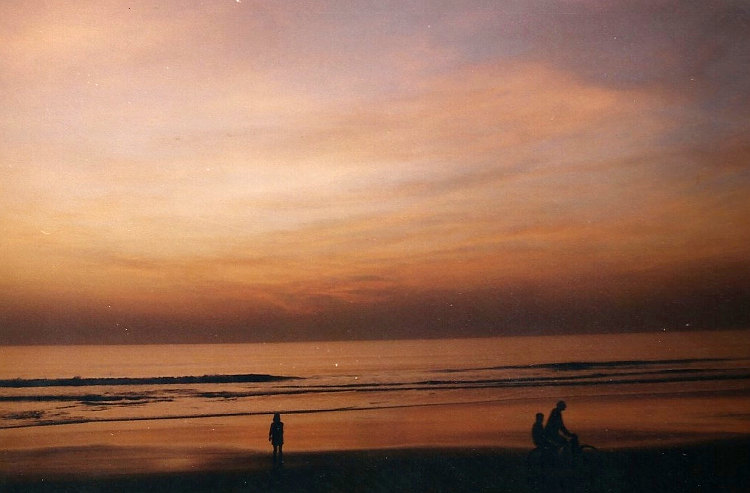 Thursday 1st December Day 49
From Goa, I Arrived in Hubli at 7 am after another overnight trip. Then I got an auto rickshaw to Hampi. My first impressions weren't great – the first hotel I looked at had no beds and was full of drugged up hippies. Eventually I got a cell in a hotel with no name. It had a concrete bed with a paper thin mattress and a mandi at the end of the corridor. Although I didn't mention it in my diary I think it must have been the cheapest place I stayed in throughout my time in India. Despite my poor experiences with the hotels, Hampi itself was amazing. It actually reminded me of a Star Trek set from the original 1960s series- Roman-like ruins surrounded by amazing rock formations which looked like they were made of papier-mache – just like the original Star Trek sets. Just like in the TV series, the locals had made temporary looking lean-tos and shacks throughout the scene. The following day I got up early for a proper explore and found I was the only person around. All very surreal. I also noted that for my main meal I had tomato and aubergine pasta served on a banana leaf with a fruit cake for desert while next to me a group was smoking from a large chillum. I don't know where that came from.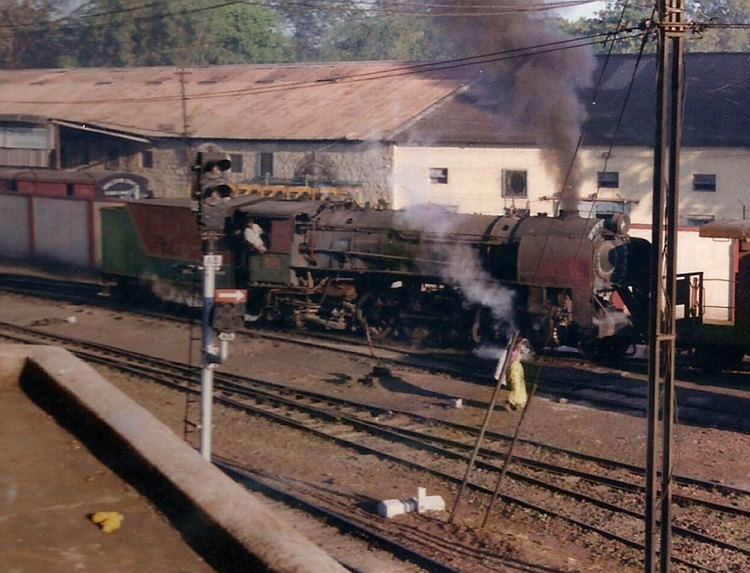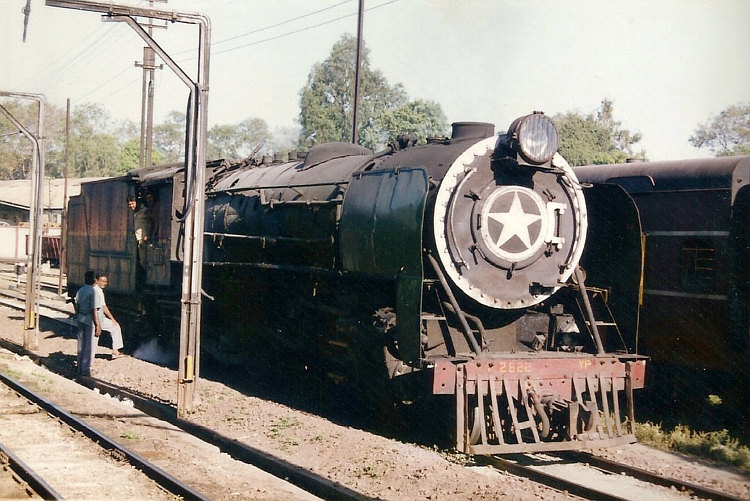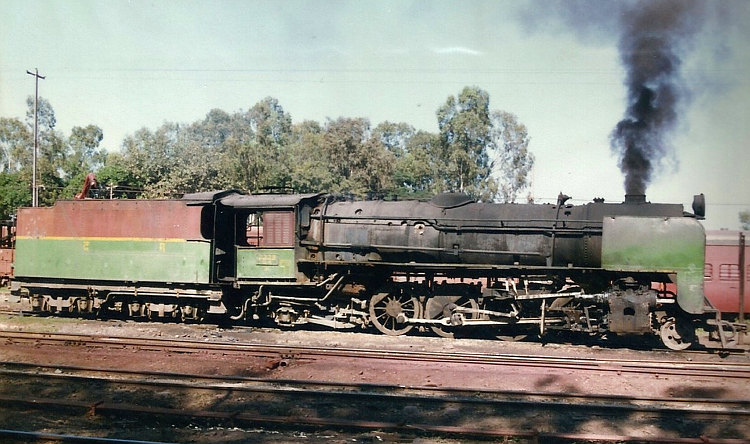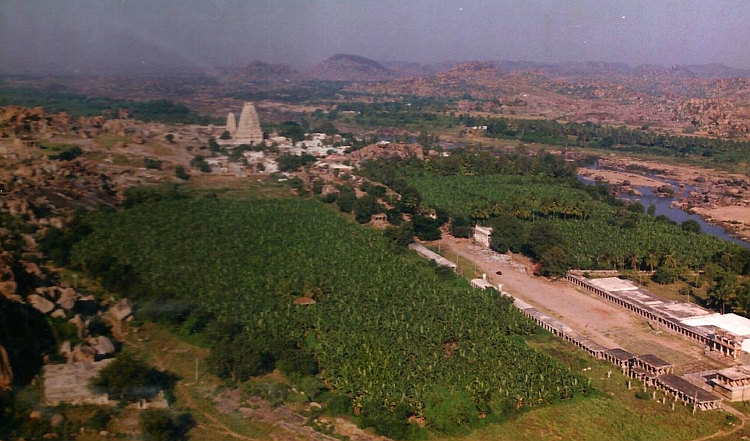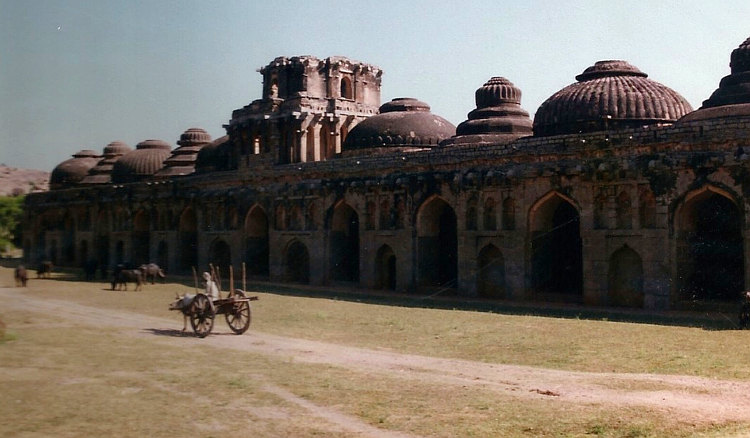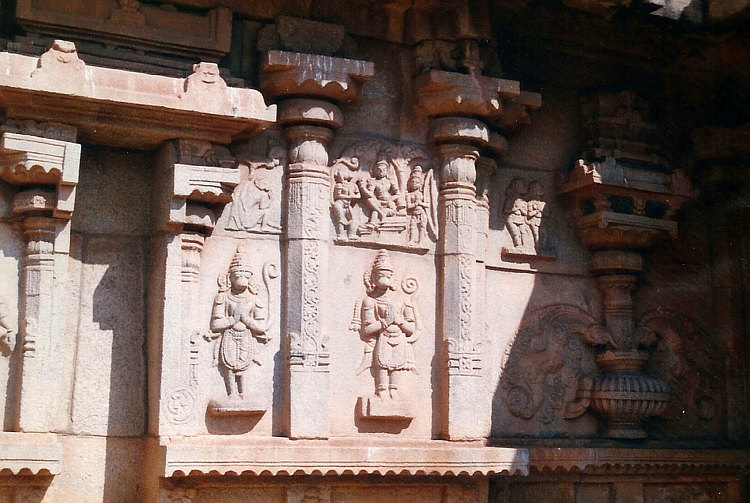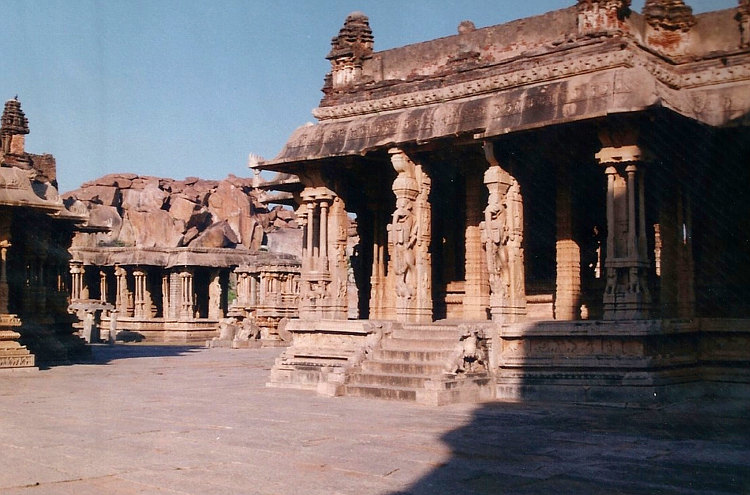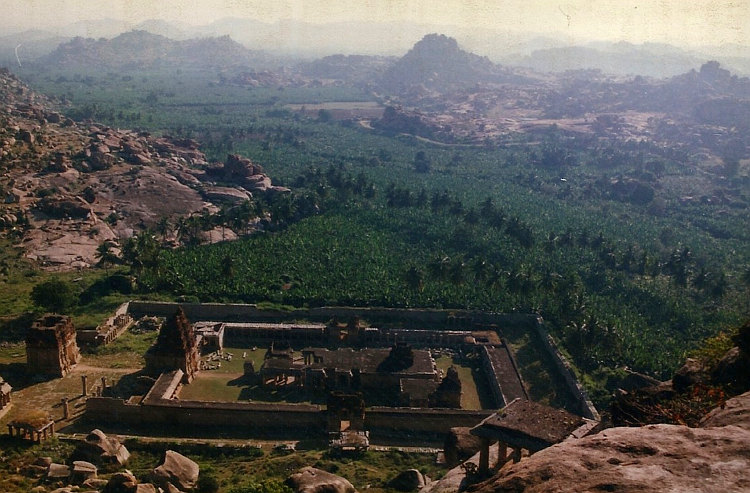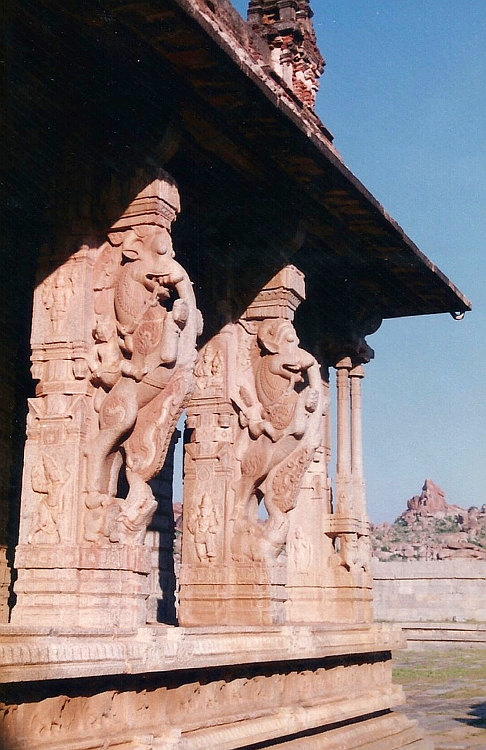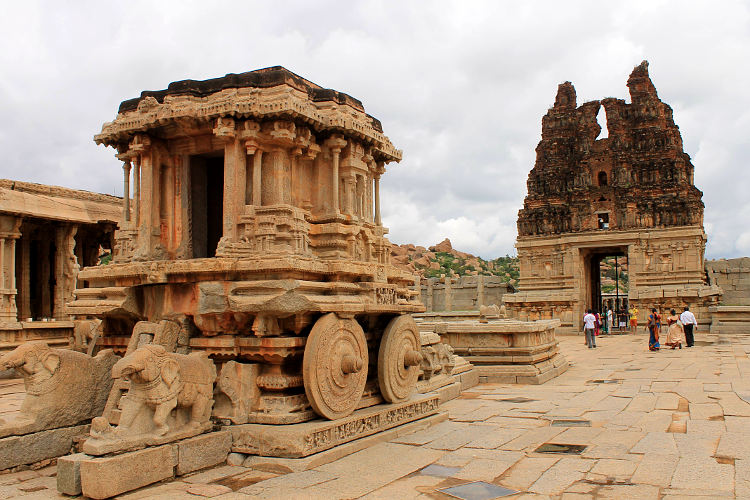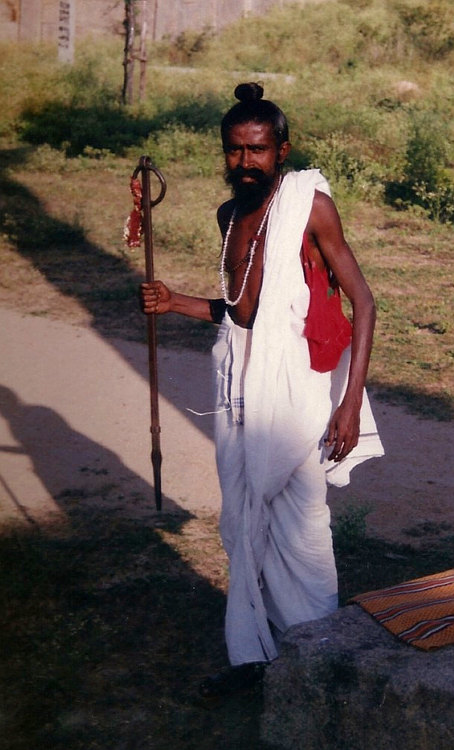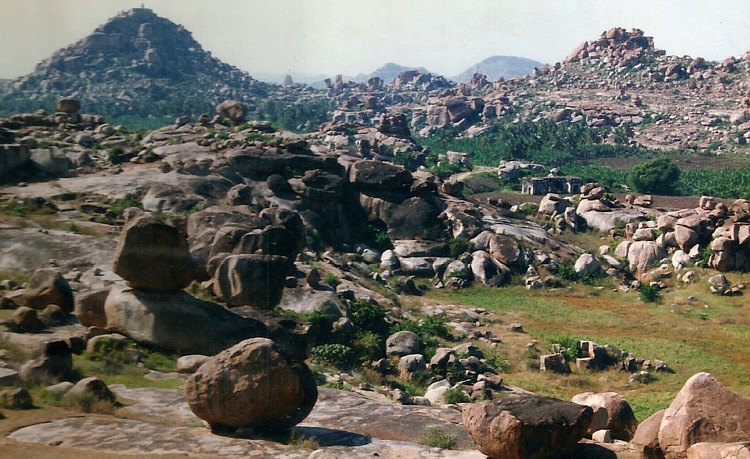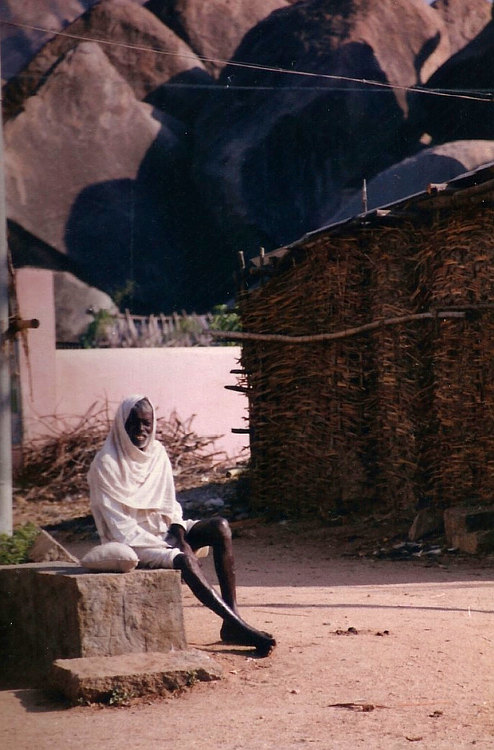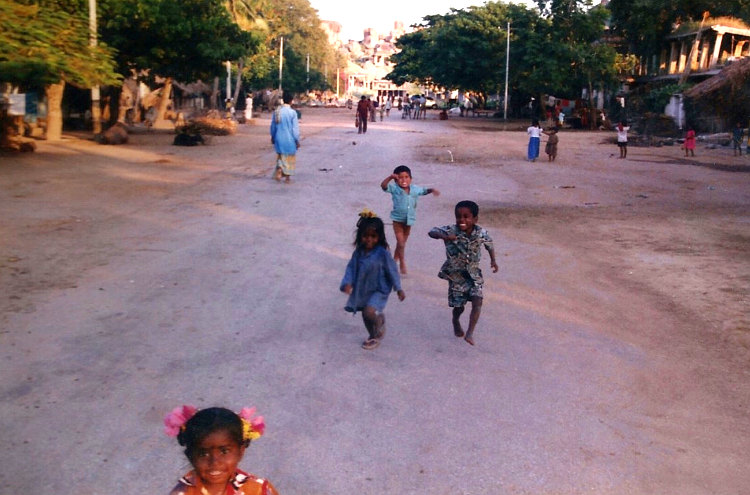 I stayed in Hampi for a few days relaxing and exploring more ruins and then got yet another overnight train, this time to Bangalore.