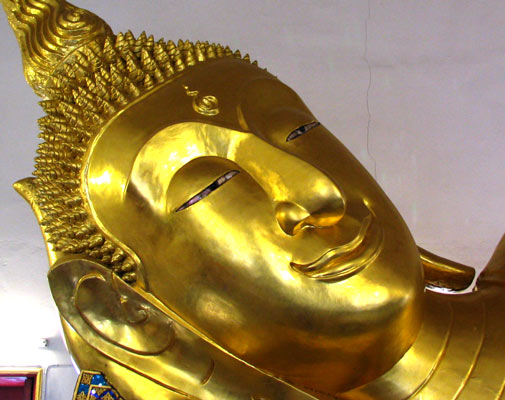 Bangkok 'burbs
Bangkok 'burbs
Around the outskirts of Bangkok there are many interesting nooks and crannies to explore. This page covers three: Chatuchak Market in the North, Ko Kred even further north and a walk around Thonburi, on the other side of the Chao Praya river to Bangkok, so close but yet relatively undiscovered. I've got another page: Bangkok wanderings which include further walks more in the centre of Bangkok.
The first is Chatuchak Market, one of the biggest markets in Asia. It is a huge collection of tiny stalls selling everything under the sun. Everything from kitchen utensils to second hand books to pets, clothes and furniture. At the weekend thousands of people disgorge from the skytrain to meander around its cramped and sweaty alleys. The video below was made for our podcast site, podcastsinenglish.com Not surprisingly a podcast site for learners of English. It gives the flavour of the market, all be it on one of its quieter days. Despite all the amazing temples and glitzy shopping areas of downtown, I have to say going to Chatuchak was one of my favourite things to do in Bangkok.
Ko Kred is a small island in the middle of the Chao Praya river. Many years ago Ko Kred was far away from the city of Bangkok, but over the years the city has grown around it and now runs far past. However, this small island remains timeless. There has never been a bridge to Ko Kred and being only 4 square kms in size, it's been too small to accommodate even one road. A path circles the island and that's it. It's quite a famous place however for two reasons. The families of most of its 6000 people can trace their roots back to the 16th century. They are 'Mons' and migrated from Burma at that time. They have also kept their biggest tradition, that of pottery making and that is why the place is famous nowadays. At the weekend there can be quite a few tourists, but we decided to take a look during the week. We found a very peaceful, quiet place and just a few potteries where they still make pots the old fashioned way.
Below are some photos and again a video from the podcastsinenglish site.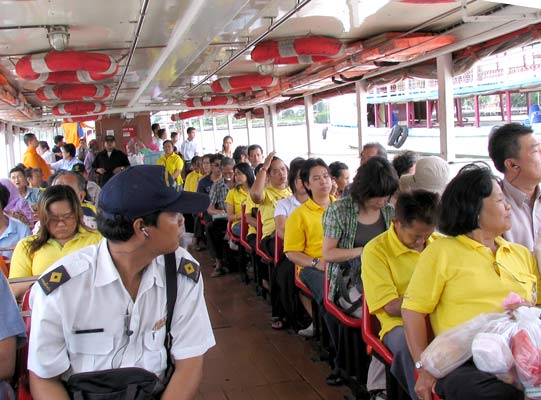 Getting to Ko Kred is quite easy. Take any of the river ferries to the northern terminal (N30) at Nonthaburi and then a taxi. (The regular ferries don't go any further north any more. You could get a tourist boat at the weekend)
It's less than 100m between the mainland and the island and you will soon find the place where a tiny boat ferries people across the river for 2 baht (3p or 5c). On the other side is quite a large temple complex which houses a sleeping buddha and a small ceramic museum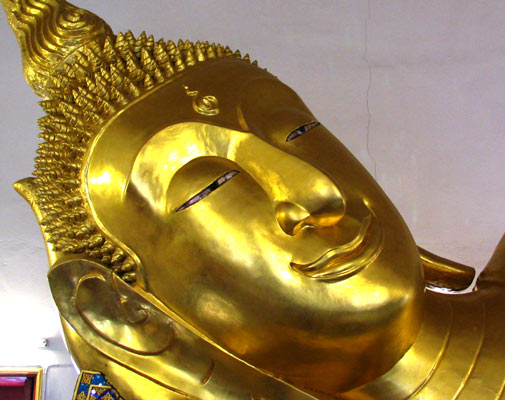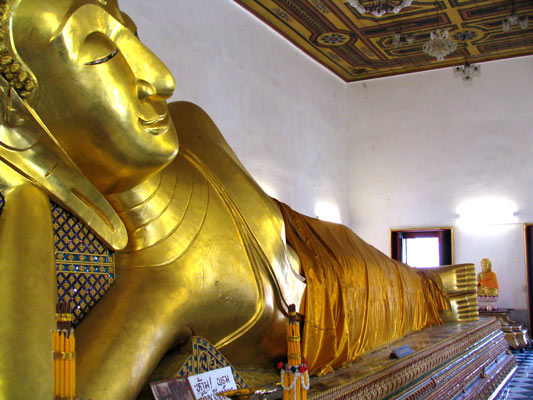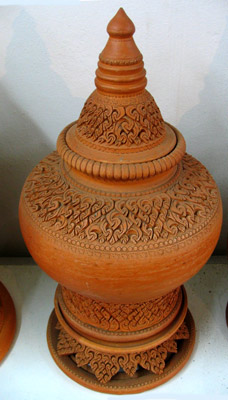 We also found a small stall selling fried flowers, which were actually quite tasty!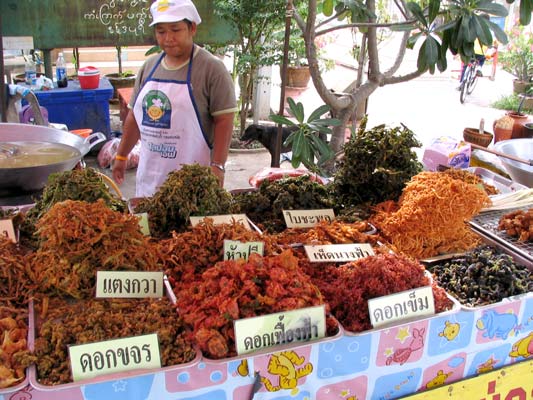 From here begins a small path which goes around the island. You will no doubt pass many small shops/houses selling pots and also quite a few kilns. Some still working but many other which haven't for quite some years. And of course it wouldn't be Thailand without a few restaurants/food stalls. It would take you a good few hours to get the whole way round the island on foot. However, there are quite a few motorcycle taxis which can whizz you round in a few minutes. Along the path are also a few interesting temples. The centre of the island seems to be given over to jungle, a few crops – such as banana plants and lily ponds.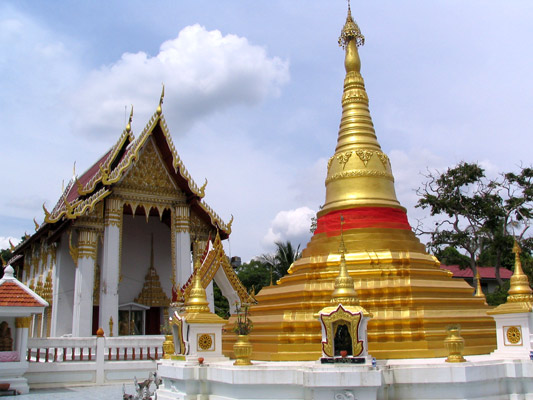 Here's another video made for podcastsinenglish
You can find some more info on Ko Kred here
Thonburi is the whole area on the other side of the river to Bangkok. Generally quieter and much less touristed, it's still an area of much interest. Many people take a long tail boat trip along the khlongs which is well worth while, but this is the story of a walk, from a memorial garden, via back alleys and following klongs to wats, Chinese temples and a church.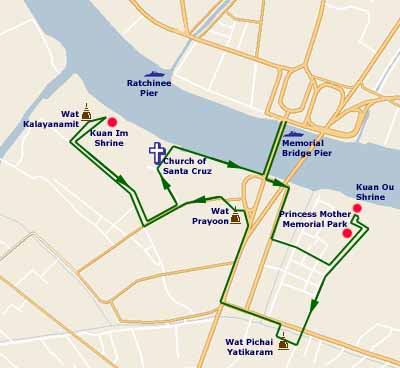 The map above follows our walking tour approximately (I found the map after I did the walk!) and is taken from the infomative site Thailand for Visitors. We started not far from Memorial Bridge at The Princess Mother's (the present king's mother) memorial garden. It's a bit difficult to find, in the middle of a residentlial area, but well worth it. The garden itself is a small oasis of calm in the bustling city. The garden is actually located on the site of the Princess Mum's original house which had been demolished before she died. Along with the garden there is a small but interesting museum dedicated to the memory of the Princess Mother containing photos and realia from her life – everthing from pots she made to some of her clothes. There is also a mock-up of what her simple  house was like – she grew up the daughter of a goldsmith. Not at all in the lap of luxury.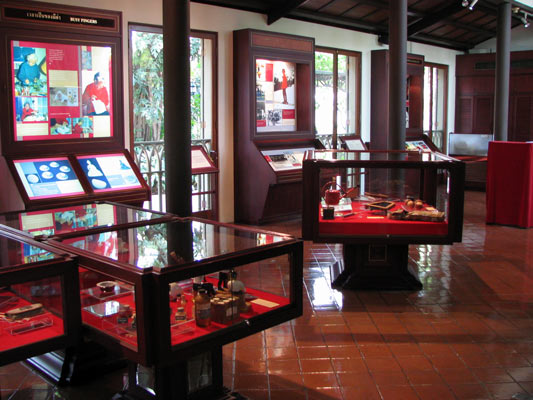 From here we walked via interesting backstreets and lanes to a collection of wats, including Wat Anong Kharam.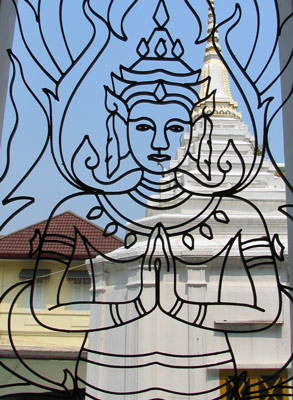 and also Wat Phichaiyat on the corner of the busy roads Somdet Chao Praya and Thanon Prachathipok. It had been an abandoned temple but it was restored in 1841. It is spread over a large area and is in a collection of styles. Many aspects are Chinese but the main prang is in the 'corn cob' style of Sukhotai.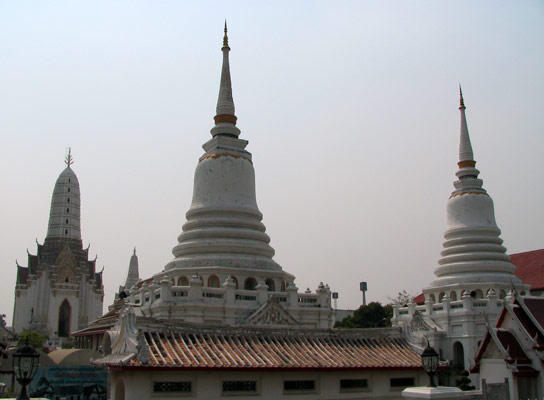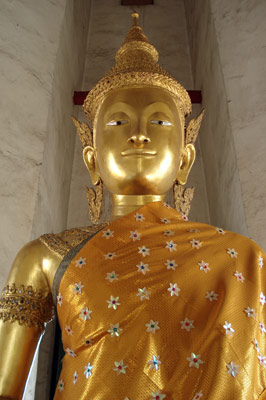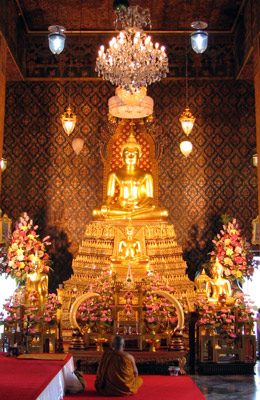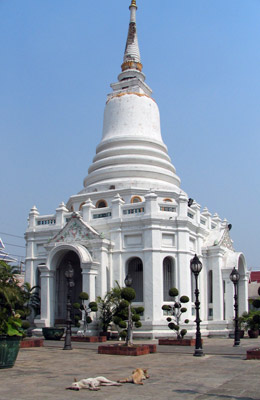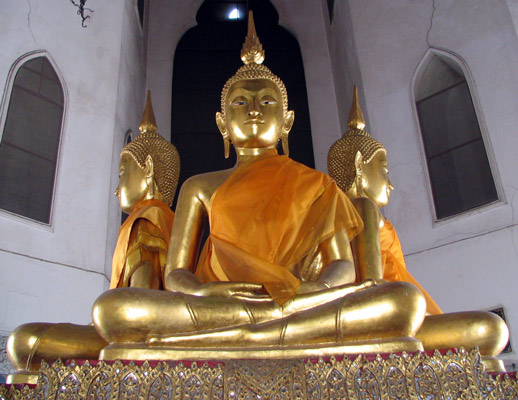 From here we crossed busy Thanon Prachathipok to walk alongside the small Khlong running alongside Thanon Thetsaban Sai 3. Of course still never far away from the mobile food sellers.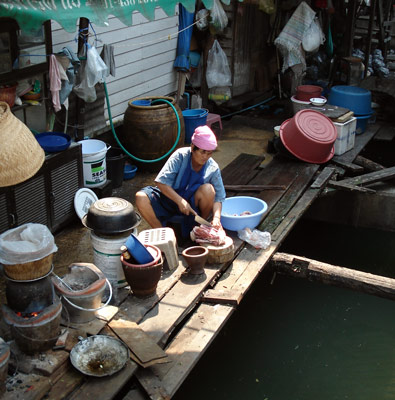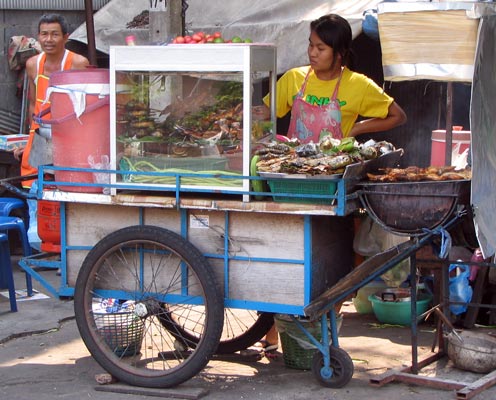 This lady had a string of Isaan sausage stalls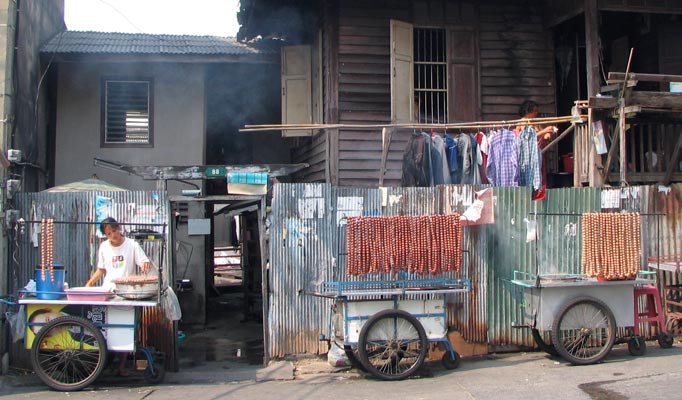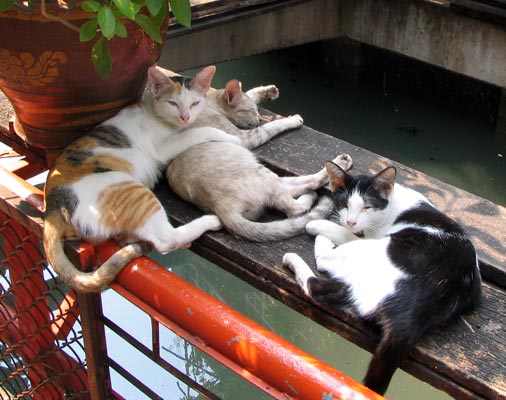 Eventually if you have a keen sense of direction you can make it to the Wat Kalayanamit. There is also a mosque near here but we never found it. Again a large and imposing wat, it contains a huge seated Buddha. At the time of writing, the temple had suffered years of neglect but was only now being restored. Along with the seated Buddha the temple is famous for having the largest bronze bell in Thailand. Like a number of Bangkok's wats there are a few interesting Chinese lifesized statues which apparently were brought to Thailand as ballast in Chinese ships. In the wat's grounds there is a large open space which fronts the river and from which are fine views up and downstream.
From here we once again headed into the meandering alleys of a residential area and were lucky to find the Chinese temple of Kuan Im, containing an interesting set of murals and a ceiling trembling with the dark figures of hundreds of bats. I'm sure it would be a fine if unnerving sight to see these guys head out of the temple at sunset.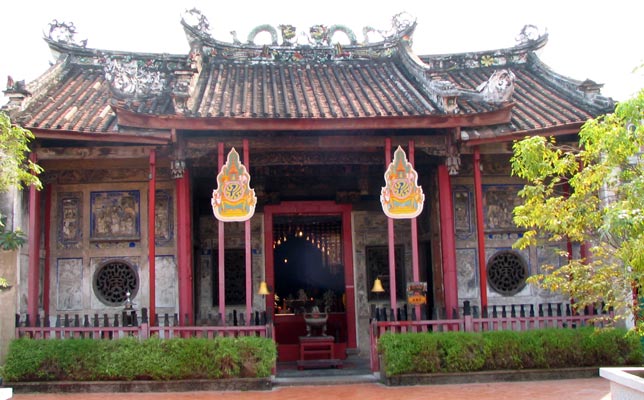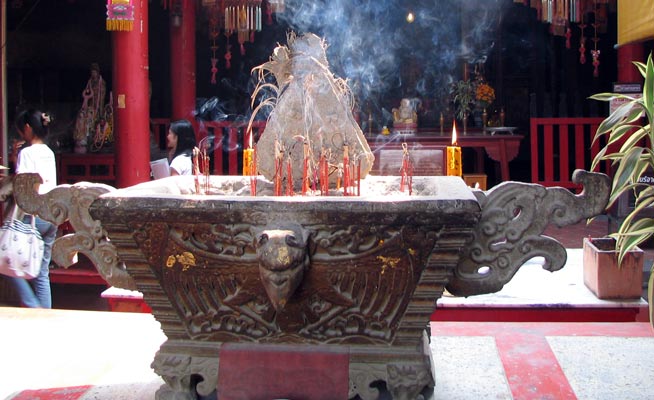 More narrow winding alleys followed until we spotted the spire of Santa Cruz Church.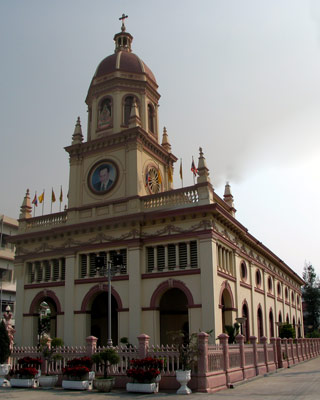 From here we joined Thanon Thetsaban Sai 1 to Wat Prayoon, quite a famous landmark becuase of its huge whitewashed Sri Lankan style Chedi. Round the corner from the Chedi is a pond of turtles, some quite large, which are apparently fond of papaya. From here it is a short walk back to Memorial Bridge our starting point and a river boat trip home.