Coconut Paradise
Coconut Paradise
Touring Nakhon Si Thammarat province April 07.
It is said that in the 1970's a few hippies stumbled across Ko Samui and found paradise, with powder-white sands, clear turquoise water and gently swaying palms. Over the next 30 years this paradise was swamped with ever encroaching development. Now, there seems to be more concrete than sand. However, perhaps not surprisingly, just across the water from Samui there are beaches near the fishing village of Khanom, which are still in pristine condition. But for how long? We went to find out during the Songkran holiday in April 2007.
Of course most holidays for us start with an overnight train journey. I've posted pics of the inside of Thai trains before, so here's a film of the world going by outside and below that a photo of breakfast, clingfilmed and ready to go..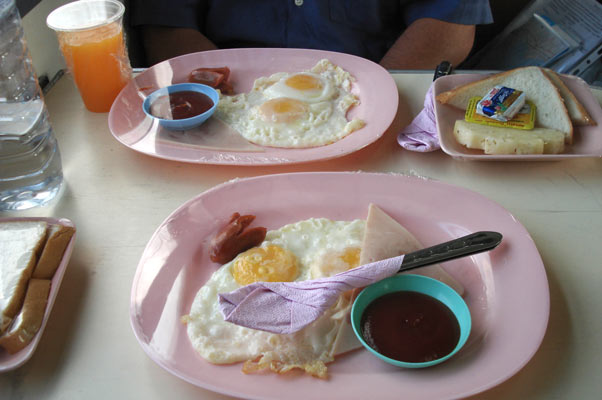 The overnight train from Bangkok, disgorged its load of foreign tourists at Phun Phin (the rail head for Surat Thani) into the waiting arms of the tourist touts waving tickets for the boats to Ko Samui. The touts were very surprised to hear that we weren't going to the islands but were headed to the mainland coast. A very strange state of affairs, for in addition to the boats for Ko Phangan and Ko Samui, there were buses to Krabi, Ko Lanta, Ko Phi Phi even Phuket. But just to Kanom, a village on the coast opposite Samui? There was nothing.
We picked up a taxi and headed into town. Regular readers of these pages will know that we were in search of our favourite form of transport – Honda Waves. It didn't take us too long, as even in Surat Thani town there are many travel agencies ready to arrange anything. Within minutes we had hired 2 bikes at 200 baht a day each. We were off on the open road.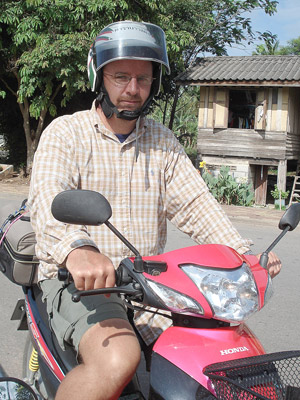 Highway 401 heads for the coast and then hugs it as far as Nakhon Si Thammarat. Like most Thai roads it's wide, fast and in good condition. Not great for sightseeing on Honda Waves but it enables you to get from A to B in quick time. We took the turn off after about 60kms onto the much more scenic route 4014. Here we were better able to enjoy the greenery of the jungle and swaying of the coconut palms. The landscape is fairly flat, punctuated only by the odd limestone 'sugarloaf' outcrop more commonly associated with the area around Krabi.
There is always time to stop for refreshments and to make some new friends.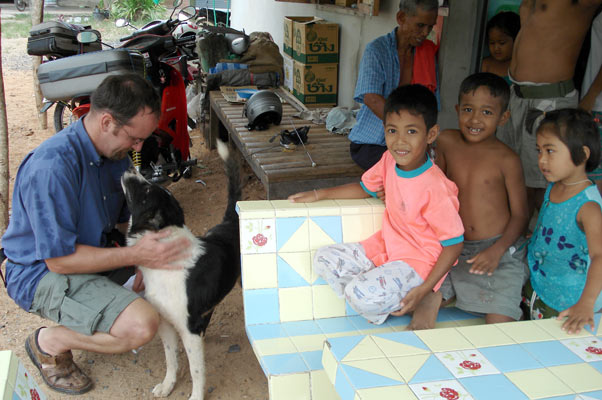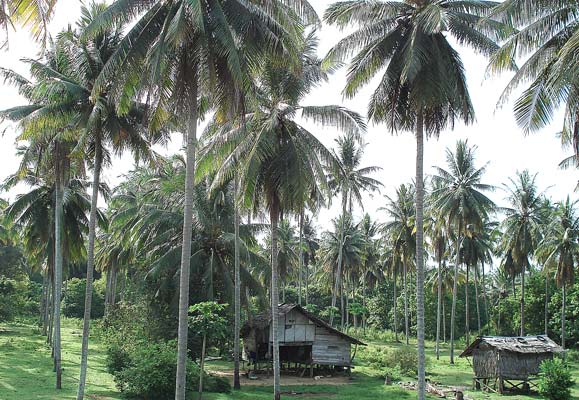 Khanom village is just a collection of houses, a bank, a market and the usual necessities of a village anywhere. But the coast is another 7 or so kilometres further on. There are a number of beaches here. There is the long straight almost deserted Khanom beach – which for now just has signs saying land for sale – apparently the locals are waiting for the boom to happen but no one is selling at the moment.
South of this, round a small headland, is the main 'tourist beach' of Nai Plao.Tourist beach is a bit of a misnomer, as there are only two hotels on either side of the bay, while the kilometre long beach itself sports only the one 'resort' with another one being built (as of April 07). We had booked this place by telephone a few days before – Supa Villa it's called in the guide books, but the name on the gate says Royal Supar Beach Resort. The staff were friendly and first impressions were very good. We were shown to our solid looking cement stilt hut right on the beach, shaded by a couple of coconut palms out front.
Here is Nai Phlao beach: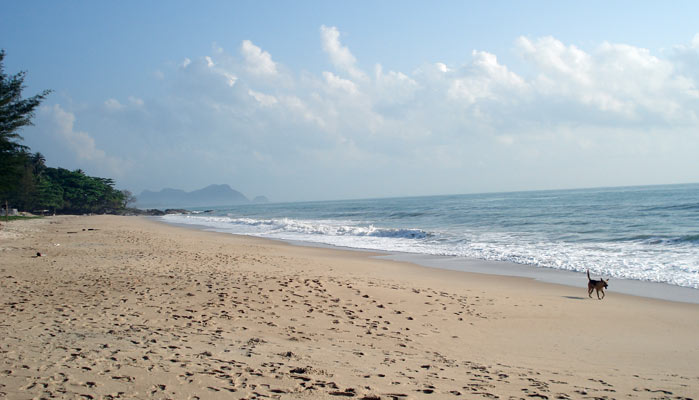 and here are the "Supa" villas: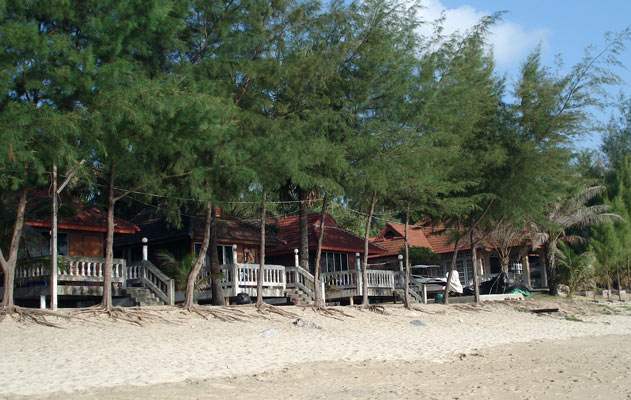 The cottage itself was a bit worn, and there were no power points, but once out on the balcony overlooking those white sands and clear turquoise sea, all was forgiven. There is also a restaurant on the beach as part of the hotel and the food was superb, we had prawns with pepper and garlic and chicken and coconut curry which was divine.
It was only when night fell, that our problems began. It was a Friday, and the troubling signs soon became apparent. They set up the speakers and music system and then the revellers started arriving. We had dinner at another restaurant down the beach, but when we got back the karaoke had got going and Thai whisky had got flowing. In our cottage we couldn't hear the singing but the whole hut was vibrating along with the base. The aircon didn't work. We couldn't open the windows as there were no fly screens to defend against the mossies and they just let in more noise. We had a terrible night.
In the morning we packed up and headed to Khanom Hill Resort. This was a Thai/German owned place at the northern end of the beach and built on the headland rising up from the sea. The rooms were more expensive, but were tastefully kitted out with nice touches like tea and coffee-making facilities in the room. Although our room wasn't on the main beach we were round the side and looked out onto our own private beach which was just below us. It was also a good place to watch the local fishing boats grapple with their nets and the dolphins who were around looking for an easy meal. A Perfect spot.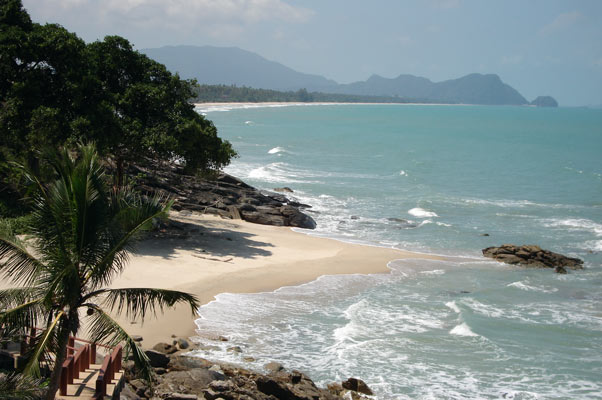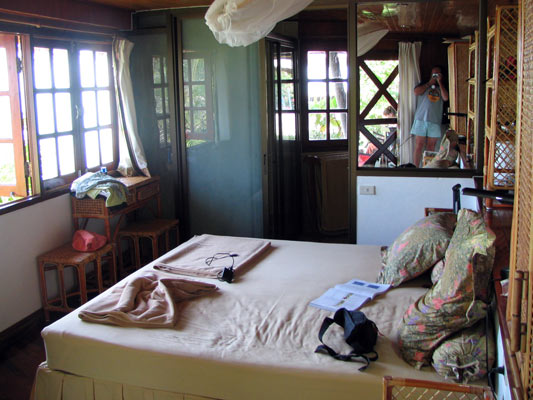 …And here's a vid of the cottage and view:
There was also a terraced restaurant which overlooked the northern end of the main beach but which was shaded by some large trees. Despite it being the weekend the place was also pretty much deserted. In all we stayed for 4 perfect days. Having described Supa Villa as being overrun at the weekend with weekending Thais, it must be said that the beach itself was quiet even then and during the week the whole place was deserted, despite this being a major holiday time for both Thais and foreigners.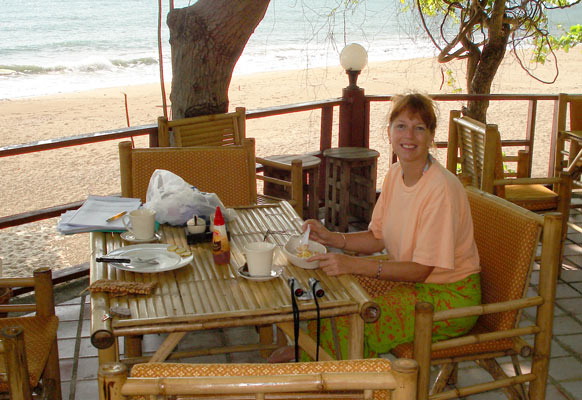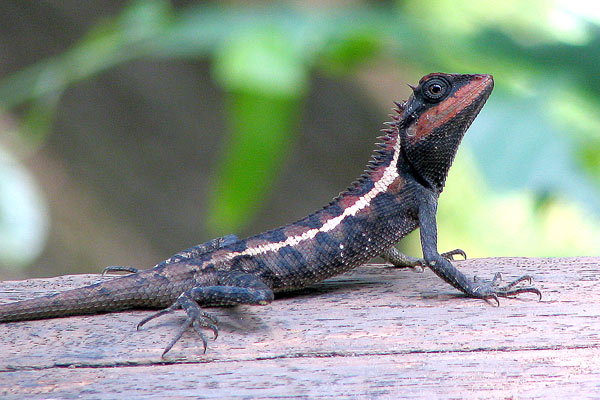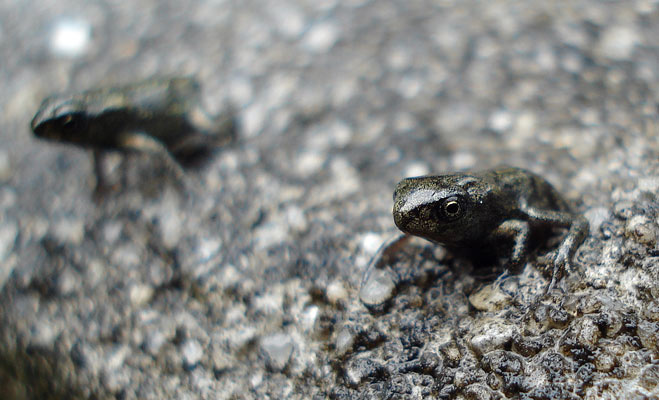 It is also a good base to do some exploring. I mentioned a new resort at the southern end of the beach. It is actually not on the beach but on the headland – the Racha Kiri. This was, in common with many modern large Thai hotels, in the Balinese style and with the word 'spa' liberally sprinkled in the tourist literature. It was a good spot for a sundowner drink and evening meal though, with a great view across the bay.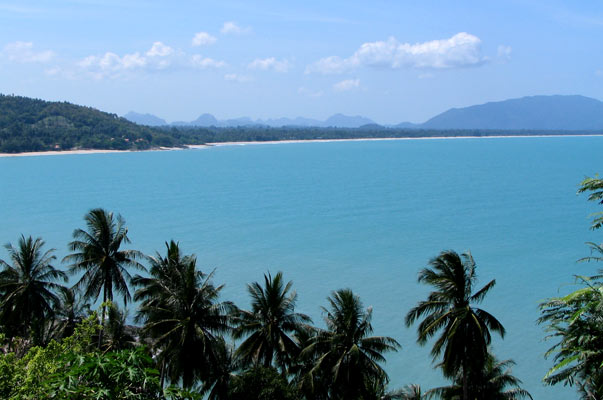 Further south the road continued for a few kms round the headland and it was here I really discovered paradise. Thong Yi beach is easily the most beautiful in the area – just a small bay but gorgeous. And Thong Yee Resort, the only place to stay on the beach has it all to itself. However, resort is hardly the right name as it is more of a backpacker type of place perfectly suited to its environment. Just a few wooden huts and a small bamboo restaurant overlooking that most gorgeous stretch of sand – highly recommended.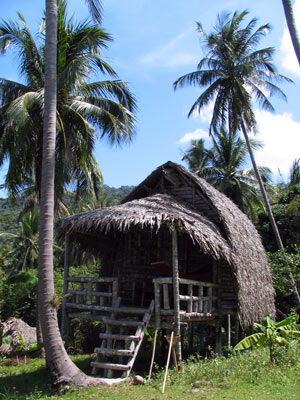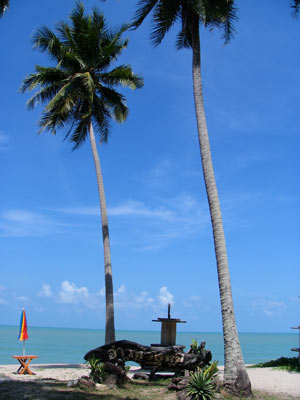 Inland, there are also a few places worthy of exploration. As it is a limestone area, there are quite a few famous caves. I explored one called Khao Wang Tong. It's quite well signposted. To get there the road passes through miles and miles of coconut fields, the main industry of the region, but the cave itself is in the middle of the other major source of income – a rubber plantation.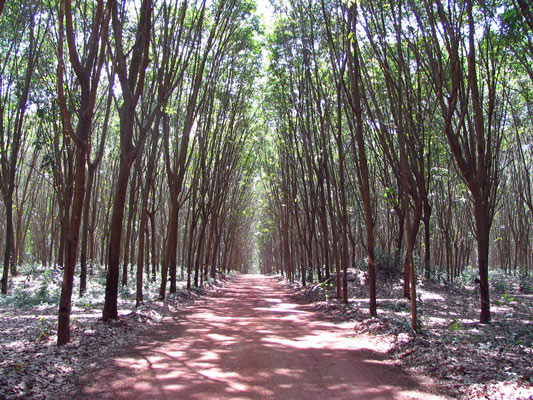 If you are on your own you have to get the key to the cave from the keeper who lives nearby, he will also turn on the lights for you. The entrance is very small but this leads on to a passageway which gets quite tricky and would be impossible without light. There are a couple of tight squeezes to get by but then you are rewarded by entering a huge cavern with a variety of large and small stalagmites and stalagtites. One thing I found about the cave however was that it was stiflingly hot. It was a relief to feel the cool breeze when back on the bike.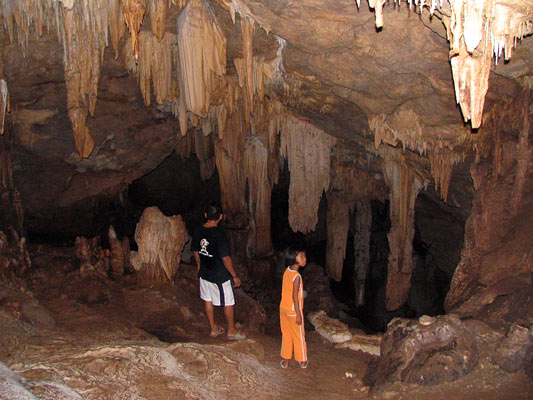 The whole area though is worth exploring if you are into country lanes and tropical scenery and want to discover a few lonely beaches. We stayed five days and then continued our journey south…
We got back on route 401 and followed the coast down to Nakhon Si Thammarat. Apparently it's quite an interesting and ancient but overlooked town with quite a few places worthy of exploration. It's also famous for shadow puppets, pottery and basketware if you're looking for souvenirs. We only had time to visit Wat Phra Mahathat, the most famous and largest wat in southern Thailand. It has a huge Sri Lankan-style chedi (looks like a huge cement handbell) with many golden Buddhas. It's also a very popular pilgrimage spot for Thais.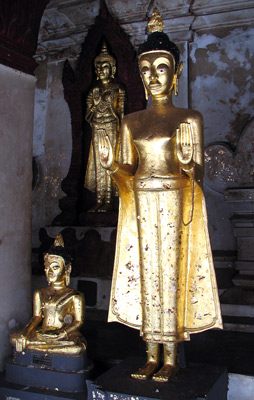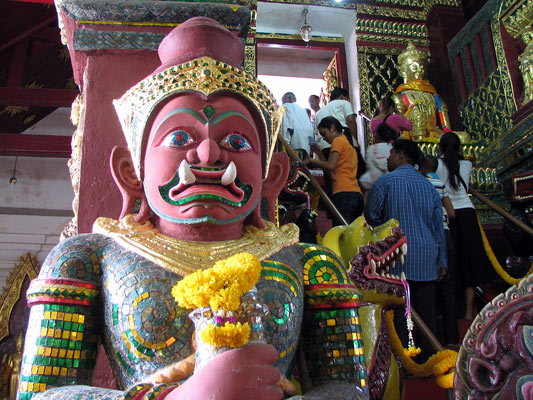 NST also has a large collection of other religious buildings including Hindu temples, mosques and churches. In fact I was a little surprised to note that there seemed to be more Moslems in the area than Buddhists. Maybe I'm wrong, but either way there didn't seem to be any ethnic tension here as opposed to provinces further south. Also the clothes people wore were more in tune with the tropical south – the men wearing the broad checked sarongs and the women the intricate batik patterns more common in Indonesia.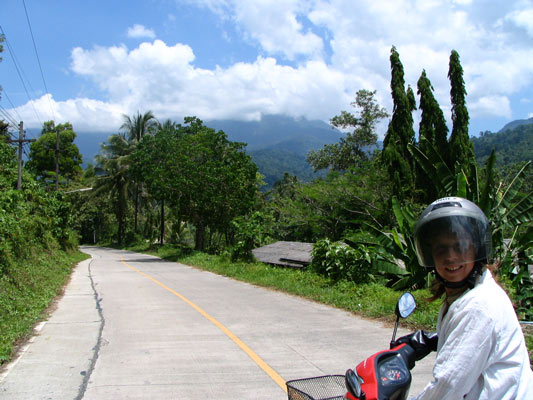 From NST we drove to our final destination: Khao Luang National Park. As an aside, you can book accommodation at any of Thailand's numerous national parks on-line. But this incurs an additional charge of 600 Baht. Instead I decided to go to the head office in Bangkok (it's only up the road from where I live on Thanon Phahonyothin). Here you don't get charged the additional fee and I thought, mistakenly, that they would have much more information about the various parks. Unfortunately they don't, just one poor map. So we had our reservations and our road map, but couldn't find the entrance to the park! A park that must be said is hundreds of square kilometres in size. Local people didn't even know. Eventually we discovered it was just beyond the small town of Lan Saka near Karom Waterfall, a well known local site and here we found the park entrance.
All parks have a visitor information centre. Some, like Khao Yai near Bangkok, is very well set up with guides, maps, information in English and restaurants. Others, like Khao Luang has a few moth eaten photos. Still, we thought that we could still be able to explore the park by bike. Wrong. Thankfully for the animals, but not for us, there are no roads in the park at all.
One of the things which we would have liked to have done is go for a trek up the mountain (Khau Luang). This takes two nights and three days and is apparently well organised but unfortunately these treks start from another part of the park – near the village of Kiriwong. However we did manage to settle in to our brick cottage and book a guide for the following day.
Unfortunately the guide was more interested in showing us his golden penis charm rather than any animals or plants and he just took us on the path around the waterfall which was very clearly signposted. Having said that, although I'm not generally interested in waterfalls, this one is pretty good. It doesn't have a single large drop, but it has nine smaller falls and the setting in wild jungle is very impressive. After a hot walk we got to the very top and were rewarded with a fine view right over the top of the falls to the other side of the valley. Of course with so much tropical beauty there must be 'little devils', so watch out for mossies and leeches even in the dry season. The bite I had from a leech was still bleeding a day later!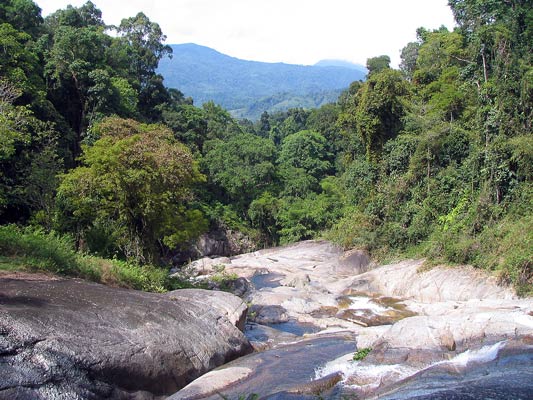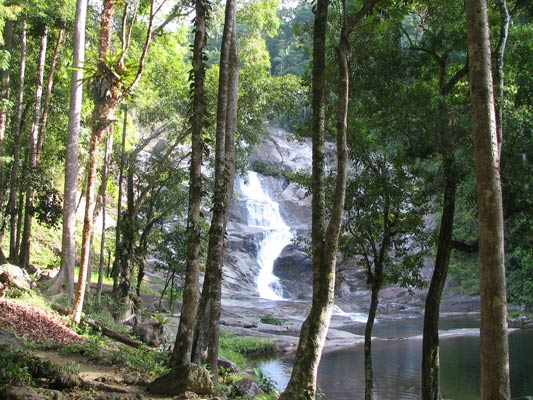 There isn't a restaurant or any supplies in the park (except for a drink stall by the waterfall) but fortunately the bungalows are only a hundred metres from the headquarters which in turn is only a hundred metres from the entrance, on the other side of which is Karom Resort. Another 'resort' misnomer but actually a great little place to stay – there are 3 or 4 cottages surrounding a small murky swimming pool. But the cottages are well laid out and a bargain at 350Baht a night. There is also a small restaurant in the garden. The menu was quite interesting. One morning for breakfast we were given quite nice pancakes. But not on their own. They were served with a fried egg and salad on the side and also a choice of three sauces: jam, mayonnaise and soy. We also shared a table with the local Thai branch of the Hell's Angels who were in town. Presumably also here to explore the National Park – after all there was nothing else here. If you don't like this place it is only a kilometre to the main road where there are a few local restaurants and you can also buy supplies. One such place became our favourite. Although the lady there didn't have much food on show, when we showed up she always reappeared with some real delicacies. Most of them I couldn't put a name on but we did enjoy jackfruit curry one night and another we had a delicious dessert made of mung beans. The area is also famous for its fruits and so has many roadside stalls selling fruits in season. We were lucky to be there at the start of the mangosteen and rambutan season, but there was also jackfruit, salak, and durian amongst others.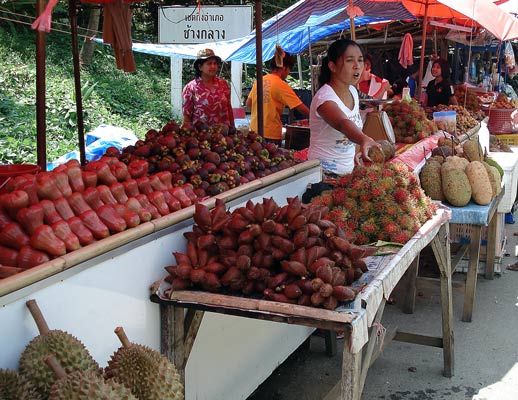 As you can imagine there is nothing much to do at night – apart from share a few beers with the Hell's Angels, so we spent our nights on the balcony of our jungle lodge playing scrabble. I must admit it was a little difficult to concentrate, for not only were there screeches, buzzes, whirrs and clicks from a huge variety of insects but also a couple of bats had decided to prey on the insects that were gathered around our only light. Every few seconds they swooped inches above our heads to grab an unfortunate fly or moth.
So after three nights in the jungle, we were once again on the bikes, skirting the unknown massif that is Khao Luang. This time we came back on the western side, on routes 4015 and 4009. I must admit it was much quieter and more pictureque. Not only the landscape but also the variety of teak houses along the way. 135kms later we were back at Surat Thani to drop off our biles. Here we took our 4th mode of transport for the trip. We were in no hurry, so rather than shell out 250Baht for a taxi to the train station we took a leisurely 1 hour bus journey for 12 Baht. Still in time to enjoy a few cold beers while waiting for our train back to the big mango. A thoroughly enjoyable and highly recommended trip with a bit of beach and a bit of jungle.
Here's a vid of our cottage at Khau Luang/Karom Waterfall (the sounds are those incredible insects):
And from the top of the waterfalls themselves:
Practicalities:
Night train Bangkok to Surat Thani (7.30pm – 6.30am)
Supa Villa/Royal Supa Beach Resort 1000Baht/night inc breakfast for cottage by beach. Check a/c first and to be avoided at weekends if you want to sleep.
Khanom Hill Resort: fan rooms 800 Baht up to 3500Baht for suite. Tastefully decorated, clean, modern cottages. Recommended
Khao Luang NP cottages 600Baht for two people. Fan ensuite (cold water), no cooking facilities
Karom Resort (at entrance to Khao Luang NP/Karom Waterfall): cottages 350Baht, restaurant