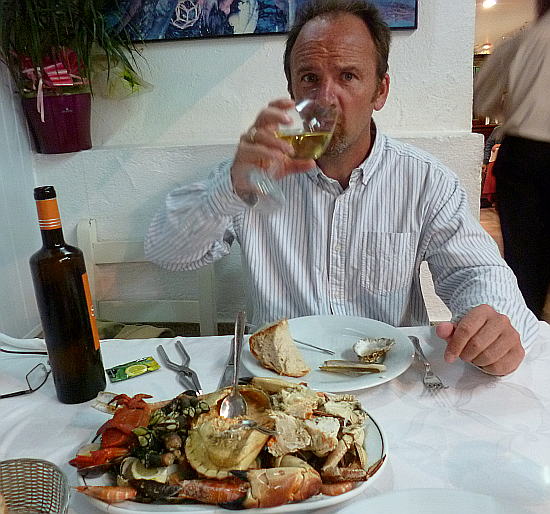 On the road to Santiago
On the road to Santiago
Santiago de Compostela is supposed to be the final resting place of St. James (Santiago in Spanish) and so is also the end of the Camino de Santiago, one of the most famous pilgrimage routes for Roman Catholics. You are supposed to walk there from your home and although there is a route marked out from Portugal we decided to take the car. Located in the far North West of Spain and about 400kms due north from our home in Portugal, it wasn't too far away but we still decided to break the journey up. We stayed a night in Porto and then stopped off in Pontevedra, a charming medieval provincial capital. It reached the height of its glory in the 16th century as an important port but once the river started silting up it declined in importance. Fortunately many of the fine buildings built in the day still remain, in the zona monumental and it is a chaming place to wander for a few hours.
After Pontevedra we made the short hop to Santiago. The first problem was parking. We had found a small boutique hotel right in the middle of the old town, which of course was pedestrianised and off limits to traffic but we found a car park not too far away and left the motor there for our entire stay. Interestingly enough, it did actually seem that most of the other tourists were arriving either on foot or by bicycle. In fact Jackie remarked that in the (many) years since she had last been to Santiago, the pilgrim trade had boomed and turned what was once a quiet, but very attractive city in the 1980s, into something of a tourist trap. Having said that at least there weren't hordes of smoke belching coaches which has got to be a plus.
Of course the crowning glory of Santiago is the Catedral del Apostol and what a magnificant building it is, facing the equally magnificant Praza do Obradoiro which is nearly always buzzing with pilgrims coming and going and lying flat out after what must be said for most of them was quite a hike.
Unfortunately for us they were doing a bit of restoration work inside but it was still very impressive. Behind the alter we saw a queue of people and so being British we had to join. Here you go down into the tomb of St. James himself and then up behind the alter is a statue of the man encrusted with gems. Quite a few of them were missing and so it is said that while being kissed by pilgrims a few had managed to prize a few tasty morsels out with their teeth! Not any longer as you are only given a few seconds with him before being bundled away.
Here is St. James and you can just see some pilgrims queing up behind
Along with the cathedral there are plenty of other sights to see and one of our favourites was the Museo do Pobo Galego, housed in the former Convento de Santo Domingo. Of course the building itself holds much of interest but we really enjoyed the exhibits which were of different traditional aspects of Galician life, covering everything from the fishing industry to models of local houses and traditional costumes.
And of course another highlight was the food. Just as well there were plenty of restaurants for the hungry pilgrims.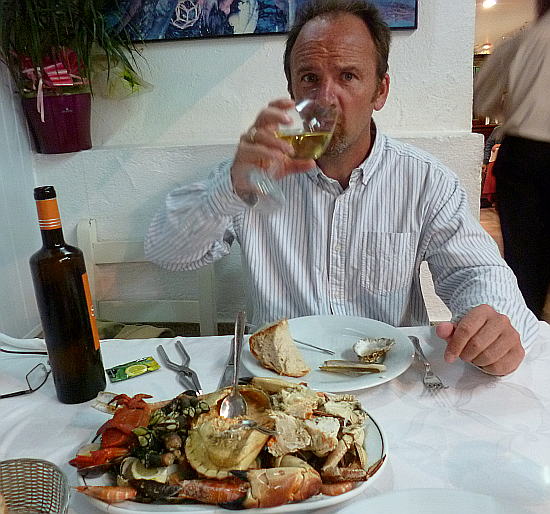 As you can see we gorged on seafood here but another highlight was the famous Pimientos de Padrón. These are small green peppers, lightly fried, sprinkled with salt and served as tapas. Most are just really tasty but about one in six are really, really hot. Absolutely delicious.
The centre of Santiago was much as it had been for centuries. The narrow lanes are covered for a reason. This part of Spain receives more rain than many parts of the UK.
And of course we took the opportunity of interviewing a few of the pilgrims for podcastsinenglish.com
More photos of our trip here