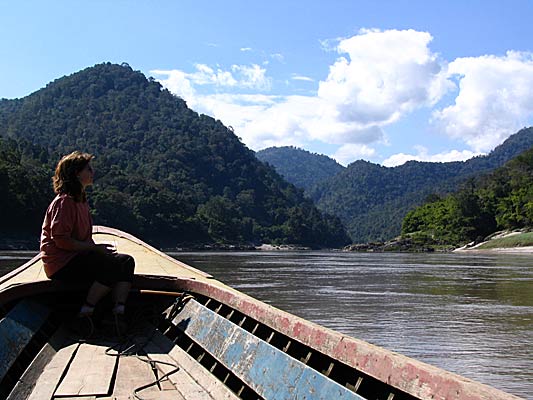 New Year with the Karen
New Year with the Karen
This is the photojournal of an exciting trip me and Jackie did around New Year 2005/06. We hired motorbikes in Chiang Mai and headed off to the Myanmar border at Mae Sariang. Here we found a guide and he took us up to a Karen hilltribe village where we stayed for New Year's Eve. It also describes our hazardous trek back to civilisation.
A six lane highway is not quite what I expected from a trip to the Thai-Myanmar border, but that's how it started. Thanks to a booming tourist industry over the last 20 years Thailand now has the best infrastructure of South East Asia and that means plenty of motorways and plenty of traffic. Great if you are in a big bus, but not so great if you're biking around – especially on the best touring bike in the world – the Honda Dream. Don't laugh – it's cheap, reliable, goes like a …dream, and can be fixed anywhere.
Me and my partner Jackie had hired a couple of them in Chiang Mai and intended to explore the area around Mae Sariang on the Myanmar border. It was supposed to be less touristy and quieter than the more well known area around Mae Hong Song. If time, we also wanted to do a little trekking up into the nearby Karen villages. But that was all in the future, for now we were hurtling down the motorway at 50kms/hour.
This particular motorway I think had been built for the tourist hordes on their way to Doi Inthanon – one of the most attractive national parks for weekending Thais from Chiang Mai. The turnoff was near the town of Chom Thong and therefore unsurprisingly after here the road got quieter and more scenic. This is what we were after.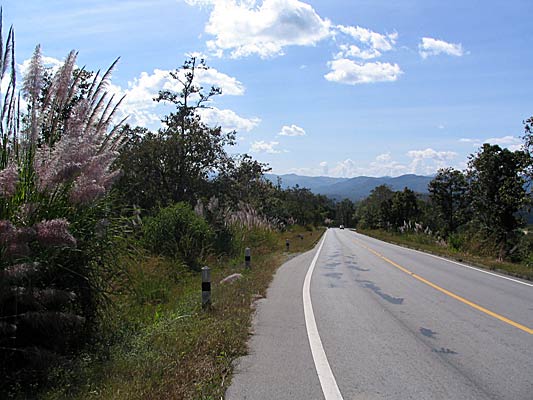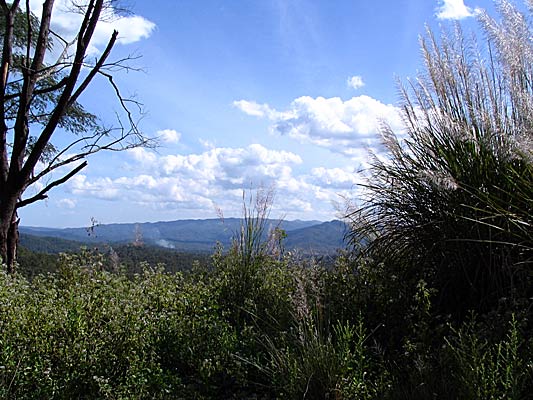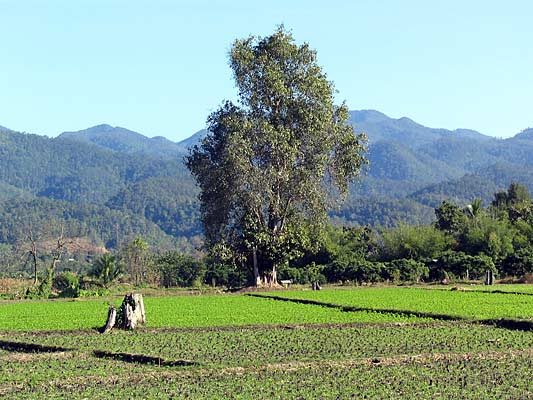 We stopped in the not unpleasant small town of Hot for lunch – the usual tasty rice and curry and then after a short rest off again. A few kilometres further on we were in the national park of Ob Luang, which pretty much marked the end of habitation. From here it was all rolling hills and jungle encroaching on either side of the road.
Six hours after leaving Chiang Mai, we reached our destination – Mae Sariang.
Mae Sariang is one of those strange towns which is bigger than you think in terms of houses and population but still has very much a village feel about it. Many influences are immediately apparent. On entering the town we saw the Burmese style roofs of a wat, but further in near the market there is also the mosque. Apparently there are quite a few Bangladeshi families in town who arrived via Myanmar. Approaching the river there are a number of places to stay. The River House Resort, River House Hotel and the Riverside Guest House. Sheepishly located on the other side of the river was the more imaginatively and optimistically titled Sea View Guest House. We decided to split the difference between the posh resort and the more run down guest house and went for the hotel. It was modern in styling, comprised totally of teak. From the road you could see all the way through the hotel to the wooden balcony which in turn looked out over the Mae Nam Yuan River, perfect for a cold beer to revitalise those tired limbs. The rooms are pretty good as well. We had one with a small balcony overlooking the river.
Foodwise, apart from eating in the hotel, there are a couple of decent restaurants on either side of the main road in town, a short walk from the hotels. (Main road only in name as traffic is light in the extreme). The Remu and the Inthra restaurants. We tried both during our stay. Interestingly the Inthra seemed more popular but we thought the food in the Remu just as good and had the added distraction of photos of the king playing in a jazz band.
It only takes a couple of hours if that, to explore the town. The only real highlights are the two adjoining Burmese-Shan temples, Wat Jong Sung and Wat Si Bunruang. Both are pretty small and while we wandered around didn't see a soul.
Wat Jong Sung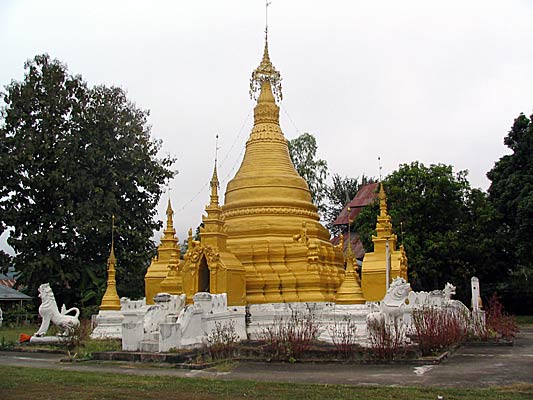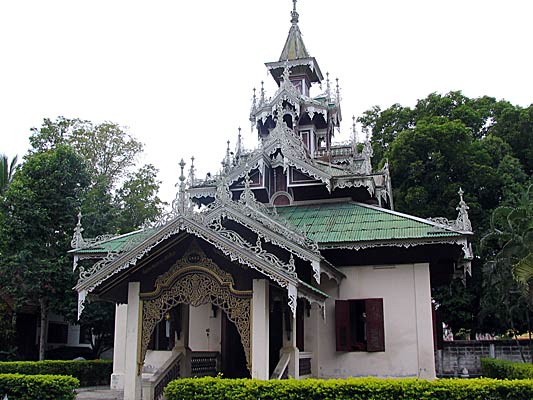 above and below. Wat Si Bunruang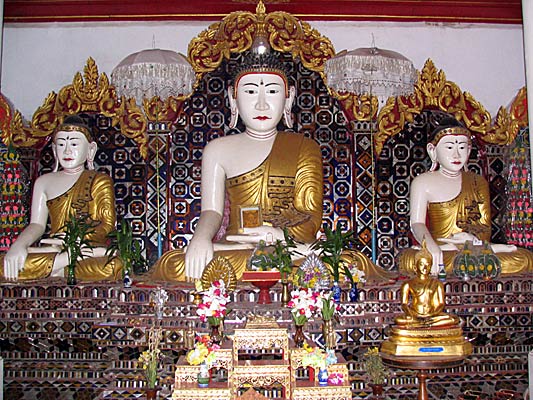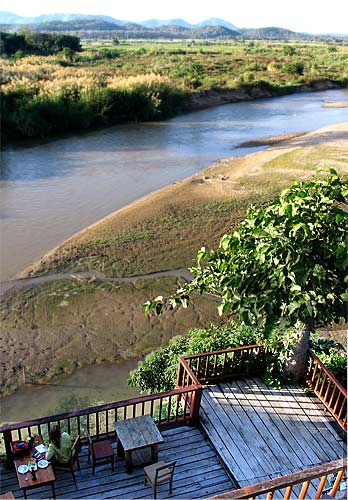 view from the River House Hotel
As we were wandering we met Mr. Adul, also known as Salawan tours, by all account the only trekking guide in town. As luck would have it, he was going up into the mountains in a couple of days to celebrate New Year's Eve in a Karen village. Apparently the hilltribes from all around converge on one village for a festival which combines Christmas and New Year. It would seem that most of the Karen people had been converted to Christianity in the latter part of the 19th century. He offered to take us and we accepted, not knowing quite what was in store.
It also meant we had a day free so for this we decided to visit the river Mae Nam Moei which formed the border between Thailand and Myanmar. The countryside around here was stunning. Soon the tilled fields and teak stilt houses around Mae Sariang gave way to jungle and the road started climbing. Up and up we went until we were soon lost in the clouds.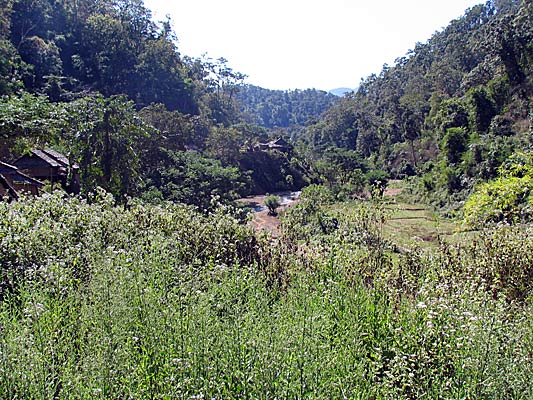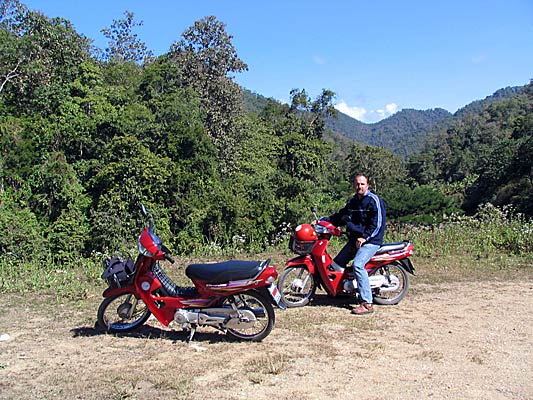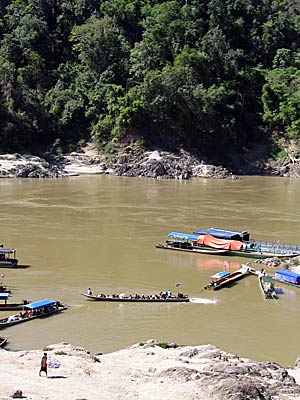 Down the other side we came to the river village of Mae Sam Lap. Spread along a narrow road the houses cling to the side of the mountain while outside old ladies idly puff on their pipes while dogs laze in the road in the sun. Here the river was wide but swift flowing. We followed signs to the harbour. Here the river was fairly narrow but flanked by large sandbanks. The harbour was a small bite in one of these where there were a few longboats ready to take passengers, eggs, chickens and plastic toys to who knows where.
Here my bargaining skills were tested to the full but eventually we forked out 400bht ($10) for an hours trip on the river. On either side there was thick jungle but no sound – just the gently chug of the engine under a clear blue sky and over a thick brown swirling river.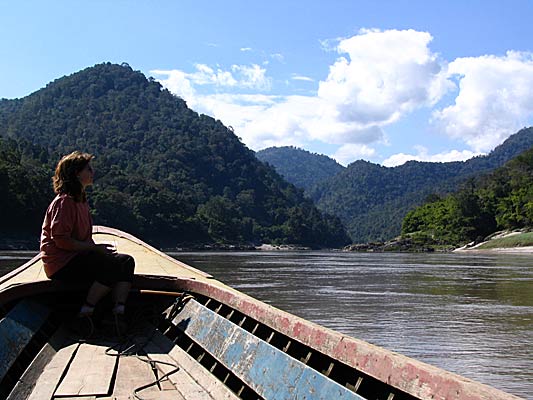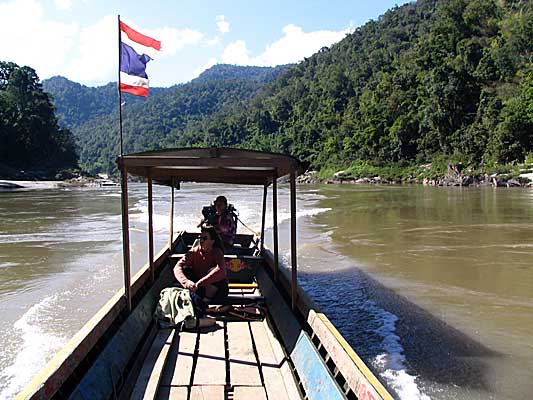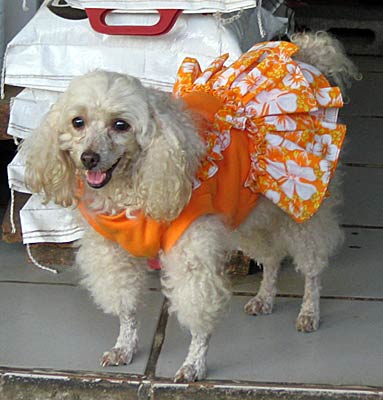 Day Two
The following day back in Mae Sariang we teamed up with Adel again, got in the back of a pick up truck and soon were off. We stopped at the town of Mae La Noi an hour or so later to fill up with boxes of noodles and a couple of old Karen hilltribe women. This turns out to be the real start of the trip. We took off up a rough track which goes up and up through the jungle. Up and up and rougher and rougher and then steeper and steeper. As the road is just compacted mud we got to the point where it's all out and a good hard push was required. Those hilltribe ladies were tougher than they look.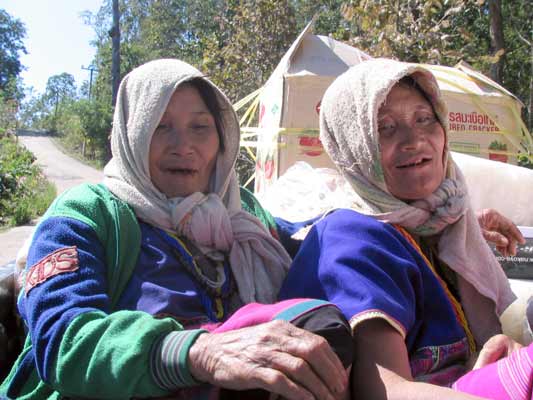 Into the mountains the scenery was amazing. Forests as far as the eye could see. Amazing scenery but a very sore body. We were bounced around for hours until we eventually arrived at a small stilt housed village. This was the end of the track from here we were walking, but not before lunch. We were shown into a stilt house which belonged to the headman. It was totally devoid of furniture – except for a TV and video which was showing Karaoke videos in the Karen language to some of the villagers. The only other ornamentation in the house were two photographs – one of the much revered Thai king and the other of Prime Minister Thaksin Shinawatra, the multimillionaire Prime Minister. Apparently it is he who was responsible for the scores of solar panels seen all over the village which powered the three florescent lights in each house. Before lunch we were treated to some local hooch which somewhat relieved the aching bones.
The road which finished here was only open in the dry season. For 9 months of the year it was impassable. The only way to get goods into the other villages was by foot and that is what we did then. Our final destination was another village another two hours trek from here.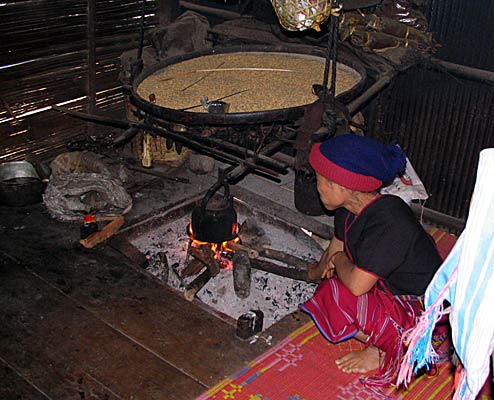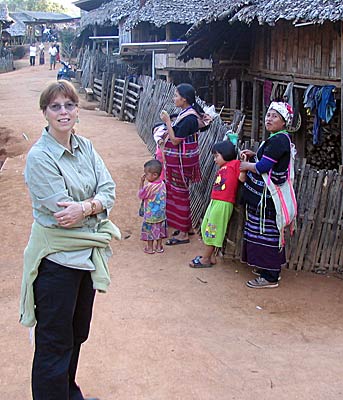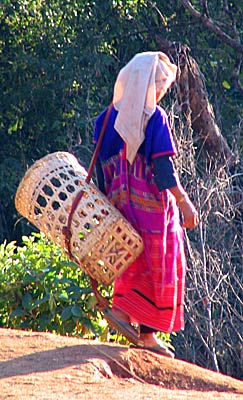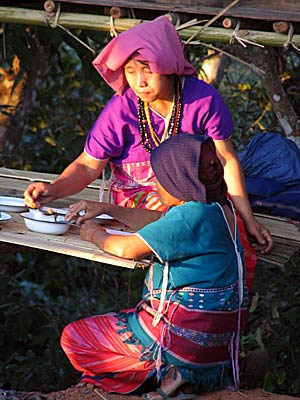 When we finally got there Adel didn't actually know where we were to stay. We stood by as he chatted to the villagers. Then a lady appeared who apparently knew him. It was a distant relative who offered to put us up in her house. So at least we had a roof over our heads. The village itself, like many Karen villages was situated on a small ridge overlooking the surrounding countryside. The village of twenty houses were in two rows, all built slightly differently, all on stilts with roofs made of leaves and with chickens and pigs squeaking and grunting underneath. Each one also had a rice pounder underneath and a few had their own back looms on which a few old women were making sarongs while keeping their eyes on these two strange foreigners. Each one also had its own solar panel courtesy of the PM.
We entered our particular house up a rickety old ladder. There was a small platform open at the sides and this served as the family room and dining room – no furniture of course. Next to this was an open area for washing dishes, the water being supplied from a continually flowing bamboo pipe and passing between the bamboo slats to the area below. On either side from this was the kitchen – a room with just an open fire and very smoky atmosphere. On the other side were two bedrooms, with blankets on the floor for sleeping. The whole building made from bamboo.
After our long journey a shower was required. However, the solar panels certainly weren't used to heat up the water. The shower was a separate tiny shack which apparently the whole village used, with spring-fed and icy cold water.
As night fell, people were arriving from surrounding villages ready for the festivities. I noticed a sign and according to Adel it was a warning that anyone bringing in alcohol into the village would face a 5000 baht fine. Apparently there had been a number of drunken fights previously and people had been stabbed and killed. Not tonight though. The 500 tribespeople and two foreigners got on famously. Already, the early arrivers were being treated to noodle soup and rice being prepared in huge vats. With darkness, the festivities began. In an open area near the village – the only flat area for miles around, a small stage had been set up. Again made of bamboo but decorated with blue stripy plastic, a florescent tube and a string of fairy lights.
It was here that some local officials gave their speeches. Following the speeches there were a number of music recitals featuring local instruments. Then the highlight for me. We were treated to a nativity scene complete with wise men, shepherds, Mary, Joseph and a baby Jesus in a very shaky crib. They also sang some carols. I could recognise the tunes but the words were all in Karen. Around eleven o'clock events were winding down and after a tough but enjoyable day we decided to turn in. All that was left was to admire more stars in the sky than I had ever seen and then following our candles made our way to our stilt house for a good night's sleep.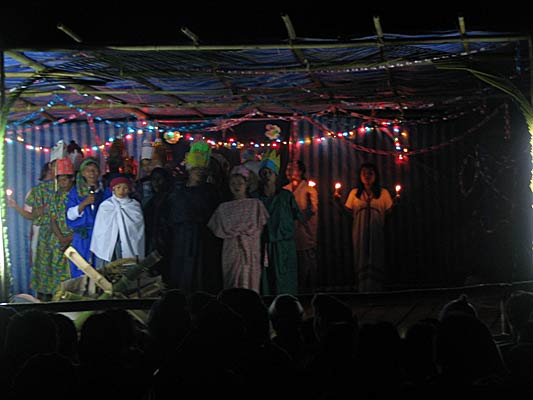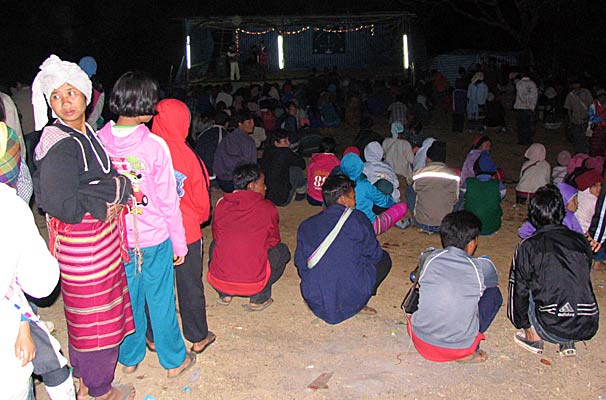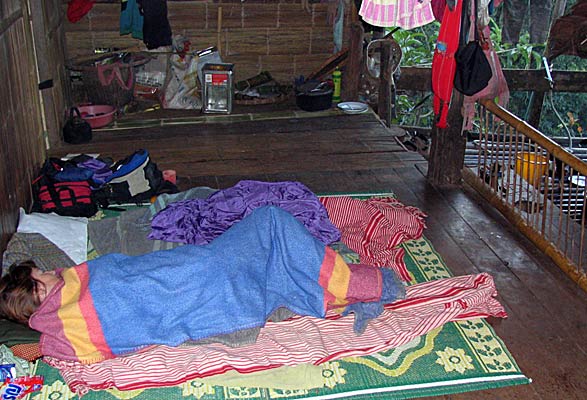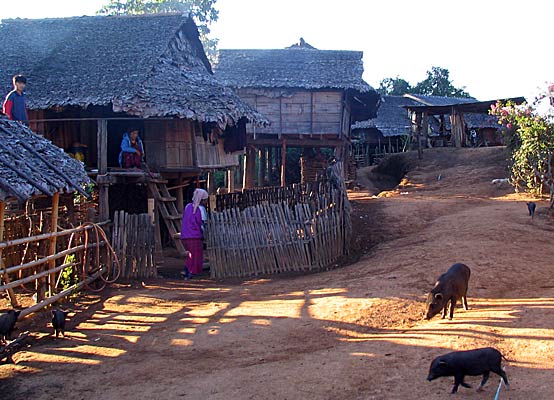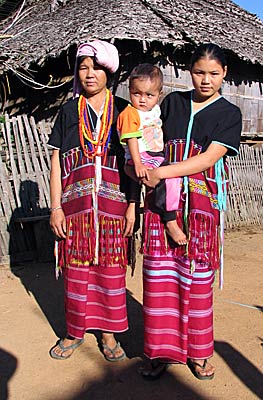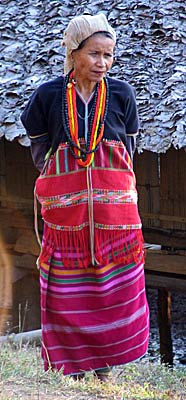 Day three
There was no truck for us on the way down. Adel said it would take us about three hours. We set off early and spent a pleasant hour or two walking through rice fields and clumps of bamboo forest. However, after three hours, it seemed we were no closer to our destination. Fortunately we came upon a house and after a chat with its occupants we had some lunch. The family there presumably hadn't ever seen any Europeans in the flesh before but didn't seem to be phased by our presence at all. However, they didn't want their photos taken and were very unsure about our camera. The walking continued and three hours turned to four, five and six by which stage we were very tired. Of course Adel kept encouraging us that it was just around the corner. However he also let slip that he had never been here before and had only been to the village 20 years ago. We weren't happy bunnies. Then we had to make a very large river crossing – I got absolutely soaked and decided that was it! No more. As luck would have it there was no need. Fortunately it was the start of the road and after half an hour drying off, a truck appeared which took us back to civilisation – and more importantly a very cold beer.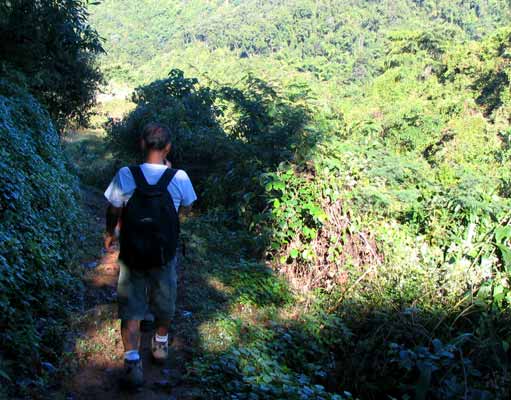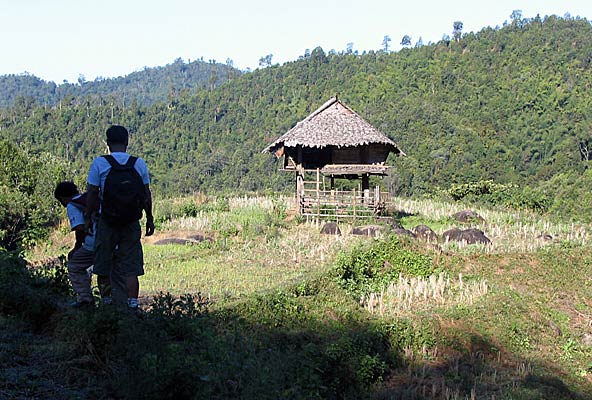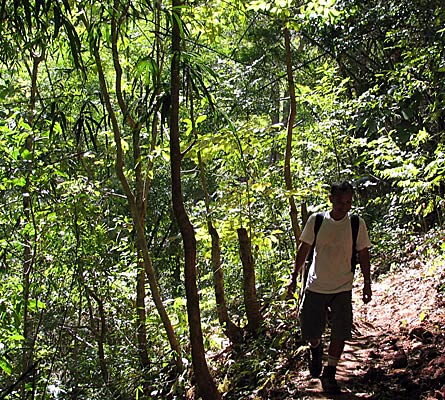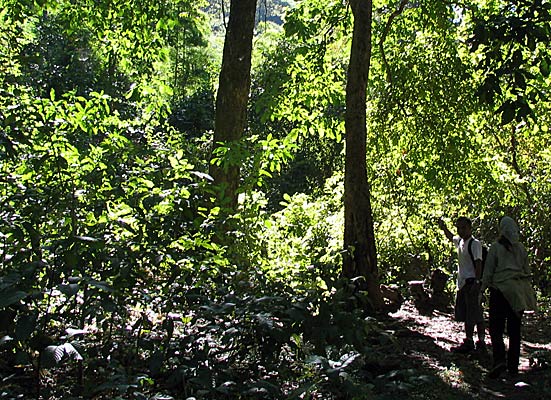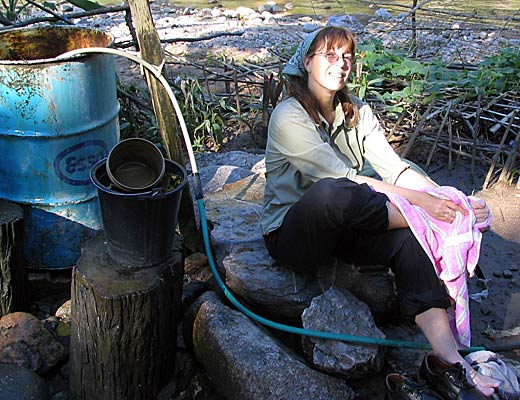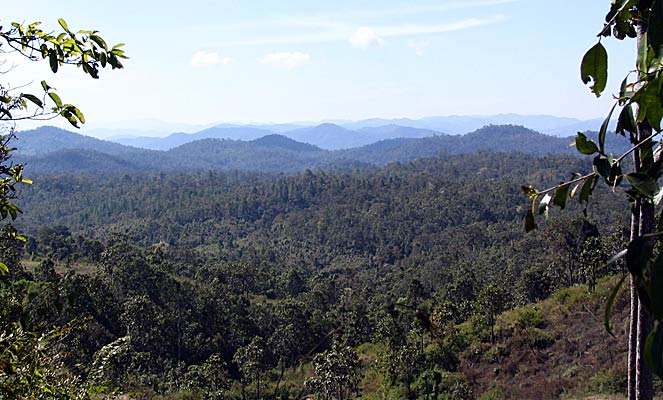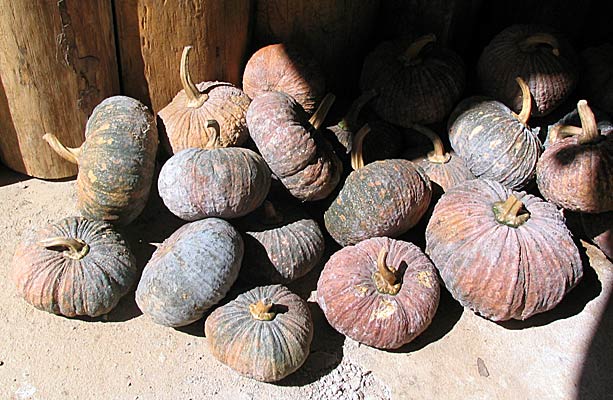 After our tiring but exhilarating trip we headed back to Chiang Mai – but not before a few days in Hot resort – next to Ob Luang national park. A highly recommended spot for a bit of R and R after our mountain adventure.