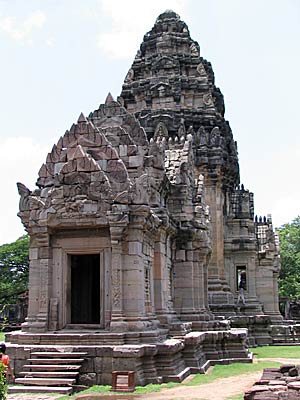 On the road to Angkor
On the road to Angkor
Cambodia is home to everything Khmer, right? Well actually when the Khmers were at their peak, building Angkor Wat etc, they also ruled plenty of Thailand and in May 2006, I went to see some of the lesser known, but really impressive Khmer ruins, close to the Cambodian border in Buriram province. (There is another interesting Khmer ruin – Prasat Meuang Singh in Kanchanaburi province – which is covered on that page of my website)
The best of these are Phanom Rung (or to give it its full title Prasat Hin Khao Phanom Rung) and Muang Tam, both of them most easily reachable from the town of Nang Rong. There is next to no info on Nang Rong in the guide books, but it is a sizable town and there are plenty of direct buses from Bangkok's Mo Chit bus station (5 hours, 150 – 250 Bht depending on class). There is also a line of great little food stalls which set up on the main road in town (by the Krung Thai Bank) and also a number of eateries in the night market area. Having said that there is not much of interest in the town by day.
We stayed at the P. California Inter Hostel which is a great little place which is run by a friendly retired Thai couple. There are views over the countryside and very comfortable rooms. They also hire out motorbikes, bicycles and a Suzuki jeep. We took the motorbike.
The trip out to the ruins goes through typical Thai countryside of paddy fields. Soon you can see the ancient volcano on which Phanom Rung is built, because it is the only thing which rises above the palms in the pancake flat landscape. The hill itself is pretty small and although forested there are great views from the top over the paddy fields to the mountains of Cambodia in the distance. Because of the vegetation you can't see the temple complex until you get in through the gate, but once inside it's really impressive.
Make sure you find entrance 2, as here, upon entering the site your eyes follow the 400m promenade and then up the stairs that lead to the temple. The avenue is paved with laterite slabs and towards the end there is a Naga (mythical snake) bridge. This first one is built in classic Angkor style with 16 of these five-headed creatures.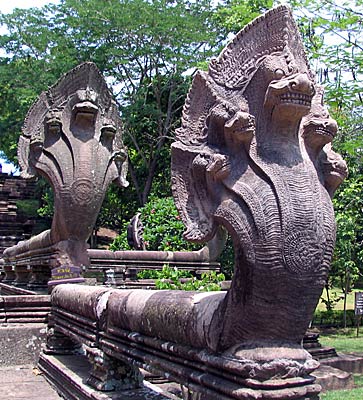 Climbing the steps and walking past the ornamental lily ponds, you are confronted by the main temple. It was built between the 10th and 13th centuries at the peak of Angkor architectural design. The whole complex faces east and so around the time of the spring and autumn equinoxes the sun can be seen rising and setting through all 15 doors of the temple. It has been very well restored (there is a small museum at the entrance and you can see what sort of state it was in when they rediscovered it) and so there are many interesting sculpted images above the doors. These are mainly Hindu deities as the Khmers were Hindu.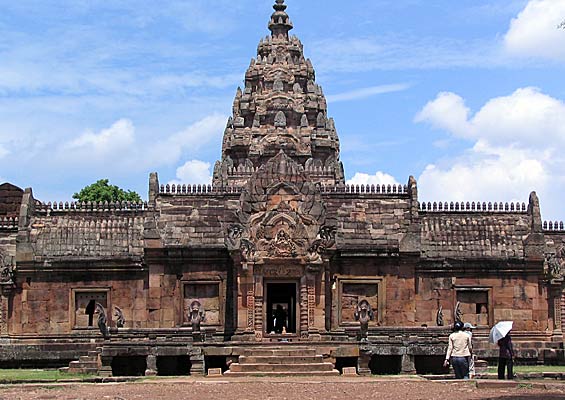 Front of the main temple. Below right is a close up of one of the Naga heads seen in the foreground.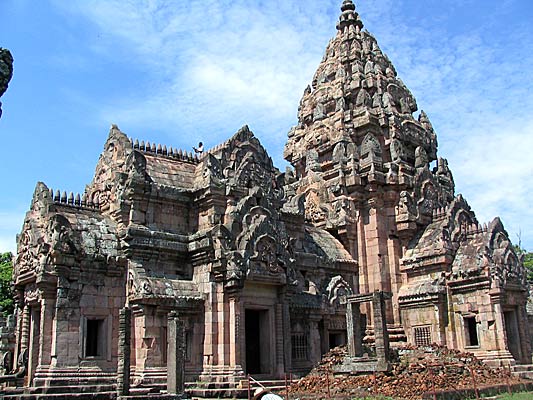 Give yourself at least an hour or two to see the complex and to savour the atmosphere and the views over the plains. From here we got back on the bike (It took us less than an hour to get this far) and followed the road down the hill and across the plains straight to our next destination.
Prasat Meuang Tam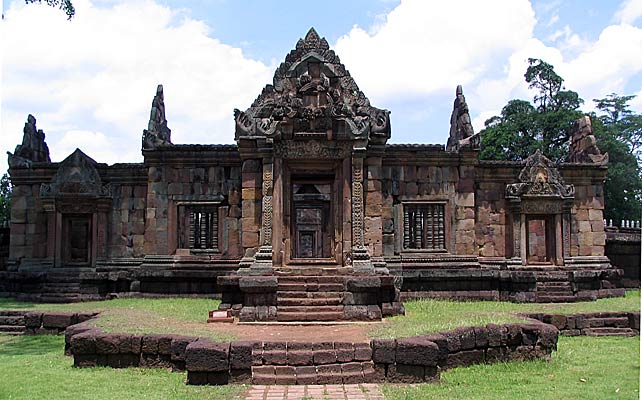 Prasat Muang Tam was only restored in 1997 and so some of the guide books mistakenly describe the place as still just a pile of bricks. This is not the case at all. It is smaller than Phanom Rung, but therefore more intimate. Inside the main compound there are four very pretty ornamental ponds covered in lilies and lotus flowers (and a few frogs), inside this is the main temple. The walls are made of sandstone and have many carvings but inside this, the four prangs are brick and so have less detail. They would probably have been covered in carved stucco when they were built. The main central Prang had collapsed and has been removed. In addition to sandstone and brick some of the structures are made of laterite.
Laterite is found at many ancient sites in the tropics. This building material is almost always seen as large rectagonal, knobbly blocks. It looks as if it could be volcanic in origin, but actually it is a rock-like clay containing a lot of iron, hence the red colour, and only found in the tropics. As it is also found not far underground and is pretty tough stuff but easy to cut, the ancients used it a lot for construction and that is why it can be seen at nearly all ancient sites in South East Asia.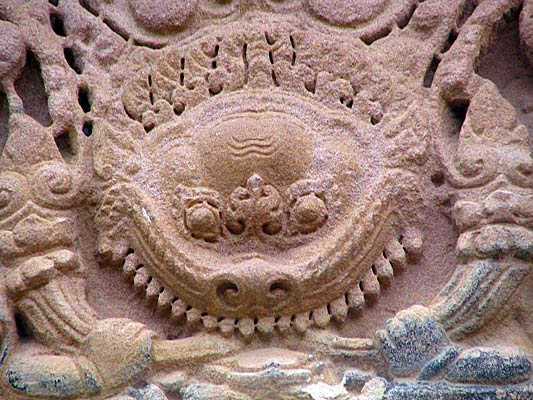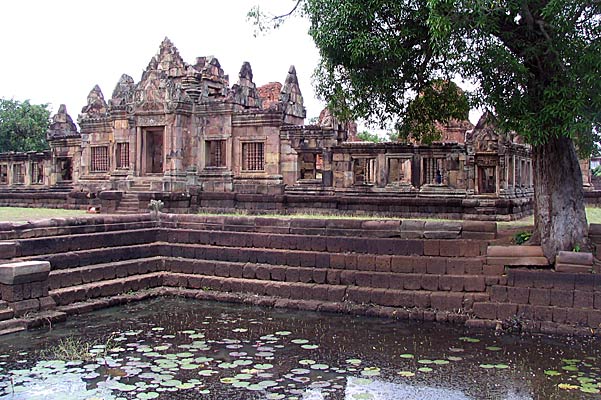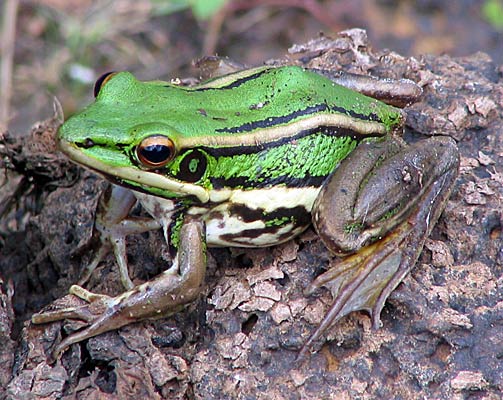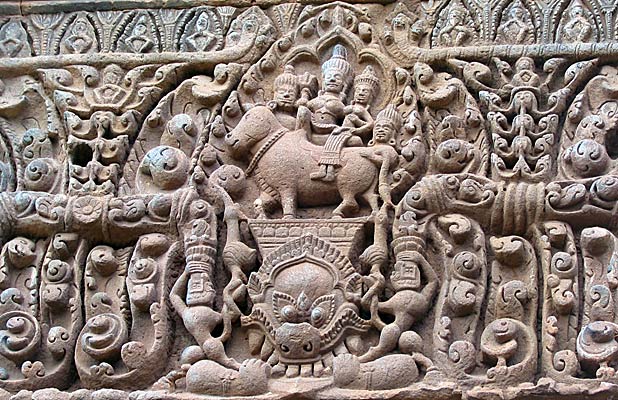 Opposite the site, as at Prasat Phanom Rung, there are a bunch of tourist tat shacks which also do food, so we stopped there for lunch. Leaving Prasat Meuang we still had a bit of time on our hands so heading home we made a detour and visited Mount Angkern Temple. Getting to this site is a bit trickier than the others, not because it isn't well signposted, they all are, but because the road turns into a dirt track. Anyway, we got there unscathed.
This temple is one of those strange places dotted around which is a modern Buddhist complex but just as big, if not bigger, than the ancient sites. It doesn't get a mention in the guide books but is still worth a look if you have time. Here you'll find an enormous golden sleeping Buddha and two huge temples, in their own particular style, painted red and surrounded by a wall of buddhas. These are made out of rough cement rather than intricately carved sandstone, but nonetheless quite impressive. A fascinating piece of modern Buddhist sculpture. Mind you I wouldn't bet on this place lasting a thousand years.
From here we really did head home, after a pleasant day trip, and having got our fix of culture and nature.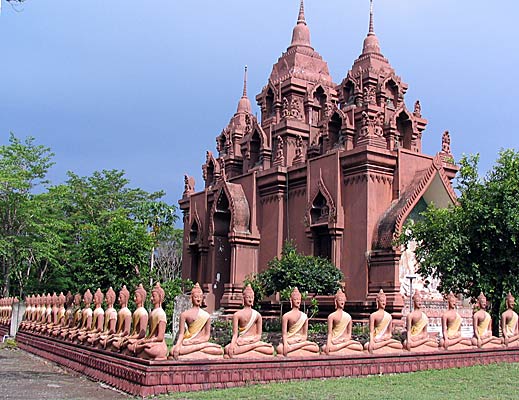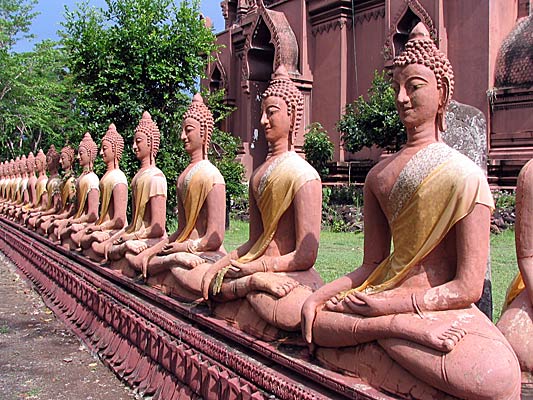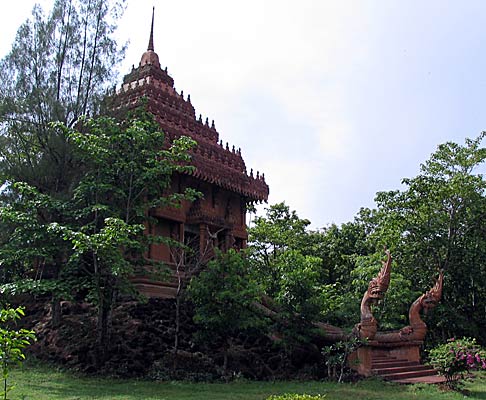 For Day two we planned to go further afield to another Khmer ruin, at Phimai. As it is over 100kms away from Nang Rong we decided to take the jeep. One major piece of advice for this trip if you are going from Nang Rong is to get a good map – the one in the lonely planet is useless and there are few signs on the road. Interestingly getting back is not so much a problem as there plenty of signs to Prasat Phanom Rung to follow before the Nang Rung signs appear. Anyway, the countryside is pretty good if you do get lost – more rural paddy scenes interspersed with a bit of jungle to break up the monotony.
The difference with the Phimai site is it is actually in a town, and of the same name. This site has also been restored but they obviously didn't find all the bits as it doesn't look as good as Prasat Phanom Rung. Having said that it is still well worth a look-see. There are many websites giving further info about the site at: ThingsAsian, Korat Magazine and Computer reconstruction.
Nearby there is also the diversion of seeing Thailand's biggest and oldest Banyan tree.
It's fairly well signposted and on the outskirts of town. It was imaginatively renamed by one of the Thai princesses to Sai Ngam (beautiful Banyan). Once inside, or underneath, whichever you prefer, it feels like Hansel and Gretel's forest as the canopy spreads at about seven foot above the ground and covers the area of two or three football pitches. The whole lot is supported by the aerial roots which once they have reached the ground form their own trunks. Having said that the local council has also provided a few concrete posts to help the old tree, which is said to be a few hundred years old? At its centre, presumably where the original tree started, is a shrine and the tree is garlanded with loads and loads of…garlands. If your breath is taken away by this wonder of nature, you can be restored across the road by the many food and drink stalls.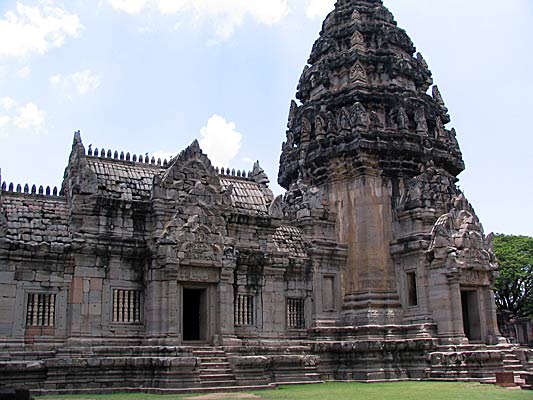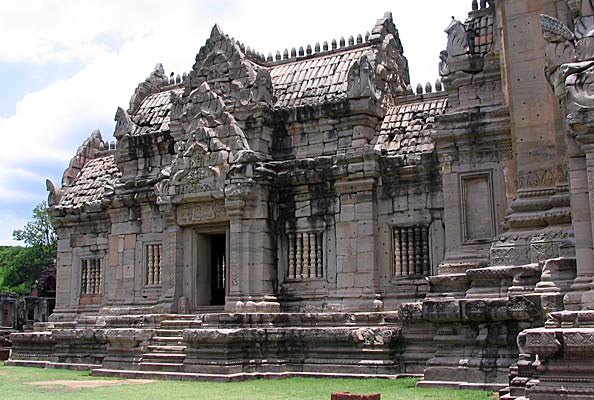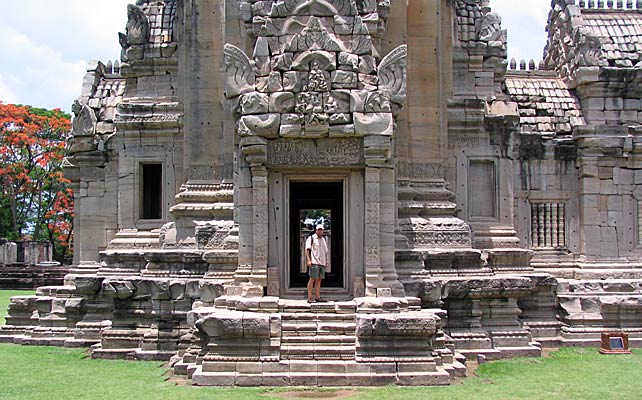 Sai Ngam – the beautiful Banyan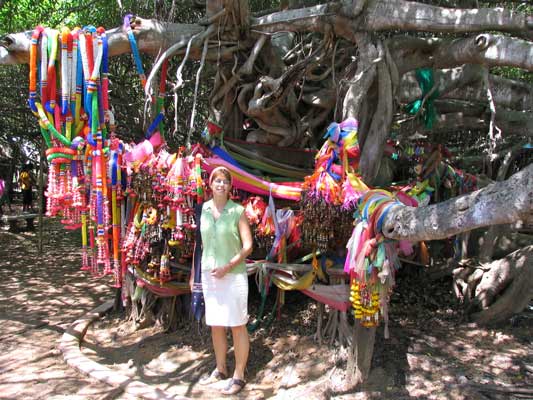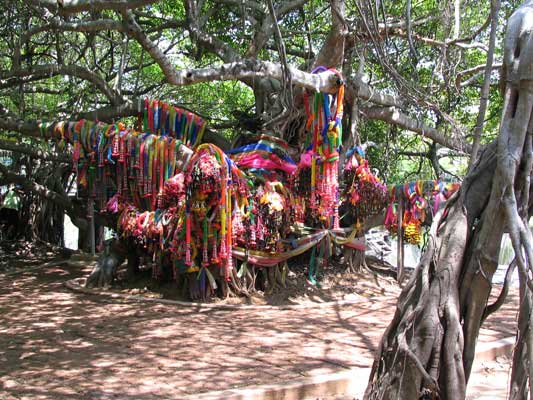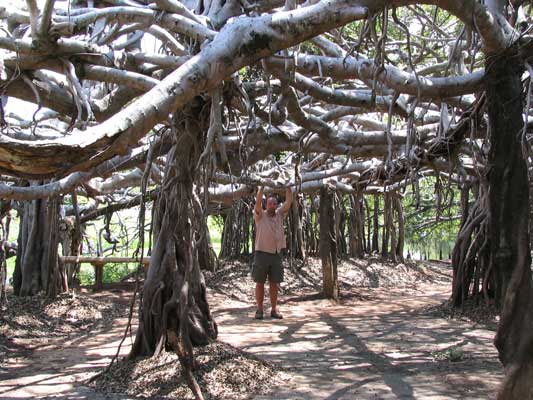 one final breakfast at P. California Hotel